Experiential Travel is a much-touted expression in the travel and tourism industry these days, and has consistently made the top tourism trends lists for the past few years, being hailed by many as the new frontier in travel.  However, it has also come under intense scrutiny and vociferous criticism by many, especially in the travel blogging community.
Criticisms of Experiential Travel
The most common criticism of experiential travel is that it a term overused by marketers to sell expensive products that can be done for free or more cheaply with some effort (Kepnes). 
Smith argues that the very act of describing something as authentic makes in inauthentic.  Travelers being sold 'experiences' that may give them a feeling of accomplishment and adventure, but in reality this is only feeling is only superficial and they are being separated from their money unnecessarily, since it is possible for them to have similar experiences that are more authentic and meaningful on their own. 
Indeed, many argue that travel is inherently experiential (Skift) and therefore the term 'experiential travel' is nothing but an overused marketing ploy that sounds fake and often is fake.
I would argue, however, that, while it is true that the term "experiential travel" has become a darling term used – and even overused – by travel marketers, the actual idea behind it is far from inauthentic, encapsulates more than regular 'travel' and represents a significant shift in the way that people travel and what they do when they travel.
In order to explore this issue in more detail, we need to first understand what 'experiential travel' is.
Definition of "Experiential Travel"
"Experiential travel … is a form of tourism in which people focus on experiencing a country, city or particular place by actively and meaningfully engaging with its history, people, culture, food and environment. It is also described as immersive and can often be transformative", according to Wikipedia.
People travel in many different ways.  Some people travel in tour buses, in a large group, shepherded from one sight to another by a guide, often eating familiar food, and having minimal, or even no, interaction with local people. 
Others may choose to travel to an all-inclusive vacation at a resort, to relax on the beach, eat resort food and again, have little or no interaction with the culture of the country they are in.  These can be enjoyable vacations, but are not experiential travel.
Key Concepts of Experiential Travel
1.     Authentic
True experiential travel goes beyond the superficial to focus on authenticity and inspiration. (Fuggle)
2.     Meaningful
Experiential travelers "want to forge deeper connections to the people, traditions and customs of the places they are visiting" (Dale, 2014) and seek travel experiences that resonate on a deep emotional level.
3.     Immersive
Experiential travelers immerse themselves in the local culture in order to gain a deeper understanding of the people, the culture, history and environment of the place they are visiting.
4.      Active
In order to be fully immersed, travelers participate actively, rather than merely observe.  They seek hands-on experiences, engage with the people they see and meet, and even try to learn the language.
5.     Transformative
Because experiential travelers engage more with the place they are in, they often gain a much deeper understanding of, and empathy for, that place and make more personal connections to local issues.  It is not uncommon, for example, for them to return from a vacation more connected to endangered animals they saw so that they work harder (or donate more) to try to save them, or with a deeper appreciation of a culture, rather than a fear of it.  This change in outlook is transformative, turning a vacation into a life-changing experience and is a logical and natural consequence of experiential travel.
6.     Local focus
By its nature, experiential travel has a local focus.  For the traveler, it provides an opportunity to engage with the local culture and community.  However, this also feeds potential economic, cultural and even environmental advantages of tourism into the local area.  For example, employing local people as safari guides can discourage them from trying to earn money as poachers.  Give local people an opportunity to teach a local skill or handicraft can help keep that tradition alive.
7.      Sustainability
Because people who seek experiential travel typically become invested in the places they a visit, sustainable travel is important to them.  Consequently, it can become important to the local people.  Experiential travelers tend to make choices to give their money to local guides, hotels, homestays, etc. and look to reduce their environmental impact.
Types of Experiential Travel
Experiential travel involves interacting in a "genuine" way with the people, cultures and environment of the place being visited (Fuggle).  It is an umbrella term that can encompass different things, including immersive, local, authentic, adventurous and/or active travel (Skift), but at its core, it is about engaging actively and meaningfully with the destination.  It does not necessarily mean avoiding iconic sights such as the Pyramids or the Eiffel Tower; however it means that there is a deeper engagement with what those sights are, their history and their connection to the people and culture.
Typical examples of experiential travel include:
1.     Language & culture
3.     Adventure tourism
Adventure tourism can mean many things, but in general terms is a very active way of interacting with the physical environment of the place being visited.  It is often divided into soft and hard adventures.
A.       Soft adventures
Soft adventures include activities such as:
B.       Hard adventures
Hard adventures include more extreme sports like:
4.       Animal Tourism
Animal tourism here means ethical interactions with animals in their natural environment in a way that has minimal impact on the animals.  It can provide positive economic benefits to the local people who act as guides, and can help show them that there are more advantages to keeping animals alive than killing them or not intervening to save them from being killed, or preserving their natural environment.
This includes:
5.      Education
This is listed separately from the classes and workshops above, as it focuses on tourism that is designed specifically around having an educational experience, rather than education being a way to introduce culture.  This includes:
retreats with lectures and/ or workshops by scientists, scholars and other experts
photography classes
yoga retreats
painting or drawing lessons
6.      Accommodations
There has been an increase in accommodations that are designed to be or create experiences. This includes:
Traditional accommodations such as ryokans in Japan or heritage hotels in India
Curated, upscale home stays (Skift)
Locally owned lodges that showcase indigenous cultures and employ local people
High design lodges that integrate the external environment with the internal environment
Experiential hotels that provide local cultural experiences to their guests e.g. a hotel in Hawaii that provides ukulele or hula lessons for guests
Reasons for the Rise in Experiential Travel
Several reasons have been cited for increased interest in experiential travel in recent years.  As the world becomes more globalized, and as social media and technology have caused greater homogenization of the world, people want more varied, authentic and unique experiences. (Fuggle, Wong). 
There has been a significant increase in interest in soft adventure by a wider range of age groups (Skift). When asked, "What is more important to you when planning travel?", 65% of travelers chose 'experiencing something new' over 'feeling rested and recharged' (Skift's 2017 US Experiential Survey).   People want to travel on a deeper emotional and more personal level (Skift), so they are seeking travel experiences that closely align to their own personal values (Fink).
The Benefits of Experiential Travel
When done responsibly, experiential travel can actually help preserve the local culture and environment by helping local people benefit economically and culturally from tourism.
Experiential travel is often transformative – changing not just the traveler, but also the world in general, through the actions they take after returning from their journey.
Experiential travel enables people to learn more about the places they visit than those who go on a whistle top tour of the bucket checklist of sights and provides opportunities for travelers to interact with local people and the local culture in ways that they could not otherwise do.  
For example, when taking a block printing lesson in India, or a mosaic tile class in Marrakech, I was able to learn more about the work that went into these handicrafts, as well as more about the local culture by talking to the teacher and or guide in a way that I wouldn't have otherwise.  This is especially true in countries that men and women don't normally interact unless they are related to each other.
Experiential travel tourism helps facilitate meaningful interactions that are difficult to have independently.  Yes, it may be possible to meet people in the street, ask someone to give you a lesson, or to try to live like a local, but it is not that easy to do, especially if time is limited. By creating experiences that can be more easily accessed, an organized structure can help facilitate these things.  
Twenty years ago, when I was on a 9-month trip backpacking through South America, in order to learn traditional weaving using a back-strap loom, I asked a woman working in a store on the main square of a tiny Peruvian village if she knew someone who could teach me traditional weaving.  She led me to the house of a weaver and I negotiated lessons. It was an incredible week of learning a traditional kill, meeting my teacher's family and learning much more about their lives and culture.   
Fifteen years later, when I wanted to repeat this experience with my husband on a two-week vacation in Guatemala from my full-time job, it was only practicable for me to prearrange this.  Thanks to the Internet, I was able to prearrange a two-day lesson to do the same thing.  I was happy that this was available.
However, experiential travel isn't just about organized tourism.  Random moments, such as helping monks make sand mandalas in a Tibetan monastery, can be incredibly meaningful.  Experiential travel is also about making time for these things to happen.
Although the term "Experiential Travel" is a buzzword in media and is popular with marketers, who use it to sell this brand of tourism, and some people find this off-putting, the reality is that the underlying concepts behind experiential travel are sound.  Experiential travel is more than just regular travel.  It is a mindset of actively seeking to engage with the local destination on many levels – and that, in my opinion, is a good thing!
---
References
https://www.originoutside.com/insights/the-rise-of-experiential-travel Marie-Josee Legault
https://www.forbes.com/sites/larryolmsted/2017/02/07/the-future-of-travel-the-hot-trend-thats-changing-the-way-you-vacation Feb 7, 2017
The rise of experiential travel and its impact on tours and activitiesLucy Fuggle, Aug 2, 2016
Adventure Tourism Market Study, co-produced by George Washington University and the Adventure Travel Trade Association (ATTA).
Wendy Perrin, travel advocate at TripAdvisor and founder of wendyperrin.com
Skift's 2017 U.S. Experiential Survey
https://www.ustoa.com/press/2014-Member-survey, Terry Dale
---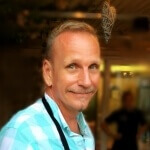 James Ian has traveled to 82 countries and all 7 continents.  He is passionate about experiential travel, i.e. meaningful travel that actively engages with the environment and culture.  He helps people have similar experiences that involve active participation in activities and festivals; engaging with the local food and handicrafts through lessons and food tours; and interacting positively with environment by hiking, riding, rowing, diving and low/no impact animal encounters.