I stood in the middle of the narrow boat, a long oar in hand.  The water was choppy and the boat tossed around a little.  My feet were spread slightly apart and my knees bent to try and give myself some balance, but it was little help and I lurched from side to side ungracefully. 
I dipped the long oar in the water and pulled.  It did very little.  This was harder than I had expected.
I was in the middle of a lagoon near Venice, Italy.  We had actually left the canals behind, so I couldn't bump into anything, but the waters here were rougher than in the sheltered canals.
I am learning how to row a gondola!
---
No time to read now? Pin it and save it for later: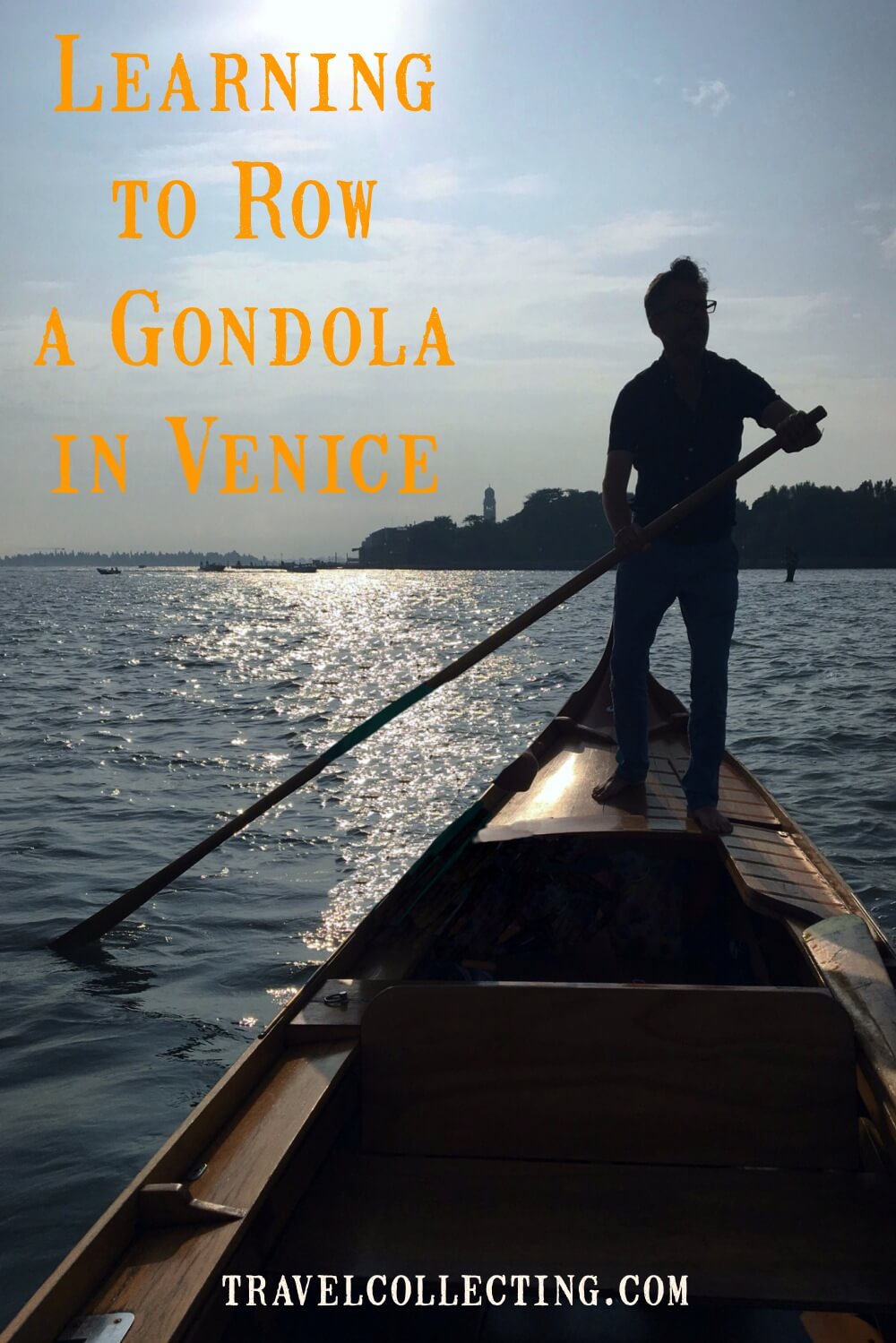 Please note this post may contain affiliate links, which means we may receive a commission, at zero cost to you, if you make a purchase through a link. Please see our full Disclosure for more information. If you have any questions, please let me know.
THE INSPIRATION: Learn to Row a Gondola in Venice
Venice boats are called gondolas and taking a gondola ride in Venice, Italy is an absolute must-do.  A Venice boat ride is really magical, but Kevin and I love to try out local experiences and actively interact with the local culture. 
We had learned how to cook pasta in Rome and done an incredible hike in the Italian Riviera, so when we discovered that you in Venice, gondola lessons are available so you can to learn the art of Venetian rowing, we were excited. 
We figured it would be even more fun to learn to row a gondola in Venice.  Rowing Venice would be a whole different way to experience the city than walking Venice.
So, let's go rowing in Italy.
Gondola lessons in Venice are an hour and a half and are actually in a batellina, a traditional hand-made wooden boat similar to a gondola.  Like the gondoliers rowing tourists around, you row standing up.
Getting to the boat for gondola lessons, Venice, Italy
To get to the marina, we walked through the Cannaregio Sestiere part of Venice.  This is the real Venice many don't see.  There are few tourists and it a little shabby around the edges.  Paint and plaster are chipping off walls, there is garbage left on the streets for collection and you only hear Italian being spoken. 
I liked it a lot.  I had fallen in love with Venice the second we left the airport by boat and crossed the lagoon to the island.
Friends of mine had visited and some hated Venice – it was smelly and overrun with tourists.  Others loved it – it was charming and beautiful.  I was most definitely with the latter group.
Venice did not smell (when I was there, at least); yes, there were a lot of tourists, but there was a reason; and yes, every single corner revealed yet another gorgeous view worthy of a photo.  But most of Venice did seem to exist purely for tourists, so it was nice to see that some of the city, at least, was still lived in by Venetians.
The row Venice gondola lesson
We got to the marina at 8:30am and were met by our instructor Maria, who spoke only a few words of English, and a very cute and very pleasant Italian guy who was to be our translator.  He spoke flawless English with an English accent and accompanied us the whole time. 
They worked for an organization that was committed to preserving the traditions of Venetian rowing and the use of the batellina, a traditional working boat in Venice.  Providing lessons to tourists is one way to help keep the tradition alive. The organization is run by women and all of the rowing coaches are women.
We were the only students, so Maria started immediately showing us how to stand, where to put the oars and how to pull and push correctly.  I have rowed boats before, but it is much harder standing up, because you need to balance as well as row.  The gondoliers make it look easy.  It's not.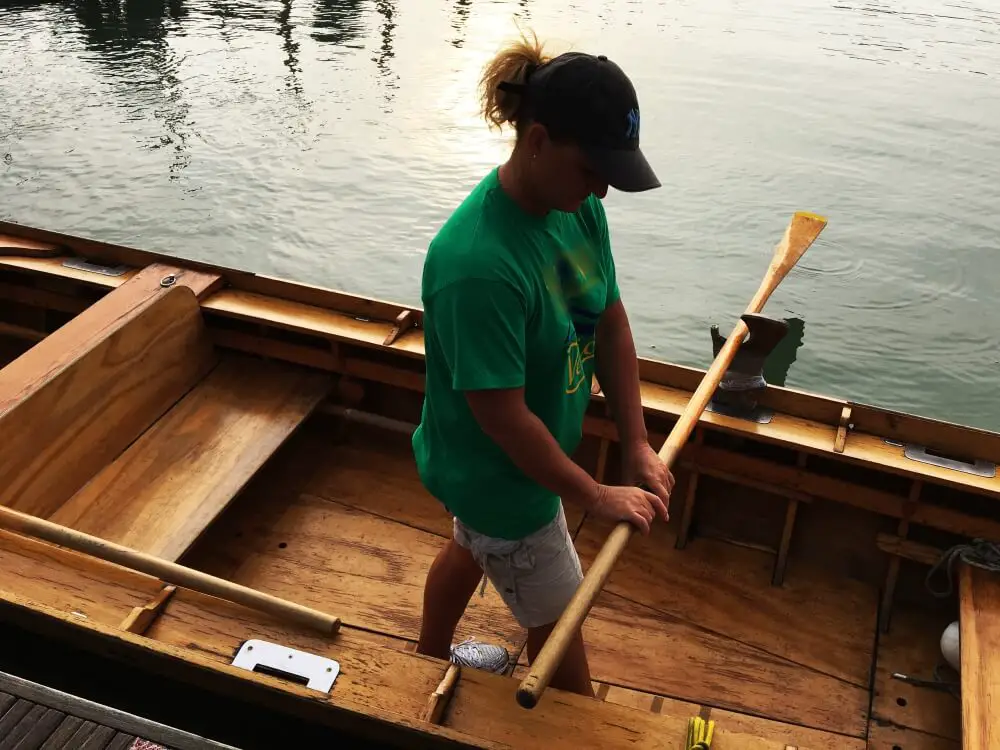 The route
We left the marina and headed into the canals of the Cannaregio Sestiere.
There are no gondolas here; just working boats transporting cargo, trash and people around for their daily lives.  I was very happy that there was little traffic, so I didn't need to navigate around them!
Kevin and I took it in turns to learn and practice rowing. He was much better at it than me – and therefore enjoyed it more.  I struggled and to be perfectly honest, didn't enjoy it as much as I thought I would.  I was happier being a passenger while Kevin rowed.
Then we headed out of the canals and into the lagoon.  I think the idea was that there was no danger in crashing into anything, so we could learn more easily, but it was choppy out of the protection of the buildings, and was much harder, in my opinion; my balance was terrible and I was constantly in danger of falling over (into the lagoon?). 
I decided to sit it out and Kevin got more practice time. One of the things that I love about taking classes is that they often provide an opportunity to talk to locals , and we enjoyed chatting to our translator about life in Venice.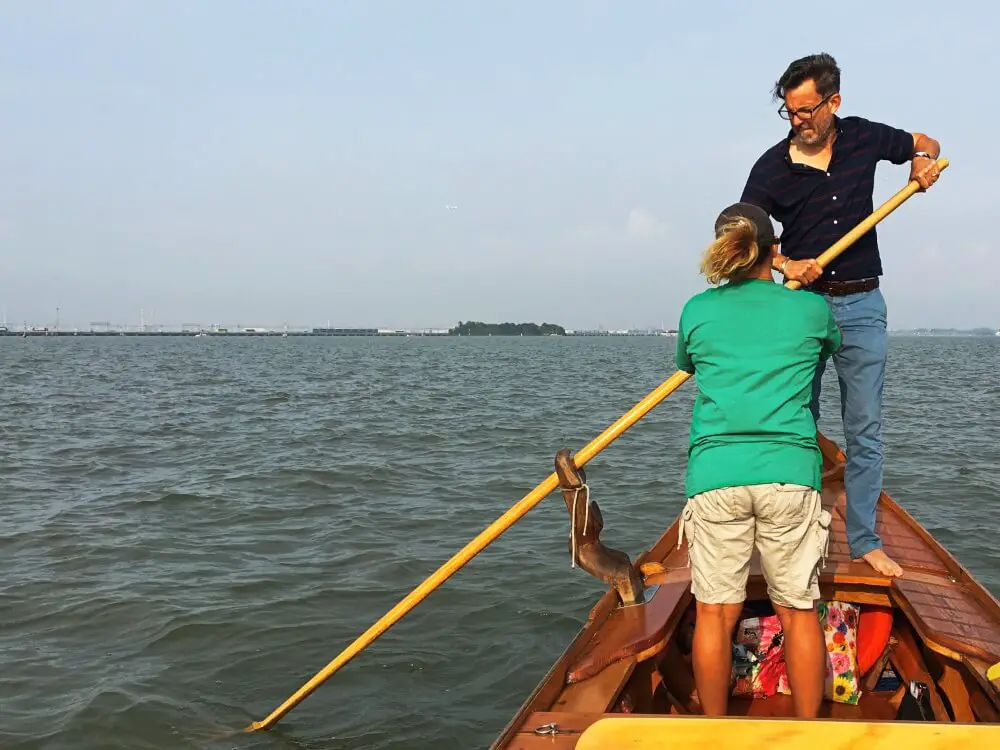 Venice is an interesting city – there are so many tourists that Venetians often can't afford to live there anymore and move away, making it even more difficult to preserve their way of life. 
Venetians have a reputation for being conservative and somewhat insular, but it is understandable when there are so many factors influencing their lives.  They have very strong (not good) opinions about the government and the Venice Flood Barrier and it was interesting to hear a local's take on the – much-delayed and incredibly expensive – project.
The verdict: Learning how to do Venetian rowing
This was much harder than I expected and I was terrible at it.  In the end, I was happy for Kevin to do most of the rowing; sometimes it's OK to be a passenger. (And I was happy that Kevin got to live his gondolier fantasy). The fact that we did ourselves made it the best gondola ride in Venice, for us.
However, what I loved most about this is that it is a way for traditions to stay alive.  Venice is overrun with tourists and anything that helps preserve traditions here is a good thing. 
We also got to go down a working, residential canal a time of the day when the neighborhood was waking up and the service boats were coming out, so we were in the midst of the 'real' Venice. So a thumbs up for my favorite gondola ride Venice has to offer.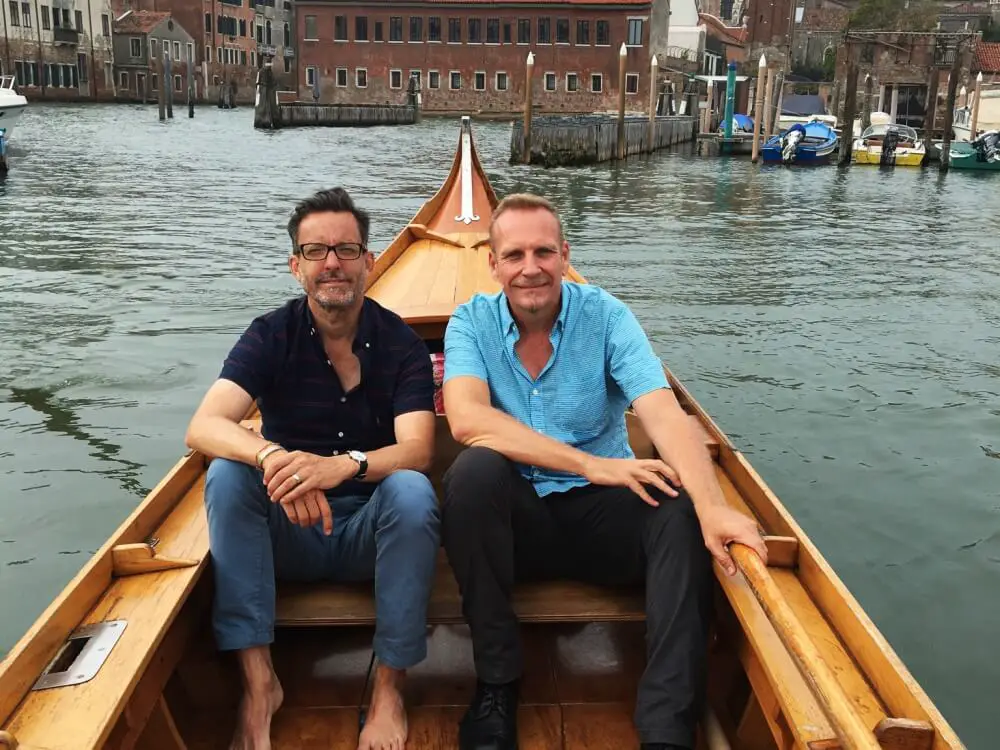 [table id=17 /]
PRACTICAL TIPS
The experience: Gondola rowing lessons, Venice
You can book a lesson to learn how to row a gondola just like I did here.  Row Venice gondola lessons are in a boat similar to a gondola and go along less touristy canals in Venice (which I liked) and, weather-permitting, out into the lagoon (which I liked less, as it was choppy and difficult to row).
Venice is an essential stop on any Italy itinerary.
Other things to do in Venice
There are a lot of awesome experiences you can have in Venice.  These will really make your vacation a unique travel experience.
How to get to Venice
The main airport for Venice is the Marco Polo Airport. Check out prices to Venice on Skyscanner here.
Even if you have rented a car, drop it off here, as you can't – and don't need to – drive in Venice.
How to get from the Airport to Venice
The easiest way to get from Venice Marco Polo Airport to the center of Venice is a water taxi, which you can book here.
How to get around Venice
You will probably walk a lot.  Venice is a maze of streets and canals and it is easy to get lost, but there are signs to major places like Saint Mark's Square scattered around.  There are actually a few major routes (between Saint Marks and the Rialto Bridge, for example), and if you see crowds, follow them and you will find yourself at a familiar location soon enough.
Otherwise, you have two options.  A water taxi or a vaporetto. Click here for more information about a vaporetto.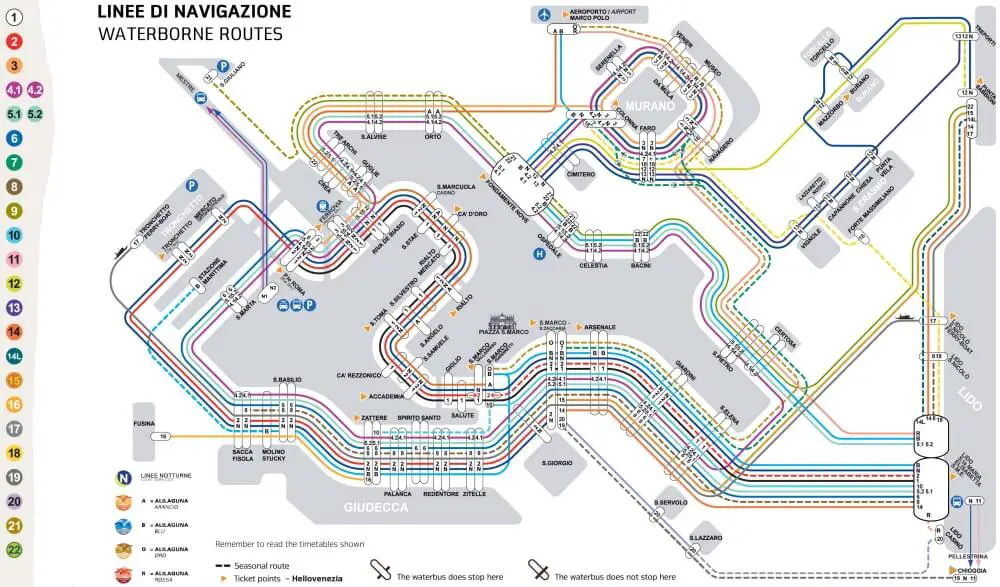 Where to stay in Venice
There are lots of great hotels in Venice:
Best* accommodations in Venice
[table id=44 /]
* Based on highest booking.com ratings at time of writing
Where is Venice and what is the currency?
Venice is on the northern part of Italy, on the east coast.  The currency is the euro.  Check the current exchange rate here.
Visa requirements for Italy
Always check the visa requirements just to make sure – and have at least 6 months left on your passport.
Best time to visit Venice
When is the best month to visit Venice?  Spring (April – June) and fall/ autumn (September and October) are best in general.  July and August it gets very crowded and hot.  I was there in mid-September and it was lovely.
When does Venice flood?  Venice is not only famous for its canals, but also the acqua alta ("high water") when the city floods and they need to put elevated walkways around St Mark's Square to walk around on because it is under a couple of feet of water.  Not that much fun.  This is most likely to happen October – January, though it's possible any time of the year.
Planning and Packing for Venice
In addition to this blog, you might want to use a guide book to help plan your trip to Venice.  I usually use the Lonely Planet.  You can buy the Italy Lonely Planet here or if you are only visiting Venice, buy the Venice Lonely Planet here.
Use my step-by-step Travel Planner to help you in your planning.
When you are ready for your trip, check out my Essential Packing List.
Not on this list, but also an essential, in my opinion, is a travel diary.  I love this leather-bound journal, as it really evokes the fantasy of travel for me.  You can also consider buying a sketch book to record your memories in a different way than just photos.  Venice has scenes around every corner you could sketch.  This sketch pad looks great and is easy to carry.
Additional consideration: Travel Insurance
It is important to be fully prepared when you travel, so in addition to accommodation, planning and flights, you should always include getting travel insurance in your pre-trip routine.  A great insurance option is Travelex.  It has coverage for all you'll need. You can compare Travel Insurance plans here.
Check out my comprehensive Guide to Travel Insurance if you have any questions about what coverage to get, what to look for and what the best travel insurance to buy is.
Get a quote right now:
---
Happy rowing!
Do you have any stories of  Venice ? I'd love to hear them. Comment below.  
If you liked this post, please share the love and Pin it to your Venice and Italy boards!
Read about other Italian experiences:
Read more travel workshops/ classes:
---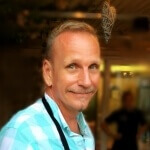 James Ian has traveled to 82 countries and all 7 continents.  He is passionate about experiential travel, i.e. meaningful travel that actively engages with the environment and culture.  He helps people have similar experiences that involve active participation in activities and festivals; engaging with the local food and handicrafts through lessons and food tours; and interacting positively with environment by hiking, riding, rowing, diving and low/no impact animal encounters. 
---
Travel Collecting is a participant in the Amazon.com Services LLC Associates Program, an affiliate advertising program designed to provide a means for sites to earn advertising fees by advertising and linking to amazon.com. Amazon and the Amazon logo are trademarks of Amazon.com, Inc. or its affiliates. As an Amazon Associate I earn from qualifying purchases.