I was sitting at a long table in the large dining/ living room of a chic apartment in central Rome.  I took sip of wine and shared travel stories with my dinner companions about our Roman holidays. 
Our hosts shared stories about pasta and bickered with each other in the way that happily married people often do.
As we drank and chatted, we ate delicious homemade pasta.  The spaghetti was light and the sauce super fresh. The ravioli large, plump and delicious. The flavors were strong and I could taste each ingredient clearly. 
The setting was perfect, the conversation fun, the wine delicious and the food really, really tasty.
The absolute best part?  We had made the pasta ourselves.  From scratch.
---
No time to read all about this fun pasta making class in Rome? Pin it and save it for later:
Please note this post may contain affiliate links, which means we may receive a commission, at zero cost to you, if you make a purchase through a link. Please see our full Disclosure for more information. If you have any questions, please let me know.
Pasta making class, Rome, Italy
I love pasta.  I love everything about it except that the sauces can be fattening, so I don't eat it that often.  It's easy and quick to cook, it's easy to mix up with different shapes and different sauces, and it's delicious. 
It's hard to go wrong.  But even more, I love fresh pasta. It tastes better than dried pasta, the texture is different and cooks in a couple of minutes.
We love experiencing food when we travel through cooking classes and food tours.  So, when Kevin and I decided to spend two weeks in Italy, in addition to rowing a gondola in Venice and hiking in the Riviera, when we were in Rome, having a local experience making pasta from scratch seemed like the perfect Italian experience to have.
The location
We put the address in our GPS that we'd been given for the pasta class.  Rome has lots of narrow streets, but it was just a short distance from our hotel, through Piazza Navona. Piazza Navona is not to be missed and makes it on the most famous landmarks in Italy list.
We continued along a few narrow streets to a tiny apartment building.  Up some narrow stairs, we found the door to an apartment that the company had in which to run the pasta making class. 
Italy is all about good food and good wine, so what's more perfect than learning how to make Italian pasta, then drinking wine and eating pasta on the terrace of a Roman apartment?
Aperitifs and appetizers
We arrived at the rooftop terrace for fabulous views down a narrow, cobbled street with orange tiled roofs and the dome of a cathedral peeking overhead.  The sun was shining, the grape arbor gave some shade, and we were welcomed immediately with a glass of wine and bruschetta. 
A long table was set up with aprons, utensils, etc. for each participant, together with wine glasses, bottles of olive oil and wine.  It was extremely well-organized.
We sat down, soaking in the views, and enjoying the sunshine.  We were one of the first ones there, but the rest soon arrived and we got to know each other a little as we drank our wine and ate our snacks.
Our fellow guests were Americans and Australians.  I had three glasses of wine before the class started, so I was definitely in the mood to have a good time and enjoy the pasta-making course.
The hosts
The hosts Roberto and Denise were really friendly and immediately made us feel relaxed and entertained us with stories of pasta.  Pasta is very important to Italians and they are very proud of it.  And there is no pasta better than the pasta their mama or nonna makes. 
Denise is from the north and Roberto is from Sicily in the far south.  Of course, he thought his mama made the best pasta – though he didn't do a bad job himself.
While pasta is indisputably Italian, not all sauces are.  Italians are proud of their regional pasta and sauces and were clearly disapproving of any foreign infringements into something that is quintessentially their traditions.
Making pasta and sauces
Each region specializes in its own pasta and accompanying sauce.  Since we were pasta making in Rome, it was only appropriate that we made dishes that are specialties in Rome.
We started making the pasta. Roberto and Denise were very methodical teachers, who guided us step by step and made sure everyone was on track before moving to the next step. 
We started by mixing an egg and a little olive oil in a well of flour with a fork and then progressed to kneading a ball of dough with our hands.  We wrapped them in plastic and they were put in the fridge while we started making a sauce.
.
Ingredients for the sauces are simple.  There were very few ingredients in each sauce, but each ingredient was very fresh and good quality.  We were advised to use good wine, not cooking wine.  The remainder of the bottle you can drink with dinner.
We had each made our own pasta, but the sauce was made by a volunteer with the rest of us watching and enjoying more wine.
After half an hour, our pasta was ready for the next stage.  We rolled it into a basic sheet then put it through a pasta maker so it was in thin sheets. We split it into two halves – one for spaghetti and one for ravioli. 
Then we used a chittara which I had never seen before, to create the thin strips of spaghetti.  The chitarra is named after the guitar because it has rows of thin wire.  You place a sheet of raw pasta dough on top, over the strings, then roll along the dough and the wires cut it into thin strips.  Very cool.
The remaining half of the dough we used for ravioli.  You can buy  a ravioli maker which I have used since and it makes smaller and neater raviolis, but we used a drinking glass to cut circles in the dough.  We placed a dollop of cheese filling to one side, then folded over the other half of the dough and pinched around the edges to join them together.  It was easy.
The storm
Around the time we were finishing making our ravioli, the sky quickly darkened and the air cooled.  The wind picked up and within a few minutes, a full-on summer storm had blown in.  A couple of heavy drops, then the sky opened and it teemed. 
With the wind gusting and buckets of water pouring down, it was very dramatic.  A paper lamp was quickly sodden then torn by the wind.  So, we grabbed our glasses and headed inside for Plan B.  The mood was fun and light.
Dinner
Down stairs from the rooftop was a large dining/living room with an enormous table that easily sat us all.  The apartment is set up for classes in all weather, so it was very quick and easy to relocate and set the table for dinner. 
Denise and Roberto run these cooking classes in Italy for tourists regularly, including to lots of school groups, so it is very smooth operation.  Our pasta had all been combined and a huge platter of spaghetti and ravioli was brought to the table, covered in delicious fresh sauces. 
More wine was served.
Unless you have friends or family who live in Rome, there are few opportunities to have a dinner party in a central Roman apartment with other like-minded people, eating food you have made from scratch.  It was a really fun experience to have on our Roman holiday.
Back home
The cherry on top?  We were given the recipe at the end of the evening and have used it since.  In fact, now that we know how to make pasta, we've made it several times.  We bought a pasta maker, a ravioli maker and a chittara from Amazon when we got back home, which makes it easy. 
The actual process of making pasta is not difficult.  It takes time, but if you have some friends over, it is a really fun way to start a dinner party.  We have invited friends over, made pasta together, then enjoyed eating it together afterwards. 
It takes about 1.5 hours in total to make (including the sauce) – and about 2-3 minutes to cook!
And now you've learned the basics, you can start to get even fancier with other handmade pasta recipes.
The verdict: Pasta cooking class, Rome
Do it!  Taking a Rome pasta making class is a really fun vacation experience, and you get the recipe so you can make pasta with your friends for a dinner party with a twist.  This was definitely one of the best cooking classes in Rome.
[table id=16 /]
PRACTICAL TIPS: Pasta making class, Rome, Italy
Choosing the best cooking class(es) in Italy in English
There are plenty cooking classes in Rome, Italy in English and it can be hard to know which one to choose.  For tips on how to choose a cooking class, read my Guide here.
I recommend the pasta cooking class we took that I have described for several reasons: It has a location second to none on the rooftop terrace of a central apartment, it was extremely well-organized, the hosts were delightful, and it is super easy to book through Viator. 
Other things to do in Rome
There are a lot more amazing experiences you can have in Rome.  These will really make your vacation a unique travel experience.
How to get to Rome
Rome has two airports, with Fiumicino Airport being the main one.  The other airport, which is mostly for domestic flights, is Ciampino Airport.  There are many flights into Rome.
How to get from the airport to Central Rome
It is easy to get from the airport to central Rome.
You can book a transfer from Fiumicino Airport to central Rome here.
You can book a transfer from Ciampino Airport to Termini (the main train station) here.
I don't recommend driving in Rome, as the traffic is crazy.  However, if you are planning to leave Rome, driving around is better than taking the train, because you can easily visit hill towns, wineries, etc.  When we were ready to leave Rome and start travelling around the rest of Italy, we rented a car at Ciampino airport, which is on the outskirts of town.  It is easy to rent a car with rentalcars.com.
Where to stay in Rome
There are a lot of different places to stay in Rome. For help deciding the best option for you, read my Guide to Choosing the Perfect Hotel.
Bed and Breakfast in Rome
4321 B&B:  With a shared lounge, a terrace and a shared kitchen, complimentary WiFi and even bicycle rental, this is a great deal.
Check prices and availability for 4321 B&B here
Apartment in Rome
Apartment Polveriera Colosseum:  A chic modern apartment with a seating area and a kitchenette, just 1,000 feet from the Coliseum.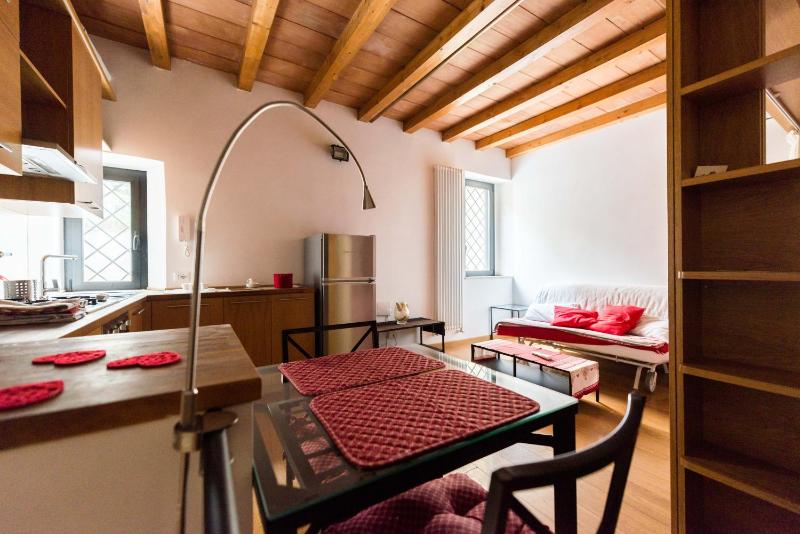 Check prices and availability for Apartment Polveriera Colosseum here
Mid-Range Hotel in Rome
Hotel Santa Maria:  Heavy on charm, this 3-star hotel is a former 16th-century convent.  Rooms have terracotta floors and wooden furniture and have views of an internal garden.  It has a great location in Trastevere, on the bank of the Tiber River.
Check prices and availability for Hotel Santa Maria here
Luxury Hotel in Rome
Hotel Vilòn:  I like small boutique hotels with lots of character and Hotel Vilon has this in spades.It's located right in the historic center, the décor is beautiful, the staff are friendly, the breakfast is delicious…  
Check prices and availability for Hotel Vilòn here
Check out other hotels in Rome here
Where is Rome and what is the currency?
Rome is the capital of Italy.  The currency is the euro. Check the current exchange rate here.
Visa requirements for Italy
For visa requirements, check out your home country's official government visa websites:
For citizens of other countries, use this helpful website (though it's best to always check with the embassy as well). 
If you need a visa, make sure that you have enough time to get one.
Best time to visit Rome
The best of year to visit Rome is spring (April, May) and fall (September-October).  Summer is very hot and crowded.  In August most Italians go on vacation, so try to avoid this month is possible.  We were there early September and it was still very hot (in the low 90's (°F)/ low-mid 30's (°C)).
Planning and packing for Rome
In addition to this blog, you will probably want to get a guidebook.  I use the Lonely Planet. Buy the Italy Lonely Planet here. Or if you are just going to Rome, buy the Rome Lonely Planet here. For help planning and preparing for your trip, use my Travel Planner, which has a breakdown of all the steps you need to follow.
If you are new to traveling in Europe, read my Europe Travel Guide, packed with useful info and tips.
When you are ready for your trip, check my Essential Packing List for International Travel to make sure you take everything you need.
Safety in Rome
How safe is Rome? It's a safe city, but you should always take precautions wherever you go. Rome has some famous scams that are sometimes played on travelers. Your best bet is to know the scams in advance so you recognize them when they start and you can therefore avoid them. Read my post on the most common travel scams here.
Oh, and you should get travel insurance.
Additional consideration: Travel Insurance
It is important to be fully prepared when you travel.  In addition to accommodation, planning and flights, you should always have travel insurance, just in case.  I always hope I never need to use it but I get it just in case I do!  If you have questions about travel insurance, read my Guide to Buying Travel Insurance, which breaks it all down so you know what to look for in a policy.
A great insurance option is Travelex.  It has coverage for all you'll need. You can swap this link for  either compare Travel Insurance plans here or get a quote right now:
---
Enjoy the class and dinner!
Do you have any favorite stories of Italy? I'd love to hear them. Comment below.  
If you liked this post, please share the love and Pin It to your Italy and Cooking Classes boards for later!
For more posts on Italy, read about:
Read about more food travel experiences
---
---
Travel Collecting is a participant in the Amazon.com Services LLC Associates Program, an affiliate advertising program designed to provide a means for sites to earn advertising fees by advertising and linking to amazon.com. Amazon and the Amazon logo are trademarks of Amazon.com, Inc. or its affiliates.