I push my finger in to the gelatinous substance and dig down dig, trying to scoop it up.  It doesn't come out and a dig around a little more.  It is off-putting, but I persist and manage to separate the eyeball from the skull it was attached to.
Victorious, I raise it to my mouth, and not looking too closely so that I don't chicken out, I pop it in my mouth and immediately chew. 
The spongy texture is a little off-putting, but actually it is delicious. It tastes strongly of lamb, but mellow and smooth.  I swallow and everyone cheers.
I have just eaten a sheep's eyeball!
---
No time right now to read about this great food tour in Marrakech? Pin it and save it for later:
Please note this post may contain affiliate links, which means we may receive a commission, at zero cost to you, if you make a purchase through a link. Please see our full Disclosure for more information. If you have any questions, please let me know.
The Best Food Tour, Marrakech
I am in Marrakech.  Morocco was my first introduction to Africa and it had been a few years since I had been, so I was excited to go back.  I love taking a food trip when I travel, including culinary food tours, and had loved my food tour of Santiago, Chile.
There are many great restaurants in Marrakech, but I wanted an introduction to Marrakech street food and figured that taking a Morocco food tour would help me get a real taste of Marrakech by trying some of the best food in Marrakech. 
Finding the best street food, including Moroccan snail soup and other traditional Moroccan food Marrakech has requires insider knowledge, and I had read online that this was one of the most authentic tours in Marrakech, Morocco.
Wondering what to eat in Morocco or what to eat in Marrakech? A Morocco culinary tour combined with a Marrakech walking tour was such a great way to see more of the city and try real Morocco/ Marrakech food.
Jemaa el-Fnaa
We met at 6:00pm in Jemaa el-Fnaa, the Marrakech main square.  It was an easy meeting place because it is the center of life in Marrakech.
We had sheltered from an afternoon thunderstorm at one of the many restaurants on the edge of the "Big Square" as it is colloquially called (at least for the tourists), but had taken care not to eat, as we wanted to have enough room for all of the food we would eat on the tour, which was a good move. 
We had been entertained by seeing all of the deconstructed Jemaa el Fna food stalls  food stalls wheeled in on carts, then built into mini-restaurants.
The elaborate procedure happens every night, and they are broken down and carted away at the end of the night so that the square is wide open during the day. 
While waiting for the tour to start, we were kept busy watching water sellers in traditional garb, people playing a game of trying to hang a loop on the end of a "fishing pole" on a plastic Coke bottle, story tellers starting to gather crowds.
Our guide(s)
We had two guides – a new(ish) guide and the owner Yussef, who was there to make sure that his new guide gave a great tour. 
I think we were lucky to have both of them, but both were excellent and really added to our experience.  We were able to ask lots of questions – not only about the food, but also about life in Morocco and other aspects of Moroccan culture and history. 
They gave us a lot of information about the foods we tried and a super interesting insight into authentic Marrakech food and daily life.
Tanjia – and a sheep's eyeball
Morocco is most famous for tajine – and we ate a lot of delicious tajines during our stay on Morocco, but there were no tajine's on this tour.  This was a chance to try less common or well-know foods.  We visited a restaurant that had a huge oven pit where whole lambs can be cooked.
These days they only cook about three/ day, but there is room for many, many more.  They also cook tanjia in the ovens.
Tanjia is meat -most commonly lamb – and spices slow-cooked in an earthenware jug or pot over embers.  Traditionally it was done in the embers of the fires used to heat the water in the hammams (public baths) or in communal pits like the one this restaurant has. 
There are few places left that do this, so we were lucky to experience this, see the oven and eat some tanjia.  Marrakech was a great place to try it. 
The melt-in-your-mouth mutton was delicious.  We ate it with the ubiquitous round flatish bread that is served with almost all Moroccan meals and often used to scoop up the food instead of a fork.
There was also roast lamb, and a sheep's head on our table.  We dug out the meat from the cheek, which was delicious. 
Our guide asked us who wanted to eat the eyeball.  There were only three of us on the tour and the other two people, including Kevin, were adamant that they did not want to. 
I didn't want to disappoint the guide, so I decided "Why not? I'll give it a try."
So I gathered my courage, dug around in the socket to get the gelatinous ball in hand and popped it in my mouth.  It was surprisingly delicious.
I got a sticker attesting that I had indeed eaten the sheep's eyeball.
Olives and peppers
We ventured deeper into the souk to a section of Marrakech food stalls with all kinds of olives piled high, together with heaps of candied lemons that are used in many Moroccan dishes, and pickled peppers. 
Kevin tried several kinds of olives. I, on the other hand, may be willing to eat an eyeball, but I draw the line at olives!  I hate them, so was happy to watch and enjoy the colorful displays.
Savory crepes, soup and sardine burgers
Deeper still into the souk, on a narrow street crowded with Moroccans and very few tourists, we watched a woman making square-shaped mssemen flatbread – kind of like a crepes filled with think layers of a savory paste. 
It was delicious, and nicely accompanied by a small bowl of Moroccan soup.  It's a popular Moroccan street food, and we ate it standing up.
A little further down the street, we sat down to try sardine burgers.  These we made ourselves with sardine patties, bread, ketchup and raw onions.  It may sound a little off-putting, but were delicious.
Something sweet and some baking
After all that savory food, it was time to try something sweet.  Donuts are of my favorite Moroccan snacks.  We watched donuts fried in a large bowl of boiling oil, then strung together on thin strands of a palm leaf so they can be easily distributed.
They were served with a delicious orange blossom syrup to dip them in, and a glass of the sweet mint tea that is an integral part of Moroccan life.
The tea is generally a couple of kinds of mint plus other herbs, and is served with loads of sugar. I don't really like tea generally, but Moroccan mint tea is delicious.
Moroccan bread
Traditionally, bread is made at home, but baked in large communal ovens.  The baker is paid a small fee per loaf.  This tradition is slowly disappearing, but there are still some communal ovens left.  We visited an oven and saw the baker cooking the round loaves that accompany almost every meal.
We also visited the ovens below one of the hammams (public baths), where the many who stoked the fires earned a small side living by allowing people to cook their tanjia's in the embers of the hammam's fire. 
This was a dark pit that I would never have known to enter – and would certainly not have had permission to do – and this glimpse into a traditional life that still continues to day was fascinating.
Snail soup in Spice Square
We emerged from the labyrinth of narrow streets in Spices Square.  We had been there during the previous day, when we had enjoyed a pistachio brownie and mint tea while watching the basket sellers that crowded the square. 
At night time, it had changed completely and baskets had been replaced with snails.  Morocco is a former French colony and the French influence extends to its food. Including snails.  I had tried escargot in France years ago and found them kind of rubbery and swimming in garlic, so had not been overly impressed with the snail soup.   
Morocco, however, does it differently.  There was a small stand surrounded by people buying snails in their shells to take home and eating/ drinking snail soup (babbouche).
We pulled up to the stand and were given a bowl of large snails sitting in soup.
I used a small wooden pick to pull the snail out of the shell and ate it.
The snail and the soup, which I drank after, has a slightly earthy, slightly cinnamon flavor, and was actually not bad.  I don't know that I will rush to order them again, but I ate some of them and it was OK. 
Then we walk past a large plastic tub filled with love snails, many who had slowly escaped and were making a "run" for it on the surrounding ground.  I'm glad I saw them after and not before I had the soup.
Couscous and cookies
My first experience eating couscous had been 18 years earlier when I was travelling very cheaply and a travel companion had cooked some for us.  Not having a clue how to cook it, she had treated it like rice and boiled it – until it turned into a grey, thick gelatinous mass that was basically inedible. 
It was not a good introduction to couscous, but I had since tried it cooked well, and I love it.  It's very easy to cook too – when you buy it in a supermarket and just add water.
Traditionally, however, it is made from semolina and steamed.  It is served on Fridays in the home, as it is considered a special occasion food. 
Most couscous served in restaurants is mass produced for tourists, but there are a few restaurants that serve handmade couscous, and one of them – supposedly serving the best couscous in Marrakech – was our next stop.
A large steaming bowl of couscous, piled up with meat and vegetables was served.  Typically, the area in front of you is considered to be your 'zone' and it is considered bad form to take a choice piece of meat or vegetable from someone else's 'zone' of the shared dish. 
I was getting full by this stage, so could not eat all of my share, so was in no danger of committing an accidental breach of etiquette.  It was delicious, but I was full!
There was one last stop, however.  We walked out of the souk, past stalls piled high with fresh mint and other herbs for tea and down another street to a tiny bakery that supposedly has some of the best Moroccan pastries in town.
The small selection of little cookies, some slices of orange sprinkled with cinnamon and a thick date (Kevin) and avocado (me) smoothie, was the perfect way to end the tour.  I couldn't have eaten another thing!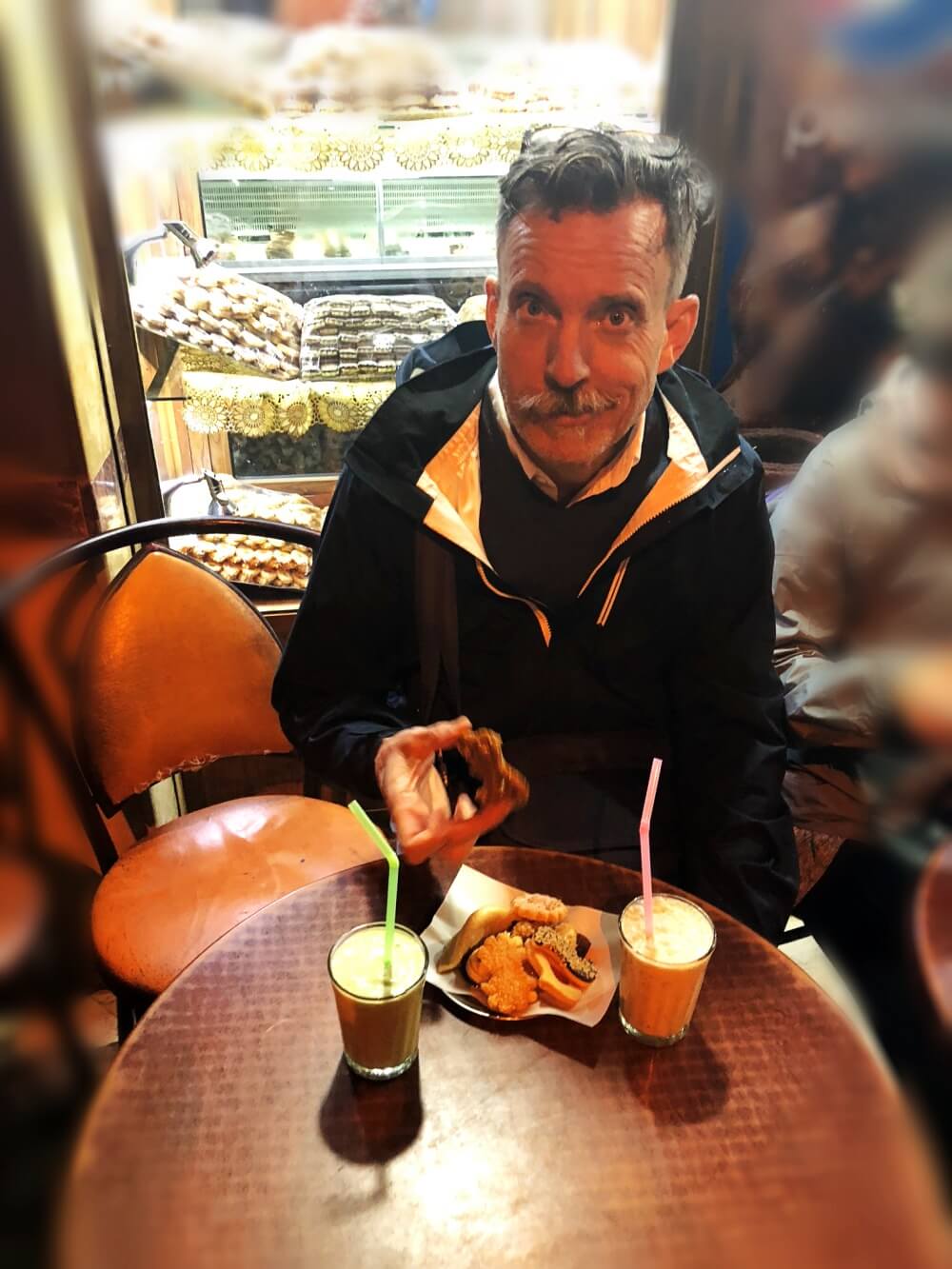 The Verdict: Marrakech market food tour
This food tour was worth every penny.  There was so much food with so many stops that we were completely stuffed by the end.  There was also a really wide breadth of foods. Our guides were both excellent, informative, friendly, knowledgeable and happy to answer all of our questions. 
They had clearly curated the tour carefully and thoughtfully and knew exactly what we wanted from a food tour.  I really believe that this is the best food tour in Marrakech with some of the best Moroccan food in Marrakech.  I like taking tours by locals.  Marrakech has great food.  Discover yourself:
What is Moroccan food like?
What is popular Moroccan food?
What is famous Moroccan food?
What is the Morocco food culture ?
[table id=22 /]
---
PRACTICAL TIPS: Marrakech Food Tour
The experience: Food Tour in Marrakech
We booked the tour with Marrakech Food Tours.  The tour is their Evening Street Food Tour, which is from 6:00pm – 9:30pm.
Other food tours:
Read my Guide to Choosing the Best Food Tour here to help you with your choice.
Other top things to do in Marrakech, Morocco
Wondering what to do in Marrakech other than this food tour?  There are a lot of wonderful experiences you can have in Marrakech.  These will really make your vacation a unique travel experience.
How to get to Marrakech
1. Fly to Marrakech.  The main international airport in Morocco is the Mohammed V International Airport near Casablanca.  However, Marrakech has a small international airport, the Marrakech Menara Airport.  We flew from Lisbon, Portugal direct to Marrakech.
Book a flight to Morocco here.
2. Train to Marrakech.  If you fly into Casablanca, there is a train from Casablanca to Marrakech.  Take a commuter train or taxi or transfer to Casablanca Voyageurs, the main train station.
You can book a transfer from Casablanca Airport to central Casablanca here. From there you can take a direct train to Marrakech.
You can buy tickets online (in French) on the ONCF website.  Trains are cheap.  First class has six seats and second class has eight.  I didn't take the Casablanca-Marrakech train, but I did take a train from Meknes-Fes and it was very comfortable and easy to buy tickets.
3. Private transfer to Marrakech.  Another, very comfortable, option is to book a private transfer from Casablanca to Marrakech, which is definitely the easiest way to get between the two cities.
Marrakech is one of the highlights of Morocco. For more ideas on places to visit, check out a great one-week Morocco itinerary.
How to get from the airport to central Marrakech
The easiest and safest way to get from Marrakech Menara Airport to the center of Marrakech is a private transfer, which you can book here.
Taxis are also an option and if you choose to do this, I would recommend arranging one through your hotel.
Getting Around Marrakech
You can get around the old town/ median on foot easily.  If you venture to the modern town, take a taxi, but check they use the meter and if not, negotiate the amount in advance to avoid any nasty surprises or trouble when you get to your destination.
Where to Stay in Marrakech
I would strongly recommend staying in a riad or dar (traditional Moroccan houses converted into small boutique hotels).  Most are beautifully restored and furnished with traditional handicrafts.
We stayed at Riad Miski. This was beautiful, with a rooftop terrace for breakfast and a beautiful small dining room where you can arrange to have dinner.  They also have a private hammam. It is run by a French couple who took good care of us, showed us where everything was on a map and gave us some tips on things to see and scams to avoid.
For other options, check out more hotels in Marrakech here.
Where is Marrakech and what is the currency?
Morocco is in the northwest of Africa, just south of Spain. The currency is the Moroccan Dirham (MAD).  Click here for conversion from your currency.
Visa requirements for Morocco
For visa requirements for Morocco, check out your home country's official government visa websites:
For citizens of other countries, use this helpful website (though it's best to always check with the embassy as well). 
Best time to visit Marrakech
The best to visit Marrakech is the shoulder seasons March to May and  September to November. The average daytime temperatures are mostly in the 70's and 80's F/ 20's C.  Summer is REALLY hot (100's F/ high 30's/ low 40's C).  Winter is cool (40's-60's F/ roughly 5°C-15°C), but it gets crowded with Europeans escaping the freezing cold. 
I was there the last week of April and it was pleasant except they had the rainiest spring for years!
When planning a trip, keep Ramadan in mind. Ramadan is the Moslem holy month, and among other things must abstain from eating, drinking and smoking from dawn to dusk during this month.  It is still possible to visit then, of course, but some things may be closed. 
Tourist restaurants are typically still open, but it is considered bad form to eat on the streets during the day when you are surrounded by people who are fasting. Check when Ramadan is here.
Planning and Packing for Morocco
I always use blogs and guidebooks in combination to plan my travels.  I used the Lonely Planet for Morocco. You can buy the Morocco Lonely Planet here. I also recommend using my Travel Planner, which has a break down of the things you need to do when planning and preparing for your vacation.
When you are getting ready for your trip, check out my Essential Packing List for international travel so you don't forget anything important. And check you have everything on this helpful Essential Packing List for Morocco.
Additional consideration: Travel Insurance
Of course you should have travel insurance whenever you travel, no matter where it is to.  I have written a Guide to Buying Travel Insurance to help you understand it and know what to look for when deciding what insurance to get.
A great insurance option is Travelex.  It has coverage for all you'll need. You can swap this link for  either compare Travel Insurance plans here or get a quote right now:
---
Enjoy the food tour!
Did you eat the sheep's eyeball? Do you have any other stories of Morocco? I'd love to hear them. Comment below.  
If you liked this post, please share the love and Pin It to your Morocco and Food Tour boards for later!
Read about other food experiences:
---
---
Travel Collecting is a participant in the Amazon.com Services LLC Associates Program, an affiliate advertising program designed to provide a means for sites to earn advertising fees by advertising and linking to amazon.com. Amazon and the Amazon logo are trademarks of Amazon.com, Inc. or its affiliates.