I am sitting sheltered by a canopy of pale pink.  I clutch my glass jar of sake and, with my friend Ainsley, stand up and go for a stroll.  Trees line both sides of the path, forming a tunnel of beautiful pink blossoms.  Fallen petals create a rosy carpet.  I feel cocooned by beauty.  I stagger just a little – this is not my first sake of the day – and walk through the trees to the water's edge.
---
No time right now to read about where to find the best Osaka cherry blossom viewing? Pin it and save it for later: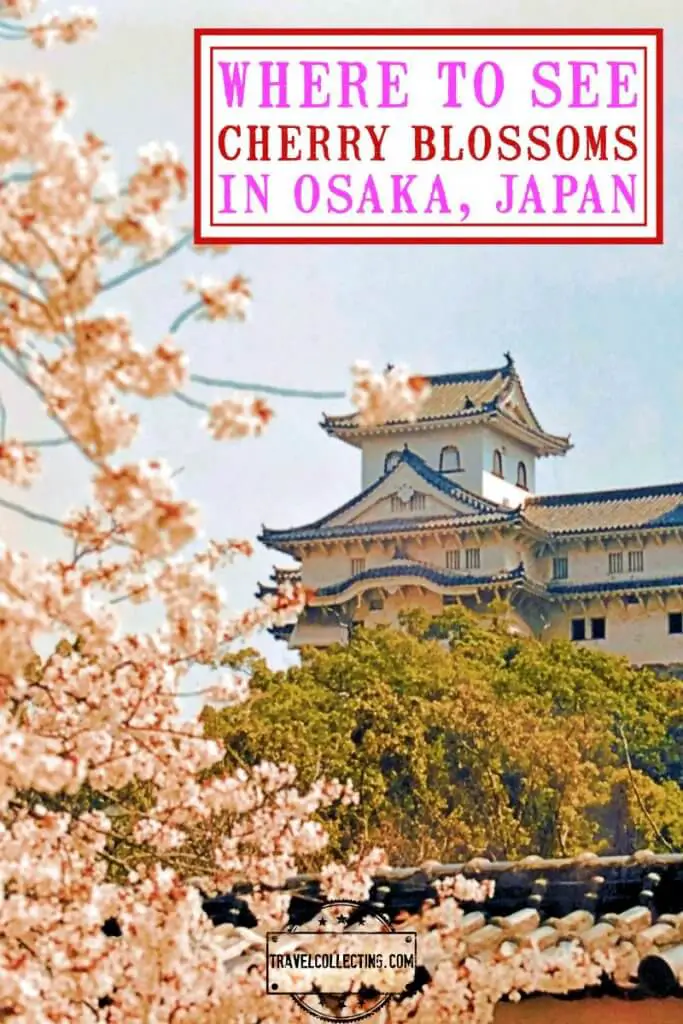 More trees line both sides of the river, creating a canyon of blossoms.  Under the trees, groups of picnickers are scattered, their blue tarps and tartan blankets jarring slightly with the blushing trees.  Ainsley and I stop at one of the many carts to buy some noodles and try takoyaki (octopus balls).  We find another spot under the trees to sit again and eat and drink.
This is our hanami, and we are having fun.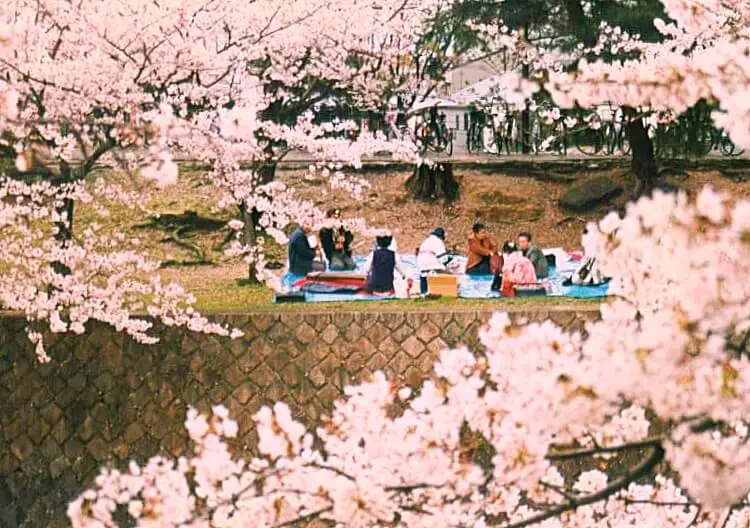 Please note this post may contain affiliate links, which means we may receive a commission, at zero cost to you, if you make a purchase through a link. Please see our full Disclosure for more information. If you have any questions, please let me know.
Having a hanami under the cherry blossoms in Japan
One of the best things about Japan is cherry blossom season.  There are so many fun things to do in Japan, such as visiting the moss temple in Kyoto.  However, nothing is better than cherry blossoms – sakura in Japanese.
They are of the very essence of Japanese culture.  Their ephemeral beauty is captivating, and Japanese have a deep appreciation of, and fascination with, these flowers.  They serve as a metaphor for life, as they bloom for a short time only, and as the days progress and their petals fall, people feel a little sad at the passing of temporary beauty.
But Japanese do not admire them from a distance – they come together in a collective spirit to enjoy the moment and have a hanami.
What is a hanami?
For something that is so quintessentially Japanese, there is no direct translation into English, but the closest is "cherry blossom viewing party" or "picnic under the cherry blossoms".  You get together with you friends, family or colleagues and eat and drink under the cherry trees.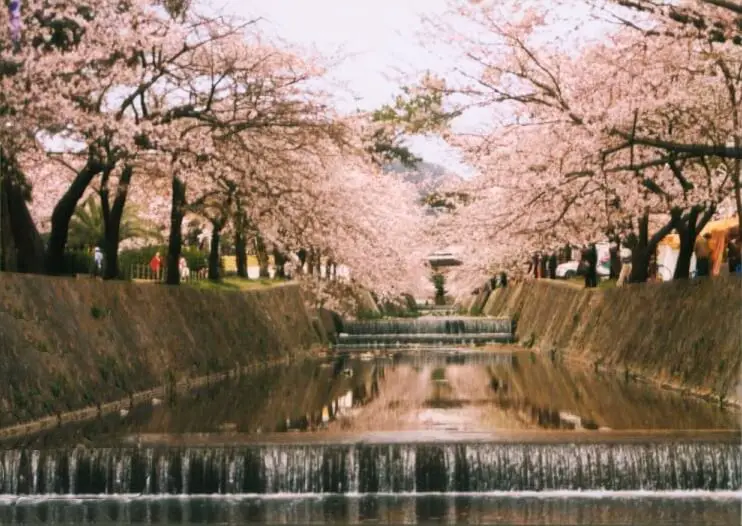 Having a hanami is a national obsession at this time of year, and it is easy to see why.  Eating sushi and drinking sake surrounded by puffs of pink flowers is a truly wonderful experience.  Many Japanese will stake a claim early in the morning with a bright blue tarp, waiting for their companions to arrive later at a more civilized time. (The same thing happens in the parks of New York City on the morning of the 4th of July.  The eager or unlucky ones get to stake the claim early and the others arrive at their leisure around noon).
You can bring sushi, obento boxes (lunch boxes with little compartments of food), noodles, etc.  And of course, beer, sake or chuhai (a Japanese alcoholic soda that is delicious, but dangerous, because it tastes like drinking flavored soda water, but packs a punch!).  People stay for hours, eating, drinking, talking, and admiring the flowers.  It is a social and fun and the perfect way to fully experience the cherry blossom season.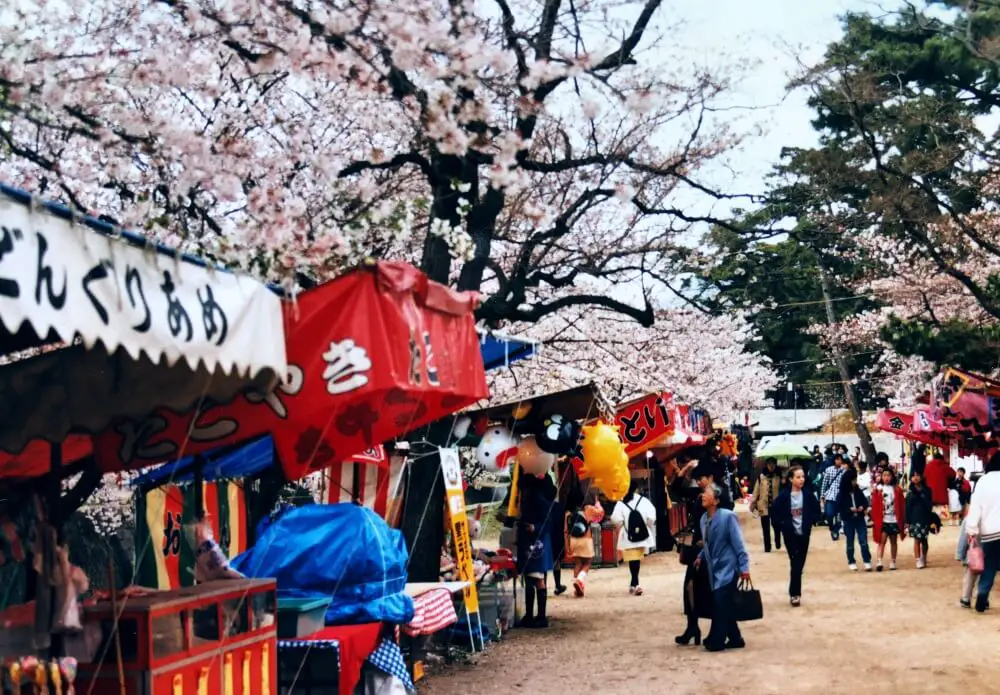 Ainsley and I weren't that organized, and many of our friends were working, so we just went to Shukogawa, a famous place near Osaka for cherry blossoms.  Fortunately, not everyone brings an elaborate picnic and there were many stalls selling food, sake in glass jars and chuhai in cans.
We ate, we drank, we strolled, we laughed, we took photos, we admired the flowers.  It was perfect!  We stayed for hours until well after dark.
When to see cherry blossoms in Japan
If you are planning to visit Japan in the spring, try and time your visit for when the cherry blossoms are in bloom.  Tracking the blooming of the trees is a something of a national obsession in Japan, and the spread of the 'front' as the blooms sweep northward across the country is reported daily in national television.  Unfortunately, it isn't possible to predict exactly when they will be in bloom, as it varies each year, but typically they reach their peak in Osaka in early April.
Different varieties bloom at slightly different times, and altitudes can also delay the blooming, so there is some wiggle room depending on where you go.
Where to see cherry blossoms in Japan
There are many famous places to see the sakura bloom; places where hundreds or even thousands of trees grow. Osaka, which is not only where I lived, but also makes an essential stop on a seven-day Japan itinerary, is gone of the best places in Japan to see cherry blossoms.
Here are my five favorite places in and near Osaka to see cherry blossoms.
Five Best Places to see cherry blossoms in and near Osaka, Japan
1. Shukugawa Park on the Shukugawa River
This is where Ainsley and I went for our first hanami.  There are approximately 1,700 trees lining the river.  In 1990, it was selected as one of the Best 100 Spot for Cherry Blossom-Viewing in Japan by the Japan Cherry Blossom Association. It is just outside Osaka, on the way to Kobe, in Nishinomiya.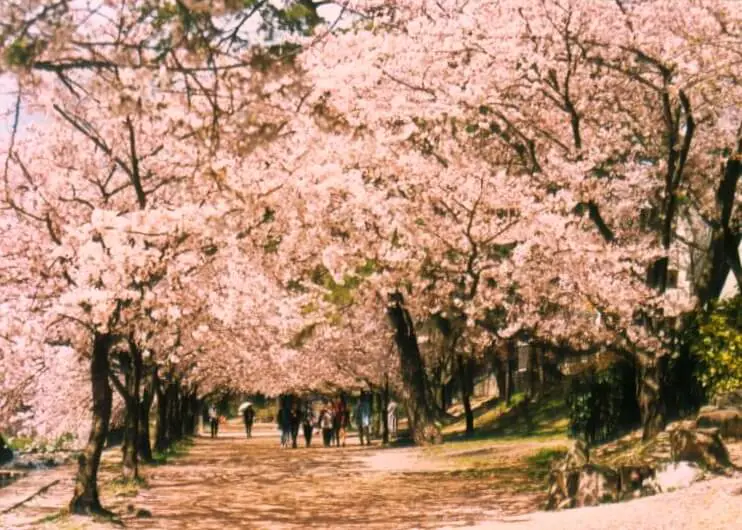 How to get to Shukugawa from Osaka
The nearby railway station is Sakura Shukugawa Station.  Take the JR Kobe Line which runs between Osaka Station and Himeji Station.  It takes 18 minutes.  Shukugawa Park, which is on the banks of the Shukugawa river, is approximately 200 meters west of the station.    Buy a JR Rail Pass here.
2. Osaka-jo Castle
There are about 50 castles in Japan, and they are beautiful to see.  Osaka-jo castle is not original – it is a 1931 ferro-concrete reconstruction of the castle that burnt down in 1665, but it did survive WWII.  There's nothing to see inside, but it does make a beautiful backdrop for the hundreds of cherry trees that fill Nishinomaru Garden in front of it, making these gardens one of the most popular hanami spots in Osaka.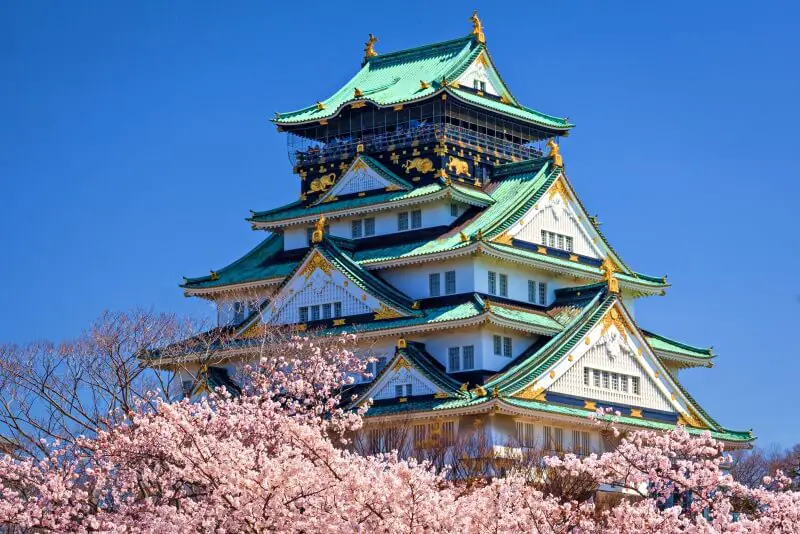 Visiting Osaka-jo Castle
The castle tower is open 9:00am to 5:00pm, but isn't worth it, in my opinion.  Nishinomaru Garden is open 9:00 to 17:00 (until 16:30 from November through February); open until 9:00pm during the cherry blossom season. (Closed Mondays)
How to get to Osaka-jo Castle
The closest station is Tanimachi 4-chrome Station along the Tanimachi Subway Line and Chuo Subway Line.  The closest JR station to Osaka Castle is Osakajokoen (Osaka Castle Park) Station on the JR Loop Line, a 10-minute ride from JR Osaka Station.
3. Osaka Mint Bureau
The Osaka Mint Bureau is home to the Japan Mint Museum, but is more famous for the 300+ cherry trees on its grounds. There are over 100 different types of trees, but most are late-blooming varieties, so they typically bloom mid-April instead of early April.  The cherry garden is opened to the public especially for one week during the sakura's peak period.  They usually announce the dates on their website in the middle of March.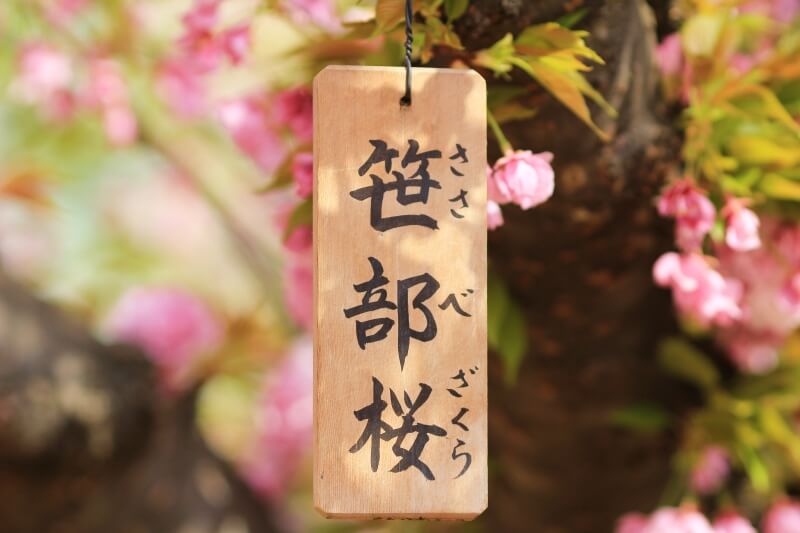 Visiting the Japan Mint Museum
The museum is open 9:00am to 4:45pm (entry until 4:00pm) with special entry during the cherry blossom season 10:00 to 21:00 (weekdays) and 9:00am to 9:00pm (weekends).  It's free.
How to get to Osaka Mint Bureau
The Osaka Mint Bureau is a 10-15 minute walk north of Temmabashi Station on the Tanimachi Subway Line and Keihan Main Line.
4. Himeji-jo Castle
Himeji-jo castle is one of only 12 original castles (jos) in Japan and is generally considered the best.  It is nicknamed "White Heron Castle" because of its color and beauty.  Himeji is about an hour by train from Osaka, but is worth a visit at any time of the year.  It was recently fully renovated. 
Exploring the battlements of the castle is fun to do (but very crowded during cherry blossom season).  However, in early April, it is truly astounding – an enormous, multi-layered castle floating on a cloud of pink sakura trees.  There is an enormous lawn with many trees under which to have your hanami.
Visiting Himejijo Castle
The castle is open 9:00am to 5:00pm (until 6:00pm from late April through August) and admission to the castle ends one hour before closing.
Book a tour of Himeji Castle here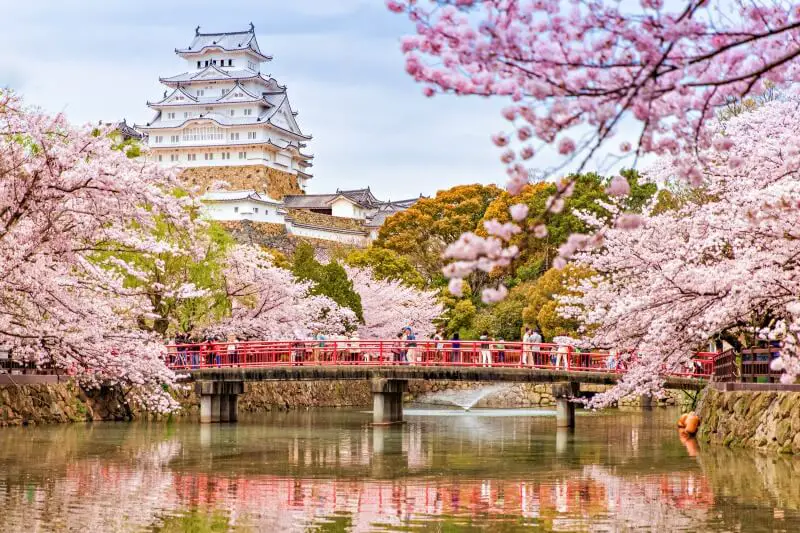 How to get to Himeji-jo Castle from Osaka
There are three main options
Shinkansen (bullet train) takes 30 to 45 minutes from Shin-Osaka station. It costs approximately twice as much as JR Special Rapid train and isn't much faster, so unless you desperately want to experience he bullet train, I don't recommend it for this trip.
The JR Special Rapid train from Osaka/Umeda station direct to Himeji station on the Kobe line takes 61 minutes (yes, trains are that precise in Japan). There is no surcharge for this and you can use  a Kansai Area Pass or Japan Rail Pass. There are departures roughly every 15 minutes. If visiting Himeji is one of your only train trips, the 1-Day JR Kansai Area Pass is a good deal.
This is actually a good option, as there are nice places to stay a little outside Himeji.
You can walk from the station to the castle's entrance gate in about 15 to 20 minutes.
Where to stay in Himeji
This is about 30 minutes out of town, so is best if you rent a car.  Rooms have private bathrooms.  A great chance to spend time out of, but near, a big city.  They have parking.  You can book the Yumenoian Yyake Koyake ryokan here.
Check out more hotels in Himeji here.
5. Yoshinyama (Mount Yoshino)
Yoshino is about an hour and half by train from Osaka, but worth the trip.  It is perhaps the most famous place to view the cherry blossoms in Japan and is a UNESCO World Heritage Site.  There are over 30,000 cherry trees on the mountain.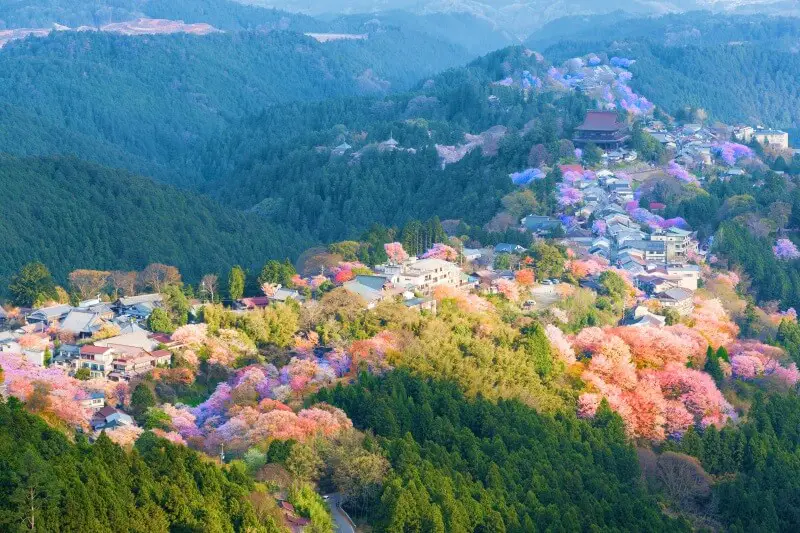 When you arrive at Yoshino in the Shimo Senbon (lower) area of the mountain, you are immediately surrounded by thousands of pale pink trees, but don't stop here.  Take the ropeway (currently closed) or bus or walk (it's pretty steep) up to Yoshino town, which is strung along a flat ridge on the Naka Senbon (middle) area of the mountain.  There are many famous temples and shrines to visit here.
There are also many restaurants and hotels. A local specialty is Kaki-no-ha zushi (mackerel sushi wrapped in persimmon leaves) – kind of salty and sweet; worth a try. There are also lots of sakura-themed sweets.  You can pick food up here for your hanami.
On your way through town, stop and enjoy the views of the mountainside awash in pink. Continue up out of town to the Kami Senbon (upper) area where there are parks for your hanami (cherry blossom viewing party). It takes about one hour to walk from the upper ropeway station to Mikumari Shrine at the far end of the Kami Senbon area.
There is an upper section Oku Senbon, but it has fewer cherry trees. One of the good things about Yoshino is that the different altitudes mean that the trees bloom a few days apart.  So, if the flowers have passed their peak lower down, they may still be in full bloom higher up the mountain.  Yoshinoyama's cherry blossoms typically start opening in late March or early April and reach full bloom around early to mid-April.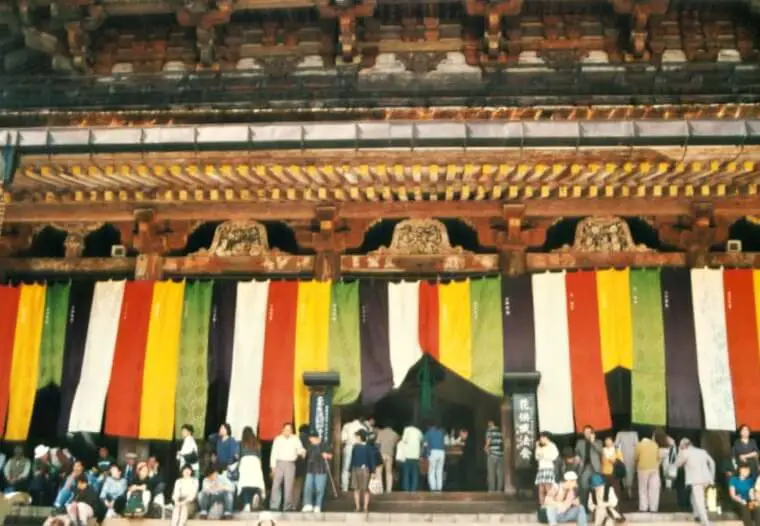 If you can time your visit for April 10-12, do so.  This is when the Hanakueshiki Festival is held.  The town is small and the festival popular, so it is extremely crowded, so don't go then if you are claustrophobic.  However, the festival is fascinating, as mountain priests, pages, monks, demons and warrior servants parade noisily through the streets, creating a colorful spectacle.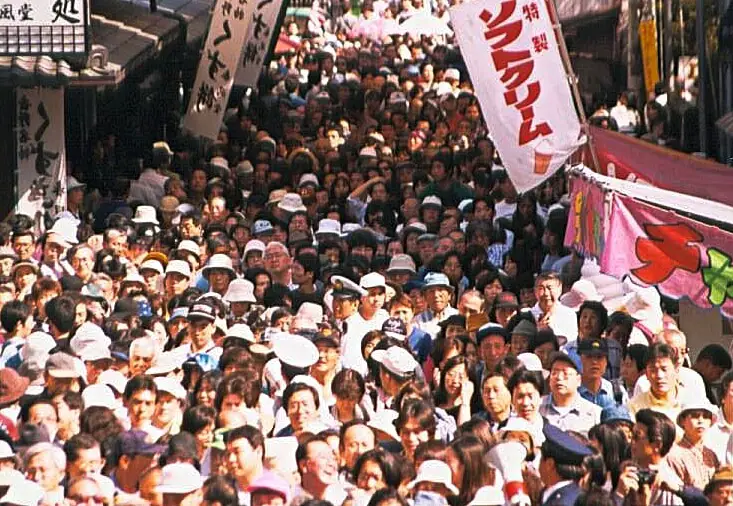 One way to beat the crowds is to stay overnight in Yoshino at one of the many traditional Japanese inns (ryokan) – read all about staying in ryokan here.  Or arrive early in the morning before the crowds arrive.
Where to stay in Yoshino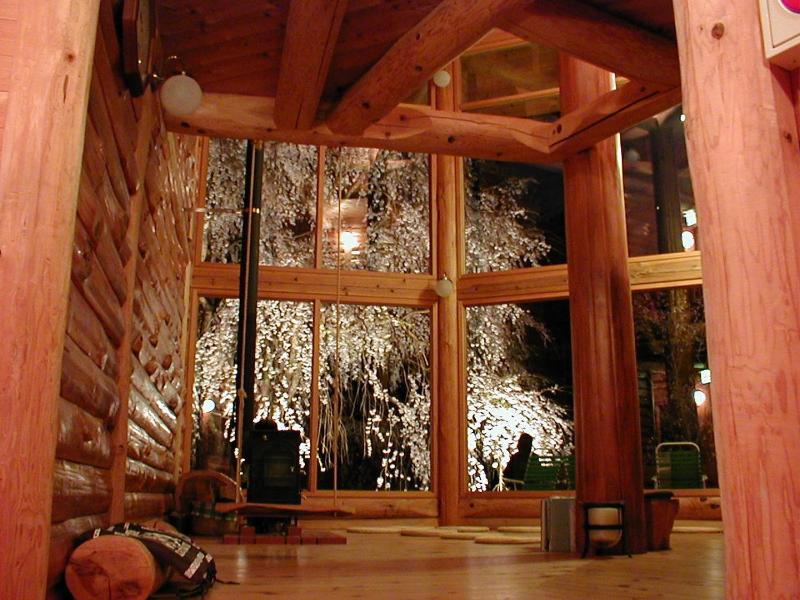 This ryokan is just near the top of the ropeway station, at the beginning of town.
You can book Ryokan Kato here.
A nice ryokan.  Rooms have shared (western-style) bathrooms. You can book Yukawaya here.
Check out more hotels in Yoshino here.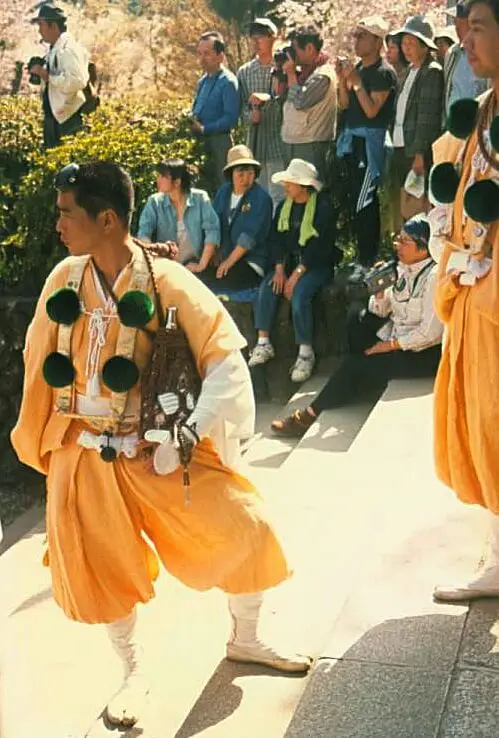 How to get to Yoshino from Osaka
There are many different train companies in Japan.  Japan Railways (JR) is the national railway (Buy a JR Rail Pass here), but here are also many private companies.
By Kintetsu Railways
This is the easiest way, because it is a direct line.  The train from Osaka Abenobashi Station (next to Tennoji Station) to Yoshino by direct express train takes about 90 minutes and by direct limited express train it takes 75 minutes. Limited express trains require seat reservations and often book out during the cherry blossom season.
By Japan Railways
The one-way journey from Osaka's Tennoji Station to Yoshino-guchi Station takes about one hour and requires a transfer of trains at Oji Station. At Yoshino-guchi Station, transfer to the Kintetsu Yoshino Line to Yoshino (30 minutes, not covered by the JR Rail Pass here).
The Verdict: Osaka Sakura | Osaka Hanami
Having a hanami is the perfect way to fully participate in and enjoy the cherry blossoms and there is no better place in the world for a >hanami than the area around Osaka.  My favorite of the five?  It's difficult to say.  The spectacle of a pink mountain at Yoshino is all kinds of awesome.  Himeji castle is a sight to see at any time of the year, and when the "white egret" floats on a cloud of pale pink sakura, it's jaw-dropping.
But my favorite is maybe Shukugawa, possibly because it was my first hanami and holds such fond memories for me.  Wherever you go, grab a sake, try some takoyaki and laugh with friends as you soak in the beauty all around you.
[table id=10 /]
---
Guide to Visiting Osaka
How to get to Osaka
The nearest international airport is Kansai International Airport, which is built on an artificial island in Osaka Bay.  This airport also services Kyoto, Kobe and Nara.  There are a lot of flights here.
Compare prices on flights to Osaka/ Kansai with Skyscanner.
Other things to do in Osaka
There are a lot of awesome experiences you can have in Osaka.  These will really make your vacation a unique travel experience.
Check out Osaka tours and experiences here
How to get from the airport to Osaka
The easiest way to get from Kansai International Airport to the center of Osaka is a shuttle, which you can book here.
Getting around the area
You can rent a car and drive around, or take a train. 
If you rent a car, make sure where you are staying has parking, as you cannot park on the street in Japan. (In fact if you live in Japan, you can't even buy a car until you provide proof that you have a parking space for it!). 
The easiest and cheapest way to get around Japan is using a JR Rail Pass.   Buy a JR Rail Pass here.
Another option is to join a tour. This takes a lot of stress out of traveling in Japan. You can even start with a tour and then, when you feel more comfortable, add on some independent travel at the end. Here are some great tips for choosing a Japan tour package.
Where to stay in Osaka
If you have an adventurous spirit, I recommend staying in a ryokan (traditional Japanese inn) whenever possible in Japan, as it really adds to your experience.  To learn exactly what a ryokan is, what to expect when you stay in one, and why you SHOULD stay in one, read my Complete Guide to Japanese Guesthouses here.  For a list of best ryokan in Japan, check out my comprehensive list, including nearby Kyoto.
Here are some additional ryokan in Osaka, Himeji and Yoshino:
Kaneyoshi Ryokan (Dotonbori area)
This ryokan has traditional Japanese style rooms, so you will sleep on a futon on the tatami (grass) mat floor and eat at low tables.  The bathrooms are western-style, however, and some rooms have great views of a narrow river.  It is located in a great area near Dotonbori, which is a crazy street that is a must-see when visiting Osaka.  You can book Kaneyoshi Ryokan here.
Yamatoya Honten Ryokan (Dotonobori area)
This ryokan has a delightful public (shared) bath, which is a must-do experience when you are in Japan.  It is also in Dotonbori, where there are loads of restaurants and bars.  You can book Yamatoya Honten Ryokan here.
Check out more hotels in Osaka here.
Planning and packing for Japan
Supplement blogs with a good guidebook.  I use the Lonely Planet for Japan. Buy the Japan Lonely Planet here.
Other useful planning resources:
When you are ready for your trip, check my Essential Packing List.
Travel Insurance
Even in a safe country like Japan, you should always get travel insurance.  You just never know.  Plus, a good travel insurance company has agents you can call (in English) and they can help you navigate the health system if you need it. For more information about travel insurance, read my guide to buying travel insurance.
A great insurance option is Travelex.  It has coverage for all you'll need. You can swap this link for  either compare Travel Insurance plans here or get a quote right now:
---
Happy hanami!
Do you have any stories of Japan? I'd love to hear them. Comment below.  
If you liked this post, please share the love and Pin it to your Japan board!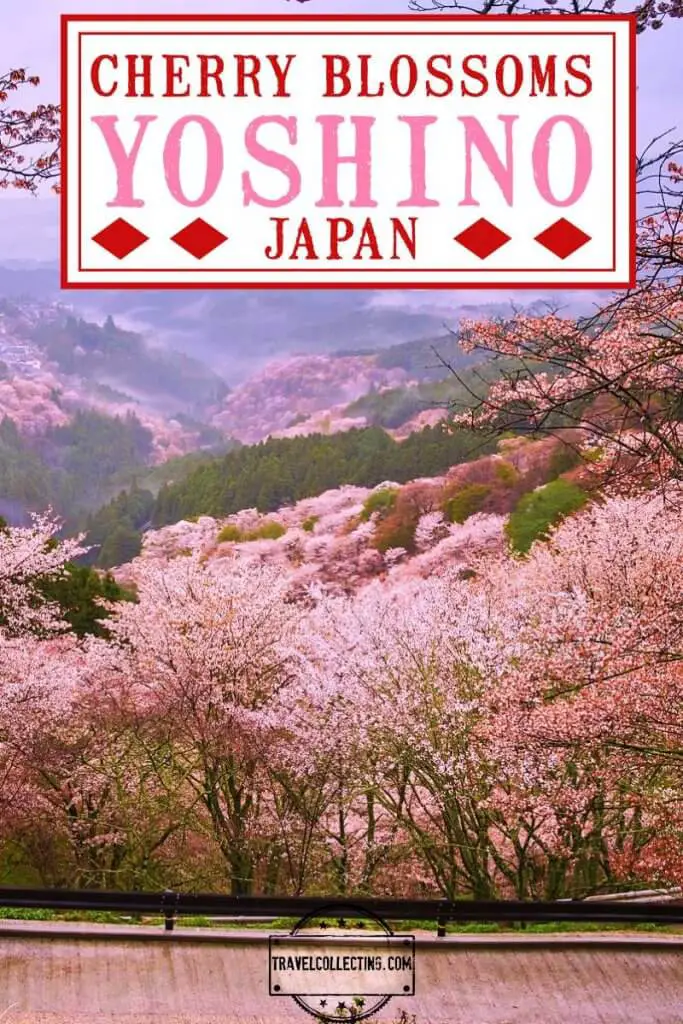 ---
Read about other Japan experiences:
Read about other festivals and rituals:
---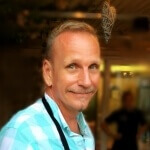 James Ian has traveled to 82 countries and all 7 continents.  He is passionate about experiential travel, i.e. meaningful travel that actively engages with the environment and culture.  He helps people have similar experiences that involve active participation in activities and festivals; engaging with the local food and handicrafts through lessons and food tours; and interacting positively with environment by hiking, riding, rowing, diving and low/no impact animal encounters. 
---
Travel Collecting is a participant in the Amazon.com Services LLC Associates Program, an affiliate advertising program designed to provide a means for sites to earn advertising fees by advertising and linking to amazon.com. Amazon and the Amazon logo are trademarks of Amazon.com, Inc. or its affiliates. As an Amazon Associate I earn from qualifying purchases.