I am paddling like crazy, leaning as far forward as I can without falling out, my foot wedged deeply between the bottom and the side of the raft.  I am digging my paddle into the water as deep and hard as I can. 
Our raft is being flung around chaotically, with surges of water crashing over us, so mostly I dig air as the raft flies over dips in the river and gaps between surges. 
Sometimes I gouge through water as it gushes around and over me and help propel us faster than the river.  This is crazy fun.
---
No time right now to read about White Water Rafting, Cusco? Pin and save it for later: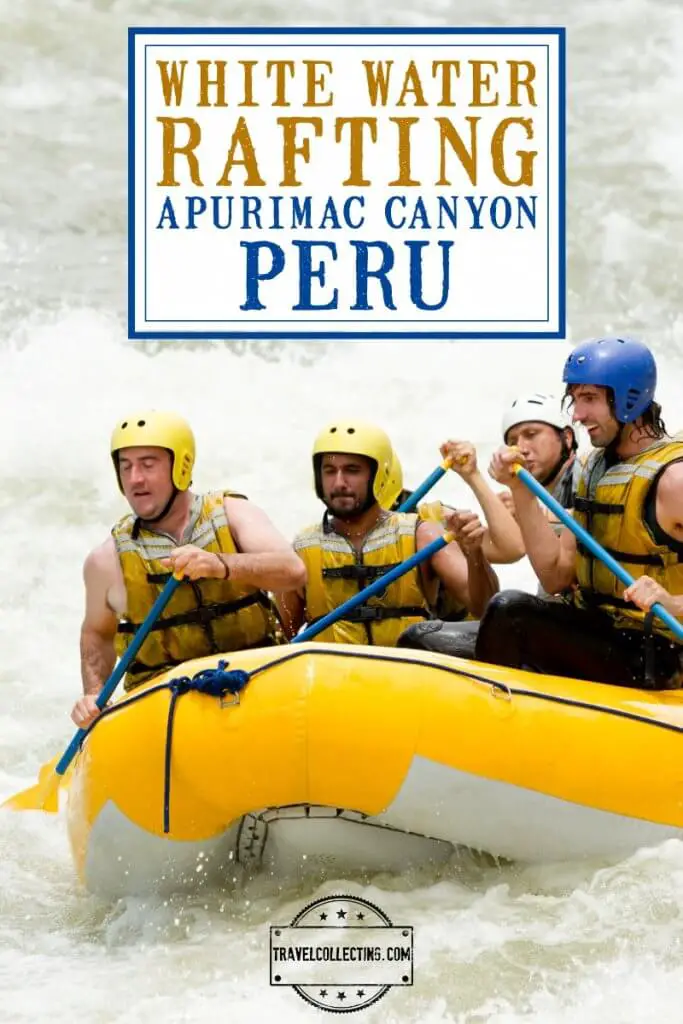 Please note this post may contain affiliate links, which means we may receive a commission, at zero cost to you, if you make a purchase through a link. Please see our full Disclosure for more information. If you have any questions, please let me know.
I love Peru.  I had flown over the Nasca lines,  hiked the Inca Trail, marveled at Machu Picchu and visited all of the Incan ruins around Cusco.  Wanting a change of pace, I decided that a contrast to hiking Cusco would be rafting Cusco. I had never been white water rafting before, but had always thought it looked like fun.
There are several Cusco rafting tour on several different rivers in Peru, but for serious rapids, the best place to go rafting in Peru is the Apurimac River (which means Speaker of the Gods in the native Inca language).
Rafting the Apurimac River, Peru is rated among the 10 best white-water rafting trips in the world. I figured that doing some of the best river rafting in the world through the Apurimac Canyon, Peru, was a great way to get introduced to the sport.
White Water Rafting Cusco, Peru (Apurimac River) Overview
It is easy to arrange Rio Apurimac rafting in Cusco.   Apurimac river rafting is the granddaddy of all the trips and not all companies go there, but there are still several companies that offer three-day Apurimac River rafting trips. 
White Water Rafting Cusco, Peru (Apurimac River) Companies
Doing one of these Peru rafting tours does require a reasonable level of fitness and is not for the faint-hearted, but I always felt in good hands. The tents were provided and were adequate.  The food was simple, but good.
There are several different companies to choose from that do basically the same three-day/ two-night river rafting trip from Cusco on the Apurimac River:
Map of rafting Apurimac River route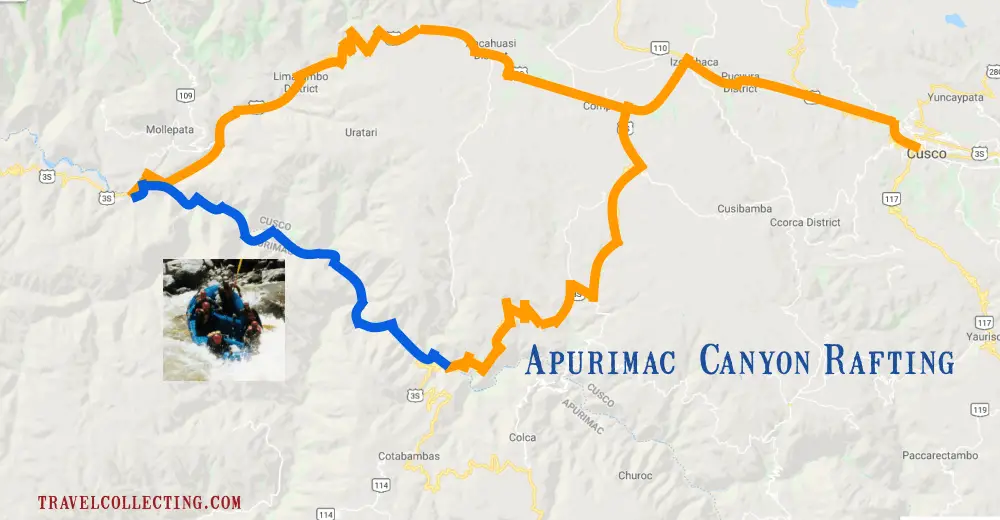 The different classes of rapids
Rapids come in 6 classes:
| | |
| --- | --- |
| Class I | Barely a ripple.  Basically flat water. |
| Class II | Slightly bumpy.  No worries here. |
| Class III | This is fun.  The water is white and the raft is rocking, but you are unlikely to fall out. |
| Class IV | Things are getting serious.  You will stop before the rapids, learn about the route through them and get advice on when to paddle hard and when to hold on.  This is as serious as rapids get on most river rafting trips in Peru and around the world. Exciting stuff. |
| Class V | OK, this is crazy!  S*@# just got real!  There is a very real danger you will get tipped out – and if you do, you will get pummeled.  Not for the faint-of-heart! |
| Class VI | Virtually, or completely, unnavigable.  A very experienced rafter may be able to traverse some Class VI rapids, but an amateur should never try.  You will need to get out and carry the raft past the rapids to continue on down the river. |
Best time to go Apurimac River rafting
The season on the Apurimac River is May to November.  May-June are when the river is its highest.  I went in November and it was still full-on.
Description of White water rafting, Peru (Cusco) Trip:  The Apurimac River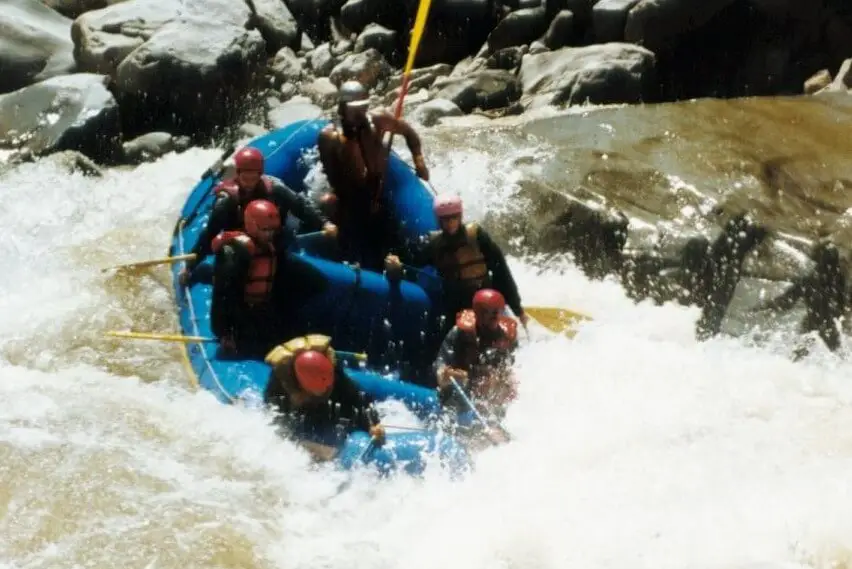 Getting to the Apurimac River
We met at the office in Cusco at 8:30am and left about 9:30am.  After about an hour, we stopped in a small village for breakfast, before continuing on for a further four-hour drive. 
Our mini-van descended about 1,200m down the Andes until we got to the Hualpachaca Bridge on the Apurimac River, which is the start of the Apurimac Canyon, also called the Black Canyon.  Four of the five guides had gone ahead of us, so the rafts and lunch were ready for us when we arrived.
Getting started
After lunch, we stuffed our gear in our allotted dry bags and got into the wetsuits, spray jackets, life jackets and helmets that were provided. 
First up was a safety briefing in which we learned all the basis commands we needed to follow: "forward", "back", "left back", "high side right", etc.   
Then some practice, including flipping our raft, so we knew what it felt like to be in the water and get back in.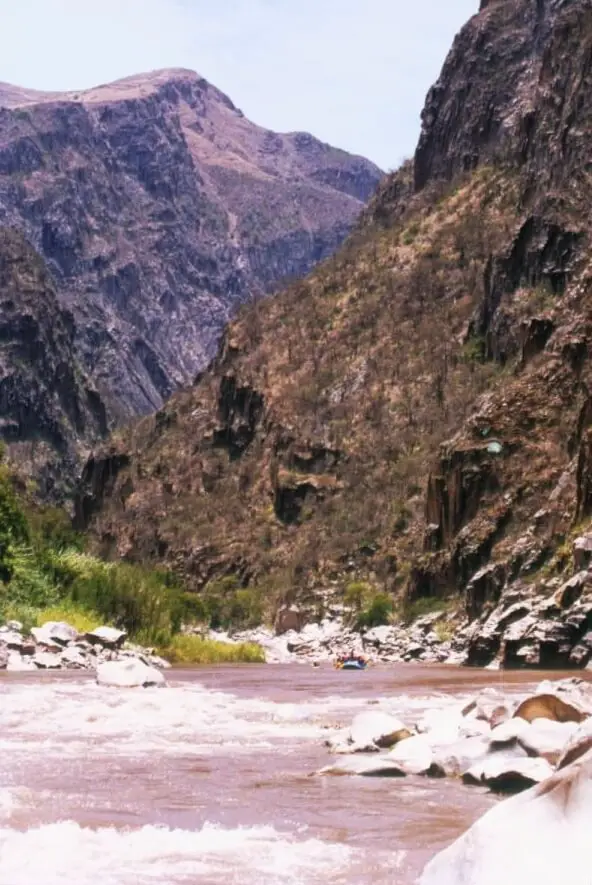 Day 1: Class I, II and III (and one Class IV) +
portage

around a Class VI

When we were ready, six of us plus a guide set off in each raft.  An additional guide rowed a cargo raft and there was a small safety kayak to help out if any of us fell in the water and got in trouble. 

We rafted for about three hours.  The rapids were easy – Class II and III – so we had a chance to get accustomed to our raft-mates, the guide and following his instructions and enjoy the scenery.

Black Canyon river rafting

The black walls of the Apurimac Canyon soon rose steeply around us.  A lone condor circled lazily far above.

Towards the end of the afternoon, we traversed our first Class IV rapid, "El Chute".  Beforehand, we pulled up and our guide "Rambo" showed us what to expect and gave us instructions for how to proceed through the rocks and water.

When we fully understand what to expect and what to do, we set off into the rapid.  We all rowed as hard as we could as we bumped our way through the chaos of water and movement.  I am normally fairly restrained, but even I found myself whooping and shouting with excitement and grinning like a crazy person.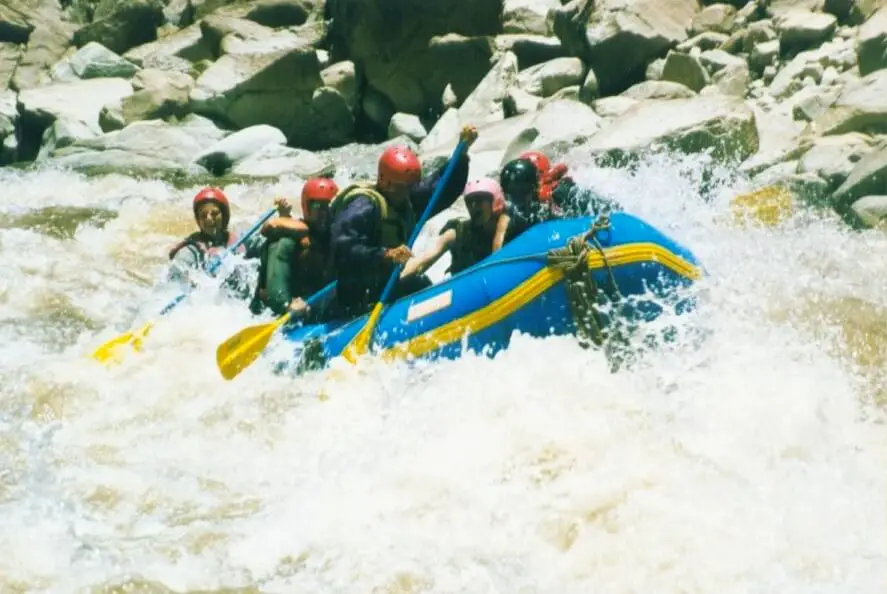 We finished the day by getting out and carrying the raft and gear (portaging) around a Class VI rapid that even our experienced guides didn't try.   
Camp for the night was a rocky beach with just enough patches of sand for our tents.  The stars shone brightly above in the sliver of sky visible between the canyon walks as we ate our campfire-cooked dinner and almost immediately collapsed into my tent, worn out after the day's efforts.  I slept well.
Day 2: Lots of Class IV rapids + 2 Class VI we portaged around
After an early breakfast, our day started with us clambering around two Class VI rapids, including "Space Odyssey".  Our guides took the rafts down, which was exciting to watch.  Then the real fun started. 
It was a day of Class IV rapids, "Bam-Dam", "Tiwinza", "El Trinche", and "Baticueva".  Each has its own personality, but all involved leaning as far forward as possible without falling out and straining to row really hard into the crest of each wave to prevent the raft flipping over, although occasionally, when things got really rough, we just crouched in the bottom of the raft holding on for dear life so that we didn't fall out, and our guide Rambo did all the work.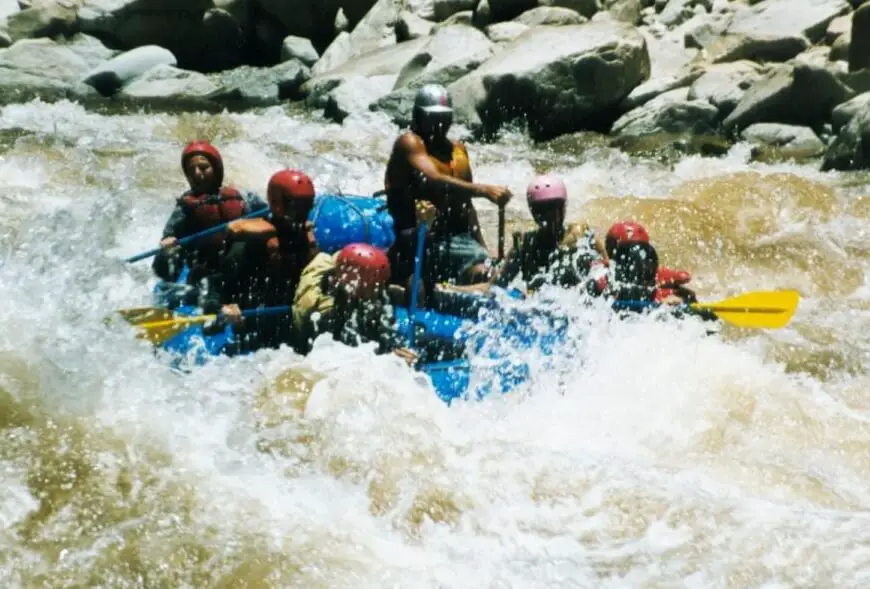 For one of the Class III rapids, they offered for us to jump in the river and "swim" through the rapids.  "Swim" implies a certain amount of self-efficacy, of which there was actually none.  "Be dragged"would be more apt. 
The method behind the madness may have been to give us a sense of what it was like if we actually fell overboard.  If it was designed to make us feel better, it was not overly successful.  I got dragged under water near the end of the rapid and was under for so long I almost ran out of breath. 
I was very relieved to surface again.
By this stage I was totally hooked on the adrenaline rush and thought it was kind of fun, but you may question my definition of "fun", and now, from the serenity of my sofa, I would find it hard to argue.
We made camp for the day about an hour after lunch, and spent the afternoon relaxing and playing rafting games in the calm water nearby.  Another campfire under the stars, but after a day of full-on paddling and a post-adrenaline crash, I was again in bed soon after dinner.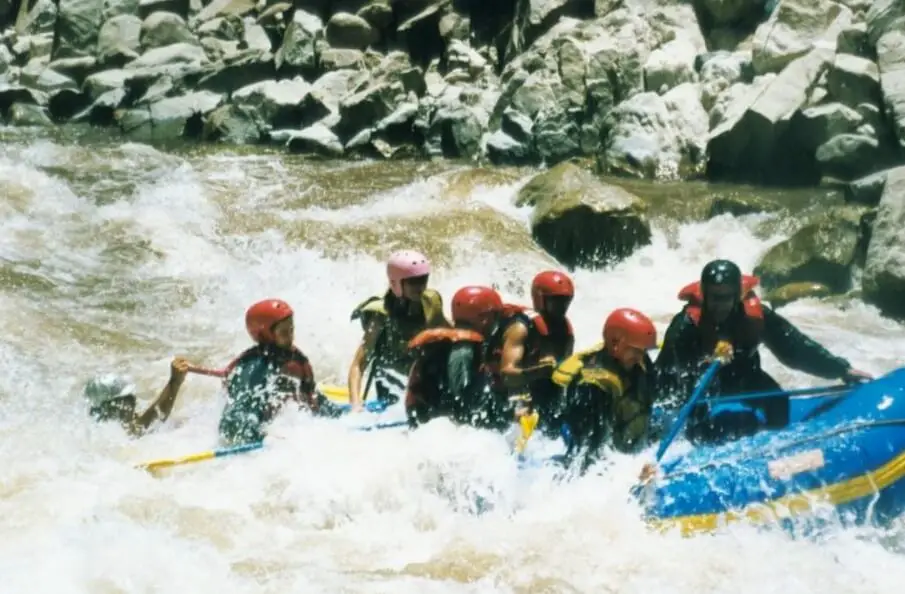 Day 3: Class V rapids and a bungee jump
The day started with "Dolor de Muelas" (Toothache), the first and worst (best?) of the Class V rapids on the trip.  We got out and climbed over rocks on the bank of the river so we could see the rapid from multiple vantage points.
Then we were given the decision whether we wanted to row through it or walk around it.  This was a no-brainer.  A toothache had never been so appealing.  I was in!
A wave smashes over us, the back of the raft flips up until it is almost vertical and all I can think is "I need to grab the rope!".  My world is water as I am washed out of the raft and over side and pummeled by water. 
Somehow, I manage to grab the rope that surrounds the raft.  In my other hand I clutch my paddle, determined not to let go.   I am dragged through the surge, not really aware of which way is up.
The river almost immediately smooths out, and we start to glide smoothly.  Hands from above me grab my life jacket and haul me aboard.  I have just – more or less successfully – managed to survive my first Class V rapid ("Dolor de Muelas").  This is the most fun I have had in a long, long time!
It was pure insanity.  A crazy mess of paddling, water and then the final dunking.  I wasn't the only one tossed out – but all three of us on the right side were quickly pulled back in by our raft-mates.  We couldn't stop laughing and shouting.  This is how people become adrenaline junkies!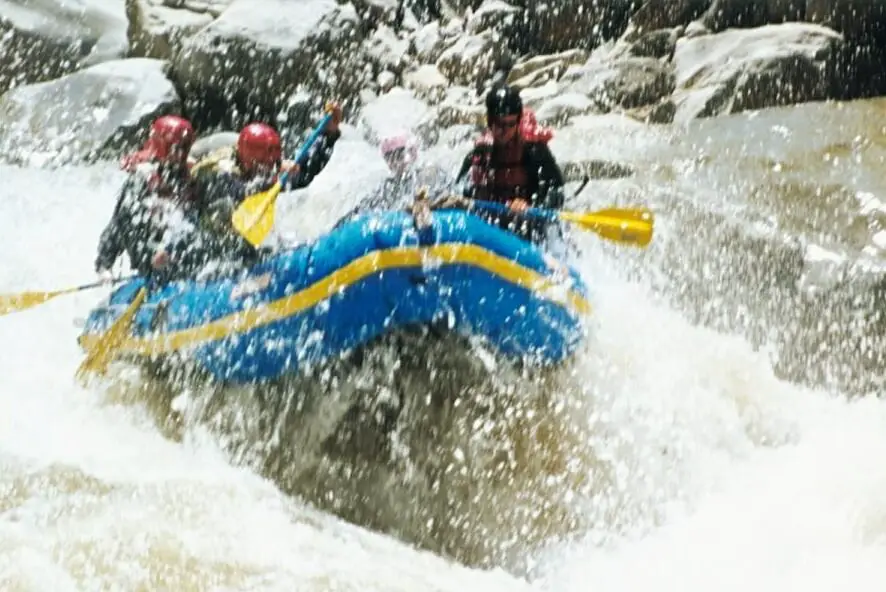 Then another Class V rapid called "You First", which was about a five-meter narrow drop straight down.  We made it!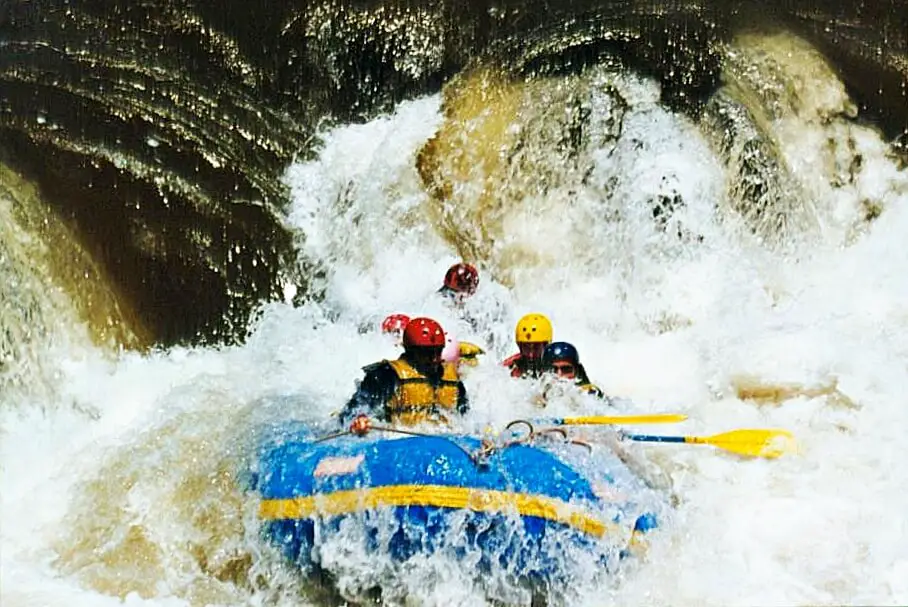 The rest of the run was fairly flat, with Class I, II and III rapids only.  They seemed tame after the excitement earlier in the day. 
There were long stretches of flat water and for the first time I really felt like I was getting a work out.  Rowing on flat water is harder work than plowing through rapid water, and requires more effort without adrenaline to help you. 
My muscles started to ache here, and I was happy when we arrived at the Cunyac Bridge around 1:30pm.
The final "cherry on the top" was the chance to bungee jump/ pendulum swing from a 15-meter high bridge.  A rope was attached to one side of the bridge, dragged under the bridge and then attached to us in a harness. 
I jumped on the count of three, felt a sickening falling sensation, a swing through the air and a low drop into the river.  "Can I do it again, please?"  I was totally on an adrenaline high.
A 3.5-hour bus-ride back to Cusco and it was all over.  That night there was a showing of the video the guides had taken, but I had fallen asleep, fully clothed and without eating dinner, and didn't wake up until long after the video had been shown.
The verdict: River rafting Cusco on the Rio Apurimac, Peru
This was my introduction to white water rafting, and although I have been on some fun river trips since, including in Chile, the Grand Canyon, the Pyrenees, and the Canadian Rockies, nothing has compared to this trip in terms of sheer excitement.
If this sounds like fun to you, then I would highly recommend it.  If rafting Apurimac sounds a bit too full-on, but you still want to go rafting, then there are two other rivers that give calmer options for whitewater rafting Cusco on one-day trips.
[table id=8 /]
Visiting Cusco
Other options for rafting in Cusco
I chose the Apurimac River to go river rafting.  Peru, and especially Cusco, does actually have several other, easier, rivers nearby. The main one is the Urubumba River. Full day, class II and III rapids. (During the rainy season December – early March, the rapids are rated class IV and IV+). You can book the Urubumba River rafting trip here.
Other things to do in Cusco
There are a lot of incredible experiences you can have in Cusco.  These will really make your vacation a unique travel experience.
How to get to Cusco
Peru's main international and domestic airport is Lima's Jorge Chávez International Airport.  Cusco also has an international airport, the Alejandro Velasco Astete International Airport, though you often have to fly into Lima and transfer from there.
Keep in mind that Cusco is at an altitude of 11,152 feet above sea level and altitude sickness can be a problem at any elevation above 8,000 feet.  One thing that can help reduce or eliminate altitude sickness is to go higher gradually, which is why flying directly into a high-altitude city can be more likely to cause altitude sickness than if you drive or take a train or bus.
If your time is short and you decide to fly directly into Cusco, give yourself a few days to adjust to the altitude before going rafting or doing anything strenuous like the Inca Trail.
If you have time, I would recommend flying into Lima and then going overland to Cusco to give your body the chance to adjust gradually to the altitude and enjoy the scenery along the way.  You can rent a car easily at the Lima Airport.
The drive is 19 hours straight, which I don't recommend, but you can break it up by visiting the dunes and lagoon at Ica and seeing the Nazca lines in Nazca. The scenery is great on this route, as you ascend from the desert into the Andes, but it is best if you have a few days to get from Lima to Cusco. 
You can take a bus from Lima to Cusco, but again, it is better if you break up your journey along the way.
There is a train that goes from Arequipa to Puno on Lake Titicaca and then to Cusco.  I took this and loved it.  It's a nice break from the bus if you are getting around without a rental car.  However, this only makes sense if you are coming from the Arequipa direction, not if you are travelling from Lima.
How to get from Cusco Airport or how to get from Lima Airport
The easiest way to get from Cusco Airport to the center of Cusco is a shuttle, which you can book here.
You can also rent a car at the airport using this link so you can drive around the area.
If you decide to spend a night or more in Lima, you can book a transfer from Lima airport.
Where to Stay in Cusco
Best* accommodations in Cusco
[table id=47 /]
* Based on highest booking.com ratings at time of writing
For more options, check out other hotels in Cusco here. Use my Guide to Choosing the Best Hotel for tips on what to look for.
Where is Cusco and what is the currency?
The Apurimac River, and Cusco, where the trip leaves from, are in the Andes of Peru.  Spanish is the main language (though the guides on the trip speak English).  The currency is the Peruvian Nuevo Sol, usually just called the Sol.  The plural is "soles" (pronounced Sol-Ez)
Check the current exchange rate and calculate amounts here.
Visa requirements for Peru
For visa requirements, check out your home country's official government visa websites:
For citizens of other countries, use this helpful website (though it's best to always check with the embassy as well). 
Check your passport expiration at least 6 months before you travel, as your passport needs to be valid for at least six months after you travel to Peru, even if you will leave while it's still valid.
Planning and packing for Peru
I use the Internet a lot to plan – and I hope this blog is useful resource for you – but I also always use a Lonely Planet to get the big picture and practical things like maps. 
Use it as a useful resource than a travel bible so that you don't miss out on loads of awesome things and places and experiences that aren't listed in it. You can buy the Peru Lonely Planet here.
Other planning resources I recommend are:
When you are ready for your trip, check my Essential Packing List for International Travel to make sure you take everything you need.
Safety in Peru
Cusco is fairly safe, but it always pays to take basic precautions. I highly recommend Pac Safe bags – they are built to defy slashers and pickpockets.
I carried the day pack around with me everywhere. It's small but surprisingly roomy. There are clips to keep it shut and deter pickpockets and built in soft mesh to deter slashers. Check prices here.
I've also got the backpack. You can lock there is anti-slasher mesh, it comes with a thin hooped wire so you can attach it to racks on trains, and the straps can zip away so that it looks like a suitcase. Check prices here.
The other thing to know before you go is what scams can happen. By knowing common travel scams, you can recognize when they happen and avoid falling prey to them. I have seen quite a few in my travels, and have compiled a list of common travel scams here.
Also worth a read is my post on 13 things not to do when traveling (based on lessons learned the hard way).
Finally, no matter how safe a place is, you should always have travel insurance.
Travel Insurance
It is important to be fully prepared when you travel.  In addition to accommodation, planning and flights, you should always have travel insurance, just in case, especially when doing something like white water rafting.  I always hope I never need to use it but I get it just in case I do!  For more information, read my Guide to Buying Travel Insurance.
Many travel insurance policies don't cover white-water rafting, so a great insurance option is Travelex.  You can compare Travel Insurance plans here.  Travelex's Travel Basic and Travel Select plans offer a basic level of coverage for certain activities including river rafting, scuba diving, kayaking, bungee cord jumping, skiing, canyoning, snorkeling, horseback riding, hiking, and more.  For other activities, you also have the option to upgrade You can also upgrade by purchasing Adventure Sports Coverage.
It's backed by specialist insurers and global assistance partners, so it's reliable.  Get a quote right now:
---
Happy rafting!
Do you have any stories of Peru? I'd love to hear them. Comment below.  
If you liked this post, please share the love and Pin it to your Rafting and Peru boards for later!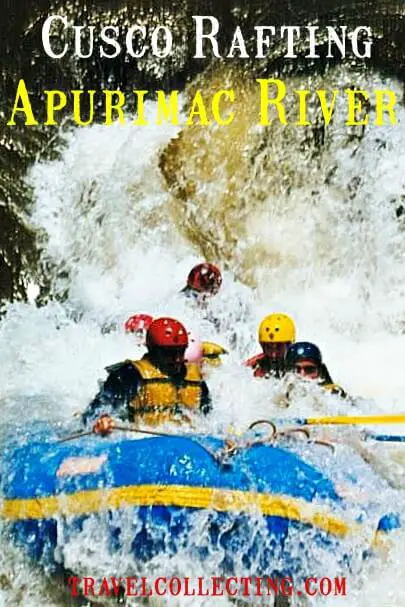 Read about more Latin American experiences:
---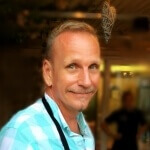 James Ian has traveled to 82 countries and all 7 continents.  He is passionate about experiential travel, i.e. meaningful travel that actively engages with the environment and culture.  He helps people have similar experiences that involve active participation in activities and festivals; engaging with the local food and handicrafts through lessons and food tours; and interacting positively with environment by hiking, riding, rowing, diving and low/no impact animal encounters. 
---
Travel Collecting is a participant in the Amazon.com Services LLC Associates Program, an affiliate advertising program designed to provide a means for sites to earn advertising fees by advertising and linking to amazon.com. Amazon and the Amazon logo are trademarks of Amazon.com, Inc. or its affiliates.