We pulled up next to a boat that was sitting at the side of the river, half-hidden under overhanging branches and vines. The river was a heavy brown, laden with silt; the sides a solid wall of thick dark green jungle.
As we drew alongside the boat, we clambered aboard, barely noticing the elderly couple sitting there. They turned briefly and smiled at us and didn't seem bothered by our buccaneer behavior. We were all transfixed by the sight before us.
A tiny inlet, hidden from casual observers, created a muddy pool, with steep sides sloping up into the jungle. Tightly packed trees, vines and deep undergrowth crowded the edges of the water. A patch of grey appeared between branches. 
Then an elephant – small as far as elephants go, but hardly tiny – lumbered out of the trees, turned around and backed slowly down the slope and into the water. Her companion appeared behind her and followed her into the water.
---
No time to read now? Pin it and save it for later:
Please note this post may contain affiliate links, which means we may receive a commission, at zero cost to you, if you make a purchase through a link. Please see our full Disclosure for more information. If you have any questions, please let me know.
Searching for Pygmy Elephants in Borneo
We were in Sabah, a territory in northern Malaysian Borneo.  Other parts of the island of Borneo belong to Indonesia and the Sultanate of Brunei.  I
If you are thinking "What is there to do in Borneo?", well, we had gone there to see Borneo's animals, especially orangutans, since I love seeing animals in the wild.  After this part of our Borneo trip, we were headed to the Danum Valley, which you can read about here.
We had been to Australia to visit my family, and wanted to go somewhere else on the way home.  It was Kevin's birthday and he had always wanted to see orangutans in the wild, and seeing pygmy elephants also sounded like an awesome thing to do. 
Both are on Borneo's Big Five list, as we discovered.  Borneo seemed like it was on the way back home from Brisbane to New York (which it really wasn't!), but that's OK …
So, where to see pygmy elephants in Borneo? In the jungle.
Getting to the jungle
After visiting the Sepilok Orangutan Rehabilitation Center, we had caught a speed boat up the Kinabatangan River from Sandakan to our river eco lodge. 
The 2½-hour journey had taken us across a wide bay, where we could see a Filipino Island in the distance, and up the river, past palm oil plantations and into the jungle.  A flash downpour drenched us; the wind and subsequent sun dried us in minutes.
The river around the lodge, heavy with silt and lined by thick jungle, teemed with wildlife. We later discovered that this was in part because the jungle here was actually just a narrow strip on both sides of the river, backed by palm trees.
You do not need to venture far to hit the palm oil plantations that have decimated Borneo's virgin rainforest. The wildlife that have survived are condensed into a narrow corridor. It's good for wildlife viewing, but comes at a steep price.
Pygmy elephants
Our visit to our river lodge had included several river trips to see crocodiles, hornbills, and proboscis monkeys, but we were eager for even more.  When given the option of an afternoon relaxing by the plunge pool or taking an optional trip up the river in search of pygmy elephants, the choice was easy!
Pygmy elephants are endemic to Borneo and nearby islands. Borneo is big (it's the third largest island in the world) but has created an isolated environment that has bred both the smallest rhino and the smallest elephant in the world.
It is not certain if the pygmy elephants of Borneo are descended from domesticated escapees from the Sultan of Sulu in the 1700's or if they have been on the island for about 300,000 years.
What is certain is that they have developed into a different sub-species; they are smaller and have larger ears, longer tails and straighter tusks than their mainland relatives.  They are also known for their gentle nature. 
There are only about 1,500 elephants left on Borneo, so seeing them would be a rare treat.
Searching for pygmy elephants
We set off and sat back and relaxed as we sped up river.  We didn't expect to see any elephants for a couple of hours, but were kept entertained by a golden crocodile sunning itself on a muddy bank; black and white hornbills perched high in the trees; and proboscis monkeys and macaques leaping around the tree tops.
The elephants migrate throughout the year, following a traditional corridor that has narrowed as the palm plantations have spread. 
Two hours into the trip upriver, we reached the section of the river where elephants had been recently seen on their migratory march.  Three or four boats from other river lodges were in the same general area, and the guides all shared reports by radio.
We had lunch in the boat, our anticipation growing as our guide reported that someone in a nearby boat could hear elephants.  We cruised along more slowly, gazing intently at the river's edge and peering through binoculars for a patch of grey. 
Our guide's radio crackled as he and other guides continued to share their status with each other.  No luck.  We began to get anxious as the afternoon stretched on.
"Pirates"
Just as it seemed like we would need to turn back empty-handed, our guide got an excited radio call, and we turned quickly around. There had been a sighting.
Five minutes back down the river, we saw a boat pulled up to the side of the river, barely visible under overhanging branches. Inside was a friendly couple from Texas who we had met at dinner the night before.
They were alone; their guide had headed into the jungle on foot and was nowhere in sight.  They were staring into the jungle, and barely noticed us as we pulled alongside. 
There was only space in the tiny inlet for one boat to be at the river bank, so we pulled alongside them and clambered aboard. They graciously didn't seem to mind the invasion.
Awe-inspiring animals
The elephants were awesome. They walked out of the jungle, down the banks of the inlet, through the water, out the other side and back up the other bank, striped with a dark wet-water mark on the lower half of their bodies, and disappeared back into the jungle, all in slow motion.
We took photos at first, but then just sat in our commandeered boat gazing in silent awe at the sight before us.
The setting was magical; a picture-perfect jungle tableau created the perfect setting for these majestic animals.
Further down the river
After they had passed by, we apologized again to the couple we had invaded, then returned to our own boat and took off, staring at the jungle along the river in the hope of finding more elephants. 
It was getting late, but when we were successful and saw a "large" pygmy elephant eating foliage, we begged our guide for more time.
She came out of the trees into a grassy area on the banks of the river, eating grass and leaves.
Heading back
I could have stayed for hours, but we were two hours up river from our lodge and it was getting late, so eventually we had to tear ourselves away. 
On the trip back, it was prime wildlife viewing time as dusk set in, and the trees often swayed as monkeys jumped around and birds cawed loudly as they flew overhead.
Sunset was a spectacular blaze of pink and orange and the river glowed as we carved our way through.  I sat back and drank it in, basking in the twilight glow and marveling at our incredible day.
Borneo's Big Five
The "Big Five" in Borneo are:
Orangutans
Proboscis monkeys
Crocodile
Pygmy elephants
Hornbills
The verdict
This was a really great experience that I would highly recommend. 
The jungle on each side of the Kinabatangan River teems with wildlife and this is great for wildlife viewing.  Unfortunately, it is because the palm oil plantations have taken over most of Borneo's rainforest.  They have also been planted over part of the pygmy elephants' migratory path.  Fortunately, a corridor of being reclaimed. 
The more that Borneans realize that there is a financial benefit from protecting the natural environment, the more likely they are to resist the encroachment of the palm oil plantations. So, this type of trip, which is minimal impact on the elephants because the viewing is from the river, has lots of benefits.
[table id=23 /]
We followed this trip to the Kinabatangan River with a stay at the Borneo Rainforest Lodge in the Danum Valley, which you absolutely have to do!  Read about it here.
Practical Information about the Kinabatangan River Safari
The pygmy elephant safari was one of the excursions on our two-night/ three-day at a river lodge on the Kinabatangan River.  Several river trips searching for wildlife were included, including two early morning trips and a night trip.  The pygmy elephant trip was additional, but absolutely worth it.
Other things to do in Borneo
There are a lot of incredible things to do in Borneo:
Things to do in Sandakan
The trip starts in Sandakan and you absolutely must leave time at the beginning or end of your trip to see the Sepilok Orangutan Conservation Center.
The nearby Sun Bear Conservation Center is also worth a visit.  The enclosures are large fenced jungle areas with high viewing platforms far above, so it's nothing like the depressing zoos and cages that I hate.
Book to visit the Sepilok Orangutan Conservation Center and Sun Bear Conservation Center here.
Visiting Danum Valley
Rather than coming straight back to Sandakan at the end of the Kinabatangan River trip, we went on to the Danum Valley.  This is one of the few areas with virgin rainforest.  There are only two places to stay.  We stayed in the Borneo Rainforest Lodge, which is the only place to actually stay in the Danum Valley reserve.  It includes guided hikes and a night drive to see wildlife.  Read all about this experience here.
Book a 3-day stay at the Borneo Rainforest Lodge in the Danum Valley here.
The cheaper, more basic option is so stay at the Danum Valley Research Center.  I didn't do this option, but it is cheaper the Borneo Rainforest Lodge. The center is just outside the reserve, and accommodation is basic (think cold water showers and bunks) but you will get to visit the same area of virgin rainforest.
Book a 3-day stay at the Danum Valley Field Center here.
Thing to do in Kota Kinabula
Kota Kinabula is the main city in the Sabah part of Borneo and chances are you will fly into or out of it.  It's worth a short stopover.  Things to do include:
Map of Sabah, Borneo
How to get to Borneo
There are several airports in Sabah.  The main airport in Sabah, Borneo is Kota Kinabalu.
Book a flight to Borneo on Skyscanner here.
From Kota Kinablau, there are connections to smaller airports.  These smaller airports also have connections to mainland Malaysia and other nearby cities such as Singapore.  Airports in Sabah, Borneo are:
I flew from Singapore to Kota Kinabalu then to Sandakan, but left directly from Tawau to Kuala Lumpur.
You can also do the Kinabatangan River safari as part of a backpacking Borneo itinerary that includes other parts of Malaysian Borneo and Brunei.
Where to stay in Borneo
To have a good chance of seeing pygmy elephants in Borneo, you will need to stay on the Kinabatangan River (where I saw them)  or in the Danum Valley (I have read of people seeing them here). Of course, there are no guarantees.
Where to stay on the Kinabatangan River
There are a few elodges along the section of the Kinabatangan River that is in or near the wildlife sanctuary (this section is called Sukau).  Book the lodge, which includes river safaris (except the safari to search for pygmy elephants – that's extra, but worth it) and it includes transfers from Sandakan.
Check prices and availability for other lodges in Sukau here.
Where to stay in Sandakan
I stayed at the Sepilok Nature Resort, which I loved. It has rooms in cabins set throughout jungly gardens, around a lake.  There is a main house right on the lake with a wide veranda, restaurant and bar that makes a great place to hang out.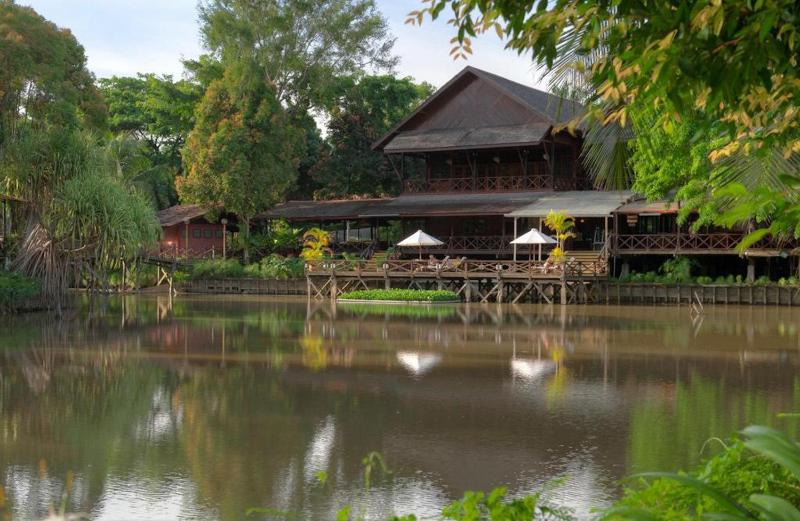 It's less than a 5-minute walk to the orangutan and sun bear sanctuaries. It's about 15 minutes out of town, though, so if you want somewhere in town, then consider another option.  Book the Sepilok Nature Resort here.
Check out more hotels in Sandakan here.
Where to stay in Kota Kinabalu
Check out hotels in Kota Kinabalu here.
To help you choose a hotel, you can check out my Guide to Finding the Perfect Hotel here.
Visa requirements for Malaysia
This part of Borneo is Malaysia.  Keep in mind that some parts are Indonesia and Brunei, so if you go there, you will need a different currency and possibly a visa.
For visa requirements for Malaysia, check out your home country's official government visa websites:
For citizens of other countries, use this helpful website (though it's best to always check with the embassy as well). 
Best time to visit Borneo
The best time to visit Borneo is March to October.  This is the driest time of year and you will have the best chance of seeing wildlife.  I went in May and the weather was fine.  There were short rain squalls that came out of nowhere and disappeared just as quickly.  And it is steamy hot – this is the jungle, after all.
The rainy season is from November to February/ March. The rain tends to come in the form of fairly short intense late afternoon downpours, so it is still possible to travel these months.  December and January are the wettest months and, in these months, wildlife viewing is the worst, so try to avoid these months
Planning and packing for Borneo
I always use a combination of blogs and a guidebook to plan a trip.  I use the Lonely Planet for most places, including Borneo.  Buy the Borneo Lonely Planet here. I also recommend reading my Asia Guide for practical information and my step-by-step trip planner to help take the pain out of travel planning and preparations.
When you are ready for your trip, check out my Essential Packing List for international travel.
Safety considerations
Borneo is generally safe, and I had no issues at all when I was there, but it is always to be prepared and take some basic cautions.  One thing that I have found helpful is to know about common travel scams, so that I don't fall victim to them.  Check out some common travel scams and how to avoid them.
Additional consideration: Travel Insurance
You need travel insurance whenever you travel.  Hopefully, you won't need it, but you just never know.  
A great insurance option is Travelex.  It has coverage for all you'll need.  If you are not sure what to look for when choosing Travel Insurance, check out my Guide to Travel Insurance here.  
You can choose the best travel insurance plan for your trip here or get a quote right now:
---
Enjoy the river safari!
Do you have any stories of Borneo? I'd love to hear them. Comment below.  
If you liked this post, please share the love and Pin it to your Borneo board for later.
Read about the next step in my Borneo trip:
Read about other animals encounters:
For a completely different river trip, check out the Rhine River castles day cruise on Germany.
---
---
Travel Collecting is a participant in the Amazon.com Services LLC Associates Program, an affiliate advertising program designed to provide a means for sites to earn advertising fees by advertising and linking to amazon.com. Amazon and the Amazon logo are trademarks of Amazon.com, Inc. or its affiliates. As an Amazon Associate I earn from qualifying purchases.