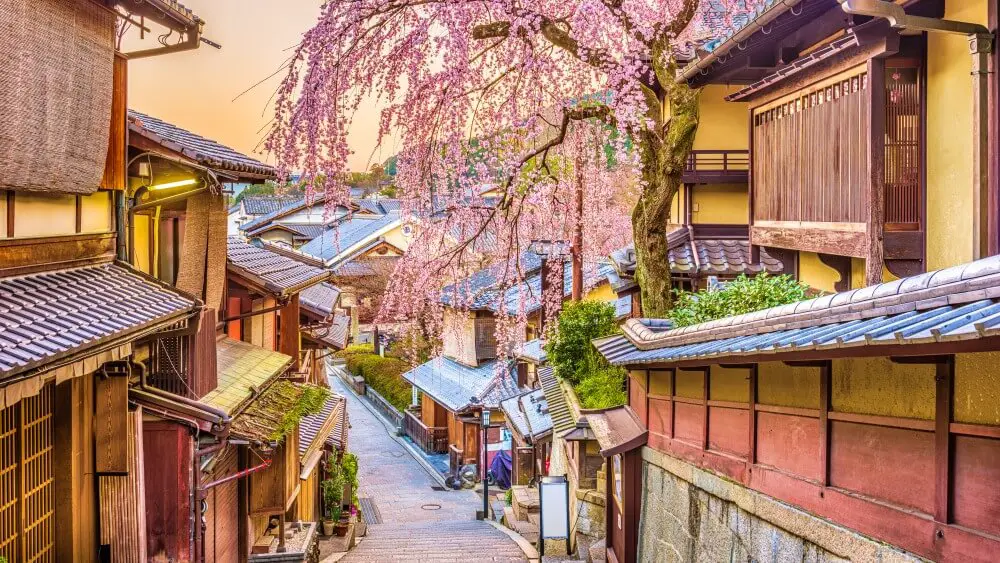 Asia is a huge continent and the countries within it vary greatly. Japan in the Far East has little in common with Kazakhstan in Central Asia, India in Southern Asia or Thailand in Southeast Asia.
This lack of homogeneity makes it difficult to write a definitive guide for travel through Asia, but it is also what makes this continent such a wonderful place to visit. No matter where you travel, Asia is always fascinating.
Below are links to country and region guides, highlights of some of the best Asia trips experiences and an overview of practical information to help when you visit Asia.
For more detailed tips and info for your next Asian trip, be sure to check out detailed posts.
There are so many great countries to visit in Asia, but here are some of my top picks.
Borneo
The island of Borneo, part Malaysia, part Indonesia and part Brunei, is one of the best places to visit in Asia. Perhaps most famous for orangutans, it has much more to offer. Don't miss cruising up the Kinabatangan River in search of pygmy elephants, seeing millions of bats stream out of caves at Gomantong and the incredible diving at Sipadan.
India
Another of the best Asian countries to visit is India; a vibrant, varied and visceral experience. You can stay in a former palace, learn ancient handicrafts like woodblock printing and tie and dye; ride a camel into the desert and sleep under the stars; visit villages where people live as they have for centuries; and be awed by the incredible beauty of the Taj Mahal.
Japan
Japan is a fascinating clash of extremely traditional and strikingly modern cultures, making it another of the best destinations in Asia. Stay in a ryokan (traditional inn) and the next night have dinner in a robot restaurant where you can be entertained by ten-foot robots fighting with laser beams and lights. Or check out the Harajuku girls and geisha. Or visit a moss temple, have a hanami under cherry blossoms and then catch the bullet train to your next destination.
Tibet
Officially part of Chiba, the Tibetan Autonomous Region has still managed to cling to its traditional culture, making it another of the best places in Asia to visit. Visit ancient monasteries thick with the scent of yak butter candles, drink yak butter tea with friendly monks, be amazed by the scenery or even – possibly – witness the making of ephemeral sand mandalas.
Best Things to Do in Asia
Are you wondering what to do in Asia?  Here are my pick for the top things to do in Asia.
Mehrangarh Fort dominates the legendary "Blue City", Jodphur. The ancient fort sits atop a rocky outcrop in the middle of the city. Surrounding it are the blue houses that give the city its nickname. Imagine zip lining from the crenelated towers of the fort across ancient gardens and stepped reservoirs into the surrounding desert hills then back again.
There is no better way to get inside a culture than to learn a traditional handicraft from the artisans who do it for a living. In Sanganer on the outskirts of the "Pink City", Jaipur, you can go to a single room workshop and learn the ancient craft of printing using wooden blocks from people whose families have been doing it for centuries.
Immerse yourself in traditional Japanese culture by staying in a traditional inn. Ryokans have changed little in more than 1,000 years. Sleep on a futon mattress on a tatami straw mat floor, soak in a hot springs Onsen, wear a yukata robe and eat an incredible multi-course gourmet kaiseki meal.
Read more about staying in a ryokan here.
Stay in a luxury lodge surrounded by virgin rainforest. Hike into the steamy jungle to see orangutans and red leaf monkeys swinging in the trees, cool off under a waterfall and have tiny fish nibble the dead skin off your feet.
Relax with a cocktail and massage in the evening.
Head out from the magical "Golden City" and mount a camel for a multi-day trek through tiny traditional villages.
Visit local families, relax under a tree in the heat of the day after enjoying a delicious meal cooked on an open fire and sleep on sand dunes under the stars.
In addition to the five top things to do above, add:
6. Watch the sunrise over Bagan in Myanmar
Seeing the sun rise through the early morning mist over the hundreds of ancient temples in Bagan will be one the most incredible things you will ever do.   An early morning balloon ride is a classic way to experience the dawn.
Book a balloon ride over Bagan here.
7. Dive the Similan and Surin Islands in Thailand
This is some of the best diving and snorkeling in the world. Trigger fish, leopard sharks, manta rays, turtles… The list is endless.  The islands can be visited by multi-day live aboard dive trips or one-day trips from Phuket, Khao Lak or other points along the coast.  The season is October – May.
Book a day snorkeling trip to the Similan Islands from Phuket here
Book a day snorkeling trip to the Similan Islands from Khao Lak here (Khao Lak is closer than Phuket)
Book a day SCUBA diving trip to the Similan Islands here
8. Take the Trans-Siberian train ride
This is arguably the most iconic train journey in the world. Take the Trans-Siberian from Vladivostok, the Trans-Manchurian from Beijing via northeastern China or the Trans-Mongolian from Beijing via Mongolia.  Travel through the steppes of Siberia, past Lake Baikal, across the length of Asia and into Europe, ending in Moscow. This epic train trip can be done in one complete 7-day trip or broken up with stops along the way. A word of warning (from a lesson learned firsthand) – don't try to drink a Russian under the table with vodka. You will NOT succeed!
Check out availability on the Trans-Siberian here.
9. Picnic under cherry blossoms in Japan.
There is nothing quite like sitting under a cloud of pink cherry blossoms, eating an obento lunch box and drinking sake.  Join thousands of Japanese in their favorite spring pastime.
Check prices on a five-day trip to Japan to see the sakura (cherry blossoms) here.
10. Take a Thai cooking class in Chiang Mai, Thailand.
Thai food is some of my favorite.  Learning how to cook delicious Thai food helps you connect with the culture and gives you skills and recipes you can use at home after your trip.
Are you wondering where to travel in Asia?  An Asia travel itinerary can be anything from a layover, a long weekend or several weeks or even months, depending on how long you have, what you like to do and your budget.  Classic itineraries include:
India Golden Triangle [2 weeks]: New Delhi – Jaipur – Agra (Taj Mahal) – Varanasi
China highlights [2 weeks]: Guilin or Yangshuo (Li River) – Shanghai – Beijing / Great Wall of China
Thailand [2 weeks]: Bangkok – Islands/ resorts – Chiang Mai
Japan [2 weeks]: Tokyo > bullet train > Kyoto – Nara – Tokyo
The cost of travelling Asia depends on which countries you go to. The cheapest countries in Asia to travel include Vietnam, Nepal, Malaysia, India and Sri Lanka.  A daily budget for these countries can be as low as $40/ day if you travel on a tight budget.
The most expensive countries to visit in Asia are Hong Kong and Macao, Japan, Singapore and South Korea.  Daily expenses range from $90-$140/ day easily.
There are some things you should know about Asia traveling before you go.
Most countries in Asia have a national airline as well as additional budget alternatives. Many Asian airlines like Singapore Airlines, Cathay Pacific, JAL, Korean Air, Etihad and Emirates are among the best airlines in the world. Others are less reliable. Check safety and on-time reports for a cheap airline before booking.
Typically, the airlines of the country you are traveling to or from offer the best deals. However, it pays to shop around.
Check Skyscanner and Momondo for cheap flights. They search thousands of flights to find cheap flights.
What's the best way to travel around Asia?  There are several options and the best way to travel Asia varies from country to country, as well as your budget and preferred method of travel.
If you have a lot of time, then travelling to multiple countries is an option, but if you have the usual vacation time that most of us have, it probably makes sense to stick to one or two countries (or even regions within a country) and explore them in more depth.
There are plenty of different accommodation options in Asia.  At the top end are super deluxe five star hotels.  The best of these have a local flair, like staying in a former palace in Rajasthan, India or a ryokan in Japan (read exactly what to expect in a ryokan here) where the service and food are second-to-none.  In general, I prefer staying in places with a local flavor, so that I feel like I am in another country.  They don't need to be expensive of course.  There are many hotels in the mid-price range that have lots of character.
Small inns or BandBs are another option that typically give you a more personal touch.
There are also plenty of chain hotels (e.g. Hilton, Intercontinental, Holiday Inn and Marriott), and sometimes this can be a welcome comfort after spending the days in an unfamiliar environment.  When I travel on business, I like these hotels, because they are set up for the business traveler.
At the budget end, there are many cheap hotels and hostels to choose from too.
Choosing a hotel is a very individual decision, and what is perfect for me is not a good choice for someone else.  To help take the pain and mystery out of choosing the perfect hotel for you, read my guide on Choosing the Perfect Hotel.
If you are looking for a ryokan in Japan, check out my list of the best ryokans in Japan.
Unique Hotels in Asia
There are also options for something more unusual.  Check out just of a few of the hotels that are an experience in and of themselves:
The best time to travel to Asia depends on where you are going.  Some Asian weather phenomena to keep in mind:
Many tropical countries have a monsoon or wet season (typically June to September). It often just rains intensely and briefly in the late afternoon, however, so it is often still possible to travel during the monsoon.
There is a typhoon (hurricane/ tropical cyclone) season around Hong Kong, Korea and Japan from May to early November, with July – September being the peak period.
Spring sees frequent dust storms in northern China, including Beijing, as the dust from the Gobi Desert gets whisked across the land.
Tips for staying safe in Asia
Here are some tips for travelling Asia safely.
1. Scams
Some countries like Japan and Korea are incredibly safe (though of course things can happen anywhere, so you should always be cautious), but other countries are more well known for scams. If you are aware of common scams, then you can become aware of them easily when they are happening, and can therefore avoid them much more easily.  It's important to be vigilant without being paranoid. Check out common travel scams and how to avoid them here.
2. Travel Insurance
My biggest safety tip is to get Travel Insurance.  If you get sick or something gets lost or stolen, there is great comfort in knowing that you will be taken care of.  There are key things that you should look for when choosing your travel insurance.  Read my article on Choosing the Best Travel Insurance for a full low-down.
I recommend World Nomads Travel Insurance.  You can get a quote for your Asia trip here:
Tips for staying healthy in Asia
There are some basic precautions to take to stay healthy and avoid Delhi Belly (or the local equivalent).
1.  Drinking Water
The tap water isn't always safe to drink.  If it isn't (or even if you are just not sure if it is), avoid it.  This includes ice (in your cocktail), washed fruits and vegetables (salads, fruit salads, a leaf of lettuce your meat is sitting on), brushing your teeth, water splashing in your mouth when you shower.
TIP: One of my key Asia tips it to skip ice and salads.  Drink bottled water and even use it to brush your teeth.  In order to try and reduce the amount of single-use plastics, you can take a water bottle with you, and buy water in big bottles, then fill up your water bottle from that.  I like the Que water bottle, because it gets smaller when not in use.  Check prices and details here.
2. Street Food
Be careful with street food.  Street food is a great way to get into the culture and try fun local foods.  However, it can also be a surefire way to spend several days hugging a toilet bowl (or worse, if they have drop toilets).  If in doubt, don't try it, but it can be tempting.
TIP: As a general rule, if it's been sitting out for a while, give it a miss. Popular stands with high turnover are safer because the food hasn't been sitting cooked, gathering germs in the sun for hours. Be aware, though, that it's still not that safe.  Read a more comprehensive Guide to Foodie Travel here.
Etiquette in Asia
Cultures vary greatly throughout Asia, but there are many cultural aspects that are true in many countries
1. Feet are dirty, the head is holy
This is true in many cultures, especially Buddhist ones.  Don't point your feet at people (which can be tricky when you are kneeling in a temple and your knees start to ache).
TIP: Always take off your shoes in Buddhist temples and mosques.
2. Saying "no" is rude in many cultures
This includes India and Japan. Direct responses are considered too abrupt. Therefore, if you ask for directions and the person doesn't know the answer, rather than disappointing you by admitting that they don't know, they will give you incorrect directions, based on their best guess. This is culturally appropriate and meant to be polite, not mean.
TIP: If in doubt, ask several people.
TIP: Avoid asking yes/ no questions. Remember that they will always answer yes, rather than saying no. Ask open-ended questions instead to increase the chance of getting an accurate response.
3. Personal Space
Be aware that personal space can be different. So try not to be offended by crowding and pushing. If you're in a line and people keep cutting in, you face three choices – join them, relax and let them or (if available) seek out the special window or office for foreigners.
4. Foreigner Prices
There are often different prices for foreigners. When I first encountered this, many years ago, it annoyed me. However, it doesn't bother me anymore. Often the ticket prices are helping preserve an attraction or get you extra services. It is impossible for local people to afford these prices, and the prices are usually about what you'd pay back at home anyway. Appreciate that you are helping the local economy while local people can still afford to be tourists in their own countries.
5. Squat toilets
Squat toilets/ drop toilets are a reality in many Asian countries.  Even Japan has both "Asian-style" and "western-style" toilets in many places.  Squatting is actually considered better for your body when doing your business, so you can take some comfort in that.  If this is new to you, check out How to Use a Squat Toilet here.
Are you ready to plan a trip around Asia?  These are the resources I use to plan my Asia trips.For booking tours and activitiesFor booking flightsFor booking trainsFor finding a rental carFor booking accommodationsFor buying gearFor travel insurance
Packing for a trip can be stressful.  So, what to pack for a trip around Asia?
TOP THREE THINGS TO PACK FOR A TRIP TO ASIA 
1. Plug and voltage adaptor with surge protection. Electricity varies between countries in terms of the voltage and the plugs used. Electricity in many developing countries is also prone to surges, in which high voltages of electricity surge through the wires randomly, blowing out sensitive electronics. Therefore, I always travel with a combination plug and voltage adaptor with surge protector in Asia. I like this one because is all three in one, and has three outlets, so I can recharge several things at once.  Check prices on Amazon here.
2. Camera or cell phone and accessories and chargers. Asia is very photogenic and you will want to make sure you can take loads of photos. Whether that is with a camera and/ or a Smartphone, you will need to consider how to charge them. Think, too, about what accessories will help you take better photos.
Check out prices on:
A GorillaPod trip for your camera
A GorillaPod tripod for your Smartphone
3. Water bottle. There are many countries in Asia where the tap water is not safe to drink. This will mean you need to buy bottled water. Which all come in single use plastic bottles. As a way to try and reduce use of these plastic bottles, buy large bottles of water (that use plastic per volume of water), travel with a refillable water bottle and fill up with water from the large bottle you bought. I am loving the Que bottle, because it shrinks down smaller when you don't need it. Check out different sizes for the Que bottle here.
Before you go, check my
international travel packing list here
.
  This travel essentials list includes everything you will need for your trip to Asia.Extra things to pack for Asia in addition to the general
travel packing checklist
include an Asia
travel book
.  I like the Lonely Planet books.   
Order the Lonely Planet Guide Books for your Asia trip here.
The best backpack for travelling Asia is the Safe Back Pack.  It has loads of built in safety features and can be carried like a backpack, which is great for getting to and from the hotel and train station.  However, it opens like a suitcase so you don't have to rummage to the depths of a vertical pack looking for something and the straps can be hidden away so that it looks like a soft suitcase.
Check prices on the different sized Safe Back Packs here.
Other things on your
Asia travel packing list
should be:
Insect repellent/ bug spray.  If you are going anywhere tropical, you will want to make sure you have a string insect repellent with you.  A strong one is Repel 100 (check the price on Amazon here).
Rain cover for your bag.  Bags sometimes end up on the roof of a bus.  There is nothing worse than getting everything you have with you wet because it rained while your bag was out in the open.  To prevent this, cover it with a rain cover.  Check out a rain cover for your bag here.
Hand sanitizer.  You may feel like you are being a germophobe, but it is better to feel like that than get sick.  With tap water not always safe or even available, I always carry a small bottle of hand sanitizer with me to use before I eat.  Get a handy six-pack here.
Deodorant.  Deodorants in many Asian countries are not as strong as the ones you may be used to.  When I lived in japan, I would have deodorant sent to me from home.
Here are some of my favorite books about Asia and books set in Asia.  They are a mix of serious and fun, fiction and non-fiction.  I hope they will inspire your trip and they are also good books to read while traveling to Asia.
Riding the Iron Rooster: By Train Through China (2006), Paul Theroux
Theroux spends a year traveling across China by train.  I did this myself for three months, so I can relate to this book.  The singular worse train journey of my life was 19.5 hours in an overcrowded "hard seat" from Shanghai. There were plenty of experiences that were more positive too, of course.   In this travel book, Asia, and in particular China, is seen in detail through Theroux's eyes.  An interesting read if you are going to China.
Shogun (1975), James Clavell
A little overblown, but an easy (albeit long) read set in feudal Japan.  It tells the story of an Englishman blown ashore in the 17th Century when Japan was closed to foreigners.  Clavell tells a good story, and brings Japanese society back then to life.  It was turned into a mini-series, but the book is better. A real page-turner.
Crazy Rich Asians trilogy (2013-18), Kevin Kwan
A totally trashy read – but so much fun you won't be able to put it down.  The first book has been turned into a movie, but don't skip the book.  There are a couple more in the series too, so get the whole trilogy.  You will love (and/ or be grossed out by) the over-the-top wealth of Asia's elite.  A guilty pleasure!
Memoirs of a Geisha (1999), Arthur Golden
Another book that's been turned into a movie.  When I first read this, I couldn't believe it wasn't a real autobiography.  It isn't.  It's written by a white guy, not a Japanese woman.  Golden brings to life the hidden world of geishas in the years leading up to and beyond WWII.  This is one of my favorite books of all time.
If you are ready to book your Asia trip travel, here are some resources to help you.  I use these resources for my own travels and find them incredibly helpful.
For booking tours and activities
For booking flights
For booking trains
For finding a rental car
For booking accommodations
For buying gear
For travel insurance
What's on your Asia bucket list?  Comment below.
If you liked this post, share the love and Pin It to your Asia Travel board.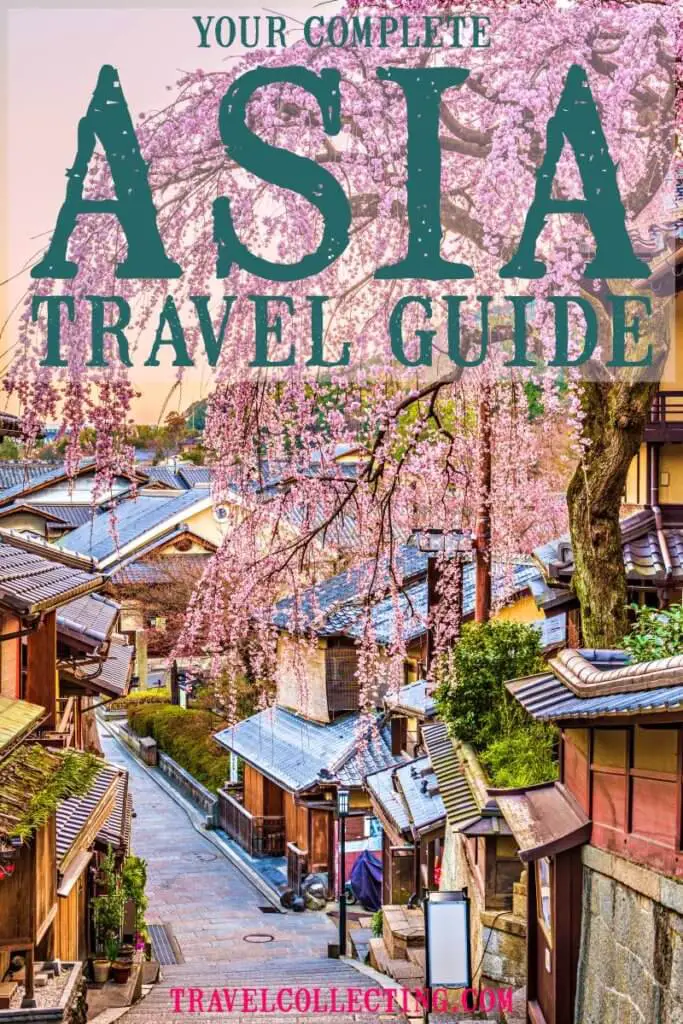 Travel Collecting is a participant in the Amazon Services LLC Associates Program, an affiliate advertising program designed to provide a means for sites to earn advertising fees by advertising and linking to amazon.com. Amazon and the Amazon logo are trademarks of Amazon.com, Inc. or its affiliates.