I am squatting next to a small open fire.  On the fire is a metal bowl glowing with a bright red liquid. Several wads of fabric sit half-submerged in the red liquid with equally bright yellow 'handles' fashioned out of the remaining parts covered in plastic to protect them from the dye. Our teacher fans the small fire so the water boils.   
Behind us is a dusty carpenter's workshop, used to create traditional Indian furniture.  Several palm trees shelter mud huts nearby. I watch the bubbling pot with anticipation.  I am really not sure what the end result will be, but can't wait to find out.
---
No time right now to read about learning traditional tie and dye in India? Pin it and save it for later: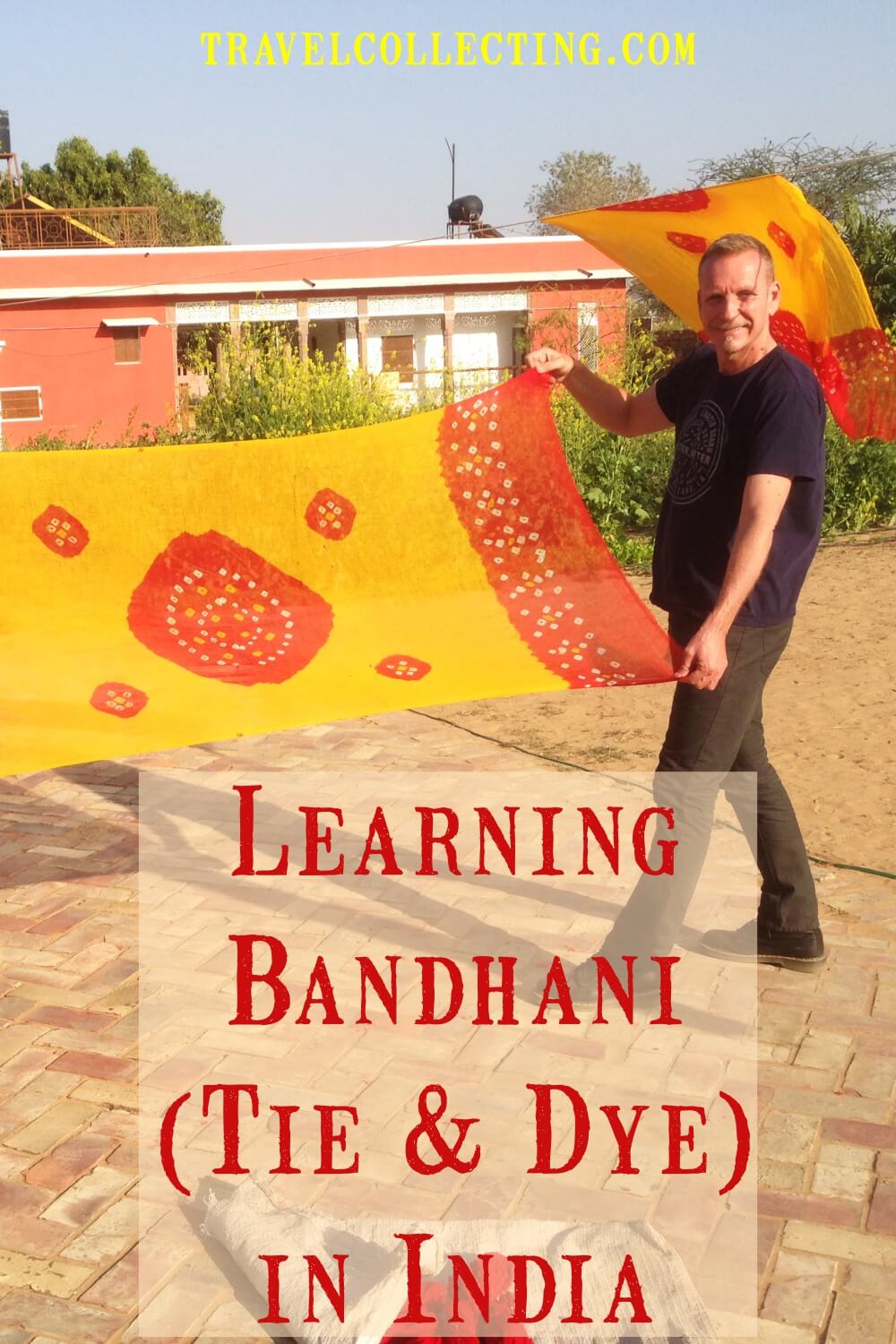 Please note this post may contain affiliate links, which means we may receive a commission, at zero cost to you, if you make a purchase through a link. Please see our full Disclosure for more information. If you have any questions, please let me know.
Learning Traditional Tie and Dye (Bandhani) in India
I am in Nawalgarh, learning how to make bandhani – the traditional Indian craft of tie and dye. 
Kevin and I had decided when we visited India that we wanted to do some adventurous things like ziplining in Jodhpur and going on a Jaisalmer desert safari, but also learn some local handicrafts.  Not only does it give you an appreciation for the skill and time that goes into making the products you buy in the markets, but it is also often a way to meet people and find out more about their life and culture. 
In Jaipur, we learned how to do traditional block printing.  When we visited Nawalgarh, we decided to do a workshop to learn how to tie dye fabric and learn the Rajasthani handicraft of bandhani.
The location
The owner and host of the pension that we stayed in, Rajesh, organized the workshop at his father's ecolodge on the edge of town.
There other places to learn Indian tie and dye, of course.  If you are in Jaipur, book a half-day tie and dye workshop here.
The workshop
There are several reconstructions of traditional mud huts where guests can stay scattered around under palm trees.  There is also a small farm here, as well as a carpenter's workshop.  We later bought some chairs and a bed that was made here using traditional methods and covered in detailed carvings.
We sat in a cool open-air pavilion in the middle of a garden for the first part of our tie and dye workshop.
Our teacher
Upon our arrival at Apani Dhani, we were introduced to our teacher.  He spoke almost no English, but managed to communicate with us nonetheless.  It was immediately clear we were in the presence of a true craftsman. 
He had started practicing tie and dye when he was a young boy and had it done it virtually every day of his life since.  His father did it before him, and his father before that and his children were continuing the family tradition.  He was an expert in his craft and guided us through the process.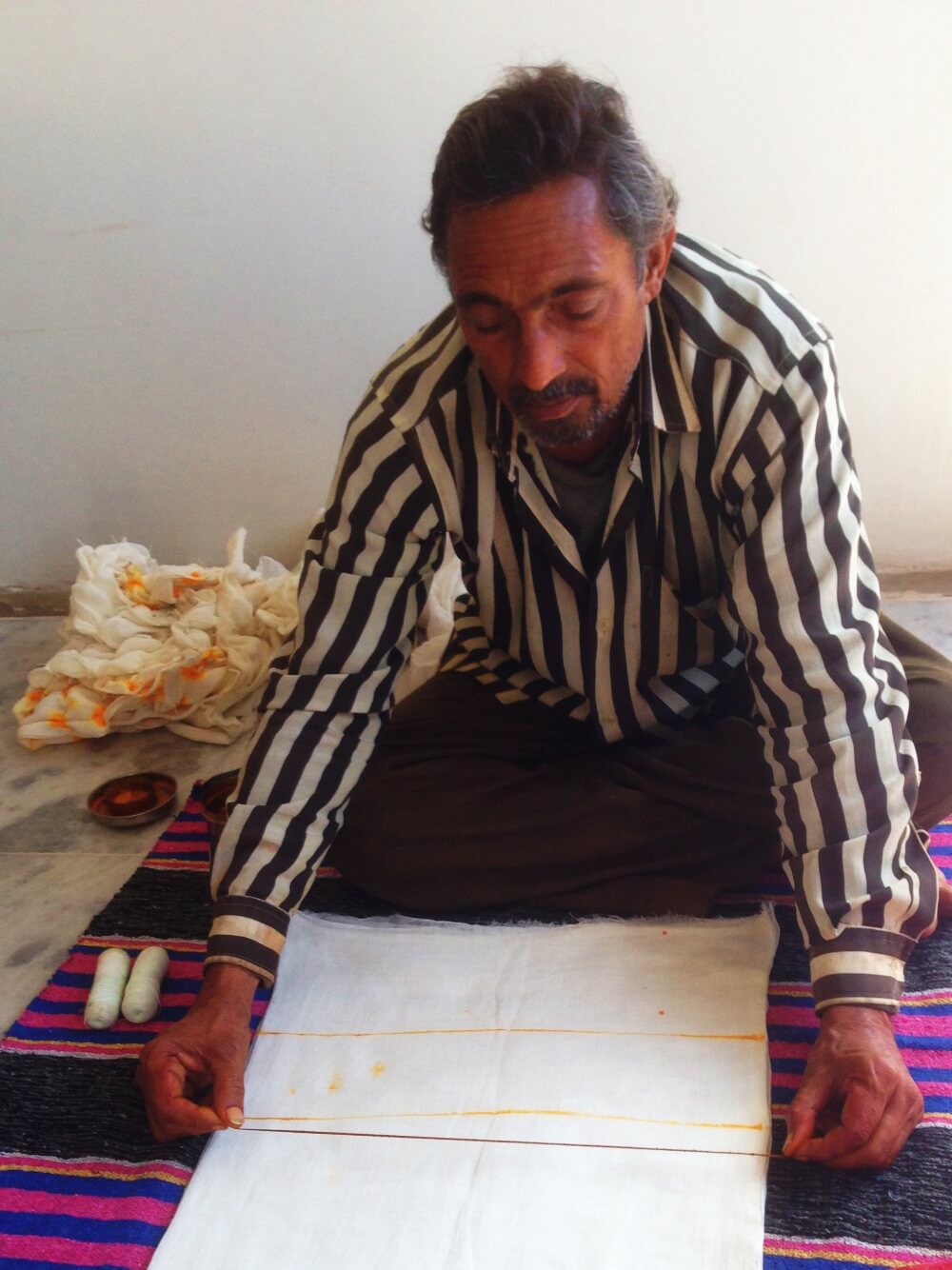 What is bandhani?
There are different tie dye techniques around the world (e.g. in Japan, it is shibori).  Tie and dye in India has a long tradition, and the tie and dye of Rajasthan is especially famous.  Indian tie dye is called Bandhani.
What is tie dye?  Tie and dye (or tie dye or tie & dye but NOT ty and dye, tie and die or tye and dye) is a technique for coloring fabric that involves wrapping bits of fabric so that the wrapped part isn't exposed, then dipping the rest of the fabric in a die so that the exposed parts of the fabric are colored.
Indian bandhani tie dye creates beautiful brightly colored fabrics, including saris and turbans and you can easily buy gorgeous bandhani work in stores and markets, but I was excited to learn how to do tie dye using ways to tie dye that had been passed down form generation to generation.
The tie and dye process: Tying
The tye and dye of Rajasthan is typically two-color tie dye.  The traditional Rajasthani colors are red and yellow.  Tye and dye making is common in Rajasthan, and it is possible to see rows of red and yellow fabric hanging to dry on the sides of balconies in town.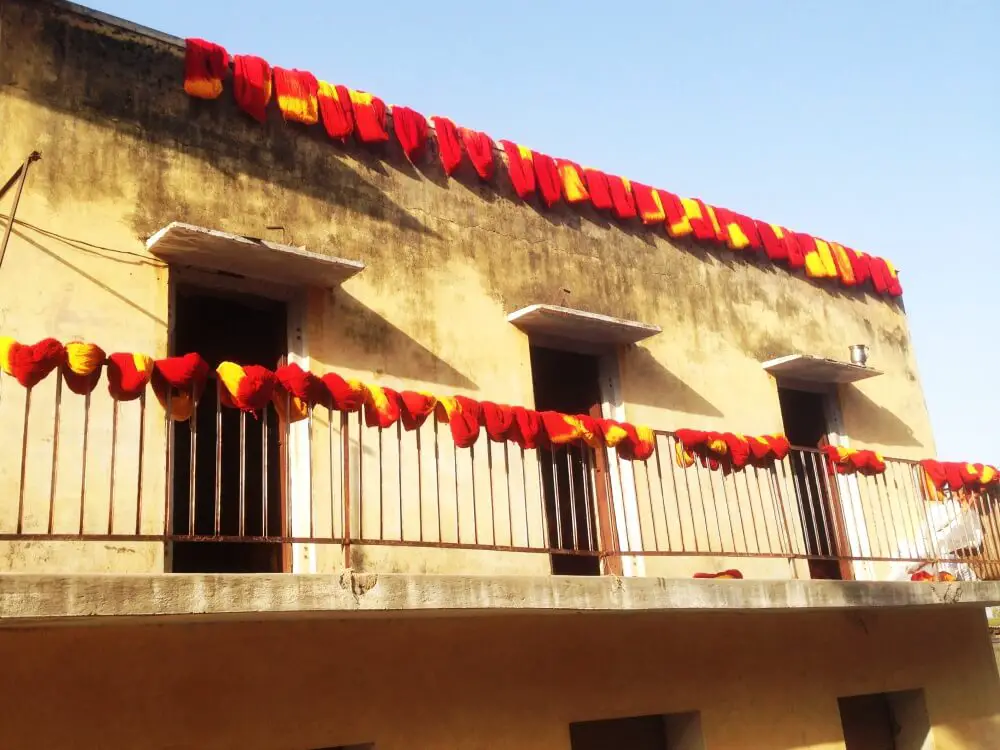 Our teacher didn't do these workshops for his main living – they were a (possibly welcome) break from the daily work of creating tie and dye cloth to make turbans and saris – but he was highly organized.
He started by stretching out some fabric and marking some straight lines and circles with yellow ink, then he showed us how to tie small sections along the lines.  
We sat in the cool, shaded area tying small pieces of fabric with short string where he had drawn the patterns.  It's not as easy as it seems, and he was able to guide and correct us to tie knots the right size and tension.   Eventually we relaxed and got the hang of it.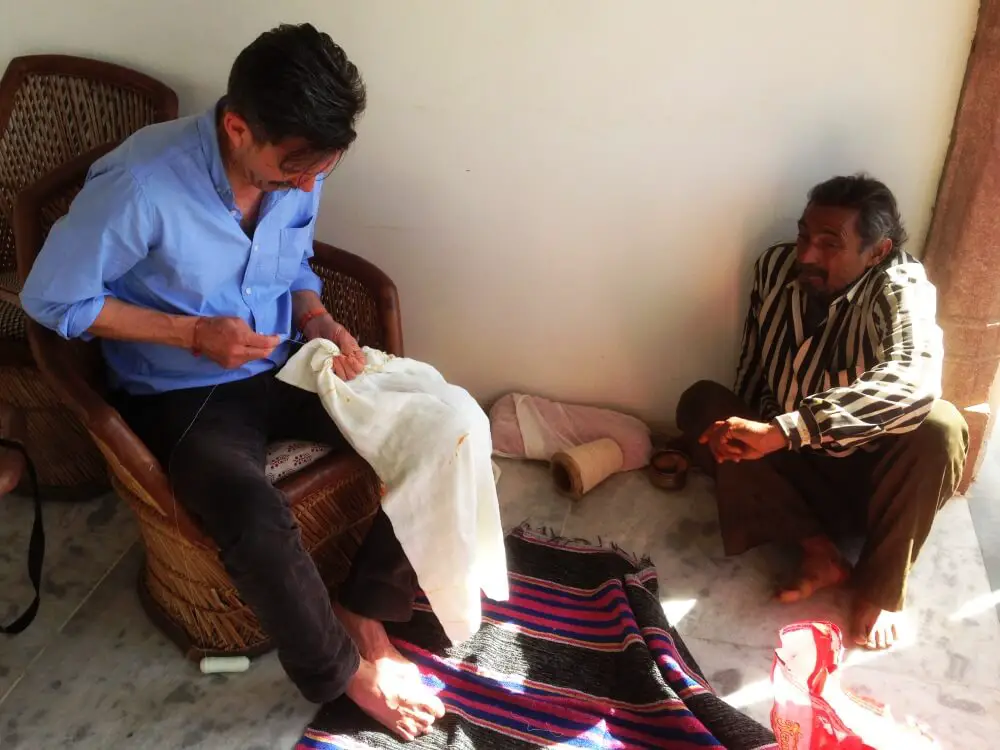 Making a living from tying knots in fabric and dying them requires a particular approach to life.  As we watched him using his feet to create tension in the fabric, we got a real sense of his level of expertise and depth of his experience.  And while we didn't use our feet, but we did feel fortunate to spend time with him and watch him work and be guided by him.
Although he took his job as our instructor seriously, he had a sense of humor and when we had started to do it correctly, he spent the extra time teaching between monitoring our work to teach us some Hindi.
I learned:
yellow = pilar
red = lal
dark blue = lila
white = sapet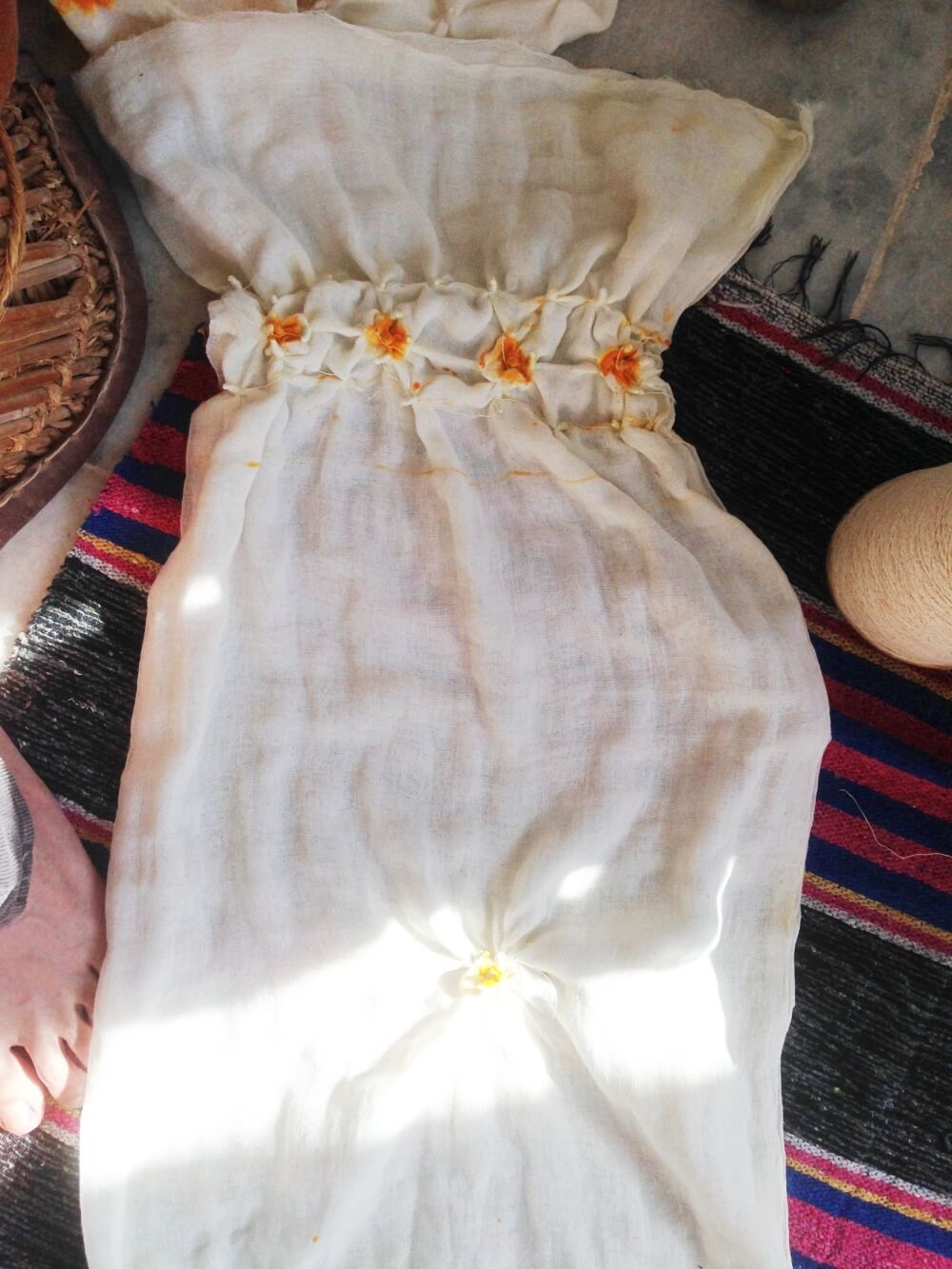 The tie and dye process: Dying
When we'd finished tying all of the little knots, we went over to another section of the yard where he had three metal bowls and a small brick brazier set up. 
He tied up the section of fabric that would be dyed red and used it as a handle.  Then he started a small fire and heated water in a large bowl, adding bright yellow powder to the water.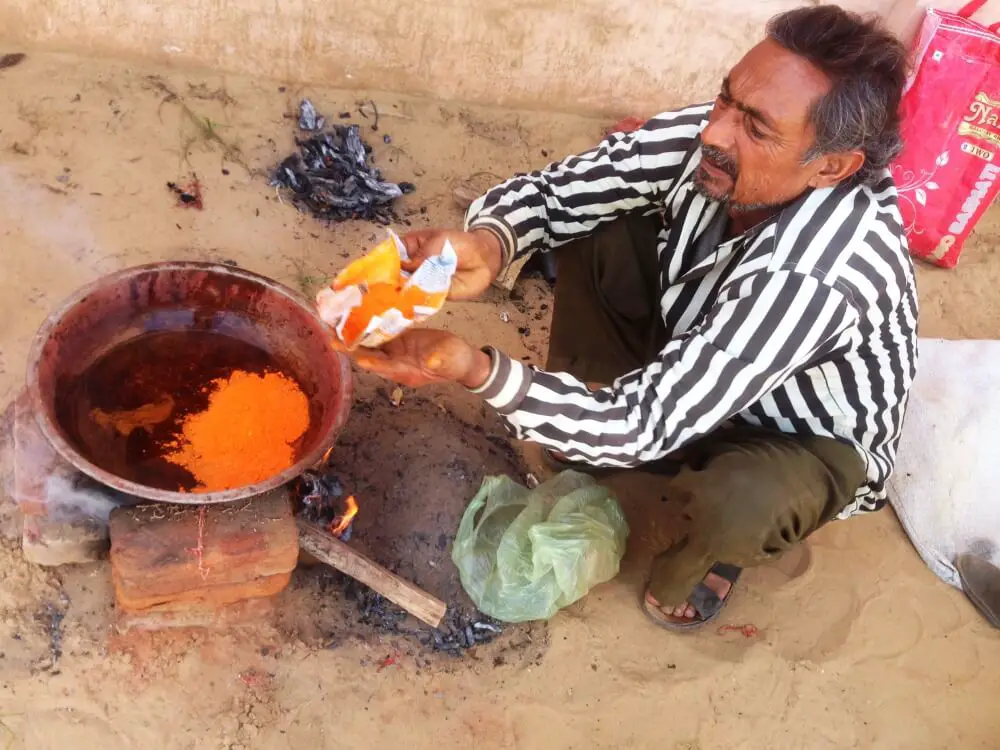 The fabric sat in the boiling water for a couple of minutes before being rinsed off in the other two bowls.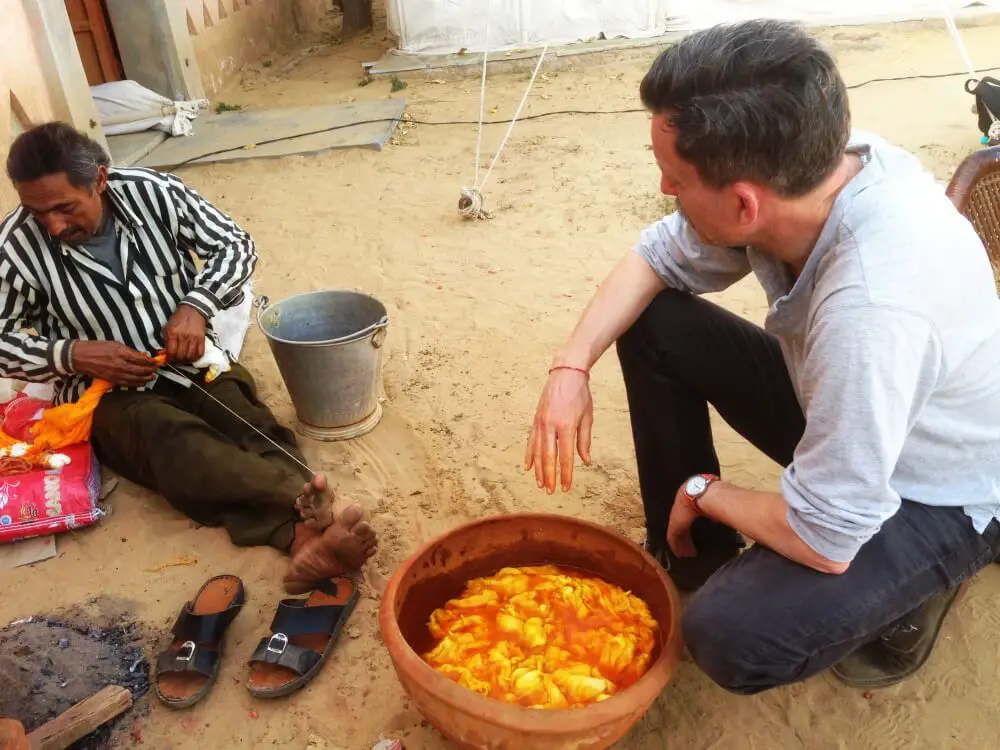 After changing the section of the fabric to be red and wrapping the yellow in plastic, he poured bright red powder in the bowl and added salt to help set the dye.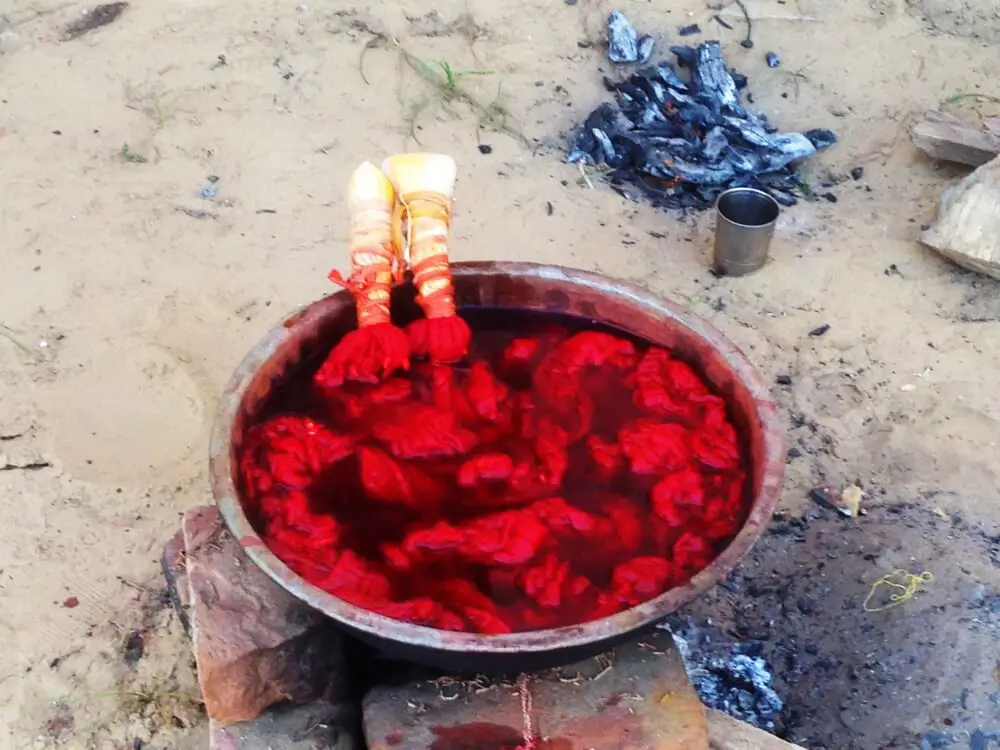 The finished product
After a short while, he removes the pieces of fabric, unwraps them and leaves them on a plastic sheet to dry a little.
When they have dried enough not to dye our hands, he unfolds one of the pieces of fabric, grabs an end and gestures for me to grab the other end.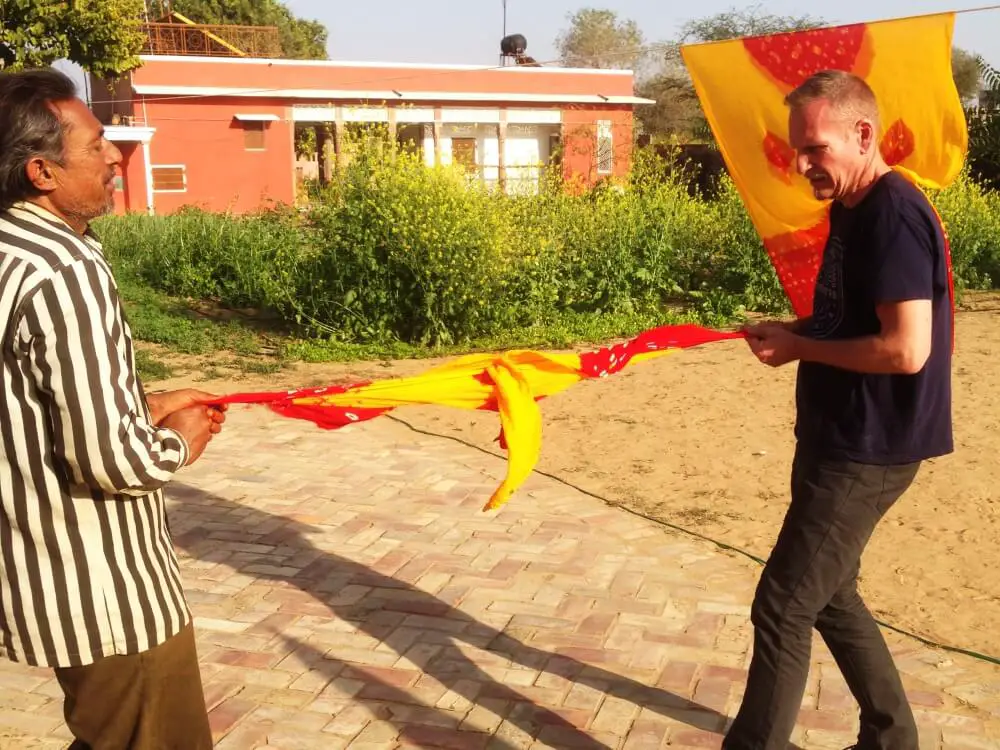 We both tug hard and as we pull, all of the tiny tied strings pop off and as the fabric stretches, a dramatic pattern in red and yellow is revealed.  We are surprised and delighted at his magic trick.  It's very cool.
The fabric is hung on a line to dry completely.  The bright flashes of color, with the garden in the background, are dramatic and we take a million pictures of the garish fabrics blowing in the wind.  
Within half an hour the thin fabric has completely dried in the sun and we have half a dozen pieces of tie dyed fabric to take home with us.
The verdict: Workshop learning how to tie and dye
There wasn't much opportunity to speak with our teacher since he spoke no English, but we were able to communicate nonetheless. 
He was clearly an expert and spending time with him, seeing him work and learning from him, felt like a privilege.  He was really engaged and seemed to have a genuine interest in sharing his craft with us. 
The lesson was very organized and he had even pre-tied some extra pieces so that we had six pieces of fabric to take away.  I even unexpectedly learned a little Hindi.  The setting was great too, with the mud huts, traditional carpenter shop, garden and cool pavilion to work in adding to the experience.
He drew the pattern for us and we only watched him do the die process, so in order to be able to do this whole thing independently, we would need more time.
I don't have a complete understanding after this one afternoon of "How do you tie dye?", but I am now beyond the stage of wondering "What is tie and dye?".   
Plus, it was an enjoyable, interesting and rewarding cultural experience, we got six really great pieces of red and yellow tie and dye fabric to take home, and gained a real appreciation of the amount of work that goes into them.
[table id=11 /]
The Experience
We arranged the whole thing through Rajesh at the Tourist Pension prior to arrival.  It couldn't have been easier and everything went extremely smoothly.
However, if you are in Jaipur and don't want to travel to Nawalgarh, you book a half-day tie and dye workshop here or a full day tie dye experience here.
Practical Tips: Visiting Nawalgarh
Where is Nawalgarh? 
Nawalgarh is in the Shekhawati region in north eastern Rajasthan,  north of Jaipur.  It is a small, dusty town most famous for the incredible havelis (painted houses).  [There's an interesting book on the painted houses of Shekhawati, which you can buy on Amazon. ]
How to get to Nawalgarh
The closest big city and airport is Jaipur airport.  There are lots of flights to Jaipur, many from Delhi. Check flights to India on Skyscanner here.
How to get from Jaipur to Nawalgarh
I do not recommend driving in India – traffic is crazy.  Rajesh at the Tourist Pension in Nawalgarh arranged a car to pick us up and drive us to Nawalgarh.  We did this via email and he was responsive and very helpful.  We felt very taken care of the whole time. 
He also arranged a car to take us to Jaisalmer (an 8-hour trip). You can also arrange a two day trip to Mandawa (where there also plenty of painted havelis) and Nawalgarh from Jaipur here.
We went via Samode, where we spent a couple of nights in the Samode Palace Hotel (highly recommended).
There are buses (about 3 hours), but we didn't want to waste time, and it was reasonably priced.
How to visit Nawalgarh from Delhi
A convenient option is to have a private driver/ guide take you from Delhi. We did this for several places in India and it was very reasonably priced and very convenient.
You can book a car and driver to take you from Delhi to Mandawa and then to Nawalgarh to see the painted havelis in both towns, and then back again. Book the car and driver for this itinerary here.
Getting around Nawalgarh
You can walk easily around Nawalgarh; it's not big.
Where to stay in Nawalgarh
There are only a few places to stay in Nawalgarh, but check out my Guide to Choosing the Perfect Hotel for tips on what to look for when finding the best place to stay.
Budget Pick
We stayed at the Tourist Pension, which is a family home with a section with several rooms, a guest lounge and outdoor dining area.  The room was pretty basic, but the walks and ceiling were painted with Indian designs, which gave it character and charm. 
Rajesh and his wife met us when we arrived and gave us some tea while he gave us an overview of our stay.  We also had our meals at the pension and they were delicious, simple home-cooked meals of curry, vegetables, chapati and yogurt.  We could walk into town easily.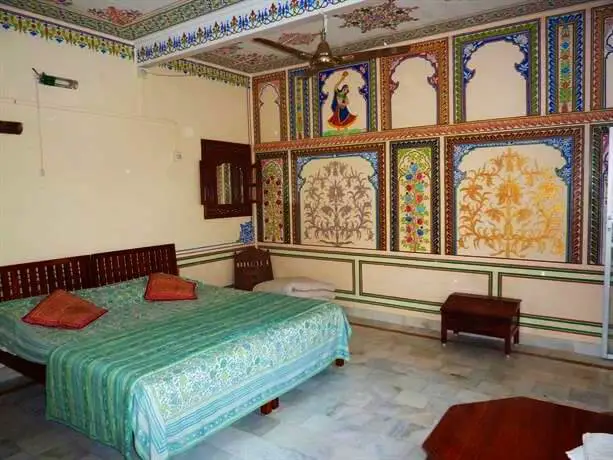 Check prices and availability at the Tourist Pension here.
Mid-Range Pick
A good mid-range option is Roop Niwas Kothi. With an outdoor swimming pool, terrace, garden and covered patio, this is a beautiful place to stay. Rooms are air conditioned.
Check prices and availability for Roop Niwas Kothi here.
Check out other accommodations in Nawalgarh.
Other things to do in Nawalgarh
Through Rajesh at the Tourist Pension, we also arranged a cooking class with his wife, a guided walking tour of the havelis, a camel cart ride to nearby farms, and a resin bangle-making demonstration and workshop.
Planning and Packing for Rajasthan
There is a lot to see and do in India and a guidebook is definitely a help.  I used the Lonely Planet for my trip.   You can buy the India Lonely Planet here.
Another book that I can't recommend enough is "India – Culture Smart!: The Essential Guide to Customs & Culture".  We had heard so many stories about how overwhelming India was, and how difficult it was to deal with, and how different the culture was, that Kevin ordered this book in order to understand more about Indian culture before we left. 
In the end, we were so prepared that we never felt at all overwhelmed while we were there.  In fact, we felt very taken care of throughout India, but understanding the culture helped a lot.  Buy India – Culture Smart!: The Essential Guide to Customs & Culture here.
To help plan your trip, also check out my Asia Travel Guide, with helpful tips and info. Also use my Trip Planner to help plan your trip – it has a breakdown of all the things you need to do to plan your vacation.
When you are ready for your trip, check my Essential Packing List to make sure you have everything you need for your trip.
Safety in India
You hear a lot about safety in India. You definitely need to be careful, but if you take basic precautions, you should be OK. I had no problems – though I always clarified up front how much taxis and tuk tuks cost, and always watched my bag. I highly recommend Pac Safe bags – they are built to defy slashers and pickpockets.
I carried the day pack around with me everywhere. It's small but surprisingly roomy. There are clips to keep it shut and deter pickpockets and built in soft mesh to deter slashers. Check prices here.
I've also got the backpack. You can lock there is anti-slasher mesh, it comes with a thin hooped wire so you can attach it to racks on trains, and the straps can zip away so that it looks like a suitcase. Check prices here.
The other thing to know before you go is what scams can happen. By knowing common travel scams, you can recognize when they happen and avoid falling prey to them. I have seen quite a few in my travels, and have compiled a list of common travel scams here.
Also worth a read is my post on 13 things not to do when traveling (based on lessons learned the hard way).
Additional consideration: Travel Insurance
My aim is to not only inspire you to have amazing experiences when you travel, but to also give you the practical information and resources you need to have them.  It is important to be fully prepared when you travel. 
In addition to accommodation, planning and flights, you should always have travel insurance, just in case.  I always hope I never need to use it but I get it just in case I do!  Read my Guide to Buying Travel Insurance for more information about what to look for.
A great insurance option is Travelex.  It has coverage for all you'll need. You can swap this link for  either compare Travel Insurance plans here or get a quote right now:
---
Enjoy the workshop!
Do you have any stories of India ? I'd love to hear them. Comment below. 
If you liked this post, please share the love and Pin it to your India board for later.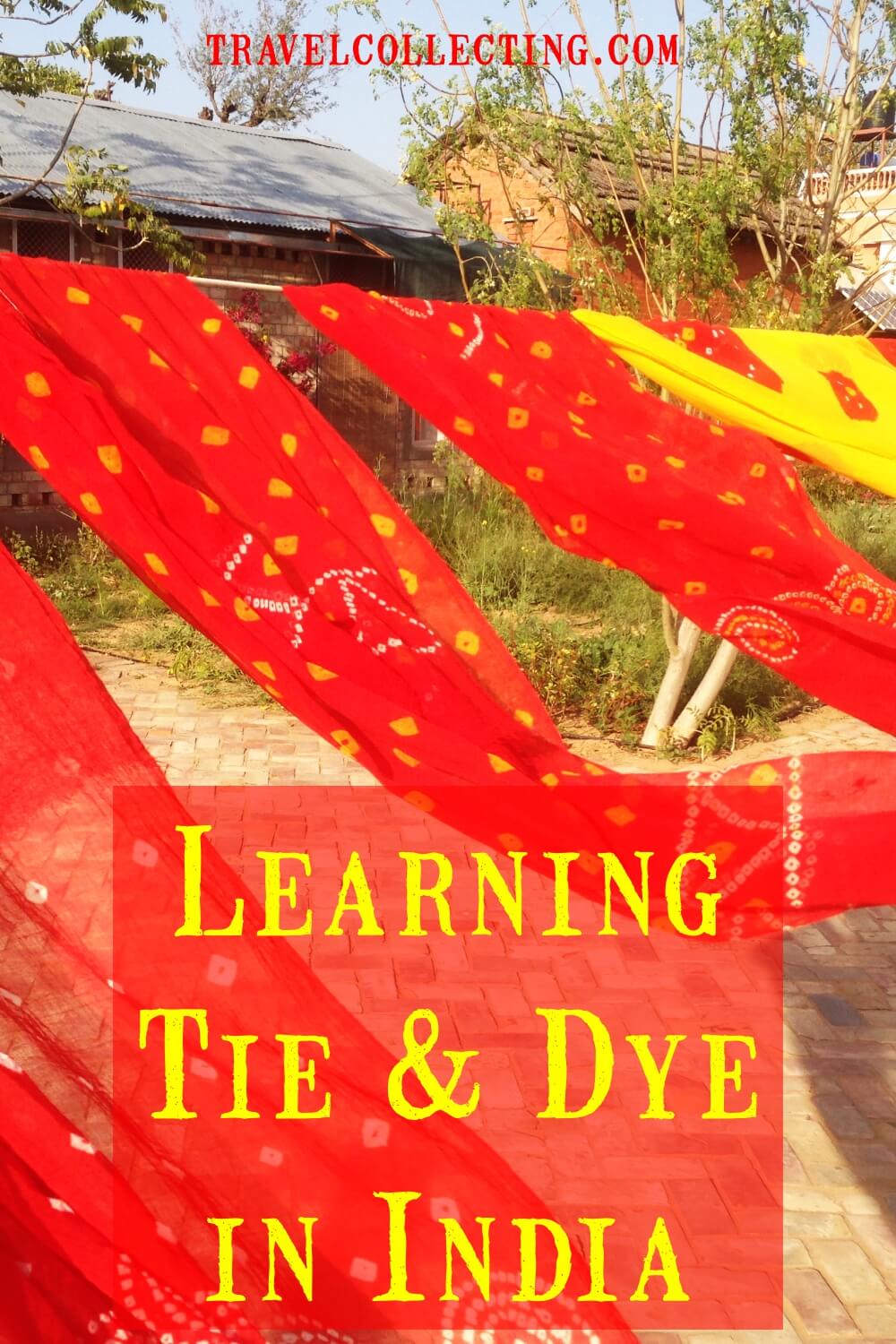 Read about other fantastic experiences in Rajasthan, India:
---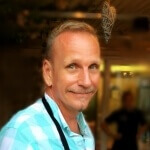 James Ian has traveled to 82 countries and all 7 continents.  He is passionate about experiential travel, i.e. meaningful travel that actively engages with the environment and culture.  He helps people have similar experiences that involve active participation in activities and festivals; engaging with the local food and handicrafts through lessons and food tours; and interacting positively with environment by hiking, riding, rowing, diving and low/no impact animal encounters. 
---
Travel Collecting is a participant in the Amazon.com Services LLC Associates Program, an affiliate advertising program designed to provide a means for sites to earn advertising fees by advertising and linking to amazon.com. Amazon and the Amazon logo are trademarks of Amazon.com, Inc. or its affiliates. As an Amazon Associate I earn from qualifying purchases.