I sat with my friend Ainsley in a well-lit room on a tatami (grass mat) floor at a row of low wooden tables. A small black inkstone was in front of us all. Next to it was a thin paint brush, a page of tracing paper covered in kanji (the Japanese writing that uses Chinese characters).
I shifted a little uncomfortably and tried to stretch my legs without it being too obvious.  My socks poked out beside me, as we had left our shoes outside, as is the custom in Japan. 
I picked up the brush, held it vertically in my right hand, dipped it in the inkwell and made a tentative stroke on the blank paper.
This was a strange start to my visit to one of Kyoto's moss temples.
---
No time now to read about how to visit the Moss Temple in Kyoto? Pin it and save it for later: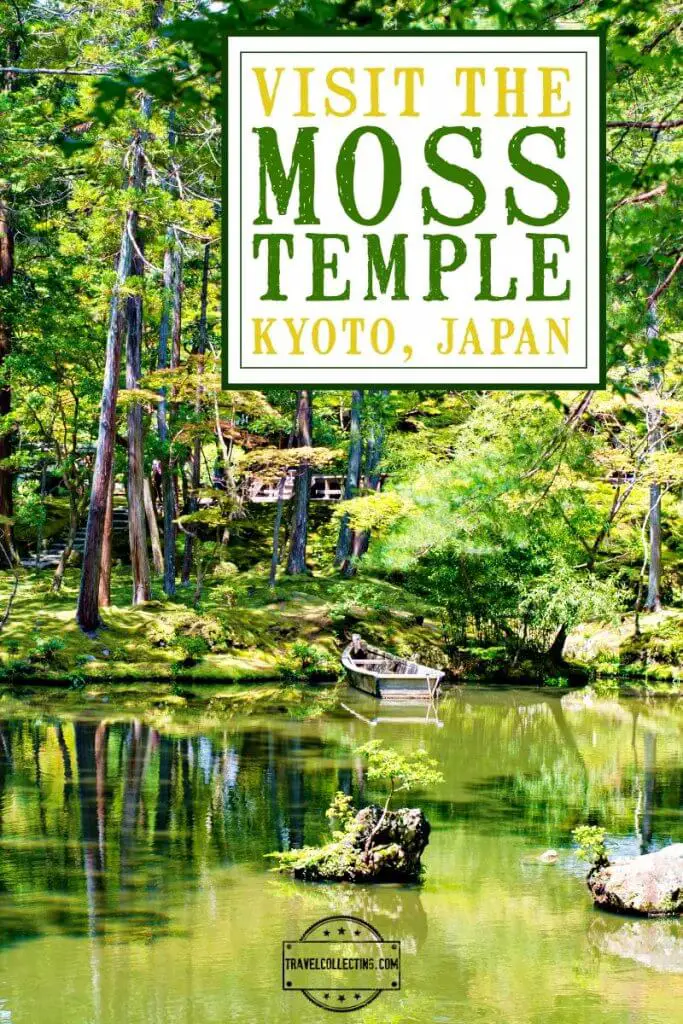 Please note this post may contain affiliate links, which means we may receive a commission, at zero cost to you, if you make a purchase through a link. Please see our full Disclosure for more information. If you have any questions, please let me know.
Visiting Saiho-ji/ Koke-dera (Moss Temple) in Kyoto
Saiho-ji temple is nicknamed Koke-dera (Moss Temple) after the moss garden for which it is famous.
I love Japan – there are so many fascinating things to do.  I had already enjoyed the cherry blossoms in and around Osaka.  I had heard from a friend about a temple in Kyoto with a moss garden that surrounded a heart-shaped pond and it sounded like a place that would be interesting to visit.  It was touted as the best moss garden in Kyoto. 
I was living in Kobe, a 40-minute train ride from Kyoto, so it seemed easy to get to.  Accessing the temple was no mean feat, however, as you need to make a reservation by mail several weeks in advance . 
How to Visit Saiho-ji Moss Temple 
Making reservations for the moss garden is the hardest part.  You need to make a reservation to visit Saiho-ji and can't apply via the Internet or by phone.  Reservations can be made from one-week to two-months in advance.  
If you are applying from inside Japan, you can pick up a special return postcard called an oufuku hagaki from a post office or convenience store.  It comes in a set of two postcards, one of which is used by the temple to reply.
On the postcard to the temple, write your name, the desired date for your visit, the number of people in your group, as well as the name and address of your "group representative" (this can be you). 
The application has to reach the temple at least one week before you intend to visit, but I would recommend sending it in sooner – it does book out.
If you are applying from outside of Japan, you can in theory use an International Reply Coupon (IF you are from a country that uses them).  The application has to reach the temple at least three weeks before you intend to visit.
Note that the postal services in the USA, UK and Canada do NOT use International Reply Coupons.  In this case, see if your hotel in Kyoto will do it for you, or you can use a service such as saihoji-kokedera-reservation.com for a 2,200 yen fee.
The temple address is:
Saihoji Temple Worship Clerk
56 Matsuo, Jingatani-cho
Nishikyo-ku, Kyoto, 615-8286, Japan
The temple will confirm your reservation time and date via the self-addressed return postcard.
When you arrive at Saiho-ji Temple, Kyoto
You must bring your confirmation postcard with you (it's your ticket and without it, you won't be able to enter)!  When you arrive, show it at the main gate.  Pay the admission fee in cash (3,000 yen per person at the time of writing) at the entrance to the main temple building.
The temple and garden
Kyoto is arguably the historic heart of Japan, and Saiho-ji Temple is one of Kyoto's UNESCO World Heritage Sites.  There has been a temple on this site since 749. In 1339, the gardens were renovated by Muso Soseki, a Buddhist monk and famous garden designer, to turn it into a zen temple. 
The moss, however, didn't come until the Meiji Era (1868-1912).  The interesting thing about moss is that you can't plant it, so 200 or so years ago, it grew by itself, replacing the sand that used to be there. This happened after the garden flooded and was subsequently neglected.  There are about 120 varieties of moss there now.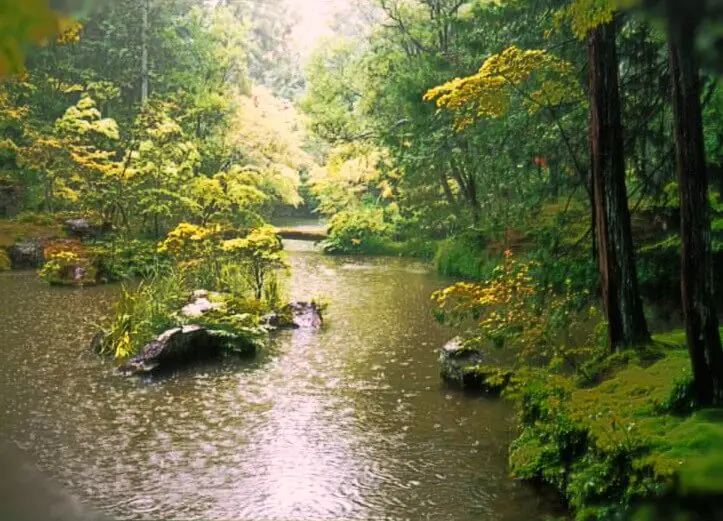 This is not your average garden.  It has two sections.  The upper garden is a "dry" karesansui rock garden.  But it is the mossy lower garden that is the main attraction. 
This is a "stroll garden", with a path that meanders through the moss and trees.  The garden was designed to represent Jodo, the Western Paradise (or Pure Land) of Amida Buddhism, with a heart-shaped "golden pond" at its center. 
The pond has three islands named, "Sunrise",  "Sunset" and "Mist".
The pre-garden experience
In order to ensure that those who enter this garden paradise are in the appropriate contemplative frame of mind, before you can enter the garden you need to participate in a "ritual activity" in the temple.  Ainsley and I were more than happy to do so. 
There were about 50 of us in the temple room copying the complicated kanji characters that form the heart sutra.  This is reputedly the "pure distillation of wisdom" and copying it is considered virtuous. 
Since I didn't know what the words were, I couldn't read Japanese and I'm not a Buddhist, it didn't necessarily work in the way it was intended, but the experience of copying the characters and gaining confidence in my calligraphy was a form of meditation in and of itself.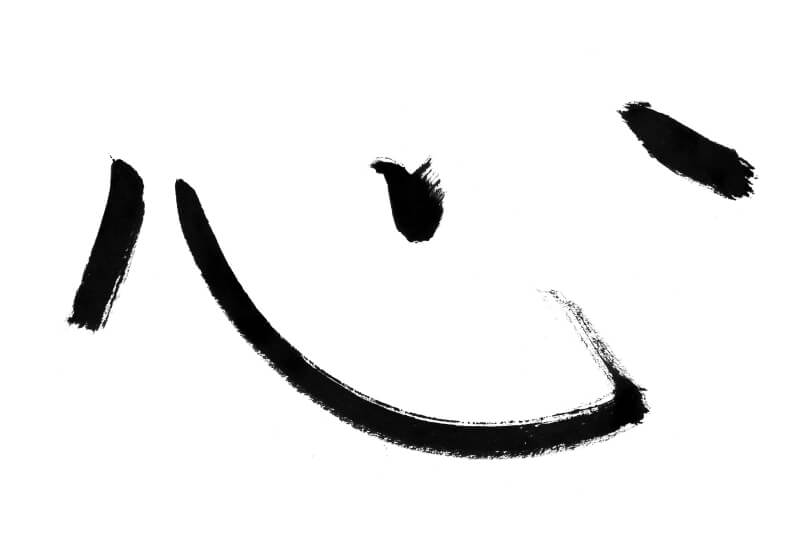 Sometimes visitors are asked to meditate, sometimes they chant sutras and sometimes they copy sutras as we did.  I was delighted we got an introduction to Japanese calligraphy by copying the heart sutra. 
We were the only non-Japanese there that day, but our fellow calligraphers were happy to help guide us in how to hold the brush and make the strokes and smiled encouragingly at our efforts.
After we had copied our sutra, we got to write a wish (in English) together with our name on a wooden stick.  We had to leave them at the temple so that the priests could use them to pray for us and our wish. 
I'll hold on to my western tradition of not telling anyone what my wish was in case it doesn't come true.
Experiencing the moss garden
We were then allowed out into the garden for about an hour.  It was magical.  The moss formed a lush spongy carpet; a pointillist mosaic of greens and golds.  There were many trees and the sunlight filtered down a golden, greenish glow, lighting up patches of the garden. 
It was something out of a fairytale, and I half expected to glimpse one of Japan's yokai (mythical animal spirits) flitting in between the trees.  Three teahouses peeked between the trees and bamboo.  We wandered silently, soaking in the silence and appreciating the change of view around each bend in the path.
The heart-shaped "Golden Pond"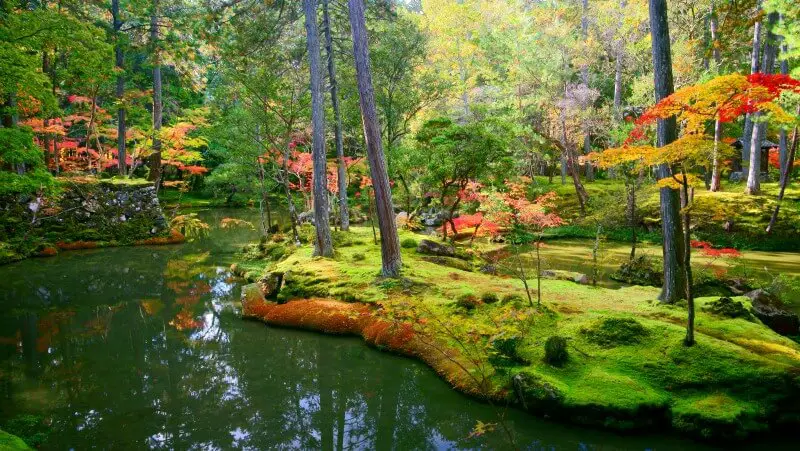 I had heard about the heart-shaped pond and was looking forward to seeing it almost as much as the moss.  As I wandered along the path, I looked at the water and tried to wrap the shape in my mind to fit the description.  It puzzled me – it didn't seem heart-shaped at all.
When I later discovered the truth, it was a moment of blinding awareness that has stayed with me ever since.  I was expecting a ♥-shaped pond.  But it was a 心-shaped pond.  心 is the kanji character for "heart". 
This moment, like few others in my life, has stayed with me as reminder that we all experience the world through our own cultural lens.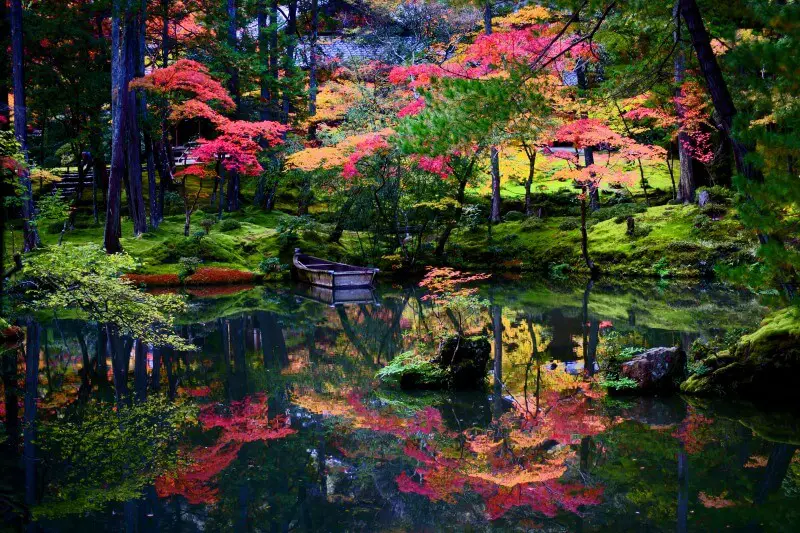 The verdict
From the preparation of mind and soul through the copying of the heart sutra, to the garden design representing paradise, with a golden heart at the center, and the magical quality of nature taking it over and making it even more beautiful with the edition of lush moss, this garden was designed to be a spiritual experience.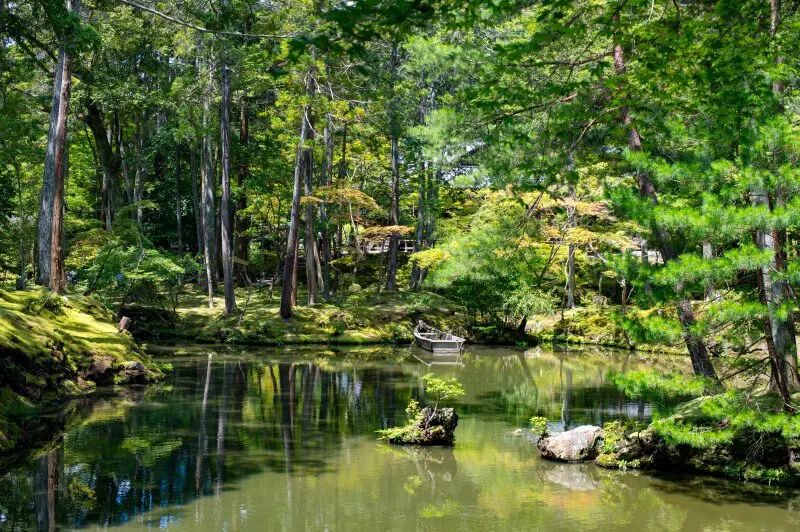 For me, it was a different kind of spiritual journey than the one intended.  One that symbolized my own connection to travel and the depths of awareness that travel can bring.  The crash course in Japanese calligraphy (shodo) copying the heart sutra was a unique way to experience Japan and prepare you for the garden. 
The garden itself, the way the golden and green moss glows and the way the light filters through the trees, is magical. 
And, for me anyway, the heart-shaped pond provided an epiphany or kind of spiritual awakening about culture and the different ways that we view the world.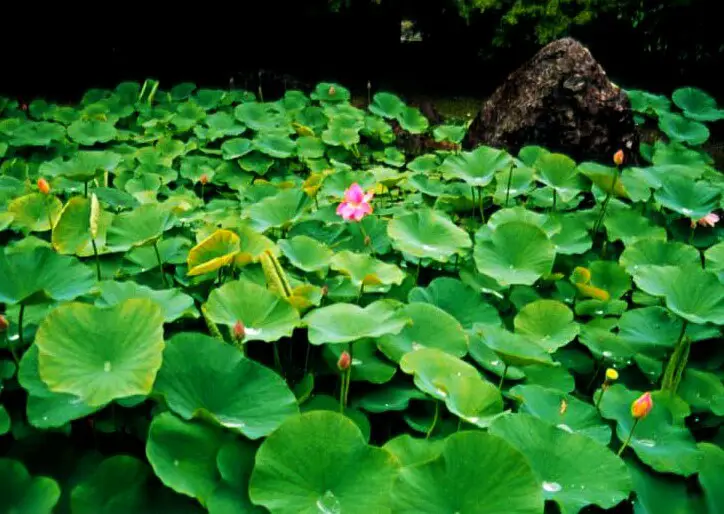 This isn't your typical tourist destination.  Making a reservation for Saiho-ji (Kokedera) Moss Temple is a hassle, especially if you don't live in Japan (see below for how to do it). It costs 3,000 yen (at the time of writing), which makes it one of the most expensive temples to visit in Kyoto.
You are also limited to about 90 minutes, and the time of the visit varies – you don't get to choose – which can make it hard to plan around if you have a packed itinerary. 
You are also required to do the pre-garden activity.  However, it is all worth the effort and money in my opinion.
[table id=4 /]
A tip: Take your time in the garden.  Many people rush around and then leave, so it doesn't take long for the crowds to thin out and the silence to settle.
The best time to visit the moss garden temple, Kyoto
Any time of year is good, but the most popular times to visit are during rainy season (late May to mid-July), when the rains make the moss particularly lush, or in late fall, when the turning leaves contrast with the moss. If you are traveling in fall, you can make this part of a 2-week fall itinerary.
Getting to the Saiho-ji Temple (Koke-Dera Temple)
To get to Saiho-ji Temple form Kyoto JR station, take
(a) bus No.73 and get off at "Kokedera stop".  Buses leave 2 or 3 times every hour, take about an hour and cost 230 yen each way.
(b) the Karasuma subway line to Shijo Station, and transfer there to bus no. 29 to the Kokedera-michi stop.
Map of Kyoto with location of Saiho-ji temple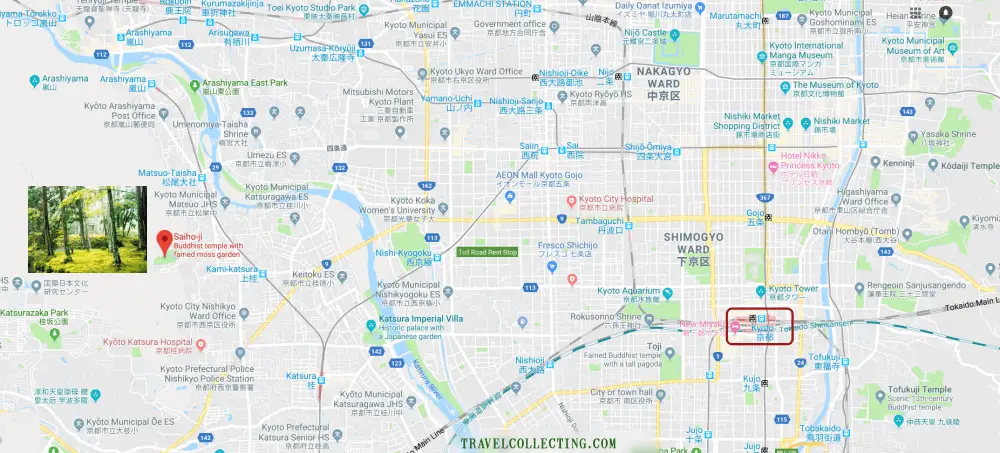 ---
Guide to Visiting Kyoto
Where is Kyoto?
Kyoto is in the middle of Japan, in the Kansai region, near Osaka, Nara and Kobe.
How to get to Kyoto
Kyoto is served by Kansai International Airport, with frequent flights from all around the world.  Many people choose to go to Tokyo on their first visit to Japan, but in my opinion Kyoto, which is surrounded by beautiful historic temples and gardens, is more interesting.  There are many flights into Kansai airport.
Book a flight to Kyoto (Kansai International Airport) here.
How to get from Kansai Airport to Kyoto
You can get from the airport to Kyoto by train, bus, taxi or rental car.
By train it takes about 75 minutes on the Limited Express Haruka operated by JR.  You can pay using JR Rail Pass, which you can only buy outside Japan. Buy a JR Rail Pass here or a regular one-way ticket (2,850 yen).  You can use the JR West Timetable and Fare Finder to find a train time.
You can book a shuttle airport transfer very easily here.
You can book a rental car easily through rentalcars.com.
Where to stay in Kyoto
I highly recommend staying in a ryokan (traditional Japanese inn) in Kyoto.  You will sleep on a futon on a tatami mat floor, in rooms separated by paper sliding doors.  This is a splurge – but totally worth it!  It's like a step back into traditional Japan.
I have written a guide to the best ryokan in Japan, including a large section on the best ryokan in Kyoto.  Click here to find the best ryokan in Kyoto, broken down by different price brackets.
For the total lowdown on staying in a ryokan (traditional Japanese inn) or minshuku (guesthouse) **BOTH HIGHLY RECOMMENDED**, read my Complete Guide to Staying in Ryokans here.   And here is a general overview of the best accommodation and hotels in Japan.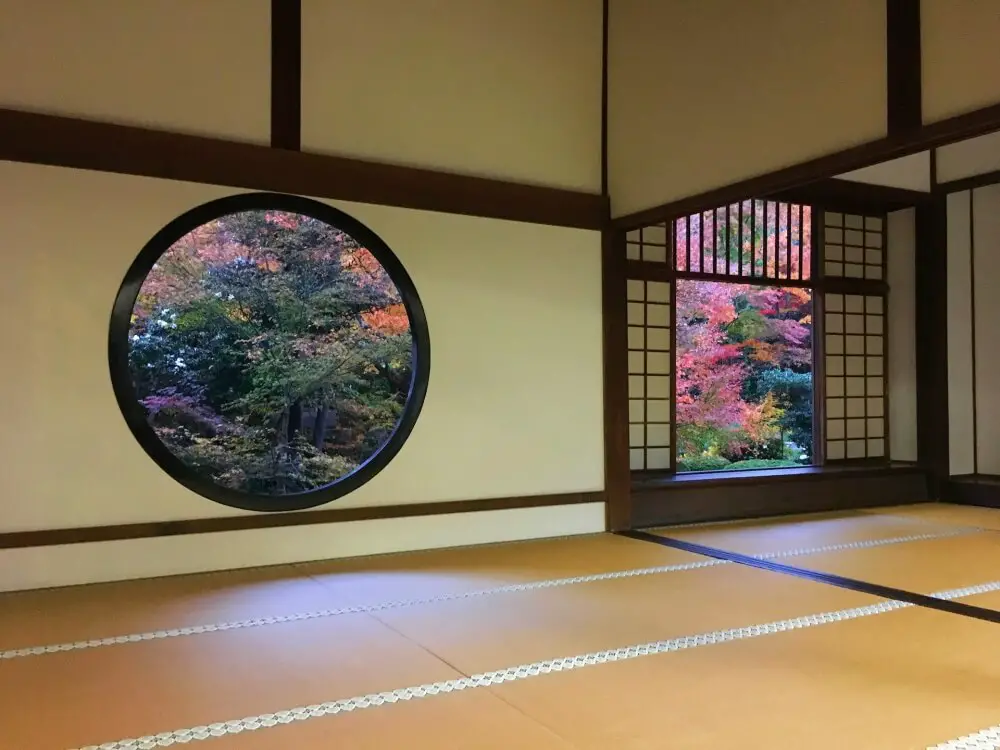 Other things to do in Kyoto
There is more to do in Kyoto than just visit this beautiful moss garden and temple. Kyoto is a great place to have a range of really amazing travel experiences.  Here are some possibilities:
What is the currency in Kyoto?
The currency in Japan is the yen.
Click here to see how much your currency is worth in yen.
Visa requirements for Japan
Do you need a visa for Japan? 
For visa requirements, check out your home country's official government visa websites:
For citizens of other countries, use this helpful website (though it's best to always check with the embassy as well). 
Planning and packing for Kyoto
I use the Internet a lot to plan – and I hope this blog is useful resource for you –  but I also always use a trusty Lonely Planet to get the big picture and practical things like maps. 
Use it as a useful resource than a travel bible so that you don't miss out on loads of awesome things and places and experiences that aren't listed in it. You can buy the Japan Lonely Planet here.  If you are just visiting Kyoto, buy the Lonely Planet Kyoto.
Other useful planning resources:
Asia Travel Guide: Useful information and tips for your trip
Trip Planner: a breakdown of all the things you need t do to plan your vacation – and when.
When you are ready for your trip, check my Essential Packing List for international travel to make sure you have all of the essentials.
Not on this list, but also an essential, in my opinion, is a travel diary.  I love this leather-bound journal, as it really evokes the fantasy of travel for me.  You can also consider buying a sketch book to record your memories in a different way than just photos.  This sketch pad looks great and is easy to carry.
Travel Insurance for Japan
My aim is to inspire you to have amazing experiences when you travel, as well as to give you the practical information and resources you need to have them.  It is important to be fully prepared when you travel. 
In addition to accommodation, planning and flights, you should always have travel insurance, just in case.  I always hope I never need to use it but I get it just in case I do!  For the full low-down on what to look for, read my guide to buying travel insurance.
A great insurance option is Travelex.  It has coverage for all you'll need. You can swap this link for  either compare Travel Insurance plans here or get a quote right now:
---
Enjoy the temple and gardens!
Do you have any favorite places in Japan? I'd love to hear about them. Comment below.
If you liked this post, please share the love and Pin it to your Japan board for later!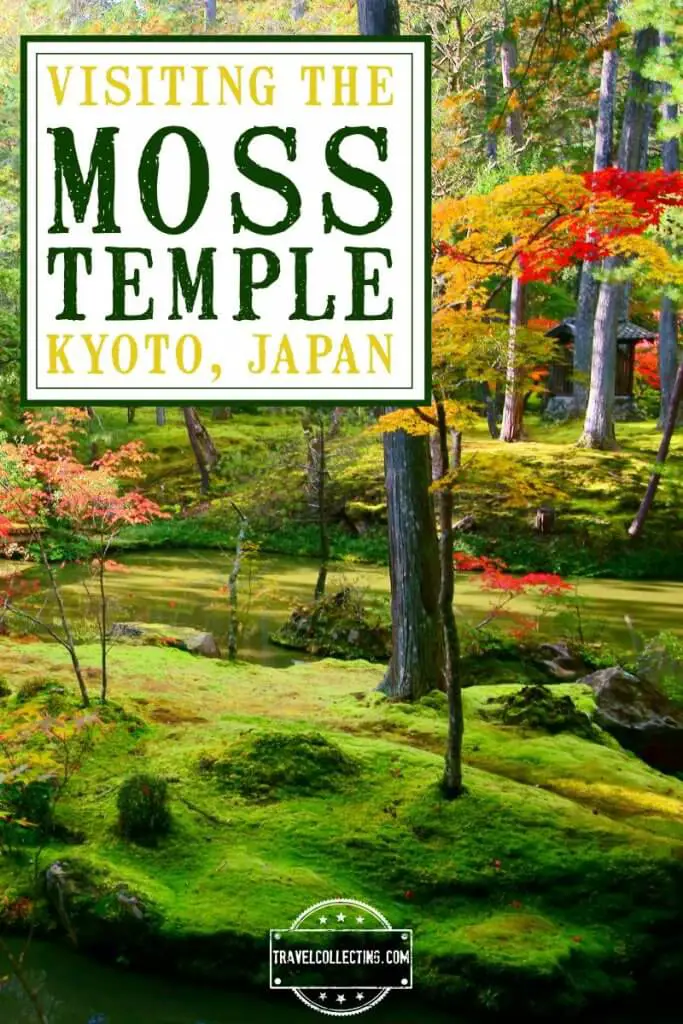 ---
For more posts on Japan:
For more on visiting temples, read about visiting a Buddhist monastery in Tibet
---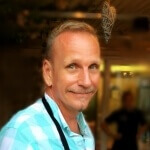 James Ian has traveled to 82 countries and all 7 continents.  He is passionate about experiential travel, i.e. meaningful travel that actively engages with the environment and culture.  He helps people have similar experiences that involve active participation in activities and festivals; engaging with the local food and handicrafts through lessons and food tours; and interacting positively with environment by hiking, riding, rowing, diving and low/no impact animal encounters. 
---
Travel Collecting is a participant in the Amazon Services.com LLC Associates Program, an affiliate advertising program designed to provide a means for sites to earn advertising fees by advertising and linking to amazon.com. Amazon and the Amazon logo are trademarks of Amazon.com, Inc. or its affiliates.