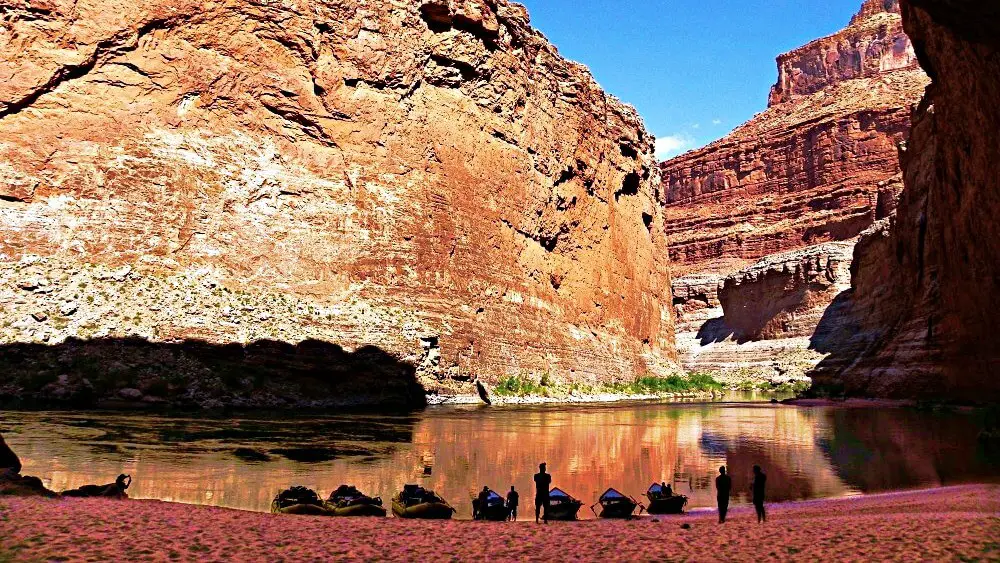 North America is probably one of the most familiar continents to most of us because of the prevalence of American media.  However, it is much more than what we see in movies and TV.  It is an incredibly diverse continent.
The North America countries range from Mexico, through the United States, out to the Bahamas and the Caribbean and up to Canada.  In fact, there are so many North America destinations worth visiting that it can be overwhelming.  This is where my North America Travel Guide can help you.
North America Travel Guide
This North America trip planner will help answer questions such as "What is North America famous for?" and will help direct you where to travel in North America, highlighting some key North America trips and vacation destinations.  North America has plenty of awe-inspiring experiences and activities to enjoy.  Also included are practical tips to help make your trip easier.
Please note that some of the links in the North America Guide may be affiliate links.  At no additional cost to you, I earn a small commission if you make a purchase. If you are ready to book your trip and would like to support this website in some way, using these links is one way to do that.  Read my Disclaimer for more information.-inspiring
Many of the famous places in North America are iconic cities and sights, but there are also many awesome activities to engage with the local culture and environment.
In addition to the five activities above, add:
6. Encounter polar bears in Canada
One of my all-time favorite North America attractions is the polar bears on Churchill, Manitoba in Canada.  This is probably the best place in the world to see polar bears.  They come through the town and the neighboring region throughout the fall especially.
Churchill is accessible only by a very long train trip from Winnipeg, or a much shorter flight.  You can take a 5-day trip that includes flights to/ from Winnipeg and two trips to see polar bears in tundra buggies, as well as other sights in the area.
7. Learn Mexican cooking in Mexico
Mexico is one of the top travel destinations in North America for its beaches, culture, ancient ruins and food.  What better way to experience it than to take a cooking class in the local cuisine.  Oaxaca is a great place to take a cooking class.
8. Enjoy the holiday season in New York City
New York City has more than its fair share of famous tourist places in North America.  Enjoy the views from the top of the Empire State Building (you can get tickets here), sail past the Statue of Liberty (buy fast track access tickets here) and watch a play or musical on Broadway.
My favorite time to visit NYC is December, when the turns into a magical holiday winter wonderland.  There is so much to do to enjoy the holidays, I wrote an entire guide about Christmas (and Hanukkah) in the New York City.
9. Ride the cable cars in San Francisco
San Francisco is another of the top North America travel destinations.  The Golden Gate Bridge and Fisherman's Wharf are famous, but nothing beats hopping on a cable car and riding the steep streets of the city.  If you are up for it, stand up on the edge and hang out (though not too far) as you go.
TIP: Get on at one or two stops past the start of the line.  They usually keep standing room free for additional people.
10. Enjoy jazz in New Orleans
New Orleans is one of the most popular cities in North America because of the music, the food and the vibe.  The live jazz here is sensational.  Join a jazz tour through the streets of the French Quarter in New Orleans, stopping off at two live jazz venues and enjoying southern cocktails.  Buy jazz tour tickets here.
There are so many great North America places to visit.  Visiting just one city like New York City is all you need for a great vacation.  However, if you want some other North America itinerary ideas, here are some:
Canada cities [2 weeks]: Quebec City – Montreal – Ottawa – Toronto
U.S. Southwest [1.5 weeks]: Paige (Antelope Canyon) – Monument Valley – Arches National Park – Mesa Verde National Park – Paige
U.S. Southwest [2 weeks]: San Francisco – Yosemite National Park – Sequoia National Park – Death Valley National Park – Las Vegas
U.S. Canyons [1 week]: Las Vegas – Bryce Canyon – Zion National Park – Las Vegas
U.S. Grand Canyon [1.5 weeks]: Flagstaff – rafting Grand Canyon – Bright Angel Trail hike – south rim – Flagstaff
U.S. New England [1.5 weeks]: Boston – Portland – Bar Harbor – Acadia National Park – Vermont – Boston
Caribbean cruise [1 week]: Miami – Bahamas – St Maarten – US Virgin Islands – Miami
Hotels in the United States can easily cost over $100/ night, even in basic chain hotels.  The major cities are much more expensive, of course, and hotels in New York City will most likely be one of your major expenses – the average price of a New York City hotel is about $300/ night.  Meals typically cost $15-35 and up in a restaurant.  You can get a sandwich at a deli for about $5.
Credit cards are very common in the United States, although you will occasionally encounter places that are cash only.
Tax is usually not included in the tag price or menu price.  The amount of tax varies from state to state. Always expect to pay more than the amount on the price tag.  There are exceptions such as food that you will cook at home.
Costs in the Caribbean vary from island to island.  An example is the US Virgin Islands, where the average price for a hotel is $190 for a double room and the average price of a meal is $35.  You can often get package deals with resort hotels that can save you money.
You can also travel around the Caribbean on a cruise ship.  It's possible to get good deals on cruises, and these always include all meals (though drinks and shore excursions are extra and expensive)
The cost of a trip to Canada also varies depending on where you go and the level of comfort and luxury you have.  Some of my favorite trips are to out-of-the-way places such as Haida Gwaii and Churchill, and these are more expensive.
The average cost of a hotel is about $190, but you can stay in cheap motels for less than $100/ night and a hostel dorm bed for about $20.  Luxury hotels are over $200/ night.  Lunch (average price about $14) is cheaper than dinner (average price about $20).
Mexico is much cheaper.  You can get a bed in a dorm in a hostel for about M$200/ night.  A double room in a mid-range hotel costs about M$630 – 1,500 and in a luxury hotel approximately M$1,600 – 5,000. Lunch is cheaper than dinner and you can get a fixed price lunch (comida corrida) in a cheap restaurant for about $M60-90.  A nice dinner with drinks costs about $M250-350 and fine dining will set you back about M$360-500.
Note that cash is most common in Mexico, though credit cards are accepted in major hotels and restaurants.  ATMs are common.
As always, activities are some of my major expenses.
Getting to the North America is easy.  There are frequent flights to major airline hubs throughout the continent.
If you are flying from Australia or New Zealand,  Los Angeles or San Francisco are the major entry points, though there is now also a 17.5-hour flight between Sydney and Houston.
New York City is one of the major entry points from Europe.  There are three major airports in NYC – JFK, Newark (technically in nearby new Jersey) and LaGuardia.
Other major hub airports in the United States include Chicago O'Hare, Dallas Fort Worth, Miami International and Hartsfield-Jackson Atlanta.
Cruise ships also go from Australia via Hawaii to the west coast if you want to make a journey of it.  My father did this from Australia to Vancouver because he doesn't like to fly, and he loved it.
It's helpful to be aware that when you enter the United States, you will clear through immigration and customs in the city that you land in the U.S., so if you have an onward ticket, make sure that it is for several hours after you are due to land in the U.S.  I have missed a couple of connecting flights because I got held up in long immigration lines at my port of entry city.  The airline rescheduled me easily enough, but still, it was a drag.
Note that many airports in the United States are going cashless.  At Newark Liberty Airport near NYC, for example, all of the bars and food outlets are credit card only.
If you are transiting through a city, double check that you are flying in and out for the same airport.  Keep in mind too that the larger airports have multiple terminals and you should make sure you factor in enough time to transfer between terminals if necessary.
Major hubs in Canada are Vancouver (west coast) and Toronto (east coast).
Mexico City is the main airport for Mexico, but there are also many smaller regional airports.
Miami and San Juan in Puerto Rico are the major hubs for Caribbean cruises and Vancouver, Canada is the major hub for Alaska cruises.
Check for flights on Skyscanner and Momondo to find the cheapest flights. Both of these websites search budget airlines and regular airlines to find the cheapest flights for you.
Layovers
Another great (and cheap) way to see some of the main North American cities is on a layover.  Many airlines fly via North American cities and you can arrange a short or extended layover there.  Here are some suggestions for extended layovers in North America.
NOTE: Make sure you have a valid visa for your layover.
There are many different types of accommodations in North America.  For more information on types of accommodation, check out my Accommodation Guides.
Hostels
Hostels are common throughout North America and if you are travelling alone, a bed in a dorm is definitely the cheapest option other than camping.
Hotels
Hotels are not that cheap in much of North America.  In some places like New York City, this may be one of your biggest expenses.  Quality varies and style can vary greatly, from basic, but reliable, chain hotels to gorgeous luxury hotels.
Motels
These are often a cheap option.  They are typically rows of rooms with parking in front of your room.  I sometimes choose motels when I am on the road and need somewhere to stay for a night, or when I am somewhere expensive and I want to try save money on accommodation.
Lodges
Most of the national parks in the United States have lodges.  Some of them, like the Old Faithful Inn in Yellowstone NP, are true classics, with multi-storeyed, aged wooden beams and huge stone fireplaces.  They are not cheap, but give you a comfortable, classic old world national park experience.  Many parks also have more modern lodges with less character but cheaper prices.  It is worth a splurge to stay in at least one classic lodge.
Resorts
Especially common in the Caribbean and the Yucatan beach areas in Mexico, they are sometimes all-inclusive, so meals (and sometimes even drinks) are all included in the price.  They have pools, nearby beaches, bars, restaurants and entertainment.  A whole vacation in one place.
Cruises
Cruises are common in the Bahamas and the Caribbean, plus other places like Baja California, Alaska, Hawaii and Bermuda.  Cruise ships can be enormous with skating rinks, ziplines, gold courses, water slides and cinemas.  I worked in a cruise ship for almost two years, so kind of had my fill in, but they are an easy way to travel, with all meals and entertainment included.  You can book shore excursions that will take you sailing, snorkeling or even swimming with stingrays.
Campsites
In national parks (and many other places), camping can save you a lot of money – and often get you more remote places in the middle of nature.  If you are willing to rough it a little, this is one way to truly get back to nature.
Tents
There are many campsites with tents that you can drive to.
Back country camping (i.e. pitching your tent in a place you can only get to by hiking, usually, but not always in a designated campsite) in national parks usually requires a special permit that you get from the National Parks office.
RVs
If you want to camp, but don't fancy sleeping in a tent, you can rent an RV and drive around the United States or Canada.
Air BnB
Renting a house or apartment on Airbnb is very popular in North America and can save you money.
Guesthouses (hospedajes in Mexico) or Inns
These small hotels often have lots of character and usually include breakfast.  I am a huge fan.
Bed and Breakfasts (BandBs)
Can be an inn, or can be a room in someone's house.  Gives you a chance to connect to your (usually) friendly host and earn more what there is to do in the area.
I use booking.com and Agoda for hotel bookings and AirBnB for apartments.
Unique Hotels in North America
There are plenty of unique and interesting places to stay in North America.  Just staying on these hotels is a travel experience.
North America is a large continent with huge variation in climate depending on the location and season.
Winter (December – February) is the best time to visit the Caribbean, as it is not too hot.  It is the worst time to visit Canada unless you are specifically visiting for winter activities such skiing or seeing the northern lights.  New York City is magical during the December holiday season but try to avoid it in January and February when it is very cold.
Spring is delightful throughout North America.  The cherry blossoms in March-April are famous in Washington DC and wonderful throughout many cities.  Snow is melting in the north and the mountains and hiking trails are starting to open.
Summer is great in Canada, when everything is open and the weather is warm.  However, the hurricane season in the Caribbean and southern states of the United States and Mexican coasts is June – November, with August-October being the peak months when hurricanes are most likely and often most severe.  This is also the hottest time of the year, and July and August are the school break, so it is also the busiest time of year.  Try to avoid the islands and national parks in these months if you can.
Fall/ autumn is a great time to visit North America.  The fall color in Canada and the northern states of the U.S. are especially spectacular.
How to stay safe 
North America is mostly safe to travel in, but you should exercise basic precautions.  Tap water is fine to drink in Canada and the U.S.  In the Caribbean and Mexico, it is best to check with locals before you drink it.
Take basic safety precautions including:
Be careful in taxis.  Sometimes in Mexico City taxi drivers have been known to mug their passengers.  Don't flag down taxis on the street.  Get your hotel to call a taxi for you.
Don't walk around late at night, especially if there are no other people around.  Don't get on subway or train carriages where there are no other people.  I live in New York City and the only time I feel a little unsafe is in the extremely rare situation where there are no other people around.
My main travel tip for North America is to get travel insurance.  Things can happen anywhere, anytime, and you want to make sure that you are covered if you get sick or lose something.  Health care in the United States especially is VERY expensive and you don't want to end up with a $100,000 hospital bill.  I have written a detailed Guide to Buying Travel Insurance, so if you have questions about travel insurance, read more here.
I recommend World Nomads insurance.  You can get a quote for your trip here:
Tipping
Tipping is essential in the United States and the Caribbean, common in Mexico (10-15% in restaurants; none in taxis) and usual for good service in Canada (10%).
If you don't come from a tipping society, then the expectation to tip can seem unfair.  Keep in mind, however, that your tip is paying your server, etc.  Wages are low, as the establishments expect their workers to be paid primarily by tips.  So, if you don't tip, the people helping you are working for almost free.  This is why they get upset when they work hard and don't get a good tip.
In the United States, common tips include:
15-20% in restaurants (18% is standard)
15-20% in taxis
20-30% in hair and nail salons
$1 per drink (or round) in a bar. Note: if you leave a lousy tip for the first drink, you will not necessarily get good service for subsequent drinks.
Note that the tip amount is based on the PRE-tax amount.
When you are ready to book your trip, here are the resources that I use to book my trips.  Using these links helps support this website at no additional cost to you!
Best places to book your trip
For booking tours and activities
For booking flights
For booking trains
For finding a rental car
For booking accommodations
For buying gear
For travel insurance
Lonely Planet has the best travel guides.  Click here for the Lonely Planet shop.  They have them for each major country, but also ones for regions and even cities, so you can narrow them down as much as possible to exactly where you are planning to go.
Click on the individual country guides to buy on Amazon:
I love to read books about the places I am going to or have recently been to.  Books help me connect to places.  They inspire me and then help make me feel – at least a little – like I am still there.
Are you ready to book your trip?  Use these resources:
For booking tours and activities
For booking flights
For booking trains
For finding a rental car
For booking accommodations
For buying gear
For travel insurance
What's on your North America bucket list?  Comment below.
If you liked this post, share the love and Pin It.
Travel Collecting is a participant in the Amazon Services LLC Associates Program, an affiliate advertising program designed to provide a means for sites to earn advertising fees by advertising and linking to amazon.com. Amazon and the Amazon logo are trademarks of Amazon.com, Inc. or its affiliates.