I peer through the trees.  Far below me, at the foot of a steep forested hill, is a pool of bright green water, sparkling in the sun like a jewel and edged by a narrow beach blue with umbrellas.  Nestled at the water's edge is a tiny golden monastery, its domed tower steeped in hundreds of years of history.  A boat moored offshore is a white speck.
---
Not enough time right now to read about the hike from Portofino to San Fruttuoso? Pin it and save it for later:
Please note this post may contain affiliate links, which means we may receive a commission, at zero cost to you, if you make a purchase through a link. Please see our full Disclosure for more information. If you have any questions, please let me know.
I am hiking in Portofino National Park and the abbey I am headed down to is San Fruttuoso in Italy.  This hidden cove is accessible only by boat or foot.  I have taken a boat to Portofino and am nearing the end of my walk along one of the Portofino hiking trails in the hills above the Mediterranean.  The sun is shining, the water is sparkling.  It's a great day. 
After making pasta in Rome and rowing a gondola in Venice, I was ready to hike the Italian Riviera and it is living up to my expectations. If you want to read about my other hiking adventures, click here.
Hike Portofino to San Fruttuoso, Italy: Practical Information
Portofino – San Fruttuoso Hike Details
Length: The Portofino San Fruttuoso hike is 3 miles/ 4 km
Duration: It takes about 2 hours to walk from Portofino to San Fruttuoso (this was taking is pretty slowly)
Elevation change: 863 feet / 263 meters
Difficulty: Moderate. Most of the San Fruttuoso Portofino walk is flat and easy, but there is a steep ascent and descent at the beginning and end.
Summary of the Rapallo day trip Portofino to San Fruttuoso hike
The entire experience includes:
Rapallo – Portofino: Boat (15 minutes to Santa Margherita Ligure and another 15 minutes to Portofino)
Portofino – San Fruttuoso: Hiking Portofino trail (about 2 hours hiking)
San Fruttuoso – Rapallo: Boat (one hour)
NOTE: This post is about the Portofino hike, but the Portofino to San Fruttuoso boat is the same one, so you can also stay on the ferry from Portofino to San Fruttuoso and just spend the day there.
You can also take a boat Camagoli – San Fruttuoso and approach the abbey from the other direction (see boat details below).
It is also possible to do this in reverse and continue on the boat Portofino to San Fruttuoso and then hike back. That way you would spend the afternoon in Portofino instead of San Fruttuoso.
Rapallo – Portofino – San Fruttuoso Map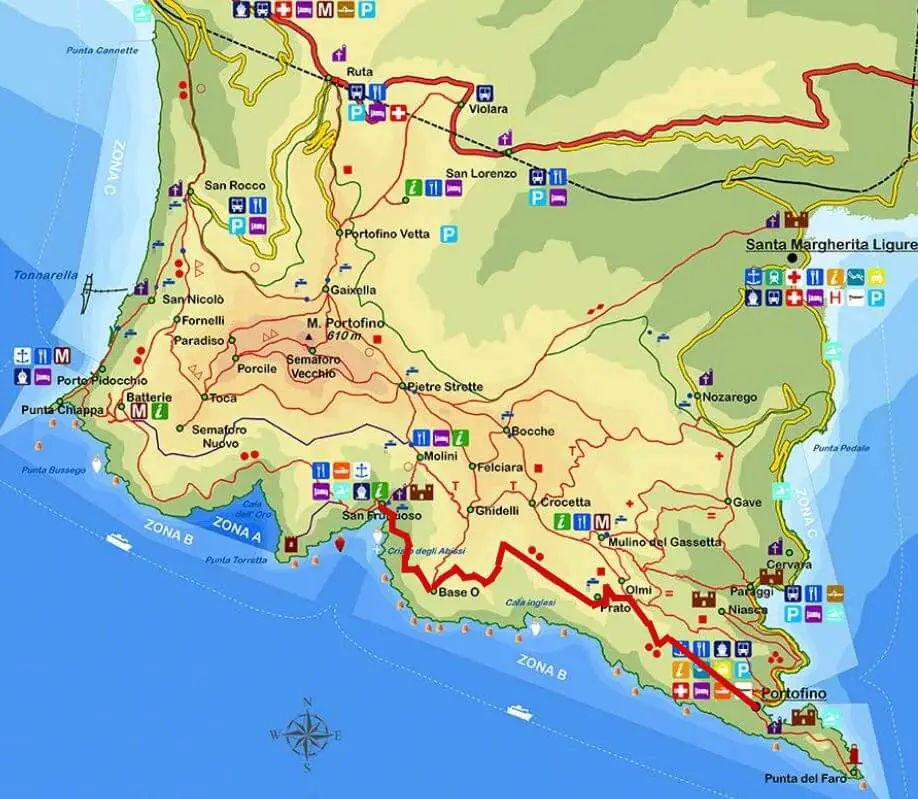 Visiting San Fruttuoso Abbey
The abbey and museum are open all year round:
January, February, March, October, November and December: 10:00am – 3:45pm
April, May and the second half of September: 10:00am – 4:45pm
June, July, August and the first half of September: 10:00am – 5:45pm
Last entry is 45 minutes before closing
San Fruttuoso restaurants
There are several restaurants in San Fruttuoso.  The food isn't the best ever, though the seafood is fresh.  It's all about location.
Other hiking trails in Portofino Park
This is one of the best day trips from Rapallo, Italy.  However, there are actually a couple of Portofino walking trails to San Fruttuoso. You can also start from Portofino Mare, which is about an hour and a half but is supposedly a little easier. There are other Portofino hikes in the regional park, too.
It's also possible to walk from Camogli on the other side of San Fruttuoso.  This takes about 3 hours, and you can also take a boat back.
Rapallo to Portofino ferry schedule
How far is Rapallo from Portofino? The distance from Rapallo to Portofino is 5 miles/ 8 km.
The boat to Portofino leaves several times throughout the day from March to early November.
Schedule for ferry Rapallo-Portofino / Rapallo to Portofino ferry times
Schedule for the San Fruttuoso to Portofino ferry + ferry Portofino – Rapallo
Price for Rapallo – San Fruttuoso ferry
Camogli to San Fruttuoso Ferry
Not sure how to get to San Fruttuoso? In addition to the Rapallo to San Fruttuoso ferry, there is a regular ferry service from Camogli.
Price for Camogli – San Fruttuoso ferry
---
Hike Portofino to San Fruttuoso, Italy: Description
Rapallo
Rapallo is a resort town on the Italian Riviera is ever-so-slightly shabby around the edges, but the horseshoe shaped bay is gorgeous, and a stroll along the esplanade is the perfect way to spend an evening or early morning. At one end is tiny Rapallo Castle, dating from the 1500's, and at the other a sheltered marina crammed with pleasure boats.
The Portofino boat
Our day starts with a boat trip from Rapallo to Portofino.  It leaves from the Rapallo ferry pier in the center of town, which happens to be directly in front of my hotel (see below).  How convenient is that?!
The ferry ride is gorgeous.  Rapallo spills down a hill to the water's edge, making the perfect backdrop to the bay.  We pass the Rapallo beach, lined with deckchairs and blue cabins, then head out of the sheltered harbor into the Mediterranean.
Santa Margherita Ligure
The first stop is Santa Margherita Ligure, another pretty Italian Riviera resort town with villas, old hotels and colored buildings lining the shorefront.
A picturesque white church sits on a hill overlooking the sea below.  The ubiquitous deckchairs and umbrellas form a stripe along the beach.  This is another option of a great place to stay, as an alternative to Rapallo.
The ferry from Santa Margherita Ligure to Portofino
We stay on the boat from Santa Margherita to Portofino, another 15 minutes away.  The boat cruises past hills dotted with expensive villas.
Portofino is a tiny inlet surrounded by colorful painted buildings.  The water is crammed with small boats, mostly covered up for the season since it is September and the peak summer season is over.
Several huge yachts are moored offshore. It is all too cute for words and I take a million photos.
Portofino resort town
The boat continues on, but we get off here.  Although Portofino is one of the most popular – and famous – resort towns on the Italian Riviera , it isn't big.  Only about 500 people live there, but it gets much more crowded than that in summer.  On a September morning it was actually not that crowded.  Although it's small, you could easily spend a day in Portofino, enjoying the shops, cafes and restaurant and art galleries, and exploring the narrow streets.  The Church of St. Martin (Divo Martino), a beautiful old church, and the Castello Brown, a fortress on a nearby hill, are worth exploring.
Kevin buys some tea towels and I search for a gelato, in my ongoing quest to find the best gelato in Italy.  It doesn't top the list, but it does fortify me for the hike.
The Portofino – San Fruttuoso Trail
After finishing our gelato, we head up the street that is directly in front of the port.  The street soon goes up steps, and we just keep walking.  This is the trail – you can't miss it.  There are a lot of stairs and we take it slow.  It doesn't take long before we are walking past tiny terraces with olive trees and other produce being grown.  Houses give way to fences and occasional trees become groves.
We can smell the lemon trees and the wildflowers.  There is a spectacular view of Portofino Bay far below us.
Before too long, the trail flattens out.  Most of the walk is actually pretty flat and not very difficult.
We are rewarded with glorious views of the sparkling blue Mediterranean far below us.
We take our time.
The final switchbacks down to the abbey
The last section of the hike to San Fruttuoso is down a series of steep switchbacks.  There is a group of hikers who have just come up and they are wearing hiking boots, have walking sticks and look very serious.  I am in sandals and thinking that maybe I am underdressed!
It is better to be prepared. Check my Day Hike Essentials List.
Also, if you are new to hiking, make sure you have the best hiking gear , read my Hiking 101 Beginner's Guide and know basic hiking etiquette.
The trail is steep, but I am soon rewarded with my first glimpse of the San Fruttuoso abbey and the emerald green bay.  I can't wait to be there.
The abbey gets closer.
The path flattens out in parts,
but I am still pretty hot and sweaty by the time I arrive, but am excited by the sight of the little cove and abbey and the promise of a dip in the sea.
The abbey of San Fruttuoso
The San Fruttuoso monastery is actually a Benedictine abbey dating from the 10th century. The stone building is part medieval and part Romanesque.  It has a small dome and a separate watchtower nearby that you can climb for cool views over the bay. 
The abbey was originally built to protect the ashes of Saint Fructuosus (San Fruttuoso in Italian) and was later taken over by the aristocratic Genovese Doria family, who extended the abbey and have a burial vault here. 
There are arches that straddle the beach – originally there was no beach and boats sailed directly under the arches into the cellars.  They are now landlocked by the tiny pebbly beach.
As you explore the San Fruttuoso Abbey, Portofino seems very far away.  Visiting the abbey is free, but the small accompanying museum costs 7 euros each. The abbey is well preserved and the museum worth a visit.
San Frutuoso Beach
I was hot, so headed straight to the beach to cool down.  There is an open section if you have a towel, but the beach is pebbly, so we decided to rent sunbeds and an umbrella. It was worth it!  I jumped straight in the crystal clear water.  It was icy cold, but I was hot and it was perfect!
We arrived about lunch time and there were several food options. There are a handful of seafood restaurants (see details below).
There is also a beachside cafe, and we chose this, as it was cheaper.  Kevin got us sandwiches for lunch from there and we ate them on our sunbed.
We spent most of the afternoon relaxing, reading, swimming, eating and exploring.
The San Fruttuoso ferry back to Rapallo
We took the last San Fruttuoso – Portofino boat with great views of San Fruttuoso as we depart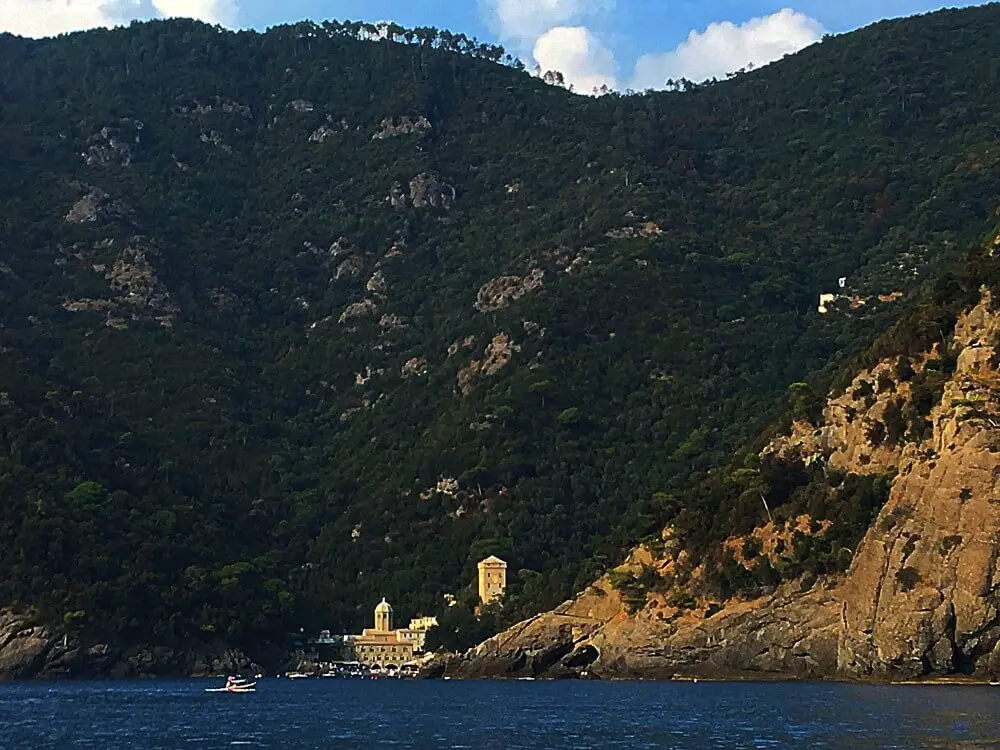 and then continued on from Portofino to Rapallo via Santa Margherita again.
Back at Rapallo
We ended our day relaxing on our balcony overlooking the bay before heading to dinner in a restaurant near the water and a glass of wine; the perfect way to end the day.
Then a final gelato (of course) and early to bed.
The verdict: Boat to Portofino – hike to San Fruttuoso – boat to Rapallo
Want to go hiking in Italy and enjoy the Mediterranean at the same time?  I highly recommend that you visit Rapallo, Italy and do this hike – one of the best hikes in Italy.
It was a perfect day.  There were very few people on the trail.  I have read on Trip Advisor that many people found the beach and restaurants overcrowded.  I was there in September and it was not.  In July and August it may be, though.  I also read a review that said there was nothing to do.  For me, that was the whole point. 
The hike was enjoyable, with incredible views of the Mediterranean.  The abbey and cove are romantic and incredibly picturesque.  The water is clear and cool.  There is an abbey to explore, restaurants to dine in and sunbeds to relax on.  I thought it was pure heaven.
# best hiking trails in italy
[table id=37 /]
---
Essential Travel Information: Rapallo and San Fruttuoso
Best time to visit Rapallo
The Rapallo weather is: June-August are the hottest months, with August highs around 82°F/ 28°C, and July, April and October are the driest months.  The busiest tourist season is July, then May.  Boats to San Fruttuoso are most frequent in August.
I went early-mid September and the days were warm, the nights cool, there weren't that many people, and it was sunny.
Note that there are no boats to San Fruttuoso in winter, but the weather is too cold then anyway.
Other things to do in Rapallo and things to do in San Fruttuoso
There are several other things to do in Rapallo:
The other thing to do in San Fruttuoso is for SCUBA divers.  I didn't find this out until after I had left and I am kicking myself.  I would LOVE to have done this, since I dive.  The Christ of the Abyss is a large statue of Jesus submerged 17 meters/ 56 feet below the surface, and it is just off the coast of San Fruttuoso!  It was placed there in 1954 and, after being removed and repaired, is back.
How cool is that??  Dive trips are organized by Portofino Divers from Santa Margherita Ligure.
Where is Rapallo, Italy/ Where is Portofino, Italy/ Where is San Fruttuoso, Italy and what is the currency?
Rapallo, Portofino and San Fruttuoso are on the Italian Riviera, in the north west of the country, near Genova/ Genoa.  The currency in Italy is the euro.
Getting to Rapallo
The nearest airport to Portofino, Italy and the nearest airport to Rapallo is Genoa Cristoforo Colombo Airport (GOA) in Genova, 20 miles / 32 kilometers from Rapallo. Book a flight to Italy here.
How to get to Rapallo from the airport
There are several options for getting to Rapallo.  If you will be staying in the area for a while, the easiest thing is to book a private transfer from the airport or another Riviera hotel.  Book a transfer from Genoa Airport here. Book a transfer from any riviera hotel here.
Taking a train from Genoa is another option.  Rapallo is on the Pisa-La Spezia-Genoa railway line.  Check out the Italy rail website here for full details.  The Rapallo train station is near the center of town and an easy walk down to the esplanade.
If you will be travelling around Italy, then renting a car is the easiest thing to do.  This is what we did. We chose this over the trains because it gave us greater flexibility to stop off along the way and to see places not on the train lines.  Rent a car here.
Parking in Rapallo Italy
I'm not going to lie – finding parking was a nightmare.  In our attempt to find a park, we ended up driving down a short pedestrian street and around an impossibly tight corner to get out of it, much to the consternation of the locals (and us!).  We ended up parking our rental car in the parking lot of the train station, so it worked out in the end.
Where to stay in Rapallo
There are several options for accommodation in Rapallo, Italy. Be sure to read my Choosing a Hotel guide for tips on what to think about when deciding on your place to stay.
B and Bs in Rapallo, Italy
If you are looking for a B and B, the Villa Devoto has free parking, which is a bonus, and several different room types.  They have a Booking.com rating of 9.7.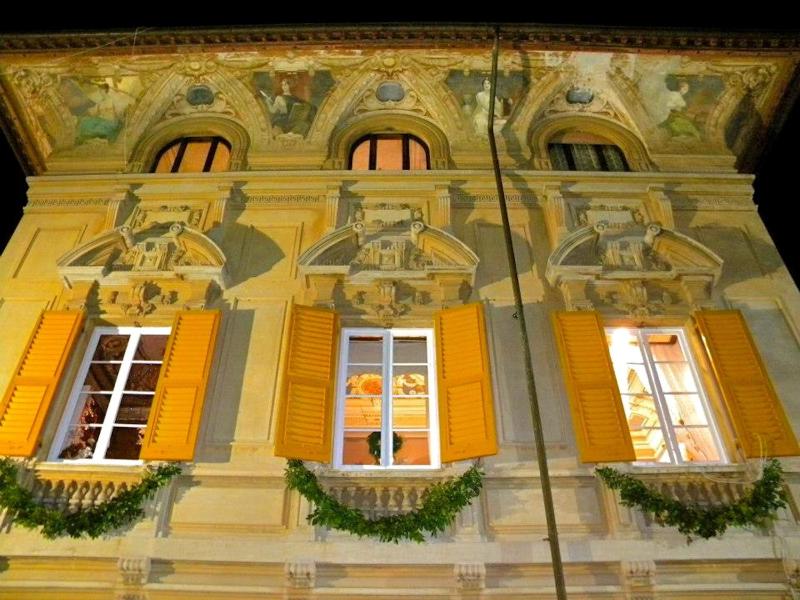 Check availability for B&B Villa Devoto here.
Hotels in Rapallo, Italian Riviera
We stayed at the Albergo Bandoni ("albergo" means "hotel" in Italian).  The hotel is on the 3rd– 5th floors of a building right on the esplanade, in front of the Portofino-San Fruttuoso ferry dock.  Our room was on the top floor with a huge wrap around terrace directly overlooking the bay.
It's a basic hotel, but couldn't be better located.  The place has definitely got an air of faded grandeur.  I think we are about 20 years younger than the other guests (who may be semi-permanent residents), and the elevator was tiny and rickety, but if you can get the top floor room and aren't looking for five-star luxury, it is a great find. Check availability and prices at Albergo Bandoni here.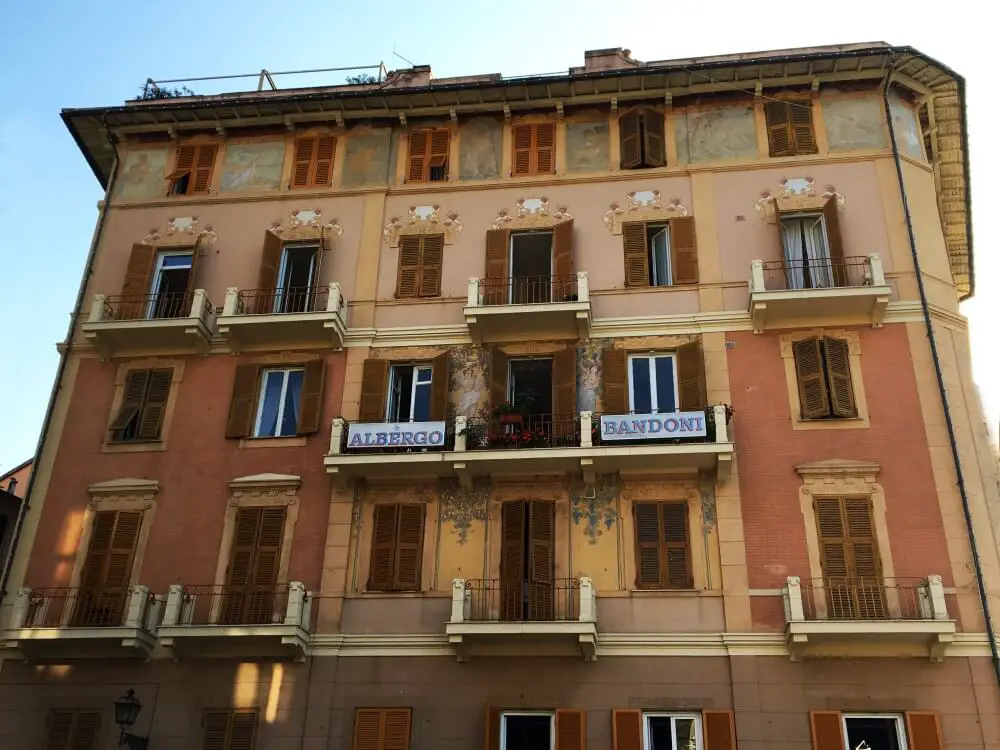 Another option is Villa Mares, which has a Booking.com rating of 9.9! They can also arrange an airport shuttle for you. 
Apartments in Rapallo
If you'd prefer an apartment to a hotel, check out Domus Litore apartment.  It has a rating of 9.8 on Booking.com and is also right near the water.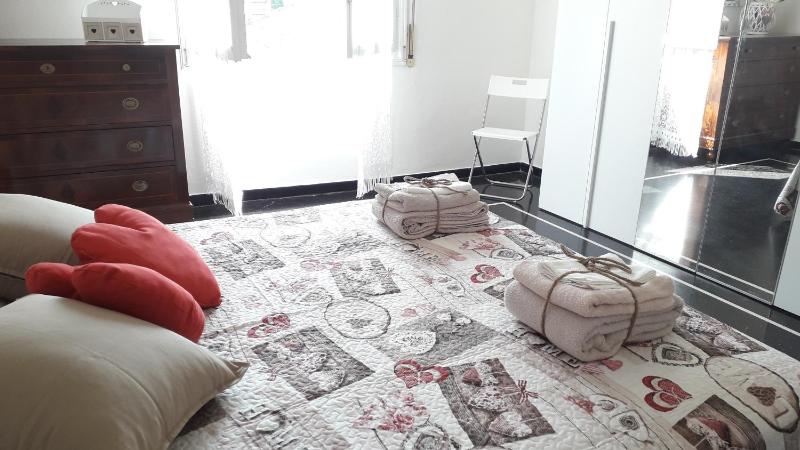 Book Domus Litore apartment in center of Rapallo here.
Where to stay in San Fruttuoso
Yes, although San Fruttuoso is tiny, you can stay there.  I didn't, but wish I did (though keep in mind, you would then need to carry things you needed for an overnight stay with you on the hike).  This is a great place to relax and unwind and it would be lovely to have it to yourself after the last boat left and before the first boat arrived. 
There are several options for San Fruttuoso accommodation:
Locanda del Parco di Portofino. ("Locando" is "inn" in Italian.)  This small inn is right on the edge of the water.  Check availability and book Locando del Parco di Portofino on Booking.com here.
Da Giovanni.  The restaurant is also a small hotel with five double rooms and one single room.  Check out their website here.  It's in Italian, but you can click "translate" and it will turn to English.
The abbey.  There is actually an apartment in the abbey that you can stay in.  It is run by the FAI (Fondo Ambiente Itaiano/ Italian Environment Fund).  The apartment can sleep up to four people (one double and two single beds) and has a kitchen, a living room, a sea-view terrace and a small garden.  Check out more details here.
Planning and packing for the Italian Riviera
You will most likely include more than just this hike on your Italian trip, so using a guidebook will be helpful (in addition to this blog, of course ).  I always use the Lonely Planet.  Buy the Italy Lonely Planet here.
Use my Vacation Planner for a step-by-step guide on the whole planning and preparation process. If you are planning to visit other countries in Europe, also check out my Europe Trip Planner for useful tips on travel to and around Europe, including visas, best travel options, money and more.
When you are ready for your trip, check out my Essential Packing List.
Travel Insurance for Italy
You never know when things will happen, so you definitely need insurance when you travel.  If you have questions about travel insurance, read my Guide to Buying Travel Insurance.
A great insurance option is Travelex.  It has coverage for all you'll need. You can choose the best travel insurance plan for your trip here or get a quote right now:
---
Enjoy this great day out!  
Do you have any stories of Italy?  I'd love to hear them. Comment below.  
If you liked this post, please share the love and Pin it to your Italy and Hikes boards for later!
Read about other Italian experiences here:
---
---
Travel Collecting is a participant in the Amazon Services.com LLC Associates Program, an affiliate advertising program designed to provide a means for sites to earn advertising fees by advertising and linking to amazon.com. Amazon and the Amazon logo are trademarks of Amazon.com, Inc. or its affiliates.