If you are new to hiking, you are probably wondering what should be in your hiking starter kit.  For a full list of the best day hiking gear, check out my Day Hike Packing List.  This is a comprehensive list, but not all of this is absolutely necessary for a beginner hiking gear list.  More serious hikes need more equipment, but the best hiking gear for beginners covers the essentials for comfort and safety.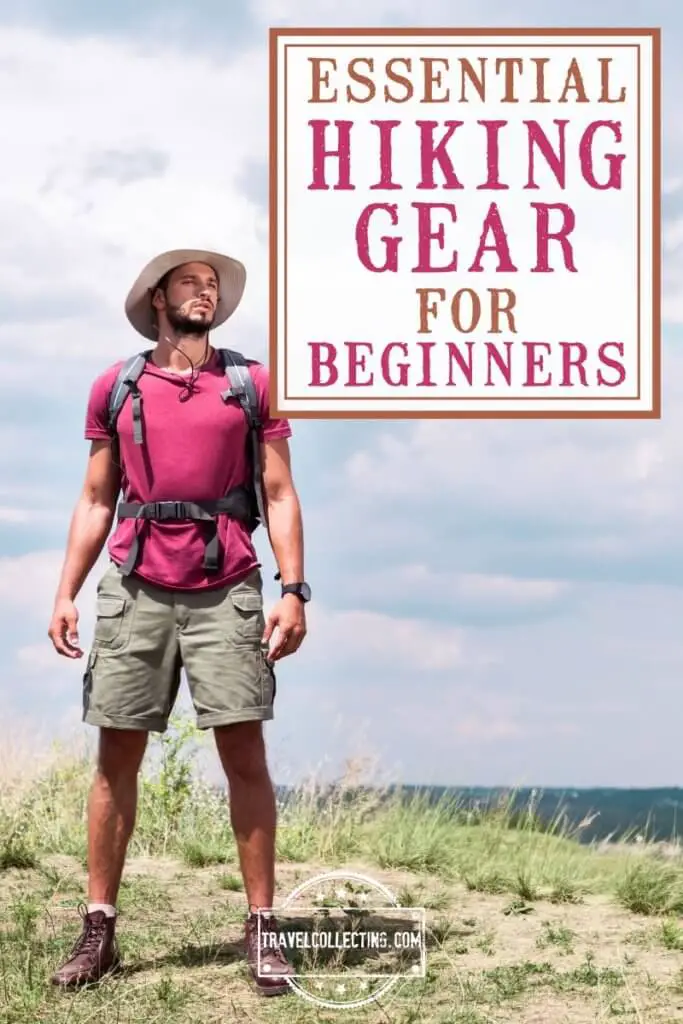 Please note that some of the links below may be affiliate links.  If you make a purchase through these links, I earn a small commission at no additional cost to you. Read my Disclaimer for more information.
Essential Hiking Gear for Beginner Hikers
1.  Water bottle
Always take more water than you think you need, even for a short hike. Every basic hiking gear list must include at least one water bottle.  I always take two or three bottles with me.
Click here to check out the Hydrocell bottle on Amazon .  They come in a variety of shapes and colors.
It is also worth taking a great water filter in case you need to fill up on the trail.
2.  Food
Pack a lunch and take some trail mix.  It is essential to keep your energy up and you will expend more energy than you think.  Every hiking checklist for beginners should include trail mix.
Check out different trail mixes on Amazon here.
3.  Sun protection
Always wear sunscreen; it is another of the beginner hiker essentials.  Take it from me – having learned the hard way – you can burn even when it is cloudy, and sunburn is a sure way to put a dampener on your vacation.
Buy sunscreen on Amazon here.
If you'll be in the sun, wear a sunhat too!  This is often overlooked, but a sun hat should be one every beginner's hiking gear list.  They are best if they are water-wicking, flexible (so they can squash up easily in your pack) and have mesh to help keep your head cool.
Check out the Columbia unisex sunhat on Amazon here.
4.  Bug protection
Don't get bitten.   If you are somewhere where there are insects, then this is one of the beginner hiking essentials.  You can get it with or without DEET.
Get bugspray with DEET here (It's stronger and good for the jungle where mosquitoes can carry disease like malaria and zika, but is kind of toxic.)
Get organic, non-DEET spray here (It's better for your skin and the environment, but is not as potent as insect repellent that contains DEET.)
5.  The right shoes/ boots and socks
Hiking uses your feet, so it all starts with the right shoes and socks.  Having the wrong shoes and socks is a recipe for misery.  Blisters and bruises do not make for a fun day out.  The right shoes and socks  are absolute hiking essentials beginners should not leave home without.
Socks should be moisture-wicking (see below) and a little padded, so your feet are supported and dry.
Buy some merino wool hiking socks (unisex) on Amazon here.
A lot goes into picking the right footwear for hiking, but good hiking boots for beginners should be light, sturdy with ankle support, water resistant and well-fitted.
Check out my Guide to the Best Hiking Shoes and Boots.
The top picks are:
6.  The right clothes
For a very short stroll, you can wear whatever you like, but for a hike that is a couple of hours or more, you should dress appropriately.  It's worth investing in some basic hiking clothes for beginners, as they will make you more comfortable.
What to Wear Hiking
In general, you should wear moisture-wicking, quick drying fabrics.  "Moisture-wicking" means that the fabric helps 'wick' or remove moisture from the fabric.  Wool and synthetic material like polyester do this.  Cotton does not.  When cotton gets wet, the moisture stays in the fabric, making it heavy and cold.  Cotton therefore also takes a long time to dry.  You should avoid cotton fabrics like jeans.
Always dress in layers.
For regular hiking, shorts and a short-sleeved shirt are fine. Invest in some moisture-wicking clothing as part of your starter hiking gear.
Get some hiking shorts for men here
and some hiking shorts for women here.
I personally prefer to hike in long pants, as my legs are then protected from the sun and from random plants that go across or along the edge of the trail and can sometimes bother my skin.
Get men's hiking pants here.
Get women's long hiking pants here.
You can also buy convertible hiking pants that have a lower-leg section that unzips and converts long pants into shorts.  They are a good option for on the trail, as they can be converted to shorts when you get hot and turned into long pants when you get cold or there are annoying plants beside the trail.
Get men's convertible hiking pants here.
Get women's convertible hiking pants here.
I also like to wear a long-sleeved sun shirt, though many people don't bother with this.  It seems counter-intuitive, but the thin, moisture-wicking fabric actually helps keep me cooler than if the sun was beaming directly in to my skin on a short-sleeved shirt.  AND it offers UV protection against sunburn.  I like the Columbia one because it is loose fitting and cool.
There is also a women's version here.
You should always take a rain jacket with you.  Weather can change quickly and unpredictably and this can be protection against the rain and/ or wind.
Check out this men's rain jacket on Amazon.
Check out women's jackets here.
For cold weather hiking, there are obviously additional considerations such as insulation layers.  Options include:
7.  Ziplock bags and toilet paper
For your trash and just in case.
Read how to deal with this and all about trail etiquette here.
8.  Backpack
Something to keep it all in.
For short hikes, just a simple regular daypack will do.  I have a Safepac daypack I use in the city as well as for short hikes that works perfectly.  You don't need the safety features when you're hiking, but it saves carrying two bags.
Check out the Safepac daypack on Amazon here.
However, if you are going to be doing some hikes of a couple of hours or more, you want something more comfortable.  You wear your pack on your shoulders the whole time, so a comfortable pack is really essential beginner hiker equipment and it's worth investing a little in a good one.
You want a hiking day pack that is light with a padded, moisture-wicking back, padded shoulder straps and a padded hip strap to help distribute some of the wight from your shoulders.
For men, check out the Osprey Stratos series on Amazon here.  The 24-liter is the smallest size, and this is all you need for a day hike.  They also have a 34, 36 and 50-liter sizes.
For women, check out the Osprey Sirrus 24 for women here. There are also 36 and 50-liter sizes.
For multi-day hikes, you need a bigger pack again – the 34-liter, 36-liter and 50-liter sizes in the men's Stratos series and women's Sirrus series with Osprey are more suited for those longer hikes.
9.  Basic First Aid Kit
A hiking list for beginners isn't complete without some first aid equipment.  Even for a short hike, you should take some basic first aid with you.  Here is a small first aid kit on Amazon that fits easily in your pack.  Make sure to have extra:
Band Aids (for blisters and cuts)
some antiseptic wipes (for cuts)
bandage (for a twisted or sprained ankle)
painkillers (for a headache)
10. A camera (can be a phone camera) with sufficient memory and battery charge
I usually just travel with my phone and use that for a camera.  The trouble when you're hiking and camping is having it charged.  For multi-day hikes, you need a solar-powered battery charger, but for day hikes, I have found best luck with a car phone charger. You can buy one here on Amazon.
I run the car on the minimum setting (so the engine isn't actually running – just as you at a drive in to get the radio) and it charges without draining the battery much.
That's it.  There are more things you can take, of course, but these are the basics you need for your safety and comfort.
Happy hiking!
Do you have any hiking gear suggestions for beginner hiking equipment? I'd love to hear them. Comment below. 
For other hiking resources for beginner hikers, check out:
Plus other helpful travel resources:
If you found this post helpful, please share it and Pin It to your Hiking board!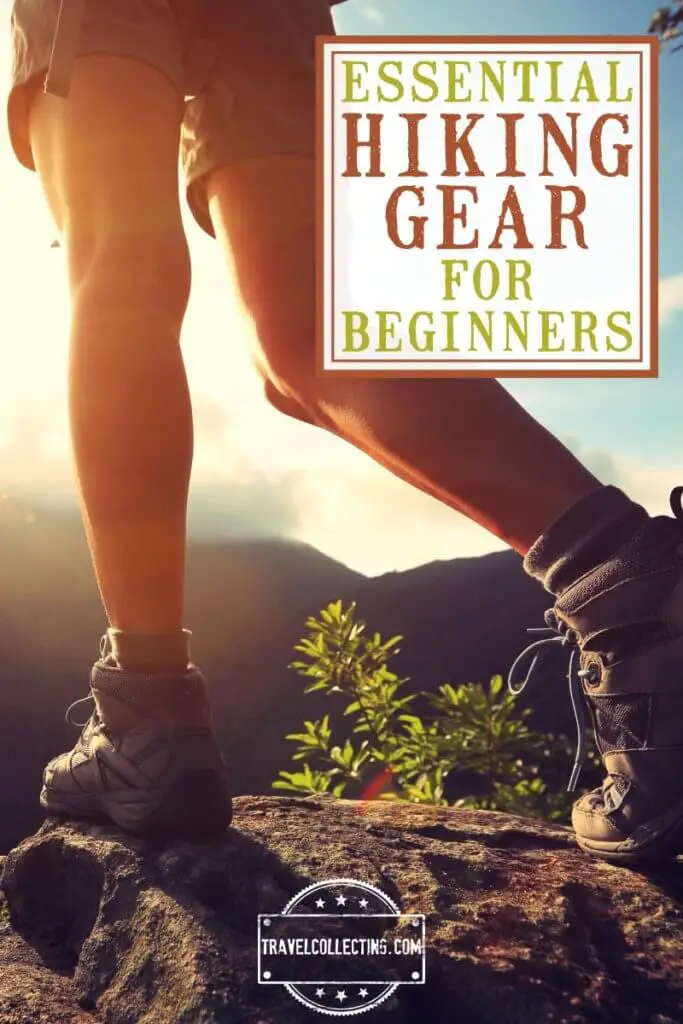 Read about some great U.S. national park hikes: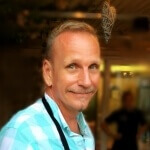 James Ian has traveled to 82 countries and all 7 continents.  He is passionate about experiential travel, i.e. meaningful travel that actively engages with the environment and culture.  He helps people have similar experiences that involve active participation in activities and festivals; engaging with the local food and handicrafts through lessons and food tours; and interacting positively with environment by hiking, riding, rowing, diving and low/no impact animal encounters.  Read more…
Travel Collecting is a participant in the Amazon.com Services LLC Associates Program, an affiliate advertising program designed to provide a means for sites to earn advertising fees by advertising and linking to amazon.com. Amazon and the Amazon logo are trademarks of Amazon.com, Inc. or its affiliates.