Hiking gives you the chance to be out in nature and see incredible scenery that you can't see from a car.  It gives you a chance to be in fresh air, commune with nature and gain a deep respect for the environment.  However, it can be daunting at the beginning.  So, it's good to know that if you have only just started hiking – or are thinking about doing for the first time – you are not alone.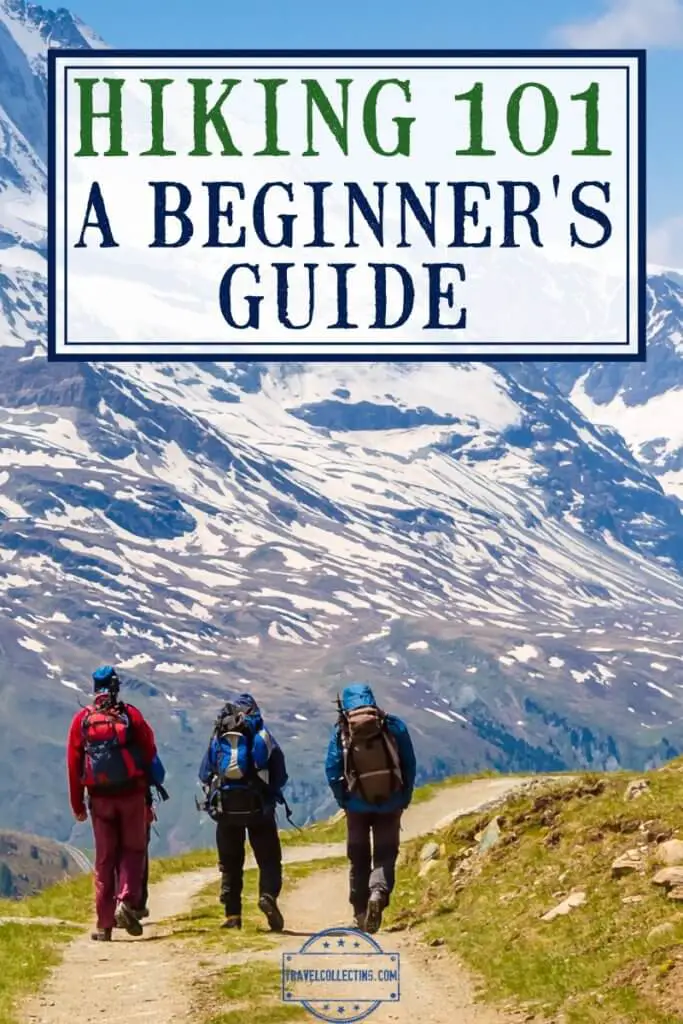 Please note that some of the links below may be affiliate links.  If you make a purchase through these links, I earn a small commission at no additional cost to you. Read my Disclaimer for more information.
Day Hiking for Beginners
For the longest time, I hated the thought of hiking.  I had been on a few enforced 'bush walks' (as hikes are called in Australia) when I was a kid and hated them.  It was hard, hot and boring.  I was unfit and would rather be inside reading a good book. 
Over time, however, I have come to appreciate hiking and while I still love reading a good book, I am happy to be out and get the chance the see this incredible planet up close. I wish that when I started, I had some basic information about hiking for beginners, so I am going to share some tips with you.
If you are just starting out, this beginners guide to hiking will introduce you to some basic hiking etiquette, some hiking essentials beginners shouldn't leave home without, some great day hikes you can do in national parks in the United States (here is my list of the best national parks in the U.S.) and around the world, and some books to read to help and inspire you.
You can also check out my general Hiking Guide, which has useful suggestions for things to consider when choosing a hike. 
Hiking Tips for Beginners
If you are you thinking "I want to start hiking" or maybe you are just getting into hiking, before you start hiking, it's helpful to review some basic hiking tips. 
Here are some helpful hiking guidelines:
1.  Plan ahead
One of the most essential hiking tips beginners often overlook is to plan ahead.  Even easy hikes can become uncomfortable if you haven't planned right.  Know the hike, know the difficulty level, know what gear to take, etc. 
I like to read blog posts that describe the hike so that I know exactly what is in store for me. Knowing what to expect will not take away that feeling of awe of being surrounded by incredible scenery, but being prepared will help prevent unpleasant surprises. 
2.  Pick the right hike
The best hike is the one that matches your fitness level.  You can push yourself a little, but if you are sore and exhausted, it is difficult to actually enjoy yourself.  There is a myriad of things to consider when choosing a hike and deciding if it is right for you.  I have summarized them in my Hiking Guide for Beginners, which you can read here.
3.  Check the weather
Even an easy hike can become difficult if the weather is not right.  Weather can change quickly, of course, but you should always check to see what is expected.  Some hikes are bad news when the rock is wet or icy.  Others are ill-advised if the sun is beaming down and it's 110°F.  Always check and be prepared to postpone your hike if inclement weather is expected.
4.  Know the area
Part of your research will teach you more about the area of the hike. What is the terrain like?  How is the trail marked?  Do you need a map or is it easy to follow?  Many trails are marked by signs, logs, cairns or trail blazes.  Knowing this (and having a map, if necessary) beforehand will make the hike easier. 
5.  Learn to read trail blazes/ markers
The word "trail blaze" is used to describe something that helps mark a trail.  Sometimes trails, especially very easy ones, are obvious, with a clear path.  However, there are often times when the trail is not super clear and this is where trail blazes come in.  There are different systems used around the world, but in the United States and Canada, there are seven common methods used.  Knowing them and how to use them is essential if you on trails that have them.
If you aren't familiar with trail blazes, read my post on How to Read Trail Markers.
6.  Tell someone where you are
Some trails will require you to register before you go.  This is most common with more advanced trails.  However, even if you are just going on an easy trail, you should always tell somewhere where and when you are going, with a detailed itinerary, and then tell them again when you are back.  Things don't often go wrong, especially on easy hikes, but this doesn't mean that things can't go wrong.  There is always a possibility, so you should always plan for it, just in case.   Register with a national park office or tell a friend or family member. 
You can also leave a note with your plans inside your vehicle, if you are parked near a Trailhead (out of sight, so thieves can't see it).  Then if things do go awry, search-and-rescue people can get into your vehicle and find it easily. 
7.  Protect yourself from bugs
Some of the hiking basics for beginners include protecting yourself adequately from the elements.  If you are hiking in the woods, rainforest, jungle, bush, etc. then there will be bugs.   You do not want to be eaten alive by bugs, so make sure you have adequate bug spray/ insect repellent.
When it comes to bug spray, there are two main categories – with DEET and without DEET.
If I am hiking in the sun for any time at all, I also wear a sun hat (I hate wearing hats, but I hate being sunburned more).
I like this one because it can get wet and still keep its shape and it has a mesh panel to help keep your head cool.  You can buy it here in Amazon.
9.  Stay hydrated
Always take water with you, even for a short hike.  Always take more water than you think you will need. 
10.  Keep your energy up
Hiking can take more energy than you think.  Even on flat trails, there is often more up and down than you think.  Your feet are often landing at uneven angles and your body is having to adjust constantly.  You are also out in weather that often drains your energy.
It is extremely important to keep your energy up the entire time so that you don't struggle at the end of the hike.  This is why you should take some kind of trail mix with you, in addition to lunch, if you are going to be hiking throughout the day.
The best trail mix for you depends on your taste.  Check out a range of options on Amazon here.
11.  Wear the right gear
This is extremely important.  The wrong shoes or clothing can make the difference between a great time and a miserable time.  Check out my guide for hiking gear beginners need here.
12.  Leave No Trace
This is a no brainer, but let's say it anyway. You should leave no trace at all that you were out in nature.  Take every piece of rubbish back with you.  I like to take an empty Ziplock bag and out my trash in it.  This includes organic matter such as orange peel.  It may be biodegradable, but it isn't part of the native ecosystems, so you shouldn't leave it behind.
13.  Stay on the trail
It can be tempting to go off trail and explore regions that others haven't.  But trails exist for a reason.  They enable us to be out in nature while minimizing our impact on often fragile environments.  When you go off trail, you are trampling on plants or other living species that may be extremely fragile, rare, indigenous to the area, slow-growing and/ or important to the ecosystem.  You may also be encountering some hidden danger that you weren't aware of.  You should always stay on the trail.
14.  Pace yourself
Make sure you have plenty of time, so that you don't need to rush.  Take your time and enjoy the surroundings.  If you rush, you risk overdoing it and then the past part of the hike can be miserable, with your muscles aching, you feeling faint and exhausted, or worse. 
When I hiked the Bright Angel Trail out of Grand Canyon, a twenty-year old in our group hiked it as quickly as he possibly could.  Yes, he finished the hike much more quickly than any of us, but when I saw him that night, he looked ROUGH.  Whereas I, who was much older and less fit, felt fine.  Plus, I figured – what was the rush?  I wanted to enjoy my time in the canyon.  I stopped frequently to take a million photos and enjoy the ever-changing view.  So stop, slow down and enjoy the journey and not just the destination.
Hiking Gear for Beginners
Hiking equipment for beginners doesn't need to include lots of technical things like GPS systems, etc. unless you plan to start immediately with advanced hikes (which I don't recommend).  However, there is still some essential hiking gear for beginners that you should take with you. 
Check out my list of the Best Hiking Gear for Beginners here.
Make sure to check my Day Hike Essentials list too.
Travel Insurance
The vast majority of times, nothing will happen when you are hiking, if you are sensible, prepare, have appropriate gear, watch the weather and stay on the trail.  However, you are walking on uneven ground, weather can change unexpectedly, and other things can happen.  It's important not be paranoid, but it's equally important to be prepared.  And that means having travel insurance that will cover you.  Being emergency lifted out can be crazy expensive, and even if you get yourself out and then end up in hospital, you don't want to be slapped with a huge medical bill.
Travel insurance comes in all shapes and sizes.  For the lowdown on what to look for when choosing travel insurance, read my Guide to Travel Insurance.  Check out World Nomad's insurance and coverage (it covers most hiking-related events, but check the fine-print for your own hike).

Best Hikes for Beginners
A Beginners Walking Guide wouldn't be complete without some fun hiking trips for beginners.  My favorite easy-moderate day hikes include:
More challenging day hikes
If you are fairly fit, then there are some other day hikes to consider:
Best Hiking Books for Beginners
This hiking for beginners book is a nice introduction to hiking.  Includes tips for choosing a safe trail, what to take with you, first aid, etc.
Happy hiking!
Do you have any favorite hikes or tips to share? I'd love to hear them. Comment below. 
If you liked this post, please share the love and Pin it to your Hikes board!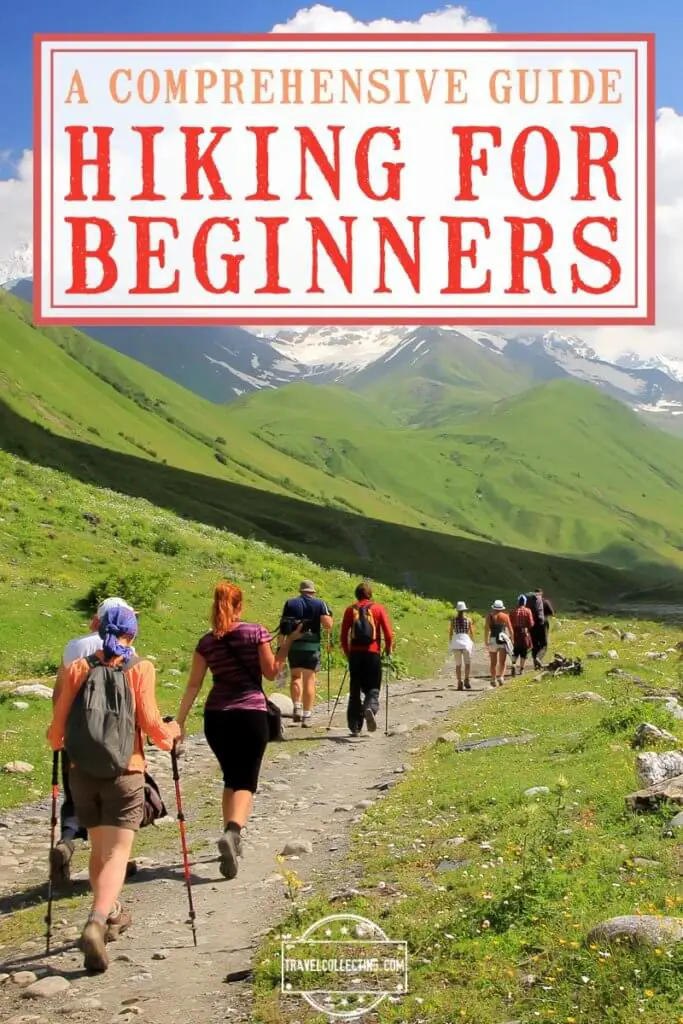 Travel Collecting is a participant in the Amazon.com Services LLC Associates Program, an affiliate advertising program designed to provide a means for sites to earn advertising fees by advertising and linking to amazon.com. Amazon and the Amazon logo are trademarks of Amazon.com, Inc. or its affiliates.