I lie face down on the edge of the cliff, inch forward then stare down over the cliff edge to the water crashing on the rocks far below me.  Behind me is a semi-circular rock wall that starts at the cliff edge and surrounds me.  Two more concentric semi-circular walls surround that wall.  It is early morning and I am alone.  This place is old and feels it.
I am in the middle of Dun Angus, an ancient stone fort on Inishmore, Ireland (Inis Mór in Gaelic -" and yes, most people on the island still speak Gaelic), which is the largest of the Aran Islands off the west coast of Galway. 
---
No time right now to read about cycling around the Aran Islands? Touring by bicycle is the best way to see them, so Pin it and save it for later:
Please note that some of the links below may be affiliate links.  If you make a purchase through these links, I earn a small commission at no additional cost to you. Read my Disclaimer for more information.
CYCLING AROUND THE ARAN ISLANDS
The Aran Islands are remote, rocky and barren.  There are also two smaller islands in the archipelago – Inishmaan (Inis Méain) and Inisheer (Inis Oí­rr). I had been in Ireland for a couple of weeks and had fallen in love with its rugged beauty.  After kissing the Blarney stone, cycling around the Ring of Kerry and spending time in Connemara, heading to these remote islands appealed to my sense of adventure.
Are the Aran Islands worth a visit?
Yes, absolutely. There is actually plenty to see and do. You can go from Galway to the Aran Islands on a day trip, but staying at least one night will give you more time to relax and enjoy the island or islands at the pace they deserve. 
The islands are small, so an Aran Islands tour by bicycle is the best way to see everything that the island has to offer.  I don't cycle that often, but when it is logical, I like to do it.  I loved cycling down the Andes, and the Aran Islands are pretty flat, so I was up for it.
Which is the best Aran Island to visit? 
They are all different, but Inishmore is the largest and has the most interesting things to do.
The ferry to Inishmore
When the weather is nice, the ferry trip to Inis Mór is great.  The ferry is small, and with the sun beating down and the fresh sea air blowing in my face, I really felt like I was off on an adventure. Read more details about how to get to the Aran Islands below.
Cycling around the Aran Islands
I hired a bike as soon as I arrived (see details how to do this below). 
How long does it take to cycle around Inis Mor?
You can easily cycle to the end of the island and back in a couple of hours if you don't stop off along the way. The island is 8.7 miles/ 14 km long and 2 miles/ 3.2 km wide at its widest point.  It's a bit hillier than I was expecting and the roads are not in great condition, but it is not overly difficult cycling.
Things to See and Do on Inishmore Island
These islands are steeped in history and have several extremely old historical forts, sacred places, etc. including the oldest standing church in Ireland. For fairly small island, there are plenty of things to see as you cycle around.
1. The countryside
From a distance, the entire island looks grey because of the hundreds of tiny fields separated by short walls made of rocks piled on top of each other.  It is a strange looking island -" so barren and rocky, with masses of stone walls; it's quite eerie at times, especially in the mist.
2. The cliffs
The nearby Cliffs of Moher are famous (buy tickets for a one-hour cruise to the see them here) However, the cliffs of Inishmore are just as – if not even more – dramatic.  Much of the southern edge of Inishmore ends in these cliffs and they are a real highlight.
3. Puffing holes and the Worm Hole
There are interesting rock formations here including the puffing holes and the Worm Hole (Poll na bPeist).  This is naturally created square cut out in the rock at the bottom of a cliff and is a famous place for cliff diving – watch out for rogue waves.  It is a little hard to find; ask where you are staying.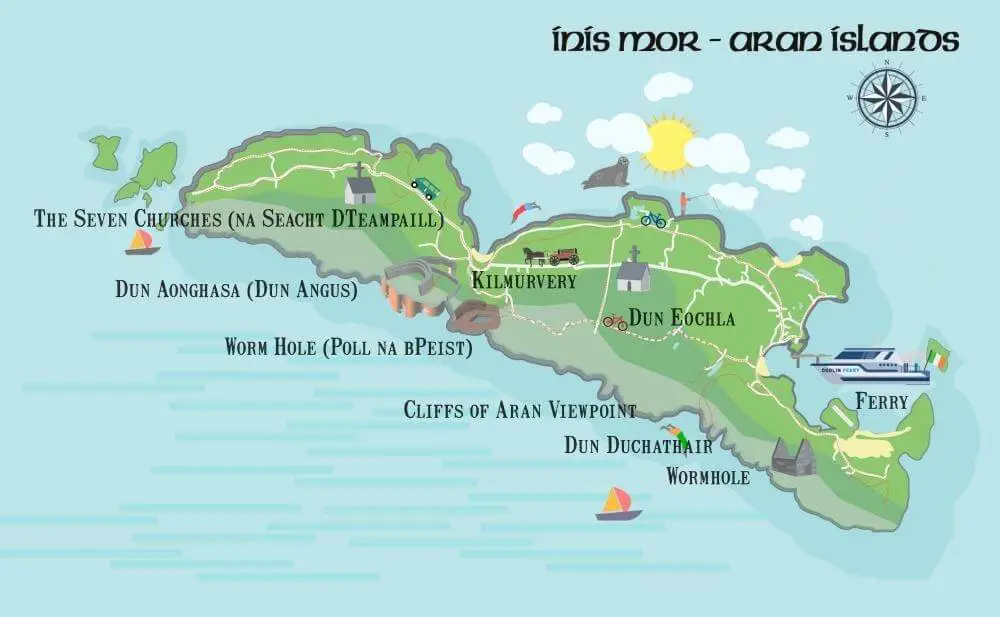 4.   Seal colony
There is a seal colony near the only lake on the island.
5. Stone forts
The islands are steeped in history.  There are several ancient stone forts and pagan sacred places, including the most famous, Dun Aonghasa (Dun Angus).  The three concentric semi-circular walls perched on the very edge of the cliffs are dramatic. Thereâ's speculation that it was originally a full circle, but the cliff eroded away.  You get a real sense of age and history here.
Other forts to visit are Dun Eochla (the smallest and very well preserved circular rock fort) and Dun Duchathair (the oldest of the forts).
6. Churches
Inishmore also has several old stone churches and standing stones, including the Seven Churches (na Seacht DTeampaill), which is actually the ruins of only two churches.
7. Crafts (especially wool)
Check out the Kilmurvery craft village (woolen sweaters are a specialty).  I bought a Celtic cross necklace here, which I love.  The nearby beach is lovely in sunny weather
The verdict
The Aran Islands are well worth a visit.  There's a charm – almost mysticism – about them.  I didn't visit the other two islands, but they are also supposed to be interesting and very traditional places.  It is possible to visit the Aran Islands on a day trip, but staying overnight will give you more time to see everything.
TC 'experiential travel' score: Aran Islands touring by bicycle
| | |
| --- | --- |
| Authenticity of experience | 16 |
| Quality of interaction with culture/ environment | 16 |
| Engagement level | 17 |
| Enjoyment | 17 |
| Difficulty to arrange | 17 |
| TOTAL TC SCORE | 83 |
PRACTICAL INFORMATION: VISITING ARAN ISLANDS
How to get to the Aran Islands
The nearest town is Galway City and there is a small airport there.  However, most international flights will take you to Dublin and it well worth spending some time there.
Book a flight to Ireland here.
Click here for a private transfer from the airport into central Dublin.
To get from Dublin to Galway, you can take a train (see schedule and buy tickets here) or a bus (see schedule and buy tickets here).  
If you are travelling from Belfast (well worth a visit – read a Guide to Belfast here), it is easiest to take a train to Dublin (Connolly) and change Dublin Hesuton Station and on to Galway from there.
However, the most convenient way is to rent a car, as this will give you the freedom to drive around the Irish countryside at your leisure.  You can rent a car in Dublin here. Be sure to read my Guide to Saving Money on Rentals Cars before you rent.
The Aran Islands makes a great stop on an extended road trip along the west coast of Ireland and Northern Ireland. Read a full description of the Extended Wild Atlantic Way Itinerary here.
Use this handy guide to Ireland to help plan your trip.
Ferries to the Aran Islands leave from Rossaveal (Ros a' Mhil), which is about 23 miles of Galway City and cost 25 Euros return.  If you are driving from Galway City, it takes about an hour to get there, and you need to be there half an hour before sailing.  If you don't have a car, there is a shuttle bus (9 euros return) from Queens St in the City Center. Sailings.  Check in with the ferry company's office at 37-39 Forster Street or Kinlay Hostel 1½ hours before the ferry leaves.
How long is the ferry from Rossaweal to Aran Islands?
The ferry takes about 40 minutes.
Check the current ferry schedule here.
It is also possible to get a ferry from Doolin to Inishmore in season (Departs at 10:00am and returns at 4:00pm)
If you want to visit the smaller island of Inis Oirr, you can book a day trip boat to Inis Oirr that takes you past Cliffs of Moher.
Getting Around Inis Mor
The best way to get around the island is by bicycle.
Aran Island bike hire:
It's possible to take a bike on the ferry (though they limit the number of bikes), but you can rent a bike on arrival and this is far easier.  The road is a mix of potholes and patches, so it's not the most comfortable ride, but the island is not that big and cycling gives you the flexibility to go where you want when you want.
Dress for all weather – the weather is extremely changeable!
Since you'll be making a day of it, consider packing a bag to take picnic supplies (and your layers of clothing) with you. Bikepacking bags are an easy way to keep all your supplies together.
Where to stay on Inis Mor, Aran Islands
There are several B and Bs and inns on the island.  A few are:
B&B An Realog : – it is a cute B and B with great views of the sea.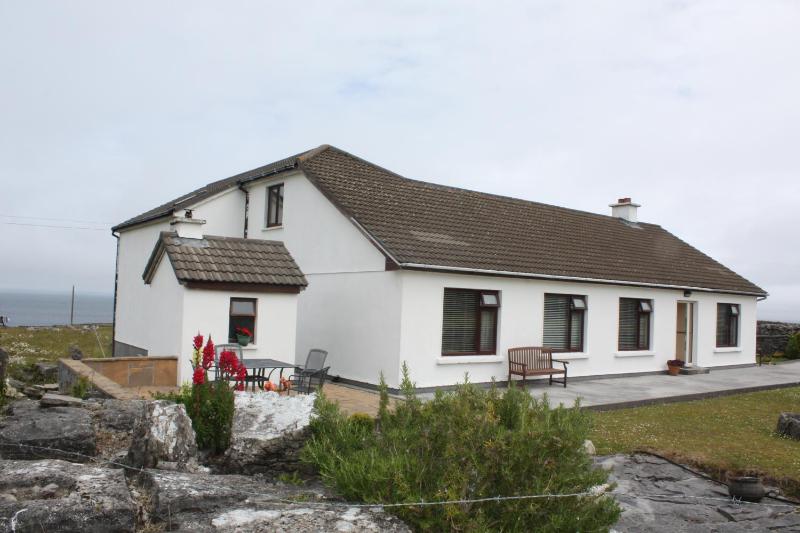 Check prices and availability for the B&B An Realog here.
---
Ard Einne House: – this inn also has great views of the sea.
Check prices and availability for Ard Einne House here.
---
Check out more accommodation options in Inishmore here.
Ireland is also a great place for glamping (glamorous camping). Check out this guide to glamping in Ireland.
Where are the Aran Islands and what is the currency?
The Aran Islands are off the west coast of Ireland, near Galway.  Ireland is part of the European Union (EU).
The currency in Ireland is the euro. Check the current exchange rate here.
Visa requirements for Ireland
For visa requirements, check out your home country's official government visa websites:
For citizens of other countries, use this helpful website (though it's best to always check with the embassy as well). 
Best time to visit the Aran Islands
The Aran Islands can be windy and cold.  The best time to visit the Aran Islands is summer (June to August) when the weather is warmest and the ferries most frequent.
Other things to do in Ireland
There are a lot of awesome experiences you can have in Ireland. These will really make your vacation a unique travel experience.
Planning and packing for Ireland
I use the Internet a lot to plan – and I hope this blog is useful resource for you –  but I also always use a Lonely Planet to get the big picture and practical things like maps.  Use it as a useful resource than a travel bible so that you don't miss out on loads of awesome things and places and experiences that aren't listed in it. Buy the Ireland Lonely Planet here.
If you aren't from Europe, I recommend reading my Europe Travel Guide for useful tips and info. I also recommend using my Trip Planner to help organize each step of planning and preparing for your vacation.
When you are getting ready for your trip, check my Essential Packing List to make sure you have everything you need.
Additional consideration: Travel Insurance
Never travel without travel insurance.   Read my Guide to Buying Travel Insurance if you have any questions about what to look for.
A great insurance option is Travelex.  It has coverage for all you'll need. You can swap this link for  either choose the best travel insurance plan for your trip here or get a quote right now:
---
Happy cycling and exploring!
Do you have any stories of Ireland? I'd love to hear them. Comment below.  
If you liked this post, please share the love and Pin it to your Ireland board for later!
Read about cycling down the Andes in Ecuador.
For more famous ancient features, read about the fascinating Nasca lines in Peru.
---
---
Travel Collecting is a participant in the Amazon Services.com LLC Associates Program, an affiliate advertising program designed to provide a means for sites to earn advertising fees by advertising and linking to amazon.com. Amazon and the Amazon logo are trademarks of Amazon.com, Inc. or its affiliates.