Imagine you are sitting on a white wooden chair, enjoying a sponge cake with strawberries and cream.  A sea gull stands next to some bright purple flowers, looking at you (or maybe your cake).  Across a small bay is a bright yellow fisherman's hut and a dark red wooden house with pale shutters.  Boats bob in the water, and the sun beams down, warming you as you sit back and relax. 
This is Vaxholm!
No time right now to read this guide to a day trip to Vaxholm, Sweden from Stockholm?  Pin it and save it for later: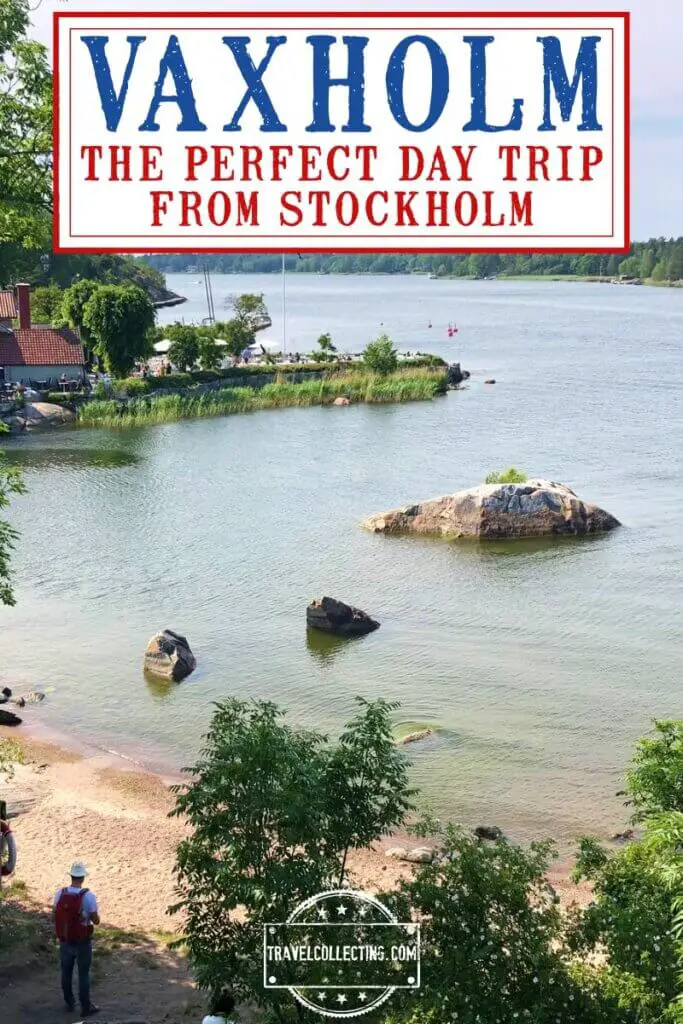 Please note this post may contain affiliate links, which means we may receive a commission, at zero cost to you, if you make a purchase through a link. Please see our full Disclosure for more information. If you have any questions, please let me know.
The Stockholm Archipelago
The Stockholm archipelago is Stockholmers' summer playground.  There are more than 30,000 pine-covered islands and islets dotted north and south of Stockholm.  This is where locals escape to nature in the long days of their short summer, typically staying in a family-owned summer home. 
Wooden houses, painted the ubiquitous red or occasionally yellow, dot the islands.  Some islands are barely big enough for one house, while others have small towns and even bridges to the mainland.  Most, however, are accessible only by public ferry or private boat and there is an extensive network of ferries connecting them to each other and to Stockholm. 
I was intrigued by the archipelago before my trip to Stockholm and I really wanted to get a sense of the whole experience.  I don't, however, own a summer house there, so I needed to find another option. 
There are two easy ways for travelers to experience the archipelago – take a day sailing trip around the islands (recommended) and visit one of the larger islands, where there is a village or small town.  Enter – Vaxholm!
Why Take a Day Trip to Vaxholm, Sweden?
Is Vaxholm worth visiting?
Yes.  If you want to visit the Stockholm archipelago, Vaxholm (the name of the island, the region around it and the town that covers most of it) is the best choice because it is so accessible.  It is easy to get to, there are plenty of things to do and you can gain a sense of life in the archipelago without needing to have a summer house.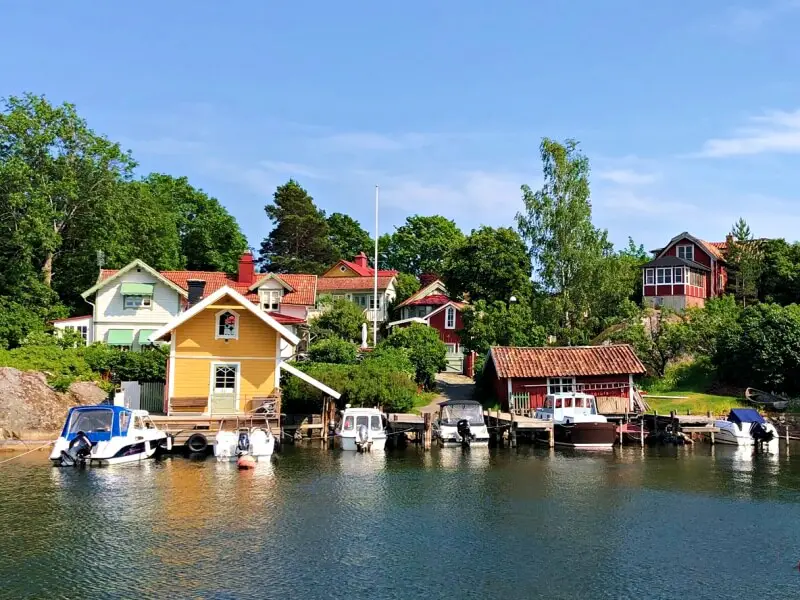 Vaxholm, often called "The Capital of the Archipelago", is only an hour from the center of Stockholm, but it's a world away. 
Narrow cobbled streets; tiny colored houses and fishing huts; an island fortress just offshore; and adorable stores and restaurants give this island a unique charm.  It makes a perfect day trip from Stockholm, though it also a great base to explore deeper into the archipelago, as many ferries to outlying islands start here.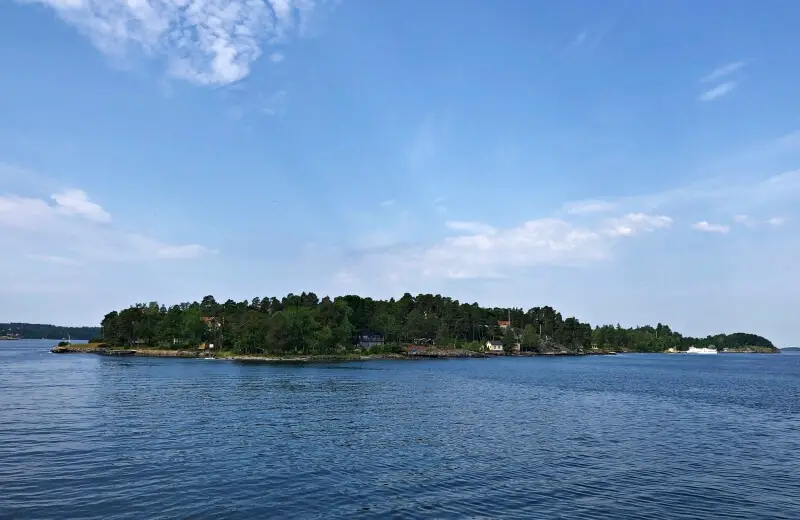 A Brief History of Vaxholm
Vaxholm has been a fishing village for centuries and herring fishing was historically the main industry.  It also has significant military history. 
It sits along one of the main shipping routes into Stockholm harbor and is the nearest of the main archipelago islands to Stockholm.  This made it strategically important, so a fortress was built there in the mid 1500's by King Gustav Vasa and it became a military outpost for almost five centuries. In fact, the town, which was established a decade after the fortress was built, is named after the fort.
In the late 1800's, a third industry became prominent – tourism.  Vaxholm became a popular resort for rich Stockholmers escaping the city in the summer.  They discovered the herrings caught there, and the Vaxholm Herring became a sought-after delicacy that you can still try today. 
Vaxholm has now become a major ferry hub for ferries to the outer islands in the archipelago, and continues to be a popular destination for both Swedes and international travelers.
How to get to Vaxholm, Sweden from Stockholm?
Getting from Stockholm to Vaxholm is easy.  You can take a public ferry, a cruise, a bus, a taxi or even drive.  I have created a comprehensive guide on all the ways to get from Vaxholm from Stockholm.  It includes a detailed description of all of the companies, how long each option takes, where to take the bus and boats (with links to Google Maps for the destination sites), the pros and cons of each, and more.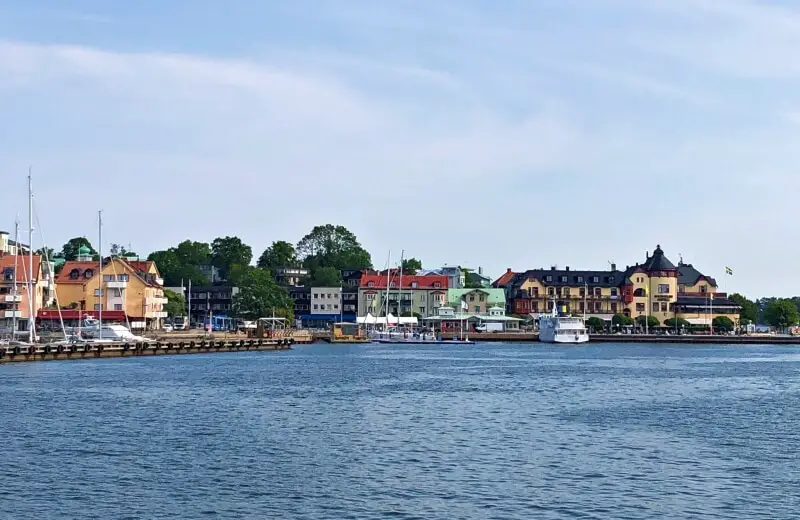 Map of Vaxholm
This map includes the detailed Walking Tours of Vaxholm maps, plus all the main sites and places to stay on Vaxholm.
Top 10 Things to Do in Vaxholm, Sweden
Wondering what to do and what to see when you visit Vaxholm? Here are ten fun things to do on your Vaxholm day trip (or overnight stay).
1. Vaxholm Castle/ Vaxholm Kastell/ Vaxholm Fortress/ Vaxholm Slott
Actually a fortress, it was built in 1544 to guard the major sea route into Stockholm.  It was home to soldiers, officers and their wives, servants and even prisoners.  A military outpost grew up around it, and became the town of Vaxholm. 
It has been involved in active warfare twice.  It was attacked by the Danes in 1612 and by the Russians in 1719. The current building dates from 1863.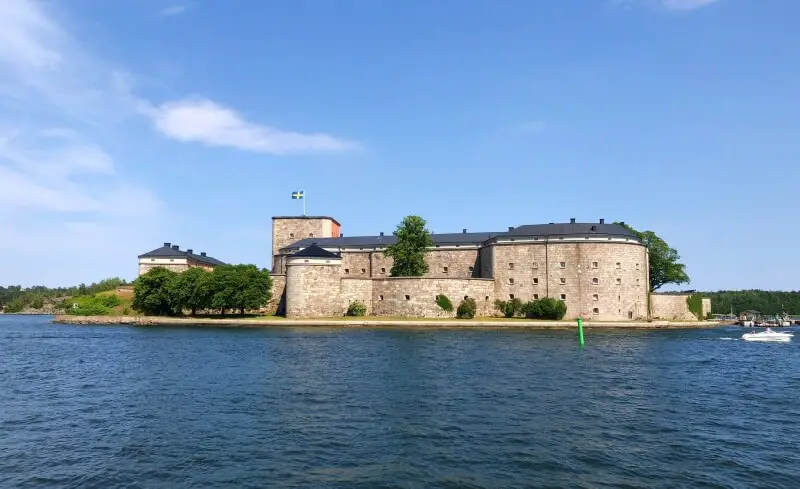 Today it is the no. 1 Vaxholm sightseeing destination.  There is a small museum as well as a lovely B and B you can stay in.  There are 45-minute tours daily in Swedish and shorter 15-minute tours in English.  Check their website (in English) for the times during your visit.  There is also a lovely outdoor café on the water for fika.
What is fika?
"Fika" is one of those words I love in a language – one that has no direct translation.  At its most basic, it is a coffee break.  It can be a noun "to have fika" or a verb "to fika". 
However, it is more than just a coffee break.  It is more about sitting down over a cup of coffee and a little pastry and socializing with friends or family.  It is an integral part of Swedish culture and Swedes typically fika several times a day. 
When you visit Sweden, you will love embracing this tradition and stop for a fika whenever you pass a charming café, see a beautiful view, or just feel like a break from your day's travels.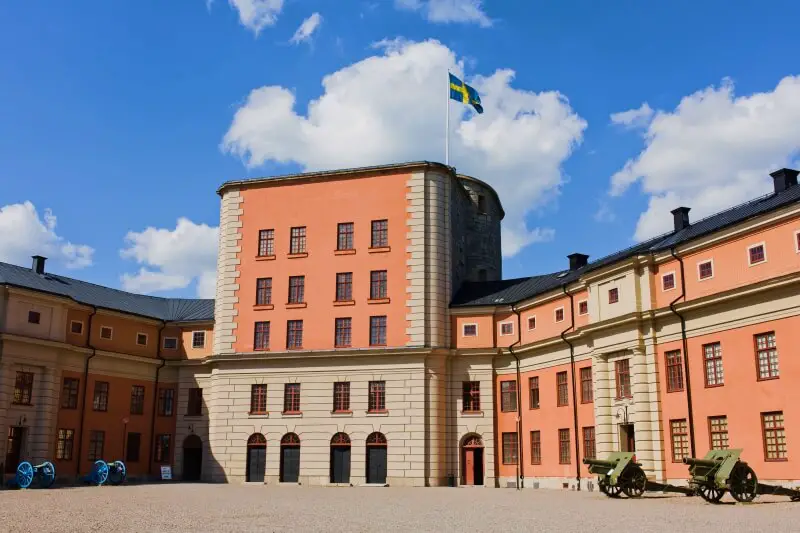 How to get to Vaxholm Castle/ Fortress
The fortress sits on a tiny island separated by a narrow channel from Vaxholm Island and is reached by a small cable-operated ferry.  The Vaxholm castle ferry operates mid-May to mid-September and runs 2-4 trips an hour.
Buy tickets at the vending machine on the dock in front of the ferry.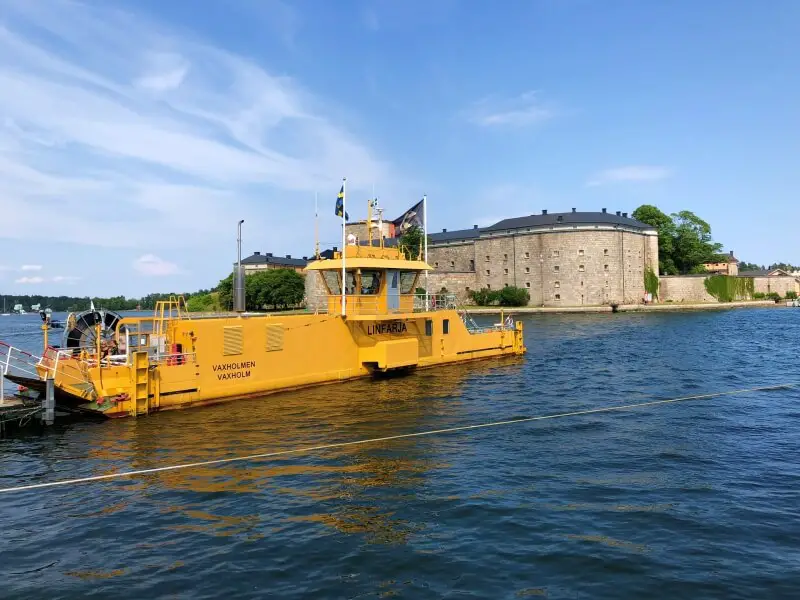 Vaxholm castle tickets cost 80 SEK (40 SEK if you take the S/S Stockholm luxury boat there).
2. Vaxholm Walking tour
Vaxholm is just about the most perfect place for a walking tour that you can find.  There is no better way to enjoy Vaxholm than slowly walking around, soaking it in and discovering new views around every turn.  There are several walking tours around Vaxholm that you can do.
Refer to the map above and follow along.
Self-Guided Walking Tour of Vaxholm East
Highlights: Battery Park |beach | Norrham |Hembydsgård Café |cliff-side over-the-water path | Vaxholm old town and Rådhus (town hall)
This is the main walk that I did and I highly recommend it!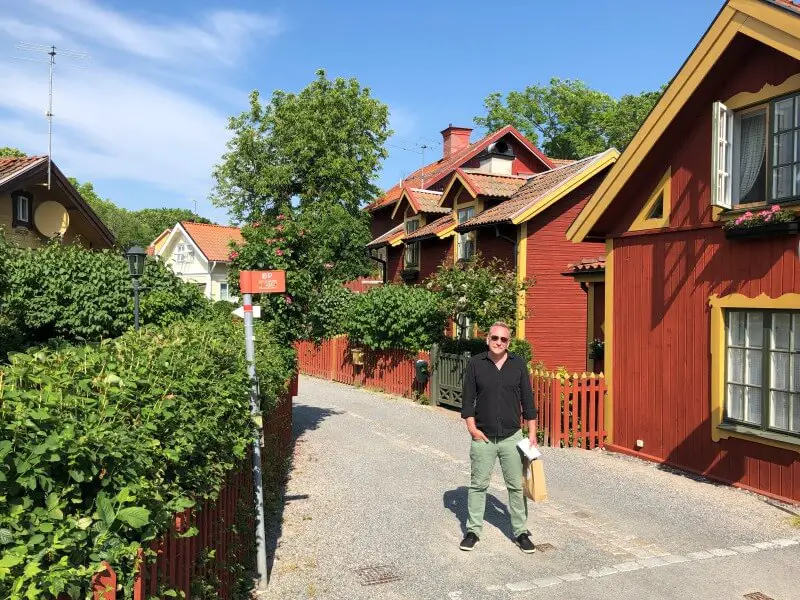 Blue Trail on my map
From the Waxholms Hotell, which is where the ferry from Stockholm drops you off, take the road away from the harbor.  The hotel is on your left.  Don't worry if you haven't had a drink there yet, you'll return to the hotel at the end. 
If you like shopping, stop off at Maginset. There is a bistro upstairs (perfect for fika) and a cute store downstairs. 
When the road forks soon after, take the right fork. Then take the second right – a gravel road leads you to Battery Park (Batteriparken).  The small park, which used to have a gun battery, now has benches where you can sit and enjoy lovely views of the water and the fortress off the right. The park has small rolling hills and some steps.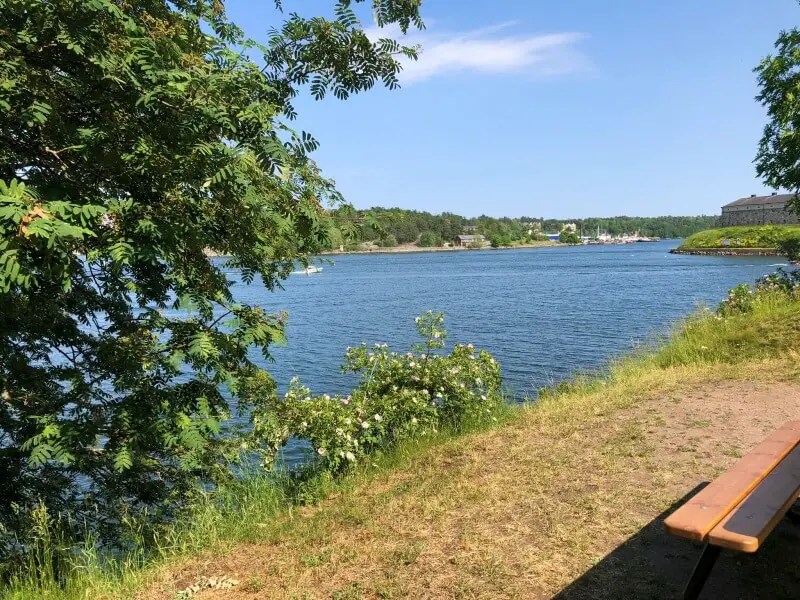 Go down the stairs to the tiny beach, Norrhamnsbadet.  This is a good place for a swim. You can break your walk by stopping here to sunbathe, picnic and swim.  This is a favorite spot for locals and Stockholmers.  The water is chilly even in summer, but refreshing on a warm day.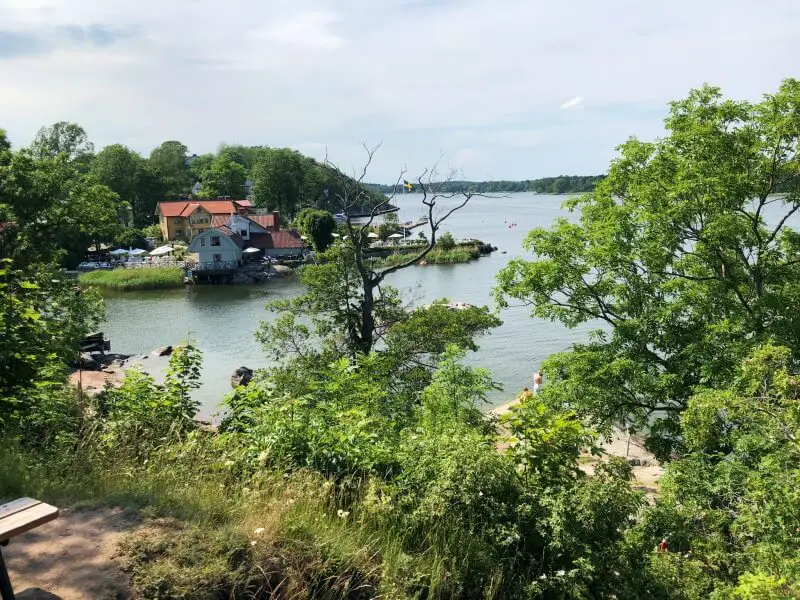 Turn left and follow the path around.  It goes through a back yard, which is a bit disconcerting.  However, this is OK – it is legitimately the path.  It ends at a cute little red wooden house and the start of Cromhamnsgränd, a tiny alley of a street.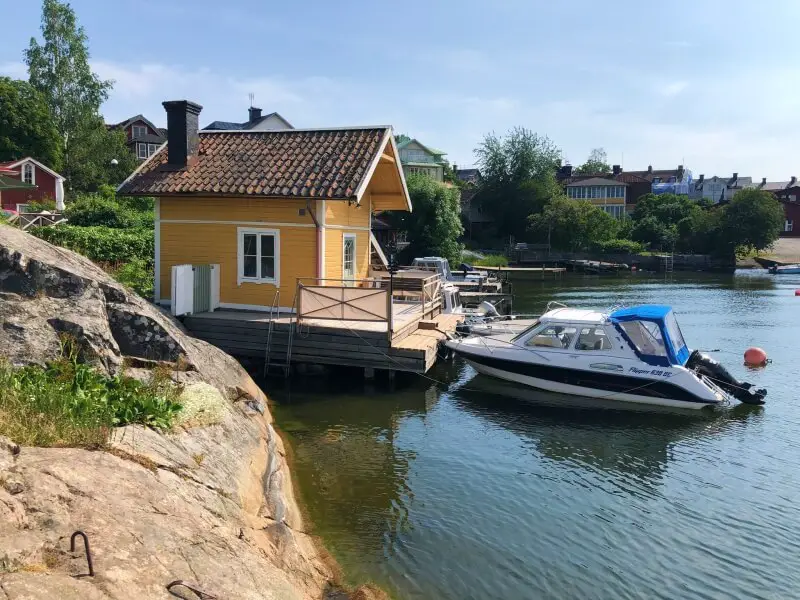 Interesting fact: wood was the only material you could legally build with up until 1912.  The idea was that it could easily be razed to the ground if the Russians invaded, so they wouldn't get anything of value.  While that is no longer a threat – or a law – most houses are still built of wood. 
The small cove you are on is Norrhamnen, and is my favorite place on Vaxholm.  This is the town's original fishing harbor, so is the oldest part of town.  There are gorgeous quintessential Swedish 19th century colorful fisherman's cottages (expensive places to own these days), sparkling blue water and boats, and across the tiny bay, the Hembydsgårds Café.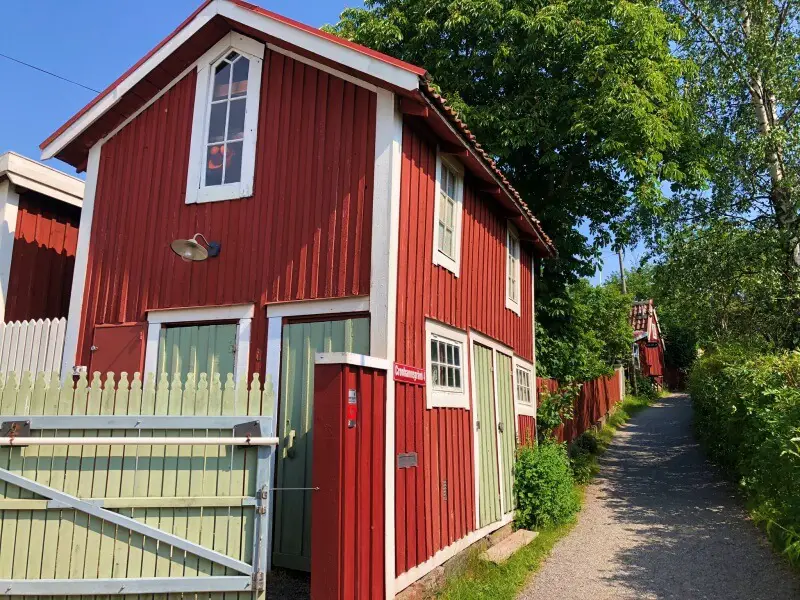 Turn left at the red house down Cromhamnsgränd heading away from the water.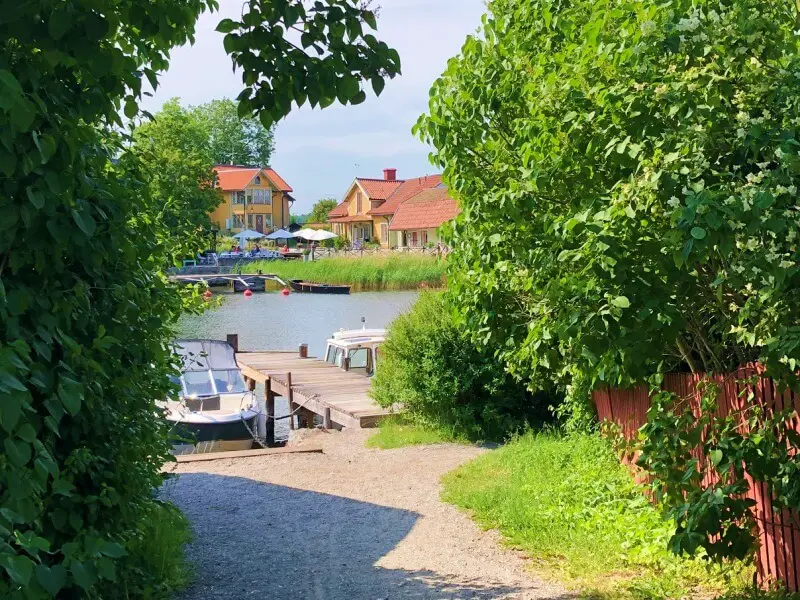 Take the first right and then when it ends at Fisaregatan, turn right again.  Admire the lovely houses as you go.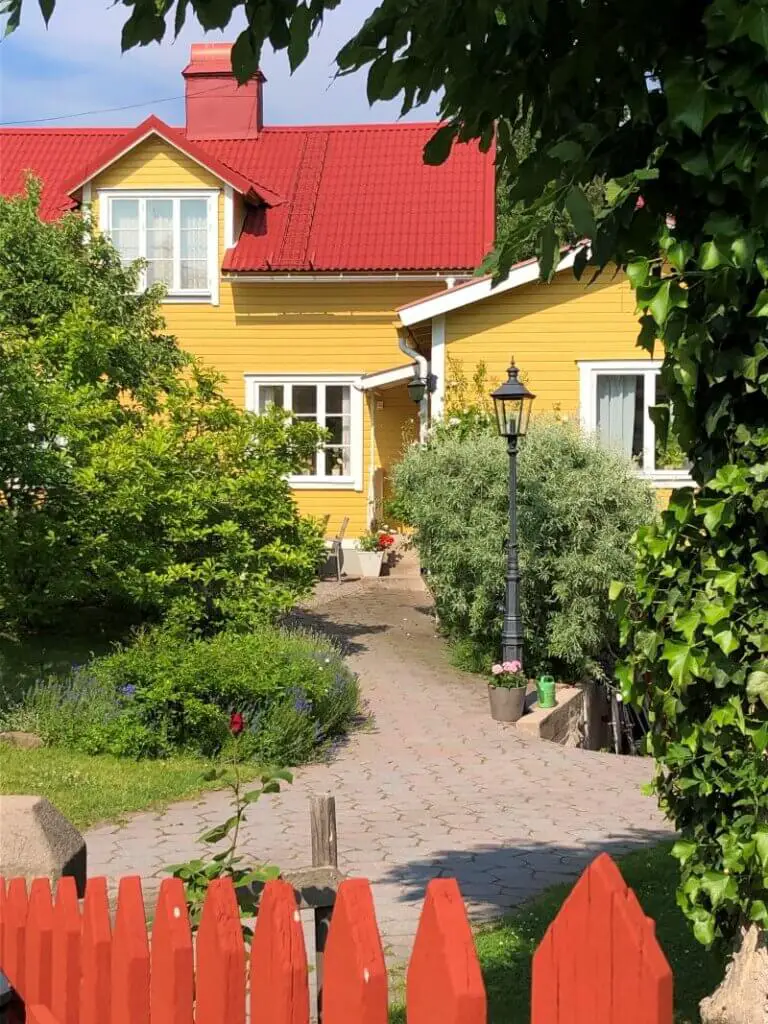 Take the first right again down Tradgardsgatan.  This takes you to the Hembydsgårds Café.  This famous café is absolutely the best place on the island for fika. Take your time enjoying the coffee, desserts and views of Norrhamnen.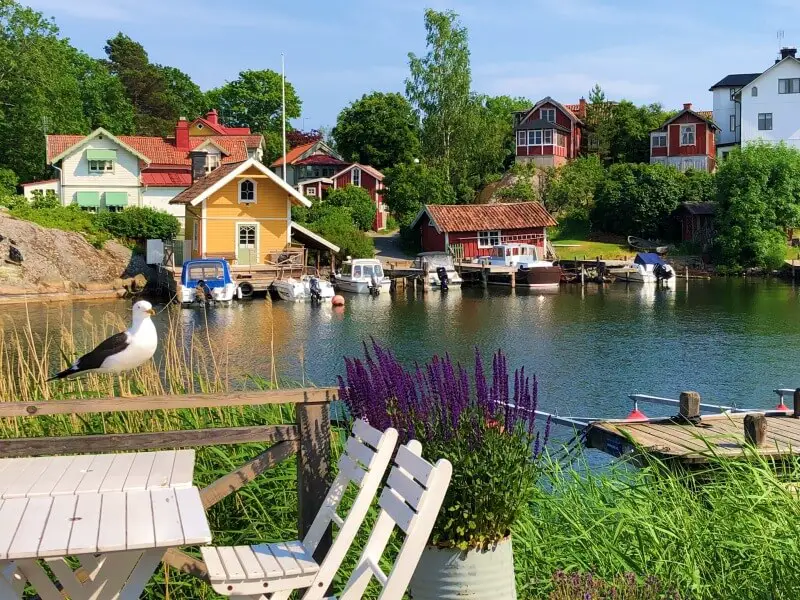 After you have had your fill and spent enough time soaking in the beauty of the views here, head through the café towards the sea and go left, along the coast.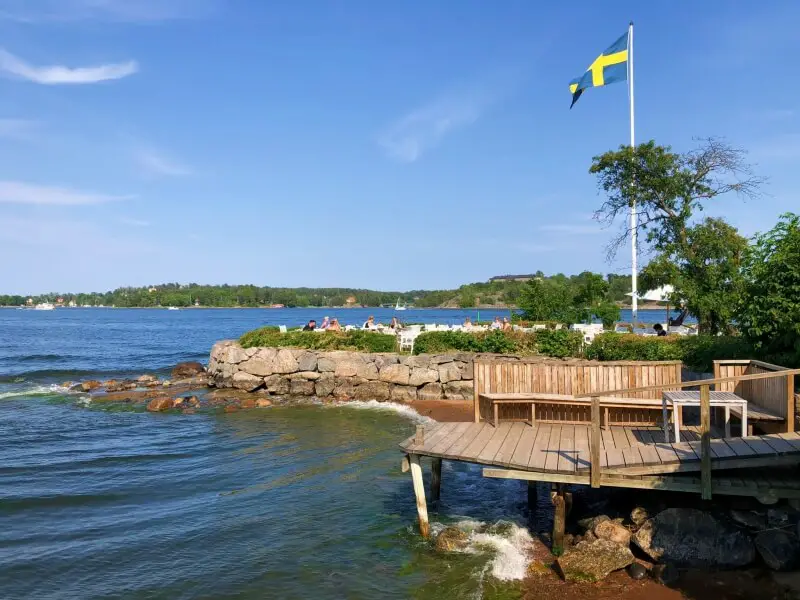 You will soon get to a walkway that hangs over the water, along the bottom of a cliff.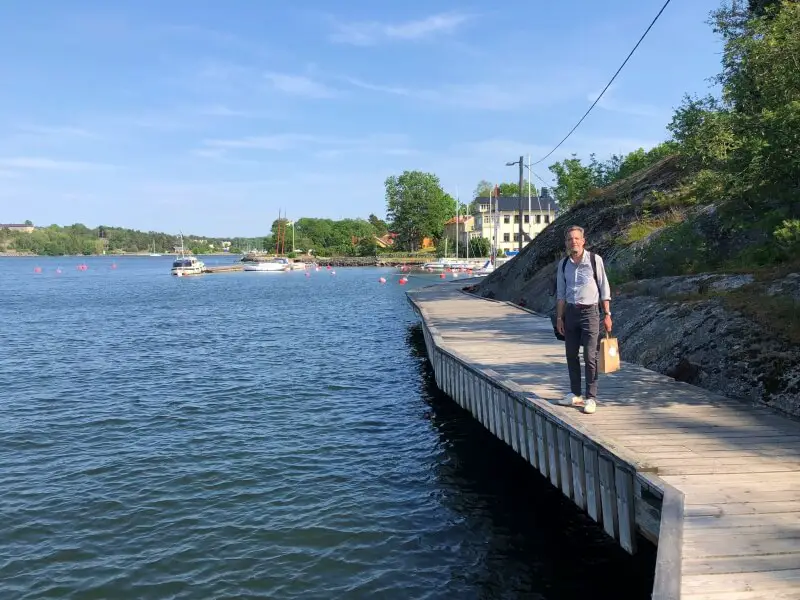 At the end, there is a narrow stone staircase that takes you up to the top of the cliff.  It's not very high, so this is not difficult if you have reasonable mobility.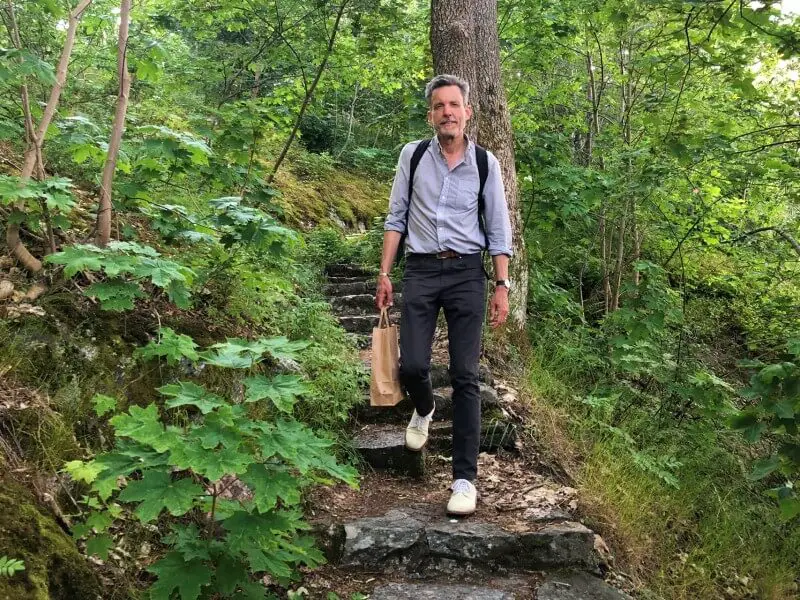 From the top, veer left down Norrbergsgatan.  Turn left into Torgattan and go down 3-4 blocks to get to the Rådhus (Town Hall).  You are now in the center of the old town. There are some cute shops, restaurants and an ice cream place.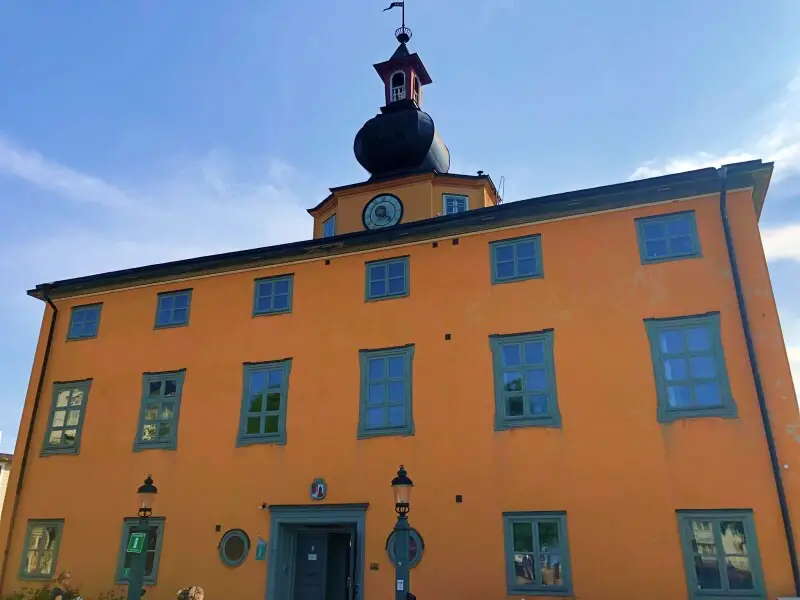 Turn right and go one bock to Hamngatan.  Take a left and follow Hamngatan past another ice cream place to the roundabout. Follow this straight along the harbor and you will end up back at the ferry terminal/ hotel.
Self-Guided Walking Tour of Vaxholm South
Highlights: Nature trail | Vaxholm harbor |Waxholms Hotell | Vaxholm Castle
Green Trail on my map
This is a great walk if you take the bus either to or from the island.  I'll give directions assuming you took the bus to the island (for details on taking the bus – and other options – see my Guide to Getting to Vaxholm from Stockholm).
Get off at Pålsundsvägen stop (this is the second stop after you cross the bridge to Vaxholm Island).  The stop is just after Pålsundsvägen street.  Head down this street (to the right facing the same direction the bus was going). 
Just after the bend, you will come to a fork with a very short street/ parking area off the left.  Take this and at the end is the start of a short nature trail on your left.  Veer left and follow this along the bottom of the cliffs. 
The nature trail emerges at the end of a suburban street.  Take this, then you come to a clearing where several paths converge. 
Follow along the water's edge.  You will pass a tiny beach. Keep following the path through a small wooded area, alongside the water.  It soon emerges at a small jetty.
Turn left away from the water up the short street, then take the first right, then right again.  Follow this street for a while, then take the third left (Őstra Ekuddsgatan).  This takes you to the Vaxholm Harbor area. 
Take a quick right/ left on to Söderhamnen, which takes you around by the water to the roundabout. 
Go right there and you will be at the Waxholms Hotell, where the ferry to Stockholm leaves from.
Guided Walk to Bogesund Nature Reserve with picnic
Highlights: Vaxholm Town | Woods and beaches | picnic
For a different kind of walk all together, you can take a half-day guided walking tour through the woods of Bogesund.  The guided hike starts in Vaxholm town and after exploring the town for about half an hour, you head off the island to another part of Vaxholm district.  The 5-6 km hike through the woods and to the beaches of Bogesund ends with a Swedish picnic of crackers, cheese, blueberry soup, meatballs and cinnamon buns.   Book the guided hike here.
3. Hembydsgård Café
This is the Vaxholm café that everyone talks about and is one of the most famous Vaxholm places to visit.  Located at one end of gorgeous Norrhamnen bay, it is the perfect place for fika.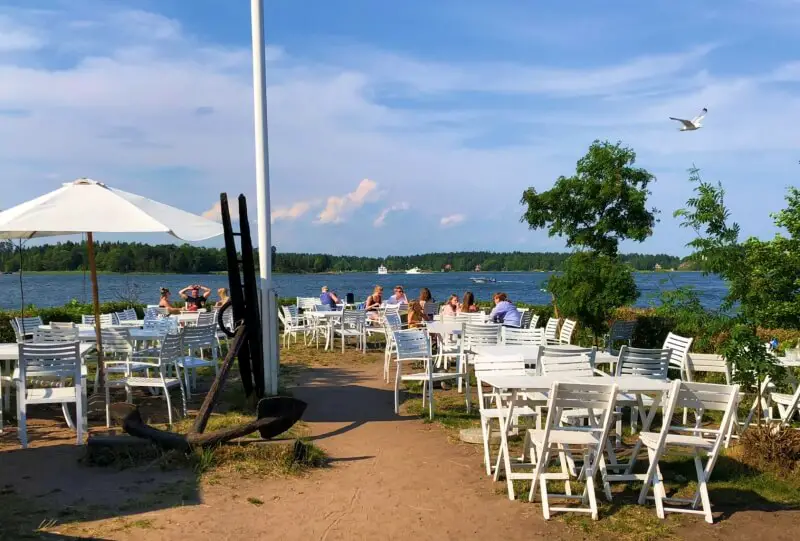 The café has an outdoor space at the front with lovely views of the cove. There is another outdoor space at the back, which faces out on to the sea.  Both areas are lovely. 
They have a dessert smorgasbord to die for, with so many delicious looking cakes, tarts and sweets that you will have to get two or three (at least if you are as indecisive as I am).  Order, eat, drink, chat, enjoy the views and soak it all in.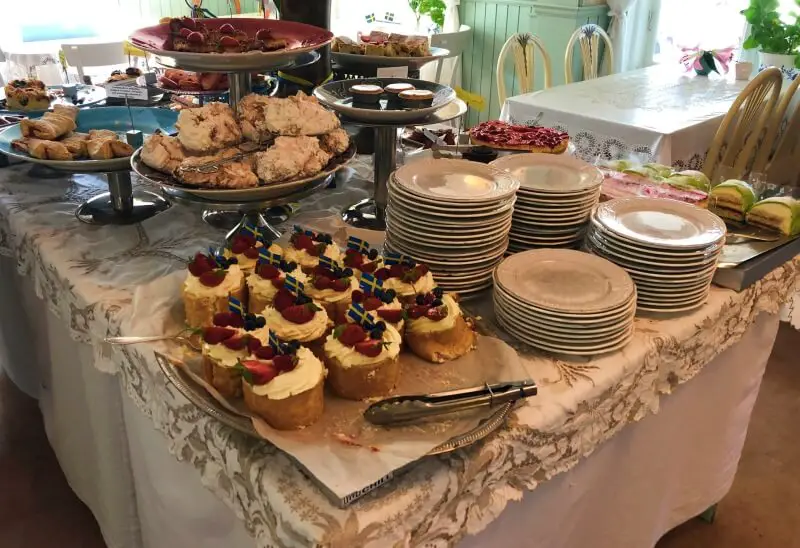 4. Shopping
Vaxholm has several cute shops to browse in, all within easy walking distance of the harbor.   You will see Vaxholm's marine character reflected in many of the stores.
A personal favorite was Bland Kobbar & Skär (literally Among Coppers & Cuts), a lovely gift shop where we picked up some souvenirs, including some ornaments for our Christmas tree. 
Also worth a look is Maginset, a chic homegoods store with a very Swedish aesthetic.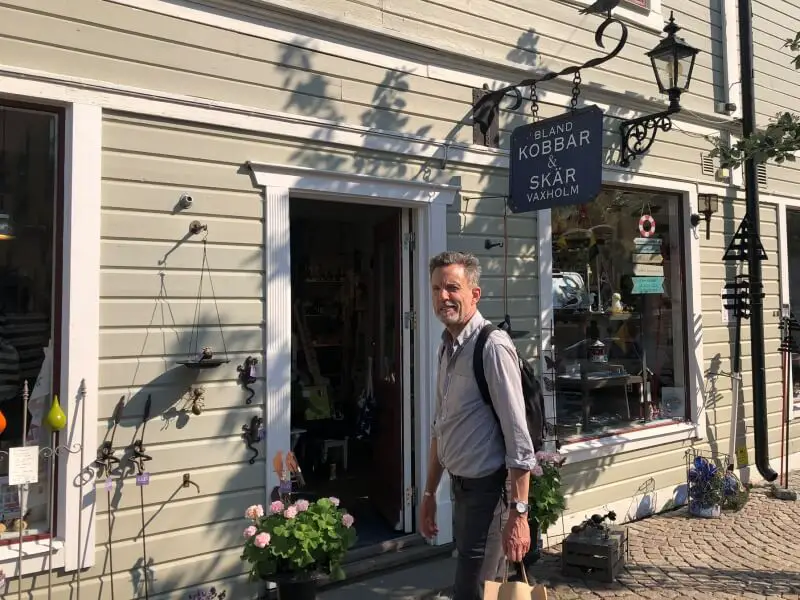 We also liked Waxholms Järn & Färg (Iron & Color), which is not a tourist shop – they sell hardware, paint, etc. but we picked up a Swedish pennant flag like the ones you see flying from the tops of flagpoles all around the archipelago, as an unusual souvenir.  They also have boating and fishing supplies, if that's your thing. 
The stores are open all year round.
5. Dining/ drinking
There are several ice cream places in the small town, including one right by the harbor.  It's the perfect place to sit, enjoy your ice cream and watch the world go by.
For something more substantial, it is hard to beat the Waxholms Hotell (Vaxholm Hotel).  The yellow building is right in front of where the ferry from Stockholm docks, so it is hard to miss.  They have rooms with views of the fortress and harbor or a quiet courtyard (check prices and availability here).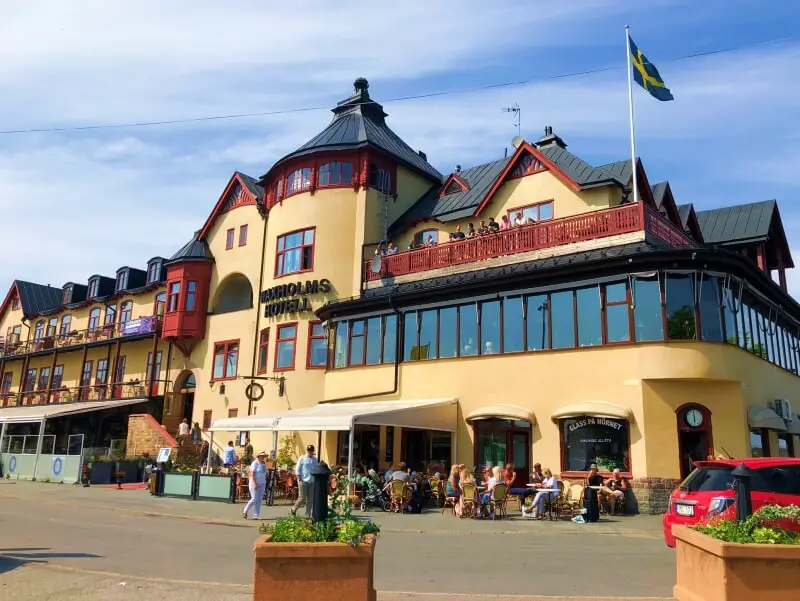 However, for a day trip, this is great place to have lunch or enjoy a drink. They have a classic dining room as well as a bistro in summer and two bars. Head up to the patio where you have stunning views of the harbor, the castle and the surrounding islands. 
That tiny island not too far on the distance is Bastagrindet.  You can easily sip on a cocktail and watch the boats come and go between the islands all afternoon.
The hotel is open all year round, though the Bistro Kabyssen and its outdoor terrace are open May to September.
6. Cinnamon Bun Cooking Workshop
Sweden is famous for its cinnamon buns.  They are nothing like their American counterparts, which are doughy and smothered in frosting.  Swedish cinnamon are delicate knots flavored with cinnamon and cardamom.  And they are delicious.  You should definitely try some for fika – they are sold in bakeries everywhere in Stockholm and Vaxholm.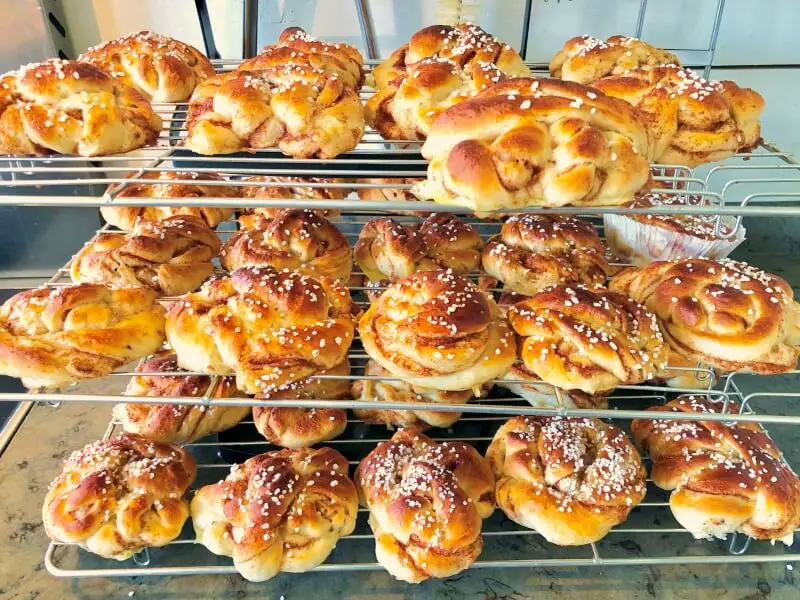 I love to take cooking classes (read my Guide to Choosing the Perfect Cooking Class), so we really wanted to learn how to make Swedish cinnamon buns.  Although we looked high and low for a cinnamon bun cooking class, Stockholm seemed to have none on offer. 
In the end, Kevin found private cooking classes offered at the Vaxholms Bed & Breakfast.  They offer cinnamon buns baking workshop usually on Tuesdays, Wednesdays and Thursdays, as well as opening their garden up as a café on some days.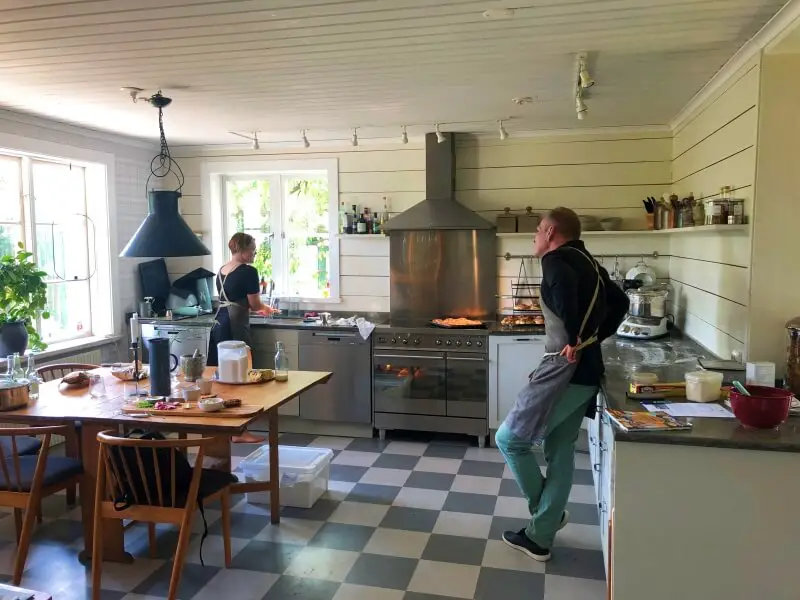 We learned how to mix the ingredients, spread the dough with our cinnamon paste, and tie them into delicate knots.  The dough rose while we had refreshments, then we baked them and got to eat them fresh out of the oven (and take many home for later!)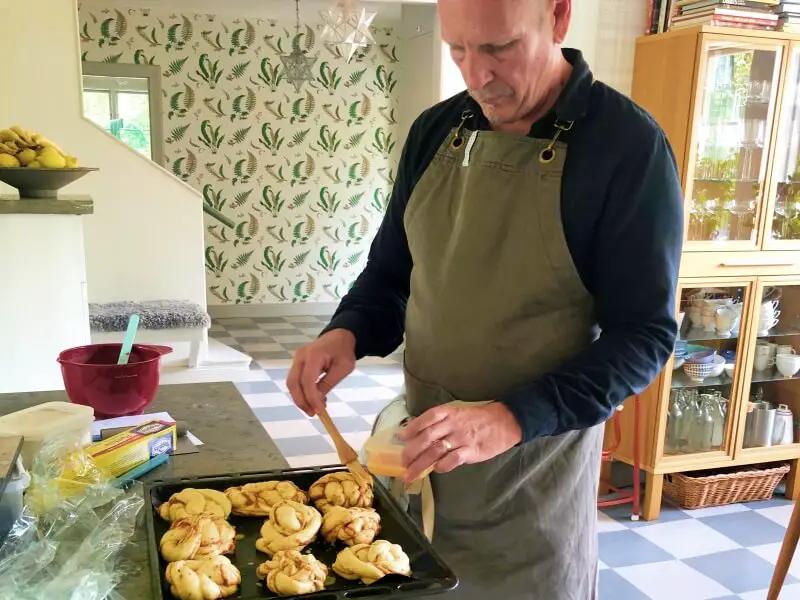 The place is beautiful, the host was funny and charming and incredibly knowledgeable and the buns were delicious.  I can't recommend this enough.  You can book your own private cinnamon bun workshop by emailing them. 
7. Kayaking/ Canoeing Vaxholm
What better way to explore the archipelago than by water?  You can rent a kayak or a canoe or take your own kayak and paddle around the shore, exploring the bays, paddle out to a nearby island and enjoy being out on the water. 
There are a few options for Vaxholm kayak rental:
3.5-hour canoe tour
Paddle around the archipelago and Bogesund Nature Reserve on a guided tour in a two-person canoe.  Enjoy the best of Vaxholm nature, including beavers and marine birds. Includes a rest stop for fika. Maximum 8 people.  Book the canoe tour here
4-hour kayak tour
The tour starts paddling up to and around the Vaxholm Fortress, before heading around to the other side of Vaxholm Island and into the Bogesund Nature Reserve. There you'll find wooded shores, birds and possibly even beavers. The trip includes a stop for fika and even a dip in the Baltic if you dare (it IS cold, but you will get bragging rights and it is refreshing after paddling on a sunny summer's day). Maximum 8 people.  Book the kayak tour here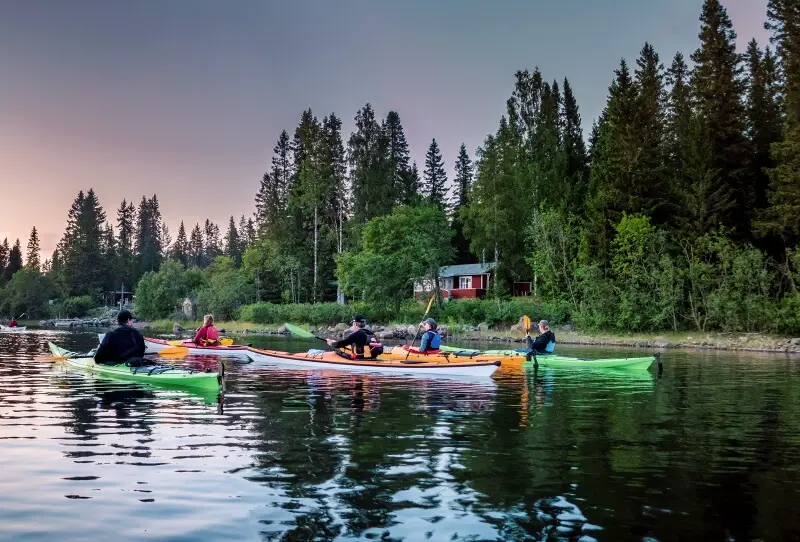 Multi-day self-guided kayak trip
You can rent a sea kayak together with camping equipment and set out on a self-guided two-day trip or a three-day trip.  There are thousands of islands and islets to enjoy.  Paddle, stop and sunbath, swim or fish. 
Sweden has a law that you can camp anywhere as long as you are not in sight of a dwelling, so it is very easy to find somewhere to set up camp at night.  This is more than just a day trip from Stockholm, of course, but it's a fantastic way to experience the archipelago.
An alternative to renting a kayak is to take your own and spend as much time as you like and go where you like. This isn't as crazy as it sounds because you can buy an inflatable kayak and take it with you! If you're interested, read my Guide to the Best Inflatable Kayaks to learn what to look for and to see the best options out there.
3-hour winter kayak tour
Kayaking is not only available in summer.  As long as the water hasn't completely frozen, you can kayak in winter.  The 3-hour tour paddles around the castle, the old town and then around the island to the nature preserve.  You will most likely be paddling past ice.  This is a whole different perspective and a totally fun way to enjoy a winter trip to Stockholm. Maximum 2 people.   Book the winter kayak tour here.
8. Swimming
The Baltic Sea can be chilly, but in Vaxholm swimming is popular, especially, of course, in summer. 
The most common place is Norrhamnsbadet.  This is at the western end of Battery Park.  Walk down the steps to the bottom of the short cliff and there is a small sandy beach and some rocks that make a perfect place for a dip. 
This is also a great place for a picnic.  The Hembydsgård Café is just across the way.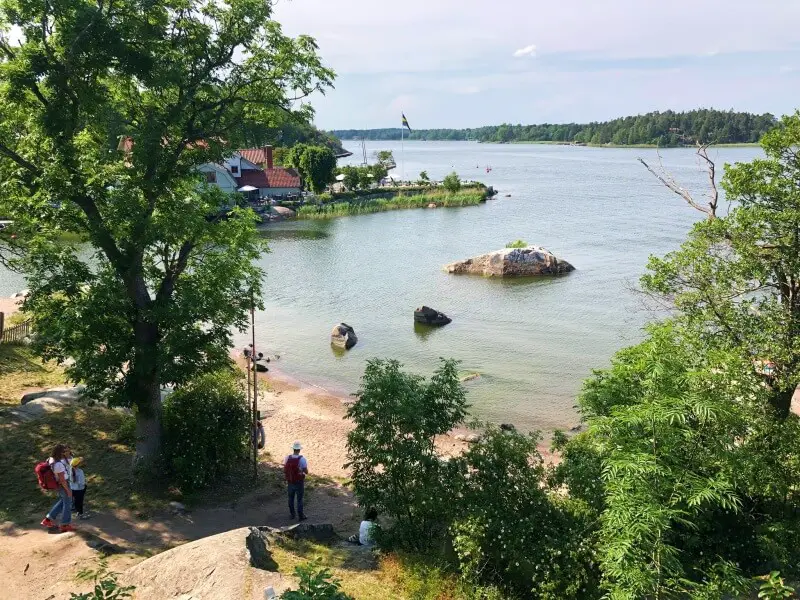 9. Cycling
If you want to explore more of the island than is feasible on foot, then renting a bicycle is the way to go.  Vaxholm Cykeluthyrning, a two-minute walk from the ferry, rents bicycles by the hour and the day. 
10. Vaxholm Zipline
The Vaxholm Sky Park is actually more than just a zipline.  There are 6 different courses, with varying heights and levels of difficulty, that involve climbing, balancing and ziplining.  There is also a picnic area, so you can buy lunch in town and take it with you. 
The Sky Park is on other side of the island from the ferry and old town, so take the bus 670 to the Eriksövägen stop.
Vaxholm in winter
A lot of what I have described above is about the summer, but this is not the only time you can visit Vaxholm.  Winter may not be the best time for a dip in the Baltic, but there are plenty of other things to do including shopping, the walking tours and:
3-hour Winter kayak tour of Vaxholm
As mentioned above, as long as the water hasn't completely frozen, you can take a kayak tour around the island, through gaps in the ice.  Seeing the snow-covered island from a kayak is a unique experience very few people get to have.  Maximum two people per tour.  Book it here.
4-hour Snow Shoe Hiking in the Archipelago
The area is a true winter wonderland when it is covered in snow.  The tour starts in Vaxholm before heading out of town in a van through the countryside to a nature preserve.  Then don your snow shoes for a 6-mile/ 10-km hike.  You may see deer and moose (or at least their tracks). Includes fika (with hot chocolate). 2-7 people.  Book the Vaxholm snow shoe hike here.
When is the best time to visit Vaxholm, Sweden?
Vaxholm is easily accessible all year round.  Obviously, the activities that you can do change with the seasons, but the stores, accommodations and restaurants are open throughout the year.  And winter brings its own attractions.  However, my heart lies in summer, and June-August is peak season when transport is most frequent, the weather is nicest and the days are long.
Vaxholm Accommodation: Where to Stay
Vaxholm is a common day trip from Stockholm, but if you want to explore the island in more detail or use this as a base to explore other islands in the archipelago, then there are several great places to stay overnight. 
Not sure how to decide what the best option is for you?  Read my Guide to Choosing the Best Hotel.
Kastellet Bed and Breakfast
How often do you get to stay in an island castle?  That's exactly what you get to do here.  The B and B is inside the former fortress that makes up the entire island just off shore from the main Vaxholm Island.  Live out your medieval military fantasy in modern day comfort at the Vaxholm castle hotel/ B&B.
Book the Kastallet Bed & Breakfast here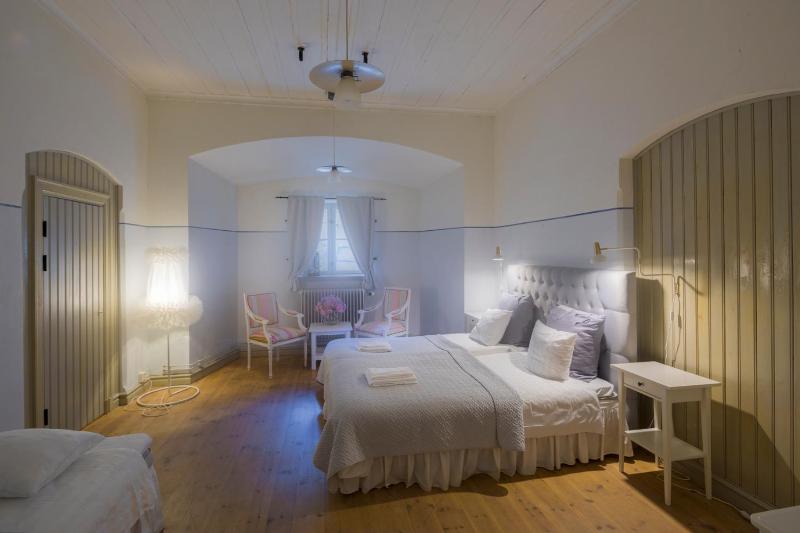 Waxholms Hotell (Vaxholm hotel)
The four-star boutique hotel is the first thing you see when you arrive at Vaxholm by ferry.  Rooms have views of Vaxholm Harbor, surrounding islands and the Vaxholm castle, or the hotel courtyard.  The location, right where the ferry docks, could not be better. 
Book a room at the Waxholms Hotell here
Vaxholms Bed and Breakfast
This is an adorable place with an outdoor greenhouse set up as a reception room, a tiny shop, a lovely garden, two beautifully decorated rooms and an enormous kitchen.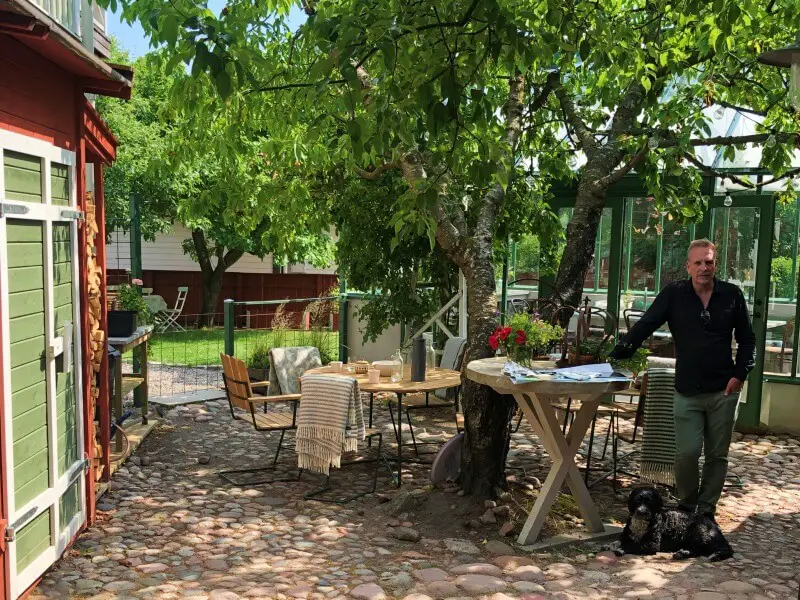 They offer cinnamon buns baking workshop, as well as opening their garden up as a café on some days.
Book a room at the Vaxholms B&B here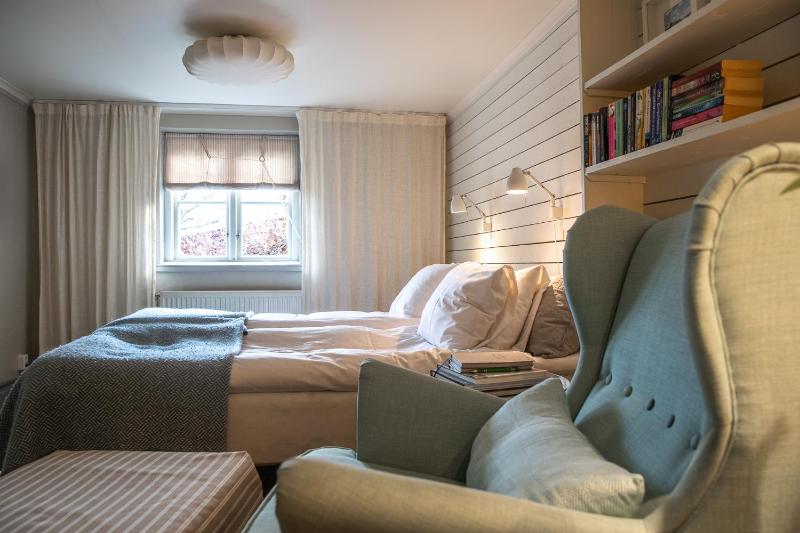 Planning and packing for a day trip to Vaxholm
If this is your first time to Europe, be sure to read my Europe Trip Planner.  For a travel guide on Sweden, I like the Sweden Lonely Planet.
When you are ready to think about packing, check my International Packing List to make sure you have everything you need.
Travel Insurance for Sweden
Sweden is a safe country, but even then, you never know when things can go wrong.  It always pays to be prepared by having adequate travel insurance.  Not sure what it is all about?  Read my Guide to Buying Travel Insurance.
A good insurance option is Travelex.  You can compare Travel Insurance plans here or get a quote right now:
---
Enjoy your day trip from Stockhom!
Do you have any tips about visiting Vaxholm to share? I'd love to hear them. Comment below. 
If you liked this post, please share the love and Pin It to your Stockholm or Sweden boards!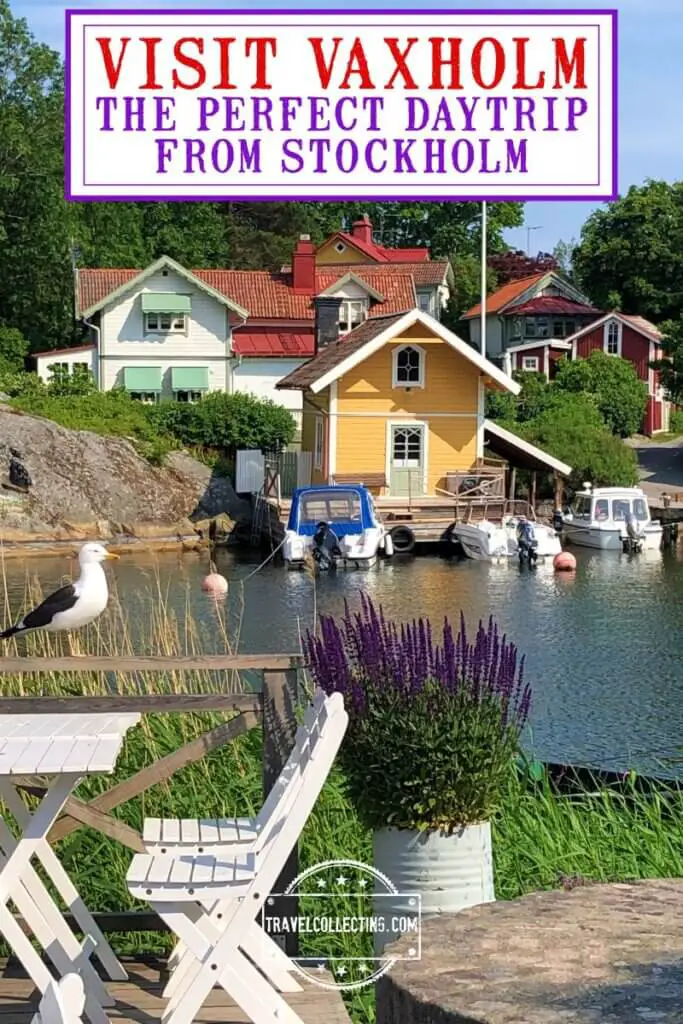 Read other Stockholm posts:
---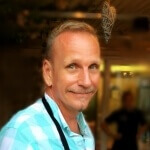 James Ian has traveled to 82 countries and all 7 continents.  He is passionate about experiential travel, i.e. meaningful travel that actively engages with the environment and culture.  He helps people have similar experiences that involve active participation in activities and festivals; engaging with the local food and handicrafts through lessons and food tours; and interacting positively with environment by hiking, riding, rowing, diving and low/no impact animal encounters. 
---
Travel Collecting is a participant in the Amazon.com Services LLC Associates Program, an affiliate advertising program designed to provide a means for sites to earn advertising fees by advertising and linking to amazon.com. Amazon and the Amazon logo are trademarks of Amazon.com, Inc. or its affiliates. As an Amazon Associate I earn from qualifying purchases.
---