I had dehusked the coca beans, roasted them over a flame, ground them into a thick paste, added sugar and poured them into molds. All that was left was add my favorite flavors – fresh cinnamon, cardamom and vanilla, then pour more chocolate over the top to full the molds. Into the fridge and a couple of hours later, my chocolate bonbons were ready.
Delicious. What better place to learn how to make chocolate than the place where chocolate was first made?!
---
No time to read about the chocolate-making workshop in Guatemala just now? Pin it and save it for later:
INSPIRATION: Making chocolate, Antigua, Guatemala
Please note this post may contain affiliate links, which means we may receive a commission, at zero cost to you, if you make a purchase through a link. Please see our full Disclosure for more information. If you have any questions, please let me know.
I was in in Antigua Guatemala and was making chocolate from scratch.  I love experiencing food through cooking, food tours and workshops when I travel, and some of my trip highlights have been things like learning to make pasta in Rome and a cheese and wine tasting workshop in Paris. 
So when I heard that you can learn chocolate making in Antigua in Guatemala I was in. What better place to learn the art of making chocolate from cacao beans than the birthplace of chocolate!  Guatemala chocolate, at least traditionally, is very different than what we know, however.
Mayan chocolate facts
The Mayans were the first people to discover chocolate, back in the 9th century.  Some people say that the word "chocolate" actually comes from the Mayan word "xocolatl" which means "bitter water".  It was a bitter drink made with water, crushed cocoa beans and chili peppers.  It was poured back and forth between two cups, until a froth formed on top.
Why was chocolate so important to the Mayans?  Chocolate was said to be the "food of the gods" and was used in religious ceremonies and marriage celebrations.
Today, chocolate is still a common ingredient in traditional Guatemalan food. Guatemalan chocolate is not always sweet and is used in savory dishes such as mole sauces served over chicken. Guatemalan hot chocolate is still spicy, made with chili, though nowadays, sugar is commonly added to make it less bitter.
The workshop: making chocolate from beans
The bean to bar workshop started with a brief, but interesting overview of the process of making a chocolate bar from a cocoa bean.  We saw the cocoa plant and the large bean pods, and learned how chocolate is made nowadays and how it was originally made by the Mayans, along with a brief history of chocolate.
Our "teacher" made the lesson enjoyable and got us all involved in the process.  The workshop included:
We roasted cocoa beans in a pan.
We then de-husked the roasted beans.  They have a thin husk on the outside that we rubbed off.
We ground the beans into a paste (using a mano on a metate – basically a mortar and pestle).
This was turned into a competition with our classmates to see who could do it first.  Kevin won.   I did not, but I did get a paste going in the end, which was success enough.
Our instructor then made three different teas with the husks:
Plain (just water and cocoa bean husks)
With sugar added
With sugar and cardamom added
The third one was the only one that tasted any good.
Then we made hot chocolate from the paste we had ground.  We made a game of stirring it into a froth.
We made and tried two different types:
Mayan: water, cocoa, vanilla, honey, chili
Spanish: milk, anis, cardamom, sugar, cinnamon
We used traditional methods of pouring from one pitcher to another.
OK, so I wasn't that good at it.
Neither the Mayan nor the Spanish hot chocolates were to my liking, to be honest, but we had a good time making them.
Finally, we tried our hand at making chocolate candy.  We poured our sugared chocolate into molds and added a selection of fillings.  There were at least a dozen fillings to chose from, so we could make our own favorite flavors.
The Chocomuseo Antigua, Guatemala
The workshop is held in the Antigua chocolate museum, one of the most fun Guatemala museums. The Choco Museum, Antigua itself is fairly basic, with free displays on cocoa beans, and how chocolate is made from the cocoa beans. 
However, although there are several museums in Antigua Guatemala, this is the only one in which you can do the chocolate workshop as well as several other fun food experiences.
The verdict: Chocolate making workshop in Antigua, Guatemala
Was this the yummiest chocolate I've ever tasted?  No, not really.
Was it a really fun activity in which I learned more abut chocolate, the Mayans and Guatemala?  Absolutely!
Would I recommend it?  Definitely.  I loved it.   It definitely makes my list of top things to do in Guatemala.
[table id=50 /]
PRACTICAL TIPS: Making chocolate, Antigua, Guatemala
The Experience: The amazing chocolate workshop at the Museo de Chocolate, Antigua Guatemala
This is easy to arrange.  Workshops are held at several times a day in the Choco Museum. Class sizes are small and the instructor I had was knowledgeable and entertaining.
I have written a post about how to choose a cooking class. It has some helpful tips that applies here too.
Other top things to do in Antigua, Guatemala
Wondering what to do in Antigua Guatemala other than this chocolate making course? When you're in Antigua, Guatemala, things to do include:
There are also:
Or get even more ideas on things to do in Antigua.
Map of Antigua Guatemala
How to get to Antigua Guatemala
The Antigua Guatemala airport is the same as hat for Guatemala City.  The main international airport in Guatemala is Aurora International Airport.
Book your flight to Guatemala here.
Note that domestic flights to/ from Tikal in the north of Guatemala leave from a different terminal on the other side of the airport.  You will need to take a taxi there, so factor in time for that if you have a connection.  The drive takes about 20 minutes or so.
How to get to / from Guatemala Airport
The easiest way to get from Guatemala's Aurora International Airport to Antigua is a shuttle.  Book a transfer from the Guatemala airport to Antigua here.
If you are coming from or going to Lago de Atitlan, book a transfer between Antigua and Panajachel here.
If you are traveling between the capital Guatemala City and Antigua, book a transfer here.
Getting around Guatemala
You can rent a car and drive.  Rent a car here. Traffic can be a little crazy, so be careful if you choose this option.  If you are driving to Antigua from La Aurora International Airport, here are driving directions.
You can also take public buses.  Guatemalan buses, commonly called "chicken buses" are definitely an experience.  They are old U.S. school buses, so leg room is sized for school kids and seats are benches.  They are painted brightly in garish colors and have roof racks where luggage gets stored.  They are very crowded and pretty uncomfortable, but are cheap and you will definitely feel like a local.  Be careful with your valuables (you can read about when I got pickpocketed on a "chicken bus" in Guatemala here).
The easiest and most convenient way is to take tourist buses.  These are small, fairly comfortable mini-vans.  There are agencies in all towns that are commonly visited by tourists that will arrange these for you.  For Lago de Atitlan (Panajachel),  Guatemala City and the airport, use the links above to book transfers in advance.
Antigua Guatemala is pretty small and you can easily walk around town.
Where to stay in Antigua Guatemala
Hotel Casa Santo Domingo Antigua. Santa Domingo is a beautiful five-star hotel built around the ruins of a church.  There are two small museums in the grounds of the hotel, a wedding chapel in the ruins of a church (spectacular) and even some macaws living in the gardens.  Definitely a unique experience worth the splurge. Book the Hotel Casa Santo Domingo Antigua here.
We stayed Posada San Sebastian.  This is a small inn with lots of character and a friendly owner.  The rooftop has an amazing view over the roofs of Antigua and the volcanoes that surround Antigua.  We saw the appropriately names Volcan Fuego (Fire Volcano) puffing smoke from the rooftop terrace.  A lovely way to start the day.  Book Posada San Sebastian here.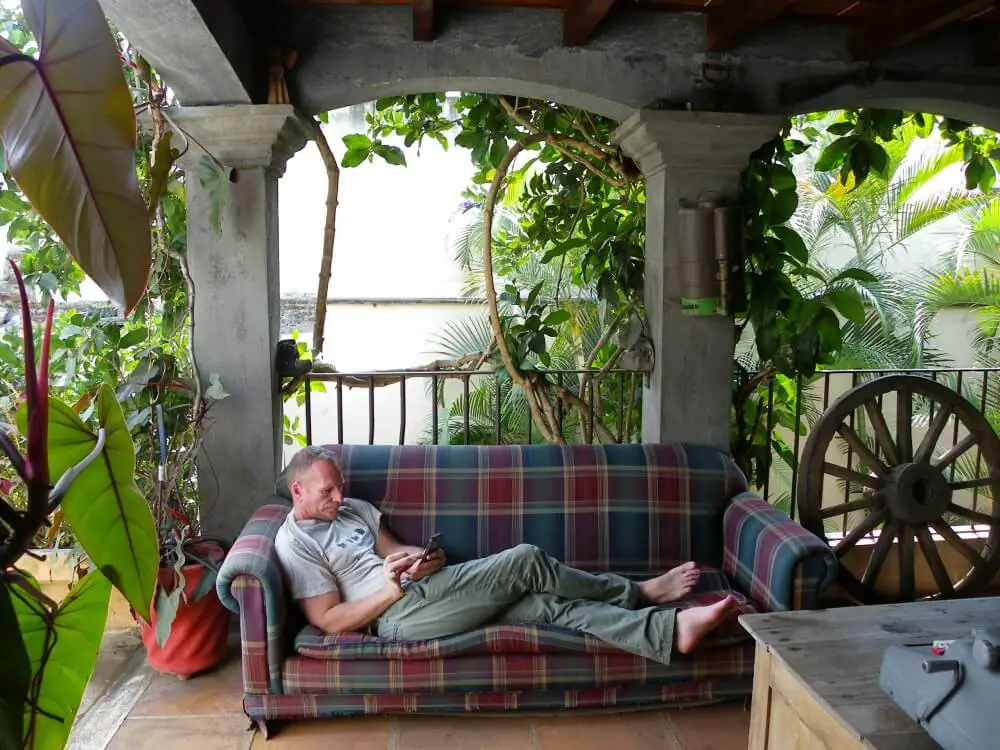 For something a little different, you can also stay at the coffee plantation where the coffee tours and ziplining happen.  Book a room at the 5-star Filadelfia Coffee Resort here.
Best* accommodations in Antigua, Guatemala
[table id=51 /]
* Based on highest booking.com ratings at time of writing
Where is Antigua located and what is the currency?
Antigua Guatemala (or Antigua for short) is in the central highlands of Guatemala, in Central America.  It is about an hour from the main airport and capital city.
The currency in Guatemala is the quetzal (GTQ) (pronounced ket-zal), plural quetzales (ket-zal-ez).  Check the exchange rate here.
Guatemala map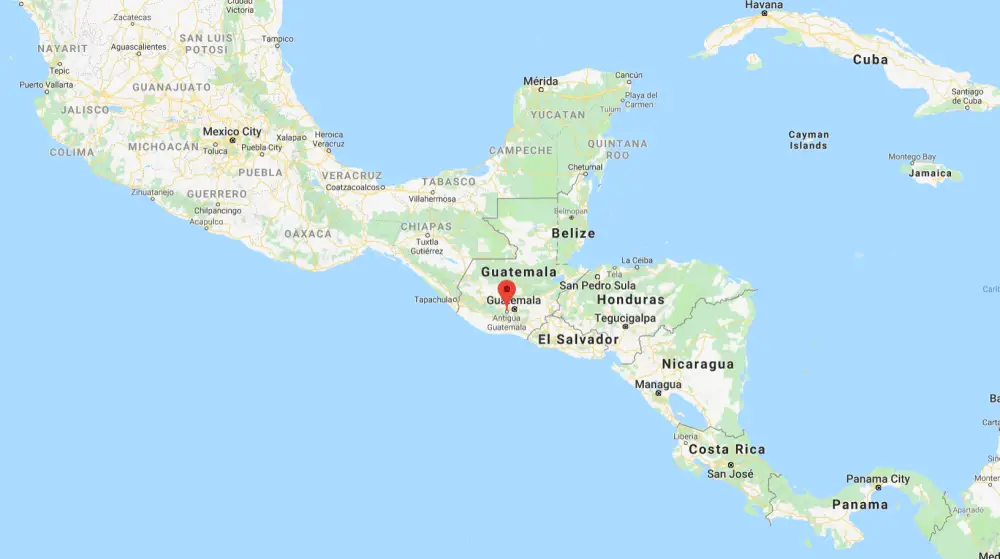 Visa requirements for Guatemala
Visa requirements vary for different countries.
Check out your home country's official government visa websites:
For citizens of other countries, use this helpful website (though it's best to always check with the embassy as well). 
Best time to visit Antigua, Guatemala
Antigua Guatemala weather is pretty consistent all year round.  Antigua Guatemala is at an altitude of 5,029 feet (1,533 meters), which keeps temperatures fairly cool and humidity low.  The time to visit Antigua Guatemala is November to March, though keep in mind that December to March and July and August are the busiest times of years for tourism.  I was there in February and it was lovely.
Safety in Guatemala
Overall Guatemala is pretty safe (though Guatemala City is less safe and doesn't have much to offer, so I would skip it. However, it pays to take precautions. I got pickpocketed on a corded bus in Guatemala because I wasn't careful enough. Learn f
rom my mistakes! Don't skip traveling to Guatemala – it's a great country to visit – but do go knowing what not to do. I have compiled a list of common travel scams (I have had many tried on me – and even been the victim of a couple of them), with advice on how to avoid them.
I also have a post on 13 things NOT to do while traveling that is helpful to know.
Planning and packing for Guatemala
In addition to this blog, I find having a guidebook helps with planning.  Buy the Guatemala Lonely Planet here. You can also use my Trip Planner, which breaks down each step of planning and preparing for vacations.
When you are ready for your trip, check out my Essential International Vacations Packing List.
If you are planning to visit other parts of Guatemala (and you should!), you must go to Lago (Lake) Atitlan. it is one of my favorite places on the planet! Check out the different villages around the lake and where to stay around Lake Atitlan.
Additional consideration: Travel Insurance
You need travel insurance when you visit Guatemala.  Antigua is much safer than the capital city, but you should take basic precautions.  Read in detail about travel insurance here.
A great insurance option is Travelex.  It has coverage for all you'll need. You can compare Travel Insurance plans here or get a quote right now:
---
Enjoy the chocolate!
Do you have any stories of Guatemala? I'd love to hear them. Comment below.  
If you liked this post, please share the love and Pin it to your Food Travel board!
Read about other food and wine experiences:
---
---
Travel Collecting is a participant in the Amazon Services LLC Associates Program, an affiliate advertising program designed to provide a means for sites to earn advertising fees by advertising and linking to amazon.com. Amazon and the Amazon logo are trademarks of Amazon.com, Inc. or its affiliates.