As I get to the top of the ridge, my jaw drops in amazement at the scene in front of me. Cerro Torre, a sheer, jagged pinnacle, towers behind the circular Laguna Torre lake.  A glacier glides down the side of the steep mountain.  Two iridescent blue icebergs float lazily around the lake.  This is Patagonia really putting on a show. 
This is why I have traveled half way across the globe and hiked nine kilometers to be here.  It is truly one of the most breathtaking views I have ever seen.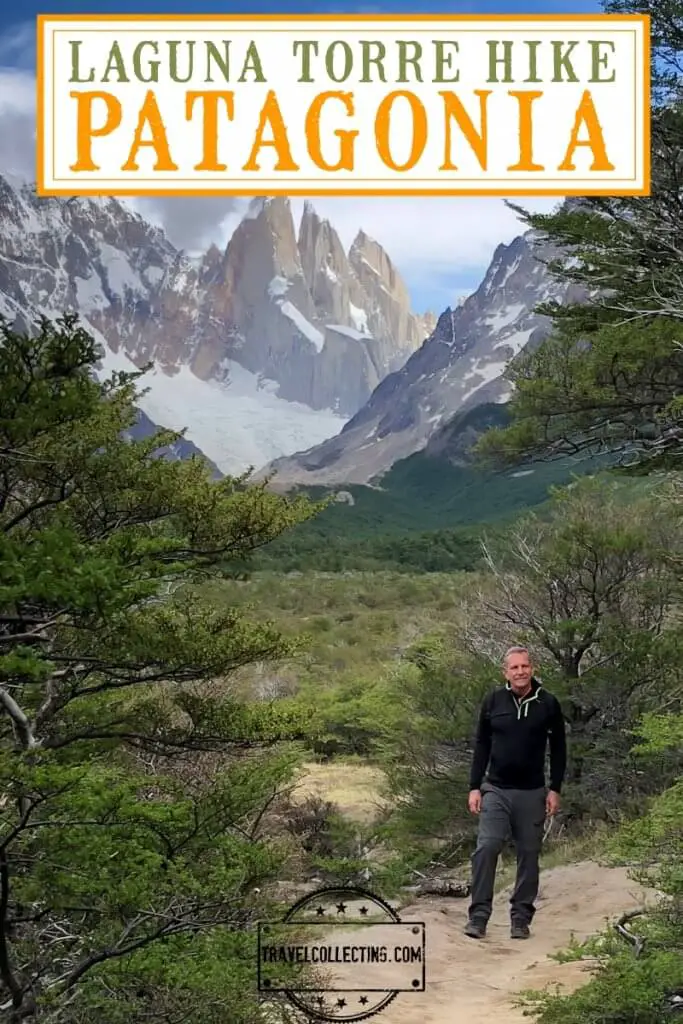 Please note that some of the links below may be affiliate links.  If you make a purchase through these links, I earn a small commission at no additional cost to you. Read my Disclaimer for more information.
FREE DOWNLOAD
Subscribe to monthly updates with tips for planning, travel inspiration and trip ideas and get instant access to the free PDF of this
Guide to the Laguna Torre Hike
Laguna Torre Trail Details
Laguna Torre Hike Essentials
Do I need a map to hike the Laguna Torre trail? 
No.  The trail is always obvious and there is no need of trail markers or a map.  If you visit in peak season, you will almost certainly see the people on the trail, though it never seems crowded.   However, if you want to see a map, I have included one below.
The only thing you really need a map for is to find the trailhead. 
Where does the Laguna Torres hike leave from?
The trail departs from El Chalten and ends at Laguna Torre. 
El Chalten is a tiny town in Argentinean Patagonia that is nestled in amongst towering mountains in Los Glacieres National Park.  It is the self-proclaimed Hiking Capital of South America.  The town itself is not especially pretty, but the setting is second-to-none.
Although you will be hiking in the national park, you do not need to pay an entrance fee (unlike at the southern end of the same park, where you do need to pay to see Perito Moreno or take a glaciers tour from El Calafate)
The Cerro Tore trail is one of the most popular – and best – of the El Chalten hikes.  You can walk to the trailhead from most places in El Chalten since the town is small, but at the end of the day, you may be glad not to have walk through town to get back to your hotel, so there is a small parking area at the trailhead.  
What's the best way to hike to Laguna Torre?
There are a few different options:
Self-guided Hike
It is possible to travel around Patagonia independently by bus or car (if you are driving, the nearest car rental is in El Calafate (rent a car here) and make sure you read my Guide to Driving in Patagonia) and arranging hotels or camping yourself (if you are going to Torres del Paine, check out my guide on Torres del Paine Accommodations). 
Following this guide, trekking Cerro Torre is something you can do by yourself (though you should always hike with someone else in case something goes wrong).  The trail is easy to follow and even novice hikers who are fairly fit can do it. 
If you are new to hiking, read my Hiking 101 Guide.
You will need to follow basic hiking trail etiquette (read all about it here), take plenty of food and water and have appropriate gear with you.
Guided Hikes to Laguna Torre, Argentina
It's unlikely you will get lost if you do the Cerro Torre trek by yourself, but having a guide does add an extra layer to the experience.  A guide can give you extra bits of background information that enhance the hike, and can make sure you see all the best view points along the way.
Here is a good choice for the Laguna Torre hike El Chalten Day Trip.  In addition to a guide, it includes hotel pick up and lunch and has a maximum 15 to the group.  Book the guided hike here.
Multi-day Hiking Tours
There are several famous (for a reason) hikes in the region.  You can do them as day hikes from El Chalten, but spending a night (or three) in the mountains is an experience that's hard to beat.  Here are some recommended multi-day hiking tours from El Chalten.
2-day hiking trip (Laguna Del Torre, Laguna de los Tres and Mount Fitz Roy)  Combine trekking Cerro Torre with the other main El Chalten mountain, Fitz Roy, and the stunning Laguna de los Tres.   Transfer to El Pilar – Laguna Torre trek – El Chalten.  Includes meals, overnight camping in a tent in the Poincenot Campground (sleeping bag and insulation mat included), and a guide.  Book the two-day trek here.
2-Day Hiking Trip (Cerro Torre and Fitzroy plus Laguna de los Tres) The two-day trek includes El Chalten – Laguna de Los Tres – Poincenot Campground (overnight) – Laguna Madre e Hija – Laguna Torre – Chalten.  Book the trek with overnight camping here.
4-Day Hiking Around Fitz Roy and Cerro Torre. Combine the Cerro Torre trek with several other great hikes in an epic four-day adventure.  El Chalten – Rio Electrico – Piedra del Fraile Refugio (overnight) – Piedra del Fraile – Laguna de los Tres – Poincenot campground (overnight) – Madre e Hija – Laguna Torre, Patagonia (overnight) / Cerro Torre – Chalten.  Book the four-day Patagonian hiking adventure here.
Patagonian Tours that can include Laguna Torre
There is a lot to see in Patagonia.  As mentioned above, you can arrange everything yourself, but it can be a hassle for some people to do this.  If you prefer to have the arrangements made for you, then there are plenty of tours on offer.  Here are two great tours that include a free day for hiking in El Chalten!
9-Day Patagonia Highlights Tour.  A nine-day tour of Patagonia that includes include El Calafate and Perito Morena Glacier, El Chalten where you can do the self-guided Laguna Torre hike, Torres del Paine and Puerto Natales.   Book the 9-day tour here.
13-day Best of Patagonia Tour. The best of Patagonia, including El Calafate/ Perito Moreno Glacier, a day in El Chalten to do the Laguna Torre hike, Puerto Natales, Torres del Paine National Park, Punta Arenas, Ushuaia/ the Beagle Channel/ Tierra del Fuego National Park.  A truly awesome trip! Book the 13-day tour here.
When is the Best Time to Hike to Laguna Torre, Argentina?
The best time for Cerro Torre trekking is late spring and summer (October – April).  I did the hike in mid-November and the weather was perfect.  The next day, however, it was cloudy and you couldn't see any of the mountains and then it snowed!   The day after that, it was clear and sunny again for our hike to Fitz Roy. 
Patagonian weather is notoriously bad.  The winds are legendary and although spring is beautiful, with plenty of flowers and often sunny skies, these are also the windiest months and the winds can be VERY strong.  It can also change suddenly, so it can be sunny in the morning and then snowing a couple of hours later!  Be sure to dress and pack appropriately!
What to Take on the Laguna Torre Hike
If you are doing the hike as a day trip, then make sure you take hiking essentials with you.  Check my Day Hike Packing List here.
Read my recommended list of hiking gear here.
If you need to buy some of the extras, check out my guides to buying the best:
Do I need Travel Insurance for the El Chalten – Cerro Torre hike?
Yes, you should always get travel insurance.  When you are hiking, you are walking on uneven surfaces in unknown places with possibly inclement weather.  You just never know if you will have an accident or get sick and need a doctor.  This is where travel insurance comes  on.  Of course, it is handy in other situations too.  If you are not sure about it, check out my Guide to Travel Insurance.
A good insurance option is Travelex.  You can compare Travel Insurance plans here or get a quote right now:
Tips for Hiking the Laguna Torre Trail
Get an early start
The trail is least busy early in the day, the weather is often better in the morning (the day I went, the mountains clouded over soon after we left the lake for the hike back), and having lots of time means you don't need to rush (so you stay at the lake longer enjoying the views or waiting for clouds to clear).  So, it is best to start early in the morning.  We started the trek at 8:00am and this was perfect.
Dress for all seasons
Even if it is sunny when you leave, it could be snowing when you return (even in summer).  Check out my Hiking Packing List for ideas on what to take and include some of the extras.
Take plenty of water – and toilet paper
Hydrate, hydrate, hydrate.
There are a couple of places with toilets – you will see signs.  One about half way along and one at the Campamiento de Agostini at the 8 km mark.  They are kind of nasty and you will want to make sure you have your own loo paper.  Take a Ziplock bag with you so that you carry everything back out in case you have to go where there is no toilet. 
The best photography is at dawn (and you can camp near the lake)
Camp. de Agostini is along a short side spur trail at the 8 km marker.  Staying here overnight means you can get to the lake for sunrise, which the best time for photos, as Cerro Torres and the surrounding mountains are saturated in color in the first rays of dawn.  It also means you can spend much longer in this incredibly beautiful place.  There are trees to provide some shelter, but keep the strong winds in mind and fasten your tent securely. 
If you decide to camp on a self-guided hike, check out my guides to buying the best:
Where to Stay in El Chalten
El Chalten exists for two reasons – to help stake a border claim for Argentina and to service travelers. So there are plenty of places to stay. Top picks are:
Chalten Suites Hotel: 3-star hotel located right in the middle of town.  You can walk to the trailhead in 11 minutes.   Airport shuttle, and free parking and Wifi.  Nice breakfast with a view of the mountains and garden.
Andino Aparts: Apartments with a kitchenette with microwave and fridge. Free parking and Wifi and continental breakfast is available.  Location on edge of town (about a 10-minute walk to the center), but right next to the south trailhead for the Laguna Torre hike. 
Cabañas Austral: Cabins with small kitchens, free parking and Wifi and a BBQ area. Located on the main street, about a 10-minute walk to the trailhead.
Hosteria El Puma: A cute inn with a tasteful and comfortable lounge area and nice views.  Free Wifi, breakfast and transfers from the bus station.  Just a six-minute walk to the trailhead.
Luna Country Hostel:  A colorful hostel with a garden, shared kitchen (some rooms also have a kitchenette with a microwave and a fridge) and free WiFi.  Right next to the southern trailhead.
Where is El Chalten and what is the currency?
El Chalten is in Argentina.  The currency is the Argentina peso.  Check the current exchange rate here. 
Visa requirements for Argentina
Visa requirements vary from country to country and can change quickly.  At the time of writing, visas were not required for Americans, but you should always check your home country's official government visa websites:
For citizens of other countries, use this helpful website (though it's best to always check with the embassy as well). 
FREE DOWNLOAD
Subscribe to monthly updates with tips for planning, travel inspiration and trip ideas and get instant access to the free PDF of this
Guide to the Laguna Torre Hike
Laguna Torre Hike Description
0-1 kilometers
The trail starts with a short but steep climb up to the trail sign, then past green fields. 
You will pass a sign that indicates (in Spanish) highlights of the trail.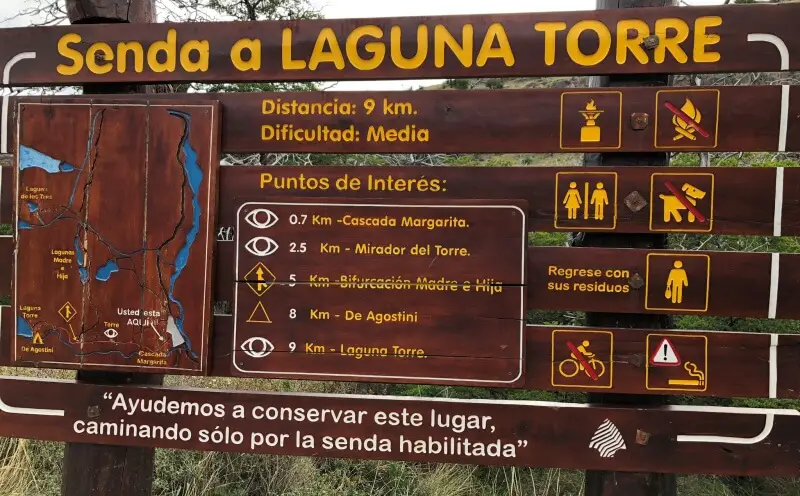 700 meters/ 0.4 miles into the hike, you will come to the Mirador Margarita.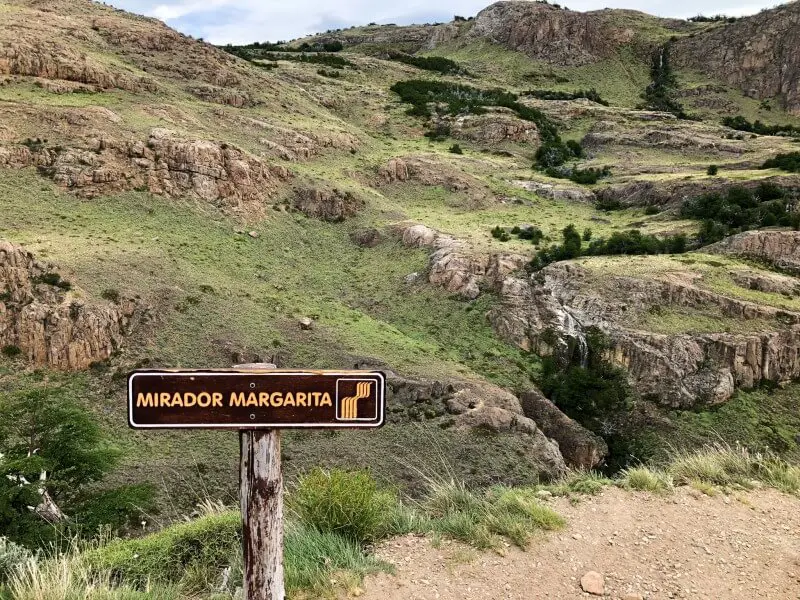 The Rio Fitz Roy (Fitzroy River) is far below and across the way is a narrow ribbon of falling water.  This is the Cascada Margarita.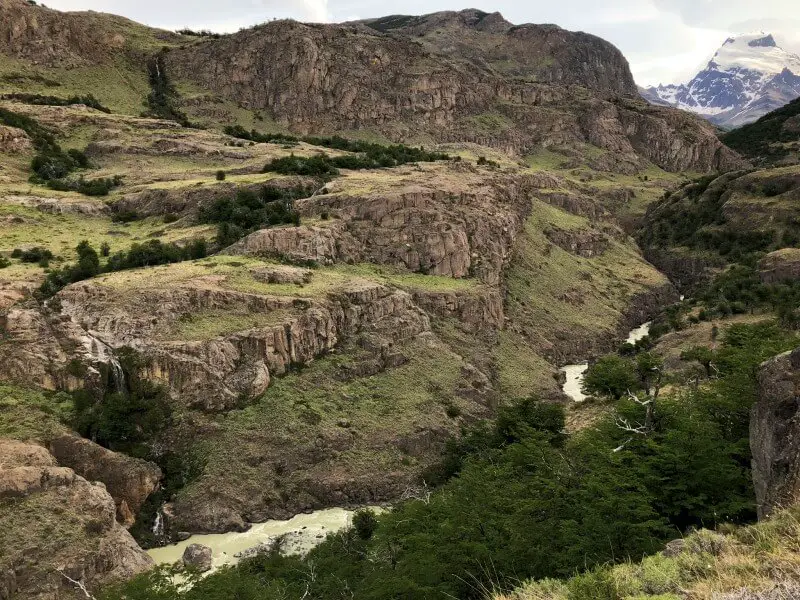 It's pretty enough, but off to the right are amazing (albeit somewhat distant) views of Fitz Roy, Cerro Torre and Cascada Mararita with the Rio Fitz Roy below.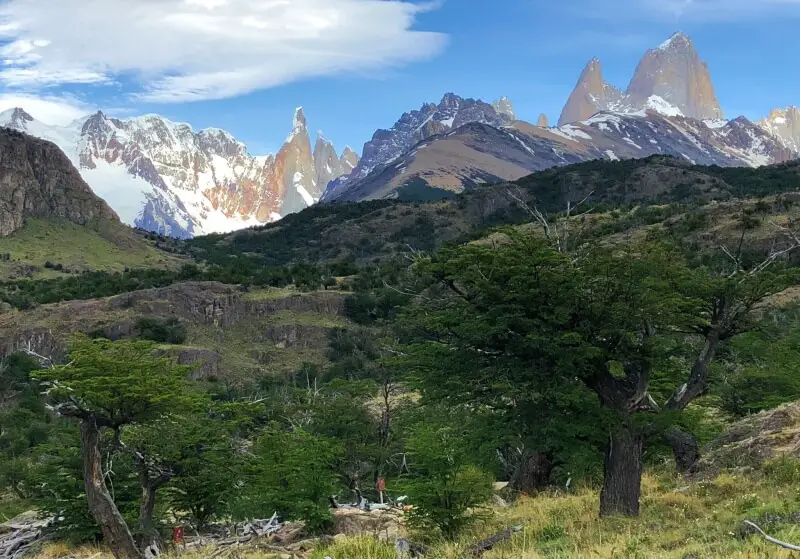 1-2 kilometers
This section of the trail passes through woods with distant – but stunning – views of the mountains behind the near hills.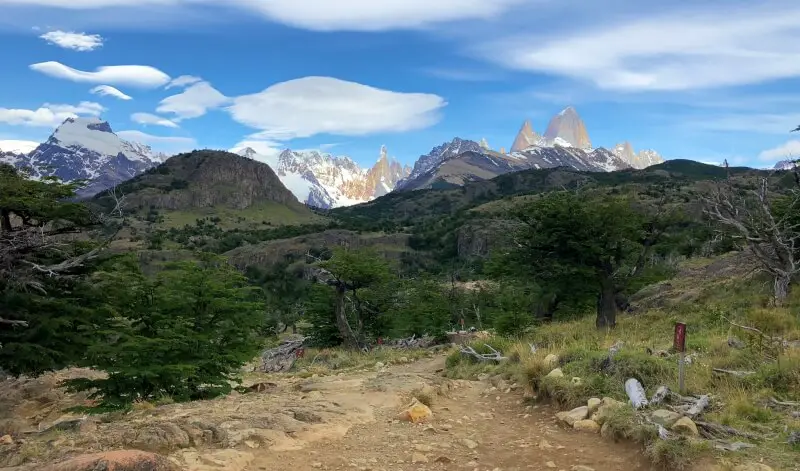 2-3 kilometers
Much of this section is uphill.  You will pass fields of dandelions in spring at the first part of this section.  The open spaces turn into woods.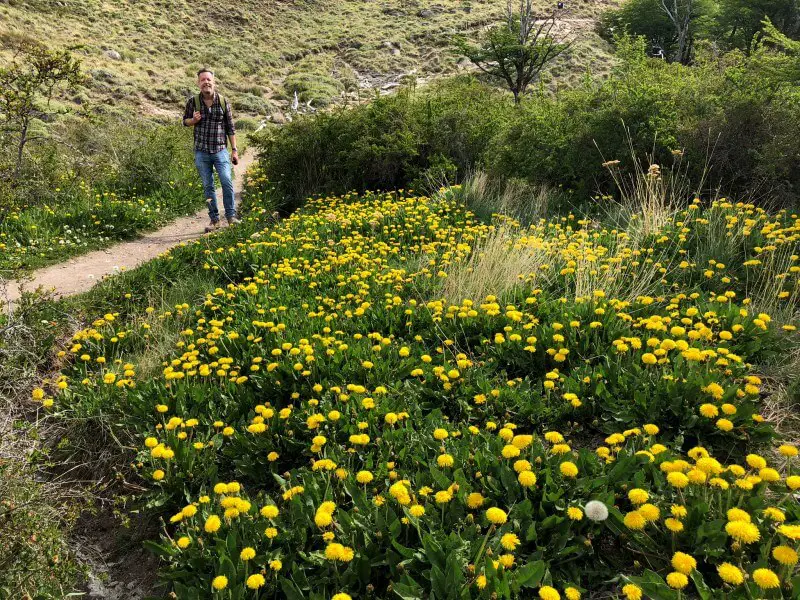 About half way along, you will come to the second major lookout on the trail, the Mirador Del Cerro Torre.  There are wonderful views of Cerro Torre, Fitz Roy peaking out over the tops of the surrounding mountains and the valley.   If you don't want to do the full hike, this is a good destination and turn-around point.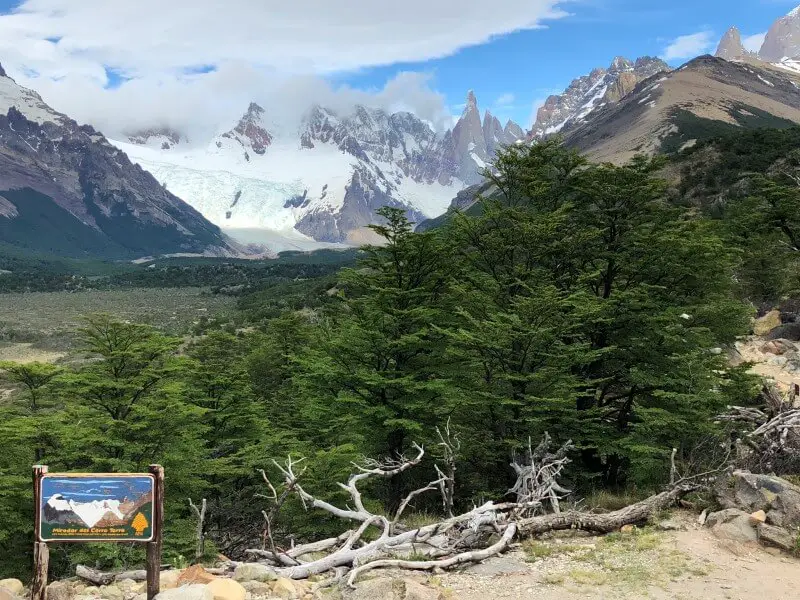 If you continue beyond the Cerro Torre lookout, you descend into a valley almost immediately after leaving the lookout.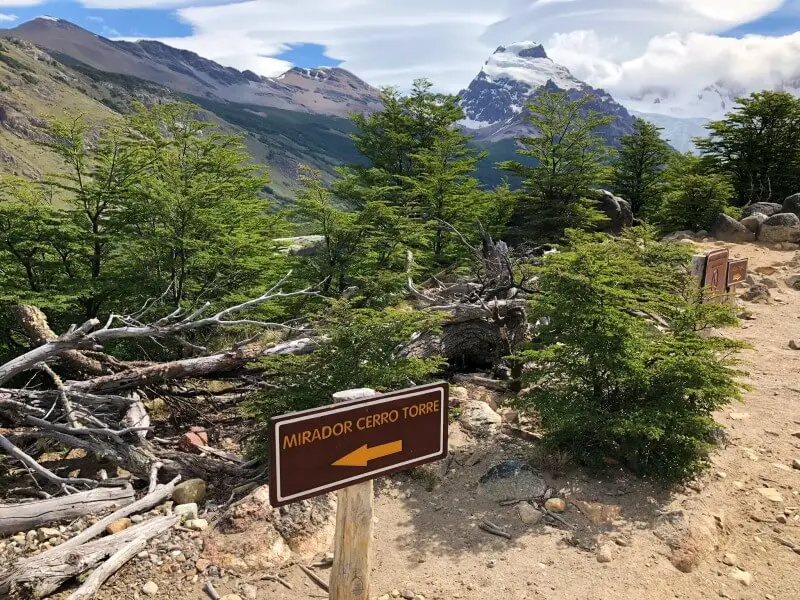 3-4 kilometers
There is a small lake in a valley soon after the 3 km marker.  It's a pretty spot, though in the context of the dramatic scenery on the rest of this hike, a little underwhelming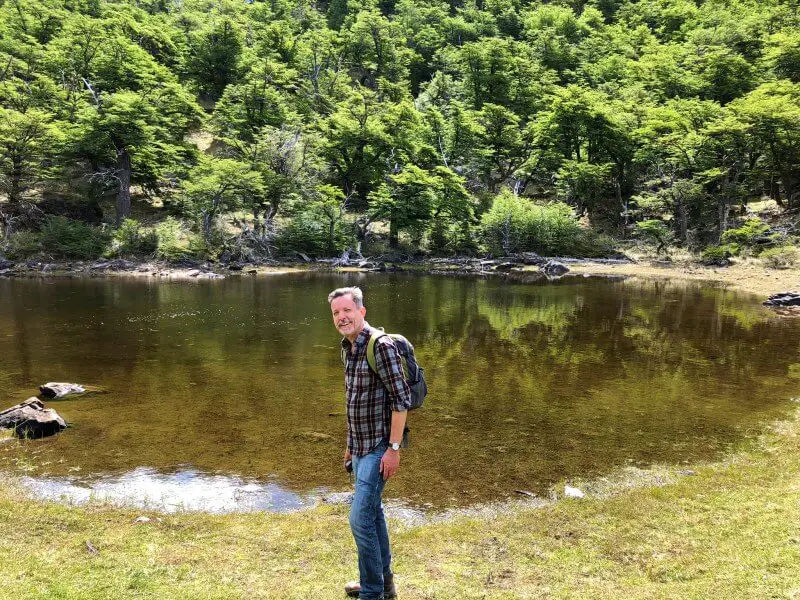 The trail runs along the edge of a valley, through trees and the mountains visible in the distance for much of the way.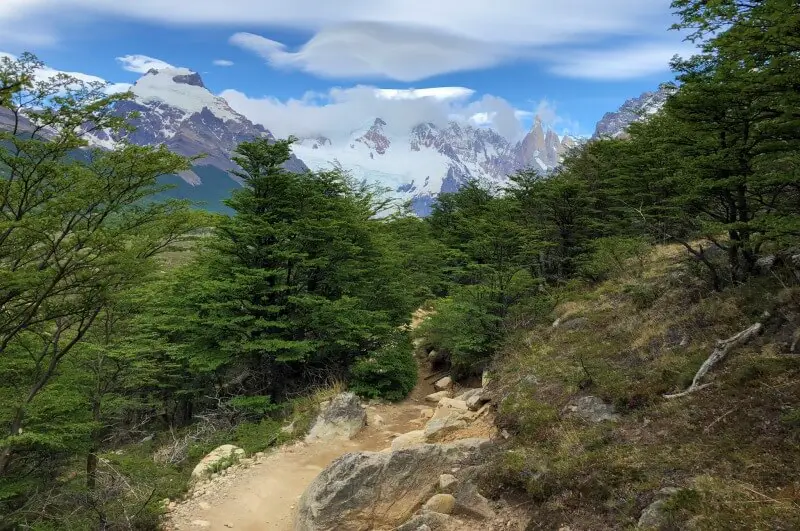 4-5 kilometers
This part of the trail is easy.  Much of it is flat with pretty dandelions on November. There are nice views of the mountains.  There are quite a few rocks on the paths in parts, while other sections are dirt (which can be muddy after rain).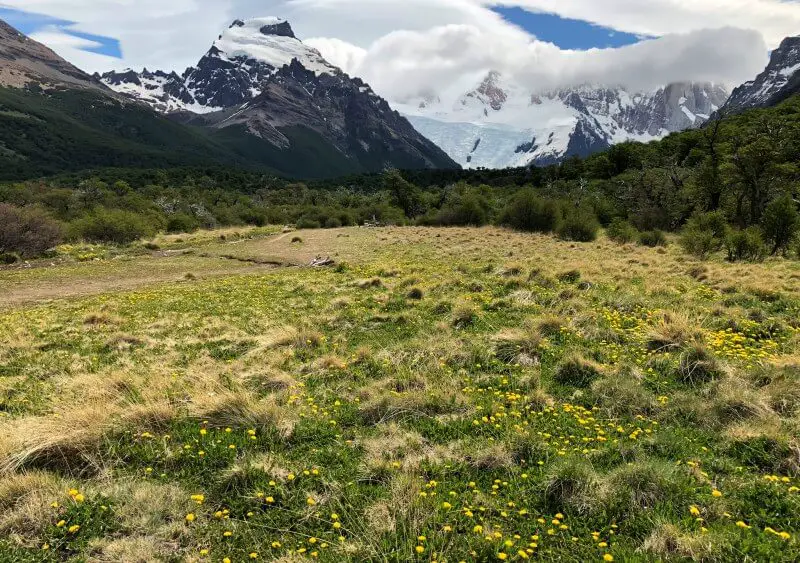 Despite the mountain views in front of you, it is worth looking back sometimes too.  There was one of the famous crazy cloud formations on the day I did the hike.  These are created by the winds whipping around and 'herding' the clouds into UFO-like shapes.
Around the 5 km mark, the path splits to Madre e Hija (Poincenot/Laguna de Los Tres) off to the right and to Cerro Torre (the main path, straight ahead). Laguna de los Tres is another beautiful hike.
5-6 kilometers
This is one of my favorite sections of the hike.  At the edge of the flat part you will come to a valley.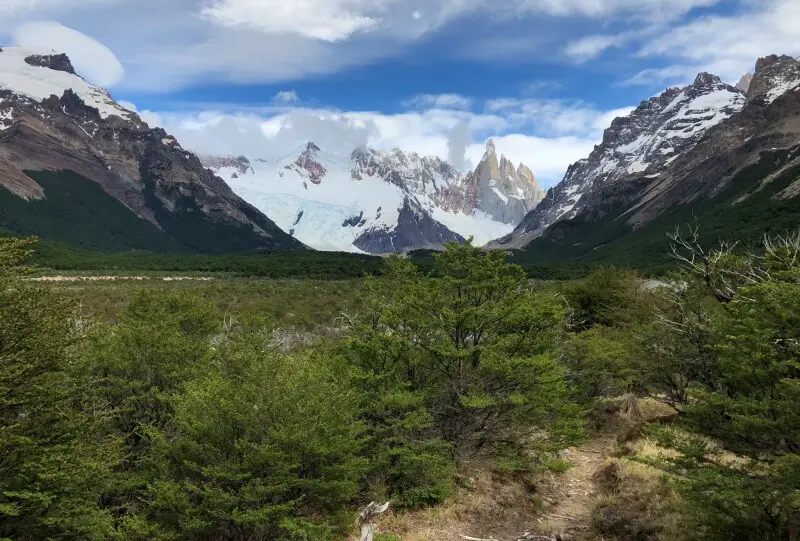 There are stunning views of the Adela mountains and Cerro Torre, with the valley in the foreground.  There is a section with dead trees that look great in photos, as well as some small ponds that make nice reflections in still weather. 
The woods off to the right are where the trail goes next.  I took far too many photos in this section of the trail!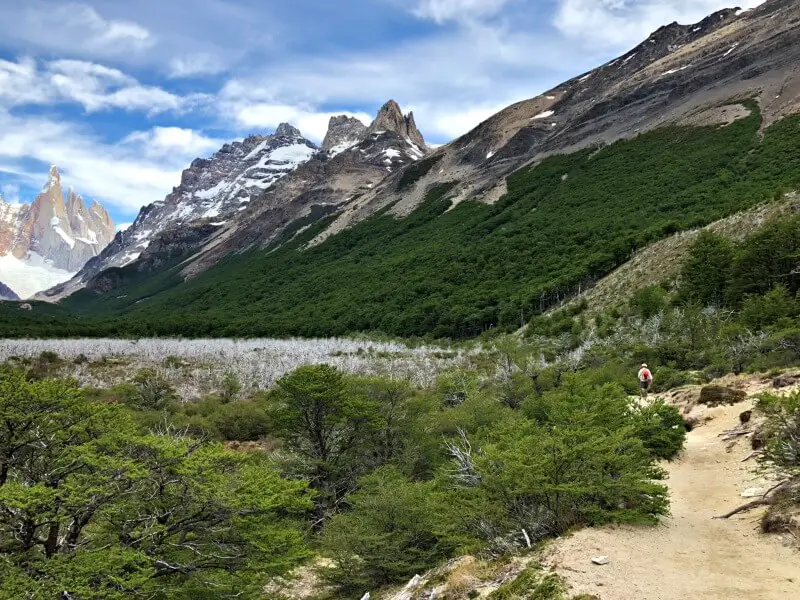 6-7 kilometers
For most of this section, you will be in woods without views of the mountains.  It is flat here and the walk is really lovely, in the cool of the forest.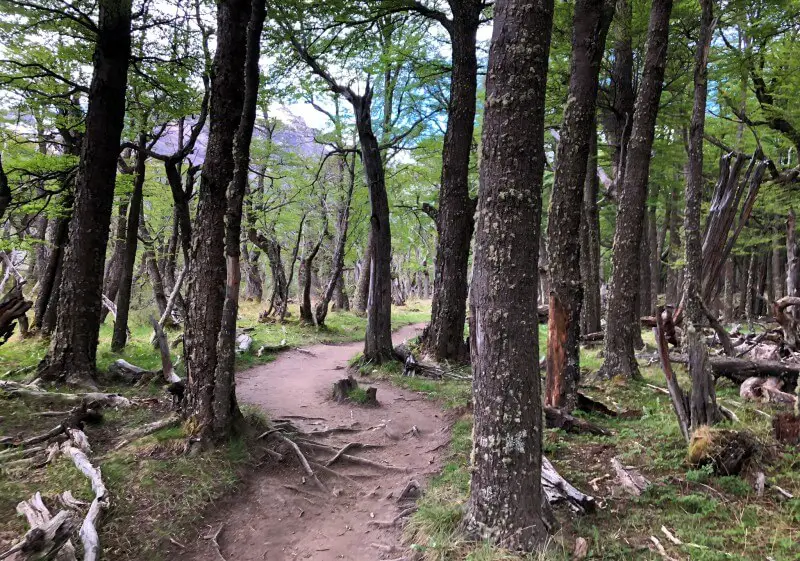 You will come to a fork in the path.  Off to the right is the path to Camp Prestadores (and toilets) while the main trail continues to Camp de Agostini and Lag.Torre.  make sure you take the main/ left trail.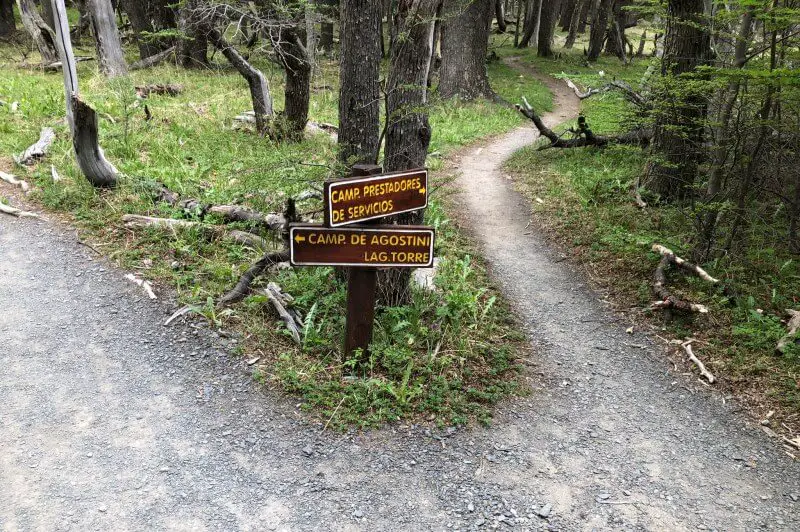 Shortly before the 7km marker, a short spur trail leads down some stairs and takes you to the river.  There is a nice view of the (very pebbly) river.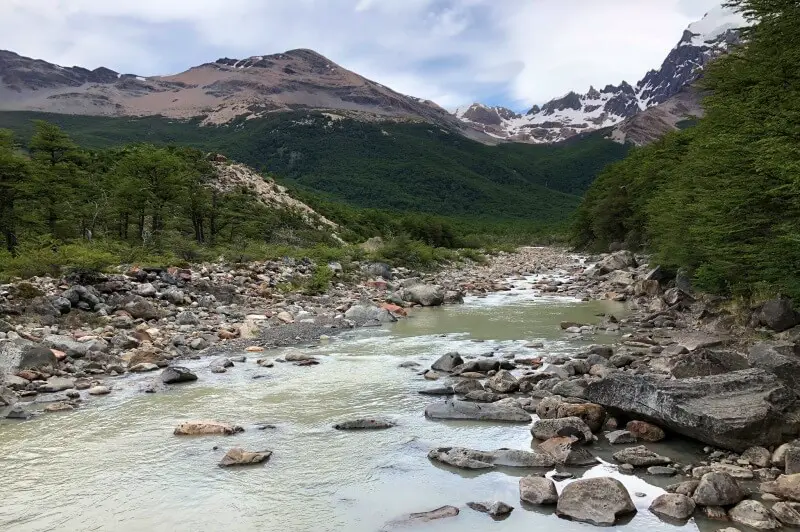 7-8 kilometers
The trail goes down some stairs and into back into the woods. 
You will cross a wooden bridge across a narrow creek. 
The path runs alongside the pebbly river for part of this section.
8-9 kilometers
At the 8 km mark, there is a sign indicating a turn off to Camp, de Agostini to the left and the main trail to the lake to the right.  There are toilets at the campground, so if you need to go, this is a good place.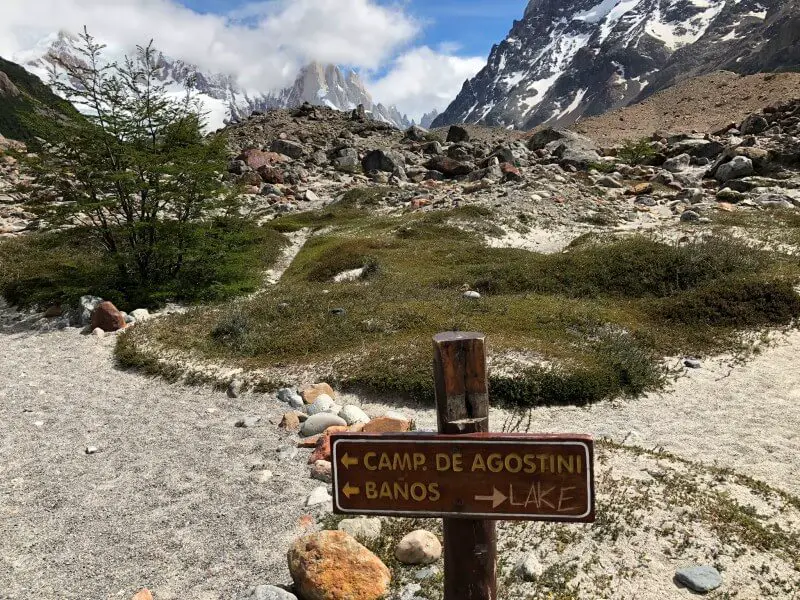 The main trail continues along a boardwalk and then up a rocky hill.  It's wide and not too steep, though the rocks make uneven walking.   
The small hill blocks the view of the lake, so when you crest the ridge, there is a big reveal.
9-10 kilometers: Laguna Torre and Mirador Maestri
Go down to the lakeshore, where you can rest, eat lunch and take a million photos. 
If you continue along the top of the ridge to your right, the trail becomes a narrow, rocky track on a ridge, with drop offs on both sides.  If it's not too windy, it is worth the extra km (2km each way) to Mirador Maestri.  There is a closer and clearer view of the glacier form there.  The day I went, it was really windy and although a few hardy people made it to the end, I found the narrow ridge trail too scary with the wind threatening to blow me off my feet, so turned back before the end.
The Verdict
[table id=68 /]
---
FREE DOWNLOAD
Subscribe to monthly updates with tips for planning, travel inspiration and trip ideas and get instant access to the free PDF of this
Guide to the Laguna Torre Hike
Happy hiking!
Do you have any stories of Patagonia ? I'd love to hear them. Comment below. 
If you liked this post, please share the love and Pin it to your Patagonia and Hikes boards!
Read more posts about Patagonia:
---
James Ian has traveled to 82 countries and all 7 continents.  He is passionate about experiential travel, i.e. meaningful travel that actively engages with the environment and culture.  He helps people have similar experiences that involve active participation in activities and festivals; engaging with the local food and handicrafts through lessons and food tours; and interacting positively with environment by hiking, riding, rowing, diving and low/no impact animal encounters. 
---
Travel Collecting is a participant in the Amazon.com Services LLC Associates Program, an affiliate advertising program designed to provide a means for sites to earn advertising fees by advertising and linking to amazon.com. Amazon and the Amazon logo are trademarks of Amazon.com, Inc. or its affiliates.