I am riding a mountain bike through Baños de Agua Santa in the Andes of Ecuador.  The scenery is stunning. 
On one side is a huge green cliff, with Tungurahua Volcano towering behind it.  The top of the volcano is shrouded in clouds, which also obscure the smoke billowing out.  On my other side, a gorge plunges down to a river rushing below with a suspension bridge crossing it.
I quickly leave town (which is small) and start my ride down the Andes.  I enjoy the sensation of coasting downhill as I soak in the scenery. A waterfall gushes down the hillside nearby.
---
No time right now to read about the day trip from Banos to Puyo on a bicycle along the Route of the Waterfalls? Pin it and save it for later: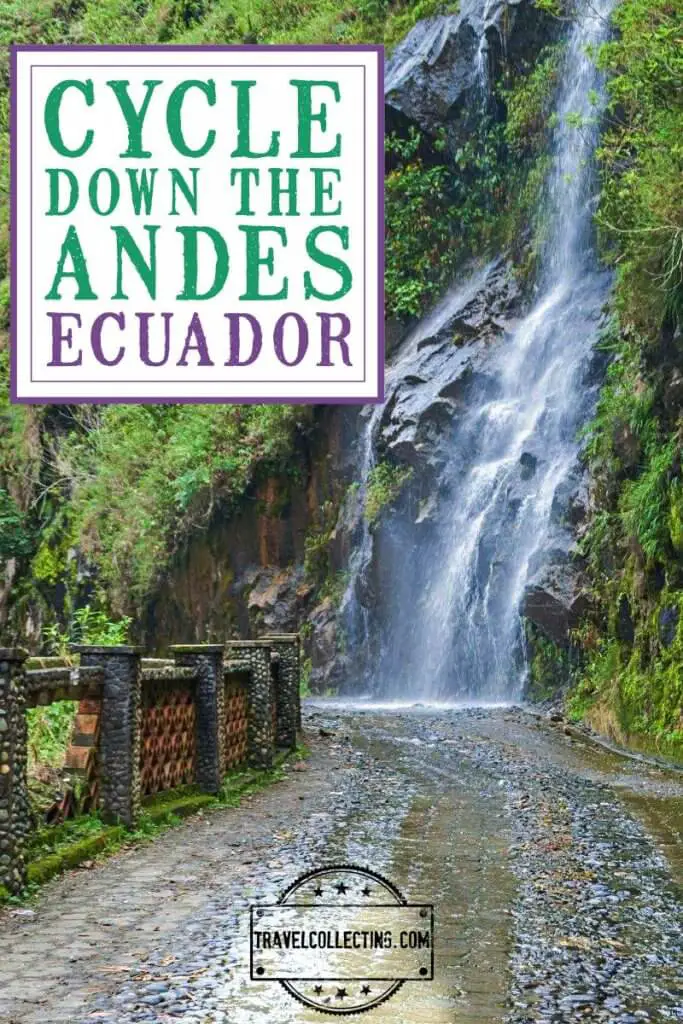 Please note this post may contain affiliate links, which means we may receive a commission, at zero cost to you, if you make a purchase through a link. Please see our full Disclosure for more information. If you have any questions, please let me know.
Cycling from Banos to Puyo
Ecuador is a small country but has a bit of everything.  It starts at the Galapagos Islands, rises from the beach to the height of the Andes with active volcanoes, great hiking and colorful markets, and descends down the other side to the Amazon rainforest.  You could spend a month here and still not experience everything, despite its compact size. 
Banos has become a center for adventure activities including ziplining, canyoning, white water rafting, jungle trips and more. Find a full range of fun activities in Banos here.
One of the highlights of travels  in the Andes in Ecuador is Baños and the route of waterfalls.  And one of the best ways to experience it is the bike ride from Banos – Puyo.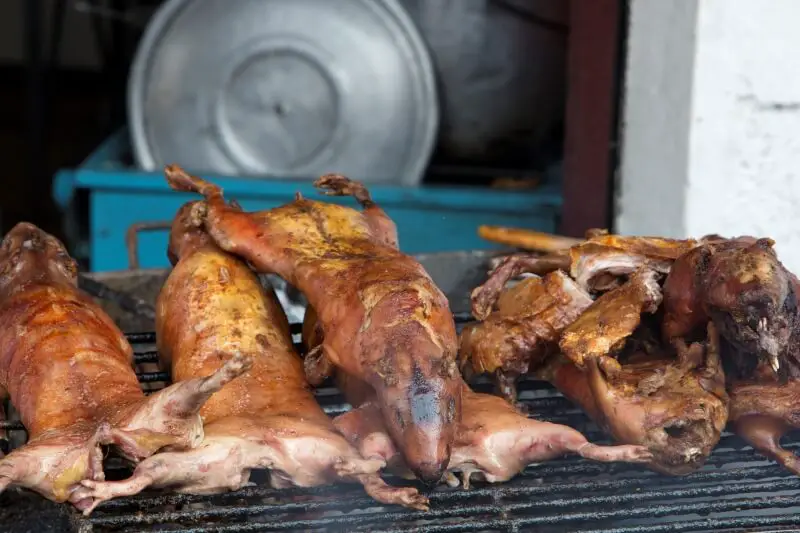 Now you may be suspicious – I was.  I like cycling, and consider a great way to experience places I visit, but I don't do it that often.  I had had a great time cycling around the Aran Islands in Ireland, but the distances were small. 
I also hate cycling uphill because it's really hard if you're not used to it.  I wasn't very fit, so was definitely not interested in doing that. 
However, cycling is such a great way to see the surroundings – the pace is slower, you can stop when you want and the experience itself is fun (if it doesn't hurt) – that I thought the idea of cycling DOWN the Andes sounded great.
Banos waterfalls (La Ruta de las Cascadas, Banos, Ecuador)
Ecuador has huge mountains, rain and melting snow and this route is often called the Route of the Waterfalls (Ruta de las Cascadas) because of the number of waterfalls along the way. They vary in size from small trickles to thundering giants.
Taking a Tour
You can do this Route of the Waterfalls by yourself, but if you're looking for a more stress-free option, you might want to go with a guide. There are several options:
Book a guided cycling trip along the Route of The Waterfalls
Book a trip on the Route of the Waterfalls in a Chiva truck
Book a guided trip to the Route of the Waterfalls and The Treehouse
Renting a bike
Riding bikes in Banos is very popular and there are a lot places in Banos that rent mountain bikes, so you won't need to rent them in advance.  The price, quality and inclusions can vary slightly, so shop around a little. 
I rented a bike that had 21 gears and brakes that worked fine (I checked). They gave me a chain and lock, a repair kit and spare inner tube in case I got a flat tire.
The last time I changed a bicycle tire was over 20 years ago, so if I'd actually had a puncture, I probably would have been flagging down a passing bus or truck heading back to Banos (easy to do), rather than repairing it myself.  Fortunately, I didn't get a flat tire.
Book a bicycle for a day online here
The Andes bike ride
I set out about 8:45am.  The 70 km Banos to Puyo bike ride down the eastern slope of the Andes would take me along the road from Banos, Ecuador (altitude is 5,971 feet/ 1,820m) to Puyo, Ecuador (altitude 3,116 feet/ 950 m) on the edge of the Amazon rainforest.  A total descent of about 2,885 feet/ 870 meters.
70 km sounds like a long way, but actually it was generally an easy ride because most of the way was downhill.  There were a few uphill parts, but they weren't too steep and didn't last too long. 
So, it wasn't entirely effortless, but there was a LOT of cruising down with minimal effort, which I loved.  The downhill parts were not overly steep, so there was also no danger of careening out of control.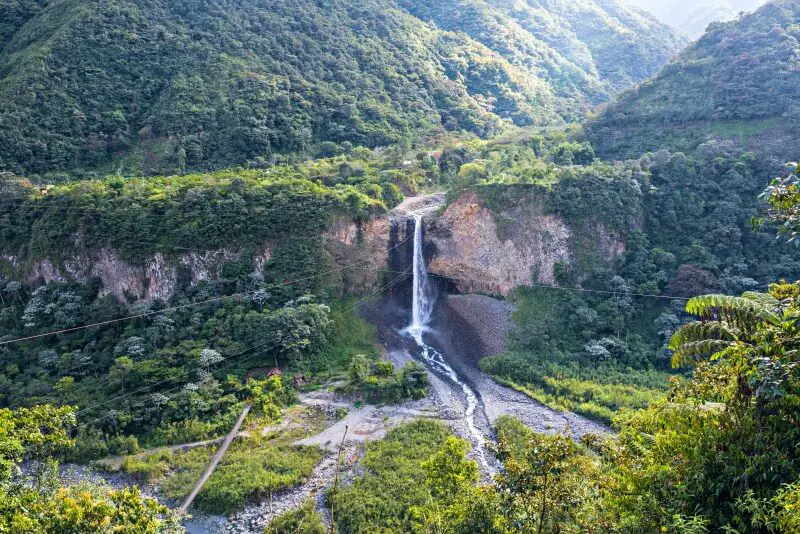 The road
It is a fairly major road, so there is some traffic, but you can still really enjoy it.  There are also some bridges and tunnels along the way.  Some of the tunnels have a bike path going around them, which is nicer than going through a narrow tunnel with other traffic.
The scenery
One of the really interesting things about this experience was seeing the scenery change and feeling the temperature change. I started out in the huge Andean hills, with towering active volcanoes and cool air. 
As I descended, I rode through large hills covered in cloud forest, with mist clinging to the trees around me.  There were views down enormous verdant valleys, with narrow rivers snaking below.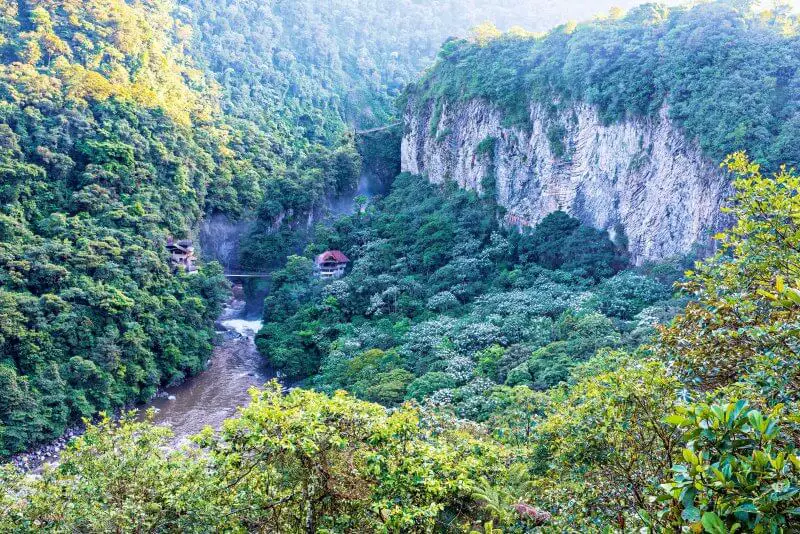 Lower still and the hills were smaller, now covered in steamy tropical rainforest.  Nearing Puyo, as I left the mountains behind completely, there were amazing views of the Amazon Rainforest spreading out flat to the horizon.
Cycling the Route of Waterfalls in Ecuador
True to the name Route of the Waterfalls, along the way, I passed several waterfalls.  I actually passed under one that cascaded on to the middle of the road.
Another couple of small roadside waterfalls formed streams that flowed across the road, which I forged easily on my bike.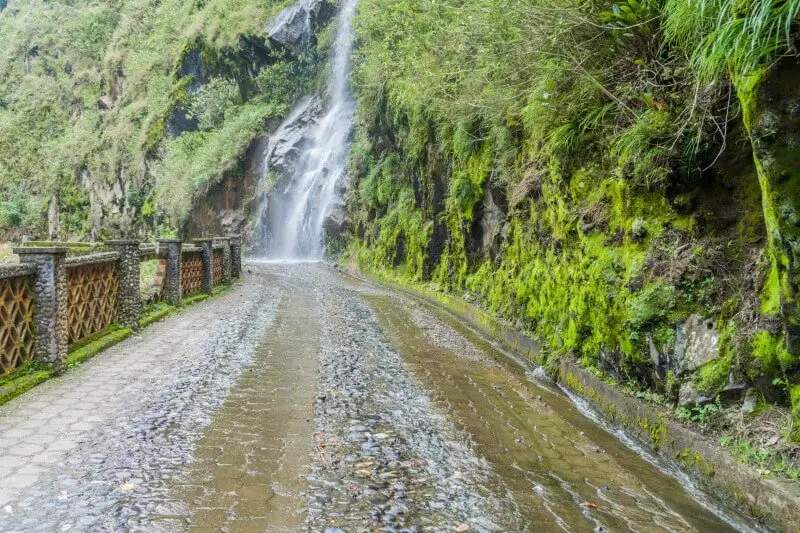 The most spectacular falls on the Banos waterfall route are the Pailon del Diablo (the Devil's Cauldron, Ecuador).  "Waterfall" is definitely inadequate to describe it. 
I got off my bike (this is where the chain and lock came in handy) and hiked down.  It's not overly strenuous (about a 15-minute walk), but there are steps, walkways and suspension bridges over gorges, and you will get wet.  The falls are stunning, set amidst lush tropical rainforest.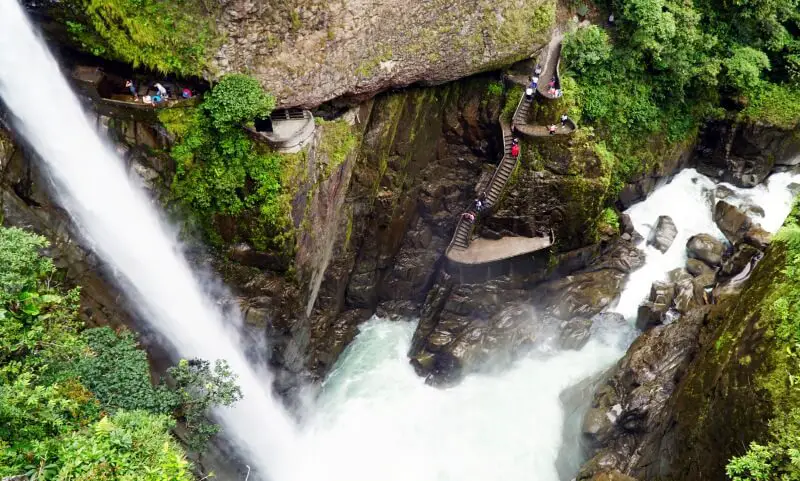 They crashed down with such force that spray flew high into the air and the air sparkled as the sun glistened on billions of tiny drops of water.  A rainbow appeared.  It was perfect. You can also go behind part of the falls (through a tunnel), which is really cool.
The return trip to Banos, Ecuador
One of the best things about this day trip down the Andes was that you do NOT need to ride back up the mountain!  I arrived in Puyo about 2:40 pm and caught a 3:00pm bus back to Banos with my bike on the roof. 
Puyo itself is an unremarkable town.  There is little reason to stay there.  The journey, not the destination, is the experience.
If you decide to go back before getting to Puyo (the Devil's Cauldron falls are only about 20 km from Banos), you can wave down a passing bus or truck easily There are many that will stop, so getting back is not a problem. 
The trip back took about 1 ¾ hours. A minute or two after leaving Puyo, it started to pour and rained constantly throughout the trip.  It slowed to a drizzle just as we arrived back in Banos, so I lucked out.
Post-ride relaxation
Banos is named after hot springs (Baños).  Ecuador is volcanic so there are a lot of hot springs.  Baños especially is famous with Ecuadorians for the thermal baths, which are a great place to sooth away any sore leg muscles.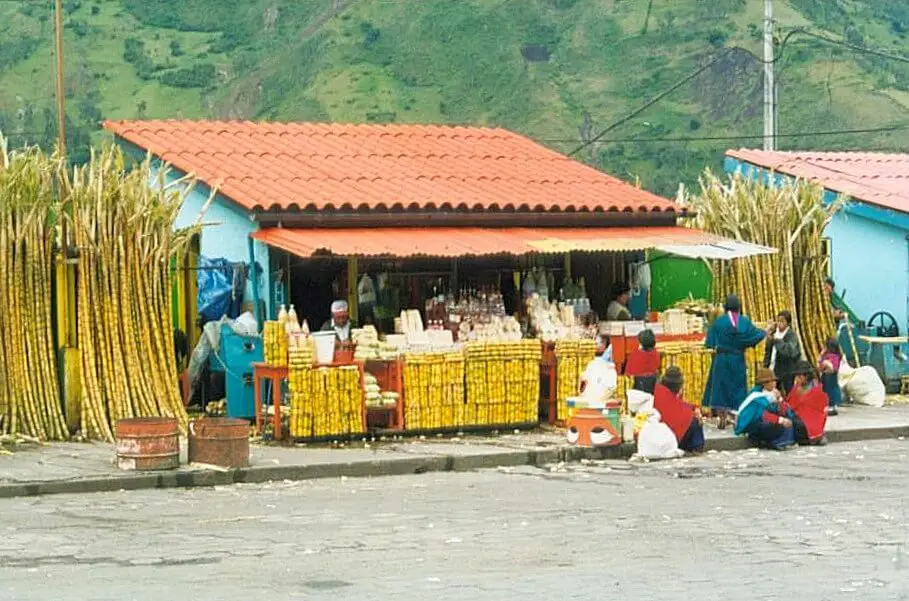 Local taffy (molasses candy called melcocha), one of the yummiest Ecuadorian food, is made in doorways of shops.  Watching them pull and stretch large ropes of it, then double it over and pull and stretch it again is mesmerizing.  The taffy is a sweet way to end the day. 
As is chewing on a stalk of sugar cane.  Stalls throughout town sell bags of raw cane cut into small pieces. You chew and suck on it to extract the sweet juice, being left with pulp.
The verdict: Cycling Banos, Ecuador to Puyo
This was an enjoyable ride and when you visit Ecuador, you should definitely do this bike ride. 
It rains a lot in Banos, so finding a sunny day can be tricky, but when the sun is shining, this is a really great experience. It is not overly physically taxing despite the distance covered because most of it is downhill. 
Seeing the scenery change dramatically as you descend is really cool because you get to experience a range of different ecosystems in just one day, and the waterfalls are worth the trip alone. 
It is one of the best things to do in Banos, Ecuador and should definitely be part of your Ecuador vacation.
[table id=6 /]
This is a cheap day out.  Ecuador bike rental is easy – and especially in Baños where there are many places that rent bikes.  Make sure your bike has working breaks and multiple gears and comes with a chain and lock. 
Consider bringing a packed lunch, though there is a cafe at the Devil's Cauldron falls.  I would also recommend taking a waterproof jacket in case it rains and to wear at the Devil's Cauldron.
Bike ride from Banos to Puyo, Ecuador: Essential Details
How to get from Quito to Banos
How far is Banos from Quito? The driving distance from Banos, Ecuador to Quito, Ecuador is 112 miles/ 180 km.
How to get to Banos from Quito?  Getting to Banos from Quito is easy by bus or car.
You can take a bus to Banos easily, via Latacunga. The Quito to Banos bus takes about 3.5 hours.  Check bus the Quito-Banos bus schedule here.  It is worth stopping at the market in Saquisili (near Latacunga) on the way. 
In Banos, the small bus station is on the northern edge of town.  Banos is small and you can walk there, or take a taxi for about $1.  In Quito, there are several bus stations.  Most buses for Banos  leave from Terrestre Quitumbe (usually called Tumbe) in south of the city.
If you'd rather drive, rent a car at Quito Airport here.
Where to stay in Banos, Ecuador
Hotels in Ecuador are generally pretty cheap, so even higher-end places are not crazy expensive.  There are plenty of places to stay in Banos, Ecuador.
Check out my Guide to Choosing the Best Hotel for tips on what to look for when choosing and booking a hotel when you travel.
Hotels in the upper price range are often just a little out of town.  A good option in this price range that has gardens and lots of antiques around to give it charm and character is the Hacienda Manteles, which you can book here.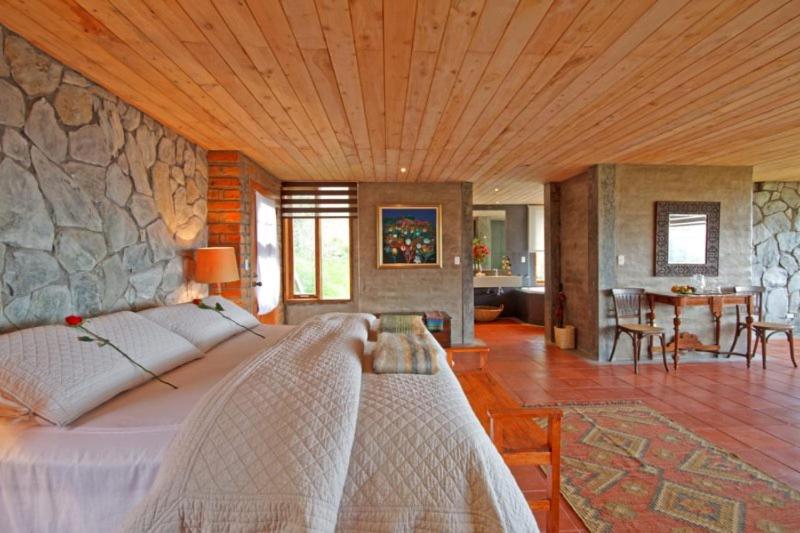 In the mid-price range, a really cute place with interesting buildings, large rustic rooms and beautiful gardens is Jardines de Chamana, which you can book on here.  It's a little out of the city center (about a $2 cab ride away), but in a place where the main attraction is the natural surroundings, this is not a bad thing.
Best time to visit Banos, Ecuador
The busiest months for tourism in Banos, Ecuador are January, March and May, but the driest months are August and September.
Banos, Ecuador weather
It rains a lot in Banos.
| | | | |
| --- | --- | --- | --- |
| Month | Daily Chance of Rain | Total Rainfall (inches) | Total Rainfall (centimeters) |
| January | 78% | 19.3 | 49 |
| February | 76% | 17.5 | 44.5 |
| March | 85% | 24.4 | 62 |
| April | 69% | 24 | 61 |
| May | 70% | 16.5 | 41.9 |
| June | 71% | 20.2 | 51.3 |
| July | 74% | 18.6 | 47.2 |
| August | 53% | 10.7 | 27.2 |
| September | 46% | 9.6 | 24.4 |
| October | 66% | 14.7 | 37.3 |
| November | 50% | 13.2 | 33.5 |
| December | 73% | 19.6 | 49.8 |
Practical Tips for Traveling in Ecuador
How to get to Ecuador
There are a couple of major Ecuador airports, but  the main international airport and the closest airport to Banos, Ecuador, is in Quito, the capital city.  There are frequent flights to Quito, Ecuador.
Check flights to Ecuador on Skyscanner here.
Getting from Quito airport to downtown Quito
In 2013, Quito's Mariscal Sucre Airport was moved to a new location.  Taking an airport transfer is the easiest way to get from the airport to downtown.  You can book the airport transfer here. It takes about 1 ¾ hours.
Taxis are another option.
Other things to do in Ecuador
Wondering what to do in Banos, Ecuador?  Things to do in Ecuador, in addition to this bike ride, that will really make your vacation a unique travel experience include:
Where is Ecuador located ?
Ecuador is the north western part of Central America.  It straddles the equator  ("Ecuador" means "equator" in Spanish), and includes the coast, the Andes and some of the Amazon jungle. 
What is the currency of Ecuador?
The currency in Ecuador is actually the U.S. dollar (USD).
Check the current exchange rate here.
What language do they speak in Ecuador? 
The main language is Spanish, though some English is spoken in the main tourist areas.
Visa requirements for Ecuador
For visa requirements, check out your home country's official government visa websites:
For citizens of other countries, use this helpful website (though it's best to always check with the embassy as well). 
Planning and packing for Ecuador
Safety in Ecuador
I general, Ecuador is a safe country to visit. However, you should always take basic precautions. Check out my list of common travel scams (and how to avoid them) here.
Travel Insurance for Ecuador
It is important to be fully prepared when you travel.  In addition to accommodation, planning and flights, you should always have travel insurance, just in case.  I always hope I never need to use it but I get it just in case I do! 
If you are not sure what to look for when buying travel insurance, read my Guide to Buying Travel Insurance.
A great insurance option is Travelex.  It has coverage for all you'll need. You can swap this link for  either choose the best travel insurance plan for your trip here or get a quote right now:
---
Happy cycling!
Do you have any stories of Ecuador? I'd love to hear them. Comment below.  
If you liked this post, please share the love and Pin it to your Ecuador board for later!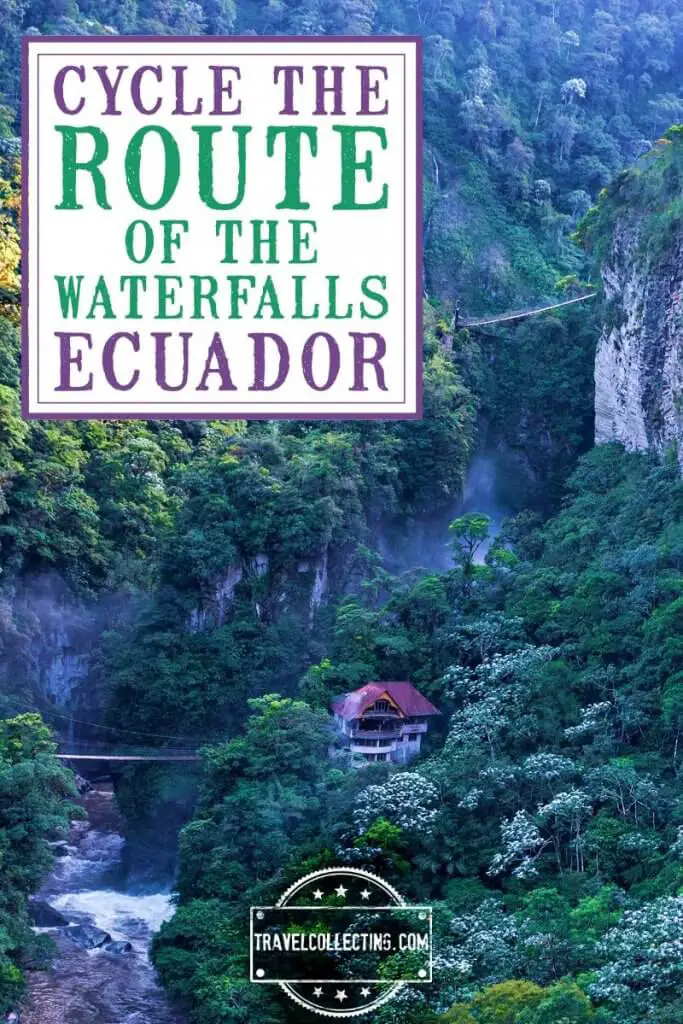 Read about more Latin American experiences:
Love cycling?  Read about cycling on the Aran Islands off the coast of Ireland
---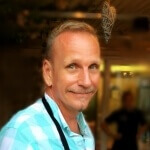 James Ian has traveled to 82 countries and all 7 continents.  He is passionate about experiential travel, i.e. meaningful travel that actively engages with the environment and culture.  He helps people have similar experiences that involve active participation in activities and festivals; engaging with the local food and handicrafts through lessons and food tours; and interacting positively with environment by hiking, riding, rowing, diving and low/no impact animal encounters. 
---
Travel Collecting is a participant in the Amazon.com Services LLC Associates Program, an affiliate advertising program designed to provide a means for sites to earn advertising fees by advertising and linking to amazon.com. Amazon and the Amazon logo are trademarks of Amazon.com, Inc. or its affiliates. As an Amazon Associate I earn from qualifying purchases.