Waves crash over out boat on both sides. I see a large drop as we crest a wave, then we plummet down with more waves crashing over us and into the boat. We are in the middle of a maelstrom of crazy water with rocks on either side. I use a small bucket to bail frantically so that we stay afloat. On both sides, red rock walls rise high above us. It is crazy fun!
I am in the Grand Canyon. There are different kinds of Grand Canyon adventures you can have, including viewing the canyon from the rim, flying overhead or hiking in it. However, there is nothing quite like white water rafting on the Colorado River in the Grand Canyon, USA.
---
No time to read about white water rafting in the Grand Canyon right now? Pin it and save it for later:
Please note that some of the links below may be affiliate links. If you make a purchase through these links, I earn a small commission at no additional cost to you. Read my Disclaimer for more information.
Colorado River Rafting Description
We wanted to do something special for Kevin's fiftieth birthday, and rather than organize a party or go out to dinner, this seemed like a really great way to celebrate. I had first gone white water rafting in the Black Canyon in Peru, and since then Kevin and I had been on several rafting trips.
There are three main options for Grand Canyon river rafting.
You can (1) take one of the Grand Canyon rafting trips on a huge inflatable raft for about 20 people with front-facing seats that cruises over most of the Grand Canyon white water; or (2) paddle through the rapids in a traditional rubber raft; or (3) – as we did – take a dory down the Grand Canyon river.
A dory is a small wooden boat and there are three reasons we decided to do this.
(a) a dory is wood, so it is not flexible, so you feel every part of every rapid, making riding the rapids more thrilling;
(b) this is how the original explorers did it and there is a romance to following in their footsteps more closely; and
(c) one of the crew actually does the rowing (we needed to bail the water out as we went through each of the rapids, though), so it is actually less strenuous.
More thrilling and romantic and less strenuous? I was in!
Day One of Rafting in the Grand Canyon
We are picked up at 7:00am for the trip to Lee's Ferry, where the boats put in. The countryside quickly changes from pine forest to desert and soon enough we see some mesas appear, which really evoke the American South West.
I was expecting Lee's Ferry to be flat, but actually the canyon has already started and there are some short sandstone cliffs. We board our dories; each of the four wooden boats has four passengers plus the crew member who is doing the rowing.
We go through three rapids, including Badger Rapids and Soap Creek. They aren't that big, but are fun nonetheless as we bounce around, bailing frantically. The canyon gets deeper as the day progresses, and the layers of rock start to rise high around us. It's beautiful and awe-inspiring.
We camp for the night on a beach on a narrow stretch of the river. Directly opposite is a sheer wall of orange sandstone. We can hear the bleating of longhorn sheep, but can't see them. It's cooled down and is very pleasant; a gentle breeze is blowing. We pitch our tent and bathe in the freezing cold river. After a dinner prepared by the crew, we are in bed by 8:30 pm, exhausted after a day in the sun. We are alone surrounded by scrub and the canyon walls.
Day Two of Rafting in the Grand Canyon
We wake up at 6:00am, excited for the day ahead, and after breakfast, set off about 9:00am. It is not long before we face the first rapids of the day. House Rock Rapid is bigger than anything we went through yesterday and we have to wear helmets. The crew stop to check it out so they know exactly how to navigate safely through it. We head into it, bailing like crazy with water swirling in front of us and crashing into the boat. It's good fun and over too soon.
I sit back and relax, soaking everything in. The canyon is high above us now.
After another couple of rapids, we pull up on a beach at North Canyon, where we get out for our first hike of the trip. The three-mile round-trip hike into North Canyon is spectacular, with incredible views of both the main Grand Canyon and the side North Canyon.
The scale is overwhelming – we are tiny blips on the landscape. The hike ends in a ¾ tube that has been scoured out by water gushing during flash floods, with a tiny pool remaining.
Nature never fails to amaze me – this hike is amazing.
After lunch, we run rapids virtually every mile, including 24.5 Mile Rapid, 25 Mile Rapid and The Roaring 20's. The cliffs in this part of the canyon are red and the views all around us are truly spectacular.
We set up camp for the night on another gorgeous sandy beach and are again in bed just after dark.
Day Three of Rafting in the Grand Canyon
We are on the river by 8:30am. There are no big rapids today, so a nice gentle day of rolling down the river, a new breathtaking scene around every bend. The canyon is getting deeper and deeper and we often can't see the rim, which is set back from the cliffs we pass under. The cliffs are mainly red here, but at one spot a large slab of the cliff fell off a year or so ago and the exposed cliff is white. This layer of the canyon is actually limestone at this level of the river, but is dyed red by oxides draining down from the sandstone above (see below for description of the layers).
I become an expert in canyon geology for the next few days – and then forget most of it soon after getting back home!
We pass Vasey's Paradise, a small waterfall and stop at Redwall Cavern. This is an enormous cavern set deep into the canyon wall with a fine sandy beach.
It is incredibly picturesque.
A little further down river, we have another stop. A short hike takes us up to a tunnel created in the canyon wall as part of the exploratory stages of the Marble Canyon Dam.
If the dam had been completed, this part of the Grand Canyon would have been under water. Fortunately, the project was cancelled after a huge public outcry. Sometimes common sense does prevail.
The long tunnel is more interesting for its place in history than for anything else, but it is interesting to see and learn about a new aspect to the canyon and its history.
Around 3:00pm, we reach Saddle Canyon, where we camp for the night on yet another gorgeous beach with breathtakingly beautiful views.
Day Four of Rafting in the Grand Canyon
We start the day with a hike up Saddle Canyon. The canyon is narrow, with sheer cliff walls towering overhead. Most of the hike is through lush vegetation that grows around a creek.
Near the end of the hike we change into wet shoes and hike through the creek and climb up a narrow crevice, helped by the crew, to a little rock waterfall where this part of the canyon narrows to an end.
Back at the beach, we board the boats and head a little further down river.
There are no major rapids in the morning.
We stop at Nankoweap Granaries and have lunch on the beach before starting our second hike of the day. It's a steep climb- the last part is basically straight up – but worth the effort. At the top is an ancient native American granary – a bricked wall with windows that create a cave-like storage area. The area at the top is a row of steep bleachers, with a sheer drop far below, which is a little unnerving.
In addition to the ancient granary, the payoff for the climb up is the singular most amazing view of the entire trip (in my opinion) down the longest straight section of the canyon where the river meanders around sand banks. I take a million photos then sit and stare until it is time to go back down.
Back on the river, we roar down Kwagunt rapid and a few smaller ones as well. I ride on the bow for the small rapids. The front of the boat plunges and soars even in Class II rapids and it's great fun.
We camp in another breathtaking spot. It's Kevin's 50th birthday, and the guides bake him a chocolate cake in a Dutch oven and we all sing happy birthday. Such a great way to spend a birthday!
Day Five of Rafting in the Grand Canyon
We have a bit more of a leisurely start and only go a short way before we stop at the Little Colorado River. This side river is a vivid aqua blue due to its mineral content – and considerably warmer than the frigid Colorado River. We walk about ¼ mile upstream and stopped by a mini rapid. We wear our life jackets like diapers and, buoyant, float down the rapids.
We stay for about an hour, having several goes.
The rest of the day sees us go through more rapids, including Unkar and Nevilles – nothing too major – but I ride the bow again for a smaller rapid to mix things up.
I could do this for days more.
Day Six of Rafting in the Grand Canyon
We got through several big rapids, including Hance, Sockdolager and Grapevine. For Hance, the crew get out to survey the rapid before going down it. Huge waves crash over the front of our boat and we bail like crazy people, but we get through unscathed.
We arrive late morning at a hot beach just past a narrow bridge spanning the river. We debark, have lunch, put all our stuff back in our duffel bags, and then hike a dusty ½-mile to Phantom Ranch, which is a group of rustic cabins with a large central hall for dining/ shop/ reception/office. We weigh our duffel bags to make sure they are light enough to be carried up and out of the canyon on a mule, so that all we have to carry when we hike out the next day is a small day pack with water, snacks and a camera.
We attend a free ranger talk on rattlesnakes and have a family style stew, cornbread and salad and salad for dinner, then early to bed in a dorm with other members of our rafting group in preparation for the next day's early morning hike out of the canyon on the Bright Angel Trail. Read a complete guide to the Bright Angel Trail hike here.
The verdict: White water rafting in the Grand Canyon
I can't imagine a better way to see the Grand Canyon. We hiked out and that was great. We spent several days at the rim and that was great. But being in the canyon, careening down rapids in a wooden boat like explorers and being dwarfed by the immense layered cliffs all around us was totally awesome!
TC 'experiential travel' score: Rafting in the Grand Canyon
| | |
| --- | --- |
| Authenticity of experience | 18 |
| Quality of interaction with culture/ environment | 18 |
| Engagement level | 18 |
| Enjoyment | 20 |
| Difficulty to arrange | 18 |
| TOTAL TC SCORE | 92 |
The layers of the Grand Canyon
One of the things I loved about going through the canyon was passing the different layers. At the start, the youngest stone in the canyon was all around us. As we continued down the river, that layer rose up and the layer directly beside us was older and different rock. It was really cool to pass through time and see familiar layers that we had passed directly by end up thousands of feet above us by the end.
Kaibab limestone – the youngest and therefore the topmost layer. In some places sandstone and shale also exits here (color is cream – greyish white)
Toroweap Foundation – a little darker than the Kaibab limestone, but similar material
Coconino sandstone (petrified sand dunes). A broad, light-colored cliff a few hundred meters below the rim (color is white – cream)
Hermit shale – siltstones, mudstones, fine grained sandstones. It is rich in iron that creates a red slope. It is soft, so it erodes, causing the layers above to fall in (color is deep rust colored red)
Supai Formation – shale with bits of limestone and capped with sandstone (color varies from red for shale to tan for the sandstone caps)
Redwall limestone – this is prominent because it forms a sheer cliff. (Color is a deep reddish color, but this is due to the iron oxides leaching out of the layers above and staining the face. Behind the red is dark brownish color.)
Temple Butte Limestone – this is most prominent in western end of the canyon. (Color is purplish in east and grey/ cream in the west)
Tonto group:

Muav limestone – thicker in the west (color is grey)
Bright Angel Shale – a broad flat area below the rim called the Tonto platform. it is much wider in the west (color is green to gray)
Tapeats Sandstone – dark brown

Precambrian basement rocks – there are various layers, which are tilted up rather than horizontal. Includes pinkish rock called Zoroaster Granite
Practical Tips: Colorado River rafting
We went with the company Oars because they offered dories. We decided not to take one of the huge inflatable rafts. They are motorized, so you can go the full length of the canyon in about the same amount of time we went through half of it, but I didn't want to hear an engine, and I wanted to feel like we were on an adventure. These are a good option if you want to be more comfortable and barely feel the rapids. We thought about doing a regular raft, but have both done white water rafting before and taking a dory seemed more unusual – plus you feel the rapids more in an inflexible wooden boat AND they have someone doing the rowing – we just needed to bail.
For non-motorized trips, you need to choose between the upper reaches of the canyon or the lower (or a very long trip with both). There are a few more and some bigger rapids in the lower section – and you get to hike down into the canyon instead of hiking uphill. But we decided to do the upper/ first half because we wanted to start at the beginning of the canyon and see it get deep/ taller as we went – and this was great! I also prefer to hike up because it is easier on my knees. You do need a moderate level of fitness for the hike out of the canyon. I was about 30 pounds overweight at the time, and took it very slowly and managed just fine (I had been going to the gym to get a little fit).
Oars was a great company – incredibly well organized and all of the staff were enthusiastic, helpful and professional. We were in a group of 16 passengers in total (4 to a boat) and we lucked out, because the group was great.
The trip, as you can see from the description above, was not just riding the river rapids. There were several hikes that we did. These were optional, of course, but really added to the experience.
How to Get to the Grand Canyon
The nearest town with an airport to the South Rim of the Grand Canyon is Flagstaff. Las Vegas is also not that that far away and has a much bigger airport. We flew to Flagstaff via Phoenix. Compare prices on flights with Skyscanner.
The leg from Phoenix to Flagstaff was in a small plane with great views, especially when we flew over Sedona. The pillars of eroded bright red/ orange sandstone, topped with a white layer of frosting was stunning.
Flagstaff is a sleepy kind of town (well, after New York City anyway!). There are a lot of hotels, motels, inns and restaurants everywhere. Everyone we met was very friendly and chatty and I had the largest nachos ever at Charley's restaurant.
You can rent a car in Flagstaff after the trip to see more of the area.
Where to stay in Flagstaff
I don't usually stay in chain hotels except for business trips, but we stayed in the Radisson (you can book it here) because there was a trip briefing held there the night before the trip started. For a cuter place, try Little America Hotel Flagstaff (book it here).
For more options, check out more hotels in Flagstaff here
Where to stay at the Grand Canyon
The entire trip is in the Grand Canyon National Park.
The only place to stay in the canyon, other than camping, is Phantom Ranch. Some river trips include a night at Phantom Ranch, but not all of them do. Reservations are hard to get if you are not part of a river boat group. If your trip doesn't include an overnight stay at Phantom Ranch, it is actually a fun thing to do, and you could arrange it yourself. You need to book 15 months in advance via an on-line lottery . Read my Guide to Making Reservations for Phantom Ranch here (it also includes additional information on the ranch, it's facilities, etc.)
You can stay on the South Rim or the North Rim. We hiked out the South Rim, which is the most popular place to stay. There are several places to stay inside Grand Canyon National Park at the South Rim. For tips on how to choose the best place, read my Guide to Choosing the Best Hotel.
Planning and Packing for the Grand Canyon
It can be helpful to use a guidebook as well as blogs to plan your travel (though I hope this blog gives you the information you need). I use the Lonely Planet. You can buy the Grand Canyon Lonely Planet here and the Southwest USA Lonely Planet here. I also recommend using my Trip Planner to help you plan your trip. It breaks the whole process planning down – three months before, one month before, etc
When you are getting ready for your trip, check out my Essential Packing List so you don't forget anything. You will need to pack light so your luggage can fit on the mule to carry it up for you. You will just need to keep a day pack with the essentials for a day hike for the hike out of the canyon at the end f the trip. Make sure you have the right gear for the hike.
For the rafting trip, I add a solar charger for your phone – buy it here. TIP: Put your phone on Airplane Mode and you can still use it as a camera – I almost never travel with a camera anymore.
Additional Consideration: Travel Insurance
You should definitely have travel insurance for this trip. If something happens to you in the canyon, getting out by helicopter is expensive. For more information on buying travel insurance, read my guide to travel insurance.
A great insurance option is World Nomads. You can book it online. Unlike many insurance companies, they cover many adventure sports (always double check, of course).
They also let you give a little back and support a community development project by making a micro-donation when you buy the insurance, which I like.
Get a quote right here:
---
Happy river running!
Do you have any stories of Grand Canyon ? I'd love to hear them. Comment below.
If you liked this post, please share the love and Pin it to your Grand Canyon and White Water Rafting boards!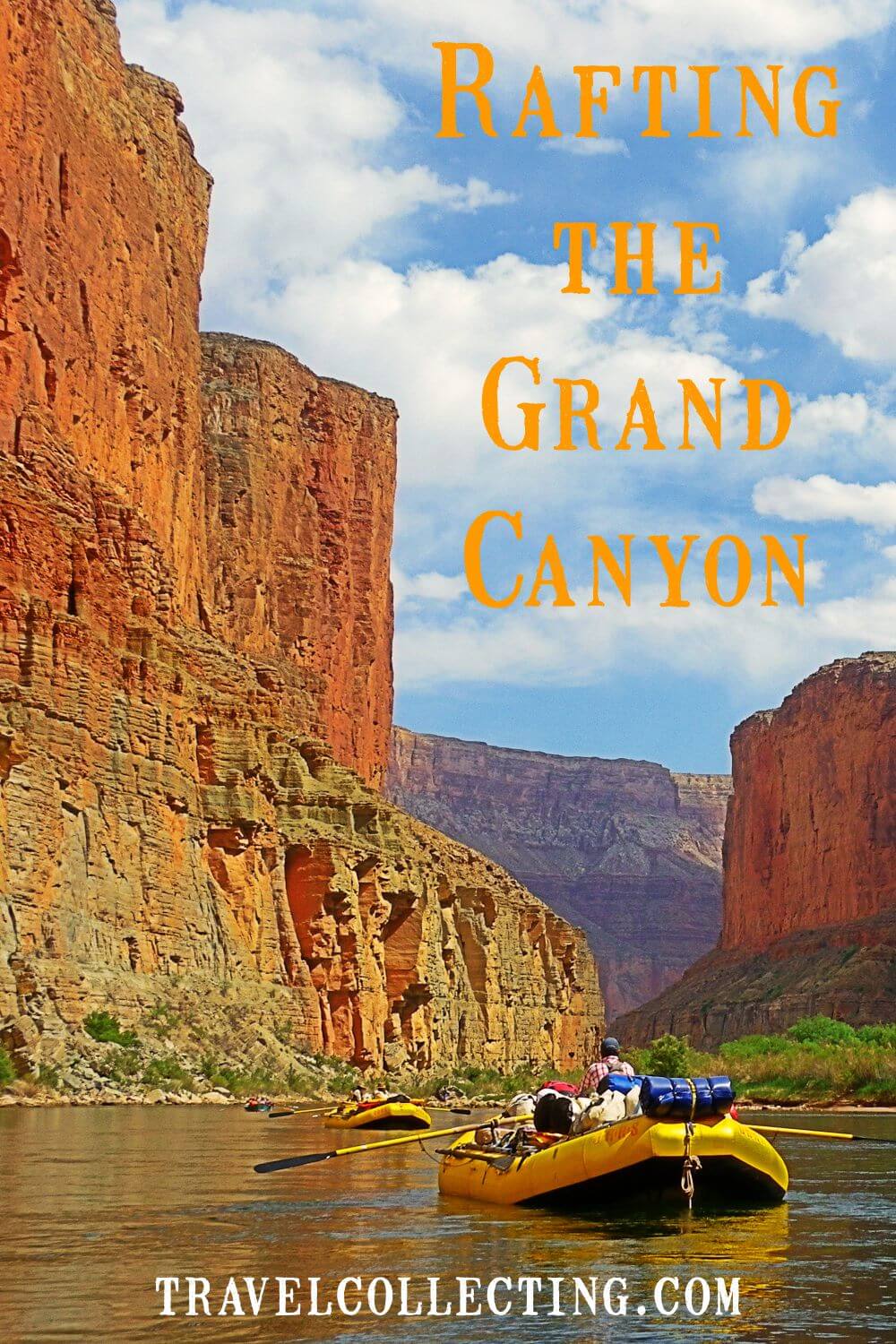 Read more posts about Grand Canyon National Park:
Read about other great U.S. national park adventures:
---
---
Travel Collecting is a participant in the Amazon.com Services LLC Associates Program, an affiliate advertising program designed to provide a means for sites to earn advertising fees by advertising and linking to amazon.com. Amazon and the Amazon logo are trademarks of Amazon.com, Inc. or its affiliates.