I paddle across the still water of the bay nearing another island.  Mist hangs in the air.  As I get closer, the mist clears, revealing a pebbly beach and just beyond, a row of faces peering at us, sentinels watching us carefully as we approach.  Bare grey poles with jagged tops, etched deeply with carvings hundreds of years old, line the shore.  They are framed by their reflection in the still water and backed by a thick wall of cedar trees, draped in moss.
There is a haunting, mystical air about this place.  I don't quite belong here, but feel incredibly privileged to be a witness to this place, even for a short while.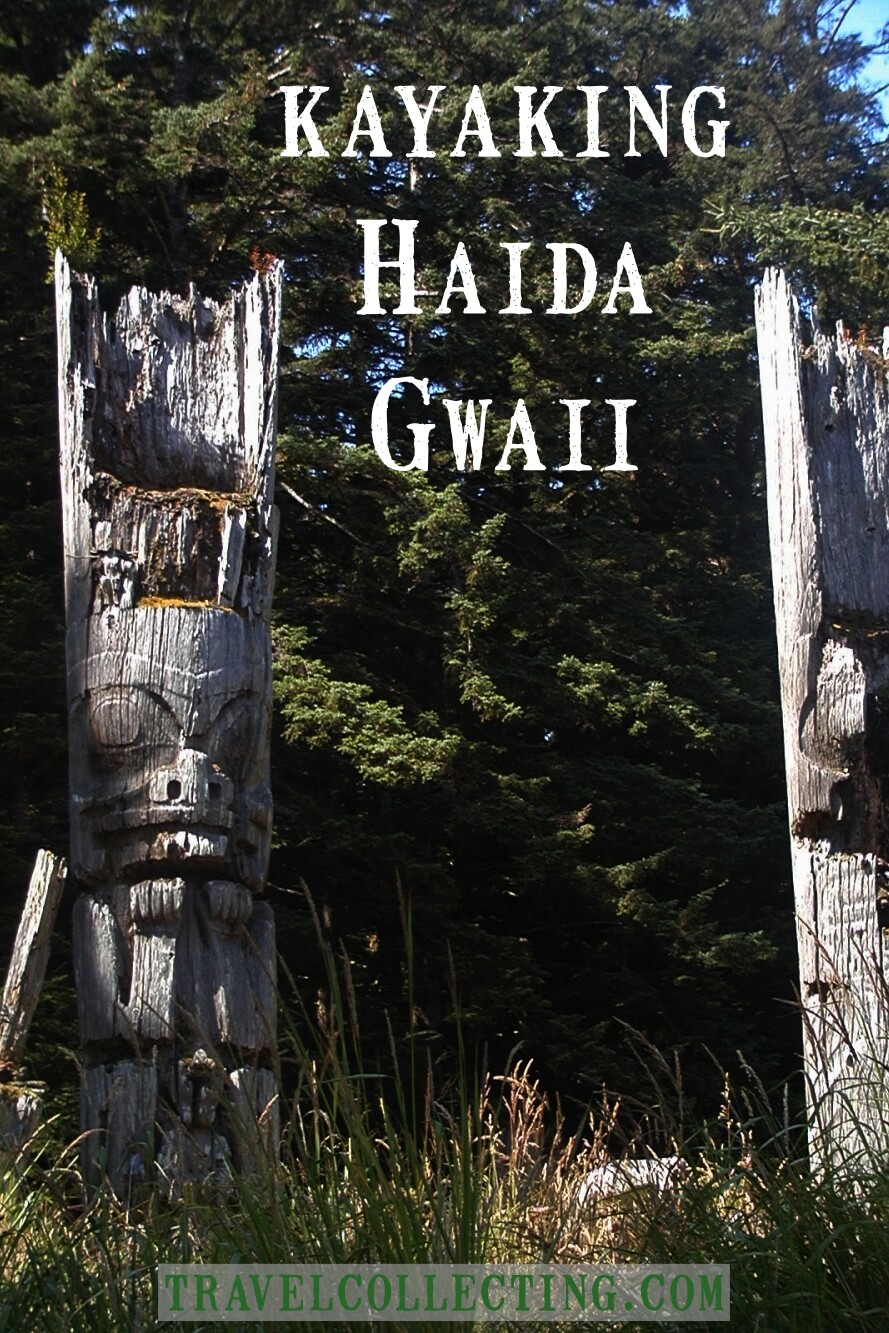 Please note that some of the links below may be affiliate links.  If you make a purchase through these links, I earn a small commission at no additional cost to you. Read my Disclaimer for more information.
THE INSPIRATION: Haida Gwaii Kayaking
This is SG̱ang Gwaay llnagaay (English name Ninstints), on Anthony Island at the southern end of Haida Gwaii (formerly called the Queen Charlotte Islands).  This archipelago off the west coast of Canada, north of Vancouver Island is remote – accessible only be boat or plane (see Getting There below).
The first moment I saw a picture of the totem poles of Ninstints and then read more about Haida Gwaii, I decided I wanted to go there when I visited Canada.  Sea kayaking seemed the best way to see the islands, as it meant I could take my time to really see the islands and the wildlife.  I am always up for paddling and rowing if it makes sense, and I love being on the water, so I was super excited.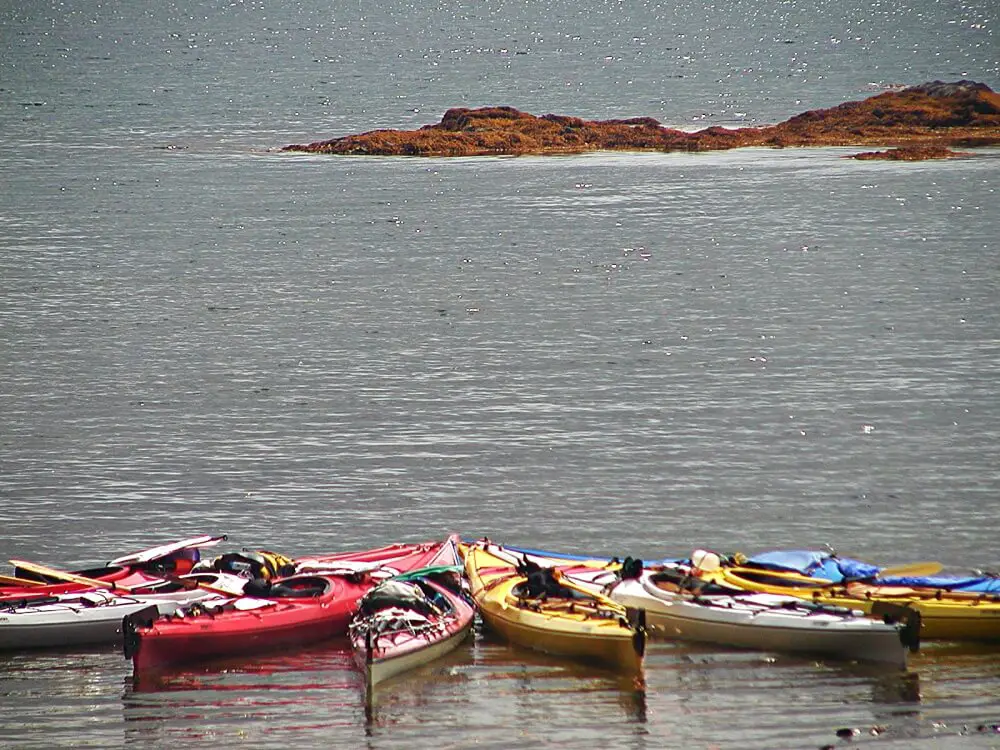 Haida Gwaii kayak tours
Haida Gwaii tours are best done by sea kayak.  An early morning pick up in Sandspit and a 3.5-hour trip by zodiac takes us south to Swan Bay in Gwaii Haanas National Park.
I was warned that it would be cold on the zodiac, so I donned virtually every item of clothing I had with me and wobbled to the zodiac.   People looked at me like I was seriously weird when I brought out the balaclava, but when they were shivering and I was toasty warm, they were envious!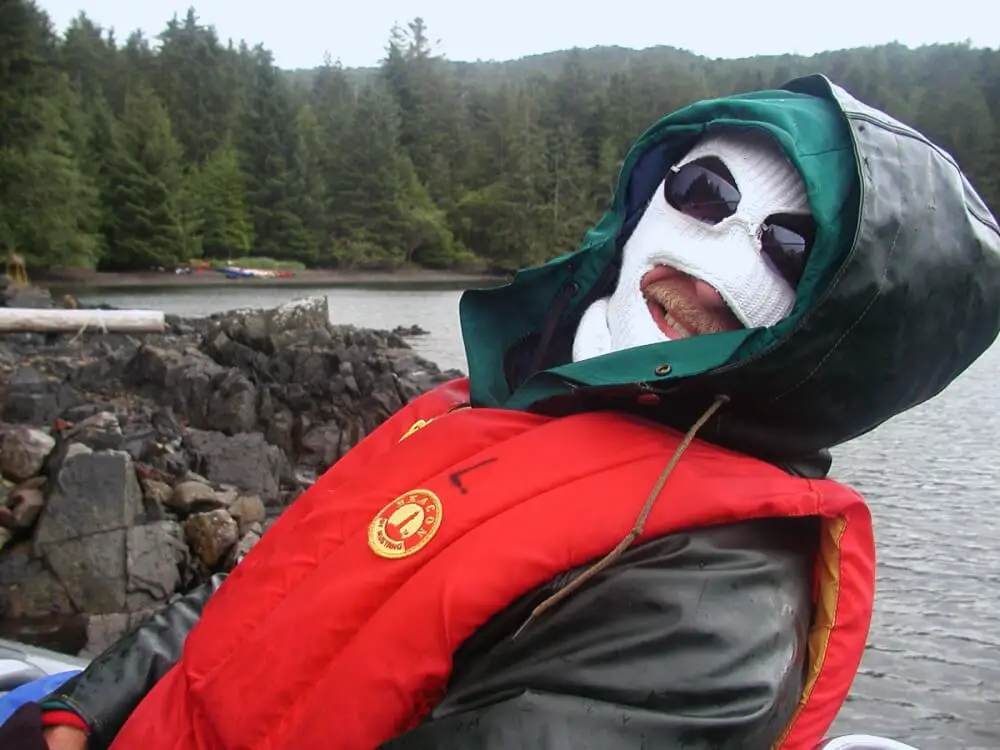 We spent some time learning how to paddle a kayak without overly exerting ourselves and did some short distance paddling the first day.  When I first started, my arms and shoulders started to ache and I was beginning to doubt my sanity for doing this thing, but when I started using the correct technique, it was actually pretty easy and fun.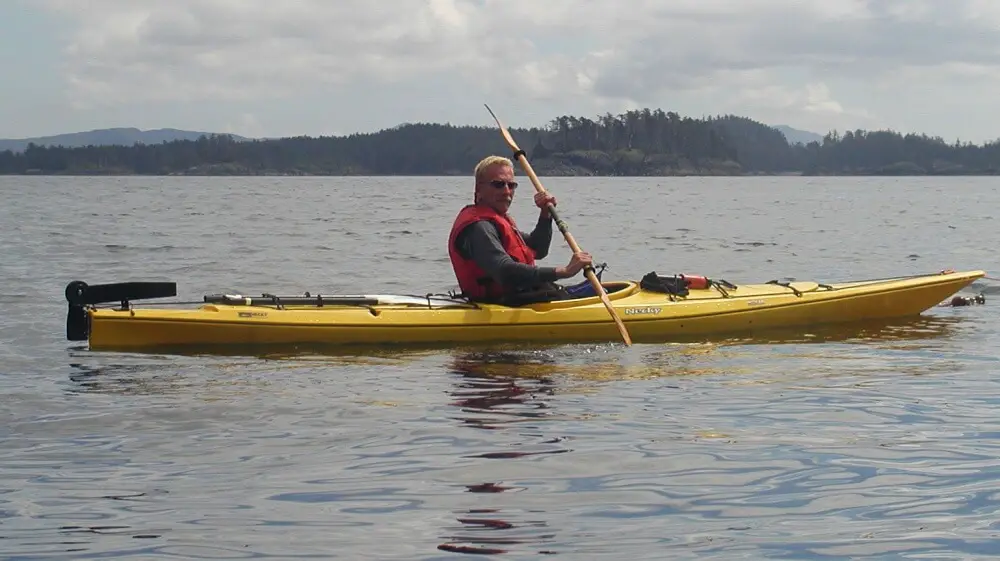 I had expected to be paddling for hours every day, but we only actually kayaked for about 2-3 hours each day, which left lots of time to explore (or rest and nap!).
We camped on pebbly, driftwood-strewn beaches each night …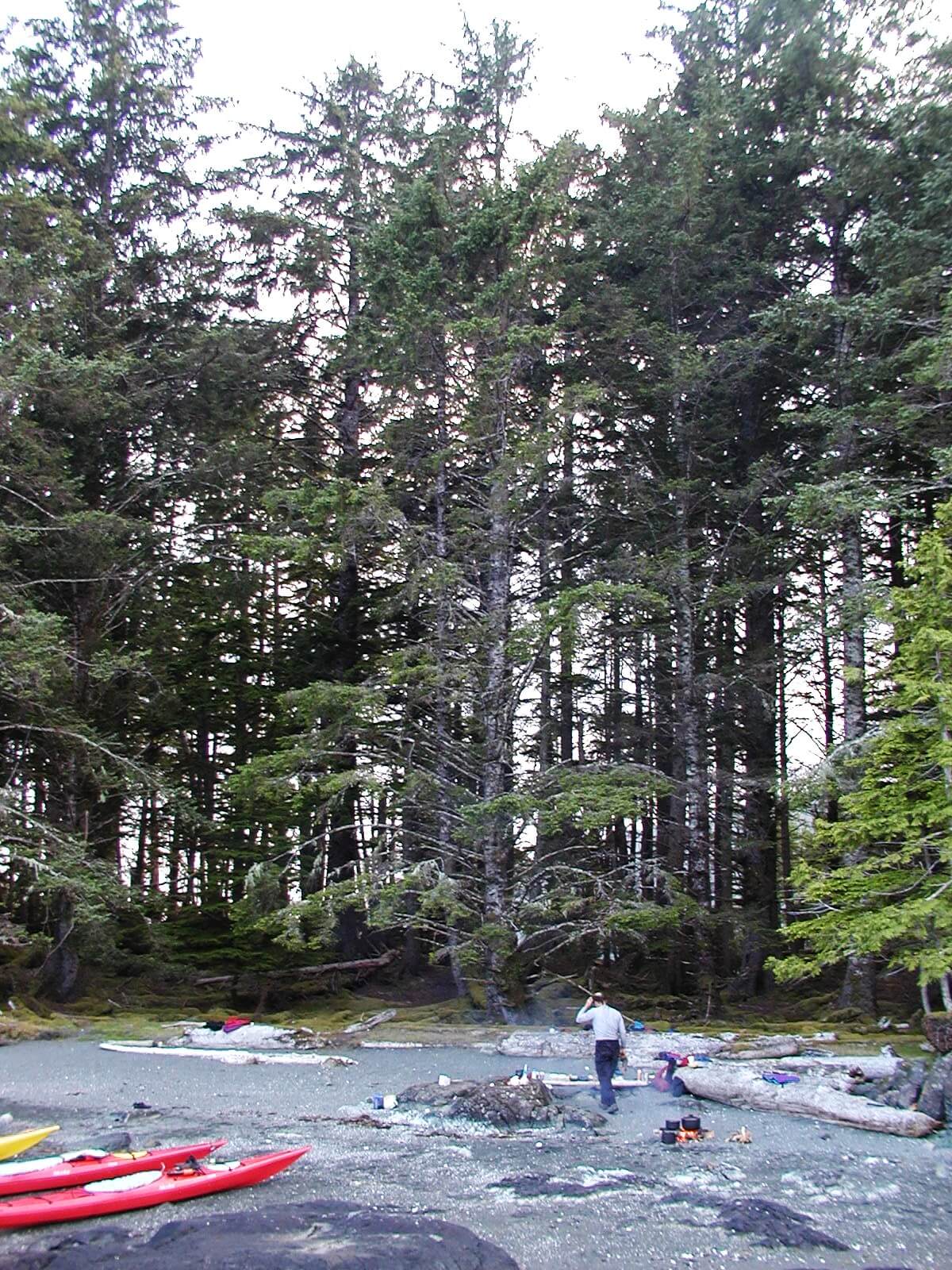 or mossy glades in the woods.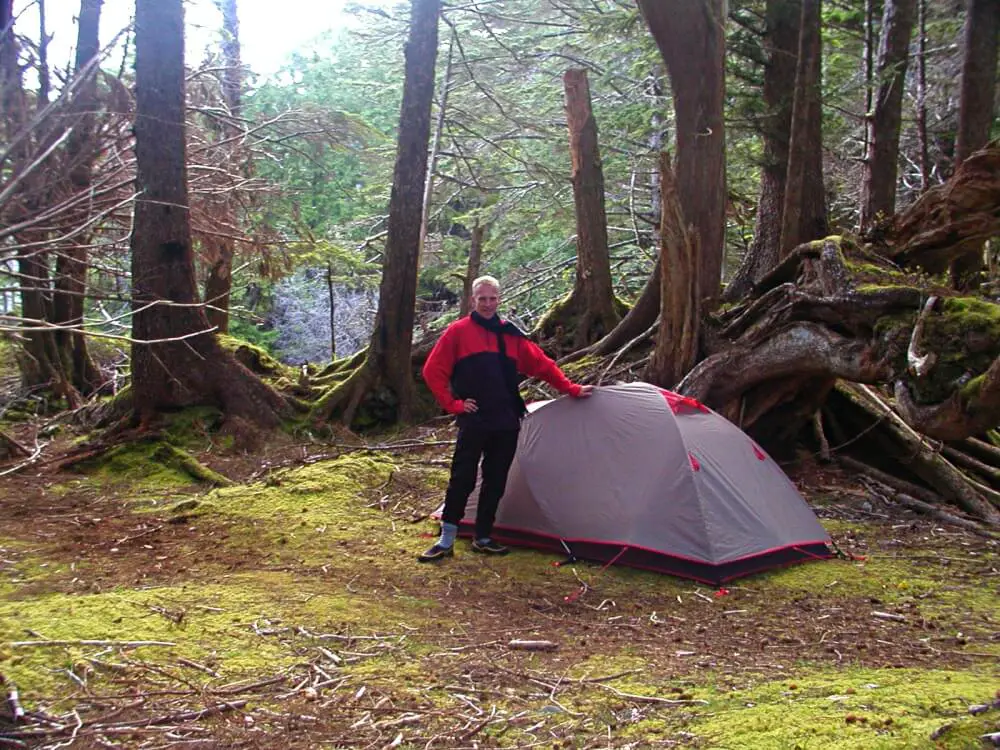 We kayaked past seals, sea lions, a humpback whale (which swam right past our kayaks!) and beds of kelp floating on the surface.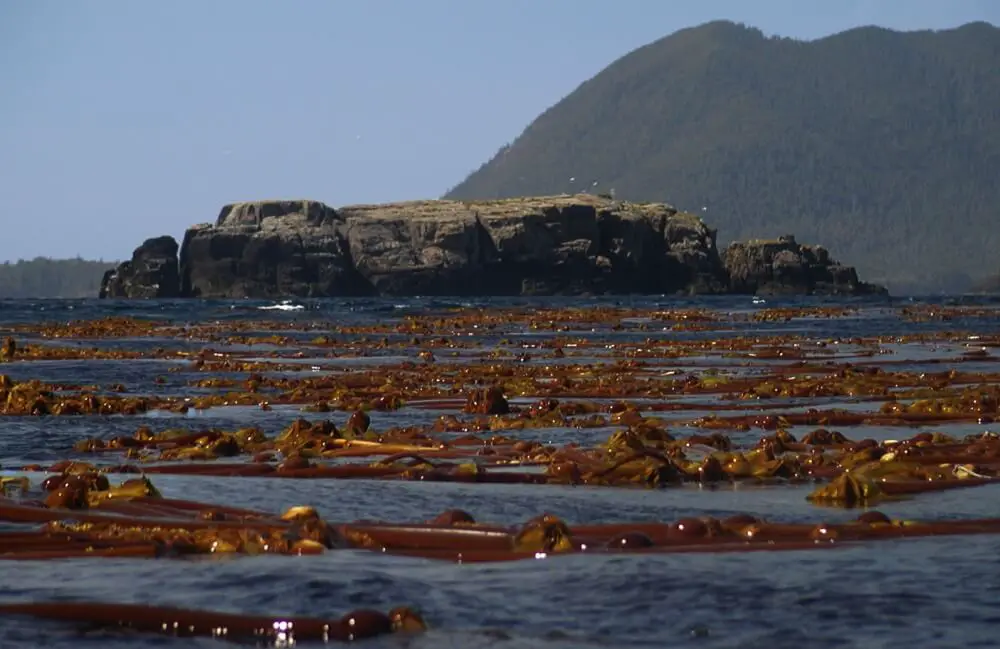 I hadn't done much research, so didn't know that the islands are infamously cloudy and wet.  Luckily for me, it was unseasonably sunny and dry and every day was glorious.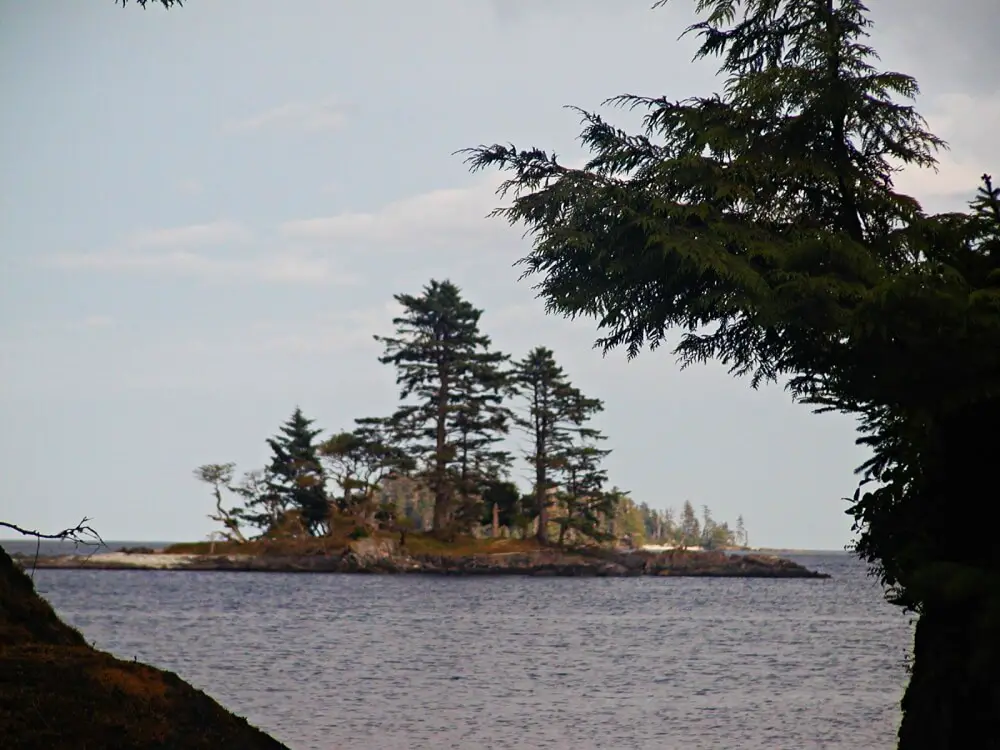 There are lots of bald eagles …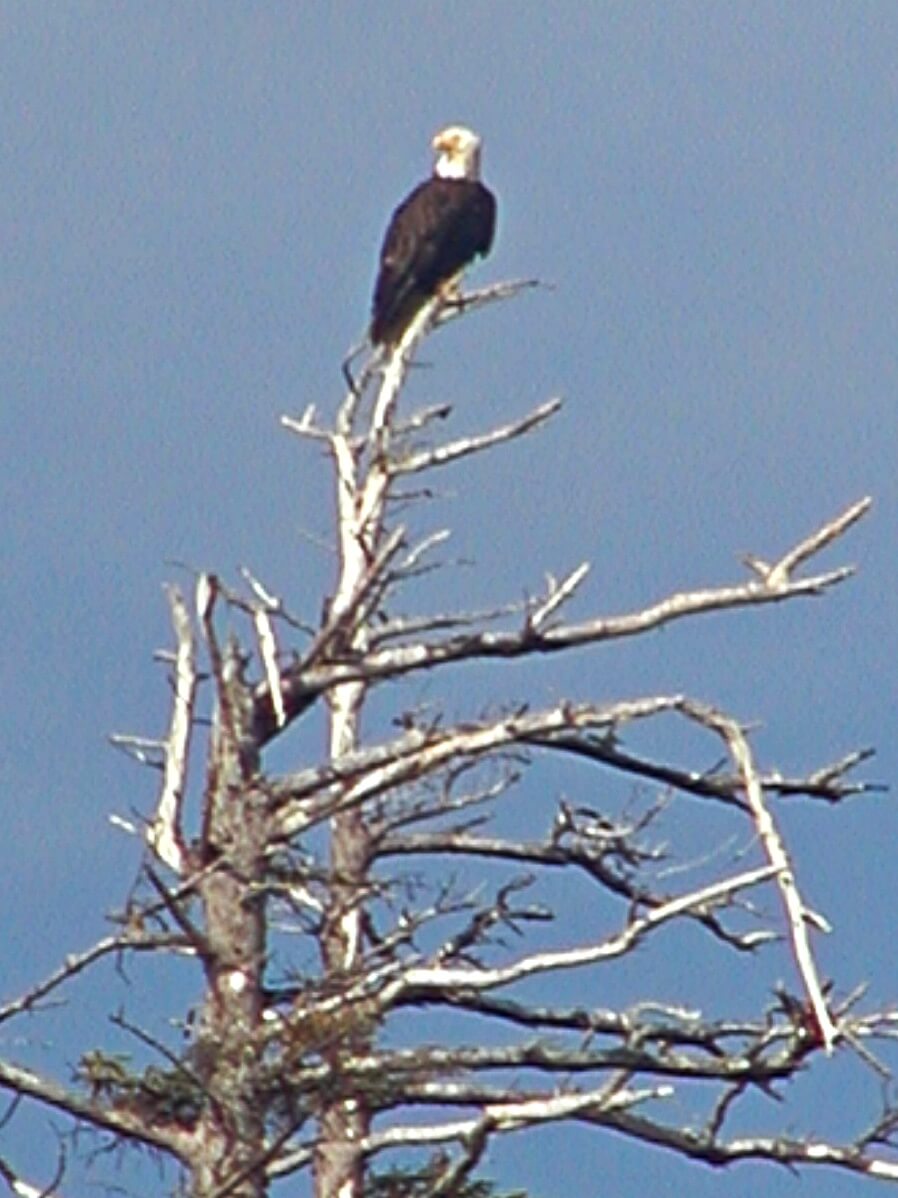 and Sitka deer, which are endemic to Haida Gwaii.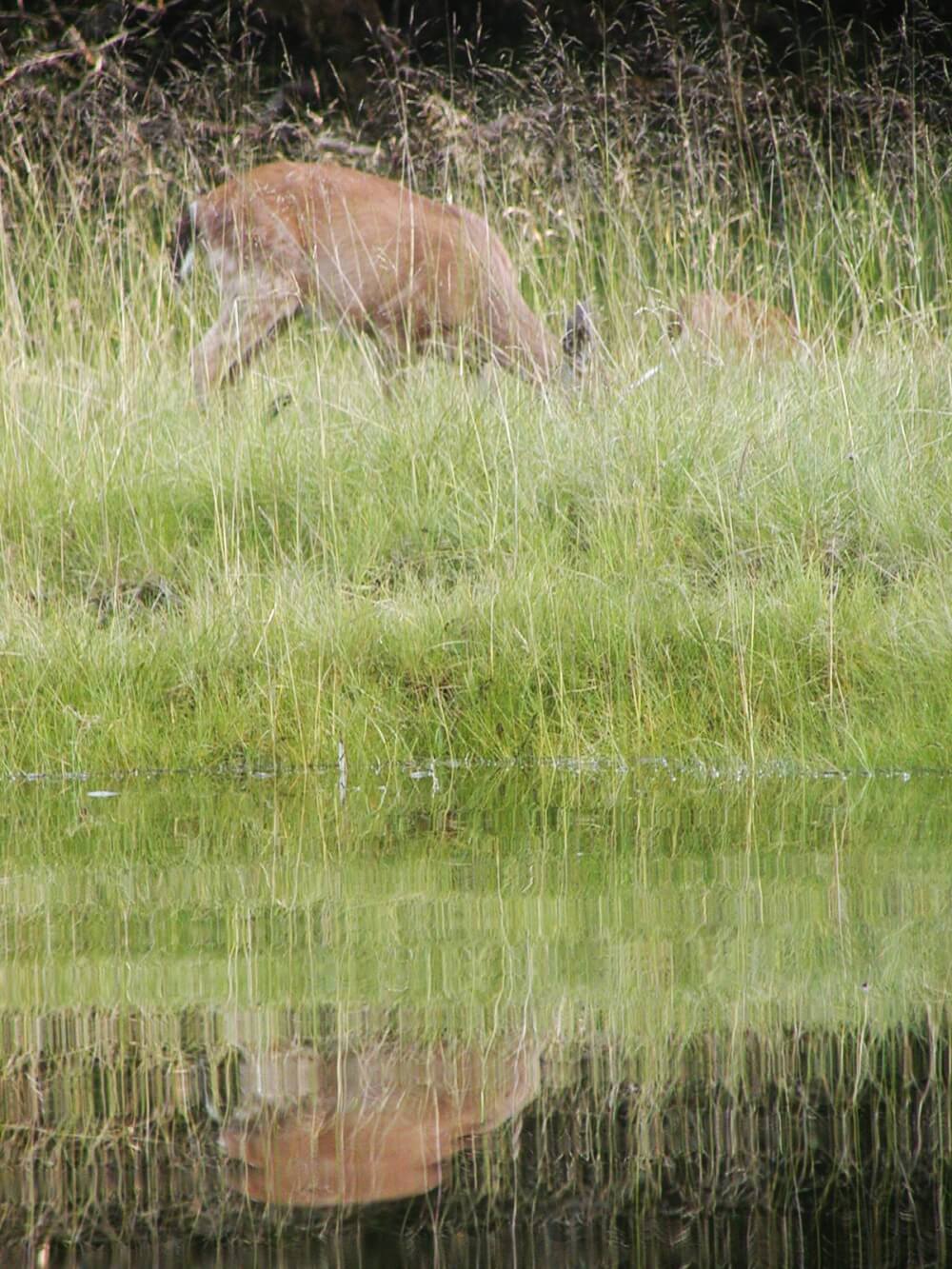 Every day is one beautiful view after another.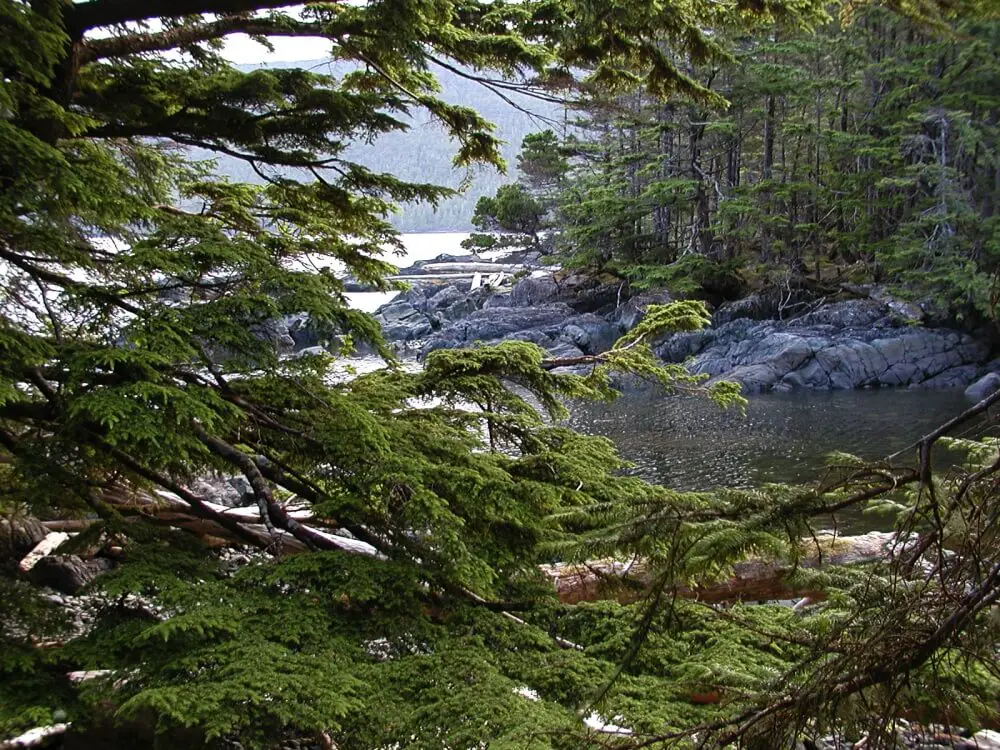 SG̱ang Gwaay/ Ninstints is the site of Haida totem poles hundreds of years old. The village that was here was abandoned in the late 1800s, but the totem poles remain, slowly returning to nature as they decay.  The rows of totem poles gazing hauntingly out to sea are a real privilege to witness.
The verdict
Haida Gwaii is a really special place.  Beautiful scenery, bald eagles, and the haunting beauty of the totem pole village of Ninstints.  The slower pace and accessibility of kayaking around them allows you to fully appreciate the scenery.  It's not cheap, but this is an amazing, unique experience that's worth every penny.
TC 'experiential travel' score: Haida Gwaii kayaking
| TOTAL TC SCORE | 85 |
| --- | --- |
| Authenticity of experience | 18 |
| Quality of interaction with culture/ environment | 15 |
| Engagement level | 19 |
| Enjoyment | 18 |
| Difficulty to arrange | 15 |
PRACTICAL TIPS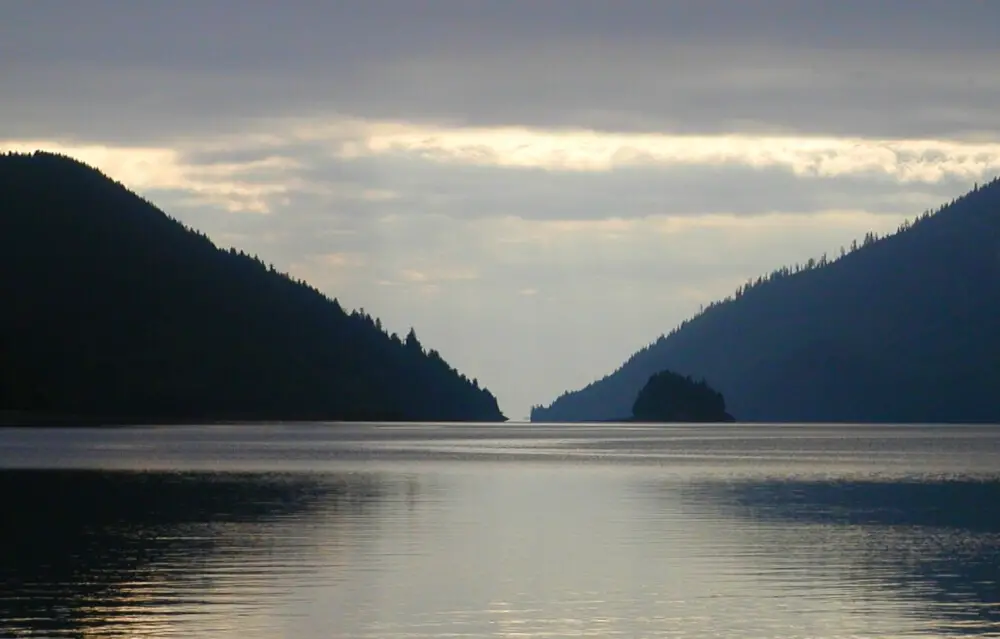 The experience
Eight-day sea kayaking trip starting at Sandspit on Moresby island with a 2.5-hour zodiac ride to the Swan Islands
There are several operators doing Haida Gwaii tours by kayak.  I did mine with Butterfly Tours and really liked them.  It's owned by one guy, who has a real love of the islands and cares deeply about their reservation, which I really liked.  I get no commission from recommending him – I just really liked him.
You need a basic level of fitness.  They teach how to kayak properly without killing yourself, but having some upper body strength still helps.
Where is Haida Gwaii and what is the currency?
Haida Gwaii is off the west coast of Canada.  It is north of Vancouver Island and south of Alaska.  The sea channels between the island and the mainland are part of the Northwest Passage.  Haida Gwaii is part of Canada.
The currency is the Canadian dollar (CAD).
How to get to Haida Gwaii
The islands are accessible by air or sea.
By air
You can fly to Sandspit Airport (YZP) from Vancouver in about two hours.  There are flights to Vancouver from all around the world.
Compare prices on flights with Skyscanner
.
By sea
The other option is take a BC Ferry from Prince Rupert to Skidegate Landing which takes at least seven hours, depending on the weather.  You can take a car on the ferry, which can make getting around (before or after kayaking) easier (you can also rent a car on Haida Gwaii).  I took the train from Jasper to Prince Rupert, which is a beautiful train ride.  You can take a ferry from Prince Rupert north to Alaska or south to Vancouver Island.
Another option would be to drive from Vancouver.  You can rent a car in Vancouver here.  Or rent a car from Prince Rupert here.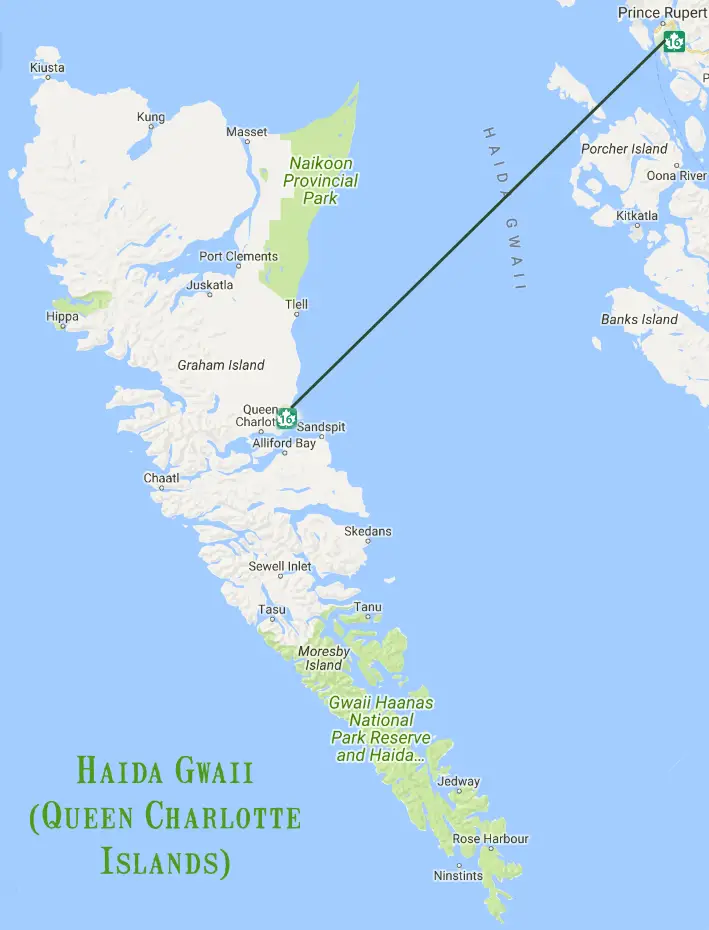 Getting around Haida Gwaii
When you are on the island, shuttles and taxis are available.  There is a 20-minute ferry between Skidegate Landing (on Graham Island and near the village of Queen Charlotte) and Alliford Bay (on Moresby Island and near the village of Sandspit).  The trip between Skidegate Landing and Sandspit takes just over an hour.
The only way to get to SG̱ang Gwaay llnagaay (Ninstints) is by boat or sea plane.
Where to stay on Haida Gwaii
There is accommodation at Queen Charlotte or Sandspit.  It takes about an hour from Skidegate Landing over a bridge to Sandspit.
Northern Shores Lodge is basic accommodation in Sandspit, and you can book it here.
Check out more hotels on Haida Gwaii here.
The best time to visit Haida Gwaii
The best time to visit is summer (May-September).  It rains all year round, but the rain often doesn't last long.
Planning and packing
I use the Internet a lot to plan – and I hope this blog is useful resource for you – but I also always use a Lonely Planet to get the big picture and practical things like maps.  Use it as a useful resource than a travel bible so that you don't miss out on loads of awesome things and places and experiences that aren't listed in it. You can buy the Canada Lonely Planet here or if you are just visiting this part of Canada, you can buy the British Colombia Lonely Planet here.
When you are ready for your trip, check out my Essential Packing List.
Visa requirements for Canada
Check visa requirements as soon as you know you will travel to give yourself time to get a visa if you need one.
Additional consideration: Travel Insurance
My aim is to not only inspire you to have amazing experiences when you travel, but to also give you the practical information and resources you need to have them.  It is important to be fully prepared when you travel.  In addition to accommodation, planning and flights, you should always have travel insurance, just in case.  I always hope I never need to use it but I get it just in case I do!  A great insurance option is World Nomads.  You can book it right here.
Why buy travel insurance from World Nomads.com?
Backed by specialist insurers and global assistance partners
Buy Online, even if you've already left home
Buy more cover and claim online while travelling
Covers a range of adventure sports and activities
Give a little back and support a community development project
---
Happy paddling!
Do you have any stories of Haida Gwaii? I'd love to hear them. Comment below. 
If you liked this post, please share the love and Pin it to your Kayaking and Canada boards for later!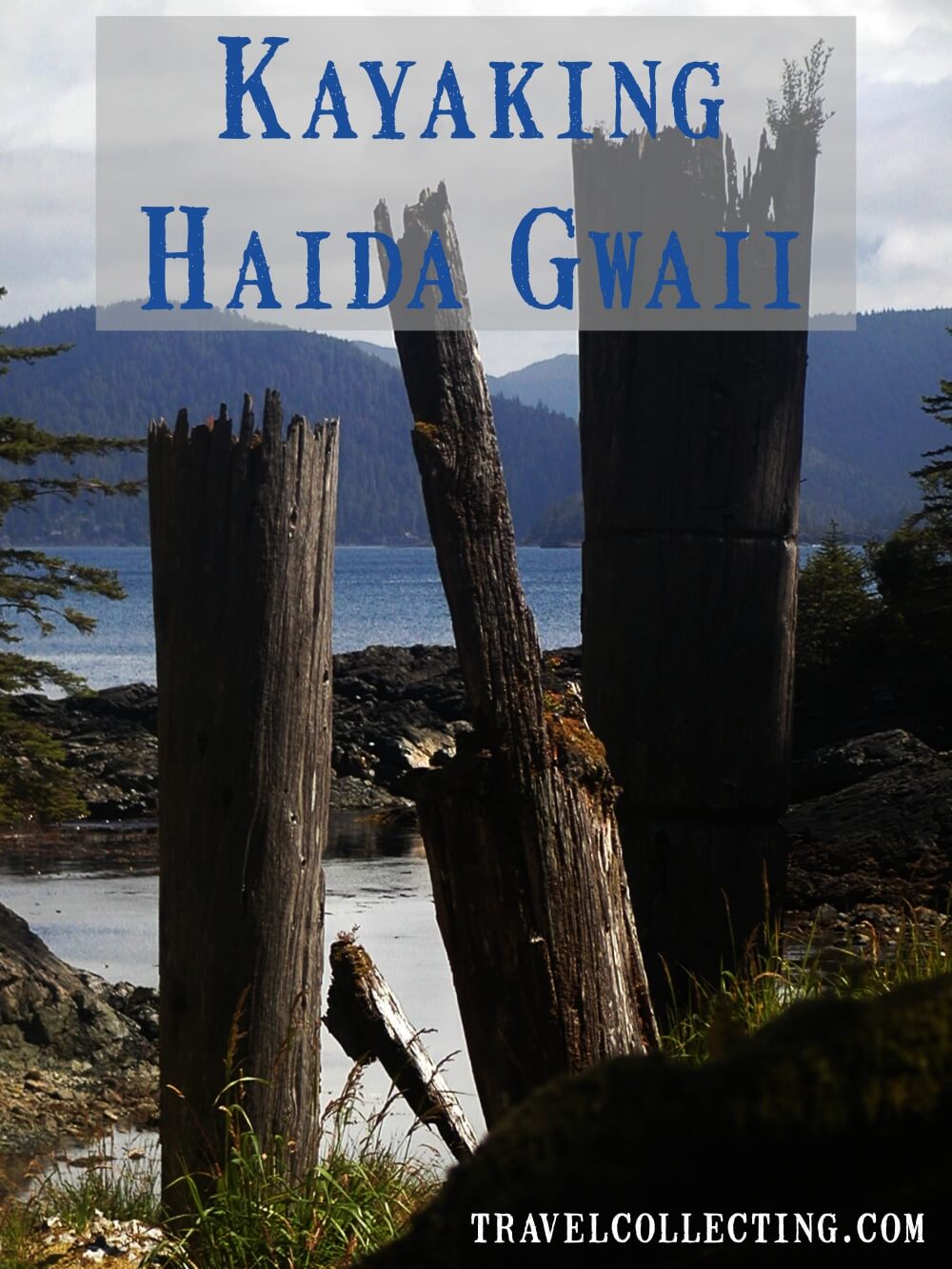 Read more rowing experiences:
Travel Collecting is a participant in the Amazon Services LLC Associates Program, an affiliate advertising program designed to provide a means for sites to earn advertising fees by advertising and linking to amazon.com. Amazon and the Amazon logo are trademarks of Amazon.com, Inc. or its affiliates.