I sat on a mat on the floor of a dark Buddhist monastery in Tibet.  The smell of yak butter, pungent and omnipresent, was all around.  I sat at the end of a large, geometric circular pattern drawn on the floor. 
Surrounding the pattern were eight monks carefully pouring brightly colored sand on the pattern.  The leader guided everyone on which colors to use, following a photo in his hand. 
I leaned over and carefully poured some yellow sand along one of the thicker lines.  My hand shook a little – I was nervous I would make crooked lines, but it was reasonably straight.  This was amazing.
---
No time to read about helping Tibetan monks make sand mandalas now? Pin it and save it for later:
Please note this post may contain affiliate links, which means we may receive a commission, at zero cost to you, if you make a purchase through a link. Please see our full Disclosure for more information. If you have any questions, please let me know.
Helping monks make a sand mandala
The town: Gyantse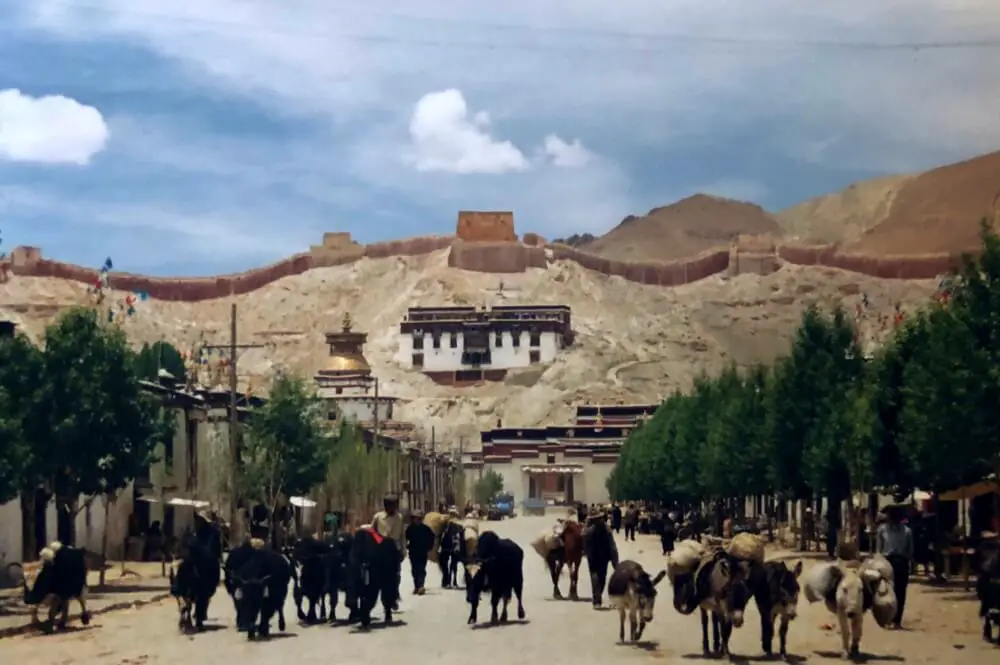 Tibet had always seemed like a mysterious, exotic land at the top of the world and I had gone to some effort to get there.  Gyantse is a charming Tibetan town.   Yaks and hairy donkeys roam the wide, empty streets.   A fortress (Gyantse Dzong) dominates the hill rising from the center of town.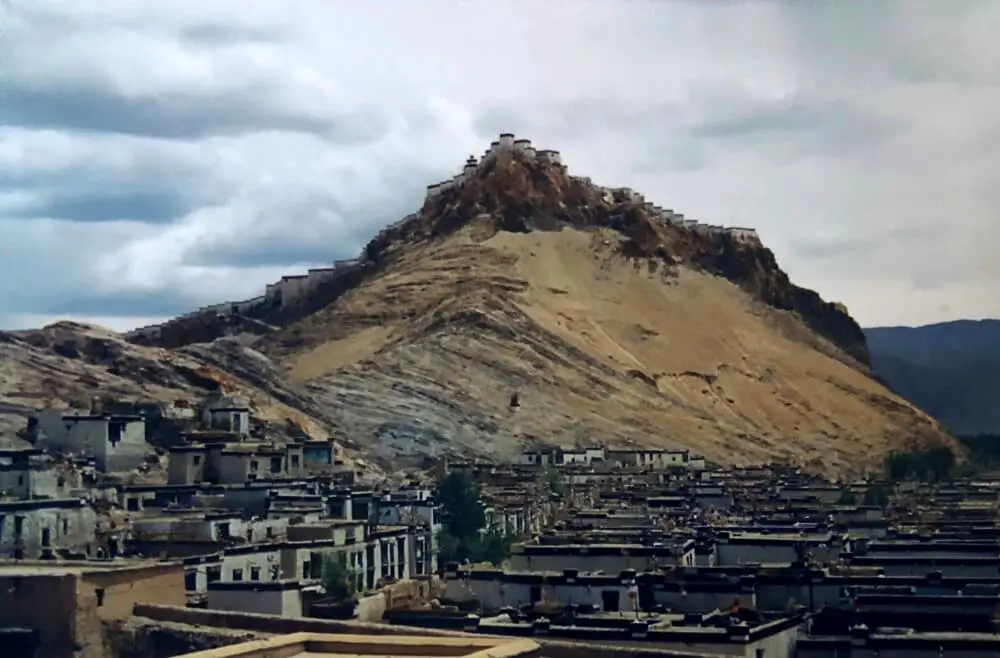 At the end of one of the main streets, sits Palcho Monastery, complete with a large multilayered chapel and the largest stupa (chorten) in Tibet.
The monastery (Palcho Monastery)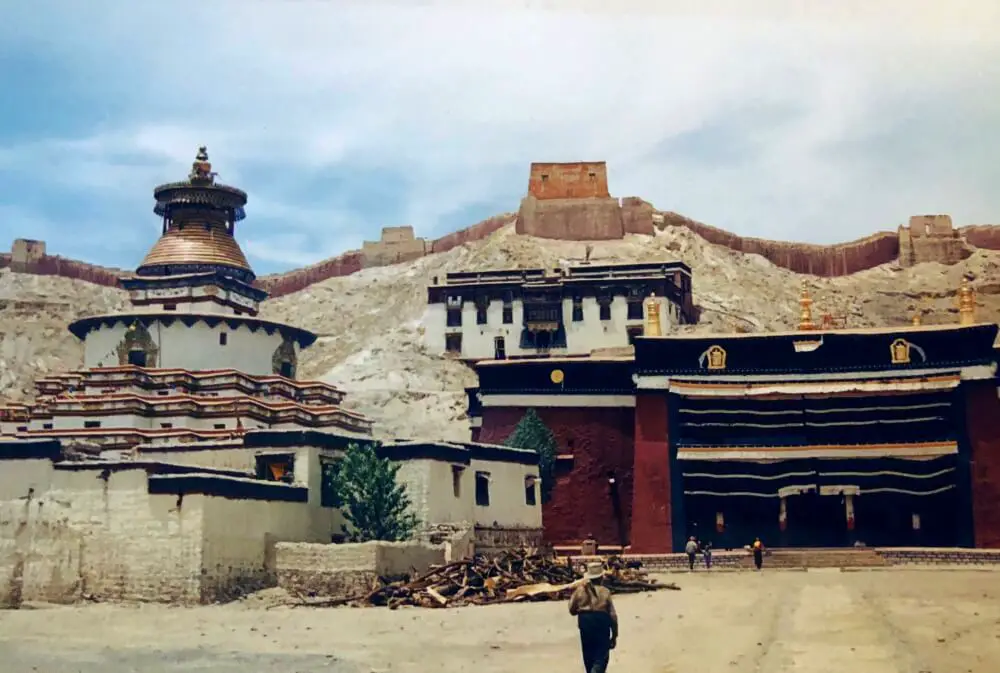 As I approached the monastery, a pack of feral dogs formed a snarling circle around me.  I waved my bag around to keep them away, and was very relieved when a passing monk shouted at them in Tibetan and they all ran away.
I went around the first level of the Pango Chorten, which had a small room every couple of meters with a different state of some gods and murals on the walls depicting the same gods. I was pretty out of breath (Gyantse is  13,000 ft/ 4,000 meters above sea level), so decided to spend a couple of days exploring the small town.
I had had a great experience visiting a moss temple in Japan, and was looking forward to visiting a Tibetan monastery.
Inside the monastery I witnessed monks making three sand mandalas.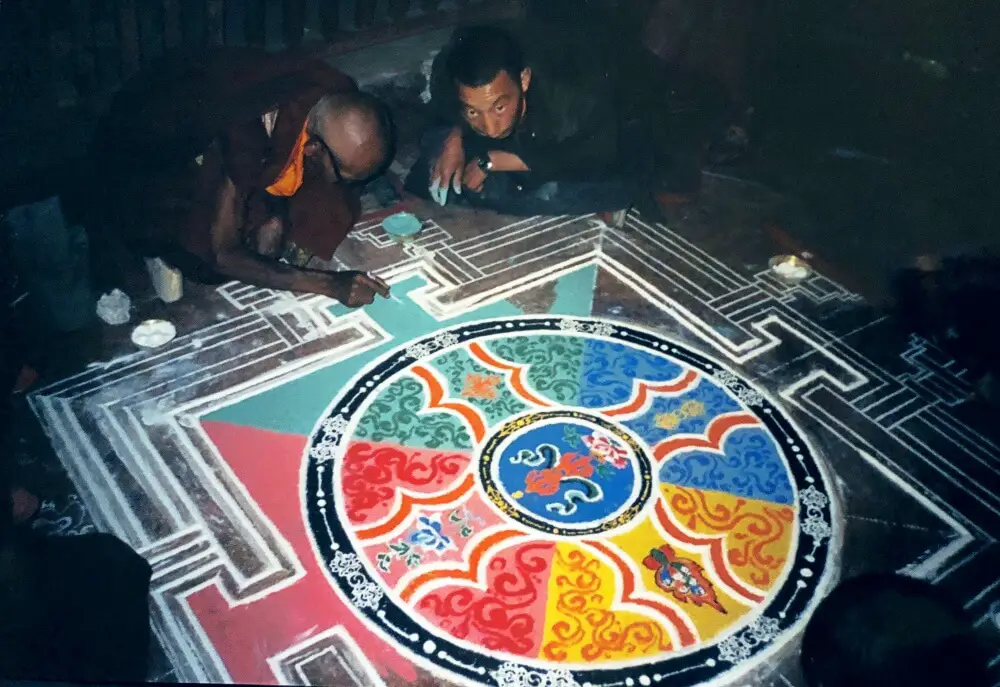 What is a mandala?
A sand mandala is a form of Tibetan Buddhist art. What does mandala mean?  The word is Sanskrit for 'circle'.  The geometric mandalas represent wholeness and harmony, which are the very core of Tibetan Buddhism.
Why are mandalas made of sand?
The Buddhist mandalas are made from colored sand and after ceremonies are performed, they are ritualistically dismantled.  This symbolizes the transitory nature of material life that is another central idea in Tibetan Buddhism.
Learning how to make a mandala
The Tibetan monks were making three mandalas when I arrived.  One was still having the intricate pattern marked out on the floor; one was marked out and ready to start being filled in with painted sand; and the other was already being filled in with brightly colored sand.
About 8-10 monks were all working on it in a circle.  It was fascinating, and I sat and watched for several hours as they worked carefully on all three.  They had color photos – one from a book or magazine and another from a photo taken of the previous' year's mandala.   However, they were not exactly the same; the variations they introduced made each one unique.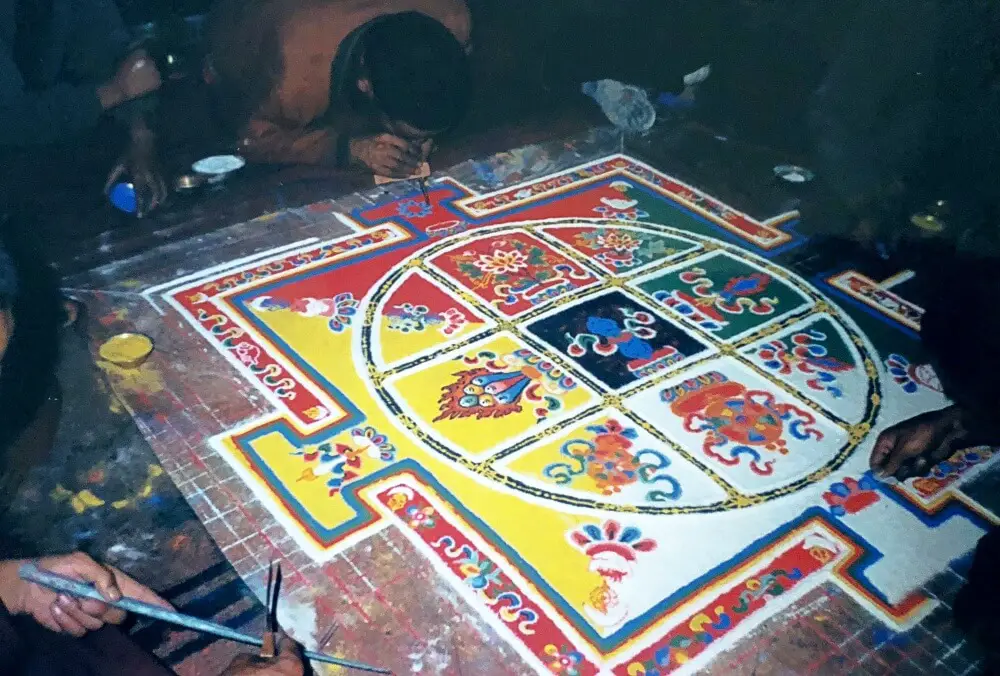 Joining in
The next morning, I was woken up at 7:00am by loud pro-Chinese government propaganda and music blaring out of the loud speakers that are positioned strategically all around the town.  This occurs for about an hour several times a day.
The mandala I saw started yesterday was well under way and the other two had also now been started.   As I was standing and watching, the monks invited me to sit on their mats beside them (which was much better than the cold floor covered in a layer of yak butter accumulated from candles over the years).  I say and watched in awe and amazement as this incredible piece of art was created in front of my eyes.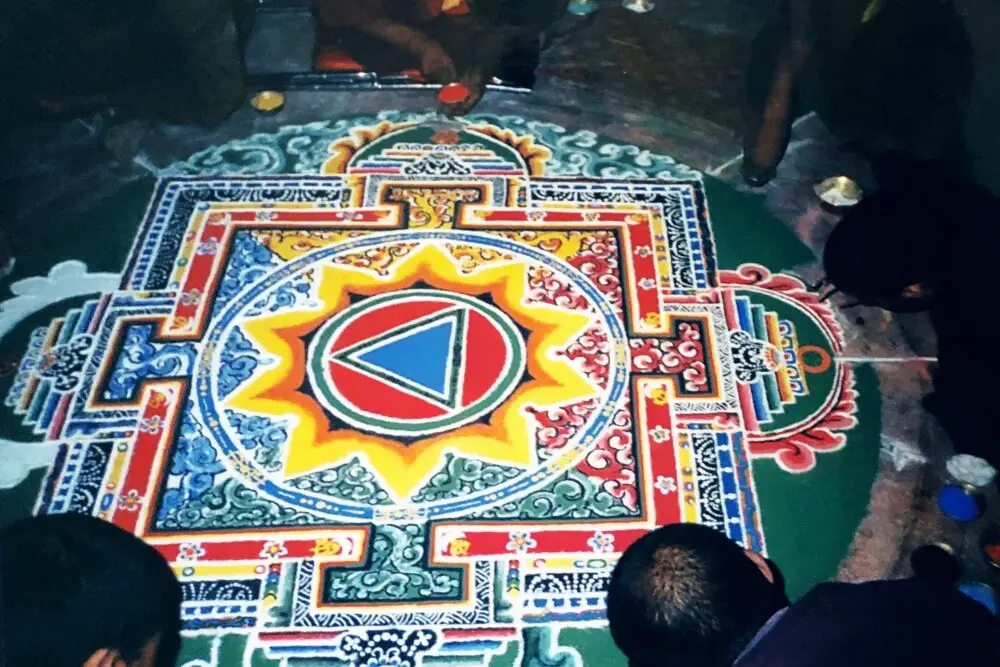 After a while the monks invited me to join in.  I like participating in things when I travel, but was nervous I would mess up.  Despite my protests that I would make crooked lines, they insisted.
A special instrument is used – a narrow slightly conical metal tube with a small end and ridges in the side, that is filled with finely colored sand.  The ridges on the side of the tube are then rubbed with a piece of metal, which causes the sand to falls out finely.   This allows for a great deal of precision and it is possible to draw thin straight lines and fill in spaces easily, creating very detailed designs.  
I helped with some of the thicker lines and it was amazing to be a part of creating this incredible work of art.   
The monks were all very friendly and a couple even spoke a little English and kept calling the different colors by their English name.
Taking photos
After many hours, I asked if I could take some photos, offering to get their address so that I could send a copy of the photos to them, and they willingly complied.  Later the monks asked me to take some more photos.   A couple asked to look through the viewfinder of my camera, so I let them take some photos. 
I'm not completely sure if being keen to have a permanent memento of something that is supposed to represent the temporary nature of life present any theological conflict, but I was more than happy to send the photos to the address they gave me, when I got home.
The completed mandalas
The next day I spent most of the day watching the completion of the three sand mandalas.  When I got the monastery at 10:00am, they were well under way and all three were finished by early afternoon.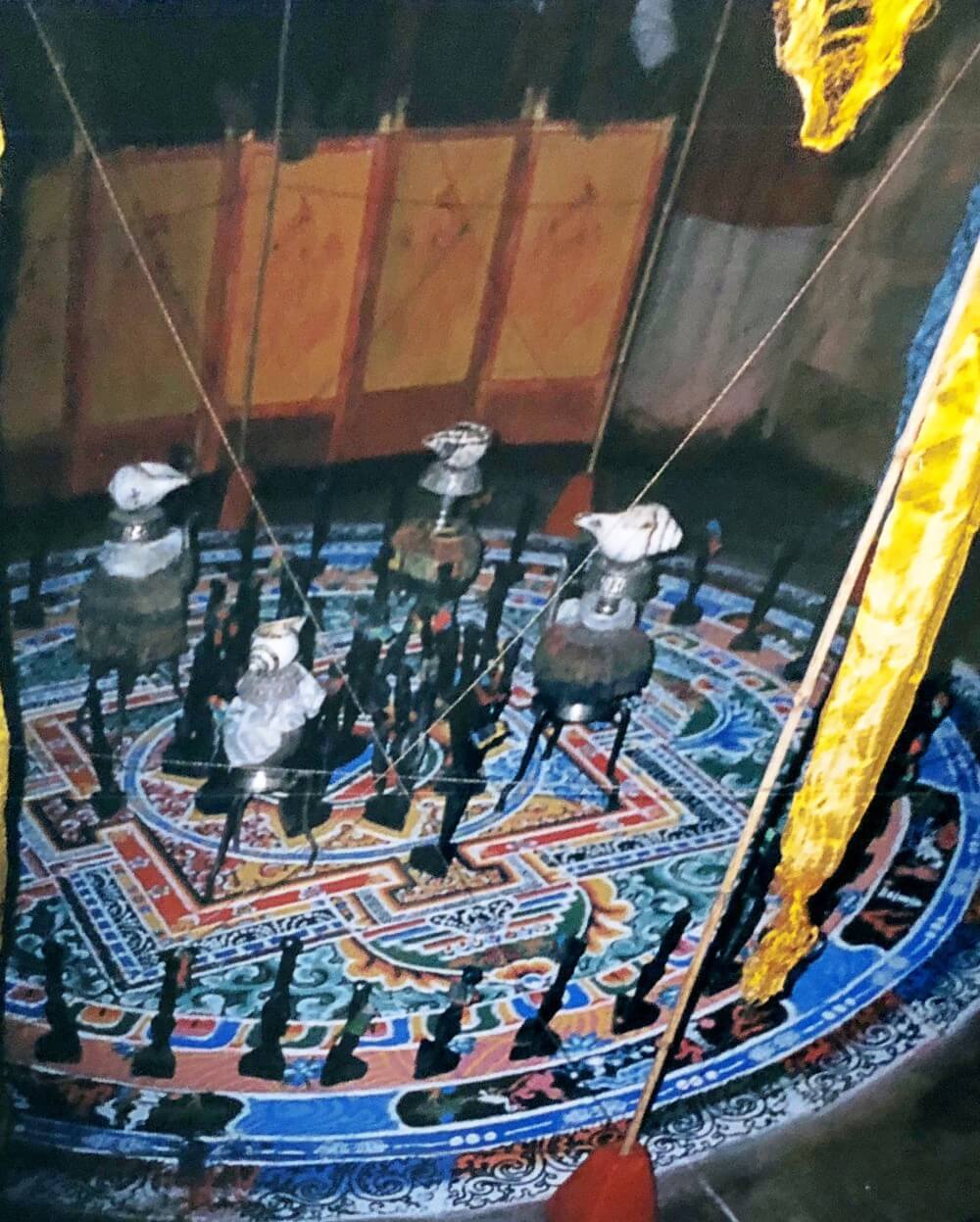 After they were completed, the first one had numerous small sticks or statues placed over it.  Poles were places around and string strung over and around it in patterns. 
The second had a huge canopy hung over it and a large patterned sheet behind it. 
The third had more ornate materials behind it.  Barricades were placed around all three of them for protection together with three-tiered stands on which shrines were erected.
The verdict: Helping Tibetan Monks Make a Sand Mandala
Sometimes the best travel experiences we have are free.  If you take time to slow down and just be, the most amazing things can happen.  Spending three days watching people pour sand on the floor may sound boring, but it was anything but boring. 
Having the opportunity to see the whole process of creation and even join in was incredibly rewarding and fascinating.  The monks shouted at a bus load of tourists who came in for 5 minutes and wanted to take photos – and yet later they asked me to take photos of them. 
The difference is, I think, being a part of something rather than just watching it, which is the whole premise behind experiential travel.
Tibet is incredible, but I also found it a sad place. It's very spiritual and yet the traditional culture is struggling – but managing – to stay alive. I feel truly blessed to have been able to be a part of this.
[table id=13 /]
---
Practical Tips for Visiting Tibet
Tibet is often called the "Roof of the World".  The Tibetan plateau is the world's largest and highest plateau. It is on average more than 13,100 feet/ 4,000 meters above sea level.
When I talk about "Tibet" in this post, I am referring to what is now the Tibet Autonomous Region (TAR) of China.  However, Tibetan people and culture are also found in neighboring Chinese provinces Qinghai, the southwest part of Gansu, western Sichuan and northwest Yunnan, as well as parts of northern India.
Tibet and China have an unhappy history.  China invaded Tibet and took it over in 1950.  In 1958, there was an uprising and the Dalai Lama went into exile in Dharamsala, India, where he set up his government in exile.  
Tibet remains somewhat politically volatile and there have been occasional uprisings over the years.  China now seeks to 'overcome' Tibet by internal immigration and assimilation, and a lot of traditional Tibetan areas have been demolished and replaced with Han Chinese buildings and people. 
However, Tibetan culture remains strong, and many monasteries are being restored.
Because of the political instability, the travel situation can change frequently.  China periodically closes Tibet to foreign tourists, especially in March, the anniversary of this Tibetan Uprising, when tensions are highest.
Making sand mandalas with Tibetan monks
It is currently only possible visit Tibet with a tour agency.  Your tour guide (which can be a private tour) must accompany you to all monasteries and follow the itinerary that you set before travelling, so multi-day impromptu experiences like this are not that possible currently. 
However, any opportunity you have to interact with local people is incredibly valuable, which is why I recommend finding a local Tibetan tour guide. 
The sand mandalas are not made on a precise calendar (I was there early June), but if you are lucky enough to visit Gyantse when they are making them, it is worth asking your guide for you to spend as long as possible there and trim time off another part of your itinerary.
Tibetan Tour agencies
Tourism to Tibet is strictly controlled by the Chinese government.  You used to be able to book a 'tour' through an agency in Chengdu that included a permit, flight and a night in a hostel in Lhasa, and then you were there and on your own. 
However, following the Beijing Olympics and Tibetan riots around that time, things were tightened up and this option no longer exists.  Now, the only way to visit Tibet is on an organized tour the whole way.
Since you can only visit Tibet with a licensed tour company, I think choosing a Tibetan owned and operated company is best.  Be sure to insist that you want a Tibetan guide.
Here is a list of some Tibetan tour agencies:
How to get a permit for Tibet
All foreign travelers to Tibet need at least permit.  Depending on where you are going and how you are getting there, you may need several more.
The basic permit that everyone needs is the Tibet Tourism Bureau (TTB) permit, which can be issued to you by registered travel agencies.  It's officially free, but tour agencies often charge, since they will need to pay fines for every 'mistake' you make and want to cover this. 
Permit applications must be sent in at least 25 – 30 days before the date of travel. Note that this, like everything with travel to Tibet, can change, so it is best to arrange your trip to Tibet as far in advance as possible.   The TTB permit has two pages – you need them both.  You will not be allowed to enter any plane, train or jeep to Tibet without showing both pages of your TTB.  Take several photocopies with you just in case an official wants to keep a copy.
Because Tibet is usually closed to foreigners during March (and often late February) and sometimes October, it's almost impossible to get a permit for these months.
If you don't want to – or can't – get a permit or would prefer not to take a tour, there is another option. You can visit the small town of Litang without a permit. Here are full details on how to visit Litang, Tibet without a tour or permit.
Other Tibetan permits
Aliens' Travel Permit
If you are travelling to areas outside Lhasa, like Shigatse and Gyantse, you will need to get an Aliens' Travel Permit (also called a PSB permit) as well.   It's issued by the local Public Security Bureau in Lhasa, Shigatse and Nyingchi and is easy to get.  You tour agency can arrange this for you.
Tibet Group Visa
If you are traveling to Tibet from Nepal, you will need to get a Tibet Group Visa instead of an ordinary Chinese Visa.  The Tibet Group Visa is a special type of single-entry Chinese visa, usually for a maximum of 30 days, and is issued by the Chinese Embassy in Kathmandu for tourists who plan to travel to Tibet from Nepal.  
The Tibet Group Visa only covers your Tibet itinerary or an expanded tour in mainland China and is difficult to extend, so if you are planning to visit the rest of China after Tibet, make sure this is included in the length of the group visa you get. Again, your tour agency can help you with this.
Tibet Border Pass
If you are planning to travel to remote destinations near the border such as Mount Everest, Zhangmu, Yadong, Mount Kailash, or Manasarovar Lake, you will also need a Tibet Border which is issued by the Tibet Armed Police Border Corps in Lhasa.  This is not needed for Gyantse.  Your tour agency will help you get this.
Tibet Military Permit
If you are going to any place that is deemed sensitive by the military, such as Mt. Kailash, Lake Manasarovar, Pomi, and Rawu, you will also need Military Permit.  Again, this is not needed for Gyantse, but if you are also going to any of these areas, your travel agency will help you get this.
How to get to Tibet
There are several options (arranged through your tour agency).  Note that if you try to travel independently and are caught by the authorities you will either be sent back (at your expense); have your visa cancelled and be deported and, in some cases, even be banned from ever re-entering China; or even temporarily jailed.
How to get to Tibet by plane
Lhasa is the capital of Tibet and home to the main airport. Lhasa Gonga Airport is about 60 miles/ 100 km from Lhasa.  Domestic flights are available to/ from Beijing, Xi'an, Chengdu, Chongqing, Kunming, (all direct) and Shanghai, Guangzhou, and Diqing (with a (long) layover). The only international flights are to/ from Kathmandu in Nepal.
Note that travel guides can't meet you inside Lhasa airport.  Guides wait outside the terminal and across the street.
How to get to Tibet by train
The China Tibet Train railway (also called the Qinghai-Tibet or Qingzang Railway) runs between Golmud and Lhasa.  There are several trains to/ from Tibet daily.  Direct trains to Lhasa leave from Beijing (almost 48 hours), Xining, Lanzhou, Shanghai, Guangzhou, Chongqing and Chengdu. The shortest train is 20 hours.   
The trains to Tibet are custom-built for the high-altitude conditions with oxygen outlets (the highest pass is over 5,000 feet/ 1,500 meters so altitude sickness is common), anti-radiation sightseeing windows and a dining car. Toilets, however, are all squat toilets.   
Train tickets to Lhasa can be hard to get (especially May-October).  A popular option is fly into Lhasa then get the train out.
The different options are:
(1) Soft Sleeper (first class)
Four berths per compartment – two upper and two lower.   There are twelve compartments with private doors in each carriage. There is also a separate waiting area and priority boarding.
(2) Hard Sleeper (second class)
Six berths per compartment – 2 triple bunk beds; two upper, two middle and two lower. There are eighteen compartments without doors in each carriage.  The bunks are cushioned, not hard as the name implies.
(3) Hard Seat (third class)
Seats only, though they are also cushioned.  The Tibet trains are a little more spacious than normal 'hard seat' carriages (98 seats/ carriage vs. 108 on regular trains), but this is very long train trip, so I'd get a sleeper if you can.
How to get to Tibet by bus
There are several road routes into Tibet, but currently bus travel is not permitted for foreigners.  The information, in case this situation changes is:
There are 4 coach stations in Lhasa. Buses to Chengdu, Shigatse, Lhoka, Golmud, Xining, and Lanzhou arrive at/ leave from the Lhasa West Suburb Coach Station, No.1 Minzu Road, Lhasa. The others are for buses traveling to destinations within Tibet.
How to get to Tibet by jeep or minivan
If you want to travel by road, you will have to arrange the vehicle and driver through your agency.  Driving yourself is not possible.  There are currently three working roads into Tibet.
North: The Qinghai-Tibet Highway runs from Xining to Golmud then to Lhasa.  [754 miles/ 1,214 km].   This route has the best road conditions.
East: The Sichuan-Tibet Highway runs from Chengdu to Lhasa.  [1,448 miles/ 2,330 km].  This is popular with Chinese, but difficult for foreigners to arrange.
Southeast: The Yunnan-Tibet Highway runs from Xiagun City to Shangri-La then to Marham County.  [500 miles/ 800km]
West: There is no border crossing in this direction.
South: The Nepal/ Tibet road has been closed since the 2015 earthquake in Nepal.
Getting around Tibet
The most common route to Gyantse is from Lhasa via Shigatse.  It takes 1 hour 45 minutes by road from Shigatse to Gyantse.
Make sure that you have all the permits you need.  You will need to travel with your guide. There are frequent checkpoints on the roads outside of Lhasa.
By Train
It's possible for foreigners to take the train between Lhasa and Shigatse (with your guide).  This a cheaper than hiring a vehicle, but the train does not go to Gyantse.  The train leaves twice/ day:
TRAIN
DEPART
ARRIVE
Lhasa–Shigatse
8:30 am
11:25 am
3:20 pm
5:59 pm
Shigatse–Lhasa
12:05 pm
2:40 pm
6:40 pm
9:33 pm
By jeep
Jeep tours are the easiest way to get around.  The tour operator will sort out all the paperwork.
Be very precise with your itinerary and very careful with payment. Every stop, every monastery, every lake, etc. that you want to visit should be detailed on your itinerary in advance.  NEVER pay in advance (you don't want them to take your money then disappear!).
By bus
Foreigners are generally not allowed to travel by bus outside of the cities.  There is a good bus network in central Tibet (you just can't use it).
Local city transportation
In Lhasa and Shigatse, there are buses that run along set routes.
in Lhasa, Gyantse, Shigatse and Bāyī, you can also take pedicabs.  You will need to haggle.  Arrange the price before you leave.
In most towns, there are taxis.  If there is no meter, bargain and agree on a price before you leave.
When is the best time to visit Tibet?
June-August are best, though May-October are considered the high season.  The rest of the year is very cold.
What is the currency in Tibet?
The currency in China is the yuan, also called renminbi. Check the current exchange rate here.
Planning and packing for Tibet
I hope that this is helpful resource for planning your Tibet trip.  This post is mostly about Gyantse, though.  To plan your trip to the rest of Tibet, I recommend the Lonely Plant guidebook. Buy the Tibet Lonely Planet here.
If this is your first time to Asia, read my Asia Travel Guide for useful information and tips. Also use my Trip Planner, which breaks down each step of the planning process for you.
When you are ready for your trip, check out my Essential Packing List for International Travel to make sure you have everything you need.
Cultural tips for traveling to Tibet
Food
The Tibetan diet is simple.  Even though most Tibetans are Buddhist, meat (mutton or yak) is common, as well as barley and dairy products.  It's pretty bland, though hot sauce is a common condiment.  My favorite were momos (dumplings), served with a mix of soy and chili sauce.  
Other common foods are thukpa (noodle soup); thenthuk (thukpa with handmade noodles); tingmo (bland steamed bread); and the ubiquitous yak butter tea (definitely an acquired taste, but it's rude to refuse if offered to you).
Language
Try to learn and use a few Tibetan words or phrases.  Although Mandarin is widely spoken, Tibetans will appreciate you using their language.
Topics for discussion and safety
There is a lot of political tension in Tibet.  Though you will always be safe – your travel will be restricted if anything happens – you should generally try to avoid political discussions.  You don't know what will happen to Tibetans caught talking politics to you after you leave and return to the safety of your home.
Buddhism
Before the Chinese invasion, Tibet was a theocracy, and religion is still incredibly important to most Tibetans.  Be sure to respect their customs and beliefs. 
Tibetan Buddhism is quite ritualistic.  Always walk around Tibetan Buddhist religious sites and monasteries in a clockwise direction, and when in a monastery don't wear a hat, smoke or touch frescoes.
Money
Entry fees at major religious sites will probably go into the coffers of the local Communist Party and its Chinese members. To support Tibetans and their culture, give directly to individual monks or nuns or leave money at the altars in monasteries.  Buy directly from Tibetans, stay in Tibetan hotels, eat at Tibetan restaurants, and use Tibetan guides.
Altitude
Tibet is over 4,000 feet/ 1,220 meters above sea level, so altitude sickness is a very real threat.  The usual recommendation for altitude sickness is to go lower, but this is not possible in Tibet.  
Generally, the best way to prevent altitude sickness is to ascend slowly, but if you fly into Lhasa, this is also not possible.    Travelling to Tibet by train doesn't really help, as most of the trip is over 4,000 feet and you actually go over a high pass around 5,000 feet, so this can actually be worse. 
You may find yourself tired very easily, out of breath and headachy for the first few days you are in Tibet. I almost never suffer from altitude sickness, but this described me exactly for my first few days in Lhasa. Plan accordingly and give yourself time to adjust to the altitude by having easy days at the start of your trip.
Travel Insurance
You should always have travel insurance, just in case something goes wrong.  Read my Guide to Buying Travel Insurance for the full lowdown.
A great insurance option is Travelex.  It has coverage for all you'll need. You can swap this link for  either choose the best travel insurance plan for your trip here or get a quote right now:
---
Enjoy your trip!
Do you have any stories of Tibet ? I'd love to hear them. Comment below. 
If you liked this post, please share the love and Pin it to your Tibet board!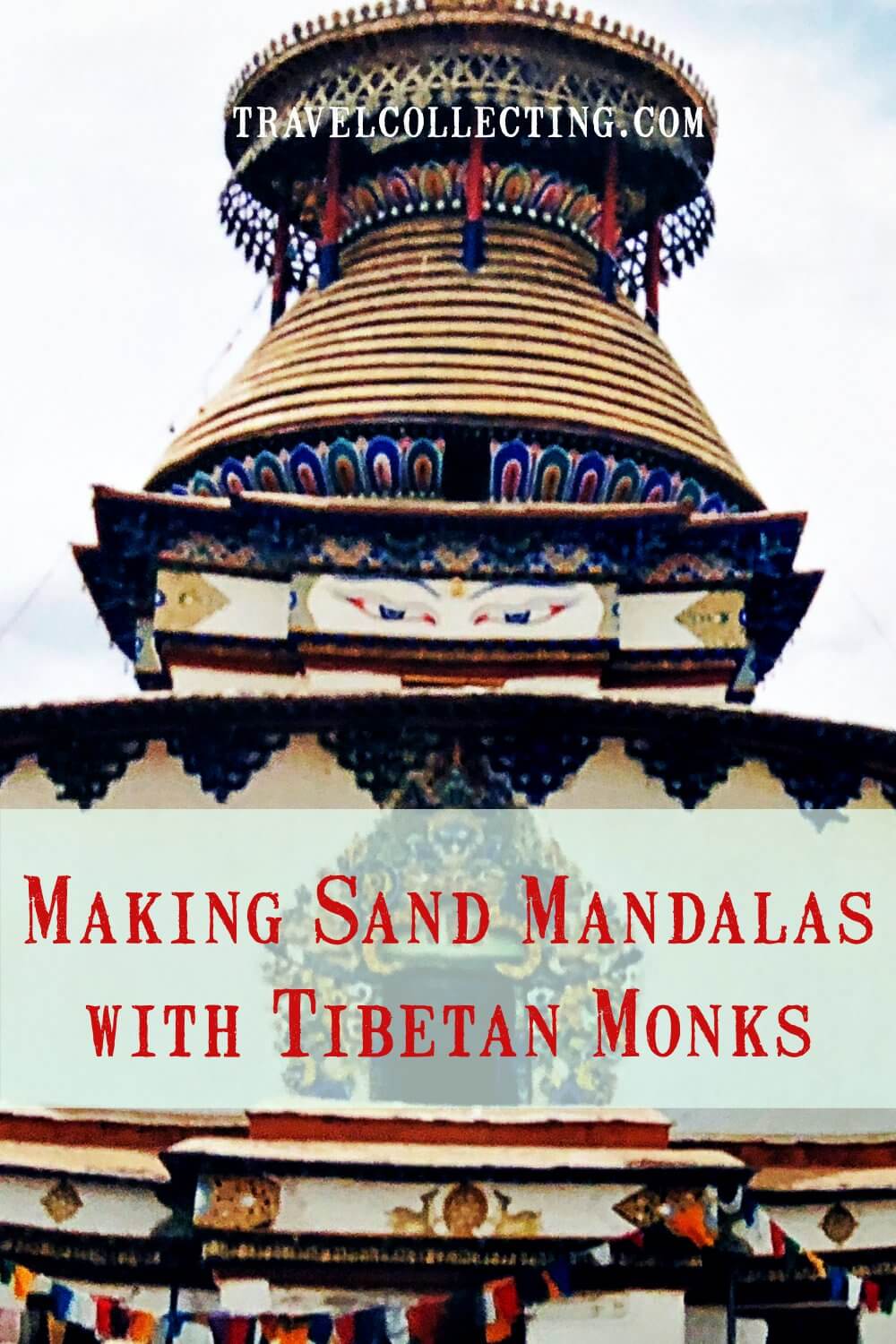 Read about other Asian adventures:
---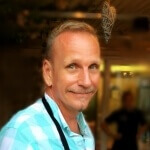 James Ian has traveled to 82 countries and all 7 continents.  He is passionate about experiential travel, i.e. meaningful travel that actively engages with the environment and culture.  He helps people have similar experiences that involve active participation in activities and festivals; engaging with the local food and handicrafts through lessons and food tours; and interacting positively with environment by hiking, riding, rowing, diving and low/no impact animal encounters. 
---
Travel Collecting is a participant in the Amazon.com Services LLC Associates Program, an affiliate advertising program designed to provide a means for sites to earn advertising fees by advertising and linking to amazon.com. Amazon and the Amazon logo are trademarks of Amazon.com, Inc. or its affiliates.