Peering over the edge, you see a carpet of red, orange and yellow trees stretched out to the horizon.  Nearby, bright red trees form a stunning foreground.  You stand on top of the cliff looking down and out to the horizon. This is some of the most spectacular fall color you have seen.  Ever. 
There are plenty of similar places in the Hudson Valley to enjoy the fall foliage, and plenty of other things to do to enjoy autumn.
No time right now to read about the top ten things to do in the Hudson Valley in the Fall? Pin It and save it for later:
Please note this post may contain affiliate links, which means we may receive a commission, at zero cost to you, if you make a purchase through a link. Please see our full Disclosure for more information. If you have any questions, please let me know.
New York City tends to get most of the attention, and for sure it's my favorite city in the United States, but it's nice to get out of the city too.  Especially in the fall. 
The Hudson Valley in upstate New York is absolutely one of the best places to be in fall.  I love doing active things when I travel and visiting New England for the cranberry bogs (a great experience), but I recommend visiting the Hudson Valley for all other things fall/ autumn.
Planning to stay overnight? My top picks of places to stay in the Hudson Valley
[table id=100 /]
Top things to do in the Hudson Valley in the Fall
So, wondering what to do in the Hudson Valley this fall or what is there to do in upstate New York in October? 
There are so many fall Hudson Valley attractions and Hudson Valley activities that are perfect for families or couples that is hard to limit them to just ten (in fact, since first writing this, I have expanded it to twelve!).
1. Leaf- peeping
Leaf peeping (as actively looking at the fall colors is quaintly called) is the classic autumn activity.  Hudson Valley fall foliage is some of the best in the country. 
The Hudson Valley foliage is at its peak in the middle two weeks of October most years, but this can vary, and you can see beautiful fall foliage in New York almost any time in October and even early November as you get closer to New York City.
My favorite places for leaf peeping are:
a.  Minnewaska State Park
Minnewaska State Park includes more than 23,000 acres of forest.  There is a beautiful lake surrounded by trees blazing with color on three sides, and dramatic cliffs on the other. 
As you walk counter-clockwise around the lake, soon after you pass the far end and start to walk up the slight hill, there is a tiny path off to the right.  It is easy to miss. 
At the end of this short path are dramatic views over the Shawangunk Mountains below, completely covered in trees all drenched in the reds, oranges and yellows of fall.  It doesn't get much better than this.
Minnewaska State Park is on Route 44/55, five miles west of the intersection with Route 299 in Gardiner, NY.  You will need a car to get there.
The fee for parking at Minnewaska is $10 per car.  There is a lower parking area near the entrance – this is good for the Awosting Falls. For the lake, drive further uphill and park as close to the end as possible, so that you don't have to hike along the road to get to the trails.
b.  Mohonk House
Mohonk Mountain House is a Victorian era resort dating from 1869 that looks like something out of a fantasy book. It is also on the edge of a small lake ad there is an easy walk up the opposite hill to a fire tower and dramatic views over the surrounding area. 
You can stay there overnight, or visit for the day.
Day access to the hiking trails only is $35 per person ($30 for children) on the weekends.  They also have packages for specific activities such as horse riding, ice skating and cross-country skiing. 
As a treat – it's worth it – you can choose to eat there, and get access to the grounds and house as well.  The Breakfast buffet is served daily 7:30am-9:30am.  On the weekend, there is also a brunch buffet 11:30am-2:00pm.  It's not cheap, but there are multiple stations of food spread throughout the restaurant, and it's a wonderful treat.  Reservations are required.
Plus, both breakfast and brunch options include access to the Mountain House all day, hiking trails, the House History Tour (11:15am daily), Afternoon Tea & Cookies (4:00pm daily), Greenhouse and Victorian Gardens, and Evening Entertainment (9:00pm daily).  You really feel transported back to another era here.
c.  Mohonk preserve
Near the house, but separate is a private preserve. Walking through the golden woods in fall is magical.  Mohonk Preserve has multiple trails and costs $15 for day hikers.
Recommended trails include the Bonticou Crag Trail and the Table Rocks Trail.
There is a Visitor Center which is open 9:00am-5:00pm daily and you can pick up trail maps there.  Or you can download the trail maps and skip the Visitor Center and go straight to a trailhead. 
Fall is a popular time to visit and the parking areas at the trailheads are not that big, so it is best to get there early in the day.
d. Ashokan Reservoir
The Ashokan Reservoir is actually one of the sources of water for New York City.  It also makes an incredibly beautiful setting for fall color.
There is a small parking area (no fee) at the Ashokan Promenade and from there you can walk along a path on the top of the dam.  The Catskill Mountains form the backdrop and the reservoir is the foreground, but it is the brightly colored fall foliage that lines the water that is the star attraction.
e. Other hiking Trails
Any of the hikes you can do in the Hudson Valley (and there are many) are spectacular in the fall. Other recommended hikes include:
f. Take a leaf peeping tour
It is also possible to take a leaf peeping tour. On Saturdays starting the last weekend in September and through October, there is a tour that leaves from Beacon (which you can take a train to on Metro North from Grand Central Terminal in NYC if you don't have a car).
The 6-hour tour includes not only multiple chances to take in the fall foliage, but also stops at three local wineries for tastings and includes a gourmet picnic. You can check out more details and availability here.
g. Take a fall foliage helicopter tour
For a completely different view of the spectacular fall color in the Hudson Valley, treat yourself to a helicopter tour! You can choose from:
---
2. Picking apples
Yes, you can buy apples in a store, but why would you when you can pick them from the trees yourself? 
I love going to a farm, grabbing an empty bag and a long pole with a cup on the end and heading into an apple orchard.  Of course, I eat a few along the way. 
And at the end, we spend an entire weekend cooking apple meals – apple pancakes, apple muffins, apple and walnut salad, apple tea cake, apple and chicken stew, apple pie … Well, you get the picture.
There are plenty of farms that have u-pick apples.  A few options are:
This is at 69 Yankee Folly Rd (Route 299 & Yankee Folly Road) in New Paltz, NY.  Head out of town from New Paltz on Route 200 towards Mohonk and you will soon see it.  Coming from New Paltz, the farm stand is in the left and then just down the hill, the actual farm and u-pick is on the right.
This is at 3012 Route 213. If you are driving from Rosendale, it is just after High Falls on your right.  They planted new trees a few years ago, and now have a lot of different varieties. They also have wood-fired pizza and a cidery.
Many of the farms listed in the Corn Maze section below also have apple picking.
---
3. Picking pumpkins
I love going out into a pumpkin patch and choosing the perfect pumpkin.  Kevin and I always get one each, plus a little one for Cleo our cat. 
Some places have already picked the pumpkins and laid them out on a lawn.  This is just not the same as going into a field and seeing the vines withered and finding the perfect pumpkin a la Charlie Brown.
Our favorite pumpkin patch is Jenkins Leuken Orchards . 
---
4. Getting lost in a corn maze
Agritourism is alive and well in the Hudson Valley, and one of the best things to do in the Hudson Valley is to visit one of the many farms that open up for the fall.  In addition to u-pick apples and pumpkins, many have corn mazes.
Corn mazes in the Hudson Valley
Size of corn maze: 2 acres
Cost: $6 or as part of a $25 activity package
Location: 2187 State Route 32 Modena
Closed Tuesdays
Size of corn maze: 8 acres
Cost: $5
Location: 15 Scism Road, Tivoli
Open weekends and holidays
Cost: $16.95 weekends | $12.95 weekdays (includes other attractions)
Location: 5755 Rt 209, Kerhonkson
Closed Wednesdays
Size of corn maze: About 2 acres
Cost: Free
Location: 5100 Route 209, Accord
Closed Mondays
---
5. Shopping at farm stands
There is nothing better than buying fall fruits and vegetables direct from the farm.  U-pick is best, but you can't pick everything. 
A farm stand is the place to pick up different varieties of squash, garlic, sweet potatoes, and more.  Many sell bottles of cider and warm apple cider donuts – a personal favorite!  Buy the ingredients for fall cooking.  It doesn't get fresher than this!
And there's Indian corn:
---
6. Enjoying the Great Jack o'Lantern Blaze
This is weird and wonderful and good for kids and adults.  There are more than 7,000 Jack o'Lanterns carved and arranged in vignettes. 
You stroll along a path from one scene to another, with synchronized lighting and soundtrack to add to the effect. 
There are dinosaurs, an enormous spider web, an underwater scene complete with a giant sea serpent, a parliament of owls, plus lots of human-made things like a windmill, a medieval castle, a bridge, a carousel, the Statue of Liberty, and much more.
Practical Tips: Great Jack o'Lantern Blaze
The original Great Jack o'Lantern Blaze is held at Van Cortland Manor, an historic home in Croton-on-Hudson not too far north of New York City. (There is now also one held at Old Bethpage Village on Long Island).
It goes from late September to late November.  Buy tickets online for a timed entry, but you can take as long as you like when you are there.  It sells out, so I recommend buying tickets far in advance.
Getting to the Great Jack o'Lantern Blaze
The easiest way to get to the Great Jack o'Lantern Blaze is to drive.
If you don't have a car, you can take the Metro North from Grand Central Terminal in New York City on the Hudson line to Croton-Harmon station. From there, you catch a connecting Bee-Line Bus (routes 10,11, 14), take a local taxi, or walk (not a very nice walk along a major road, but possible – I have done it).
---
7.  Getting scared at the Headless Horseman Hayrides and Haunted Houses
In Ulster Park, there is a haunted village. Enter if you dare. Take a haunted hay ride, visit a spooky cemetery or – if you dare – enter one of the themed haunted houses!
It was voted the number 1 spooky site in the country. It's open Friday – Sunday in October. Check their website for the full schedule and to get tickets.
---
8. Drinking cider at a cider house
Sitting outdoors, drinking hard cider and eating freshly-baked pizza surrounded by fall color is a wonderful way to spend a weekend afternoon with friends.  There are two great options (there are more, but I have been to both of these places and love them):
Twin Star Orchards have free hard cider tastings from Brooklyn Cider House and  artisanal wood-fired pizza in their pavilion.  They also have u-pick apples.  155 N Ohioville Rd, New Paltz
Westwind Orchard also has a cider house, tastings, cider for purchase by the glass or bottle, wood-fired pizza with outdoor seating and u-pick apples and pears.  215 Lower Whitfield Road, Accord.
Read more: Best Cideries in the Hudson Valley
---
9. Antiquing at the fall Rhinebeck Antiques Show
There are several small antiques shops scattered around the Hudson Valley, but for concentrated antiquing, it is hard to beat the semi-annual  Rhinebeck Antiques Fair. 
It's held at the Rhinebeck Fairgrounds on Saturday and Sunday of the Columbus Day/ Indigenous People's Day weekend.  Entrance is $12 per person.  I buy something every time I go!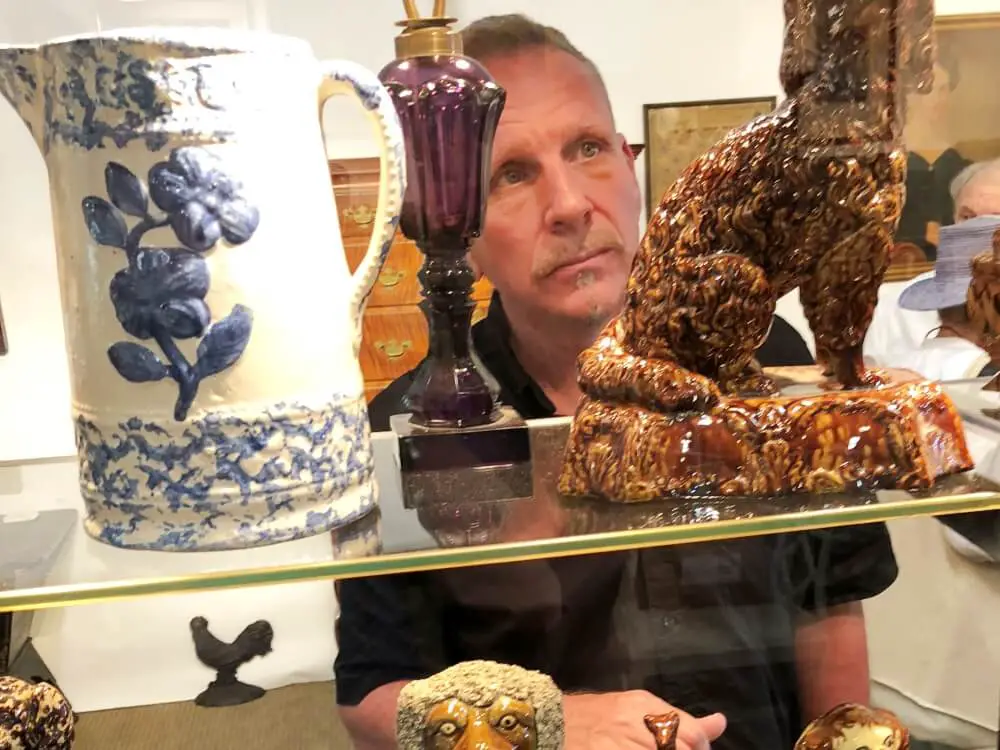 ---
10. Walking or cycling along the Walkill Rail Trail
The Walkill Rail Trail is one of the ten most iconic rail trails in the country.  It is 22-mile path through the woods and countryside along a former railway. 
In the small town of Rosendale, it goes over the 940-foot/ 286-meter long Rosendale Trestle bridge, 150 feet/ 45 meters above the Rondout Creek, which dates from 1872 and was recently restored.
Walking or cycling along the rail trail among the trees is a perfect way to experience fall.  Stop of at the Rail Trail Cafe for a wood-fire pizza and drink along the way.
---
11. Visiting the old Gilded Age mansions and other historic houses
In the gilded age, the rich families of New York built enormous mansions on the east side of the Hudson River.  Many have been torn down, but several were donated to the state government, and so survived. 
They are set on large grounds with stunning views over the Hudson River.  You can visit them throughout the year, but fall is a wonderful time to visit because of the gorgeous fall color. 
Most have guided house tours, but you can just visit the grounds and go for scenic walks.  Two of my favorites are:
The mansion is enormous, and not that beautiful in my opinion. The grounds, however, are stunning. 
Most of the mansions are separated from the river by the railway line, but here, the line goes slightly inland, so you can actually walk all the way down to the edge of the Hudson  River.  You can even see the Esopus Lighthouse in the middle of the river.
The house here is beautiful, but even if you skip the house tour, this is a great place to go for a walk through trees ablaze on fall color.  The views across the Hudson River are stunning.
There are plenty of cute villages in Hudson Valley to explore too (including my home town Stone Ridge).
As you can see, the Hudson Valley has so many things to do in the fall.  You can do these things as day trip in the Hudson valley from New York City, or have a weekend getaway so you won't feel so rushed.
---
PRACTICAL TIPS: Top Things to Do in the Hudson Valley in the Fall
Getting Around the Hudson Valley
You really need a car to get around the Hudson Valley.  If you don't have a car, you can rent one easily for the day or weekend here.
If you just want to see the valley, one of the most beautiful train journeys in the world runs daily between New York City and Albany, right alongside the Hudson River.  Sit on the left side going north and right side going south for the best views.
Where to stay in the Hudson Valley
You can do a day trip in the Hudson valley from New York City, but having a weekend getaway will give you more time, so you won't feel so rushed and will be able to unwind more.  Top to stay are:
Minnewaska Lodge
The room are rustic (which I like) and there are great views over the fall color. Check prices and availability here.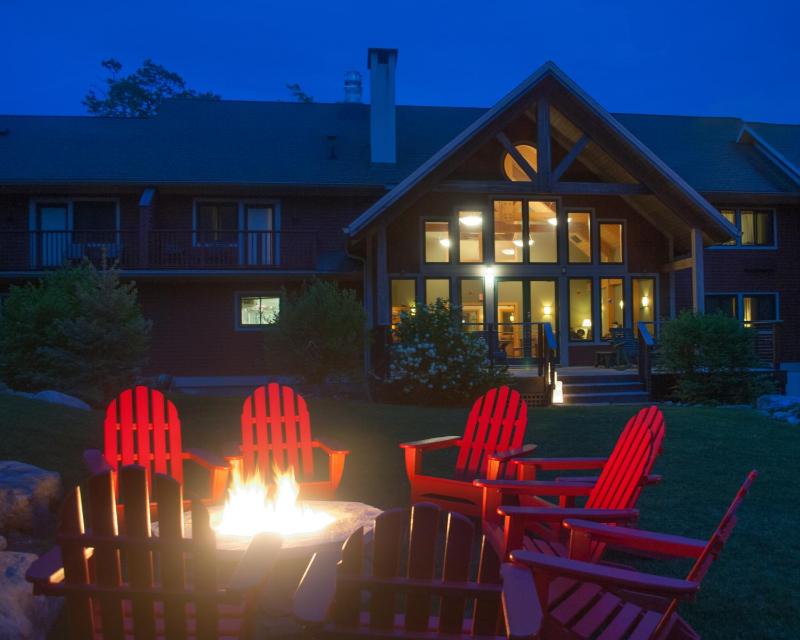 Hudson Valley Botanical Garden rental
This is self-catering, which means you can cook the food you buy!  Nice location. Check price and availability here.
Check my guide on Choosing the Best Hotel for tips on what to look for.
Some great vacation rental options include:
Cute Cottage in Hurley
This is a self-contained country place to stay. It has loads of character, and has a great location in Hurley, where the Main Street is filled with historic stone houses. Check prices and availability here.
Chic Modern A-Frame
A beautiful modern A-frame house in the woods. With sky-high windows, you can enjoy views of the stunning fall color from the living room and then enjoy a cozy fire at night.  Check prices and availability here
Where is the Hudson Valley?
The Hudson Valley is the name for the area either side of the Hudson River between Albany and New York City. It is roughly divided into southern (about an hour north of NYC), central (about 2 hours north of NYC) and northern (about 3 hours north of NYC).
Best time to visit the Hudson Valley
Fall is mostly September to October, but the best fall color in the central Hudson Valley is usually the middle two weekends in October. 
The northern part of the valley has color a little earlier and the southern part, close to New York City, a weekend or so later, even into early November some years.  The nearby Catskill Mountains have color a week or two earlier, if you are there in late September.
Note that this is unpredictable and varies slightly each year, so there are no guarantees about fall color.  The other activities are not as dependent on the year's weather, fortunately.
Planning and Packing for the Hudson Valley
I hope this blog is useful resource for you when planning your fall travel to the Hudson Valley, but if you want a guidebook as well, to supplement this, buy the Moon guide to the Hudson Valley here.
Also, check out my Essential Packing List for packing ideas before you travel. And my Trip Planner to help you plan each stage of your trip.
Books about the Hudson Valley
Curl up around a cozy fire with a good book about the Hudson Valley. Perfect!
---
Enjoy the fall!
Do you have any favorite places to enjoy the Hudson Valley in the fall? I'd love to hear about them. 
If you liked this post, please share the love and Pin it to your Hudson Valley and Fall/ Autumn Boards for later!
If you are planning to visit New York City, read about some New York experiences:
With the holidays just around the corner, check out my NYC Experiences Gift Guide.
If you are travelling in fall, don't miss visiting a cranberry bog!  Book far in advance for the full experience.
---