The Hudson Valley is a hiker's paradise.  Although it is just one to two hours north of New York City, it is a world away in terms of what it has to offer.  You can hike the Hudson Valley around water lily-filled ponds, to scenic overlooks with stunning views of the Catskill Mountains and Hudson Highlands, to the edge of the Hudson River, to views of bridges over the river or over bridges crossing the Hudson River… There are vistas that have inspired poets and painters.  Places to relax and have a picnic.  Epic hikes to get the adrenaline pumping.  And much more…
No time right now to learn about the best hikes in the Hudson Valley? Pin it and save it for later:
Please note that some of the links below may be affiliate links.  If you make a purchase through these links, I earn a small commission at no additional cost to you. Read my Disclaimer for more information.
Best Hikes in the Hudson Valley
Trails for hiking in the Hudson Valley range from easy strolls around the shores of lakes to challenging hikes that include scrambling up, over, under and around rocks and ledges and squeezing up narrow crevices, and everything in between. 
Whether you are a beginner hiker or a hard-core trekker, or just someone who wants to have a fun day out in nature, there is a hike for you in the Hudson valley.
Where are the trails?
There are several key areas with hiking trails.  Hudson Valley, NY has the Shawangunks, which are especially famous for rock climbers, since the cliffs offer perfect climbing conditions.  However, the surrounding Mohonk Preserve and Mohonk Mountain House have multiple trails all around the cliffs and woods. Nearby Minnewaska State Park also has plenty of trails, and a lovely lake.  Scenic Hudson is an organization that manages several pockets of nature throughout the Valley, laced with trails. 
Because many of these places have several trails, the trails are usually colored and marked with trail blazes or affixed markers.  If you aren't sure how to read these markers, check my Guide to Reading trail Markers before you set out.
How to get to the Hudson Valley hikes?
You really need a car to hike Hudson Valley because there is often no other way to get to the trails.  If you don't have a car of your own, you can rent a car online here.  It is a worthwhile investment, as the Hudson Valley has even more on offer than just hikes.  Before you book your car, read my guide on How to Save Money on Car Rental.
Check out all the things you can do in the Hudson Valley in the fall – other seasons offer just as much.
What do I need to know and need to take with me on hikes in the Hudson Valley?
If you are a beginner hiker, I recommend reading my Intro to Hiking and  Beginners Guide to Hiking.  Also, check out my Guide to Hiking Etiquette 101 so you don't make any unintentional faux pas.
Even for short hikes, you should make sure you have appropriate clothing and gear (including adequate water) with you.  Check my Essential Day Hike Packing List to make sure you have everything you need.
In addition, some other key things to take are:
Trekking poles
I didn't use hiking poles for a long time, but when I was doing the French Valley hike in Torres del Paine, a fellow hiker lent me his for the part of the hike and I became a convert.  They were light and help stabilize me when I was on uneven ground and took some pressure of my knees when I was descending.   
There are things you need to consider when choosing hiking poles including the weight, material, price, pole design, grips and straps, tips and shock absorbers durability. I like the Foxelli ones – they are lightweight, shock absorbent and collapsible with cork grip handles. Check prices on Amazon here.
Binoculars
I like to take binoculars with me when I hike.  I am not a serious birdwatcher, but nonetheless, I use binoculars to see an interesting bird, a distant animal, or a view up close. 
The best binoculars for the money are the Vortex Optics Diamondback 10×42 Roof Prism Binoculars. Check them out on Amazon here and read my detailed guide to buying the best binoculars for the money here.
For cheaper options, I have also written detailed buying guides for the best binoculars under $200 and the best binoculars under $100.
Good hiking boots/ shoes or sandals
Even if you are doing short hikes, good boots make a difference.  If you are doing longer hikes or the rock scrambles, comfortable, well-fitting, boots with ankle support and a strong grip are essential.   
I have written a detailed guide to the Best Hiking Shoes & Boots and the Best Hiking Sandals . If you'll be hiking in the winter, you will need my Guide to the Best Winter Men's Boots and Best Winter Women's Boots.
The best of the best for comfort, durability and fit are:
Best Hiking Shoes:
Best Hiking Boots:
Best Hiking Sandals:
Best Winter Hiking Boots:
How much does it cost to hike in the Hudson Valley?
This depends on who owns/ runs the area you are hiking in.  Some of the hikes listed here are free.  Others you pay for a day pass or, if you will be hiking several times in a year, a season pass.  Prices are listed for each of the Hudson Valley hikes described below.
Hike the Hudson Valley Map
Descriptions of the Best Hiking in Hudson Valley
There are so many candidates for the best hikes near NYC, but these are my personal favorites.
1. Black Creek Preserve Trail
When hiking Hudson Valley, NY, you'll notice that there are only a few trails that have direct access to the Hudson River.  Black Creek Preserve is one of them.  There are three connected fairly flat trails through the woods that end at the Hudson River. 
The trail starts by crossing a cool suspension bridge, has a short climb and then flattens out for the most part.  There are several places with views of the river and even a tiny beach.  Note that swimming is not allowed, however.  This is also a good place to spot salamanders in the early morning.  
This is an easy hike with a big payoff.  One of my favorites – and it is not crowded (partly because many people don't know about it and partly because the size of the parking lot limits the number of hikers on the trail).
Read More: Full details and description of the Black Creek Preserve trails
Distance:

Yellow trail: 0.44 miles/ 700 m
Red loop 0.86 miles/ 1.4 km
Blue loop 0.56 miles/ 0.9 km

Elevation change: 374 feet/ 114 m
Time: about 1.5 hours full loop
Difficulty: Easy
Trailhead: Black Creek Preserve parking lot
Highlights: Suspension bridge; direct access to the Hudson River
Fee: Free
Open: year-round, sunrise to sunset
---
2. Poets' Walk Trail
Poets' Walk is named after the poets who used to walk there and be inspired by its beauty.  This includes Washington Irving, who supposedly got the idea of Rip Van Winkle while gazing at the Catskill Mountains from the trail. 
It is actually a created landscape, based on the concept of a series of outdoor 'rooms' – meadows separated by dividing 'walls' of woods.  There are cute wooden pavilions and benches, great views of the Kingston-Rhinecliff bridge, and places to sit and enjoy the scenery of the mountains and the Hudson River, making it one of my picks for best hikes, Hudson Valley.
To zoom in on the lily pond, you will need a zoom lens.  If you take photos with your iPhone, as I do, you can get an attachable zoom lens on Amazon here.  This is an easy walk that the whole family can do.
Read More: Full details and description of the Poets' Walk
Distance: 2.25 miles/ 3.6 km
Elevation change: 203 feet/ 62 m
Time: About 1 hour 15 minutes (longer with some stops)
Difficulty: Easy
Trailhead: Poets' Walk parking lot just off River Road
Highlights: Views of the Hudson River, Catskills and the Kingston-Rhinecliff Bridge; Arts and Crafts style pavilions and benches
Fee: Free
Open: year-round, sunrise to sunset
---
3. Shaupeneak Ridge
Shaupeneak Ridge in Esopus has several interconnected trails, all of which are easily some of the best Hudson Valley hikes. 
The white trail climbs from the lower parking lot fairly steeply up the ridge.  The highlight is the small, but picturesque waterfall off a small side trail. 
The top of the ridge, also accessed by car and the upper parking lot, has several different trails.  Highlights include an overlook with views of the Hudson River far below from the red trail, and the lovely Louisa Pond on the blue trail.  The pond is half full of flowering lilies and other water plants and there are several places where you can stop and enjoy views of the lake. 
Other trails pass through the woods and gullies filled with ferns and moss-covered rocks.  The trails are also popular for mountain biking and kayaking is possible on Louise Pond.
Read More: Full details and descriptions of the Shaupeneak Ridge trails
Distance:

White Trail: 1.63 miles/ 2.6 km each way

Purple trail: 0.1 miles/ 160m each way

Red Trail: 1.22 miles/ 2 km loop

Blue trail: 1.18 miles/ 1.9 km loop

Elevation change: 203 feet/ 61 m
Time:

White/ Purple Trails: 40-50 minutes each way

Red trail: Approx. 50 minutes

Blue Trail: Approx. 55 minutes

Difficulty: Easy except White Trail is moderate
Trailhead: Shaupeneak Ridge lower parking lot for white and purple trails and Shaupeneak Ridge upper parking lot for all other trails
Highlights: Waterfalls, moss- and lichen-covered rocks, ferns,
Fee: Free
Open: year-round. Gates open every day at 8:30 a.m. Closing hours vary according to the season:

November 1 – March 13 @ 6:00pm

March 14 – Memorial Day @ 7:30pm

Memorial Day – Labor Day @ 8:30pm

Labor Day – October 31@ 7:30pm
---
4. Bonticou Crag and Northeast Trails, Mohonk Preserve
Bonticou Crag is a popular hike in Mohonk Preserve that offers wonderful views of the preserve and the Hudson Valley. There are two routes to the top of the crag – you can walk up a trail or, for the more adventurous, you can climb up a rock scramble, pulling yourself over steep rocks, up narrow crevice and around narrow ledges.  The route is clearly marked and definitely possible, but wear grippy shoes (see best hiking shoes/ boots reviews here) and choose the trail rather than the rock scramble if you are afraid of heights.  This is one of the best hikes in Hudson Valley and one of the most popular hikes in Mohonk Preserve.
From the top you can hike down in a big loop or continue along the top of the ridge to the Northeast Trail, from where there are lovely views of the Catskill Mountains.  You can then continue on to the Table Rocks or return to the parking lot and do the Table Rocks hike another day.
Read More: Full details and descriptions of the Bonticou and Northeast trail in Mohonk Preserve
Distance: 3 miles/ 4.8 km (Bonticou Loop) or 4.1 miles/ 6.6 km adding in Northeast Trail
Elevation change: 506 feet/ 154 m
Time: Approx. 3 hours (both trails)
Difficulty: Difficult (rock scramble); Moderate (trail).  This hike can be done by beginner hikers.  Before you head out, check my Hiking Tips so you are fully planned and prepared. 
Trailhead: Spring Farm Trailhead  
Highlights: Rock scramble; view of Mohonk and the Hudson Valley from the top of Bonticou Crag; views of the Catskill Mountains from the Northeast Trail
Fee: $15 day visitors.  $60 annual membership is also available
Open: Daily from 7 a.m. to 7 p.m. for members and from 9 a.m. to 7 p.m. for day-use visitors. Trailhead parking lots are closed and locked at 7 p.m.
---
5. Table Rocks Trail, Mohonk Preserve
An easy, but rewarding option for hiking the Hudson Valley takes you through meadows that are typically covered in colorful wildflowers throughout the spring and summer, then into the woods and eventually to Table Rocks.  These enormous sloped slabs of rock are separated by deep crevices that you can easily walk over.  Stake your spot to have a picnic, enjoying sensational views of the Catskill Mountains.  Don't miss the lovely mossy glen at the far end.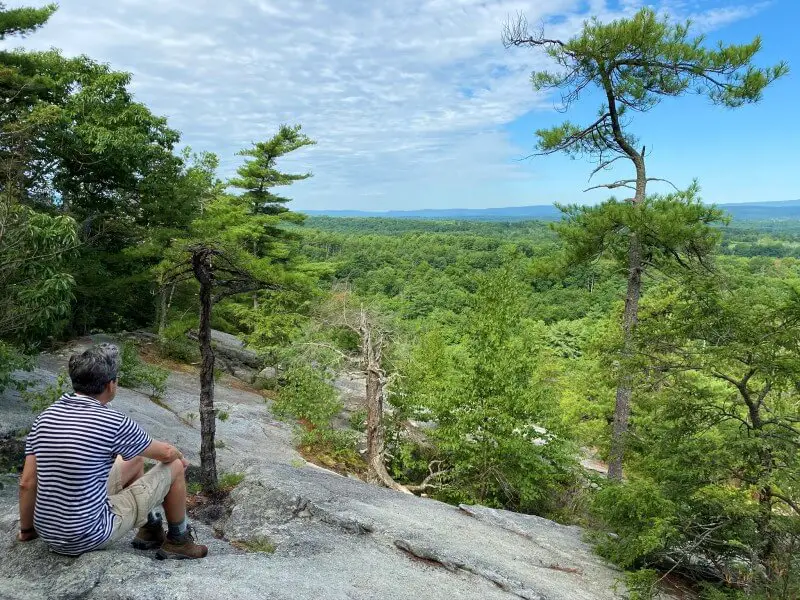 Distance: 4 miles/ 6.4 km out and back
Elevation change: 574 feet/ 175 meters
Time: 1.5 hours
Difficulty: Easy
Trailhead: Spring Farm Trailhead  
Highlights: Wildflowers, large sloped rocks with views of the Catskill Mountains
Fee: $15 day visitors.  $60 annual membership is also available
Open: Daily from 7 a.m. to 7 p.m. for members and from 9 a.m. to 7 p.m. for day-use visitors. Trailhead parking lots are closed and locked at 7 p.m.
---
6. Walkway over the Hudson
This is a different take on hiking Hudson River Valley.  The Walkway Over the Hudson is an easy walk over the longest elevated pedestrian bridge in the world.  The bridge spans the Hudson River between Highland on the west bank and Poughkeepsie on the east bank, and runs parallel to the Mid-Hudson (traffic) bridge.  It dates from 1889 when it was a rail bridge until a fire put it out of commission in 1974.  In 2009 it was repaired and reopened as a pedestrian bridge. 
There are parking lots on both sides and an elevator on the Poughkeepsie side that, when open, goes down to the waterfront. 
It is an easy, basically flat walk.  There are educational signs along the way, and amazing views of the river from 212 feet/ 64.5m above it, as well as the Hudson Highlands and the Catskill Mountains in the distance.  There is no shade, of course, so I recommend doing this walk on a cloudy day. 
My favorite thing to do (when the elevator is open) is to park on the Highland side, walk across the bridge, take the elevator down to the river, walk a short distance to the Poughkeepsie Ice House on the Hudson and have lunch outdoors by the river.  Then, after a leisurely lunch, do the whole thing in reverse.
Even if that isn't possible, walking across the Hudson River is worth it for the experience and the views.  The bridge is ADA handicapped accessible.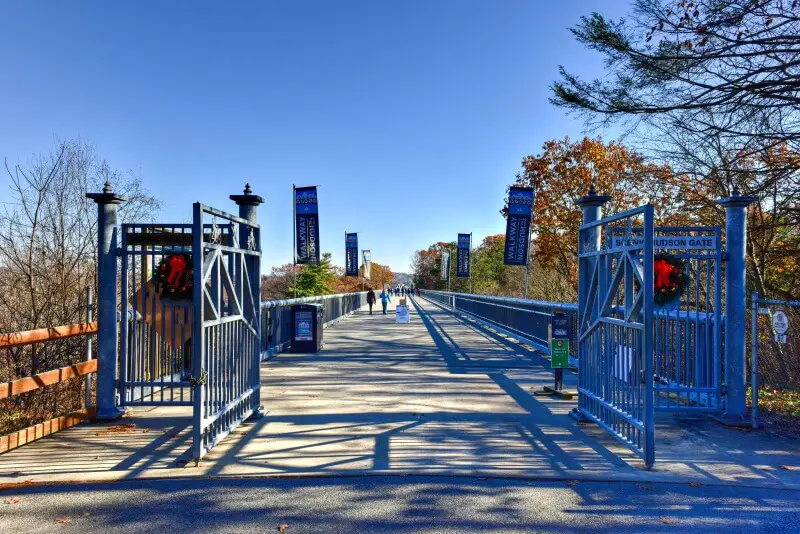 Distance: 2.56 miles/ 4.1 km out and back
Elevation change: 66 feet/ 20 m
Time: 1 hour
Difficulty: easy
Trailhead:
Highlights: Views of the Hudson River, Catskill Mountains and the Hudson Highlands
Fee: Free
Open: 7:00am – sunset.  Sunset varies throughout the year, of course.  Elevator is open when health safety permits 9:00am until 90 minutes before closing.  Check their website for exact hours and elevator opening/closing.
---
7. Minnewaska Lake Loop
There are several trails in Minnewaska State Park Preserve, but my favorite is the loop round Lake Minnewaska.  This is one of my favorite hikes in the Hudson Valley, especially in the spring and fall.  In spring, hundreds of mountain laurel bushes are covered in lovely pink flowers.  In the fall, the trees turn brilliant fall colors. 
Get there early and try to get a park spot in the upper parking lot as it is a bit of a walk (20 minutes – 0.9 miles/1.4 km – 289 feet/ 88 m elevation each way) from the lower parking lot.  The loop around the lake is an easy walk with big rewards. 
Going in a counter clockwise direction, you first encounter a small beach about 0.1 miles/ 160m along, where you can swim in summer.  Around the far end (1 mile/ 1.6km into the walk) is a small area right on the edge of the lake with some large rocks you can relax on.  Soon after that, a small side trail to the left goes along the lake shore (with wonderful fall foliage and spring flowers) to a spot where you can do long-distance swimming in the summer. 
Back on the main trail, about 0.2 miles/ 320 m further along, after the path goes uphill a bit, there is a poorly marked short trail off to the right.  Take this and you will be rewarded with panoramic views of the park forest and the Hudson Valley beyond.  This is especially stunning in the fall when the trees are awash with reds, oranges and yellows.  The peak time for fall foliage is usually the two weekends in the middle of October, though this can vary each year a little. For more fall activities in the Hudson Valley, check my post on the Top Ten Things to Do in the Hudson Valley in the Fall.
Continuing along the main trail, you pass under a pedestrian bridge, then come to a wide picnic area.  Veer left and you will end on the top of cliffs on the lake edge.  There are sensational views of the lake from here.  There are also some picnic tables and a large lawn, making this a lovely, albeit sunny, spot for a picnic. 
The trail continues around the near edge of the lake.  A short side trail to the left goes down to the water's edge.  You are not allowed to swim here and park rangers do monitor this from time to time.  Nonetheless, it's a lovely spot to sit and relax.
If you end up parking in the lower parking lot, there is another easy, pleasant hike from there to the Awosting Falls (1.5 miles/ 2.4 km / 30 minutes) return.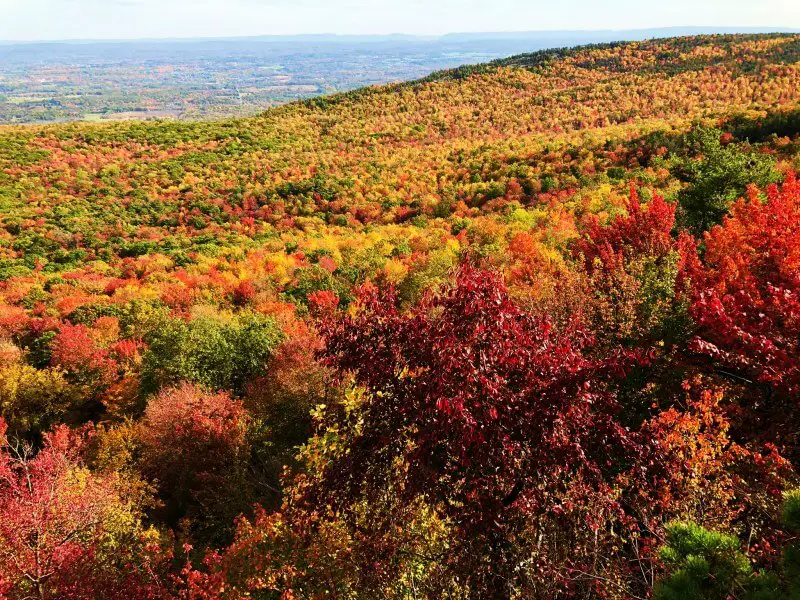 Distance: 1.9 miles/ 3 km loop
Elevation change: 259 feet/ 79 m
Time: 40 minutes
Difficulty: Easy
Trailhead: Minnewaska State Park Upper Awosting Lot
Highlights: Minnewaska Lake, cliffs, views of valet from the overlook
Fee: $10 per car
Open: 9:00am – sunset
8. Labyrinth and Lemon Squeezer
The Labyrinth is a well-named rock scramble at Mohonk Mountain House.  It involves clambering over rocks, climbing narrow wooden ladders, crawling under low overhangs and squeezing between large boulders.  The final section is called the Lemon Squeezer because it involves ascending a narrow crevice and then pulling yourself up several feet through a crack in the rocks.  This is a highly interactive and challenging rock scramble that is incredible fun, but should not be attempted by those with a fear of heights. 
The views at the top are sensational – topped only by even better views when you climb the 100-step Sky Top Tower for 360° vistas over Mohonk Lake, the Mohonk Preserve and the Hudson Valley beyond. 
The descent is via a much tamer wide trail past several 'summerhouse' gazebos perched on the edge of the cliff overlooking the fantastical Mohonk Mountain House hotel below.
Because the rock scramble is on private hotel property, you need to pay for a day hiking pass.  It is not cheap, but is worth it!  There are several other trails on the property, so you can make a whole day of it (or couple it with a day spa or brunch/ lunch).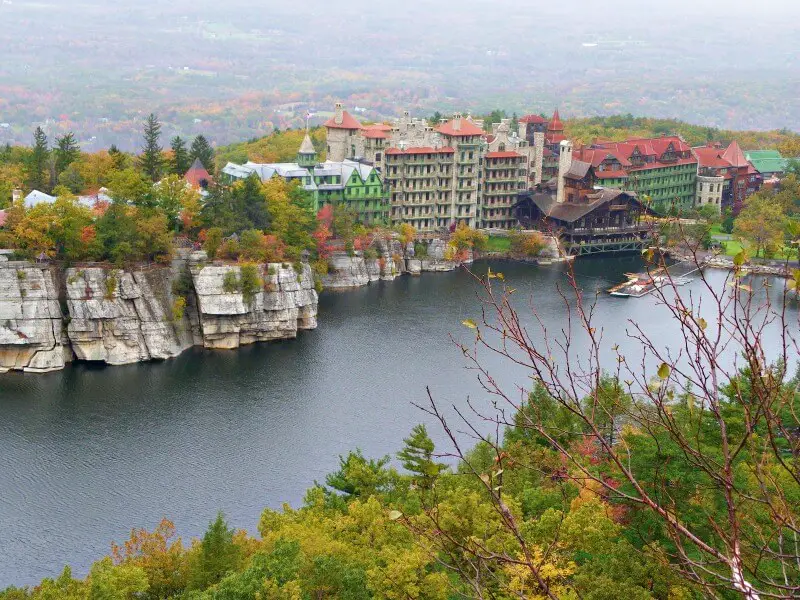 Distance: 0.5 miles/ 800 m labyrinth – 2 miles/ 3.2 km loop returning via Sky Top Trail
Elevation change: 300 feet/ 91 m
Time: 45 minutes labyrinth plus about 20 minutes to descend via Sky Top Path
Difficulty: Difficult
Trailhead: Labyrinth Trailhead near Mohonk Mountain House
Highlights: Rock scramble, views of Mohonk Preserve and the Hudson Valley, views of the Victorian-era Mohonk Mountain House
Fee: $29 adults/ $24 children for day hiking pass
Open: 7:00am – dusk
9. Breakneck Ridge Trail
Easy access from NYC, a vertical rock scramble and stunning views of the Hudson River and Hudson Highlands make this perhaps the most popular hike in the Hudson Valley.
The bulk of this trail is a very challenging vertical rock scramble.  It is not the faint-hearted or those with a fear of heights.  Much of the hike is open to steep drop offs and requires you to choose careful handholds and footholds in order to leverage upwards. 
The first part goes up to an area with a flagpole.  You may think you are done, but you are not.  Keep climbing.  When you come to the yellow Undercliff Trail, the most extreme of the ascents are behind you. 
The shortest loop back is to take the red trail to your left.  This takes you to the yellow Wilkinson Memorial Trail (left, downhill).  This emerges on the road, from where it is a short walk back to the trailhead.
You can drive, but many New Yorkers take the train there.  It's an 80-minute ride on Metro North from Grand Central.  On weekends and holidays, the train stops at the Breakneck Ridge stop (use the last carriage).  Other times, you need to get off in Cold Spring (a cute town worth a visit).  It is a short hike from there.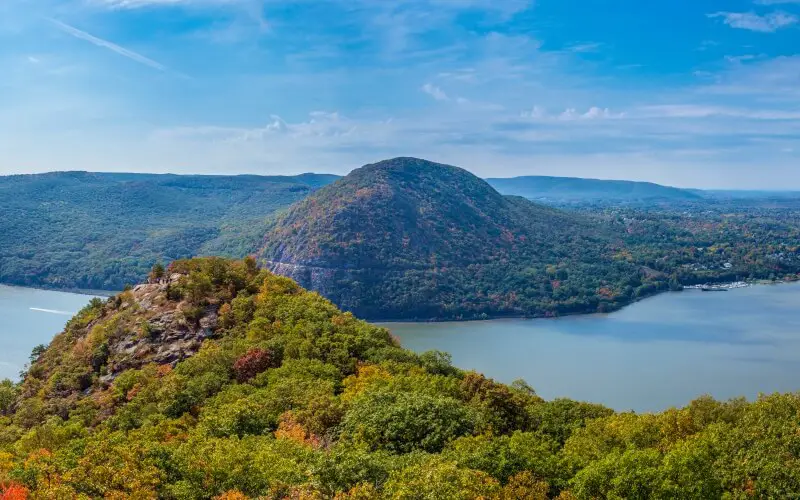 Distance: 3 miles / 4.8 km (4.2 miles/ 6.8 km or 5.5 miles / 8.9 km for longer loops)
Elevation change: 1,442 feet / 440 m
Time: 3.5 hours
Difficulty: Difficult/ strenuous
Trailhead: Breakneck Ridge Trailhead (use this link – don't follow GPS to Lake Surprise Road.  This is a private road.).  The trailhead is near the 9D highway tunnel.
Highlights: Vertical rock scramble for the first mile; views of the Hudson River, Storm King Mountain and other Hudson Highlands peaks, and West Point Academy.
Fee: Free
Open: The trail is part of Hudson Highlands State Park.  Trail always open
Tips:

Although dogs are allowed, it is not recommended to take dogs on this trail due to the vertical rock scramble.

Avoid this if the rocks are wet – it can be very dangerous
10. High Peters Kill Trail
This hike has great views and some steep ascents and descents.  Starting at the Coxing Trailhead, the trail passes a tiny walled cemetery, then heads through the woods, passing a junction with Kings Lane after about ten minutes. 
About 20 minutes into the hike, you will see a notice advising you that you are entering Minnewaska State Park.  From there, it is a very steep ten-minute climb up a rock path. 
At the top, you will see a yellow path off to the right.  Don't take this, but keep your eyes out for a small, unmarked and easily-missed trail off to the right.  This takes you to the first of four major viewpoints on this hike – and my personal favorite.  The short spur trail pops you out right on the edge of a cliff with absolutely stunning views of a heavily wooded valley with the Mohonk Sky Top Tower in the distance (that's where you end up after the Labyrinth and Lemon Squeezer hike).
The trail flattens out and skims around the top of the hill you just climbed. You pass the junction with the Bullwheel Path, which connects to Minnewaska's Peter's Kill parking area.  Soon after, you come to some short cliffs used by climbers, then continue around, going slightly downhill.  Before too long, you end up at the second major lookout, Compass Rock.  There are large slabs of sloped rocks providing views of another hill across a ravine.  Yes, you are going to climb down into the ravine and back up the other side. 
When you are sufficiently rested, rejoin the trail, which immediately heads down.  This is the steepest part of the trail.  It only took me about ten minutes to get the bottom, so it's not as bad as it looks, but you will definitely notice it coming back up. 
At the bottom is Peter's Kill ("Kill" is creek in Dutch).  This a lovely spot, with large stone areas next to the creek.  You can relax and recover from your descent.  There is a functional wooden bridge (two actually) over the creek.  If you don't want to climb the next peak, there is a trail that goes off to the left just before the creek.  This takes you to the Peters Kill Trailhead in Minnewaska State Park.  You can do a loop back via Trapps Road (an old carriage road).  It was marked as a red trail on my map, but the trail marker is yellow.  Anyway, there was sign that said back to Peter's Kill Parking Lot and it was in the right place, so I guess just ignore the colors.
To continue on the High Peter's Kill Trail, cross the creek.  The trail immediately starts to climb.  To be honest, I didn't think this section was too bad.  There are several sections that flatten out for a while, and it winds around the side of the crag, so it isn't as steep as you expect. After about ten minutes, you emerge at a minor viewpoint, where you can see the sloped rocks you rested on a short while ago.  This is a lovely view. 
Ten more minutes along, you come to the third major viewpoint, a large rock sloping upwards to the edge of the cliff, providing more stunning views.  From here on in, you can hear the traffic on the road across the valley, and even see small sections of the road, which kind of shatters the wilderness bubble I was in up to this point.  However, there is one more major viewpoint, with similar views, about twenty minutes further along. 
From there, the last 0.75 miles takes you to the main entrance and Awosting parking lot for Minnewaska State Park.  It runs parallel and quite close to the road and is not that interesting, so I turned back here. It is easy to know where – the road is suddenly visible and seems surprisingly close.
This trail traverses both Mohonk Preserve and Minnewaska State Park.  You can do it as an out-and-back trail or several loop variations. The main out-and-back trail starts (or ends) at the Coxing Trailhead in Mohonk Preserve and ends at the Minnewaska State Park Awosting Lower parking lot.  You can also join it half way along from Minnewaska's High Peters Kill parking lot.
I did the hike out-and-back from the Coxing trailhead and I recommend this for a couple of reasons.  (1) the last 0.75 miles runs parallel to a road and is not very interesting.  You can turn back and skip this.  If you start at Awosting in Minnewaska State Park, you have to hike this section; and (2) if you do it in this direction, you end with a downhill section rather than an uphill section.
Distance: 6.5 miles / 10.5 km (full) or 5 miles/ 8 km (skipping the last 0.75 miles/ 1.2 km) out-and-back
Elevation change: 1,650 feet / 503 m
Time: 4.5 hours
Difficulty: Difficult/ strenuous
Trailhead: Coxing Trailhead on Mohonk Preserve (recommended), Minnewaska State Park Awosting Lower Parking Lot (make sure you park in the lower parking lot), or Minnewaska State Park Peters Kill trailhead.
Highlights: 4 major lookouts with lovely views over Mohonk and Minnewaska
Fee: $15 day pass in Mohonk Preserve | $10 per vehicle parking in Minnewaska State Park
Open: Mohonk Preserve is open daily from 7 a.m. to 7 p.m. for members and from 9 a.m. to 7 p.m. for day-use visitors.  Minnewaska State Park is open 9:00am – sunset.
---
Travel Insurance
If you are a local, your health insurance will be valid, but if you are traveling from another area in the US, double check that your health insurance will work in NY. If you are traveling from abroad, your health insurance most likely will not work in the US (and you do NOT want to get stuck with a medical bill for treatment in the US. In any case, your regular insurance will most likely not cover emergency repatriation of you get caught somewhere. This is where travel insurance comes in. Check out my Guide to Buying Travel Insurance if you aren't sure if you need it or not.
 A good insurance option is World Nomads.  You can book it online or get a quote for your trip right here:
---
Happy hiking!
Do you have any other favorite hikes in the Hudson Valley? I'd love to hear about them. Comment below. 
If you liked this post, please share the love and Pin it to your Hikes board!
---
Read about other great hikes in the United States:
---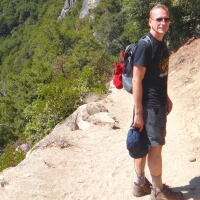 James Ian has traveled to 82 countries and all 7 continents.  He is passionate about experiential travel, i.e. meaningful travel that actively engages with the environment and culture. 
He helps people have similar experiences that involve active participation in activities and festivals; engaging with the local food and handicrafts through lessons and food tours; and interacting positively with environment by hiking, riding, rowing, diving and low/no impact animal encounters. 
---
Travel Collecting is a participant in the Amazon.com Services LLC Associates Program, an affiliate advertising program designed to provide a means for sites to earn advertising fees by advertising and linking to amazon.com. Amazon and the Amazon logo are trademarks of Amazon.com, Inc. or its affiliates. As an Amazon Associate I earn from qualifying purchases.