I peer through the trees and see a glimpse of water.  A little further down the path, a gap in the trees opens and the full view of the Hudson River open up.  I sit on a large boulder under the shade of a large pine tree.  Below me is a small pebbly beach.  A tiny cove is half full of floating flowering water plants.  The river sparkles in the sun as a sailing boat drifts slowly past in the distance.
No time to read about Black Creek Preserve Trail?  Pin it and save it for later:
Please note that some of the links below may be affiliate links.  If you make a purchase through these links, I earn a small commission at no additional cost to you. Read my Disclaimer for more information.
The Black Creek Preserve is a compact area of land right on the Hudson River in Esopus.  It is part of Scenic Hudson parks.  Scenic Hudson has bought up tracts of land and created well-marked and well-maintained trails through them that are free to access and use.  The Shaupeneak Ridge is nearby.
Black Creek Preserve Trail Essential Details
Distance:
Elevation change: 374 feet
Total time: about 1.5 hours full loop; allow extra time to enjoy the river views
Difficulty: Easy
Trailhead: Black Creek Preserve parking lot just off Route 9W in Esopus. Note: There are no restrooms in the parking lot or along the trail.
Highlights: Suspension bridge; direct access to the Hudson River
Fee: Free
Open: year-round, sunrise to sunset
Dogs on a leash are allowed
Recommended footwear: This is a fairly easy trail, so hiking sandals or hiking shoes are fine.
Black Creek Trail Map
Black Creek Preserve Trail Description
There are three connecting trails.  The trails are well-marked by small colored circles fixed to trees.  The colors and the patterns that they make on the trees all mean something.  If you are new to hiking (and these trails are perfect for beginner hikers), I strongly recommend reading my Guide to Trail Markers.  You will also want to check out my guide to Hiking Etiquette 101 and my Hiking Guide for Beginners.
These hikes are short and not especially strenuous, but I also recommend making sure you have everything you need to for a day hike.
Yellow Trail
The yellow trail starts at the small parking lot (get there early to secure a spot as there is no overflow),
crosses a road and heads into the woods, alongside a creek. 
Soon after, it crosses a cool suspension bridge, which makes a great IG photo spot. 
From there, the trail goes over a plank walkway then heads up a steep but short trail past hemlock trees. 
There is an information board at the top of the hill. 
Red Trail
The trail then proceeds through the woods and soon comes to the red (Vernal Pools) trail.
You can go either way, as it is a loop.  We went right and did the trail in a counter-clockwise direction. 
The trail is fairly flat, through woods and past vernal pools (which, full disclosure, I somehow managed to miss). There are some rocks, which can be slippery, so take care.  You may see frogs and salamanders. 
Blue Trail
Then you will come to a sign indicating that the Hudson River (Blue) Trail goes to the right.  There is a short section of the trail to the left that is shared by the red and blue trails (the Red/ Blue Crossover). If you take that, you can then go left to just complete the red loop or go right and do the blue loop in a counter clockwise direction. 
Taking the right turn and going on to the blue trail, you head towards the Hudson River.  After a short way, the trail heads downhill to the river. 
Hudson River Access
This is one of the very few trails in all of the Hudson River that actually goes to the edge of the Hudson River.  There are lovely views of the river. 
The trail proceeds along the water's edge for a short way and there are several places you can climb down to the water's edge and several benches. 
The last place is the Pitch Pine Overlook, with a beautiful pine tree framing the views.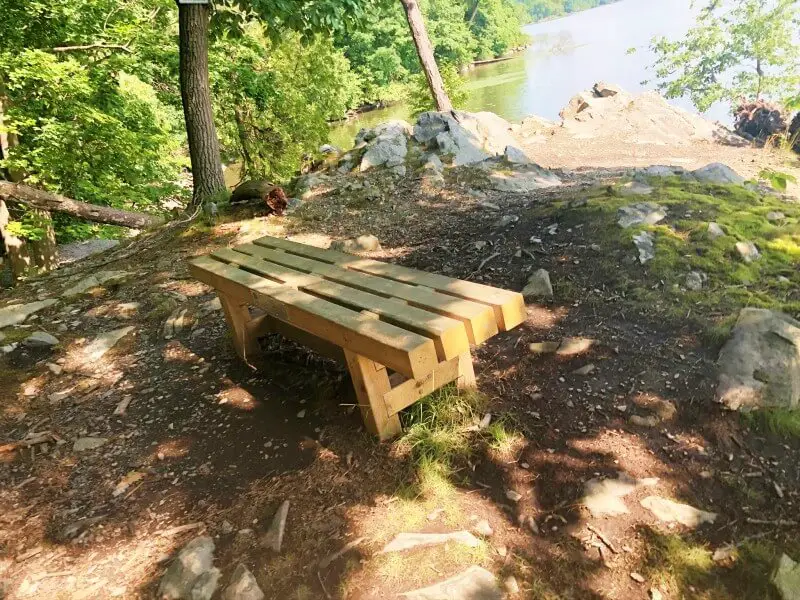 There is a small beach just below, though it is officially blocked off as private. There is no swimming in the river (and I actually saw a water snake, so you probably don't want to anyway).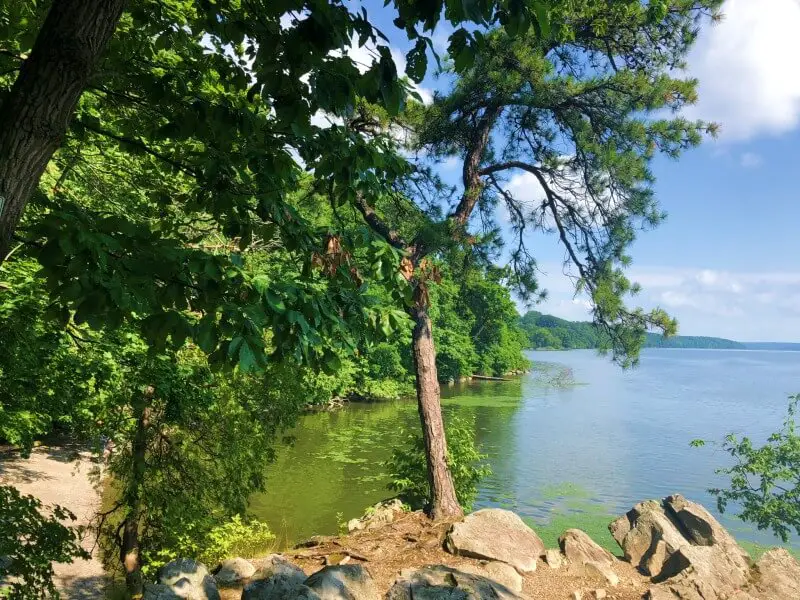 The return loop
From there, the trail heads back uphill and away from the river.  There is a bench at the top of the incline to help you catch your breath.  Then a fairly flat section back through the woods. 
The trail has plenty of trail markers (learn how to read trail markers here).  The right turn to the red trail is easy to miss – the trail actually goes straight ahead, but if you notice that the trail markers are half blue/ half red, then this indicates you have gone too far and are on the short section shared by both trails and heading back the way you started. 
If you see THIS sign, then you are back on the first half of the red loop.  You don't want this.  Go back.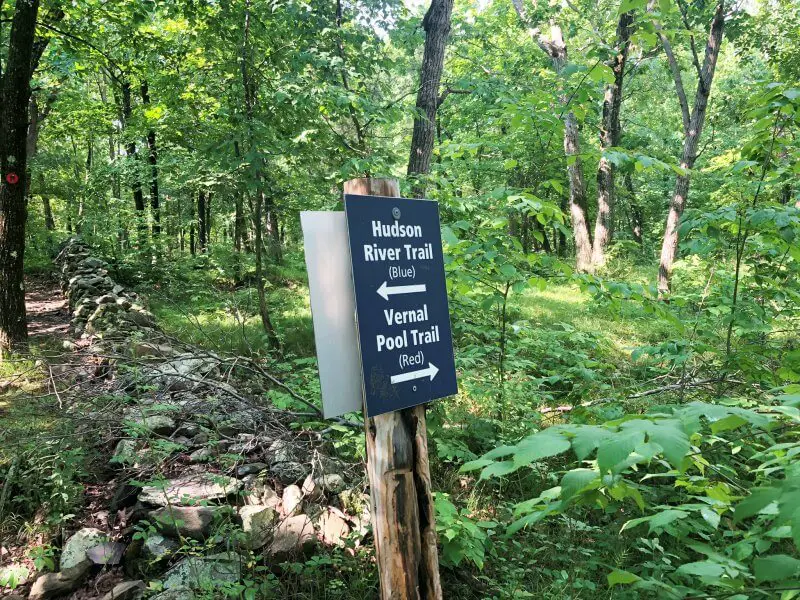 To avoid this, (and it's short, so not a huge drama if, like me, you do it), notice that the blue markers change to red.  The red trail branches of the right.  This takes you on the other half of the red loop.  It will soon end back at the yellow trail, which is an out-and-in trail, so you will need to take this back to the suspension bridge and the parking lot.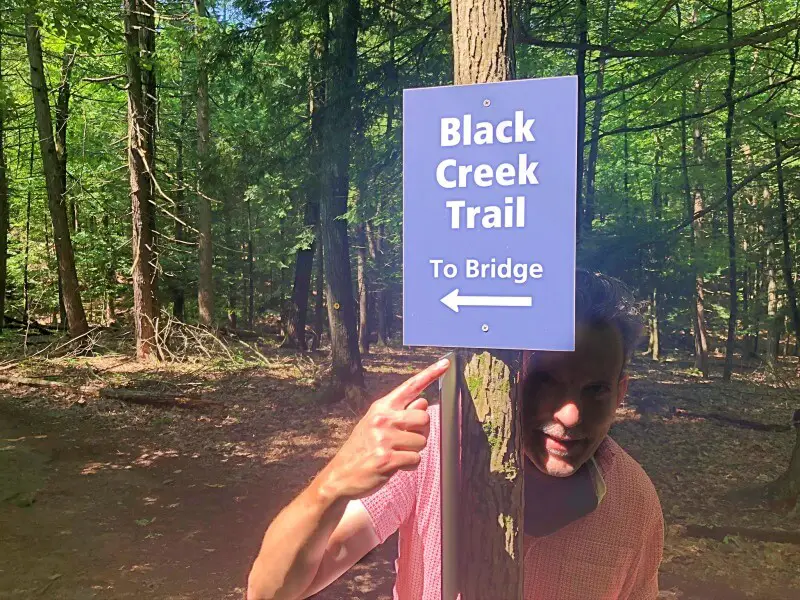 Additional consideration: Travel Insurance
If you are traveling to the Hudson Valley from elsewhere in the U.S., check to see if your health insurance covers you.  If not, or if you are traveling from abroad, you will definitely want to get travel insurance.  If you are not sure what it is all about, read my Guide to Buying Travel Insurance. 
A great insurance option is World Nomads.  You can book it online here or get a quote for your trip right here:
The verdict
| | |
| --- | --- |
| Authenticity of experience | 15 |
| Quality of interaction with culture/ environment | 17 |
| Engagement level | 18 |
| Enjoyment | 19 |
| Difficulty to arrange | 18 |
| TOTAL TC SCORE | 87 |
Books about the Hudson Valley
When I'm planning a trip, I like to learn as much about that place as possible.  Something that helps give me a sense of a place, beyond blogs, is to read books set there, or history books about it.  To that end, I am including some books to inspire you while you wait for your trip.
Hidden History of the Mid-Hudson Valley: Stories from the Albany Post Road (2011) Carney Rhinevault and Tatiana Rhinevault
This is an easy introduction to the history of the Hudson Valley, based on stories of things that happened and people who lived along the Albany Post Road, the main road between New York City and the state capital in Albany in the eighteenth and nineteenth centuries. There are plenty of fascinating fun facts, events and characters, including safe houses on the Underground Railroad, riots, spies and more.  Worth a read if you are interested in history.
The Legend of Sleepy Hollow and Rip Van Winkle, Washington Irving
Two short stories that are legendary in American literature.  TBH, when I read Sleep Hollow recently, I was underwhelmed and not at all scared.  But it is fun to visit Sleepy Hollow in the southern end of the Hudson Valley and see where it was set.  Rip Van Winkle, a classic story of a man in the Catskill Mountains who fell asleep for twenty years, was supposedly inspired by the views of the Catskills from Poet's Walk, so why not read the book, visit Poets' Walk and then drive up into the Catskills yourself?
A Violet Season: A Novel (2012), Kathy Leonard Czepiel 
Set on a violet farm in the Hudson Valley in the late 1800's, this saga about a mother and daughter is a real page turner.  If you like historical fiction, this is a nice way to learn more about the Judson Valley.
Fathermucker: A Novel (2011), Greg Olear 
A hilarious take on a fatherhood – about a father/ husband who is the primary caregiver while his wife is mostly absent for her work.  Witty, sad, real… You will laugh and cry and love every bit of it.  I am not a father, but still related to its humor and 'realness'.  Kind of in the vein of Nick Hornsby, so if you like his books, chances are you will love this one.
---
Happy hiking!
Do you have any favorite Hudson valley hikes you'd like to share? I'd love to hear about them. Comment below. 
If you liked this post, Pin it to your Hikes and Hudson Valley boards!
If you are visiting the Hudson Valley in the fall, be sure to read Top Ten Things to Do in the Hudson Valley in the Fall.
There are more great hikes to do in the Hudson Valley:
---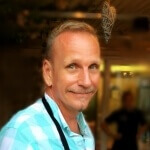 James Ian has traveled to 82 countries and all 7 continents.  He is passionate about experiential travel, i.e. meaningful travel that actively engages with the environment and culture.  He helps people have similar experiences that involve active participation in activities and festivals; engaging with the local food and handicrafts through lessons and food tours; and interacting positively with environment by hiking, riding, rowing, diving and low/no impact animal encounters. 
---
Travel Collecting is a participant in the Amazon.com Services LLC Associates Program, an affiliate advertising program designed to provide a means for sites to earn advertising fees by advertising and linking to amazon.com. Amazon and the Amazon logo are trademarks of Amazon.com, Inc. or its affiliates. As an Amazon Associate I earn from qualifying purchases.