The red mark indicates straight ahead.  Straight ahead is a tumble of rocks with no clear path between them.  I raise my right foot up as high as it can, shifting my weight onto my toes and press my hand against the smooth rock above me.  I immediately raise my left foot to wedge me in between rocks.  I shift my weight again and raise my center of gravity higher.  I reach my left hand up and grab on to a narrow crack for leverage.  I can then move my right foot on to a small ledge and I finally feel stable as I inch my way higher up the rock scramble to the top of Bonticou Crag.
No time to read about the Bonticou Crag hike?  Pin it and save it for later:
Please note that some of the links below may be affiliate links.  If you make a purchase through these links, I earn a small commission at no additional cost to you. Read my Disclaimer for more information.
One of the most popular hikes in Mohonk, Bonticou Crag offers stunning views and a fun rock scramble if you are up for it (or a less challenging path if you aren't).
Bonticou Crag Hike and Northeast Trail (Mohonk Preserve) Essential Details
Bonticou Crag Distance: 3 miles/ 4.8km (Bonticou Loop) or 4.1 miles/ 6.6km adding in Northeast Trail
Bonticou Crag Elevation change: 506 feet/ 154m
Total time: Approx. 3 hours (both trails)
Difficulty: Difficult (rock scramble); Moderate (trail).  This hike can be done by beginner hikers, though the rock scramble is challenging.  Before you head out, check my Hiking Tips so you are fully planned and prepared. 
Trailhead: Spring Farm Trailhead. Mohonk Preserve provides restrooms in the parking lot, near the entrance kiosk. The trailhead is at the far end of the parking lot. You can pick up a (free with admission or membership) trail map for the whole preserve.
Highlights: Rock scramble; view of Mohonk and the Hudson Valley from the top of Bonticou Crag; views of the Catskill Mountains from the Northeast Trail
Fee: $15 day visitors.  $60 annual membership is also available.  See below for full details.
Open: Daily from 7 a.m. to 7 p.m. for members and from 9 a.m. to 7 p.m. for day-use visitors. Trailhead parking lots are closed and locked at 7 p.m.
Dogs on a leash are allowed
Recommended footwear: You will definitely need hiking boots or shoes with good grip for the rock scramble.
Mohonk Preserve
The trail is part of Mohonk Preserve, which covers a 6,400-acre area around the Shawangunks, which are famous for climbing and hiking.  There are several parking areas/ trailheads in the preserve, as well as a Visitor Center, which is worth a quick informational visit if this is your first time. Each of the parking lots has a small ticket booth and chances are high that it will be staffed with someone asking to see your pass or selling you a day pass. 
If you live in the area, you can buy a basic annual membership, which allows you to hike, run, country-country ski and snowshoe, for $60 for the first adult and $30 for an additional adult.  Seniors and students are $50 and children are $30.  The other option is to buy a day pass at the gate to any of the parking lots for $15/ day.  You can see from this that if you do more than 5 hikes a year in the Preserve, you are better off getting an annual membership.  You can get a membership online or at the Visitor Center, which is open from 9 a.m. to 5 p.m. weekdays and 8 a.m. to 6 p.m. weekends.
The preserve is laced with trail and old carriage roads.  The trails are well-marked with blazes or affixed markers.  They are easy to see, but there are several crisscrossing trails, each marked with its own color.  If you don't know how to read trail markers and have a map to clearly see where each colored trail crosses another, you could easily get lost and end up on the wrong trail.  If you don't know how to read trail markers, I strongly recommend reading my Guide to Reading Trail Markers.
The parking lots do fill up on weekends in summer and fall, so I recommend getting there before 11:00am at the latest (earlier is even better). 
Bonticou Crag trail Map
I have marked the colors of the trails on the Bonticou Crag hike map.  I have also highlighted the shorter Bonticou Crag loop trail in pale yellow and the longer Northeast Trail added on in pale green.
Bonticou Crag trail Description
The hike to Bonticou Crag, Mohonk Preserve starts at the Spring Farm Trailhead.  
Getting to Bonticou Crag
From the parking lot, walk up the hill.  After a few yards/ meters, you come to a sign for Table Rocks Trail and Northwest Trail.  Turn left on the blue Table Rocks trail. 
The trail goes alongside a dirt road for a short distance (less than a minute) before coming to the sign for the red Crag Trail.  Take the Crag Trail to the right. 
It goes uphill a little through a meadow and about ten minutes it crosses Cedar Road.  Continue on the red Crag Trail. 
About a minute later, the trail crosses another road, this one is Spring Farm Road. 
It's a lovely slightly uphill walk through the woods for another ten minutes or so until you come out of the woods to a crossroads.  Two roads intersect, in addition to the Crag Trail you have been walking on.   The trail continues along Bonticou Road for a while.  This is the second trail on the left. It may seem like you are turning left instead of going straight ahead.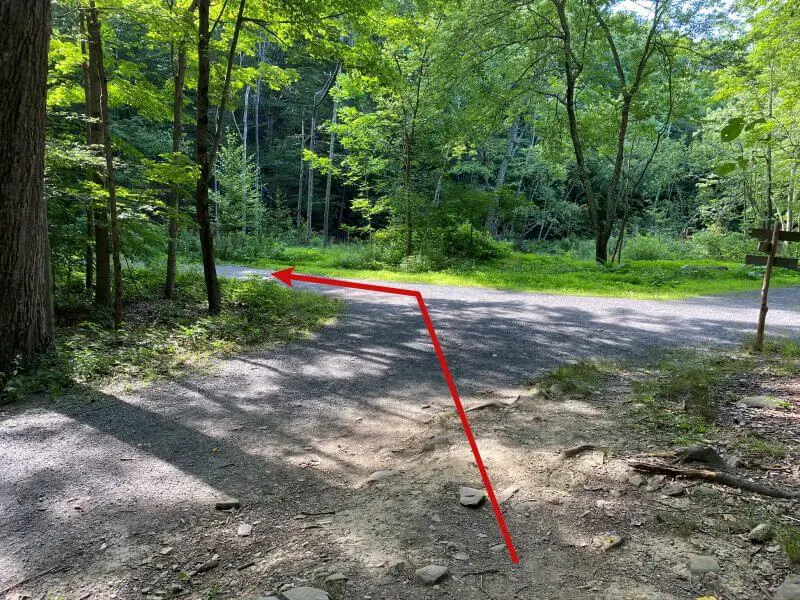 The trails here are not super crowded, as the number of people on the trails is limited by the size of the parking lot, but you will almost certainly pass or be passed by other hikers.  If you are not sure of the correct hiking etiquette, check out my Guide to Hiking Etiquette.
After about ten minutes walking along Bonticou Road, you come to a small sign indicating the red Crag Trail. 
Bonticou Road continues, but you want to take the red Crag Trail to the left.  A minute along, you come to yet another intersection with several signs.  Straight ahead is the rock scramble that takes you to the top of Bonticou Crag.  To the left is the blue trail that connects to the Bonticou Footpath.  If you aren't comfortable with the rock scramble, you can take the footpath to the top.
Bonticou Crag Rock Scramble
The rock scramble is not for the faint-hearted or those with a fear of heights.  I have done this twice – the first time a few years ago, I wasn't wearing shoes that had a great grip and it kind of freaked me out.  I did this again recently, after having a canyoneering trip near Arches National Park where I learned some scrambling techniques, and wearing much better shoes, and I enjoyed it a lot more the second time around. 
It is essential that you have shoes with a good grip before starting the scramble. I have written a comprehensive guide to the best hiking shoes/ boots, so if you are looking for new hiking footwear, check it out.
The rock scramble is exactly that – you need to scramble up enormous boulders that have fallen down the side of the crag in a large rockslide.  You will need to squeeze in narrow spaces, pull yourself up by your arms, leverage your weight to push against rocks, and sometimes climb up steep tocks with an exposed side with a large drop.  I found it kind of scary, to be honest, but I was also passed by a couple of children who couldn't have been much more than ten years old, so there is that…
The route is very clearly marked with red blazes (painted stripes and arrows).  Follow this exactly.  You can do this in reverse, taking the footpath up (or do the entire loop in reverse), but I think that the scramble is easier ascending than descending, so I recommend doing it this way.  I was passed by several small groups of people going up and saw no one going down, so I'm not the only one who thinks this. 
It took me about half an hour to ascend the rock scramble, but I took it slowly, rested and enjoyed the view at several points along the way (there are spots where you can safely hang out for a bit to catch your breath).   Several people passed me, so you can definitely do this more quickly than I did.
---
The top of Bonticou Crag
At the top is the sign for the (yellow) Bonticou Footpath. 
If you took this, this is where you will end up.  Off to the right is a wide ridge with stunning views over Mohonk and the Hudson Valley.  You can walk down this for the views, but you will need to come back – it doesn't lead anywhere.  This is a good spot to rest, hydrate and have a snack.  You should definitely make sure you have everything on my Day Hike Packing List for this hike!
To return, you can do the rock scramble again, but most people hike back.  Follow the yellow blazes painted on the rocks indicating the Bonticou footpath to the left of the rock scramble. 
The trail follows the top of the ridge, through trees, so there are no views.  After about ten minutes, you'll come to the end of the yellow trail.
From here, you have two choices.  You can do a shorter loop, returning to the parking lot/ trailhead or continue along the Northeast Trail.  If you have the stamina, I recommend doing the longer trail.  There are a lot fewer people on this trail, and there are great views of the Catskill Mountains from the trail. 
If you choose the shorter loop, take the trail to the left and follow the signs back to the parking lot.
Northeast Trail
If you decide to do the Northeast Trail, follow the blue blazes to the right/ straight ahead.  The trail continues slightly downhill through the woods along the top of a ridge for about twenty minutes.
Views of the Catskill Mountains
The trail then emerges on the left side of the ridge with wonderful views of the Catskill Mountains. For about ten minutes it goes along the north side of the ridge with frequent viewpoints of the Catskills. These make lovely spots to rest and have a snack and enjoy the views. If the first place you come to has people, just keep on going. Chances are good you'll find an even better view further along that you can have to yourself.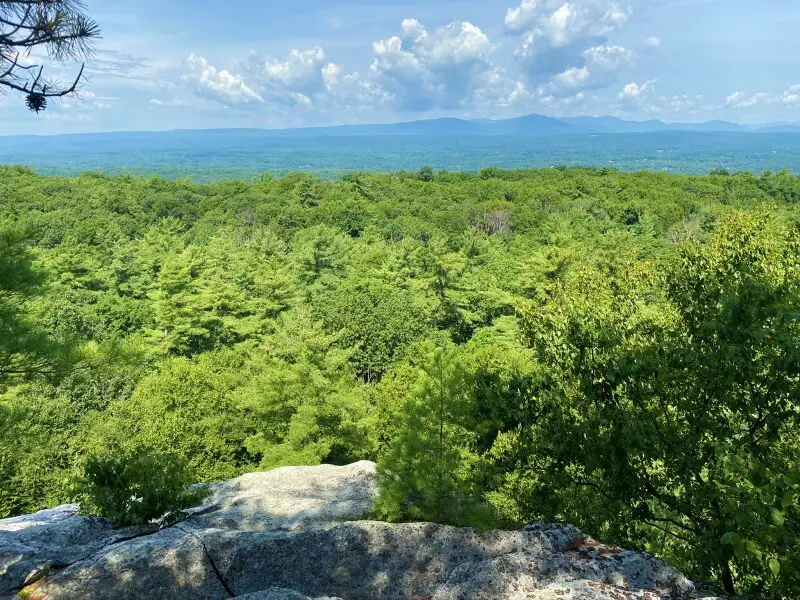 The remainder of the Northeast Trail
After about ten minutes, the views are left behind and the trail continues slightly downhill. After another ten minutes, you'll see a more open section just below and when you reach there, you'll see a signpost with an arrow to Clearwater Road. This is the end of the Northeast Trail.
Returning to the trailhead
Turn left on the red trail. In another five minutes, the trail splits.
Here you have another choice. If you want to continue on to Table Rocks, take the right/ straight ahead red trail. If you've had enough for one day, take the left trail. This is unmarked, i.e. it doesn't have a color, but is easy to follow. A minute later, the trail splits again.
Take the right fork. About five minutes later you'll emerge on a wide grassy path Farm Road. There is a clear sign indicating the route (turn left) back to the trailhead.
The trail passes through a meadow. There's another fork about five minutes down the trail and another very clear sign indicating that the route back to the trailhead is straight ahead.  
Another minute or so and there is a sign indicating straight ahead (on Farm Road) to the parking lot or the blue trail to the left.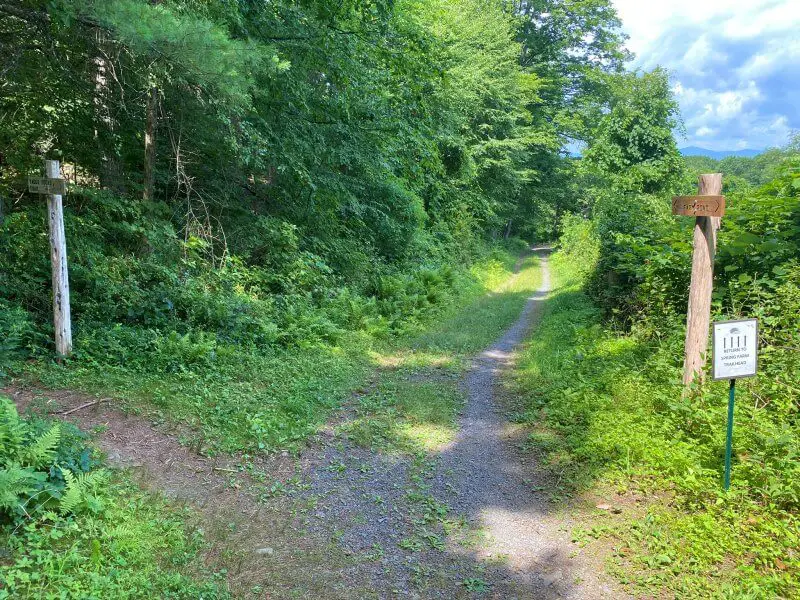 If you want to hike on a trail through the woods, you can take the blue trail.  It also heads back to the parking lot, but is a little less direct. We chose to go straight ahead, since this was more direct and I also liked that the meadows gave some variety from the woods.
After another twelve minutes or so, you'll come upon a rustic pavilion. There is a board in the pavilion that identifies the peaks of the Catskill Mountains, with the view of the peaks laid out before you.
There is also an historic barn to the right, which you can see through the trees. Follow the road up past the right of the pavilion. There are restrooms just past the pavilion.  Five minutes later, there is an open space with a lovely view of the Hudson Valley labeled on the trail map as the "Million Dollar View".
It's just another five minutes to the trailhead/ parking lot.
Additional consideration: Travel Insurance
If you are a local, you won't need travel insurance.  If you are traveling to the Hudson Valley from elsewhere in the U.S., check to see if your health insurance covers you in New York.  If not, and if you are traveling from abroad, you will definitely need travel insurance.  If you aren't sure what to look for when buying travel insurance, read my Guide to Travel Insurance. 
A great insurance option is World Nomads.  You can book it online here or get a quote for your trip right here:
The verdict
| | |
| --- | --- |
| Authenticity of experience | 18 |
| Quality of interaction with culture/ environment | 18 |
| Engagement level | 19 |
| Enjoyment | 19 |
| Difficulty to arrange | 17 |
| TOTAL TC SCORE | 91 |
Books about the Hudson Valley
When I'm planning a trip, I like to learn as much about that place as possible.  Something that helps give me a sense of a place, beyond blogs, is to read books set there, or history books about it.  To that end, I am including some books to inspire you while you wait for your trip.
A Violet Season: A Novel (2012), Kathy Leonard Czepiel 
Set on a violet farm in the Hudson Valley in the late 1800's, this saga about a mother and daughter is a real page turner.  If you like historical fiction, this is a nice way to learn more about the Judson Valley.
The Legend of Sleepy Hollow and Rip Van Winkle, Washington Irving
Two short stories that are legendary in American literature.  TBH, when I read Sleep Hollow recently, I was underwhelmed and not at all scared.  But it is fun to visit Sleepy Hollow in the southern end of the Hudson Valley and see where it was set.  Rip Van Winkle, a classic story of a man in the Catskill Mountains who fell asleep for twenty years, was supposedly inspired by the views of the Catskills from Poet's Walk, so why not read the book, visit Poets' Walk and then drive up into the Catskills yourself?
Fathermucker: A Novel (2011), Greg Olear 
A hilarious take on a fatherhood – about a father/ husband who is the primary caregiver while his wife is mostly absent for her work.  Witty, sad, real… You will laugh and cry and love every bit of it.  I am not a father, but still related to its humor and 'realness'.  Kind of in the vein of Nick Hornsby, so if you like his books, chances are you will love this one.
Hidden History of the Mid-Hudson Valley: Stories from the Albany Post Road (2011) Carney Rhinevault and Tatiana Rhinevault
This is an easy introduction to the history of the Hudson Valley, based on stories of things that happened and people who lived along the Albany Post Road, the main road between New York City and the state capital in Albany in the eighteenth and nineteenth centuries. There are plenty of fascinating fun facts, events and characters, including safe houses on the Underground Railroad, riots, spies and more.  Worth a read if you are interested in history.
---
Enjoy the hike!
Do you have any other favorite Hudson Valley hikes? I'd love to hear about them. Comment below. 
If you liked this post, please share the love and Pin It to your Hikes and Hudson Valley boards!
Read my Hiking Guide and list of great hikes to do
Read about other Hudson Valley experiences:
Best Hikes in the Hudson Valley: A compilation of some of the best hikes in the Hudson River Valley
Shaupeneak Ridge: A steep hike to the ridge and a waterfall; flat trails past a pond and to a Hudson Valley overlook
Poets' Walk: A beautiful nature walk through meadows and woods with great views of the Hudson River and the Kingston-Rhinecliff Bridge
Black Creek Preserve: Several connected trails over a suspension bridge and to direct access to the Hudson River
---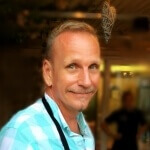 James Ian has traveled to 82 countries and all 7 continents.  He is passionate about experiential travel, i.e. meaningful travel that actively engages with the environment and culture.  He helps people have similar experiences that involve active participation in activities and festivals; engaging with the local food and handicrafts through lessons and food tours; and interacting positively with environment by hiking, riding, rowing, diving and low/no impact animal encounters. 
---
Travel Collecting is a participant in the Amazon.com Services LLC Associates Program, an affiliate advertising program designed to provide a means for sites to earn advertising fees by advertising and linking to amazon.com. Amazon and the Amazon logo are trademarks of Amazon.com, Inc. or its affiliates. As an Amazon Associate I earn from qualifying purchases.