The Metropolitan Museum of Art is the largest art museum in the New York City and has many famous pieces of art to admire. However, in addition to the incredible art, there are several must-see spaces in the Met that you shouldn't miss when you visit.
Hidden gems, secret places to explore, the best views, and insider tips. Read on…
---
No time right now to read about these must-see spaces in the Met? Pin it and save it for later: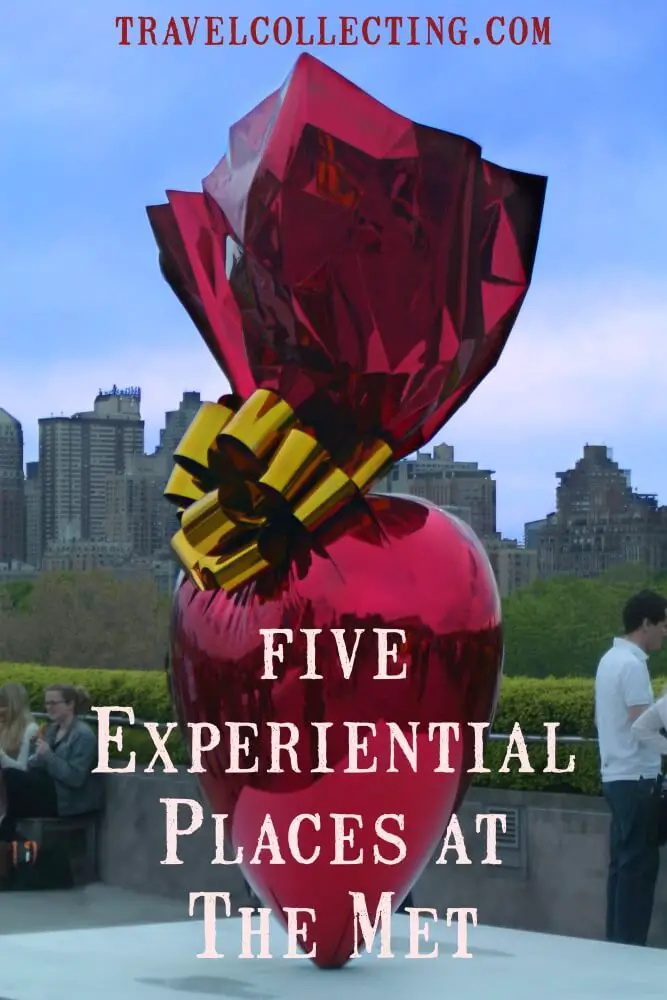 Please note that some of the links below may be affiliate links.  If you make a purchase through these links, I earn a small commission at no additional cost to you. Read my Disclaimer for more information.
The top must-see spaces in the Metropolitan Museum of Art
The Met is one of the most famous museums in the world (in fact it's the third most visited museum in the world after the Louvre in France and the National Museum of China). 
Visiting the Met is one of my favorite things to do in NYC and a must see when you visit New York.
There are fabulous fashion exhibitions, famous works of art, and incredible artifacts from around the world. You can see French imperial rooms, Faberge eggs, Pacific Islander statues, 20th Century European paintings, armor from the middle ages, Japanese bamboo art, and much, much more.
But my favorite things are the spaces that allow you to do more than just stand in a gallery and admire the art from a distance, as you do in most museums. 
These are spaces that you enter, walk around, explore, maybe eat or drink in, experience… I love visiting museums, but have a fairly short limit before I need to take a break.  These spaces are perfect for that, while also being a heightened experience beyond the passive galleries.  Visiting these places is one of the cool things to do in New York, in my opinion.
FREE DOWNLOAD
Subscribe to monthly updates with tips for planning, travel inspiration and trip ideas and get instant access to the free PDF of
Must See Spaces at the Met
My favorite places in the Met (that I think you shouldn't miss) are:
1. The Astor Chinese garden court
A peaceful 17th Century Chinese garden courtyard in the middle of a major museum?  This is one of NYC's best kept secrets and you will often have it to yourself.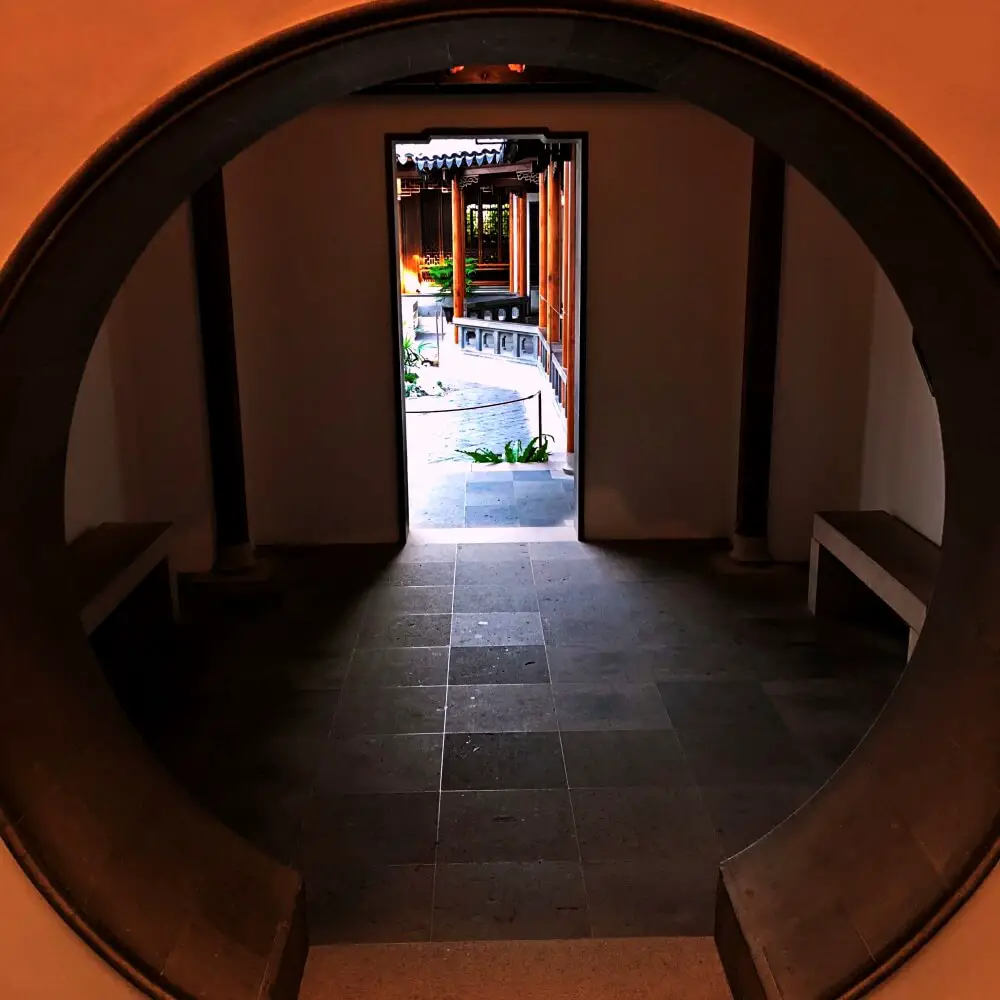 It's an indoor recreation of a Ming dynasty garden and was built at the Met in 1981 as part of a cultural exchange between the United States and China. 
It was created and assembled by Chinese craftsmen using traditional methods, materials and hand tools.
To get to the courtyard, you actually need to crouch a little to walk through a circular moon gate.
There is small rock garden surrounding a mini-pagoda patio with bamboo and banana palms creating a peaceful place to reflect.  A tiled side corridor wraps around to a tiled patio opposite with benches to sit and contemplate. 
This is an oasis of calm; a place for Zen-like reflection. 
Location: You'll find the Chinese courtyard on the second floor in Room 217.
---
2. The Temple of Dendur
Yes, there is an ancient Egyptian temple in the Met. Visiting the only complete Egyptian temple in the Western Hemisphere in a unique New York experience not to be missed. 
This is not exactly a secret of the Met – it is one of the most famous things in the museum – but it is a highlight of visiting the museum for most people. The 'secret' is where to find this view of the temple (read on to find out):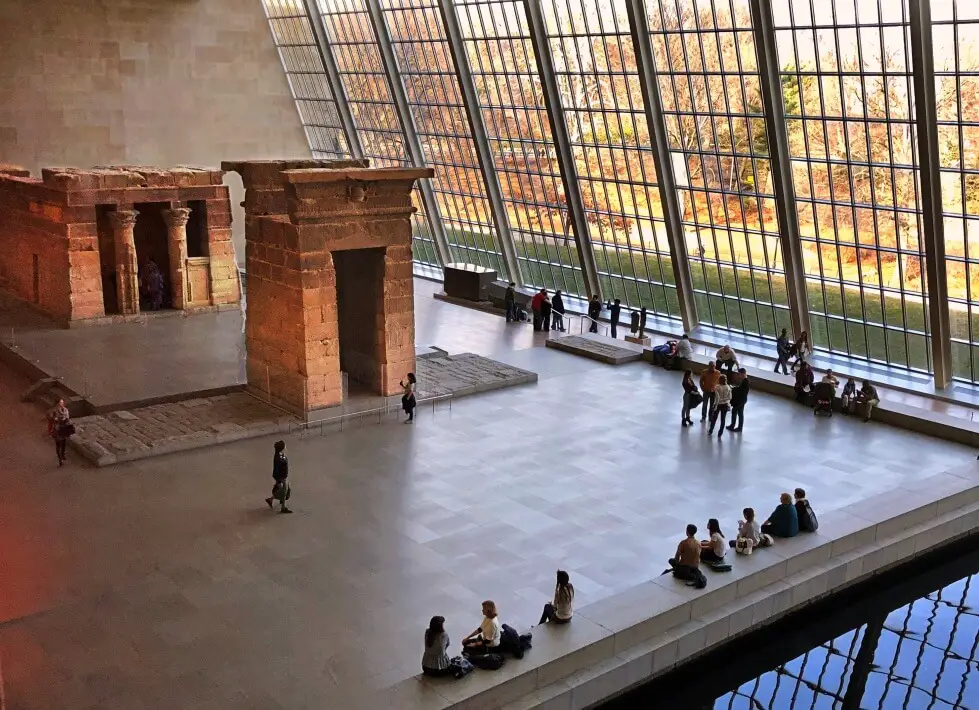 The temple was built more than 2,000 years ago on the banks of the Nile.  When the area was to be flooded for the construction of the Aswan Dam, Egypt gave it to the U.S. as a gift and it has been on display at the Met since 1978.
The temple is not that big, but the setting is grand.  It is housed in an enormous custom-built room, with an entire glass wall looking on to Central Park. 
The huge courtyard in front is perfect for fundraising receptions; indeed, the Met Ball has been held here. 
There are dark reflecting pools and water features designed to evoke the Nile.  It's the perfect place to sit and rest after exploring the museum and enjoy the grandeur of this space.
When you are feeling rested, go up close and walk inside the temple to see hieroglyphics and 19th century graffiti left by European visitors to Egypt. This is the closest you will ever get to visiting the temples of Egypt without going there.
Location: For a bird's eye view of the temple, go to the second floor of the Asian Art section (Room 232).
---
3. The Cantor Rooftop Garden Bar
For a completely different Met experience, catch an elevator to the roof garden.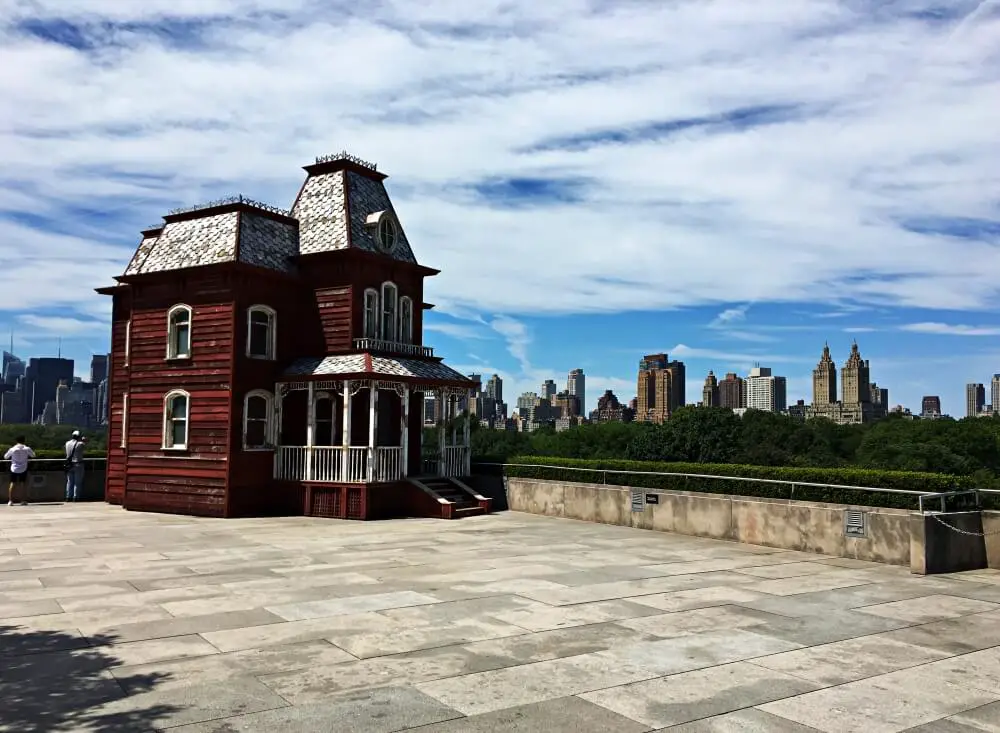 Every summer (mid-April through October, weather permitting), there are is an outdoor contemporary art installation on the rooftop terrace.
Each year a site-specific piece is commissioned and installed for the summer.  Walk around (or in or through, depending on the year) the art.
Some years the art installations are amazing (the year you could climb into a bamboo structure that grew in size throughout the summer) and some years they are kind of "meh" (I'll let you decide that one), but the main reason to come up here is for the views and the cocktails.
The views of Central Park, Midtown Manhattan and Fifth Avenue are incredible. Sit on a bench (they are hard to get – visit early if you can) with a glass of sangria or a cup of coffee.
Cocktails, art and the best views of Central Park in the City?  On a sunny day, there is nothing better.
Location: You will need to know how to get to the Met rooftop bar and terrace. The elevator goes tot he fourth floor and form there you climb the stairs to the fifth floor. The rooftop is in the southwest corner of the museum.
The elevator (which only stops on G, 1 and 4) is in room 555 in the European Decorative Arts section across from the Faberge Egg collection.
I find the easiest way to get there is to go left from the main entrance and then turn right in the Greek and Roman room into and through the African and Pacific section and then after exiting that large hall, turn right. The elevator is on the left a little way down.
---
4. The Cloisters
This is a really cool place in NYC that is often overlooked.  Many tourists give it a miss because it is such a schlepp (long trip) uptown.  But it is worth the trip!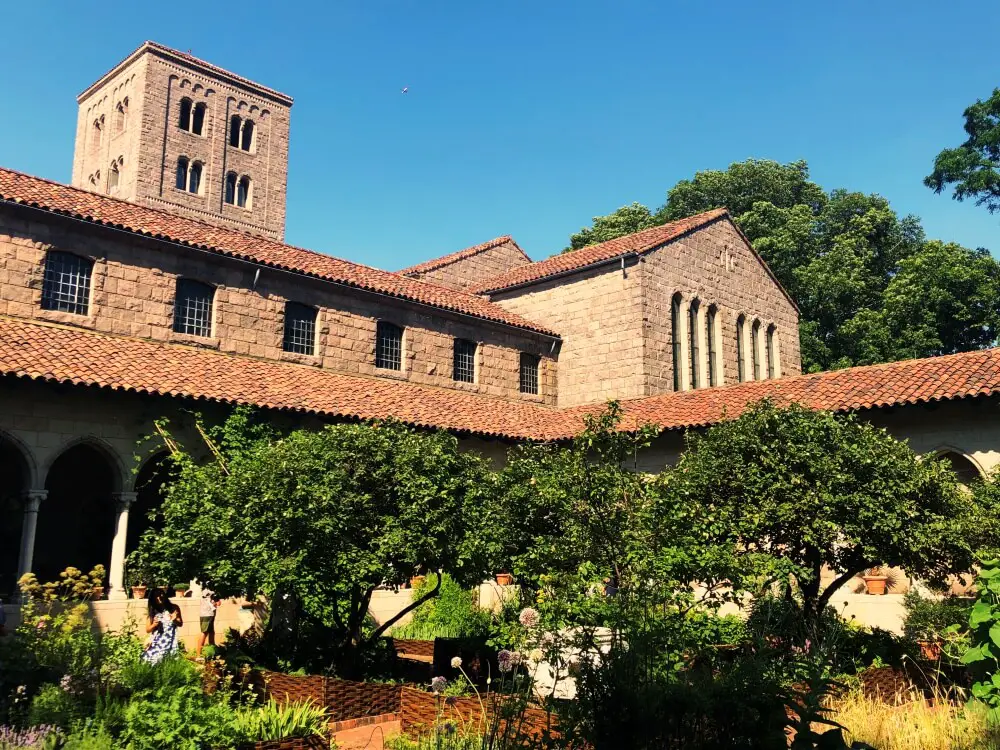 This is a collection of medieval buildings built around three cloisters relocated from actual medieval French monasteries and abbeys sited in four acres of parks overlooking the Hudson River. 
The Met's medieval art collection is displayed in three different chapels, and a Romanesque hall.
Approaching from the park, you see a glimpse of sandstone buildings layered in terraces on a small hill, between the tall trees of the park around it. 
There is a lawn on the slope below it and wonderful views off to the side of Hudson River and the cliffs of the Palisades on the opposite side of the river from the lower terrace.
Circle around the right side and enter at the upper level.  Here is the bulk of the Cloisters collection of medieval art, as well as the largest courtyard of the Cuxa Cloister.
Go down the stairs to the lower level, where there are two smaller cloisters. 
I love to sit on the low wall of the Bonnefont Cloister on the lower terrace and relax admiring the views and looking at the gardens. They are planted with medieval plants – including poisonous species in the medicinal garden and four wonderful quince trees. 
There is a cafe in the adjacent Trie Cloister from April to October – a perfect spot to sit and relax with a coffee and snack.
Location: The Cloisters are a completely separate building from the main Met building, way up town.
To get to the cloisters by subway, take the A train to 190th Street. You can then either transfer to the M4 bus and ride north one stop or walk north along Margaret Corbin Drive for about 10 minutes. The walk is through a park with views of the Hudson River and I recoemmend it if you are fit enough.
From The Met's Fifth Avenue building, you can take the M4 bus directly from Madison Avenue/83rd Street to the last stop. 
---
5. The sculpture garden and the façade of a bank
In 1922, when the Branch Bank of the United States on Wall Street was torn down, the façade was saved and moved to the Met.  It was included as one of the external façades of the American wing at the Central Park side of the museum. 
In 1980 this was joined to the Met's main building by the creation of an enclosed courtyard. This courtyard has low walls to sit and enjoy the American sculptures and decorative arts that are scattered around.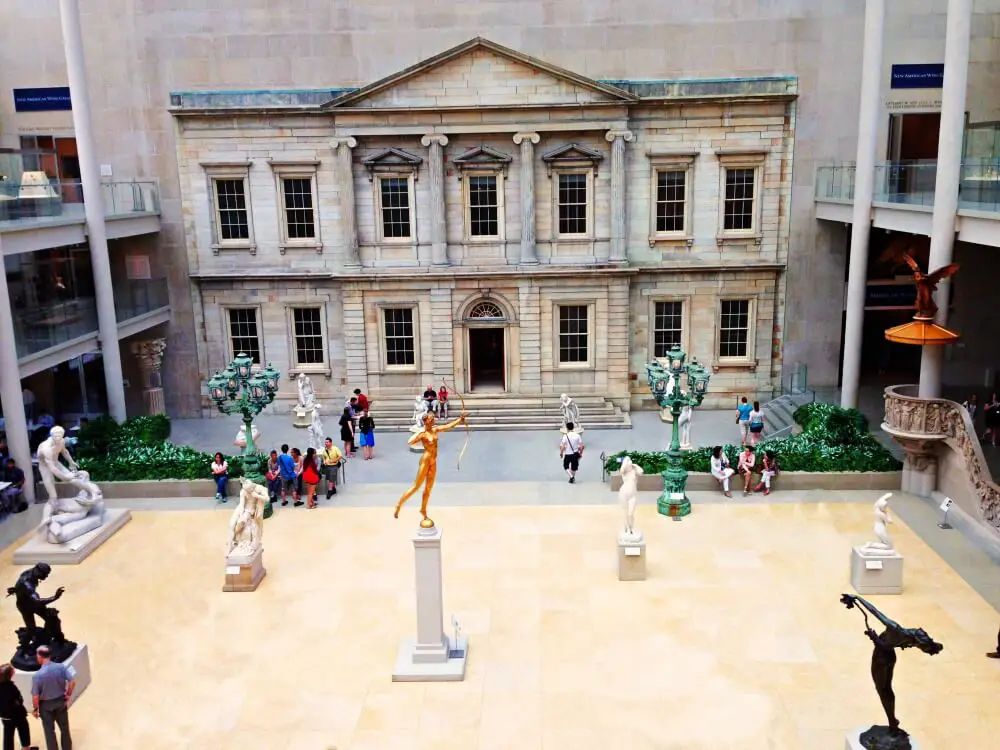 Or you can have a sandwich and coffee at the American Wing Cafe and enjoy views of the courtyard on one side and Central Park on the other.
Most museum cafes tend to be hidden in the basement, or separated from the collections, so it is especially lovely to relax and enjoy the light airy space and take in the art and the park at the same time.
Location: This is in the American Wing.
---
FREE DOWNLOAD
Subscribe to monthly updates with tips for planning, travel inspiration and trip ideas and get instant access to the free PDF of
Must See Spaces at the Met
---
Visiting the Metropolitan Museum of Art
Don't underestimate the size of the Met, or how long it takes to visit. It is huge, and you will need more than a day to see everything. of course you don't have to see everything. A tip is to skip the lines by buying tickets in advance.
Map of the Metropolitan Museum of Art
Here are maps to help you find each of these places in the museum:
How do you get to the Metropolitan Museum of Art?
There are two locations:
The Met Fifth Avenue
1000 Fifth Avenue at 82nd Street
This is the main museum.
By Subway/Bus
From East Side of Manhattan:
Subway: Take a 4, 5, or 6 (green line) train to 86th Street and walk three blocks west to Fifth Avenue. The walk is about a half mile and takes about 10 minutes.
Bus: Take the M1, M2, M3, or M4 bus along Fifth Avenue (from uptown locations) to 82nd Street or along Madison Avenue (from downtown locations) to 83rd Street.
From West Side of Manhattan:
Take the 1 (red line) train to 86th Street, then the M86 crosstown bus across Central Park to Fifth Avenue; OR
Take the C train (blue line) to 81st Street, then the M79 bus across Central Park to Fifth Avenue. If it's a nice day and you are able to walk, walking through Central Park is nice to do.
The Cloisters
99 Margaret Corbin Drive, Fort Tryon Park
This is way uptown.  It houses the Met's medieval collection.
By Subway/Bus
Take the A train (blue line) to 190th Street (exit the station by elevator). Walk north along Margaret Corbin Drive for approximately 10 minutes or transfer to the M4 bus and ride north one stop.
If you are going from The Met Fifth Avenue, you can take the M4 bus directly from Madison Avenue/83rd Street to the last stop.
An insider's secret to visiting the Met Fifth Avenue
There are two entrances. The main entrance has the wow factor, but also long lines, especially for the cloakroom.
However, there is another entrance on the ground floor to the left of the main entrance. It is labeled for groups but open to everyone. The lines are usually MUCH shorter here.
Private tours of the Met
Did you know you can get private tours of the Met? They are just one of the 25 different NYC experiences in my NYC Gift Guide – perfect for the holidays and birthdays. Check it out here.
How much does it cost to go to the Metropolitan Museum of Art? Is the Met a free museum?
The regular price is $25 for adults, $17 for seniors and $12 for students. His includes all three locations. You can buy a ticket in advance here and skip the line. This is the same price as the regular ticket, so is good to do. Children under 12 are free when accompanied by an adult.
The Met USED to be free (i.e. the admission price was a recommended ticket price only and you could pay what you want), but this has changed and you will need to pay the full price unless you are a resident of New York State or a student in New York, New Jersey or Connecticut.  If you are, then you can pay whatever you like, with I.D.
Can you bring water into the Met?
Yes, you can.  In general, you can't take food and drink into the museum or check it in at the cloakroom; however, water in plastic bottles is allowed.
When is the Metropolitan Museum of Art open?
The Met Fifth Avenue
Sunday – Thursday: 10 am – 5:30 pm*
Friday and Saturday: 10 am – 9 pm*
Closed the first Monday in May for the Met Gala
The Cloisters
Open Seven Days a Week
March – October: 10 am – 5:15 pm
November – February: 10 am – 4:45 pm
All three locations are closed Thanksgiving Day, December 25, and January 1.
The essential things to know when visiting the Metropolitan Museum of Art
You can take photos or videos as long as you don't use a flash
If you want to sketch anything, you can only take pencils into the galleries. Pens and markers aren't allowed.
Strollers or baby carriages are allowed in all galleries.
Wheelchairs are available at the coat checks.
All backpacks and packages must be checked in at the cloakroom. If you have anything on your back, you will be asked to take it off. The lines to check bags can be quite long – but use the lower entrance as I describe above and you will save a LOT of time (especially n winter when you will want to heck your coat for sure)
Luggage, carry-on bags, and oversize backpacks are not allowed inside and cannot be checked in at the cloakroom.
You can rent an audio guide, $7 for adults and $5 for children under 12.
Tips for Visiting New York City
I live in New York City and LOVE it, but it can be a little overwhelming at first. Here is some practical info to help you when you first visit.
How to get to New York City
New York has three major airports.  If you are staying in Manhattan, any of them are OK to fly into.  La Guardia is the smallest, but also the closest to Midtown Manhattan.  JFK is in New York City and Newark is in nearby New Jersey.
Book a flight to New York here.
How to get from the Airport to central New York City / Manhattan
The easiest way to get from the airports to central Manhattan is by private transfer.
You can book a transfer from JFK to Manhattan here.
You can book a transfer from Liberty Newark Airport to Manhattan> here.
You can book a transfer from La Guardia Airport to Manhattan here.
Getting around  New York City
The cheapest and often quickest way to get around is the subway.  A one-way trip costs $2.75/ trip or $32.00 for an unlimited weekly pass.  A trip costs the same if you go one station or twenty stations – there are no zones.
The actual MetroCard costs $1, so keep it and reuse it every time.  You can Add Value (pay per trip) or Add Time (weekly or monthly unlimited passes).  The subway runs 24/7 and it is often quicker than a taxi because of New York traffic. 
If you really don't want to take a bus or the subway, take a taxi, which are everywhere.  Just hold out your hand when you see a taxi with the top light on (which means it is available).  You can use credit cards to pay for taxis. You can also use Uber or Lyft, of course.
Where to stay in NYC
There is no shortage of hotels in New York, but they are not super cheap.  For help on choosing the best hotel for you, check out my guide to choosing the best hotel.
Best Luxury Hotel in New York City
I live in New York, so don't stay in hotels, so can't vouch for these first hand, but for a splurge, it's hard to beat the iconic Ritz-Carlton New York-Central Park. This is pure old school New York.
Check prices and availability at the Ritz-Carlton Central Park here.
Best Mid-Range Hotel in New York City
For something a little more modern and modest and (for New York anyway) reasonably priced, the NYLO gets good reviews. The rooms are fairly small, but the location on the Upper West Side is good if you want to be a little away from touristy Times Square. 
You can walk through Central Park to the Met.
Check Prices and availability for NYLO New York here.
Best Budget Hotel in New York City
A good friend stayed at the Chelsea Pines Inn when she visited us and she loved it.  It's a lovely low-key Bed and Breakfast in Chelsea.  It's gay friendly, but my friend is straight and felt totally comfortable there.  Chelsea is great neighborhood with lots of restaurants and bars.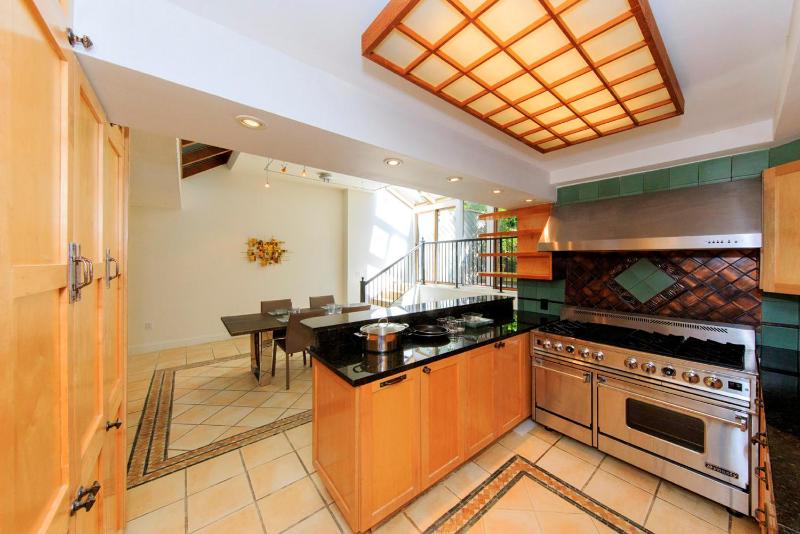 You can book the Chelsea Pines Inn here.
Other great museums to visit in New York
My top three other favorite museums in New York are:
If you planning to visit New York around the holidays (and you should), be sure to read my complete guide to spending Christmas in New York.
Planning and packing for New York City
I use the Internet a lot to plan – and I hope this blog is useful resource for you – but I also always use a trusty Lonely Planet to get the big picture and practical things like maps.  Use it as a useful resource than a travel bible so that you don't miss out on loads of awesome things and places and experiences that aren't listed in it. You can buy the New York City Lonely Planet here.
Other planning resources:
North America Travel Guide. If this is your first time to North America, there are lots of useful tips and info to help you plan your trip.
Travel Planner. Each step of planning your vacation broken down for you.
When you are ready for your trip, check my Essential Packing List to make sure you have everything you need.
FREE DOWNLOAD
Subscribe to monthly updates with tips for planning, travel inspiration and trip ideas and get instant access to the free PDF of
Must See Spaces at the Met
Travel Insurance
It is important to be fully prepared when you travel.  In addition to accommodation, planning and flights, you should always have travel insurance, just in case.  I always hope I never need to use it but I get it just in case I do!  For more information, read my guide to buying travel insurance.
A great insurance option is Travelex.  It has coverage for all you'll need. You can swap this link for  either choose the best travel insurance plan for your trip here or get a quote right now:
---
Enjoy the Met!
Do you have any stories of New York City? I'd love to hear them. Comment below.  
If you liked this post, please share the love and Pin it to your New York City board!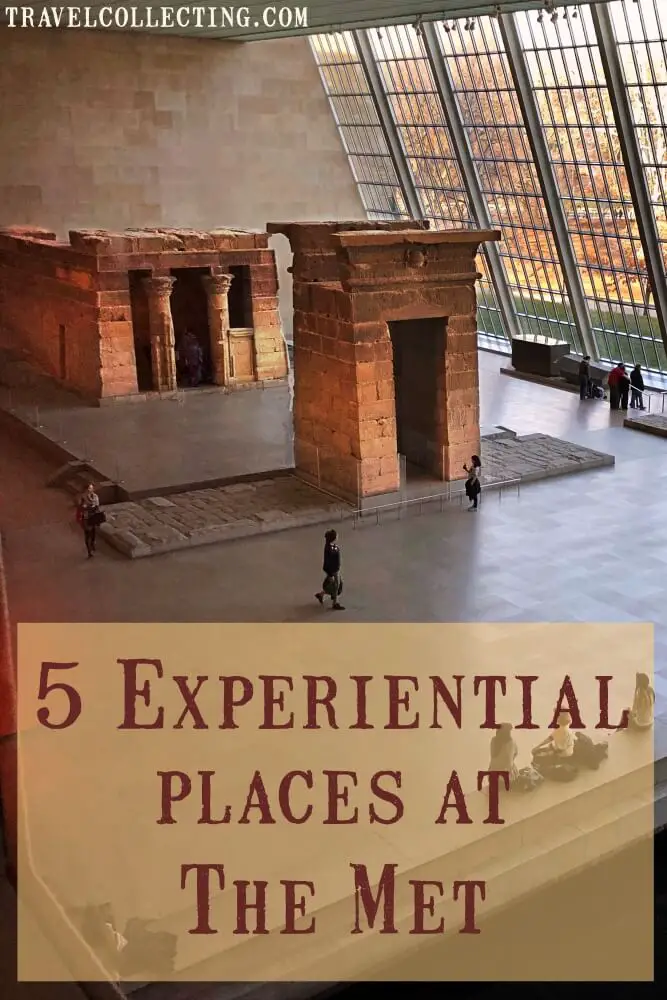 ---
Read other New York experiences:
Give the gift of a NYC Experience these holidays or birthdays.  Check out my New York City Experiences Gift Guide.
If you want a break from the city, head north to the Hudson Valley, especially in the fall.
---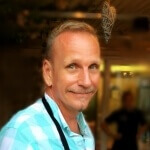 James Ian has traveled to 82 countries and all 7 continents.  He is passionate about experiential travel, i.e. meaningful travel that actively engages with the environment and culture.  He helps people have similar experiences that involve active participation in activities and festivals; engaging with the local food and handicrafts through lessons and food tours; and interacting positively with environment by hiking, riding, rowing, diving and low/no impact animal encounters. 
---
Travel Collecting is a participant in the Amazon.com Services LLC Associates Program, an affiliate advertising program designed to provide a means for sites to earn advertising fees by advertising and linking to amazon.com. Amazon and the Amazon logo are trademarks of Amazon.com, Inc. or its affiliates.