Misty mountains, waterfalls, rivers, breathtaking views, incredible food, craft beers, and one of the most iconic drives in the United States, this is the Blue Ridge Mountains. Beautiful in every season, this is a place to come for peace and quiet, adventure (canyoneering, anyone?), great food and much more…
No time to read about the best things to do in the Blue Ridge Mountains now?  Pin It and save it for later: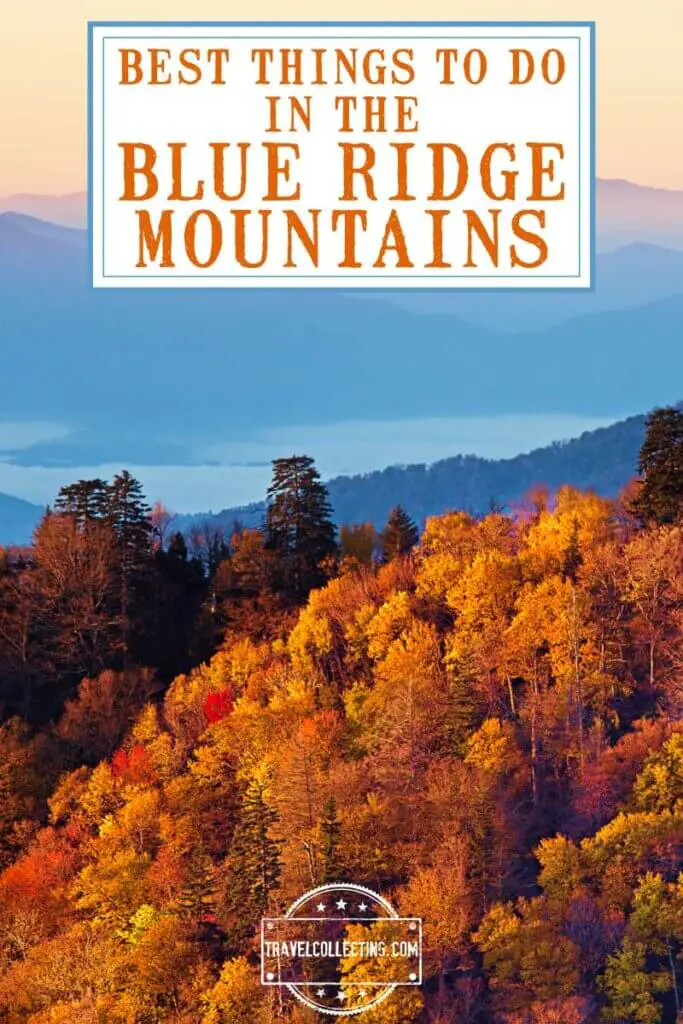 Please note this post may contain affiliate links, which means we may receive a commission, at zero cost to you, if you make a purchase through a link. Please see our full Disclosure for more information. If you have any questions, please let me know.
Before You Go: Where to Stay in the Blue Ridge Mountains
The best option is to stay in an Airbnb. Asheville is a great central location and there are plenty of awesome Airbnbs in Asheville and in the nearby hills. Whether you want a loft in downtown Asheville with ready access to the restaurants and breweries or a secluded cabin in the woods, check out my Guide to the Best Airbnbs in and around Asheville.
The 10 Best Things to Do In the Blue Ridge Mountains
If you're visiting North Carolina, you may have already been to Charlotte (and all the awesome day trips you can do from Charlotte), Raleigh and Asheville. But you won't want to miss the gorgeous Blue Ridge Mountains.
The Blue Ridge Mountains are a wonderful destination for a romantic weekend getaway or a longer vacation with the whole family. (If you're headed there for a weekend, make sure you have everything you need to pack for a weekend away).
However, you may be wondering what to do in the Blue Ridge Mountains. Well actually there are so many fun things to do in Blue Ridge Mountains, NC that it is hard to narrow it down to just ten. With the help of some fellow travel bloggers, here are my suggestions for the top things to do in Blue Ridge Mountain and the surrounding area.
1. Take a Walking Tour of Asheville 
Start your trip to the Blue Ridge Mountains in Asheville.  Its central location and vibrant foodie scene make it a great place to base yourself.  Read my guide to the best Airbnbs in and around Asheville for places to stay in town or the nearby hills.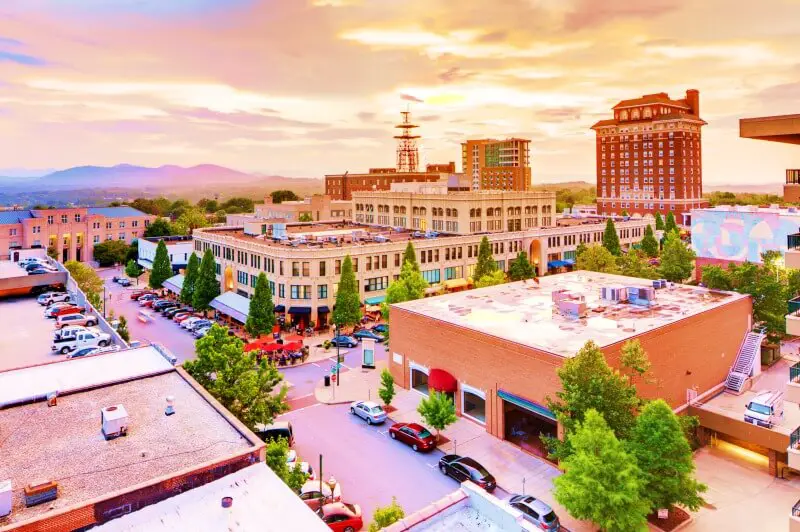 I find that the best way to get know a new town is to take a walking tour with a local guide.  The Asheville on Foot tour is a 1.5-2-hour walking tour with knowledgeable guide.  It starts at Pack Square in the center of Asheville and visits key cultural, historic and architectural places in Asheville.  There are a maximum 24 people per group and you get your own headset with Bluetooth mikes, so you can easily hear the guide speaking.   
Book the Asheville Insider Walking Tour here 
If you are looking for something a little different, there are also specialty walking tours with a particular focus.  Three top picks are: 
Love Stories of Asheville 
This private walking tour of downtown Asheville visits the most romantic places in the city.  The tour includes stories of local loves won and lost as Asheville's history is interwoven with romantic tales.  Discover little-known secret passageways, the best places for a romantic date and where to take the perfect romantic IG picture.  
Book the Love Stories of Asheville Walking Tour here 
Literary History and Architecture 
Take a small group (maximum 6 people) 2.5-hour combined driving and walking tour of Asheville.  Learn about the city's literary legends, discover its architectural gems and explore the beautiful Riverside Cemetery and its famous residents. 
Book the Asheville History and Architecture Tour here 
Nighttime Ghost Tour 
If you are looking for something more spooky, then this ghost walking tour will be right up your (eerie) alley.  Hear hair-raising tales of the darker side of Asheville's history.  Discover which local inn is haunted (and by whom), learn about the poor soul entombed in the wall of the Basilica of St. Lawrence and more. 
Book the Spooky Nighttime Ghost Walking Tour here 
---
2. Explore the Downtown Asheville Restaurant Scene
Located in North Carolina's Blue Ridge region, Asheville has exploded in popularity over the past decade (after a mass exodus from the city that lasted from the 1960s through the '80s). The city's resurgence began in the '90s thanks to a major revitalization of the downtown business district, which was led by the non-profit group Asheville Discovery, with small business funding by Julian Price's Public Interest Projects. 
Outsiders were drawn to the city by Asheville's eclectic progressive identity, with historic art deco architecture and the Biltmore Estate (the largest private home in America) at one end and weekly drum circles, breweries, and loads of nearby natural attractions at the other. But it was the downtown Asheville restaurant scene (and features in media outlets like Bon Appetit and Food & Wine) that really shone a national spotlight on the once-small mountain town. 
Jacob Sessoms was the first Asheville chef to be nominated for the James Beard Award for Best Chef in the Southeast in 2010. Within three years, chefs Elliott Moss (The Admiral) and Katie Button (Curate) had earned nominations. In the years since, chefs from Asheville hotspots such as Buxton Hall, Chai Pani, Rhubarb, Cucina 24, and Benne on Eagle have joined the list, while Button has racked up a total of seven nominations. 
Asheville also has a great "green" dining scene, with a movement towards sustainability led by former Asheville Independent Restaurant Association President, Chef Peter Pollay. Pollay's upscale Posana, the more casual Laughing Seed Café and Green Sage Café, vegan-friendly restaurant Plant, All Souls Pizza, and others led the way, and dozens of other eco-friendly restaurants soon followed. 
But the truth is that whether you like the BBQ at 12 Bones Smokehouse (the Obamas' favorite spot), the downhome Southern cuisine at Tupelo Honey Café, the French comfort food at Bouchon, or tasting flights at brewpubs such as Wicked Weed and Highland Brewing, the downtown Asheville foodie scene offers something for everyone. And it's a key factor in Asheville's continued growth as one of the trendiest towns in the Blue Ridge region. 
Recommended by Bret Love & Mary Gabbett of Blue Ridge Mountains Travel Guide
---
3. Have a Beer at a Micro-Brewery in Asheville 
Asheville and the surrounding area are well-known for their craft beers; there are dozens of boutique breweries to visit.  The best way to discover the best beers is to take a tour.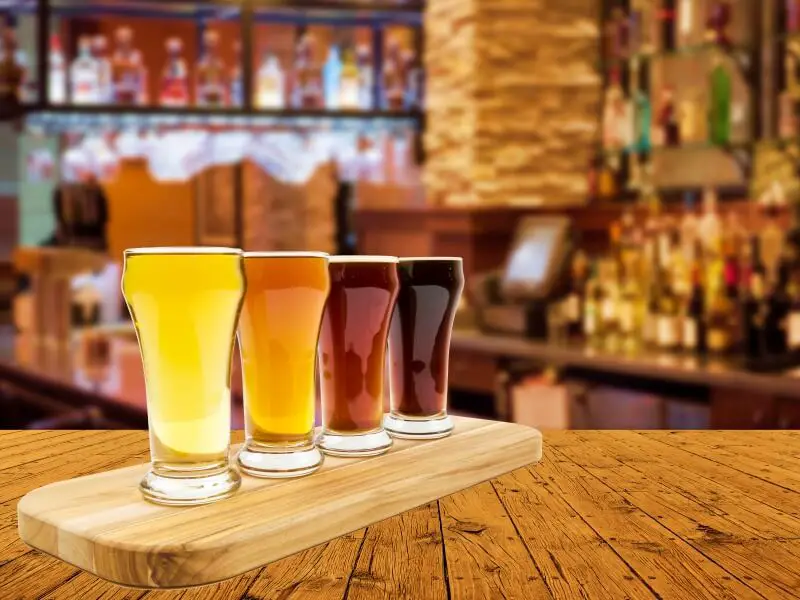 This walking tour of microbreweries in Asheville stops at 2-3 breweries and includes 3-4 samples at each stop, as well as learning about the brewing process, the ingredients, the history of beer and hearing stories about Asheville, the beer industry there and craft beer in general.  
Book the downtown Asheville walking brewery tour 
Or, as an alternative to walking, take a bike tour stopping at five breweries in Asheville along the way.  4 hours; maximum 8 people. 
Book the Asheville e-bike brewery tour here 
---
4. Enjoy the attractions in Pigeon Forge
Pigeon Forge is home to several major tourist attractions that are fun for the whole family. Top of the line is Dolly Parton's Dollywood theme park. Other amusement parks and rides include the Smoky Mountain Alpine Coaster, the Rocky Top Mountain Coaster, and the enormous Ferris wheel at The Island.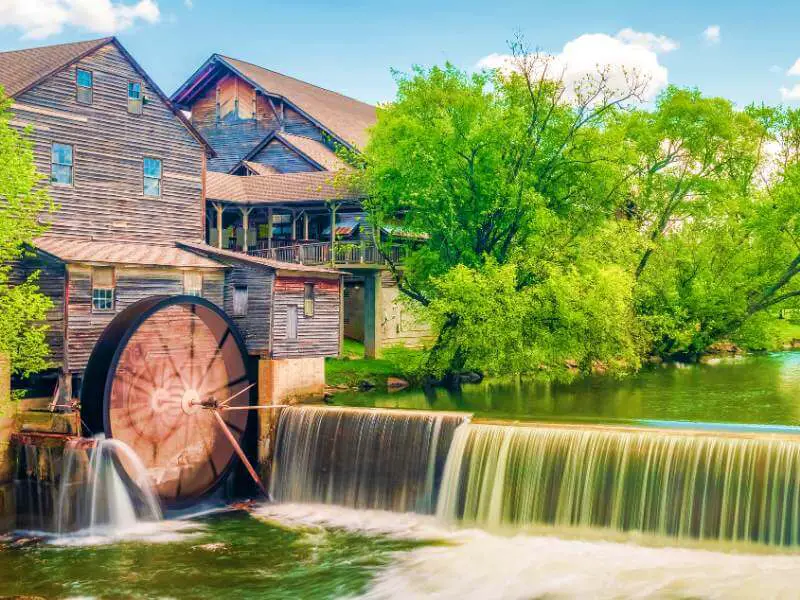 If you're traveling with your family, discover more fun things to do in Pigeon Forge with Kids.
---
5. Go Canyoneering in the Pisgah National Forest
The Pisgah forest is located in the Blue Ridge Mountains of western North Carolina, about 35 minutes South of Asheville.  The forest encompasses over half a million acres of land, providing year-round hiking and recreation through thousands of miles of trails. Visiting the Pisgah during warmer months will give any visitor ample amounts of activities including, fly fishing, hiking, swimming at water holes, white water rafting, rock climbing, mountain biking, and canyoneering.
Canyoneering is a recreational activity that includes hiking, waterfall rappelling, swimming holes, and rock climbing. If you plan to go canyoneering in the Pisgah National Forest, I recommend using Pura Vida Adventures in the town of Brevard. They are the only outfitter in North Carolina accredited by American Canyoneering Association.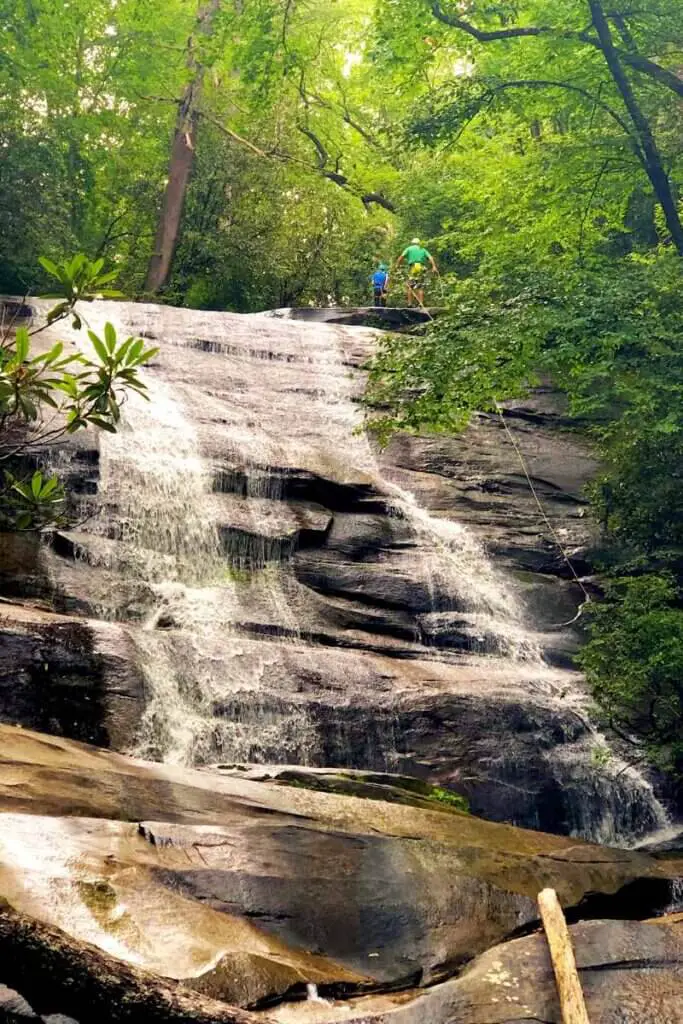 Canyoneering guides will take you to a designated location within the Pisgah Forest and start with a brief explanation of the day. Be prepared to hump your own gear throughout the entire experience.
The activity begins with a 30-minute trail hike to a waterfall. Once you reach the waterfall, the guides will give you a thorough lesson on rappelling: how to position your bodies and how to hold the rope in order to descend properly. The guides will also provide you with helmets and any other necessary rappel gear.
Using rope, pulley system you descend the waterfall while both guides work together with both primary and secondary ropes.
Looking out over the waterfall is a bit scary but once the rappel starts, it becomes less frightening and more exciting. After a successful rappel, the canyoneering adventure continues with another hike to a waterhole complete with a natural rockslide.
If you can handle the cold 55(f) degree water, then jump in and let the water current push you down a rock face into a pool of water.
INSIDER TIP: Make sure to wear a good pair of trail shoes or sneakers, plenty of water, a snack, and a rain jacket.  The Pisgah is a temperate forest that does receive a lot of rain.
Recommended by Alison Netzer from Five Family Adventurers
---
6. Visit The Biltmore Estate
Nestled deep in the Blue Ridge Mountains in Asheville, North Carolina, lies the Biltmore Estate—the largest private home in America. From touring the stunning French Renaissance château to enjoying a complimentary wine tasting at the Biltmore Winery—you're bound to have a memorable day at Biltmore Estate.
Tickets to the Biltmore cost $94 – $114 per person, depending on the time of year you choose to visit. Your admission to the Biltmore Estate includes:
Access to the Biltmore House & Gardens.
Access to Antler Hill Village.
Self-guided tour of the Biltmore House (you can purchase an audio guide for $12).
Complimentary wine tasting at the Biltmore Winery.
INSIDER TIPS: Here are some practical tips for visiting the Biltmore Estate to make your visit as enjoyable as possible!
Buy ticket in advance
Tickets to the Biltmore can sell out quickly, especially during the holidays. Buy your ticket in advance to secure the date and time you want to visit the Biltmore.
Don't make other plans on the day of your visit
Between touring the house, walking through the gardens, and enjoying your wine tasting—you'll easily spend an entire day at the Biltmore. Avoid making plans in Asheville for the evening to ensure you can enjoy all that the Biltmore has to offer.
Wear comfortable shoes
You'll do tons of walking during your day at the Biltmore—including stairs and steep inclines. Wear comfortable shoes—your feet will thank you later!
Recommended by Brittany from Travel by Brit
---
7. Take a Blue Ridge Parkway Road Trip 
Running 469 miles, from Great Smoky Mountains National Park in Western North Carolina to Shenandoah National Park in Virginia, the Blue Ridge Parkway (BRP) is America's longest linear park. It's also the most-visited attraction in the US National Park System, drawing more than 12 million travelers each year. 
Arguably the most iconic roadway in the Eastern United States, the BRP was originally known as the Appalachian Scenic Highway. The original concept came from President Franklin Roosevelt after he visited Virginia's first Civilian Conservation Corps camp as they built Shenandoah's Skyline Drive.  
Construction on the parkway began in 1935, but it quickly attracted controversy over its funding, location, and progress. In fact, the BRP wasn't completely finished until September 11, 1987– 52 years after its groundbreaking!  
In terms of raw stats, the road is truly a remarkable feat. There are 26 tunnels that were created through mountain ridges, along with dozens of bridges and 200+ beautiful Blue Ridge Parkway overlooks. Each offers stunning views of misty mountains, gorgeous flowers, colorful autumn leaves, or snowy landscapes (depending on what time of year you visit).  
Our favorite section of the BRP was from Cherokee north to Boone and Blowing Rock, North Carolina. The route passes through the Nantahala and Pisgah National Forests, with an array of dramatic peaks, eye-popping waterfalls, historic landmarks, and wondrous wildlife (including Black Bears, Wild Turkeys, and White-Tailed Deer) along the way.  
It's truly one of America's great road trips, not to mention an incredible way to explore the dynamic beauty of the Blue Ridge region.  
Recommended by Bret Love & Mary Gabbett of Blue Ridge Mountains Travel Guide 
If you don't want to drive yourself, there are two great options. 
4-hour small group drive along the Blue Ridge Parkway 
Take a driving tour of the Blue Ridge Parkway with a certified Naturalist who can tell you all about the flora, fauna and history of the Parkway.  The 4-hour tour has a maximum four people and there are plenty of stops along the way for photos and even a couple of short hikes. 
Book a driving tour of the Blue Ridge Parkway with a naturalist guide here 
Full-day private drive along the Blue Ridge Parkway to Blowing Rock 
Alternatively book a 6- to 8-hour private tour along the Blue Ridge Parkway to Blowing Rock and back.  There are a maximum four people, but they are your party only, so you get personalized attention and can stop wherever and whenever you like.  Scheduled stops include the Folk Art Center to see the local craftsmanship of the area; Craggy Gardens where there are outstanding views of the Asheville area; Mount Mitchell State Park; Roaring Fork Falls; Linville Falls, Caverns and Viaduct; Grandfather Mountain; Moses H. Cone Memorial Park; and Blowing Rock. 
Book the full-day private tour of the Blue Ridge Parkway here 
If you prefer to drive yourself and didn't drive to the area, Asheville has an airport and is a good place to rent a car.  Book a rental car in Asheville online. Before you do, read my Guide to Finding to Saving Money on Car Rental. 
---
8. Take the Great Smoky Mountain Railroad and visit Bryson City
While in the Blue Ridge Mountains in NC, visit Bryson City! This small walkable town offers something for everyone. Park your car at your hotel (or in one of the multiple public spots available downtown) and explore the best things to do in Bryson City.
One of the most popular things to do in Bryson City is riding the Great Smoky Mountain Railroad (GSMR). Depending on the time of year, visitors enjoy a four and a half-hour tour of the Nantahala Gorge. Visitors can even combine a trip on the GSMR with other exciting adventures like rafting and zip lining.
The Great Smoky Mountain Railroad departs from Bryson City throughout the year.   They have both steam-powered and diesel-powered trains. The 4.5-hour roundtrip excursion passes through the Smoky Mountains along Fontana Lake to Nantahala River Gorge with a one-hour layover at Nantahala Outdoor Center.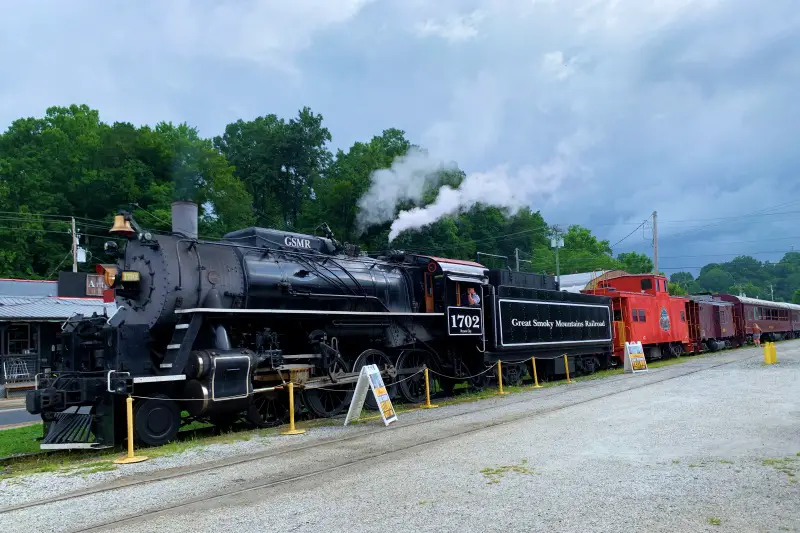 Deep Creek offers outdoor opportunities year-round. In the summer, cool off with a little tubing. Those who want to get a little exercise will want to hike to one, two, or all three waterfalls in the park.
Outdoor lovers will enjoy all that Bryson City has to offer! Get your adrenaline rush by rafting Class II and III rapids. Trip providers can arrange family outings too. Don't want to get wet? Get your rush of excitement by zip lining the Nantahala Gorge with one of several providers in town.
Admire the gorgeous views of Tennessee and North Carolina from Clingmans Dome. While the steep climb is challenging, kids usually fare much better than the adults! The Appalachian Trail crosses paths here, so if hiking is on your schedule, this is an excellent spot too.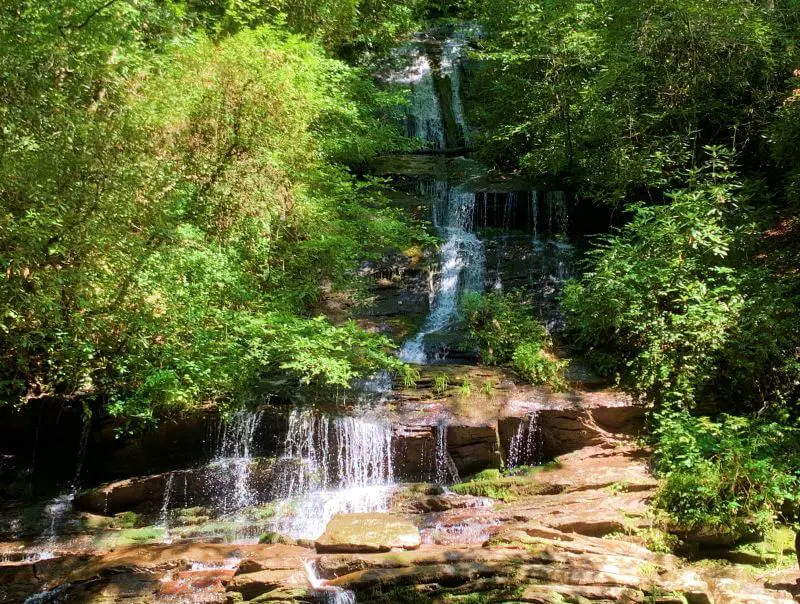 INSIDER TIP: Be sure to leave enough time in your trip to North Carolina's Blue Ridge Mountains to do all that the city and surrounding areas has to offer
Recommended by Annick from The Common Traveler
---
9. Enjoy the thrill of white water rafting
If you enjoy (or want to try) white water rafting, Blue Ridge Mountains are the most popular destination in the south east. Carolina Outfitters run three- to four-hour trips down a 8.5-mile stretch of the Nantahala River that are suitable for all levels of experience.
---
10. Visit Great Smoky Mountains National Park
Part of the Blue Ridge Mountain Range are the Great Smoky Mountains! The best way to see and experience the Great Smoky Mountains is via the official free National Park. There are two main entrances – on the north side from Tennessee and on the south side from North Carolina (also called the Sugarlands and Oconaluftee Entrances, respectively). If entering from the North Carolina side, check out the city of Cherokee on the Cherokee Indian Reservation where you can learn about the Cherokee Nation.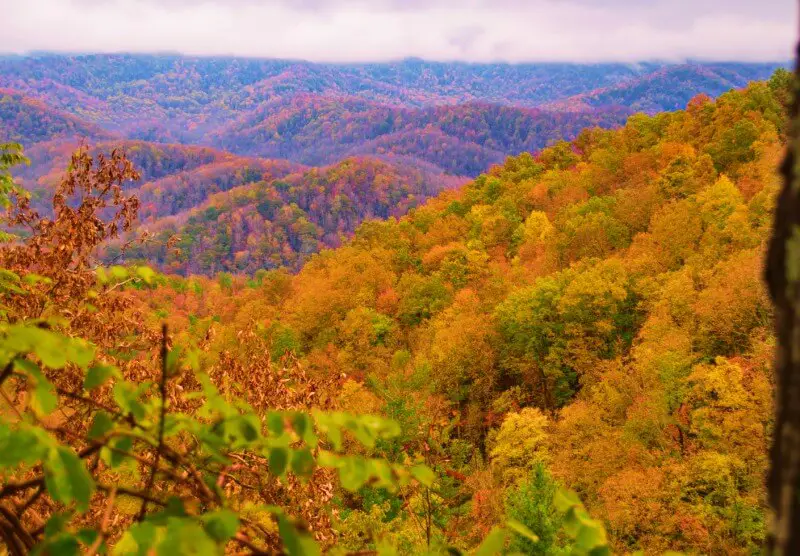 Once inside Great Smoky Mountains National Park, there is much to do. Drive through Cades Cove, a looped, one-way road through horse meadows, mountains, and historic Appalachian residences. Hike to Laurel Falls, a 2.6 mile round-trip hike with beautiful views of the surrounding mountains and, of course, the waterfall! Alum Cave Trail is a very popular 5 mile round-trip hike with beautiful views and ending at bluffs. Lastly, don't miss Clingman's Dome, a very steep (but short) trail up to a man-made tower with 360° views of the mountains.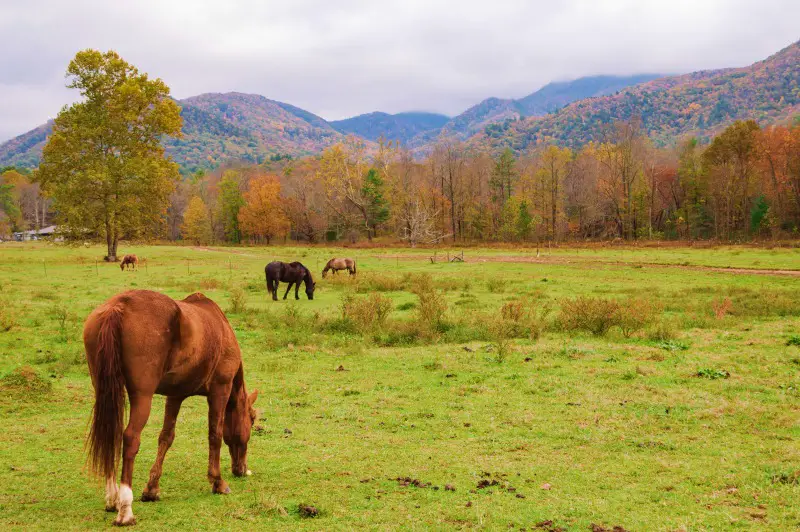 INSIDER TIP: Since Great Smoky Mountains National Park is free, it is often very crowded, especially on weekends and holidays. Autumn is one of the most popular seasons because the leaves turn vivid yellows, oranges, and reds. If you want to avoid crowds, visit during the week or during the off-season in winter. Just be careful to read up on weather conditions and seasonal closures before visiting.
Recommended by Alanna Koritzke from Periodic Adventures
---
11. Go Tubing
Tubing in Blue Ridge Mountains is a fun activity the whole family can enjoy.  Rent a tube then glide gently along, enjoying the sun, the cool water and the scenery.   
You can book a tubing adventure on the New River from Elizabethton, Tennessee.   Choose to do one run or go for the whole day.  Pack a picnic and take some drinks (they have a 'cooler tube') and enjoy your day!  It includes shuttles to the start of the run, parking and hot showers.  
Book the New River tubing adventure here 
---
12. Take the Road to Nowhere
The Road to Nowhere, part of the Great Smoky Mountains National Park in Bryson City, North Carolina, is one of those off-the-beaten-path places that most visitors to Western North Carolina aren't even aware of but it's actually quite an interesting piece of history.  
The people of Swain County, North Carolina lost much of their land in the 1930s and 1940 after the federal government claimed it for both the Great Smoky Mountains National Park and for the construction of a massive dam (and lake) that would create energy for the war effort.
In exchange for the land that they were seizing, the government promised to build a road that would connect Bryson City residents to the other side of the lake (where many of their family burial plots were located).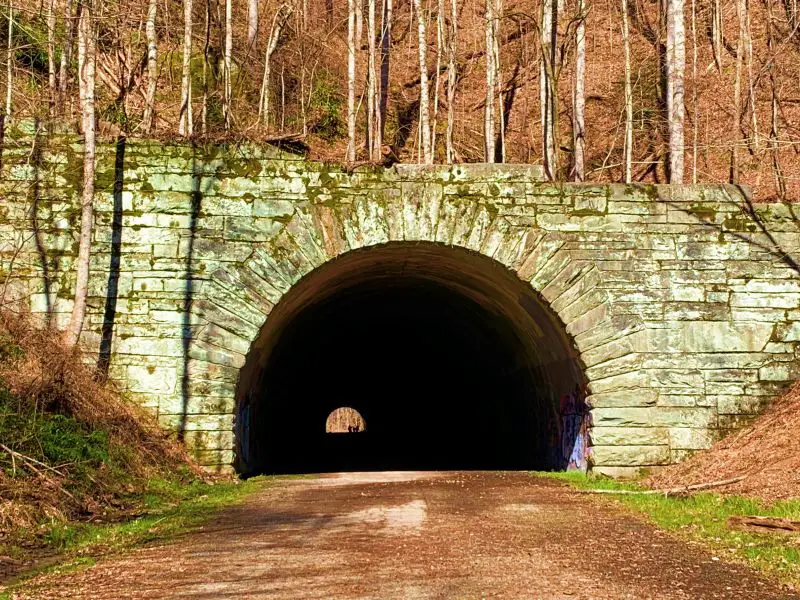 The government got to work right away and finished the dam by 1944 but construction on the road was slow until it halted completely in the 1970s. This led to locals nicknaming the road "the road to nowhere." The Road to Nowhere ends just after a 365 foot tunnel. Where the road ends, miles of hiking trails begin. 
Visitors have two choices for how to "see" the tunnel. You can visit during the day for a hike or you can do like the local kids and challenge yourself to walk the entirety of the tunnel, without a flashlight, in the middle of the night (I may have done this a time or two in college). 
Recommended by Catherine Smith from Her Bags Were Packed
---
Travel Insurance for the Blue Ridge Mountains
Don't set off on your trip to the Blue Ridge Mountains without adequate insurance. While your regular health insurance may cover medical bills, travel insurance also covers trip cancellation, medical repatriation and stolen property. Always check the small print.
A good insurance option is Travelex.  You can compare Travel Insurance plans here or get a quote right now:
---
Have a wonderful trip to the Blue Ridge Mountains!
Do you have any other favorite Blue Ridge Mountains attractions or Blue Ridge Mountains activities? I'd love to hear them. Comment below. 
If you liked this post, please share the love and Pin it!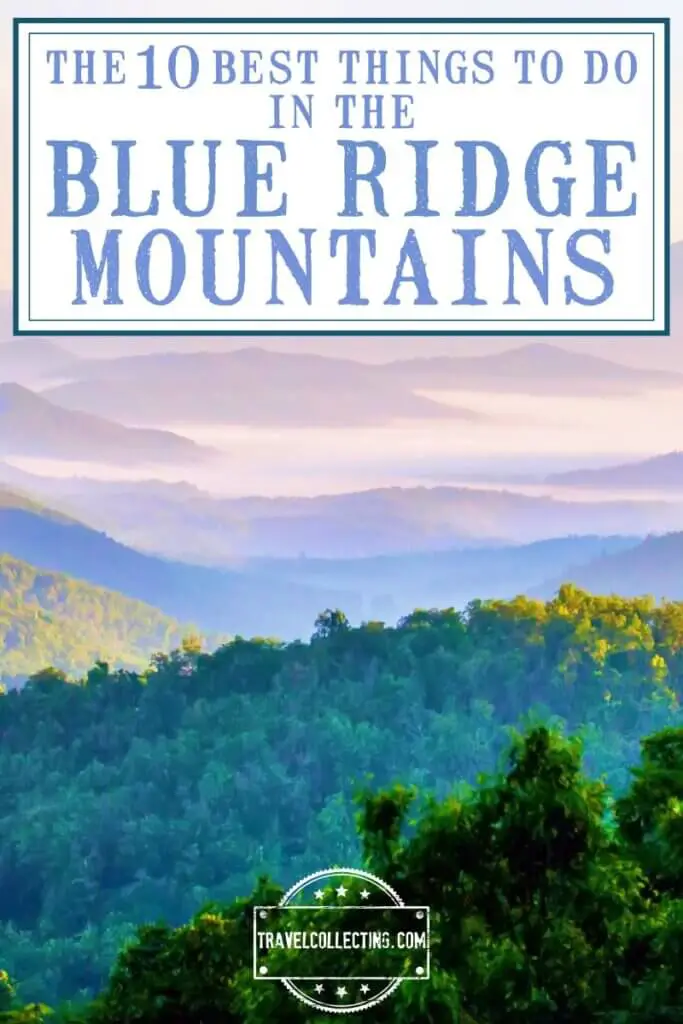 ---
Help Plan Your Trip
---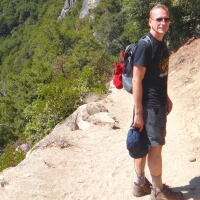 James Ian has traveled to 82 countries and all 7 continents.  He is passionate about experiential travel, i.e. meaningful travel that actively engages with the environment and culture. 
He helps people have similar experiences that involve active participation in activities and festivals; engaging with the local food and handicrafts through lessons and food tours; and interacting positively with environment by hiking, riding, rowing, diving and low/no impact animal encounters. 
---
Travel Collecting is a participant in the Amazon.com Services LLC Associates Program, an affiliate advertising program designed to provide a means for sites to earn advertising fees by advertising and linking to amazon.com. Amazon and the Amazon logo are trademarks of Amazon.com, Inc. or its affiliates. As an Amazon Associate I earn from qualifying purchases.