I have taken many cooking classes on my travels. Food is such an important part of the local culture that I love to eat as much as I can of the local food.
However, learning how to make local dishes gives an insight into the food and how it is prepared that trying something in a restaurant just can't. It is also a great way to meet local people – often women – who, in some cultures, it is difficult for a man to talk with.
Some of the cooking classes I've taken have definitely been better than others, however. There are several things to consider in order to choose the perfect travel cooking class.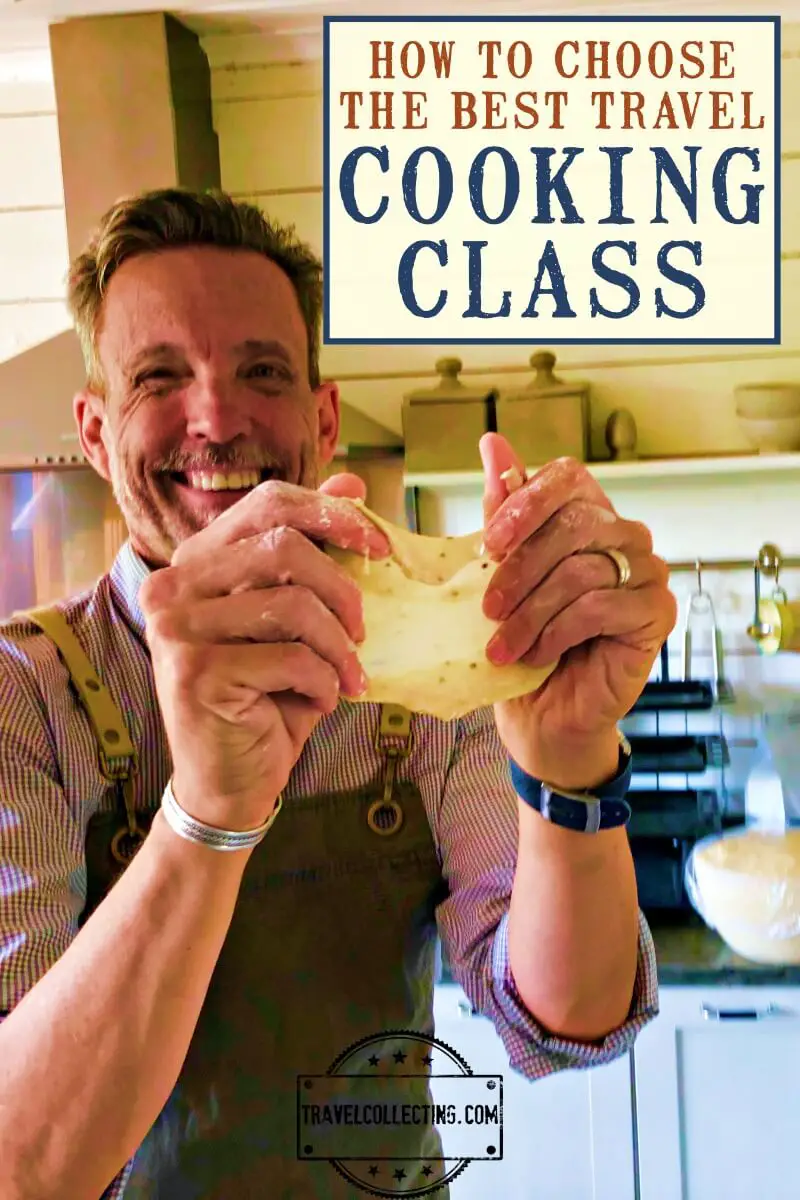 Please note this post may contain affiliate links, which means we may receive a commission, at zero cost to you, if you make a purchase through a link. Please see our full Disclosure for more information. If you have any questions, please let me know.
How to find the perfect travel cooking class
Before you can compare cooking classes to find the best one, you need to know where to find them.  I find my cooking classes on Viator and Get Your Guide. They have a great selection of classes, as most providers of classes list their classes on these websites.
I hear some people express concern that booking through these websites means they will pay more.  This is not the case, though.   It's the same as when you book through a travel agent – the provider pays a small commission and you pay nothing more.
If you want to take a cooking class for your next vacation search on Viator and Get Your Guide to find ones available for your destination.
Things to consider to choose the best cooking class
There are several things to consider when deciding which cooking class to take.
1.  Why are you taking the cooking class or course?
As with almost everything in life that you do, the first thing to think about is why.  I take cooking classes when I travel because I want to connect with the culture and meet local people.  Actually learning to cook something that I will cook again back home is secondary for me.
However, for you, it may be the most important thing.  This will affect who you want you teacher to be, and where the class should take place.
2. Who is the teacher?
Some classes are taught by women who are not professional cooks, but have started offering classes as a way to make some extra money. Other classes are taught by professional chefs. Others may be taught by certified cooking teachers, especially if you are taking a whole course. They offer different levels of professionalism, and if you really want to learn cooking techniques, having a professional teacher would most likely be best.
This does not mean that a home cook will be unprofessional though. I have had many really great classes taught by home cooks. They may not always speak English, however.
2. Is there a translator?
It's worth checking in advance that the class will be in English.   Even if it is, it does not always mean that the teacher will speak English. Often the place will supply a translator, with the cook speaking just a few random words of English, usually for ingredients.
This isn't necessarily a bad thing, as it usually means that you are getting an expert local cook (who may be a home cook). It does mean that your communications will mostly be with the translator, so if you are using this as an opportunity to connect with a local, the local will be the translator, not the cook. They will have different perspectives, but may also share the cook's opinions, if you ask.  None of this is bad – just something to consider.
3. Where is the cooking class?
The most common places are in a restaurant or in someone's home. Cooking schools or even a hotel or B and B kitchen are other options. Each of these provides a different experience.
If your cooking class is in a restaurant or coking school, you will have access to a professional kitchen.  However, classes held in someone's home mean that you get to see what a local home looks like.
4. How many are in the group?
The smaller the group, the better. With fewer people, the cook is able to give you more individual attention and you will also usually get more chance to do more. With very large groups, and only so much food to prepare, your participation can be more limited.
5. What is the level of participation?
This is very important to discover before booking the class. I want to be involved and be doing most of the cooking. However, some cooking classes are mostly demonstrations, or one person in the group does something while everyone else watches. Other classes involve lots of chopping of vegetables, but then the actual cooking is done by the instructor or by one person in the group.  I always like to make sure that I will have a chance to do a lot of the actual cooking.