There was a flash of orange in the trees above us.   I peered through my binoculars and the orange flash turned into the arm of an orangutan.  It was a baby lying in a nest, its mother's arm draped around it.  Huge eyes seemed to gaze right at us.  This was pure magic.
Please note this post may contain affiliate links, which means we may receive a commission, at zero cost to you, if you make a purchase through a link. Please see our full Disclosure for more information. If you have any questions, please let me know.
INSPIRATION: Danum Valley Borneo Rainforest Lodge
Borneo travel wouldn't be complete without a trip to the jungle.  After our Borneo jungle safari to see pygmy elephants, more than one proboscis monkey and lots of other wildlife on the Kinabatangan River tour, and our visit to the Sepilok Orangutan Rehabilitation Center, I was excited to see even more animals in one of the few remaining primary rainforests in Borneo.  
Danum Valley is a designated nature reserve, so is safe (for now at least) from the relentless onslaught of palm oil plantations.
Danum Valley Conservation Area
The Danum Valley Conservation Area is an area of virgin rainforest 108, 232 acres/ 438 square kilometers in the middle of the Sabah part of Malaysian Borneo.  There has supposedly never been any human settlement in this area, so no hunting, no clearing, nothing.  This has resulted in incredible biodiversity and thick, thick jungle with incredibly tall trees and voracious vines!
It's about 51 miles/ 82 km from Lahad Datu, the nearest town.  There is only one place that you can stay inside the conservation area, the Borneo Rainforest Lodge.  This is where we stayed – book it here.
In addition to the Danum Valley rainforest lodge, there is also a research center, the Danum Valley Field Center that is just outside the conservation area.  There are basic accommodations (bunk beds, cold water showers) at the field center.  The Borneo Rainforest Lodge is more luxurious and the price includes all transfers to/ from Lahad Datu, meals and guided walks and a night drive.
The rainforest lodge office is just near the small Lahad Datu airport.  Three people joined us and we piled into a very comfortable minivan for the 2-hour drive mostly on dirt roads into the jungle.
Borneo Rainforest Lodge, Danum Valley, Sabah, Malaysia
We arrived at the Borneo Rainforest Lodge just before noon, and were greeted with a "lei" made from a chain of palm fronds.   We checked in and were shown to our  room.
The lodge is in a valley on the bend of a river.  There is one huge building that has open sides to catch breezes, facing a wall of jungle, as a cliff rises steeply nearby, covered in trees and vines.  Tables are set up for meals (which are all included; the food is great) and there is a lounge and bar area.
Having lunch overlooking the jungle and river, in the open air was awesome.
From there, raised wooden boardwalks lead to separate buildings with the guestrooms.  Our room was large and I loved it, but be prepared – there is no AC, just ceiling fans.
Guided walk
After a 2:30pm slideshow introducing us to the valley, we had our first guided walk at 3:30.  All hikes are accompanied by a guide – this helps keep hikers from getting lost in the jungle, but it also meant that we got an expert guide who often noticed things well before we did and would point them out to us.
Leeches
This first walk was a short hike mostly on a boardwalk in close proximity to the lodge – an easy introduction to the jungle.  We did have to wear our leech socks though.  There are leeches everywhere in this tropical rainforest.  They sit on leaves waiting for the vibrations of someone walking past to alert them to the presence of an oncoming meal for them, then they leap off the leaf on to you.
It sounds creepy, I know.  My previous experience with leeches was the thick ones that once attached could only be removed by salt or fire, but these at least aren't like that and if you do happen to get one on you, you can just pick it off.  I have to confess I was a little freaked out by the thought of then, but by the end, was just casually picking them off my hand if one leaped on me.  It was no big deal.
Leech socks, however, are a must, as you don't want them getting inside your clothing at all.  Buy leech socks here.
Our first orangutan
We had read online of someone who saw not a single Borneo orangutan, and this is definitely a possibility, so we were super happy that we saw our first one completely in the wild on our first walk.  We had seen them at Sepilok Orangutan Rehabilitation Center (which is well worth a visit) and has also seen a couple outside the bat and swallow cave near our river lodge on the Kinabatangan River, but they had been walking around an abandoned longhouse, so this felt like our first 'really in the wild' sighting.
We got off the boardwalk and headed into the muddy jungle to see the arm of an orangutan in a nest.  Orangutans make nests of branches and leaves.  It wasn't a great sighting, but we had only just arrived.  More was to come.
It was steamy in the jungle, and a cool shower was very welcome afterwards.
Night walk
Our scheduled night drive was cancelled due to rain, but when the weather cleared up, we went on a short night walk into the jungle and saw a lizard with a long, thin tail and four types of tree frogs.
We topped the night off with a cocktail in the bar.
Danum Valley Canopy Walkway
We were up early for a light breakfast at 6:00am before our first hike of the day.  The three-hour hike took us along a dirt road past misty trees to the Borneo rainforest canopy walkway.
The Danum Valley canopy walk is along a boardwalk, suspension bridges and tower high in the canopy of the trees.  This is great for bird watching and increases chances of seeing orangutans and monkeys, which are often high in the trees.
We saw two orangutans (a mother and her child) and a family of red leaf monkeys, as well as a large monitor lizard.
At 9:30am, we returned for a second, full, breakfast.
Hike to the lookout
From 10:15am to 2:00pm we hiked up to a lookout.  One of our companions turned back because she was afraid of heights and there was a drop off on one side with no railing.  I loved that there were roots and vines everywhere.  The view from the top was over the jungle, the river and the lodge far below.
We saw a burial site with wooden coffins (hollowed out logs) sitting inside holes in the cliff.  I guess there were people in this area before it became a conservation area, after all.
Then back down to a waterfall.
It felt heavenly to cool off after the hike.  A word of warning – you will sweat!  It is incredibly humid in the jungle.  You definitely want to wear moisture-wicking clothing.
A fish spa
After lunch, we headed back into the jungle for an afternoon hike (3:30pm – 5:20pm).  This was an easier walk to a pool with a nearby cascade.  If you stand in the shallow water, small fish come up and nibble your feet.  I had actually read about this as a spa treatment in Japan – supposedly they nibble the dead skin away, so it's good for you.
The thing is that you can actually feel their teeth nipping away at your feet, so it super freaky.  I stood there are let them, but others couldn't stand it.  It's definitely a weird sensation!
We saw a male orangutan on the way back.
Night drive
We got to do our night drive after.  From 6:45pm – 8:00pm we loaded on to the back of an open air truck with a dozen or more other guests and drove a short distance (2.5 miles/ 4 km) each way to the edge of the conservation area and back. 
The truck is equipped with a large, powerful spotlight and an expert guide/ wildlife spotter.  We saw:
two red giant flying squirrels. They can grow up to 16.5 inches/ 42 cm big and have membranes so that they can launch themselves from high in a tree and glide a few hundred meters through the airs to another tree.  We say one perched on the trunk of a tree, but actually saw another one fly.  It was VERY cool!
a flying lemur (on a tree trunk, not flying)
a slow loris (tiny in the distance)
lots of fire flies
a barking gecko (they're large)
a Wallis flying frog (lots of things fly in Borneo!)
a clouded leopard (they are very rare, so we were super luck to see this)
Final hike
After a 7:00am breakfast, we headed out for our final hike (8:00am – 11:30am).  We headed back to the canopy walk, but this time along a trail through the jungle.
Saw rhinoceros hornbills,
a Bornean bristlehead (a rare bird that is probably more appreciated by ornithologists than by me), a large green and black butterfly and a baby orangutan lying high in a tree with its mother.
Lunch and leaving
After a final lunch on the verandah, we checked out for our 1:30pm transfer back to Lahad Datu.
The verdict
Hiking in the Danum Valley is one of the essential things to do in Borneo and the Borneo Rainforest Lodge is definitely one of the best places to visit Borneo.  Whether you have 5 days in Borneo, a week in Borneo or two weeks in Borneo, you should include this on your itinerary.
[table id=52 /]
PRACTICAL TIPS: Borneo Rainforest Lodge
This is a whole Danum Valley package. The Danum Valley resort is all inclusive, so you don't pay extra for meals, guides and transfers.
Check out the Danum Valley tour price and availability:
We were very lucky with our wildlife sightings – there are no guarantees, of course.  I read on another blog that they saw pygmy elephant here.  We didn't, though there was a report of a bull elephant nearby (dangerous, unlike the females), so they were close by. 
We saw them on our river safari on the Kinabatangan River though.  Even if you don't see any animals, there is still great hiking in the jungle, which is cool in and if itself.
Other things to do in Borneo
There are a lot of incredible things to do in Borneo in addition to the Borneo rainforest resort:
Things to do in Sandakan
It is well worth going to Sandakan before or after the Danum Valley.  The highlight is Sepilok Orangutan Conservation Center.
The nearby Sun Bear Conservation Center is also worth a visit.  The enclosures are large fenced jungle areas with high viewing platforms far above, so it's nothing like the depressing zoos and cages that I hate.
Book to visit the Sepilok Orangutan Conservation Center and Sun Bear Conservation Center here.
Thing to do on the Kinabatangan River
Stay in a river lodge and several river safaris are included in the price (as are meals and transfers).  Chances are good of seeing proboscis monkeys.  You might also see crocodiles, hornbills and macaques.  We also saw pygmy elephants there.
Book river lodge on the Kinabatangan River, with inclusive river safaris and meals here.
Thing to do in Kota Kinabula
Kota Kinabula is the main city in the Sabah part of Borneo and chances are you will fly into or out of it.  It's worth a short stopover.  Things to do include:
Map of Sabah, Borneo
How to get to Borneo
On the island of Borneo, Malaysia, Indonesia and Brunei all have territories.  Malaysian Borneo includes Sarawak and Sabah.  Sabah is the section in the north of the island, and this is where you'll find Danum Valley.
There are several airports in Sabah.  The main airport in Sabah, Borneo is Kota Kinabalu.
Compare prices on flights to Borneo with Skyscanner.
From Kota Kinablau, there are connections to smaller airports.  These smaller airports also have connections to mainland Malaysia and other nearby cities such as Singapore.
Choosing the best Borneo airport
Airports in Borneo, Malaysia (Sabah) are:
Kota Kinabalu International Airport (the main city in Sabah)
Sandakan Airport (for Sepilok Orangutan Rehabilitation Center and the Kinabatangan River)
Lahad Datu Airport (for Danum Valley and the Borneo Rainforest Lodge)
Tawau Airport (for Sipidan Island diving)
How to get to Danum Valley
The nearest town and airport is Lahad Datu.  Fly there or get a transfer there (our Kinabatangan River rainforest eco lodge provided a transfer to Lahad Datu).  We went to Sipadan Island for diving and snorkeling after our stay at the Borneo Rainforest Lodge in Danum Valley and the taxi was arranged for us by the rainforest lodge.  Borneo also has buses, by the taxis/ transfers were cheap and easy.
To get from Sandakan to Danum Valley, you can fly, or take a taxi or a bus to Lahad Datu.
Where to stay in Danam Valley
There are only two Danum Valley accommodation options.  The Borneo  Forest Lodge is the only place to actually stay in the Danum Valley reserve.  This is one of the best Borneo rainforest lodges.
Make a Borneo Rainforest Lodge booking here. The Borneo rainforest lodge price includes two nights in the Borneo jungle lodge, transfers to/ from Lahad Datu, all meals and guided hikes and night drive safari
The alternative to the Sabah rainforest lodge is to stay at the Danum Valley Research Center.  This is more basic than the Danum Valley lodge, but is also cheaper.  The center is just outside the reserve, and accommodation is basic (think cold water showers and bunks) but you will get to visit the same area of virgin rainforest.
Make a Danum Valley Field Center booking here.
Where to stay on the Kinabatangan River
There are a few eco lodges along the section of the Kinabatangan River that is in or near the wildlife sanctuary.  Book the lodge, which includes river safaris (except the safari to search for pygmy elephants – that's extra, but worth it) and it includes transfers from Sandakan.
Where to stay in Sandakan
I stayed at the Sepilok Nature Resort, which I loved. It has rooms in cabins set throughout jungly gardens, around a lake.  There is a main house right on the lake with a wide veranda, restaurant and bar that makes a great place to hang out.  It's less than a 5-minute walk to the orangutan and sun bear sanctuaries.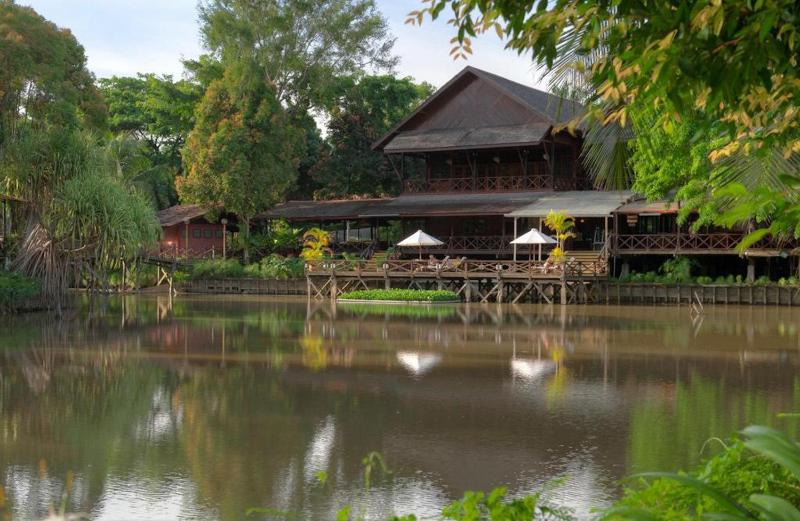 Book the Sepilok Nature Resort here.
It's about 15 minutes out of town, though, so if you want somewhere in town, then consider another option.  Check out more hotels in Sandakan here.
Where to stay in Kota Kinabalu
Check out hotels in Kota Kinabalu here.
Visa requirements for Malaysia
This part of Borneo is Malaysia.  Keep in mind that some parts are Indonesia and Brunei, so if you go there, you will need a different currency and possibly a visa.
Check out your home country's official government visa websites for visa requirements for Malaysia:
For citizens of other countries, use this helpful website (though it's best to always check with the embassy as well). 
Best time to go to Borneo
The best time to visit Borneo is March to October.  This is the driest time of year and you will have the best chance of seeing wildlife.  I went in May and the weather was fine.  There were short rain squalls that came out of nowhere and disappeared just as quickly.  And it is steamy hot – this is the jungle, after all.
The rainy season is from November to February/ March. The rain tends to come in the form of fairly short intense late afternoon downpours, so it is still possible to travel these months.  December and January are the wettest months and, in these months, wildlife viewing is the worst, so try to avoid these months
Planning and packing for Borneo
I always use a combination of blogs and a guidebook to plan a trip.  I use the Lonely Planet for most places, including Borneo.  Buy the Borneo Lonely Planet here.
For a blow-by-blow breakdown of the trip planning process, read my Trip Planner here.
When you are ready for your trip, check out my Essential Packing List.  Add a travel diary to your list.
Additional consideration: Travel Insurance
You need travel insurance whenever you travel.  Hopefully you won't need it, but you just never know.  
A great insurance option is Travelex.  It has coverage for all you'll need. You can swap this link for  either compare Travel Insurance plans here or get a quote right now:
---
Enjoy your stay!
Do you have any other favorite places in Borneo? I'd love to hear about them.  Comment below. 
If you liked this post, please share the love and Pin it to your Borneo and Safaris boards!
---
Before going to the Danum Valley:
Read about other animals encounters I've had:
swimming with manta rays in Hawaii
cheeky seals in the kelp forests off the coast of California
---
---
Travel Collecting is a participant in the Amazon.com Services LLC Associates Program, an affiliate advertising program designed to provide a means for sites to earn advertising fees by advertising and linking to amazon.com. Amazon and the Amazon logo are trademarks of Amazon.com, Inc. or its affiliates. As an Amazon Associate I earn from qualifying purchases.