Vaxholm is the Capital of the Stockholm Archipelago and makes the perfect day trip from Stockholm and a great base from which to explore the outer islands.  There are multiple ways to get from Stockholm to Vaxholm. 
This guide outlines all of the options and provides full details, the pros and cons and how long each takes.  Whether you take a ferry, a cruise, a bus, a taxi or Uber or drive yourself, this guide has all the information you need.
No time right now to learn how to go to Vaxholm from Stockholm?  Pin it and save it for later: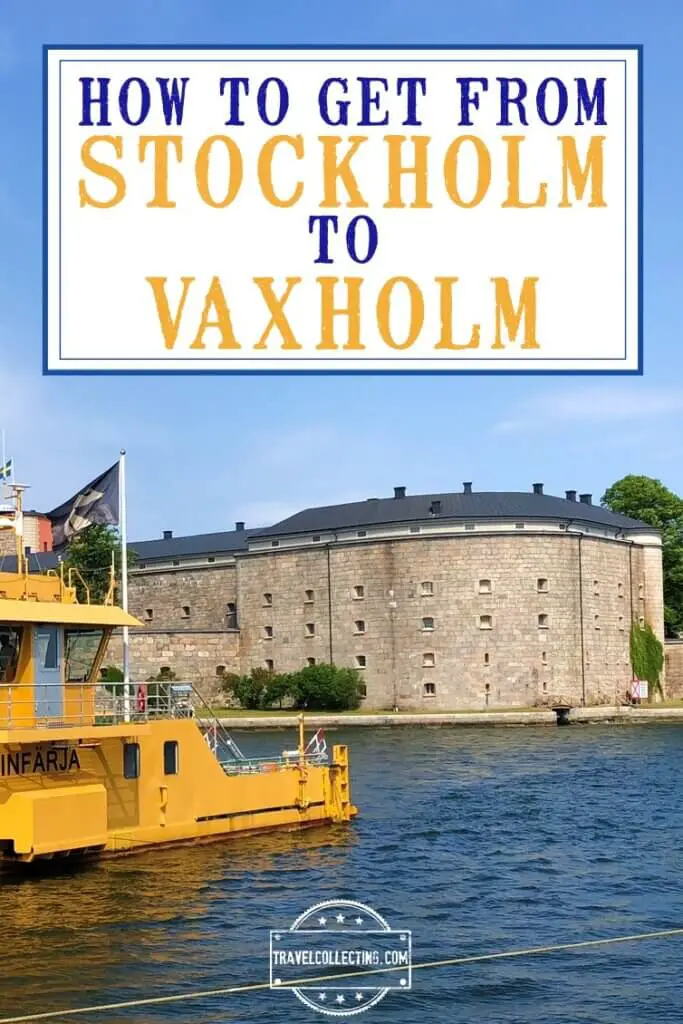 Please note that some of the links below may be affiliate links.  If you make a purchase through these links, I earn a small commission at no additional cost to you. Read my Disclaimer for more information.
How to go to Vaxholm from Stockholm
There are several options for getting to Vaxholm from Stockholm:
1. Ferry
There are couple of options for the ferry to Vaxholm. Always make sure you know the correct pier to go to for your boat to Vaxholm from Stockholm.  Different Stockholm Vaxholm ferry companies use different piers, so it is important to know exactly where to go.
I have provided direct links in the destinations to Google maps to help you.  I recommend asking a crew member when you board to make sure you're on the right boat.
(a) Waxholmsbolaget
The main public ferry company servicing the islands in the archipelago is Waxholmsbolaget.  This is the cheapest boat option.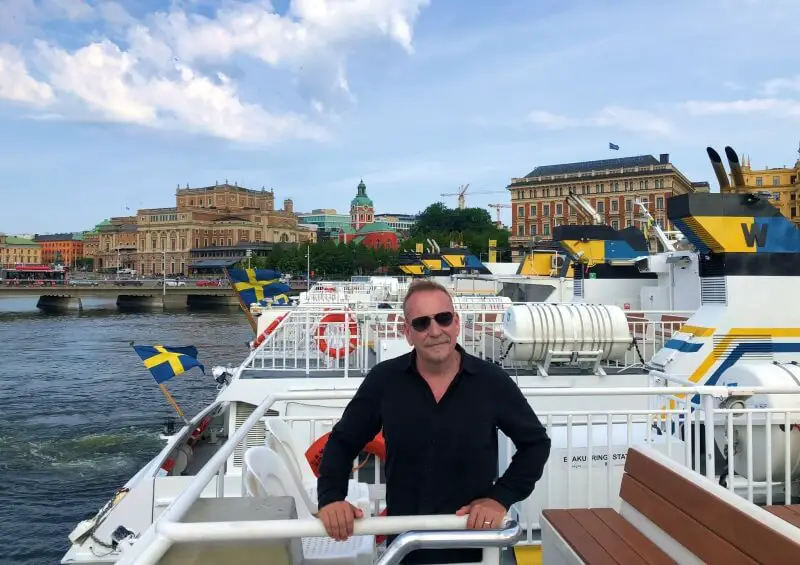 Ferries depart from Strömkajen next to Kungsträdgården and near Stockholm's 'Grand Hotel'.
Tickets cannot be bought in advance.  They are sold on board as well as from the ticket counter and self-service machines at their main Stockholm ferry terminal.  You can only buy tickets with Visa, Mastercard or an Access Card.  An SL Access Card is the transport card used on most transport in Stockholm. 
Cash is NOT accepted.  You will get a paper ticket – hold in to it, because you need to hand it in before you can get off the boat.
The trip takes between 50 minutes and 1 hour 20 minutes, depending on the boat and stops. The ferry operates all year round, although boats are less frequent in the off season (roughly September – May). 
Boats have departures fairly early in the morning, so you can maximize your time at Vaxholm.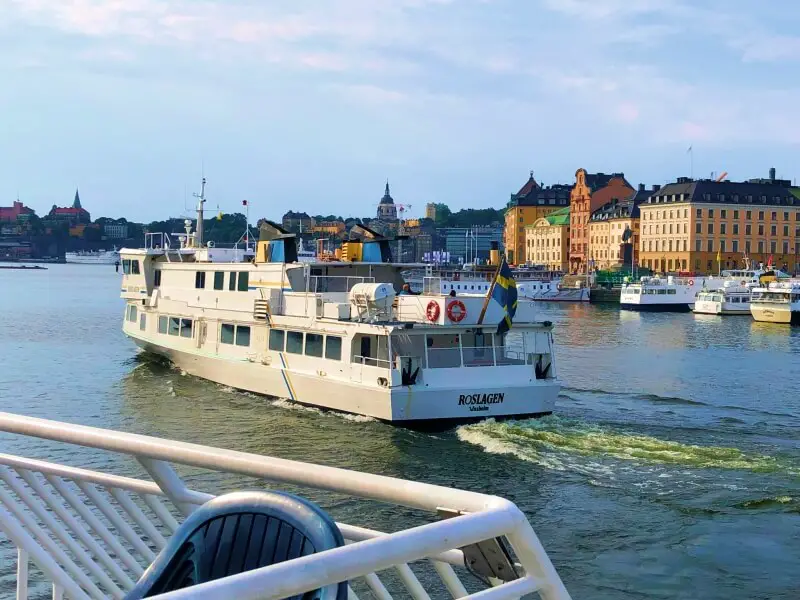 Semaphores
When catching ferries around the archipelago, it is useful to know about semaphores. This is a round folded sign that you will see at the end of piers.  You raise it to a vertical position when you want to catch a ferry.  It lets the ferry pilot know that you are waiting for him/ her to pick you up. 
If you are catching a ferry in the dark, take a flashlight and flash it towards the boat.  You are unlikely to need to bother with this when going to Vaxholm, since it is such a major route, but if you are using Vaxholm as base to explore other islands, you will need to know and do this.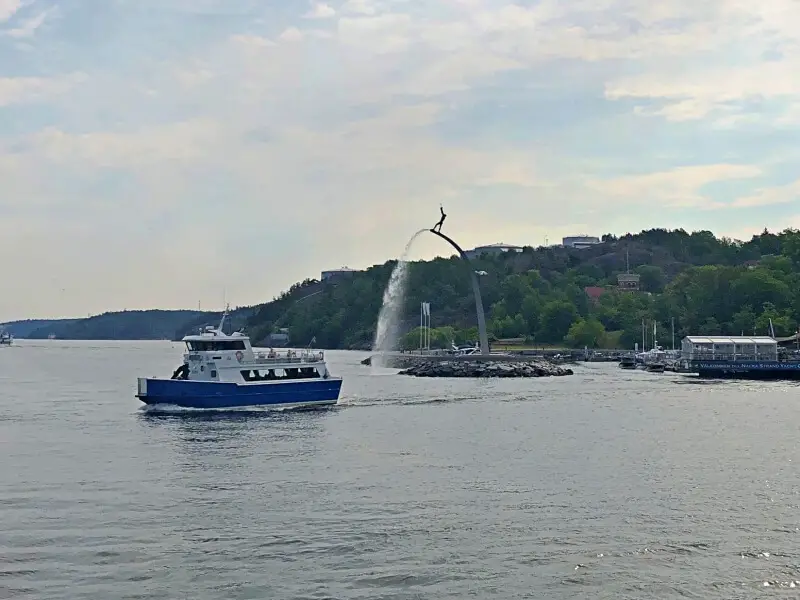 Here is the Stockholm Vaxholm boat schedule.  It's in Swedish, so get you web browser to translate to English for you.
The Stockholm to Vaxholm ferry arrives in front of the Waxholms Hotell and the Vaxholm to Stockholm ferry leaves from the same place.
(b) Cinderella boat to Vaxholm
The other main Stockholm ferry to Vaxholm is the quaintly named 'Cinderella' boat with the Stromma line/ company.  Tickets are more expensive, but the boats are nicer (there is a café, restaurant and bar) and you can buy tickets in advance (in fact, you should buy tickets in advance).  Buy tickets online here. 
The journey takes 50 minutes.  The boat runs from early June until mid-late September.  The boats leave from a different place than Waxholmsbolaget boats.  The departure for the Cinderella boat from Stockholm to Vaxholm is  Strandvägen berth no 14. 
Here is the Cinderella boat Vaxholm ferry schedule.  You want the Möja route. There are a couple of departures each day- the first is usually around 11:00am, so this is not the best option if you want an early start and longer at Vaxholm.
2. Stockholm – Vaxholm Boat Tour
Can I see Vaxholm on a tour of the archipelago?
Yes, there are a couple of options:
(a) Boat tour to Vaxholm on the S/S Stockholm 
This is more than just a straight boat trip Stockholm to Vaxholm.  It's a 1.5 hours guided cruise through archipelago ending at Vaxholm.  You can book it one way or return. 
It is a little pricier than the Cinderella boat, but is an additional half hour spent cruising around more of the archipelago, as well and including a guided commentary.  And you get a discount on the admission to the Vaxholm Castle.  
The S/S Stockholm has a beautiful art deco interior with lounges, a lovely restaurant and even a sun deck. 
Departures are later in the day (the first is usually at noon), timed so you enjoy a lovely lunch while gazing at the islands passing by.  It does give you less time at Vaxholm, though.   Buy tickets in advance here.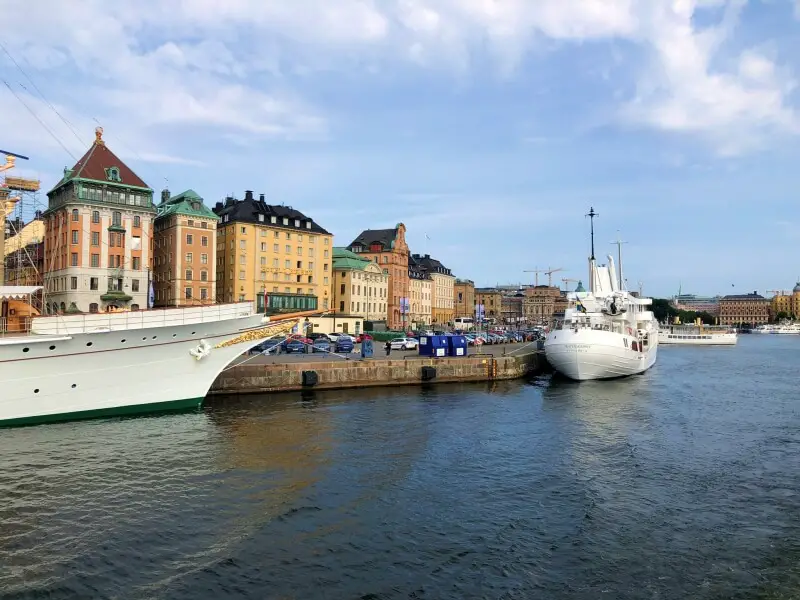 (b)  An Archipelago Tour 
You can make your Stockholm Vaxholm boat trip part of an archipelago tour.  There are 2.5- to 3-hour tours of the archipelago that includes a brief stop at Vaxholm.  The tour has guided commentary, so you will learn more doing this than taking the local ferry, but you don't actually get time to explore Vaxholm. 
This is good if you want to cruise around the islands and learn about what you are seeing, but don't care about actually visiting Vaxholm town.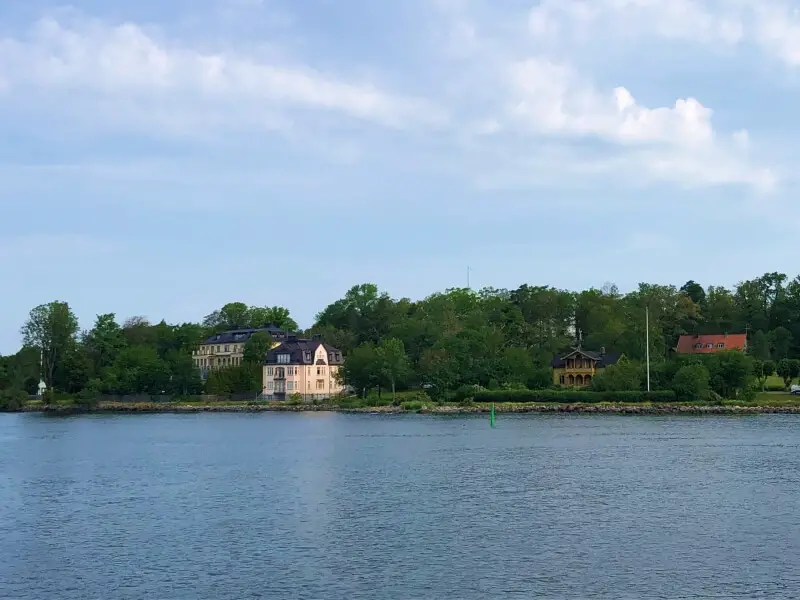 3. Water taxi
What's the fastest boat trip to Vaxholm?
A water taxi.  You can get from Stockholm to Vaxholm by boat without taking a ferry or tour.  There are several water taxi companies in Stockholm and this is not only the fastest, but also, you can go whenever you want.
Unsurprisingly, it is also the most expensive, but the convenience may outweigh the cost for you. 
Water taxi companies include:
4. Bus
Buses, the Metro, commuter trains and some ferries (though not those to Vaxholm) are run by Stockholm Public Transport (SL).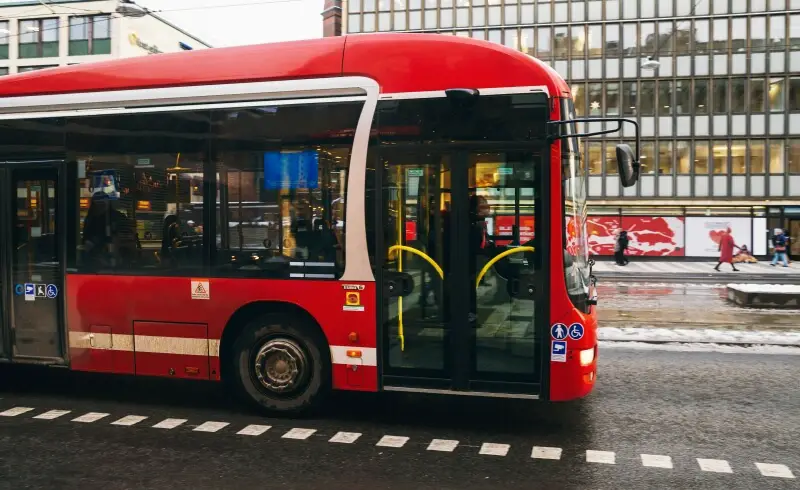 Is there a direct bus between Stockholm and Vaxholm?
Yes, there is a bridge between the mainland Vaxholm Island.  Bus number 670 goes to Vaxholm. 
Where do I catch the Stockholm to Vaxholm bus from?
It departs every 20 minutes or so from the Technical University (Tekniska Högskolan) T-Bana (Metro) station (about 45  minutes) or Danderyds Hospital (Danderyds Sjukhus) T-Bana (Metro) station (35 minutes). 
From central Stockholm (e.g. Gamla Stan), take the T-Bana Metro red line 14 towards Mörby Centrum and get off at Danderyds Sjukhus. Then take Bus 670 from there (Track F) to Vaxholm.
Where does the Stockholm to Vaxholm bus arrive?
The last stop on the Stockholm to Vaxholm bus is Söderhamnsplan.  This is just a two-minute walk to the Waxholms Hotell, which is where the boat arrives/ leaves from.
How to buy a bus ticket on Stockholm?
You cannot buy a ticket on board.  You need an electronic ticket called an SL Access Card. You can buy them at SL Centers, newsagent kiosks, Metro (T-bana) stations or commuter rail stations.   You can buy prepaid cards or 1, 3, or 7-day cards.
5. By car
If you have a car, you can easily drive.  The driving distance from Stockholm (Gamla Stan) to Vaxholm is 23.3 miles/ 37.5 km (with tolls).  It takes about 35 minutes.
Take the E18 north towards Norrtälje and then to the east on road 274 towards Vaxholm.
If you want to rent a car, you can find one here. Before you rent a car, be sure to read my Guide to Getting the Cheapest Car Rental for tips on how to save money on a rental car.
6. By Taxi/ Uber
A taxi costs approximately $55 – $70.  You can book a taxi here.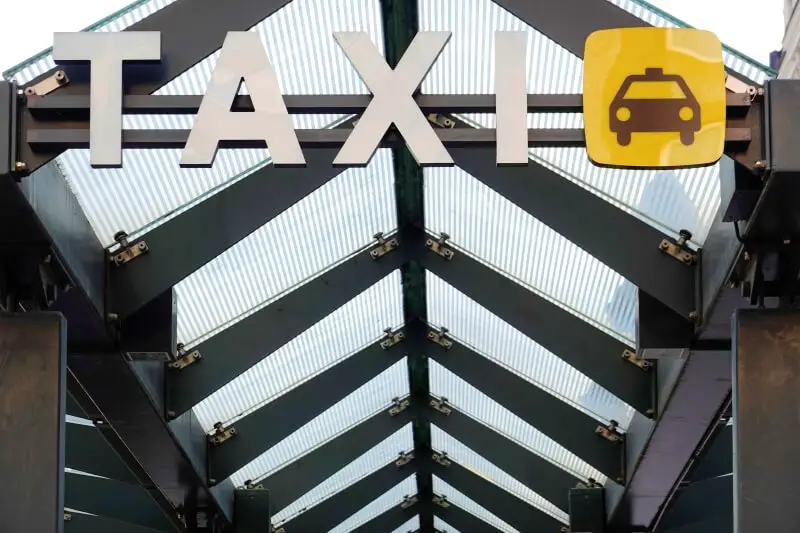 How to reach Vaxholm from Stockholm FAQs
Where is Vaxholm, Sweden?
Vaxholm is the nearest of the main islands in the Stockholm Archipelago.   
How far is it from Stockholm to Vaxholm?
Vaxholm is 11 miles from Stockholm, but 21 miles by car/ taxi.
Can I drive from Stockholm to Vaxholm?
Yes, there is a bridge, so you can easily drive.
What is the fastest way to get from Stockholm to Vaxholm?
The fastest way to get to Vaxholm from Stockholm is to drive or take a taxi or Uber. 
How to get to Vaxholm from Stockholm without a car?
The best way to get from Stockholm to Vaxholm without a car is to take the ferry.  This is easy, cheap and more scenic than the bus.
What is the cheapest way to get from Stockholm to Vaxholm?
The cheapest way to get from Stockholm to Vaxholm is the bus.
Is there a direct bus between Stockholm and Vaxholm?
Yes, bus number 670 goes direct to Vaxholm from the Technical University (Tekniska Högskolan) T-Bana or Danderyds Hospital  (Danderyds Sjukhus) T-Bana.
How long does it take to get from Stockholm to Vaxholm?
The bus takes approximately 45 minutes.  The ferry takes about an hour.
Is there a direct ferry from Stockholm to Vaxholm?
Yes, both Waxholmsbolaget ferry company and the Stromma line Cinderella boatprovide a directferry Stockholm – Vaxholm and Vaxholm – Stockholm ferry.
Enjoy your day trip to Vaxholm! Be sure to read my guide on How to Plan the Perfect Day Trip to Vaxholm for all you need to know to have an amazing trip there.
Do you have any tips about visiting Vaxholm to share? I'd love to hear them. Comment below. 
If you liked this post, please share the love and Pin It to your Stockholm or Sweden boards!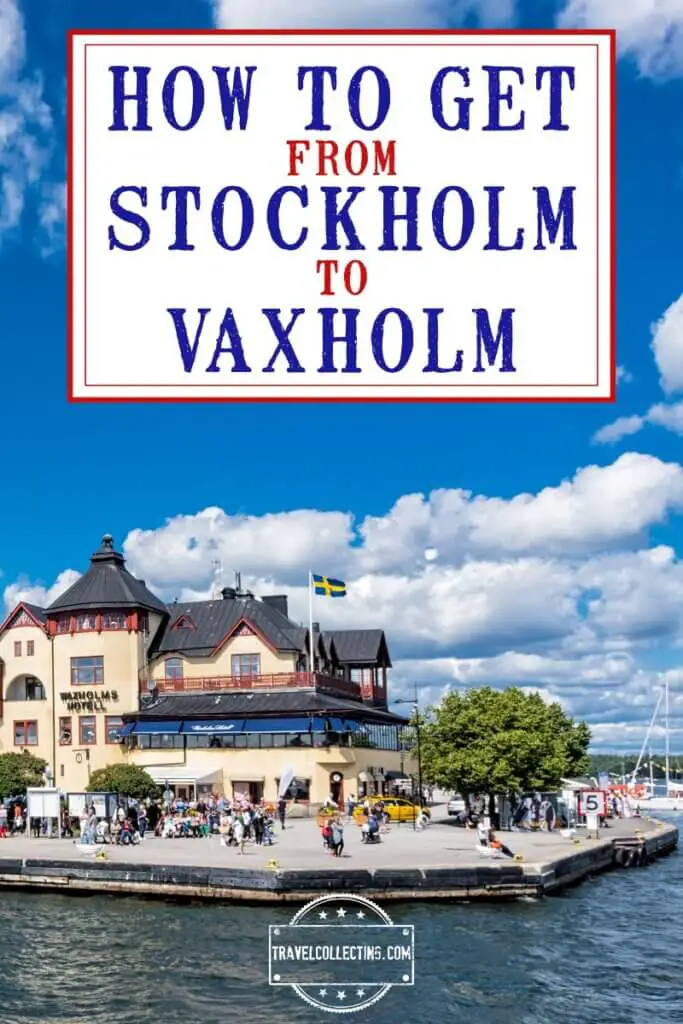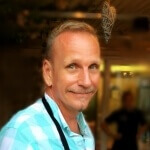 James Ian has traveled to 82 countries and all 7 continents.  He is passionate about experiential travel, i.e. meaningful travel that actively engages with the environment and culture.  He helps people have similar experiences that involve active participation in activities and festivals; engaging with the local food and handicrafts through lessons and food tours; and interacting positively with environment by hiking, riding, rowing, diving and low/no impact animal encounters. 
---
Travel Collecting is a participant in the Amazon.com Services LLC Associates Program, an affiliate advertising program designed to provide a means for sites to earn advertising fees by advertising and linking to amazon.com. Amazon and the Amazon logo are trademarks of Amazon.com, Inc. or its affiliates. As an Amazon Associate I earn from qualifying purchases.
---