Renting a car is often the best way to get around when you are on vacation or a business trip.  Having a car gives you complete independence to go where you want when you want. 
You aren't reliant on bus and train schedules and routes.  You can go to off the beaten path places; take your time; and stop off and take a photo of an animal on the side of the road.  You can also spread out and have more luggage.  There are so many reasons that renting a car will make your trip better.
However, rental cars are not always cheap, so you will want to know how to save money on car rental in order to make it as economical as possible.
No time to learn the cheapest ways to rent a car now?  Pin It and save it for later: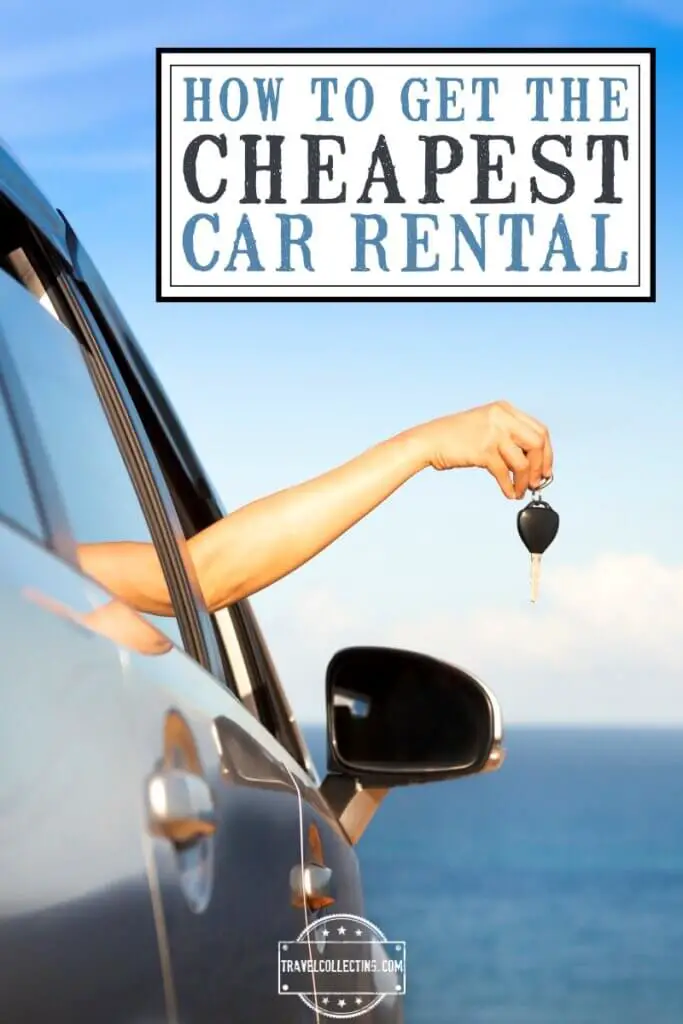 The cheapest ways to rent a car
You can definitely rock up and rent a car at the airport, take whatever car they have available, accept their insurance and GPS and drop the car off with a half-full tank of gas.  However, if you do that, you will almost certainly be paying through the roof.  With a bit of careful planning and preparation, you can usually find some pretty cheap car rental options.
Read on to save money and learn how to get the best deal on a rental car.
1.  Rent a Car in Advance (But Not Too Far in Advance)
Advance rental car prices are usually cheaper than last minute prices. Rental car companies generally prefer to know as soon as possible what stock they will have available and reward customers who book in advance with cheaper prices.  However, there are exceptions.
When is the best time to rent a car?
The best time to book a rental car is four to six months (16-24 weeks) before you travel.  This is especially true of you are travelling to a busy place (e.g. a popular vacation destination or a busy airport).
Often car rental agencies don't release prices more than six months in advance, so if you try to book before that, you may miss out on some cars that will be available later. Plus, rates more than six months out tend to be higher because the agencies have plenty of time to rent their cars, so they aren't worried about prices.
After about four months before you travel, the car rental agencies are starting to see their availability and may raise (or lower) prices based on ever-changing availability and demand. 
PRO TIP: How to get the best rental car rates
Despite the general rule that the best time to book rental car prices is 4-6 months out, this is not always true and rental car agencies are constantly changing prices as availability changes. Therefore, the cheapest way to rent a car is to book a refundable/ flexible rate and then keep checking the prices every couple of weeks. If the price goes down, book the new price and cancel the first booking. Keep checking until you travel. Note that non-refundable rates are usually a little cheaper, but you will be locked into this price.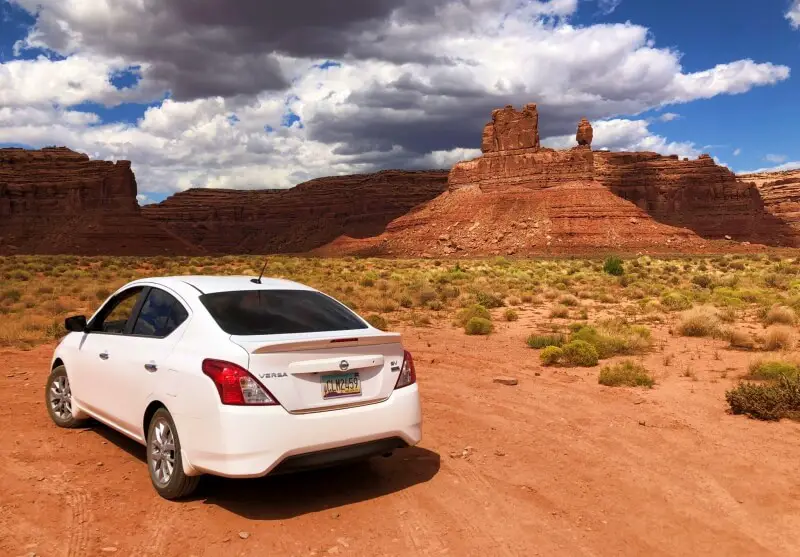 PRO TIP: How to get cheap rental cars at busy destinations
If you are going somewhere popular, you will generally get lower prices if you travel off season when there is less demand, since the agencies will have plenty of cars available.
PRO TIP: How to get a cheap rental car at quiet destinations
If you are traveling to a smaller airport or somewhere off the beaten path, prices typically change a lot less than at busy places and fleets are much smaller, so it is usually best to book as soon as you know your travel plans so you don't miss out.
2.  Tweak Your Rental Times
When it comes to car rental, not all days are equal and if you have some flexibility in your travel plans, then tweaking the days of the week or the number of days you rent a car for can reduce the daily rate.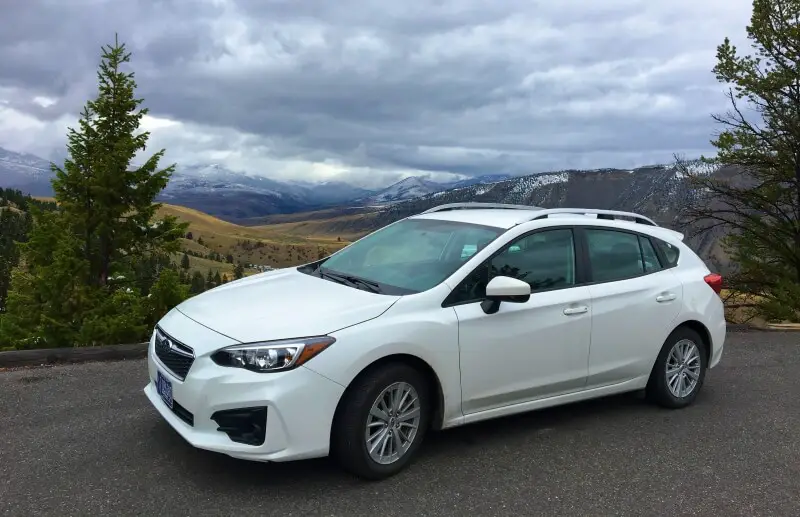 What is the best day to rent a car?
A cheap way to rent a car is to choose the right days of the week.  Weekdays are typically more expensive than weekends. 
In fact, weekend rates are sometimes half the weekday rates!   This is because the bulk of business for car rental agencies at many destinations is actually not vacationers; it is corporate clients, so there are usually fewer people renting on weekends than weekdays. 
The cheapest day to rent a car is Thursday (or later).  The most expensive days to start your car rental are Sunday, Monday and Tuesday, so try and avoid picking up a car on these days for the best cheap car rentals.
PRO TIP: How to get the cheapest car rental mid-week
Although the best day to book car rental prices is mid-week, if you have to pick up a car Sunday-Tuesday, there is another way you can reduce the price. Longer rentals often have cheaper rates. Indeed, many agencies offer a weekly rate that reduces the daily rate. So, if you can coordinate your trip around a full week, then you will usually get a cheaper rate.
3.  Compare Rates Before You Book
Most major agencies have fairly similar prices, but they do adjust their rates depending on availability within their fleet, so it pays to shop around. 
PRO TIP: Finding a cheap place to rent a car online
The best place to rent a car from is a website that compares prices at all major agencies for your destination. Rates on these comparison websites are not only cheaper or the same prices as those in the agencies' own websites, you can see all of the competition at the same time.
In fact, studies have shown that by comparing prices across multiple car rental agencies, you'll save an average of 12% at airports and 15% at city centers.
This is why for me the best site to rent a car is RentalCars.com.  You can put in your destination and it searches dozens of car rental companies, showing you all of their prices so that you can choose the cheapest ones.  I use this all the time!
If you are looking to rent a car for your next trip, compare prices on RentalCars.com here.
4.  Call the Car Rental Agencies to Negotiate a Lower Price
Although booking through a comparison website will help find you the best deal, it is still sometimes possible to negotiate a lower price by contacting the agency and asking for a discount or for a special price.  Obviously, your bargaining position is stronger the longer you are renting for, but it is worth a try no matter what – they can only say no and they may just say yes.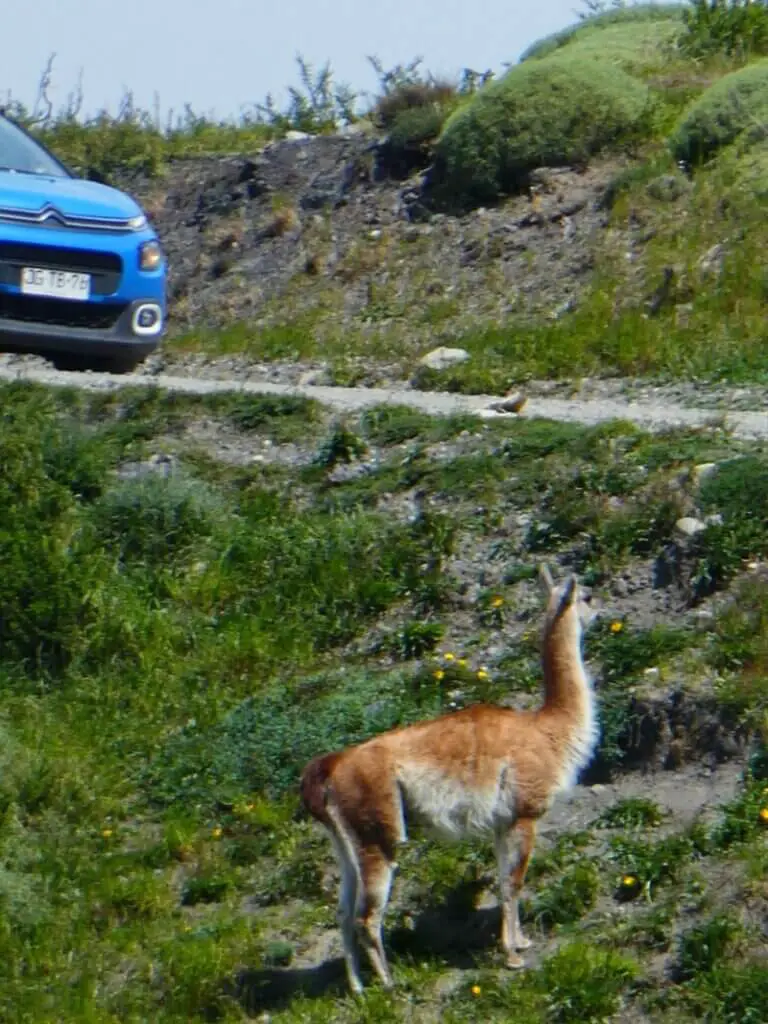 5. Rent Through a Discount Rental Agency
The most well-known agencies are Hertz, Avis, Budget and Enterprise.  Not only are they the best-known, they also tend to be the most expensive.  The cheapest way to get a rental car can often be to go with a budget brand. 
Companies like Thrifty, Payless, Dollar Rental, Advantage, Budget, Alamo and Fox Rent-a-Car often have good quality cars at lower prices.  On average, they are about $5/ day cheaper (which quickly adds up for longer rentals). 
Sometimes they may not have offices right inside the airport terminal like the major players, but that may not be important anyway (see tips below on airport rentals).
PRO TIP: How to find cheap rental cars with different agencies
To find prices with all of the major and budget rental agencies, shop online at
RentalCars.com
6.  Choose a Manual/ Shift Stick Car
In the United States, almost all rental cars have automatic transmission, so this is a moot point.  However, in some European and Latin American countries, both automatic and shift stick/ manual cars are available.  When both are available, shift/ manual cars are almost always cheaper.  So, IF you are comfortable driving one, then rent one and save money. 
However, if you always drive an automatic, driving on windy Patagonia roads or through steep, narrow Italian hill towns may not be the best circumstances in which to learn how to drive a shift stick.  In which case, it may be worth paying extra for an automatic car (I speak from experience!)
7.  Choose an Economy Car
How to get a good deal on a rental car?  One of the easiest ways is to book an economy car.  Usually these are cheaper than larger cars.  However, always check different sizes; if there are a lot more larger cars available to rent, they may actually be cheaper (but if this is the case, factor in the gas – see below). 
Often car rental agencies will oversell their economy cars and give you a free upgrade when you arrive, so you can often get a bigger car for the price of a cheaper smaller one.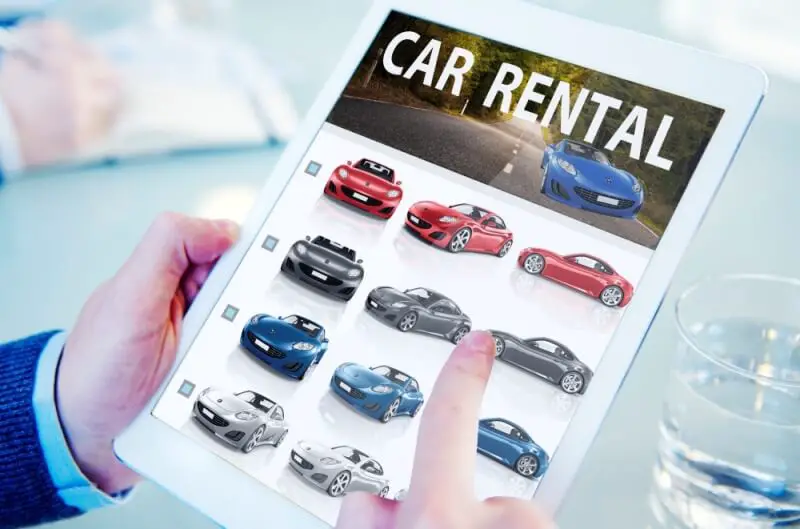 Usually, this works to your advantage.  However, there may be times when you actually really want a smaller car (e.g. when I was driving and parking in very narrow streets in medieval towns in Spain, having the larger car they upgraded me to on arrival was a total nightmare!). 
If you don't want to be upgraded to a larger car, make a note when you book.  There are no guarantees that they will comply, but they will be more likely to try and give you the smaller car that you actually want.
PRO TIP: Booking a smaller car
Make sure that the car you book is large enough for all the people – and luggage – in your party. Also make sure that it is suitable for the terrain you will be driving on. If you will be driving on dirt roads, then it is worth paying extra for a 4WD, as the rental agencies will usually not allow you to drive off road in a sedan.
8.  Factor in the Gas Consumption
Even though economy cars are usually cheaper, there are times when you can get a better deal on a larger car than a smaller one. 
However, be careful.  Larger cars consume more gas/ petrol, so a larger vehicle may actually end up more expensive.  If you see a larger car is cheaper, first compare gas costs.
PRO TIP: Calculating approximate gas costs
To compare the cost of gas for each car, use this formula:
Distance (miles) / fuel efficiency (miles per gallon/ mpg) x Price of gas ($ per gallon)
Distance (kilometers) / fuel efficiency (kilometers per liter / kpl) x Price of gas ($ per liter)
e.g. 100 miles in a car with fuel efficiency 25 mpg where gas costs $3/ gallon: 100/25 x $3 = $12
Find the fuel economy for your car here:
If you are traveling in the United States, GasBuddy shows average proves throughout the country.
9.  Work Out If Prepaid Gas Will Be Cheaper
When you pick up the car, you are usually given a range of options to pay for the fuel.  One common option is to prepay for a tank of gas. 
If you end up returning the car almost completely empty, this may save you some money, but if you return the car with some gas left in it, it will generally end up more expensive.  So, unless you are pretty sure you will be able to return the car empty, it is best to not choose the prepaid option and to fill it up yourself. 
Check GasBuddy (in the United States) for locations of gas stations near the airports and prices of gas so you can make an informed decision. 
PROTIP: How to save on car rentals by choosing the best fuel option
The easiest fuel option is to return the car with whatever gas/ petrol is left in it and have the agency full it up after you have dropped it off. That way you don't need to worry about filling up the tank before you return it or think about how much is left. The agency will bill you credit card. This is the easiest option, but it is also almost certainly the most expensive option. If you want to save money, do NOT choose this option. The agency will charge at least double the price of gas that you would pay at a gas station!
10.  Skip All the Extras
When you pick up your car, you will be offered a range of extras including GPS navigation, booster seats, road side assistance and insurance (see below for more on insurance). All of these extras can easily double the cost of your car rental! 
How to save on rental cars?  Work out in advance the possibility/ cost of arranging these things yourself (if you need them). 
If you need to bring a booster seat with you, can it be included in your checked luggage?  Is this cheaper or more expensive than using one provided by the rental agency?  It can help to have light luggage – read reviews of the best lightweight luggage.
If you need a GPS, how much is getting international roaming on your cell phone?  It may well be cheaper, especially if you only need to use it a few times and can supplement it with maps. 
11. Don't Add a Second Driver
If you are driving long distances and are traveling with another driver, you may want to add a second driver so you can share the driving.  However, this will incur a hefty additional daily fee.  You will save a lot of money if you can have a designated driver for the trip. 
A word of warning: If you are thinking about not declaring a second driver and sharing the driving anyway, keep in mind that if anything happens when the undeclared driver is behind the wheel, you will not be covered. 
12.  Don't Get a Rental Car from The Airport (With Some Exceptions)
Many people wonder "Is it cheaper to rent a car from the airport?"  Surprisingly, most often it is not.  The reason is that agencies need to pay fees to the airport to operate there and they pass those fees on to their customers.
So, another tip for how to rent a car cheap is to rent one away from the airport. 
Many of the budget companies especially are able to offer cheaper rates because they do not have an office inside the airport terminal.  They will usually provide free shuttles between the airport and their offices.  On average, you will save about 20% by using a company that is not in the airport proper! 
PRO TIP: How to get cheap car rental by avoiding the airport
Rent a car from an office not connected with the airport at all. In many cities, agencies will have offices at several locations other than the airports. You can take an Uber, Lyft or taxi to the rental car office and still save money.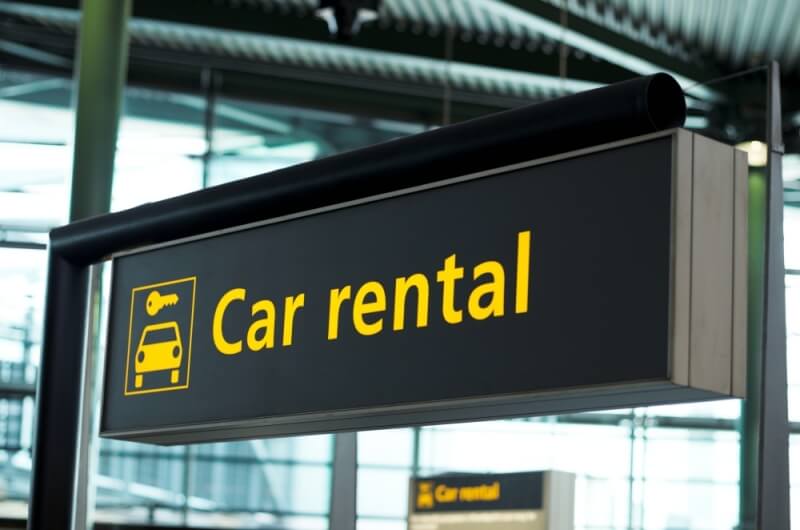 However, there are some things to consider: 
One is convenience.  If your trip is short, then time spent taking a shuttle or an Uber may not be worth for it to you. 
Another is traffic.  When I was I Italy, I specifically rented a car at an airport at the end of my stay in Rome as I headed out on my road trip because I intentionally wanted to avoid the crazy Roman traffic. 
Thirdly, there are some cities in which a city office may actually NOT be cheaper than the airport.  In some places like New York City, there may be more limited availability for cars in the city locations than at the airports, so the airports are cheaper.  Always check.
13.   Check if You Really Need the Insurance Offered by the Car Rental Agency
I recommend always having insurance – you just never know when you will need it.  Although it's recommended, insurance through a car rental agency is expensive and can really add to the overall rental price.  However, you may not need it!   There are a few ways that you may have insurance without realizing.
Does your car insurance cover a rental car?  If you are American and travelling in the United States, it may well do so.  Even if you are traveling abroad, it is worth checking. 
Another way in which you may have already car rental insurance is through your credit card company.  Many credit cards actually include insurance for car rentals. 
Be aware, too, that regular travel insurance will often cover some car rental.  For example, Travelex includes Car Rental Collision coverage as an optional add-on.  You can choose the best travel insurance plan for your trip here or get a quote right now:
PRO TIP: Check the small print
It may seem that you do have car rental insurance, but make sure it includes the where, when and what you need.
Credit card insurance, especially, does often have time limits (so, for example, it may be limited to only 15 days of rental coverage). Always check the small print by calling your credit card company and reading your credit card contract.
Also check the country, especially for your regular car insurance. If you are American, you may well be covered in Canada, but not elsewhere. Sometimes random countries are excluded – you don't want to find out when it is too late that the country you visited is one of their exceptions.
Finally, always check the type of coverage. There are different types of coverage and you want to make sure that your level of coverage is what you want and need. Liability insurance covers you if you injure someone else, whereas damage and collision insurance covers damage to your own vehicle.
14.  Check Your Membership Perks
You may also be able to get some help with car rental insurance as a membership perk.   Organizations such as AAA, AARP, Costco and Amazon may give you discounts, a free additional driver or a free upgrade.  
---
Happy driving!
Do you have any other tips for how to rent a car cheap? I'd love to hear them. Comment below. 
If you liked this post about how to get a cheap car rental, please share it by Pinning it!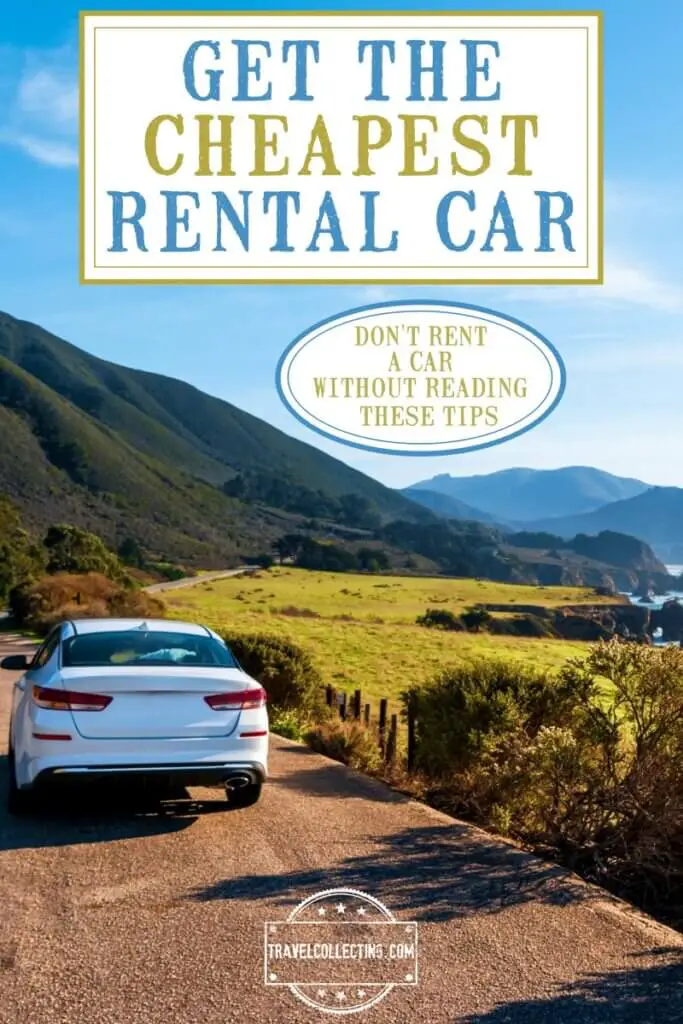 ---
Read more travel planning guides
---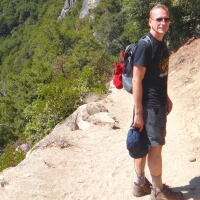 James Ian has traveled to 82 countries and all 7 continents.  He is passionate about experiential travel, i.e. meaningful travel that actively engages with the environment and culture. 
He helps people have similar experiences that involve active participation in activities and festivals; engaging with the local food and handicrafts through lessons and food tours; and interacting positively with environment by hiking, riding, rowing, diving and low/no impact animal encounters.