You look around.  Vast flat fields, a buttery shade of yellow and dotted with low black shrubs, spread almost as far as the eye can see.  The horizon is lined with distant mountains – the bottom of the Andes that stretches the length of South America. 
A UFO-shaped cloud crowds the sky, whipped into shape by extraordinary winds.  A guanaco (a cameloid cousin to a llama) raises its long neck and looks at you as you speed by. 
This is Patagonia – the legendary wind-swept, wide-open plains and dramatic mountains of southern South America.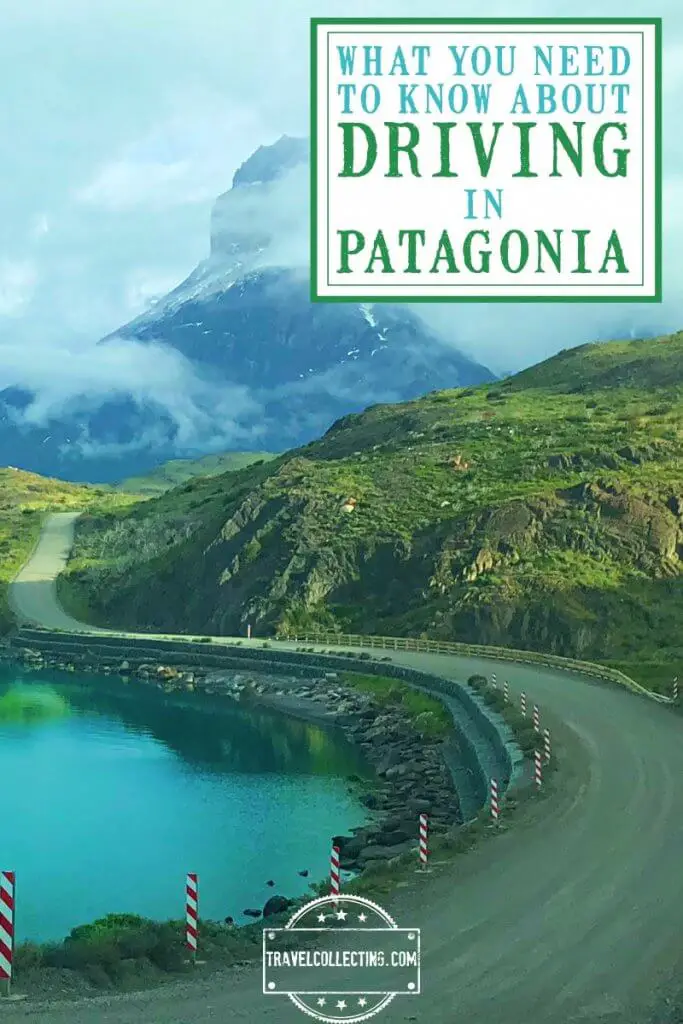 Visiting Patagonia is a trip of a lifetime.  And driving across the landscape is the best way to see it.  This guide will tell you all you need to know about driving in Patagonia.
But first, you need to get there.
---
Please note this post may contain affiliate links, which means we may receive a commission, at zero cost to you, if you make a purchase through a link. Please see our full Disclosure for more information. If you have any questions, please let me know.
FREE DOWNLOAD
Subscribe to monthly updates with tips for planning, travel inspiration and trip ideas and get instant access to the free PDF of this
Guide to Driving in Patagonia
How to travel to Patagonia
Maybe you want to go, but are wondering how to visit Patagonia.  The two major gateway cities are Santiago, Chile and Buenos Aires, Argentina, and you will most likely fly into one of these two cities.
Book your flight on Skyscanner here.
From these two capital cities, there are a few options to go further south into Patagonia.
Driving to Patagonia
This is an option for those with lots of time.  Driving from Santiago to Patagonia (Puerto Montt) takes about 10.5 hours and driving from Buenos Aires to Patagonia (Puerto Madryn) takes about 15 hours.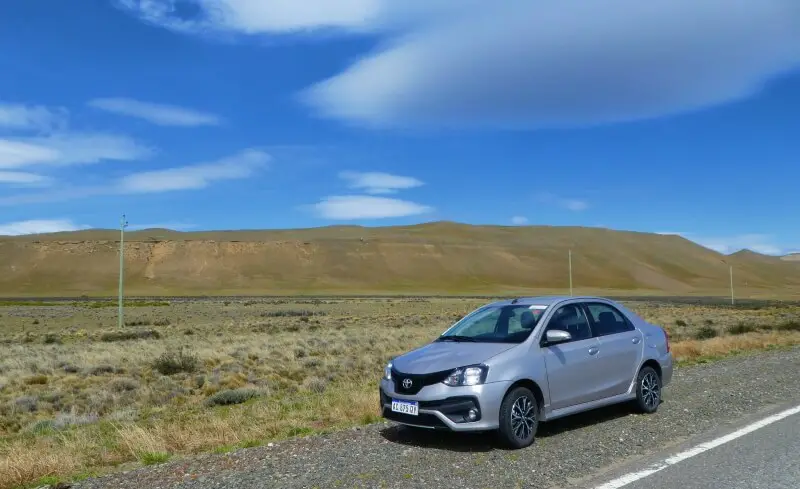 This will give you complete independence and allow you to see everything along the way.  Keep in mind, though, that you will either need to drive all the way back or pay (often hefty) fees to drop off in a different location. 
You can book a rental car with CarRentals.com here.  See below for information on car rentals.
Taking the bus to Patagonia
This is the slowest, but cheapest option.  Distances are huge, so bus trips can be long, but there is an extensive network of comfortable buses to and throughout Patagonia.  I took buses my first trip in Patagonia and found them very comfortable.  Check out bus schedules here.
Flying to Patagonia
If you have less time (as most of us do), then the best option is to fly from Santiago or Buenos Aires to a key city or town in Patagonia and then either drive or take a bus from there.  If you decide to fly to a Chilean town, then you will most likely fly from Santiago and if you fly to a town in Argentinean Patagonia, then you will probably fly from Buenos Aires. 
Book your flight on Skyscanner here.
How to travel around Patagonia
There are three main options for getting around Patagonia.
1. Bus
The first time I went to Patagonia, I took a bus to Patagonia and to get from place to place, I also took the bus. Patagonia has an extensive bus network.  Check out bus schedules here.
2.  Boat
There is a boat is along the Patagonian fjords between Puerto Natales and Puerto Montt.  Navimag ferries ply the route from October to April. 
From Puerto Montt to Puerto Natales is 4 days/ 3 nights (leaving Saturdays) and from Puerto Natales to Puerto Montt is 4 nights/ 3 days (leaving every Wednesday).  Click here for more information.
I did this boat trip from Puerto Natales the first time I was in Patagonia and found it a little underwhelming to be honest, but if the weather was better, it might be worthwhile.
There are also day trips or overnight trips to see glaciers near El Calafate.  Read my guide to the glacier's cruise here.
3.  Car
The second time I visited Patagonia, rather than taking buses, I rented a car instead and preferred it.    There are several advantages to driving in Patagonia, but also some things to keep in mind.
---
FREE DOWNLOAD
Subscribe to monthly updates with tips for planning, travel inspiration and trip ideas and get instant access to the free PDF of this
Guide to Driving in Patagonia
Driving in Patagonia, Chile and Argentina
Why drive in Patagonia?
Although it is not as cheap as a bus, and there are some things to consider (see below), there are several very good reasons to drive in Patagonia.
Flexibility to go where you want when you want
Can stop anywhere
Can get all around Torres del Paine rather than just the limited places buses go.  This gives you flexibility to do lots of great day hikes, boat trips, etc.
Border crossings are quicker without a whole group to process at the same time (unless you're behind one at the border, of course).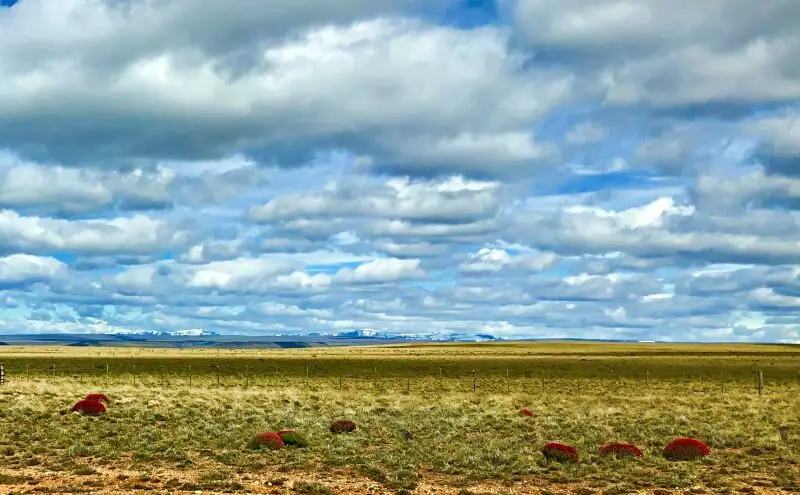 Considerations when driving Patagonia
Patagonia is a tough place, and there are several things to keep in mind when driving.
The wind
Patagonian winds are legendary. The environment creates perfect conditions for incredibly strong winds. The windiest months are November – January and winds can be as strong as 74 miles/ hour (120km/ hour).  The advantage of this are the crazy UFO-like cloud formations that form from swirling winds.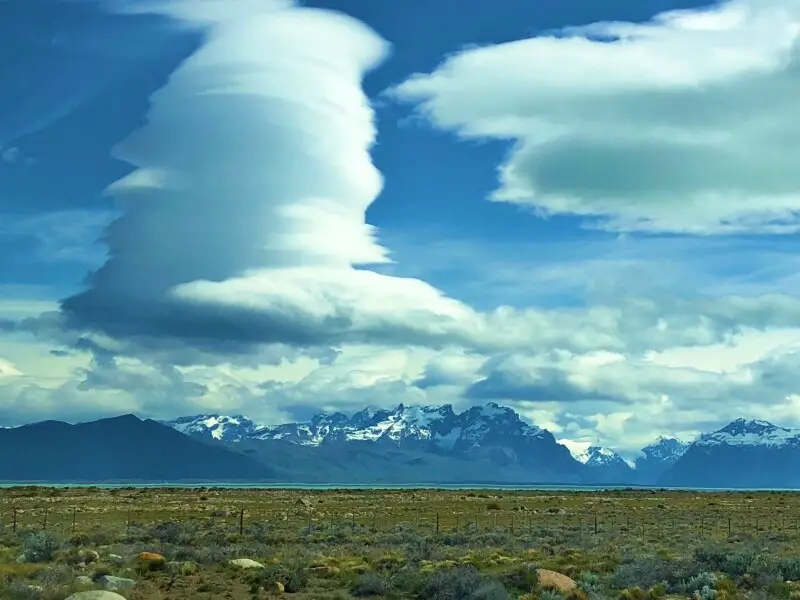 The disadvantage is that they can easily blow your car door off. This should not be taken lightly. Every single time you open the car door, hold it tightly.  Our car rental place told us that it not uncommon for cars to come back with damaged doors – and the damage is not covered by insurance.
You will feel the winds when you drive, so slow down when it is windy.
The roads
Many of the roads are paved and in good condition; however, there are also unpaved roads. Having gravel kick up and damage your car is a very real danger.
Gravel roads are also not necessarily the quickest route. E.g. on the drive between El Calafate and Puerto Natales, there is a gravel section where Route 40 turns right direct to Tapi Aike while the paved road becomes Route 5 and goes straight to La Esperanza.  On a map, it looks like following the gravel section of Route 40would be quicker, since it is shorter and more direct, but it actually takes longer.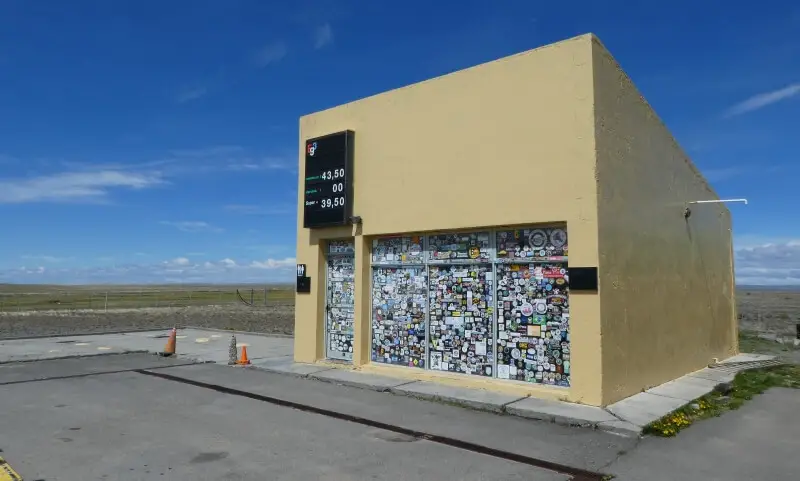 Car rental insurance also does not often work if you are on a gravel road, so it is best to stick to paved roads wherever you can.
The animals
One of the benefits of driving through Patagonia is that your chances of seeing guanacos (cousins to llamas) and rheas (like small emus) on the side of the road are good. If you're in a bus, you will see them as you pass, but of course you won't be able to stop. One of the advantages of having a car is that you can stop and photograph them. However, the same animals can dart out in front of you unexpectedly, so keep an eye out as you drive.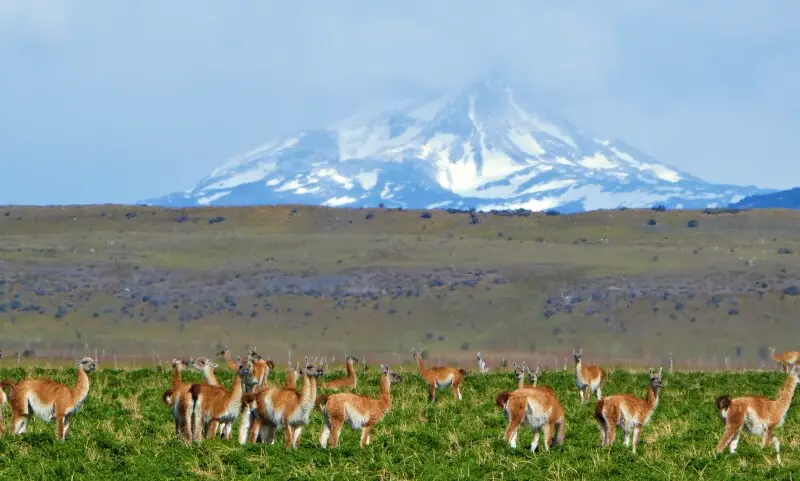 Car rental, Patagonia: Where to rent (and drop off) your car
I rent cars with rental cars.com because they access the databases of all the major car rental companies to find the best deal.   Check prices and availability for your trip here.
Before you rent a car, read my Guide to Getting the Cheapest Rental Car for money-saving tips.
It is sometimes possible to pick your car up in one place and drop it off in another, but this is always more expensive.
Another thing to keep in mind is that Patagonia is a region, not a country. It includes both Chile and Argentina, and you won't be able to pick a rental car up in one country and drop it off in the other.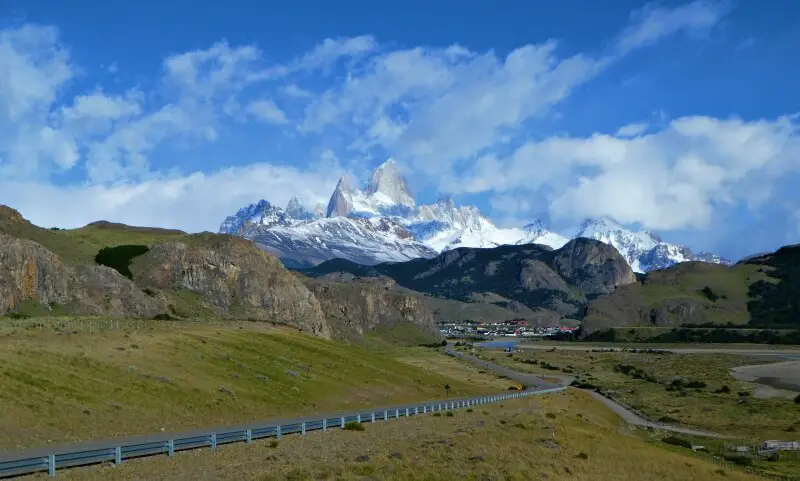 This means that you will have to plan your itinerary carefully. If you are going to El Chalten and El Calafate, then a good option is to fly from Buenos Aires into El Calafate (in Argentinean Patagonia), rent a car there and drive north, south or both. I did this and drove north to El Chalten then down south to Torres del Paine National Park and back again.
Another option is to travel further south and fly into Punta Arenas (Chile) from Santiago, Chile and drive north to Torres del Paine. There is also an airport in Ushuaia (Argentina), the southernmost city in the world, which has flights direct from Buenos Aires, Argentina.  This is the main port for cruises to Antarctica, but you could also rent a car here. It's a long way to loop back to, though, so dropping off somewhere else is probably the best option here.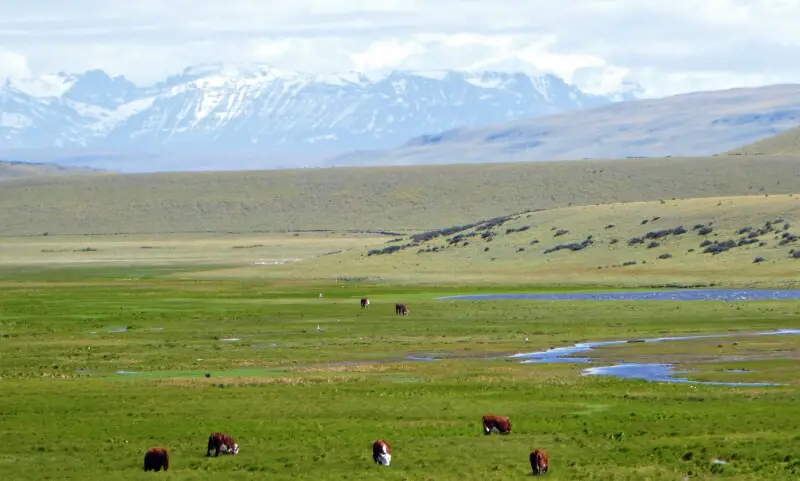 International border crossings (and the rental car paperwork)
First thing – you MUST tell your car rental company if you will be crossing an international border when you pick up the car.  There is special paperwork that you need to get from the rental agency when you pick up your car.  You must have it with you and get it stamped it at the border.  Without this paperwork, you will not be able to cross the border!
Make sure you check visa regulations for both countries a couple of months before you leave home. Visa regulations can change quickly.
Check out your home country's official government visa websites:
For citizens of other countries, use this helpful website (though it's best to always check with the embassy as well). 
The Andes run along the length of the Chile–Argentina border, blocking entry between the two countries for much of the very long border.  However, there are still quite a few places to cross between the two countries. 
The border crossings are not all equal though.  Some are on major highways, open all year round and quick and easy to pass through.  Others are on dirt tracks that are open for part of the year only.  Others are even more difficult, e.g. the Villa O'Higgins (CHL) – El Chalten (ARG) crossing requires a combination of bus, ferry, hiking or horseback riding, another ferry and another bus (a grand adventure, but not suitable for driving, obviously). 
Be aware that Chile has restrictions on foods you can take from Argentina, and some officials are strict.  Forbidden foods include meat, dairy and eggs, fruit and vegetables, seeds and nuts, and honey.
Major border crossings between Chile and Argentina in Patagonia
Distances and Driving Times
Distances and driving times for some of the more popular places are below.  Note that these are guides only – times can vary depending on weather and road conditions.
| Places | Drive Time | Distance |
| --- | --- | --- |
| El Calafate airport – El Calafate | 20 minutes | 13 miles | 21 km |
| El Calafate – El Chalten | 3 hours 40 minutes | 133.5 miles | 215 km |
| El Calafate – La Esperanza | 2 hours 10 minutes | 102.5 miles | 165 km |
| La Esperanza – Tapi Aike | 50 minutes | 50 miles | 80 km |
| Tapi Aike – Paso Rio Don Guillermo (border crossing) | 35 minutes | 31 miles | 50 km |
| Paso Rio Don Guillermo (ARG) – Cerro Castillo (CHL) | 10 minutes | 4 miles | 6.5 km |
| Cerro Castillo – Puerto Natales | 45 minutes | 37 miles | 60 km |
| Puerto Natales – Punta Arenas | 2 hours 50 minutes | 152 miles | 245 km |
| Punta Arenas – Ushuaia | 7 hours 50 minutes | 390 miles | 630 km |
| Punta Arenas – Rio Gallegos | 3 hours | 160 miles | 260 km |
| Rio Gallegos – Ushuaia | 7 hours 20 minutes | 360 miles | 580 km |
Gas in Patagonia (Petrol)
There are surprisingly few gas stations in Patagonia. There are enough, but this is something you do need to think about because you don't want to run out of gas/ petrol. 
Be aware that they are sometimes empty.  Always fill up your tank every time you get to a gas station. There are often long lines (though I didn't experience these myself).  I recommend waiting, because you don't know if the next one will have gas.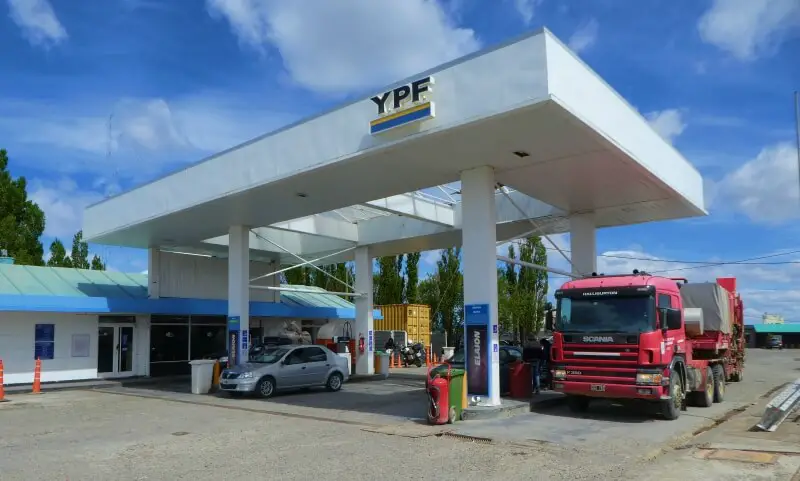 I also recommend finding out when you first pick up your car how far it goes on one tank of gas.  This will help you plan. 
Here are the gas stations in Patagonia:
Note that Tapi Aike is tiny and closes for lunch.  I drove past the first time at 1:30pm and it was closed.  It is open at other times though – I got gas here in the morning on our return trip.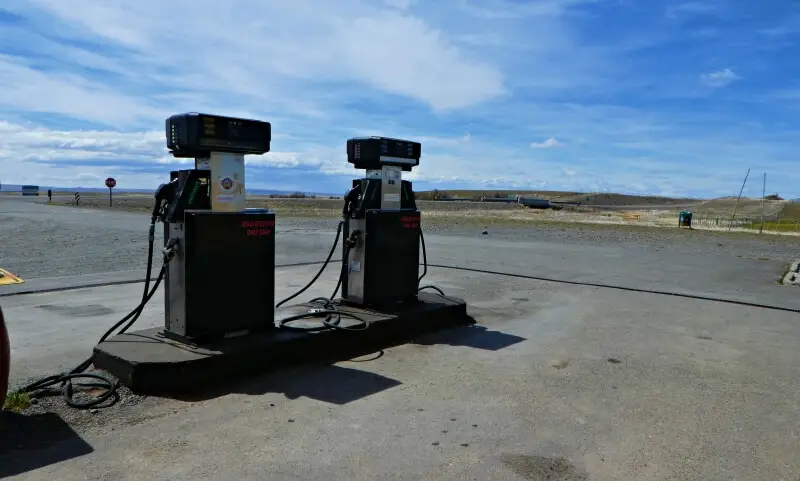 Travel Insurance
You can get insurance for the car and accidents through the car rental company, though keep in mind that it will NOT include wind damage (so hold on to your doors!).  However, you should also get regular travel insurance.  Chances are you will be hiking or at least walking around, and you never know what might happen.  Read my Guide to Travel Insurance for the full low-down.
A great insurance option is Travelex.  It has coverage for all you'll need. You can choose the best travel insurance plan for your trip here or get a quote right now:
BONUS: Driving in Torres del Paine
There are no gas stations in Torres del Paine. The nearest are Tapi Aike and La Esperanza in Argentina (closest to the northern end of the park) and Puerto Natales in Chile.  Puerto Natales is the closest location to the park (southern entrance).
If you are coming north from Argentina, it is actually better to go past the park and continue south to Puerto Natales, fill up there and then head back north into the park.  We asked for an extra tank in La Esperanza and the guy there was kind enough to give us a free canister. We didn't need the extra gas in the end, though it was peace of mind.
We drove north from Puerto Natales, through the park and then filled up again in Tapi Aike on the way out and were fine.  We even had enough gas for a side trip to Cerro Castillo to see a medic and back into the park.  However, I wouldn't drive unnecessarily back and forth in the park using up gas.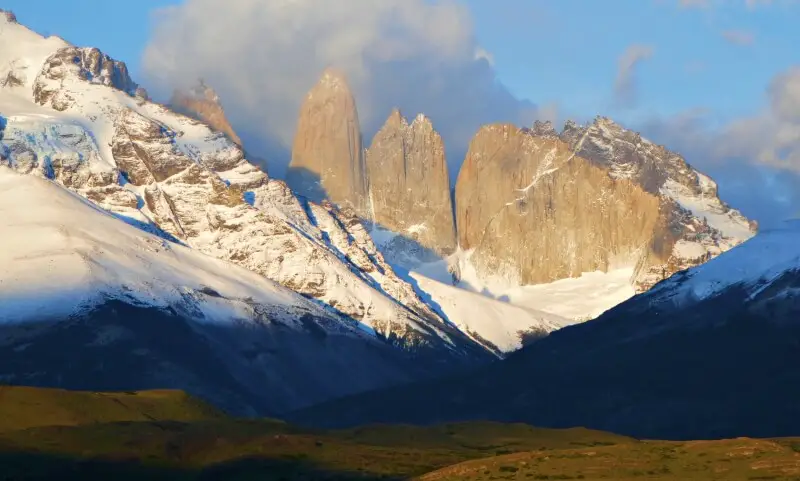 The nearest settlement to Torres del Paine is actually Cerro Castillo. Despite some reports I had read before going there, there is NO gas station in Cerro Castillo.  However, if you are desperate, the owner of the Hotel Estancia El Ovejero Patagonico  has been known to sell extra gas to guests (at a highly inflated rate). 
---
FREE DOWNLOAD
Subscribe to monthly updates with tips for planning, travel inspiration and trip ideas and get instant access to the free PDF of this
Guide to Driving in Patagonia
Do you have any other tips for driving in Patagonia? I'd love to hear them. Comment below. 
If you found this post helpful, please share the love and Pin it to your Patagonia board!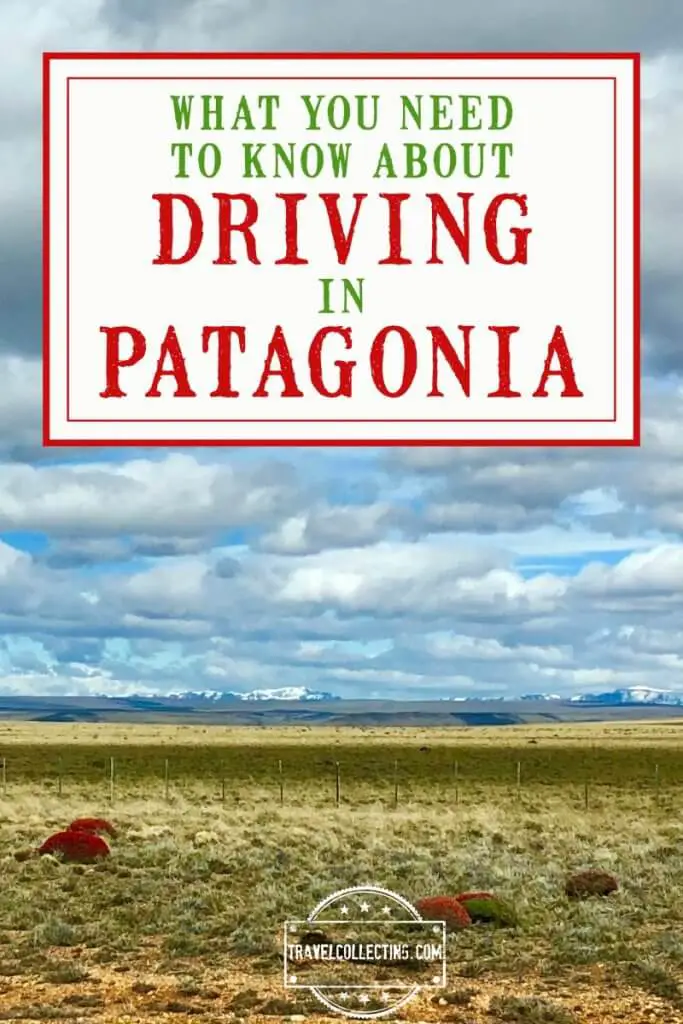 Read more posts about Patagonia:
---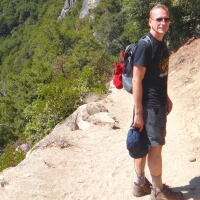 James Ian has traveled to 82 countries and all 7 continents.  He is passionate about experiential travel, i.e. meaningful travel that actively engages with the environment and culture. 
He helps people have similar experiences that involve active participation in activities and festivals; engaging with the local food and handicrafts through lessons and food tours; and interacting positively with environment by hiking, riding, rowing, diving and low/no impact animal encounters. 
---
Travel Collecting is a participant in the Amazon.com Services LLC Associates Program, an affiliate advertising program designed to provide a means for sites to earn advertising fees by advertising and linking to amazon.com. Amazon and the Amazon logo are trademarks of Amazon.com, Inc. or its affiliates. As an Amazon Associate I earn from qualifying purchases.