The scene was beautiful.  The trees had a tinge of fall color.  A cute wooden farmhouse and barn were in the distance.  Directly in front of us, was a bright red pond.  A few people stood thigh deep in the pond dragging a rubber belt through the water.
We were at a cranberry bog in Massachusetts, the U.S.
---
No time to read about how and where to take a cranberry bog tour in Massachusetts? Pin it and save it for later:
Please note this post may contain affiliate links, which means we may receive a commission, at zero cost to you, if you make a purchase through a link. Please see our full Disclosure for more information. If you have any questions, please let me know.
Cranberry bog tours Massachusetts
Cranberries are an integral part of Thanksgiving celebrations and an essential part of American culture.
When Kevin and I lived in Sydney, the first year we were there Kevin was determined to celebrate Thanksgiving. We ordered a turkey and bought all the ingredients except cranberries. We couldn't find any cranberries anywhere. Kevin had a bit of a meltdown, so we kept on trying until we finally found some frozen cranberries in the fourth supermarket we tried, much to our relief.
Cranberries are important!
Fast forward a few years and I now lived in the United States.  We live in New York City, so we spend a lot of time in the Hudson Valley, which is great in the fall.  But, we wanted a break away, so we were taking a long weekend break in Massachusetts to enjoy the fall. I had heard about cranberry bogs and even seen one on a TV commercial for Ocean Spray.
The name 'bog' sounds awful, but the bright red color of the pictures I'd seen looked amazing. I was totally intrigued, so, since we'd be in New England in harvest season, I was determined to see it for real and go on a cranberry bog tour and try to experience cranberry picking.
The cranberry bog tour
We visited a cranberry bog and watched the harvest happening.  It's fascinating.
How are cranberries grown?  What is a cranberry bog?
I had often wondered do cranberries grow in water?  Well, cranberries – as I discovered – actually grow on vines that spread low over the ground in soggy soil (called a cranberry marsh or cranberry bog).
Where are cranberries grown?
Cranberries are most common in New England, the northeast corner of the United States, but they are also grown in other parts of North America such as the Pacific northwest and Wisconsin, as well as parts of Chile in South America.
When are cranberries harvested?
The harvest season is from approximately usually from mid-September to mid-November (March – May in Chile).  I was there mid-October and it was good timing for some fall color on the trees as well.
How are cranberries harvested?
It is possible to harvest then dry, but the preferred – and most picturesque- method is wet harvesting. With this method, the entire field/ bog is flooded with water a couple of feet deep. The vines are gently shaken and the cranberries all float to the surface, creating a bright red lake.
A vacuum is installed below to surface, sucking berries (and water) out of the bog on to the back of an adjacent platform.
We watched as workers wearing waders spread a long band of rubber a few inches wide across a section of the flooded bog.
They then dragged this slowly across the surface, corralling the cranberries towards the vacuum. Others help scoop the cranberries close to the suction section of the bog.
We stood on top of the platform next to the truck for a bird's eye view of the whole process, and could see close up as the cranberries came out of the vacuum house and then on to a short conveyor belt into the truck, with the water draining back into the bog.
The cranberry bog farming experience
It is also possible to book a cranberry bog experience and be a cranberry farmer for a short time.  You don waders and go out into the bog and help scoop the cranberries towards the vacuum.  This is a great way to experience the whole process firsthand!
The verdict: Cranberry Bog Tours
This is a very interesting – and incredibly photogenic – thing to experience, and a definite must-do if you are in New England in the fall.
[table id=20 /]
---
PRACTICAL TIPS
The best cranberry bogs to visit in Massachusetts
There are several cranberry bogs in Massachusetts that have 'tours' where you can see the cranberry harvest. Watching this process from the harvest platform is fascinating. Both this and the cranberry bog experience where you wear waders and experience being a cranberry farmer by getting into the bog are very popular.
Cape Cod Cranberry Growers Association has a website that has all of the cranberry bogs you can visit in Massachusetts.
We visited Mayflower Cranberries, and they had both a harvest viewing tour and The Grower Experience, where you get to be the farmer.  They have stopped their tours, but Benson's Pond Farm offers the same experience.  The Grower Experience in particular is extremely popular, so book months (or even a year) in advance.
Where to stay when visiting a cranberry bog in Massachusetts
Plymouth is nearby.  For help deciding what accommodation is best for you, check out my guide to choosing the perfect hotel.
I like staying in B&Bs, especially in New England where a little homespun comfort is part of the experience.   A good option is Bayberry Inn Bed & Breakfast, which has a rating of 9.4 on Booking.com.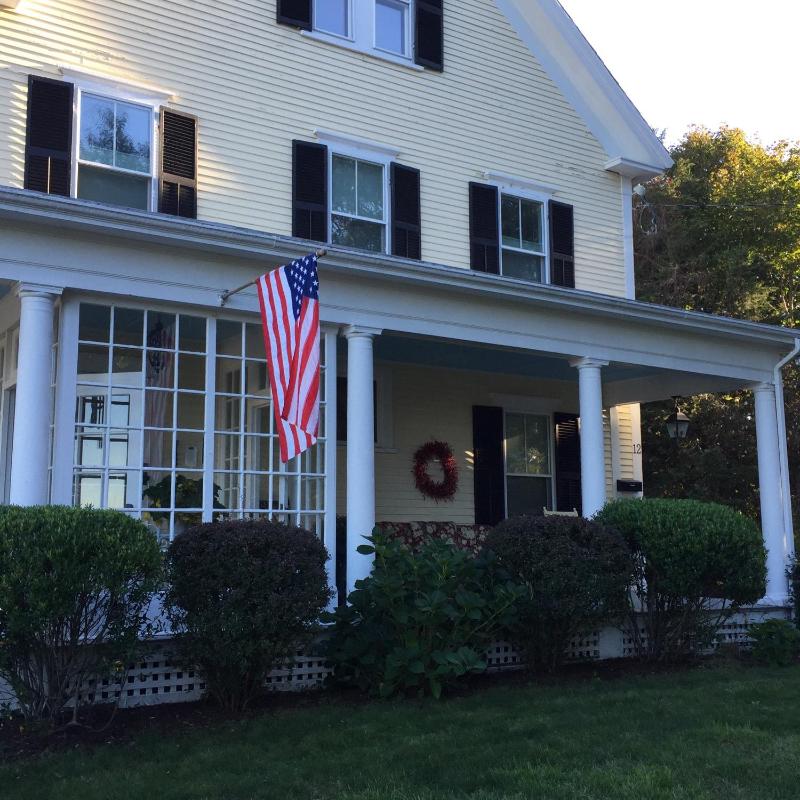 Check availability of the Bayberry Inn B and B here.
Even closer to the Mayflower Cranberry bog is the On Cranberry Pond B&B, which also gets a 9.4 Booking.com rating.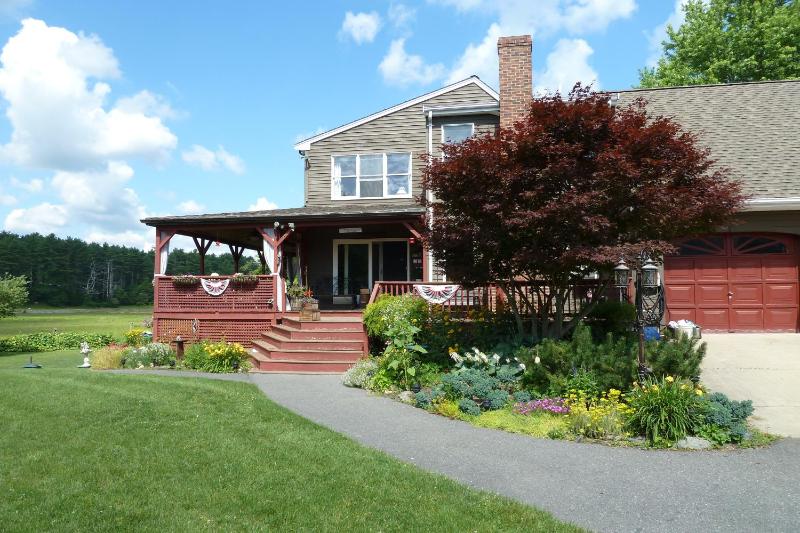 Book On Cranberry Pond B&B here.
Check out other hotels in Plymouth here.
Getting there and around
The nearest major airport is Boston. Check prices to Boston on Skyscanner here.
You will need a car to get around.  Rent a car here.
Other things to do in Plymouth, Boston, Cape Cod and the nearby islands
You have to visit Plymouth Rock.  It won't take long, and it's not even certain is the rock that the first pilgrims landed on, but since you are in the area, it would be a shame to miss it.
I also recommend visiting the Plimoth Plantation, which is a living history museum and very interesting.
To round out your trip to New England, you won't want to miss Cape Cod and the surrounding islands. Martha's Vineyard and Nantucket are both classic New England destinations and are perfect for families and couples. If you aren't sure which island to choose between Martha's Vineyard and Nantucket, read this handy guide to Choosing Your Cape Cod Island.
You also won't want to miss a trip to Boston (which makes a great base to explore the area). If you are traveling with your family, this list of things to do in Boston with kids is super helpful.
Planning and packing for New England
Visiting a cranberry bog is one of the fun things to do in New England in the fall, but you will most likely want to do some other things too.  For a full overview, I use a guidebook in addition to the Internet.  I like the Lonely Planet.  Buy the New England Lonely Planet here.
I also recommend using my Trip Planner to help keep rack of all you need to do and when in planning for your trip. If you are traveling to the U.S. from abroad, you will also want to read my North America Travel Guide for practical info and travel tips.
When you are ready for your trip, check out my Essential Packing List.
Visa requirements for the United States
Check visa requirement here if you are travelling to the United States from abroad.
Additional consideration: Travel Insurance
In addition to accommodation, planning and flights, you should always have travel insurance, just in case.  I always hope I never need to use it but I get it just in case I do!  I have written a guide to buying travel insurance to help take the mystery out of it all.
A great insurance option is Travelex.  It has coverage for all you'll need. You can swap this link for  either compare Travel Insurance plans here or get a quote right now:
---
Happy farming!
Do you have any stories of fall experiences? I'd love to hear them. Comment below. 
If you liked this post, please share the love and Pin it for later!
For more fall/ autumn activities in the U.S., read:
---
---
Travel Collecting is a participant in the Amazon.com Services LLC Associates Program, an affiliate advertising program designed to provide a means for sites to earn advertising fees by advertising and linking to amazon.com. Amazon and the Amazon logo are trademarks of Amazon.com, Inc. or its affiliates. As an Amazon Associate I earn from qualifying purchases.