We are having lunch under a tree in the Thar Desert, Rajasthan, India.  There is nothing in sight except for sand and the occasional tree and dry shrub. The "nothing" includes our camels.  Our overnight camel safari from Jaisalmer has taken an unexpected turn. 
While our guide was preparing our – admittedly delicious – lunch, our hobbled camels wandered off.  By the time we noticed, they were nowhere in sight.  While our guide runs off over the horizon in search of our camels, we sit and wait.
---
No time to read about the desert safari from Jaisalmer now? Pin it and save it for later:
Please note this post may contain affiliate links, which means we may receive a commission, at zero cost to you, if you make a purchase through a link. Please see our full Disclosure for more information. If you have any questions, please let me know.
Jaisalmer Desert Safari
Jaisalmer, Rajasthan is famous for its magical fort and for camel safaris in the Thar Desert, with an overnight stay at a dune safari camp.  Jaisalmer desert trips are a must-do when visiting Rajasthan. 
Our trip to northern India really was amazing (read more about my trip to India here).  We had already been ziplining in Jodhpur, taken a class in block printing in Jaipur and learned how to do traditional tie and dye in Nawalgarh, so we were super excited for a sand dunes desert safari in Jaisalmer. 
FREE DOWNLOAD
Subscribe to monthly updates with tips for planning, travel inspiration and trip ideas and get instant access to the free PDF of this
Guide to Jaisalmer Desert Safari
The start of our Rajasthan desert safari
We got up at 5:30am for our 6:15am pickup from our hotel in Jaisalmer for our two-day camel safari.  Jaisalmer rises straight out of the Rajasthan desert, so you don't have to go far to get to a Thar Desert camping site. 
Jaisalmer was about an hour drive (in the dark) from the desert safari camp.  Jaisalmer was quickly replaced by our new desert reality.
The morning haze hung around the camp, as the cameleers, surrounded by camels, swags and saddles, started a fire to cook us breakfast.  Breakfast was boiled eggs, bread, jam and bananas and oranges. 
At 9:00am on the dot, we mounted our camels Al Pacino and Romeo, and were off on our Rajasthan camel safari.  We were led off by two boys and after a short while, were given the reins, though the camels needed minimal guidance.
The surrounding countryside was flat, dry and sandy, dotted with scrubby trees and brush.  Part of the way was agricultural, with ploughed, dry fallow fields waiting for the monsoon to irrigate them.  We sat back, enjoying the gentle sway of our camels' motion.
Visiting villages on our camel ride in Rajasthan
We reached Unda village,  a traditional Rajput village with a mix of round, thatched mud huts and square concrete boxes.
Leaving our camels just outside the village, we were shown into a makeshift shop selling unappealing snacks.  We bought a packet of spicy trail mix for 10 rupees to contribute to the local economy.
The boys then left us, and we wandered through the village and took some photos. It actually felt awkward and we soon left.
We also visited Bheelo ki Dhani, a village of tribal people.
Lunch and lost camels
Back on the camels, we left the dirt road and the fields behind and found a couple of tall shady trees to stop under for lunch.  Our guide Kasba hobbled the camels, then started preparing a delicious lunch of spicy vegetables, rice and chapatis.
We lay around and read for a bit, then looked up and noticed that our camels were nowhere in sight!  The hobbled camels had wandered off into who-knows-where.
The younger kid left to look for them, but eventually came back empty-handed – just in time for lunch.  Kasba then went looking for them, while the young kid washed the dishes and we rested in the shade, waiting for the worst of the heat to pass (and for our camels to be found).
As the hours passed, we started to get anxious, and climbed a nearby hill to look for ourselves.  We could see the Jaisalmer Thar Desert stretching miles in all directions, but not a camel in sight.  When we booked our Thar Desert safari, being stranded without camels was not what we had in mind! 
I tend to go with the flow, but Kevin decided he had had enough.  Our iPhones had no cell service, but the kid's battered local cell phone did, so we used it to call the agency's office.  The phone's battery died in the middle of the call, but not until after we had communicated the basic situation to them.
Situation under control
Kasba eventually came back, riding one camel bareback, having found it 6 miles/ 10 km away.  He left almost immediately to try and find the other two camels.  20 minutes later, at 5:00pm, a jeep pulled up with one of the guides from this morning's camp, a French couple who were on a jeep tour, and two other guys. 
The new guide called the office on his cell phone, who put Kevin on the phone and we decided we'd take the jeep to the dunes where we'd spend the night.  So, they loaded up the bedrolls and water and we crammed into the back of the jeep for a very bumpy, dusty ride with the French couple squeezed in the front.
We stopped at Koda, a tiny mixed caste village, where we looked around without feeling uncomfortable.
There were several sheep and goats.
We looked inside one of the round huts which was used as a guesthouse, so could see its construction.  Then we jumped back in the jeep for a while until we encountered three camels and a new guide they had sent over for us.  We'd asked for an older guide, so they sent us the oldest guide they had, Raman.
So, we hopped back on our new camels for a final thirty-minute ride to the sand dunes desert camp.
Jaisalmer desert camp
The Rajasthan desert camp that our agency set up for us was not at the Sam sand dunes Jaisalmer is famous for.  Instead we went to the Khayala dunes.  There was no one else there! 
The dunes were small, but beautiful and there was only us.  We dismounted and lo and behold, Kasba showed up with the missing camels!
We wandered around the dunes and watched the sun set into the haze.  The lads left and one of the young guys from the jeep stayed as Raman's assistant.  Raman cooked dinner as it got dark, with the camels munching hay that we had brought with us. 
So, in the end it all worked out and we had a little unexpected adventure on our Jaisalmer sand dunes safari.
Raman set up our bed rolls, which were like envelopes containing a mattress, sheets, pillow, and two quilts and we slept snug and warm in our Rajasthan desert safari camp under the stars.
Day two of our camel ride in Jaisalmer
We woke up before dawn on the sand dunes.
It was a beautiful spot without human footprints on the dunes.  However, there were the footprints of beetles all around us. Our Jaisalmer sand dunes camp had been invaded by beetles in the middle of the night
… but  they just seemed to walk all around us.
Raman started breakfast around 6:30am and brought us tea in bed. Breakfast was toast, jam, porridge, and hard-boiled eggs.
He packed up the camels, who were very cute chewing their cud and looking around.
We headed past vultures, quails and peacocks to some village homes where we visited some women and children, including an older woman with her arms covered in white plastic bangles to ensure a healthy husband.  We were able to photograph the mud wall house and courtyard, decorated with painted walls and windows from a recent festival, while Raman chatted with the women.
We stopped for lunch under four trees in a plowed field- one for us, one for Raman to cook under and two for the camels.
Raman showed Kevin how to cook chapatis desert-style without a rolling pin.
After lunch, we all rested in the shade of our trees until the worst heat of the day had passed.
Then back on our camels.
We stopped for a drink (the camels, that is)
and passed a herd of camels.
We arrived back at the starting camp late afternoon and our Jaisalmer desert tour was over.
A jeep took us back to Jaisalmer.
The verdict: Camel safari, Jaisalmer
Obviously, our desert safari in Jaisalmer wasn't without incident, but what I was very impressed with was the agency's reaction to our complaint – they immediately rectified the situation, and when we asked for an older guide, sent us their oldest guide. 
Things don't always go smoothly when travelling, but their rapid response to make things better impressed me.
We camped on dunes at night, but the rest of the trip was through scrubby arid desert, and included visits to several villages.  It was more of a cultural experience than I was expecting.  Afternoons are spent sheltering from the desert heat, even in February, so the overall pace is slow.  I enjoyed it a lot.
[table id=34 /]
FREE DOWNLOAD
Subscribe to monthly updates with tips for planning, travel inspiration and trip ideas and get instant access to the free PDF of this
Guide to Jaisalmer Desert Safari
PRACTICAL TIPS: Jaisalmer Desert Safari
The Experience: Desert safari, Jaisalmer
Jaisalmer safari operators are everywhere in town and it's hard to know who offers the best desert camp in Jaisalmer.  I don't know that it's possible to say definitively what the best camp in Jaisalmer is, or who which is the best camel safari in Jaisalmer; however, the quality of camel safaris in Rajasthan does vary. 
We chose an operator who offered an alternative to the common Sam sand dunes desert camp because we wanted to be away from the crowds and although the dunes where we spent the night were small, we had them totally to ourselves, which I liked. 
The agency we booked our Thar desert trip through was the Adventure Travel Agency.  Insist on an experienced guide!
Other things to do in Jaisalmer
In addition to the camel safari, Jaisalmer is a fascinating city to explore.  Having a guide show you around gives more depth to your experience.
For more ideas on what to do in Jaisalmer, check out this travel blog on Jaisalmer.
Where is Jaisalmer and what is the currency?
Jaisalmer is in Rajasthan, the northwestern region of India.  The currency is the rupee.  Check the exchange rate here.
Best time to visit Jaisalmer
There are three basic seasons:
Summer: April-August
It is in the Thar Desert, so gets very hot in summer.  Temperatures can frequently get above 105°F/ 40°C.  Riding a camel in the hot summer sun does not sound fun.
Monsoon: September-October
It doesn't rain much, but does get very humid.  The desert can turn green after the rain.  Not my idea of a desert safari, but something different, I guess.
Winter: November-March
Definitely the best time to visit Rajasthan.  Nights can get cold, but days are (still hot, but) pleasant.  I was there in February and the weather was great.
How to get to/ from Jaisalmer, India
Jaisalmer is in the very far west of India, near the Pakistan border.  There is no airport.  The nearest airport to Jaisalmer (in India) is Jodhpur airport.  However, you will likely initially fly into Delhi.
How to get to Delhi
The main international airport in India is the Indira Gandhi International Airport in Delhi, and chances are you will fly into Delhi.
From Delhi, you can take a domestic flight to Jodhpur Airport, or if you are travelling around more of Rajasthan, to Jaipur. 
There are three terminals at the Delhi airport.  Terminal 3 for all international flights and many domestic flights.  Terminal 1 is used for low cost domestic carriers GoAir, IndiGo and SpiceJet.  Currently Terminal 1 is closed for renovations and Terminal 2 is being used for the low-cost carriers.
Compare prices of flights to Jaipur here.
We arrived late at night into Delhi and had an early morning flight the next day to Jaipur.  We decided to stay at the airport hotel that is inside Terminal 3 because we didn't want to deal with the hassle of getting a taxi to a nearby hotel as soon as we arrived, when we tired.  It was a great decision.  Someone met us at the gate and took us to the hotel.  It couldn't have been easier.
How to get from Delhi to Jaisalmer
Delhi to Jaisalmer by train
There are two trains that leave from Old Delhi Railway Station.  They take about 18.5 hours:
Ranikhet Express departs 4:40am arrives 11:15pm the same day
DLI JSM Express departs 5:35 pm arrives 11:45am the next day
Delhi to Jaisalmer by bus
There are two air-conditioned sleeper buses with Amar Travels daily.  The trip from Delhi to Jaisalmer takes about 16 hours.
Depart 6:45 pm arrive the next day at 11:00am
Depart 7:45pm arrive the next day at 11:30am
The following are the boarding points for the Jaisalmer bus in Delhi:
Amar Travels, Shop No-5, Ambedkar Market, Near Tis Hazari Cort Gate No-5, Goal Chakkar Mori Gate, Delhi
Hanuman Murti, Nr. DTC Bus stop, Karol Bagh, Delhi
Dhaula Kua Metro Station, Metro Pillar No.104, Near Patrol Pump, Jaipur Road,Delhi
Mahipal Pura, Shiv Murti (Airport) Delhi
Delhi to Jaisalmer by car
It's about a 16-hour drive (at least), making this a pretty expensive trip to make with a driver, and I don't recommend hiring a car and driving yourself in India, because the driving conditions and traffic are unique and difficult to navigate if you don't know them.  You're better off flying somewhere closer and then getting a car, or take a train.
How to get from Jodhpur to Jaisalmer
Jodhpur to Jaisalmer by train
There are six trains daily between Jodhpur Junction and Jaisalmer.
The train schedule from Jodhpur to Jaisalmer is:
Malani Express Dep 5:30am Arr 11:45am
Jodhpur-Jaisalmer Passenger (unreserved) Dep 7:00am Arr 2:30pm (skip this one!)
Bandra Terminus-Jaisalmer SF Express Dep 7:25am Arr 12:50 (the fastest and on average arrives early – not common in India!)
Corbett Park Link Express Dep 6:00pm Arr 11:25pm
Ranikhet Express Dep 6:00pm Arr 11:25pm (This is the train that goes from Delhi)
Jodhpur-Jaisalmer Express Dep 11:40pm Arr 6:10pm
The train schedule from Jaisalmer to Jodhpur is:
Ranikhet Express Dep 1:00am Arr 5:45am (This is the train that goes on to Delhi)
Corbett Park Link Express Dep 1:00am Arr 5:45am
Jaisalmer-Jodhpur Express Dep 7:00am Arr 1:00pm (on average arrives 6 minutes early)
Jaisalmer-Jodhpur Passenger (unreserved) Dep 3:00pm Arr 10:10pm (skip this one!)
Malani Express Dep 4:45pm Arr 10:45pm
Jaisalmer-Bandra Terminus SF Express Dep 7:20pm Arr 11:48pm (the fastest, but arrives late at night)
Jaisalmer is the end of the train line, which means that the train from Jaisalmer to Jodhpur has more chance of leaving on time than trains that pass through stations.
Jodhpur to Jaisalmer by bus
There are many bus companies offering many buses on this route.  Check out options here.
It takes approx. 5.5 hours.
Jodhpur to Jaisalmer by car
You wouldn't want to drive your own car in India, but arranging a car and driver, even for longer distances is not that expensive.  You can often arrange this through your hotel at either end.  You can also organize a transfer between Jodhpur to Jaisalmer here.
Getting around Jaisalmer
The area of Jaisalmer that you will be in is not that big, and for the most part, you can walk around easily (though it is hilly).  If you want to avoid walking the hills or for places a little further afield, take a tuk tuk or a taxi. 
Tuk tuks are everywhere.  There are no meters, so always agree on a price before you set off and clarify exactly what is included in the price (one or two people, luggage etc.), so that there are no unpleasant surprises at the end.
Map of Jaisalmer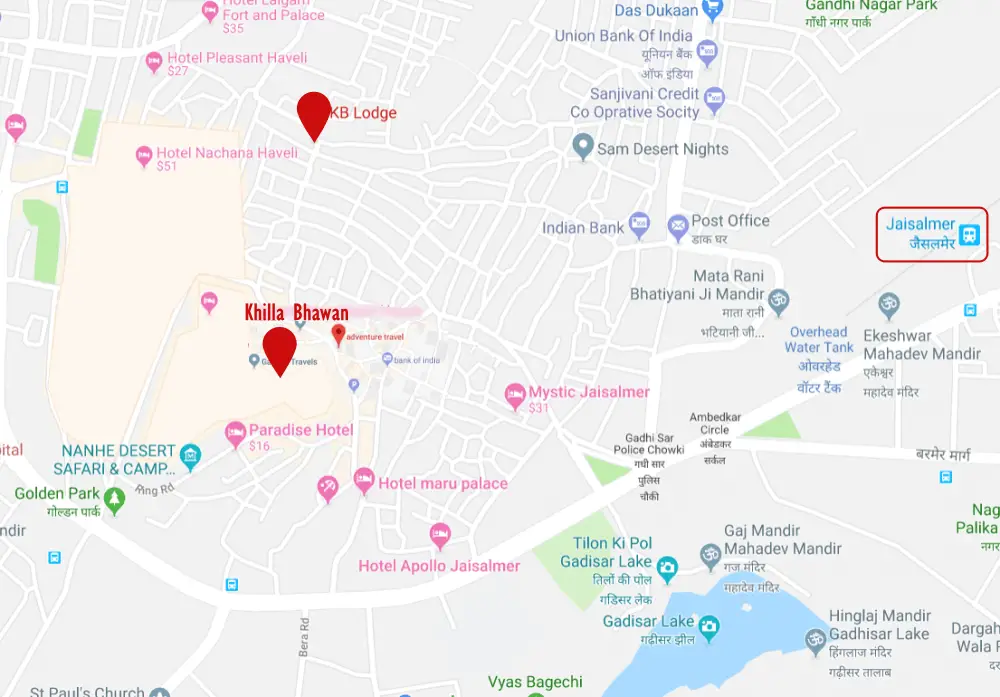 Where to stay in Jaisalmer
There are lots of things to consider when choosing a hotel – and Jaisalmer is such a magical place, you will want to choose carefully. Read my Guide to Choosing the Perfect Hotel for tips.
We stayed at K.B.Lodge/ Khilla Bhawan Lodge opposite the Patwon Ki Haveli.  They offer free pickup from the bus and train stations.  The rooms are uniquely and beautifully decorated and the rooftop restaurant KB Cafe is a perfect place to relax, hangout and enjoy the views.  The staff were all incredibly friendly.  It's not 5-star luxury, but has lots of character; I loved it.  Check availability at the Khilla Bhawan Lodge here.
There is also a more upscale heritage hotel Khilla Bhawan in the fort, which is highly rated on Booking.com. You can check availability for Khilla Bawan heritage hotel here.  
One thing to consider, though, is the damage being done to the fort by hotels – something to factor into your decision.
Planning and packing for Rajasthan, India
There is a lot that goes into planning a trip to India and a reliable guide book helps. I use the Lonely Planet to give me extra information.  Buy the India Lonely Planet here.  If you are only going to the Rajasthan/ Delhi/ Agra area as we did, you can buy the Rajasthan Lonely Planet here.
Another book that I found incredibly helpful is "India – Culture Smart!: The Essential Guide to Customs & Culture".  This gives a lot of insight into India culture, so that you know what to expect and how to behave.  Knowing this helped us to navigate India and Indian culture with ease and definitely made our trip to India much easier than we had expected.  I can't recommend this book enough!  Buy India – Culture Smart!: The Essential Guide to Customs & Culture here.
For a breakdown of the whole trip-planning process, read my Trip Planner.
When you are ready for your trip, check out my Essential Packing List.
I also always travel with an old-fashioned travel diary, even though I now blog.  I love this leather-bound journal.  I also love sketching when I travel (I am not good at it, mind) and the camel trip was a great opportunity to do this.  I like this sketch pad.
Safety in India
How safe is India? I had heard horror stories about how difficult India was to travel in; how confronting and in-your-face it was; and how easy it was to get ripped off. I didn't find this at all.
Yes, our camels were lost – but the travel agency rectified the issue immediately. I found that everyone is so concerned about negative Trip Advisor reviews that they were incredibly attentive and helpful. I felt taken care of the entire time – but hotels, guides and drivers. Our young guide on this trip was an anomaly.
Is India chaotic? Yes, absolutely. Is it crowded? Definitely. But that is what makes it India. It is possible to get ripped off and you need to be careful for sure, but with precautions, you will be safe. You do need to take precautions though. I strongly recommend you read two posts:
Additional consideration: Travel Insurance
The chances of falling off a camel and getting hurt are not high, but you just never know what can happen when you travel.  In India, always take precautions with the food and water and you will most likely be OK, but you just never know. 
India is definitely not a country you want to skip on travel insurance.  For the full lowdown on buying travel insurance, read my Guide to Travel Insurance.
A great insurance option is Travelex.  It has coverage for all you'll need. Travelex's Travel Basic and Travel Select plans offer a basic level of coverage for certain activities including horseback riding.  For other activities, you also have the option to upgrade You can also upgrade by purchasing the Adventure Sports Coverage. Check if camel-riding is covered.
You can compare Travel Insurance plans here or get a quote right now:
FREE DOWNLOAD
Subscribe to monthly updates with tips for planning, travel inspiration and trip ideas and get instant access to the free PDF of this
Guide to Jaisalmer Desert Safari
---
Enjoy the ride!
Do you have any stories of Rajasthan ? I'd love to hear them. Comment below.  
If you liked this post, please share the love and Pin it to your India board for later!
Read about other fantastic experiences in Rajasthan, India:
---
---
Travel Collecting is a participant in the Amazon.com Services LLC Associates Program, an affiliate advertising program designed to provide a means for sites to earn advertising fees by advertising and linking to amazon.com. Amazon and the Amazon logo are trademarks of Amazon.com, Inc. or its affiliates.