The two candidates, dressed in traditional costumes, tended barbecued fish, while their clan members, many wearing grass skirts and feathered head dresses, prepared the rest of the food. 
They prepared many different dishes cooked on hot stones buried underground.  The dishes included Umu tahu/ traditional Rapa Nui curanto – beef, pork, chicken and fish put in layers and separated by banana leaves from more layers of sweet potato, taro and cassava – and Tunu Ahi, fish on hot stone. 
Others dishes included different types of Rapa Nui ceviche (sashimi); and po'e, sponge cakes made of banana, sweet potato and pumpkin.
The food was displayed on tables decorated with vines, banana leaves, seaweed, shells and urchins for the judging.
After the judging there was a bit of a feeding frenzy as they gave everything randomly out to the crowd. I managed to sample a few pieces including some really great tuna ceviche.
I was experiencing the gastronomy competition in the Rapa Nui Tapati festival on Easter Island.
---
No time to read about the Tapati festival on Easter Island now? Pin it and save for later:
Please note this post may contain affiliate links, which means we may receive a commission, at zero cost to you, if you make a purchase through a link. Please see our full Disclosure for more information. If you have any questions, please let me know.
Tapati Festival on Rapa Nui (Easter Island)
Easter Island (Rapa Nui in the local language or Isla de Pascua in Spanish) is one of the most isolated inhabited places on the planet.  It is part of Chile, but is a long way from the mainland.  It is most well-known for the statues that mysteriously dot the island, but the island has much more to offer in addition to the Rapa Nui national park. 
The best time to visit Easter Island is during the annual Tapati festival.  The Tapati Rapa Nui festival is a two-week-long festival (tapati means "week", but the festival is longer) that celebrates Easter Island culture. 
Rapa Nui culture is alive and well and the Tapati festival on Easter Island is a chance for Easter Islanders to connect to and celebrate their heritage.  It is also a chance for tourists to join in and experience Easter Island traditions.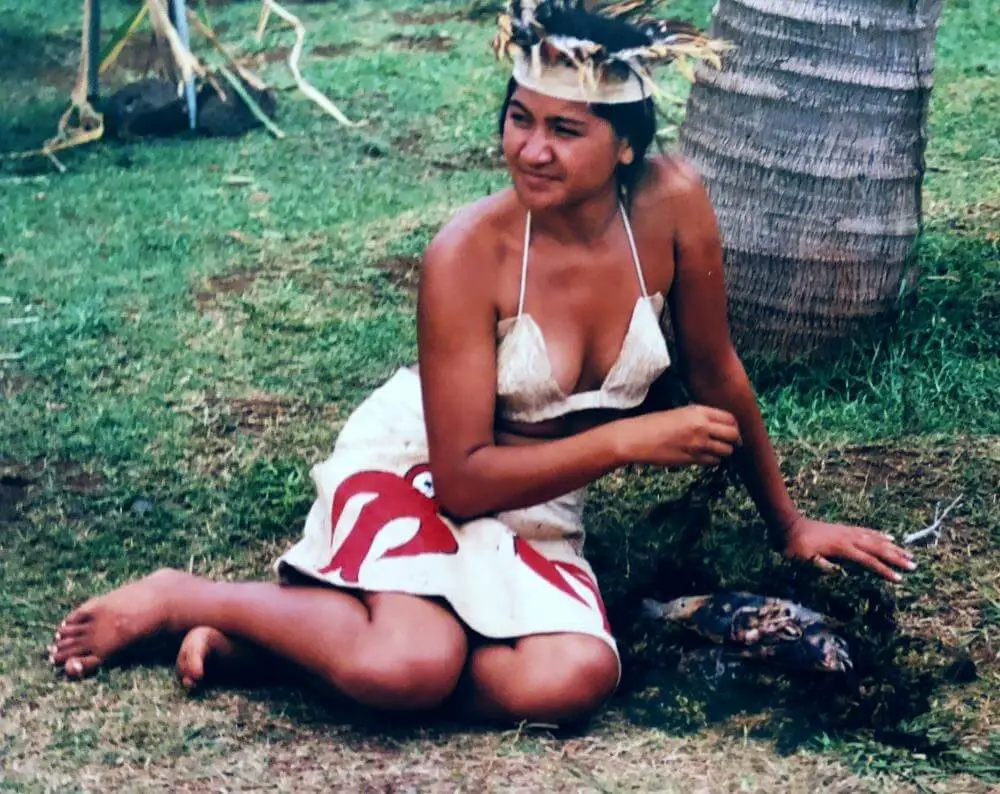 What is the Rapa Nui Tapati Festival?
The Fiesta Rapa Nui, as it is called in Spanish, is organized around two young women competing to be the Queen of the Tapati for the year.  The festival involves a series of competitions in a wide range of events, with competitors competing for one of the two candidates for "Queen". 
Competitors get points and at the end of the festival, the woman whose team has the most points is crowned the Queen.  It is designed to resemble the clan wars of old, with the "Queen" the symbolic ruler of the island for the next year.
The Tapati Festival events
The festival consists of artistic and music performances, competitions of handicrafts, food and agriculture, and traditional sporting events.
On the first night of the festival, before the night's music performance, both of the candidates parade a series of different traditional costumes as part of the competition. The festival finishes with a parade and the crowning of the winner.
The events in the festival include:
1.  Artistic and musical performances
There are various artistic shows and performances at 10:00pm each night, many of which are actually part of the competition.  Some events are held at the Culture Center in the main town, Hanga Roa, where I went with a group of people from my hostel to eat curanto, and enjoyed singing performances while we waited in line for food. 
However, the main music events are mostly down the hill at Hanga Vara Vara, where there is a large outdoor stage with a great backdrop of three larger than life "carvings" and raised log benches set out in a semi-circle along with folding chairs.   
Traditional food stalls and bars are set up, and barbecues are everywhere.  I spent most of the time dancing, eating, drinking and talking to new friends.
a. Riu
Singing.  The word Riu means song.  This is a singing competition featuring different kinds of traditional songs.
b. Koro Haka Opo
A choir sing-off.  The choirs of each rival group compete with each other without repeating songs, or making mistakes, alternating with the other choir, until one choir makes a mistake.  There are (sexy) dancers as well.
c. Kai Kai
Storytelling.  Competitors dressed in traditional costumes tell a story, known as "Pata'uta'u", using their hands and thread to create figures to help tell the story.
d. Takona
Body painting.  Members of each competing group use natural dyes to paint depictions of personal experiences on their bodies.  They then have to explain in a theatrical way the reason for their designs.  I didn't see this, but it sounds interesting.
2.  Handicrafts, food and agriculture
There are various competitions celebrating food, agriculture and traditional handicrafts.
a. Stone and wood carving
In the first stone carving competition that I saw, ten men competed, carving traditional motifs out of soft rock. They used modern tools – chisels, etc., except one guy who was off to the side – I don't think he was in the official competition – was using sharper rocks, as the original people would have done.  There are also wood carvings competitions.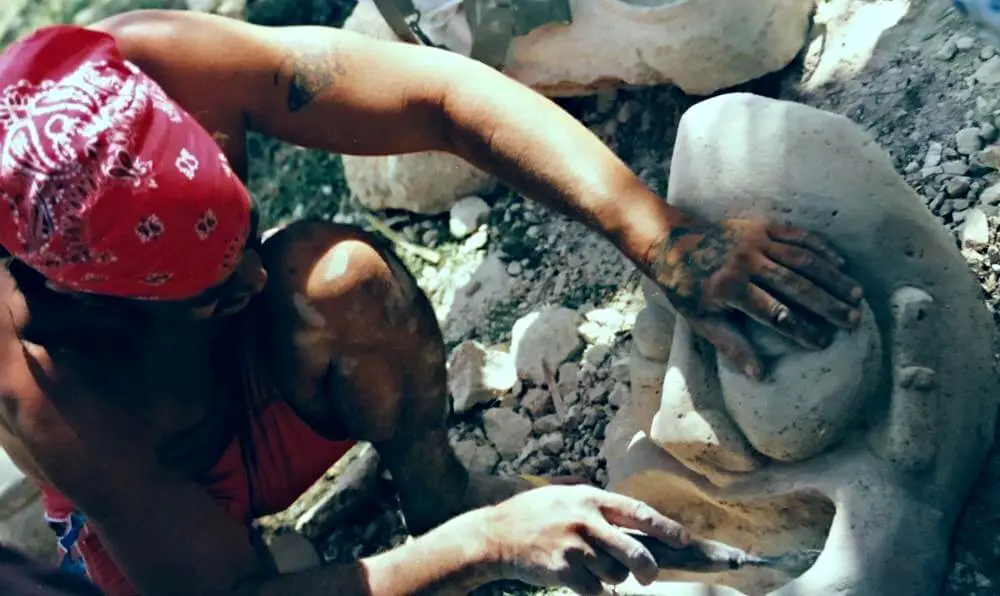 b. Gastronomy competition
Cooking.  I love that we got to eat the competition food after the judging.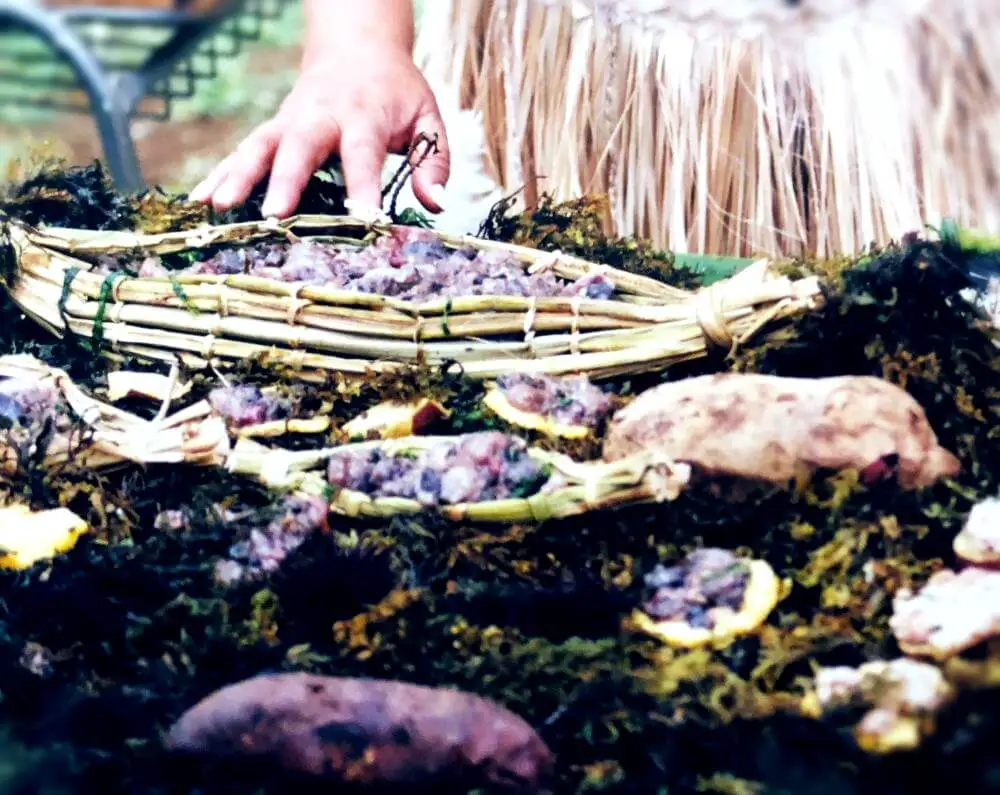 c. Making traditional costumes, crowns and necklaces
I saw a reed mat making competition, and a necklace-making contest.  In the latter, seven women spent two hours making elaborate "farewell" necklaces out of pipi shells, nuts, etc.   Each necklace had a large complex medallion in the middle.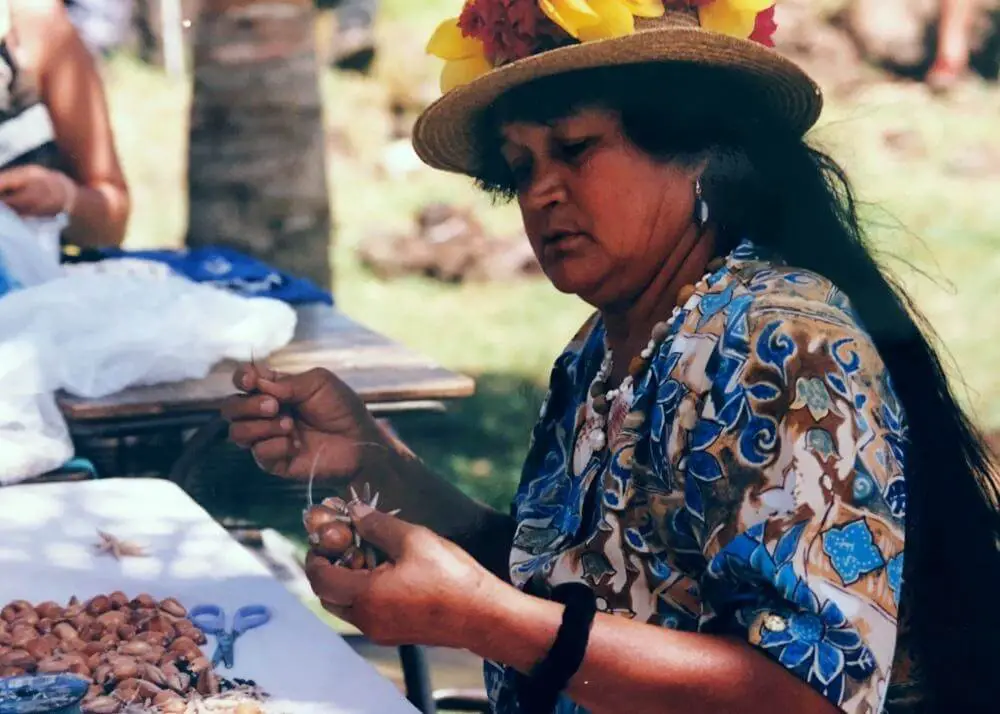 There are also contests making "welcome" necklaces out of flowers, and costumes such as the feathered head dresses.
d. Tingitingi mahute and Mahute painting
Making traditional fabric.  The bark of the "mahute" plant was traditionally used to make fabric and ornaments. Women, tap ("tingi tingi") with a wooden stick to flatten, stretch and shape the bark on a rounded stone ("Maea poro" until it becomes a kind of cloth. The winner is the person with the largest and finest fabric.
Painting. Other competitions involve painting designs like ancient rock art on the mahute fabric. Pretty cool to see.
e. Agricultural exhibition
Like a county fair in the United States, farmers show off their prized fruits and vegetables.  Think biggest banana, largest watermelon, etc. The winner is the team with the largest/ heaviest produce.
3. Traditional sports
Some of these contests are really lively and kind of crazy!
a. Tau'a Rapa Nui or Rapa Nui Triathlon
Not your typical triathlon.  The three sports, over a three-kilometer (1.8 miles) route, are:
"Vaka Ama": participants row across a crater lagoon in small rafts made of totora, a water reed.
"Aka Venga": two bunches of bananas weighing about 20 kg (44 pounds) are hung around their necks and then they run once around the lake. It's kind of weird and kind of wonderful.
"Pora": they swim back across the lake with the help of a float made of reeds (called a 'pora')
b. Haka Pei
Tobogganing. This event is worth the airfare to Easter Island alone, even though it is over in almost no time.  It is held on the other side of the island from the main town, at the foot of the hill Maunga Pu'i, near Anakena beach.  Men, wearing traditional clothing and with painted bodies, slide down the very steep hill on a sled made of two banana tree trunks tied together.  It's over in about 10 seconds, but is crazy fun (and dangerous – they are fast!).  The winner is the guy who goes the furthest.
c. Horse races
There are 500 m and 1000 m races.
d. Polynesian Canoeing
The traditional canoes have 6 rowers and races are 3 or 5 km. I saw them in the distance, but they were too far out to see much, to be honest.
e. Haka Honu and Haka Ngaru
"Haka Honu" is body surfing (surfing without a board).
"Haka Ngaru" is bodyboarding/ boogie boarding – surfing on a small board (here made of totora reeds.
The winner is the person who goes the furthest and who gets closest to the shore. These tests are usually carried out at the Pea Beach located in Hanga Roa.  Fun to watch.
f. Sport fishing
Not really a spectator sport.
4.  Final parade and floats
The second last day of the Tapati Festival is the farandula or grand parade.  The winner of this contest is the "clan" with the most people, so they want tourists to join their group!  Dress and paint up and join in the fun.  This is really great fun!!
5.  Coronation of the queen and king of the Tapati
The last day of Tapati Rapa Nui is the coronation of the winning queen of the Tapati on the stage of Hanga Vare Vare and fireworks.
The verdict: Tapati Festival, Easter Island
The Rapa Nui festival was a highlight of my visit to Easter Island and is definitely one of the best things to do on Easter Island.
[table id=24 /]
When is the Tapati Rapa Nui Festival?
During the Tapati Rapanui festival is without a doubt the best time to visit Easter Island. 
The Tapati festival is held within the first two weeks of February, but exact dates may vary from year to year, so check before you book.  It's best to book your flight and accommodation several months in advance so you don't miss out or end up paying a fortune.
The dates in 2022 are: January 29 – February 12, 2022.
Where is the Tapatai Rapa Nui Festival held?
The festival happens at various places around the island, though most are in the main town of Hanga Roa.
Other things to do on Easter Island
Rapa Nui map
Easter Island FAQs
Why is Easter Island called Easter Island ?
Easter Island fun fact:  Why is it called Easter Island? Because Dutch explorer Jacob Roggeveen found the island on Easter Sunday, 1722.
Where is Easter Island and what is the currency?
Easter Island is in the middle of the Pacific Ocean, but it is part of Chile.  Therefore the currency is the Chilean peso. Check the current exchange rate here.
The official language is Spanish and Easter Island is called Isla de Pascua in Spanish.  It is called Rapa Nui in the traditional language.
Visa requirements for Easter Island
For visa requirements for Chile, check out your home country's official government visa websites:
For citizens of other countries, use this helpful website (though it's best to always check with the embassy as well). 
How to get to Easter Island
The only airport on the island is Mataveri International Airport or Isla de Pascua Airport (IPC).
Easter Island fun facts: IPC is the most remote airport in the world.  Easter Island is in the South Pacific more than 2,000 miles/ 3,200 km from mainland Chile.  The airport runway was expanded in the 1980's so it was long enough for the space shuttle to land if they had an emergency landing.
Chile's LAN Airlines is the only airline that flies to and from Easter Island.  You can fly to/ from Santiago de Chile (daily) and Papeete, Tahiti (once a week).
Check prices on flights to Easter Island here.
How to get from the Easter Island airport
You can get a taxi or book a shared transfer here so that it is arranged before you arrive.
Getting around Easter Island
You can easily walk around the main town Hanga Roa. However, to get around, it is easiest to take local taxis.
Where to stay on Easter Island
There are actually quite a lot of places to stay on Easter Island – most are quite casual.  You won't find chain hotels here.  Read my guide to choosing the best hotel for tips on what look for when choosing a hotel.
Two options are:
Hotel Puku Vai
This beautiful resort has buildings made of natural materials set around an outdoor pool, with a buffet breakfast and free wifi.  It's a 10-minute walk to the main street of Hanga Roa the airport is lo just 1,150 feet/ 350 away, which sounds bad, but flights are infrequent and you can walk there from the airport, so it's very convenient.
Cabañas Tokerau
These are bungalows with kitchens, private bathrooms, free WiFi and barbecue facilities.  It's a 7-minute walk to the beach.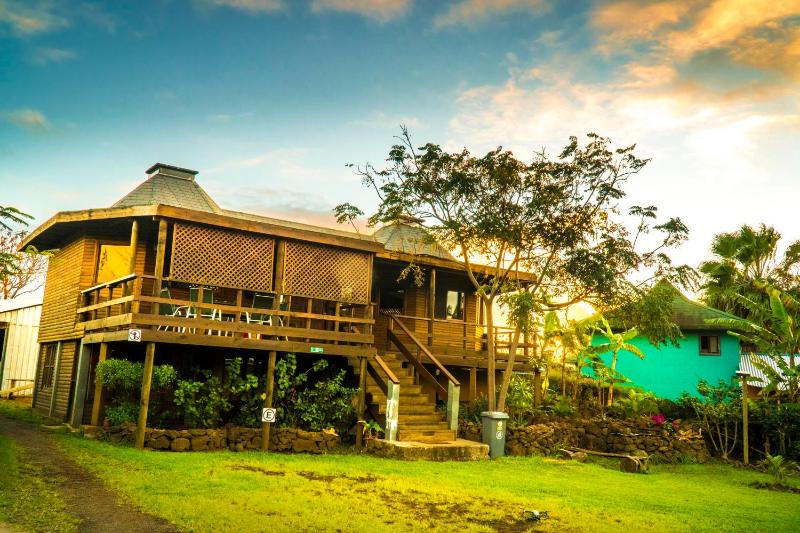 For more options, check out other hotels on Easter Island here.
Planning and Packing for Easter Island
I hope this blog is useful resource for you – but I always use Lonely Planet to get the big picture.  Use it as a useful resource than a travel bible so that you don't miss out on loads of awesome things and places and experiences that aren't listed in it.
You can buy the Easter Island Lonely Planet here. Also use my Trip Planner for a break down of each step of planning and preparing for your vacation.
When you are ready for your trip, check my Essential Packing List to make sure you have everything you need for your trip.
I also love this leather-bound journal for a travel diary, and this sketch pad for sketching.
Travel Insurance for Easter Island
In addition to accommodation, planning, and flights, you should always have travel insurance, just in case.  I have written a guide to buying travel insurance, which you should read if you have questions about travel insurance.
A great insurance option is Travelex.  It has coverage for all you'll need. You can choose the best travel insurance plan for your trip here or get a quote right now:
---
Enjoy the Tapati festival!
Do you have any stories of Easter Island? I'd love to hear them. Comment below.  
If you liked this post, please share the love and Pin it to your Easter Islands board for later.
Read more Chile experiences:
---
---
Travel Collecting is a participant in the Amazon.com Services LLC Associates Program, an affiliate advertising program designed to provide a means for sites to earn advertising fees by advertising and linking to amazon.com. Amazon and the Amazon logo are trademarks of Amazon.com, Inc. or its affiliates.