So, you want to go to the Galapagos Islands.  You're excited to see tortoises and turtles, sharks and sea lions, flamingos and frigates … But, you aren't sure what is the best way to see Galapagos Islands. 
Don't worry – if you are wondering how to visit Galapagos Islands, you are not alone.   And you are in the right place.   In this post, I look at the different options for visiting the Galapagos, so you can make the right decision for you.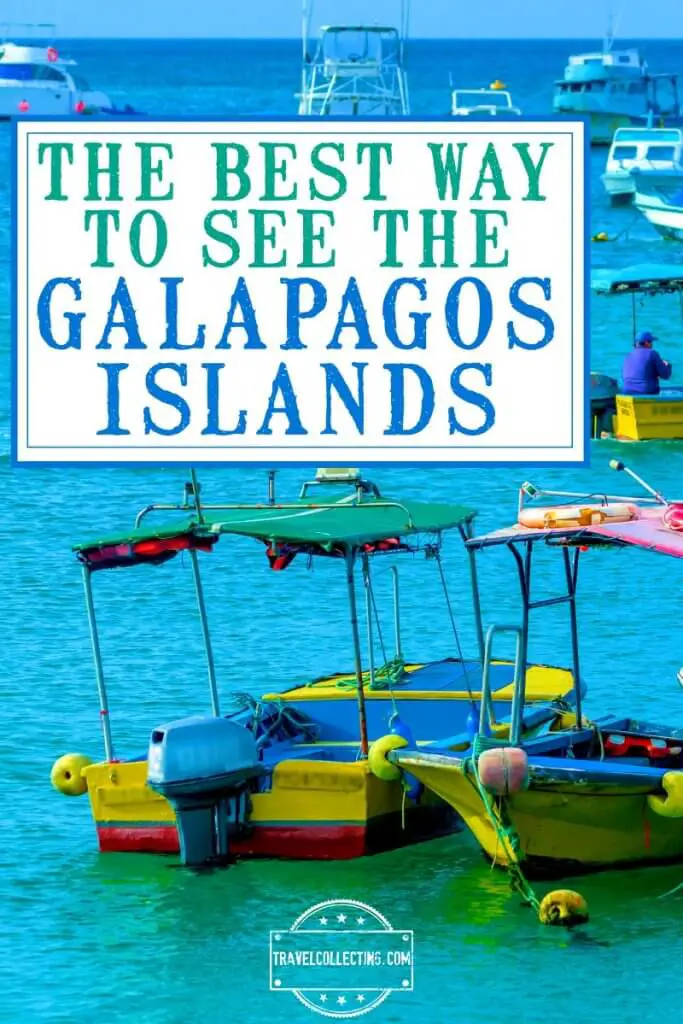 Please note that some of the links below may be affiliate links.  If you make a purchase through these links, I earn a small commission at no additional cost to you. Read my Disclaimer for more information.
---
If you are starting to plan your Galapagos trip, also check out the following Galapagos planning guides:
---
FREE DOWNLOAD
Subscribe to monthly updates with tips for planning, travel inspiration and trip ideas and get instant access to the free PDF of the
Best Way to See Galapagos Islands
The Best Way to See Galapagos Islands
There is no one "best" way to visit Galapagos.  There are three different way and which is best for you depends on several factors. 
The three choices are:
A cruise
A land-based tour
A land-based independent trip
Let's take a look at the differences between land-based trips and cruises.
Land-based Trip
On a land-based trip, you stay on one of the four inhabited islands and do day trips from there.  You can catch boats and/ or fly between islands. 
Some advantages of a land-based Galapagos trip
It gives you a chance to experience culture of the islands and meet the local people.  The wildlife is the main reason you go to the Galapagos, but it is also nice to see where people live, what they eat, etc. and experience their life.  You miss out on this on a cruise.
You are not stuck on a small boat with the same people. Small groups are great if you get along with everyone, but not so great if you don't.  With a land-based trip, at least it is only for one day.
Land-based trips are generally cheaper.
You can see a wider range of options, splitting your time between the western and eastern islands, whereas cruises tend to focus on either the west or the eastern islands.
You don't sleep on a boat.  Boats travel between islands on multi-day cruises, crossing water that is often quite rough, at night.  If you're prone to seasickness, not spending all day and all night for a week on a boat is a good thing.
You can fly between the main islands, avoiding rough crossings. The waters between the islands can be rough.  On a cruise, you are travelling these waters overnight when you are stuck inside your cabin.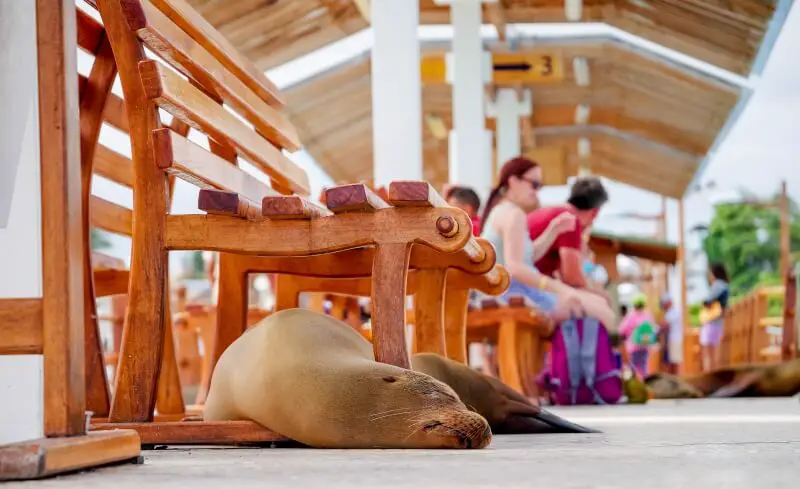 You can do this independently or on a multi-day land-based tour. 
An independent trip gives you more flexibility and autonomy and you can create your own itinerary.  Check out my Galapagos Islands Planning Guide. It also means if there is someone on your trip who totally grates on your nerves, it is only for a day, as each day is a different trip! 
Land-based tours takes the time and effort of planning your trip out of your hands and outs it in those of the experts.  It does mean you are locked into their itinerary and with the same group of people, but that can also mean companionship and a well-curated tour.  Check out several land-based tours here.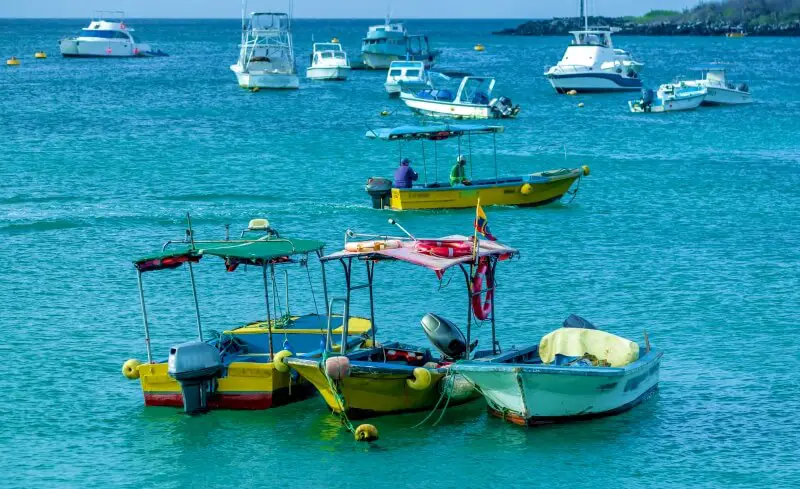 Sea-based Trip/ Cruise
On a cruise, you leave land behind you and immerse yourself in the islands for the duration of the cruise.  Most Galapagos cruises start in Puerto Ayora on Santa Cruz Island and go to either the east islands or the west islands, although some cruises do go to both.  They are typically between 4 days/ 3 nights and 12 days/ 11 nights.
There are four categories: economy, tourist, first class and luxury.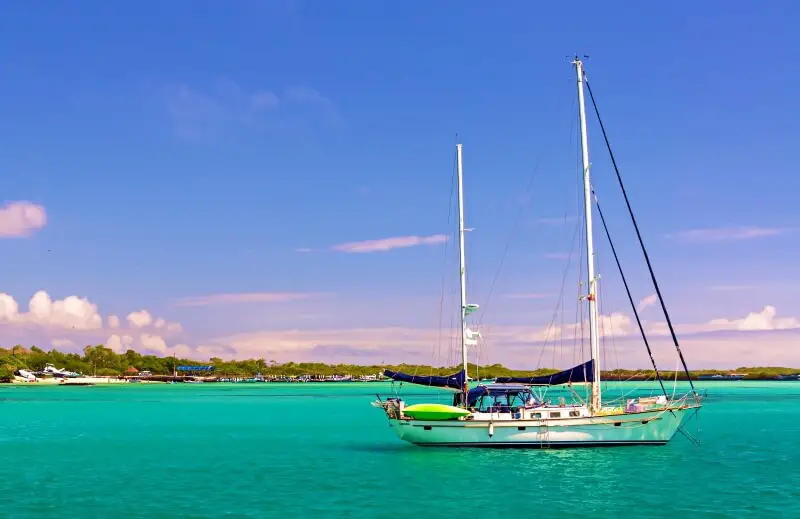 Sizes range from 12 to 110 passengers.  Smaller groups are easier to manage, but the smaller boats can have more motion in rough waters.  There are also different types of boats e.g. sailing boats (quite romantic, I think) and catamarans (often more stable and less prone to motion than regular boats).
Some advantages of a Galapagos cruise
On a Galapagos cruise, you can visit remote uninhabited islands and sites that you can't visit on a land-based trip
The best dive sites are Darwin and Wolfe Islands, which are far to the north of the other islands and can only be visited on an (expensive) live aboard.
You will have a guide, who will explain a lot about the wildlife and the islands.  On the cheaper economy boats, the guide may only speak Spanish.  If you don't speak Spanish, check in advance that the guide speaks English. 
Cruise boats travel overnight between the islands, which maximizes you time on the islands during the day.
Some cruises include additional activities such as diving, snorkeling, kayaking, cycling, horse back riding, etc.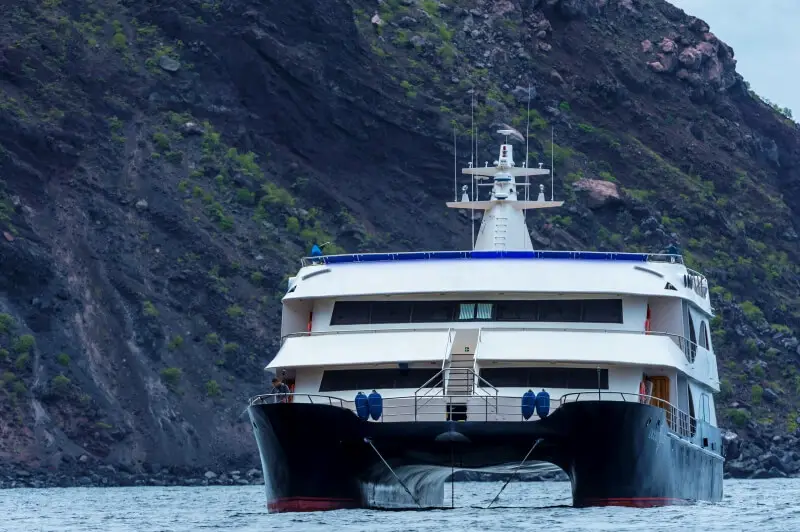 The Galapagos Islands cruise cost is at least $500/day.  East and West island cruises are available. 

Note that price and quality can vary widely.  The more facilities and comfort a ship offers, the more expensive it can be, but the extra facilities can really enhance your trip, depending on your interests.   For example, this 5-day east island cruise includes a glass bottom boat, kayaks, paddleboards and snorkeling equipment.
The Verdict: Best Way to See Galapagos Islands
How to visit the Galapagos Islands on a budget? 
Take a land-based independent trip and find accommodation and tours on arrival.  There are usually discounts for booking last minute so that the operators and accommodation providers can fill their tours and rooms.
How to travel to Galapagos Islands if you're prone to seasickness?
Definitely a land-based trip, either on an organized tour or self-guided with day trips you arrange yourself.  You will still take boats to other locations, but they will usually be in more sheltered areas and at least you won't need to sleep on a moving boat.
The best way to visit the Galapagos Islands if you want to experience some of the local flavor as well as the wildlife? 
An independent land-based trip allows you the most flexibility and gives you the most chance to experience more than just the fish, animals and birds.  While the wildlife is reason to go there, having a chance to meet locals and buy and/or eat food at the markets adds an extra dimension to your trip.  Don't miss the food stalls at Puerto Ayora on Santa Cruz for cheap, fresh and delicious seafood.
How to see the Galapagos Islands if you're a diver?
It is possible to do some great day trip dives, especially from Puerto Ayora.  Gordon Rocks is a highlight for experienced divers.  However, if you are a serious diver and this is the main reason you are going to the Galapagos, you will definitely want to take a liveaboard cruise to the northern Darwin and Wolf Islands.  Those two islands, along with the north western coast of Isabela are widely considered the best dive sites in the archipelago.
The best way to travel to Galapagos Islands if you want to see the smaller, outlying islands?
Many of the more remote islands can only be visited on a cruise.  Even for ones that you can do as a day trip on a land-based trip, you will often get more time on land when you are on a cruise.  This is the most common reason people choose a cruise.
How to see Galapagos Islands if you prefer to travel independently?
If you don't like to be stuck with a group of the same people and have everything laid out for you, then you will want to choose the independent land-based option.
---
Enjoy the Galapagos!
Do you have a preferred way to see the Galapagos ? I'd love to hear about your trip. Comment below. 
If you found this post helpful, please share the love and Pin it to your Galapagos Board!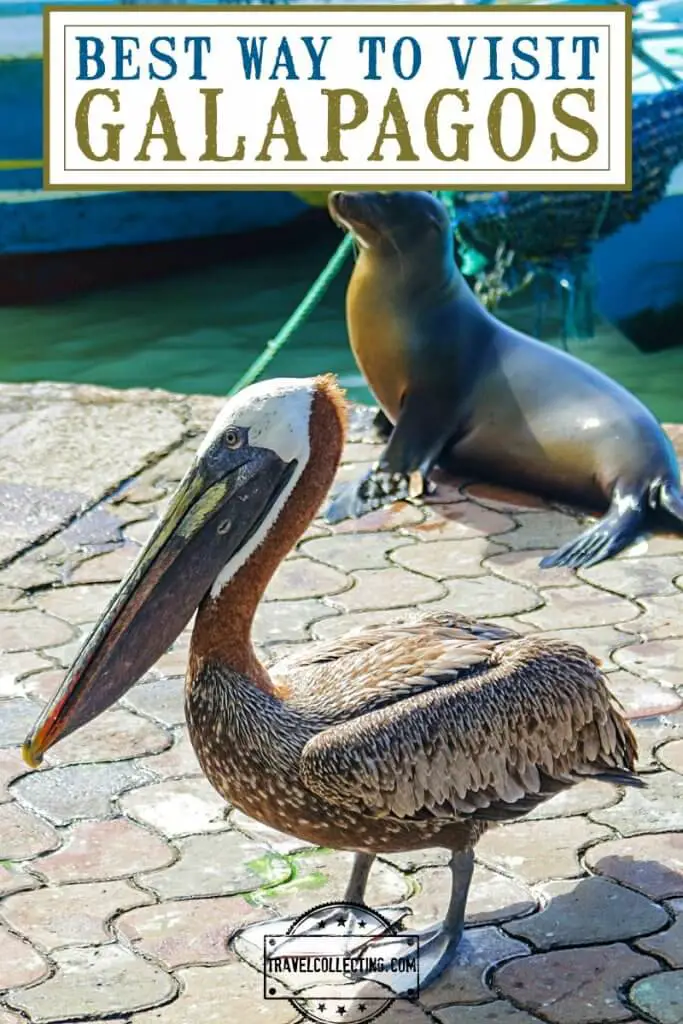 FREE DOWNLOAD
Subscribe to monthly updates with tips for planning, travel inspiration and trip ideas and get instant access to the free PDF of the
Best Way to See Galapagos Islands
If you are planning a trip to the Galapagos, check out more Galapagos Islands posts:
---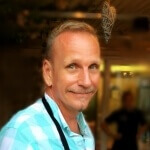 James Ian has traveled to 82 countries and all 7 continents.  He is passionate about experiential travel, i.e. meaningful travel that actively engages with the environment and culture.  He helps people have similar experiences that involve active participation in activities and festivals; engaging with the local food and handicrafts through lessons and food tours; and interacting positively with environment by hiking, riding, rowing, diving and low/no impact animal encounters. 
---
Travel Collecting is a participant in the Amazon.com Services LLC Associates Program, an affiliate advertising program designed to provide a means for sites to earn advertising fees by advertising and linking to amazon.com. Amazon and the Amazon logo are trademarks of Amazon.com, Inc. or its affiliates. As an Amazon Associate I earn from qualifying purchases.