You pull over into a turnout at the side of the road. Spread before you, stretching from left to right, is a sensational view of jagged, snow-covered mountain peaks, rising straight up out of the plains. Just below, a river stretches slowly around a bend. Aspen trees, leaves turning yellow in an early fall chill and white trunks glistening in the early morning sunshine, are the perfect foreground for stunning photos. This is just one stop of many on this sensational 42-mile drive, where jaw-dropping vistas start to become blasé.
No time right now to read about the 42-mile Scenic Loop Drive, Grand Teton National Park? Pin it and save it for later: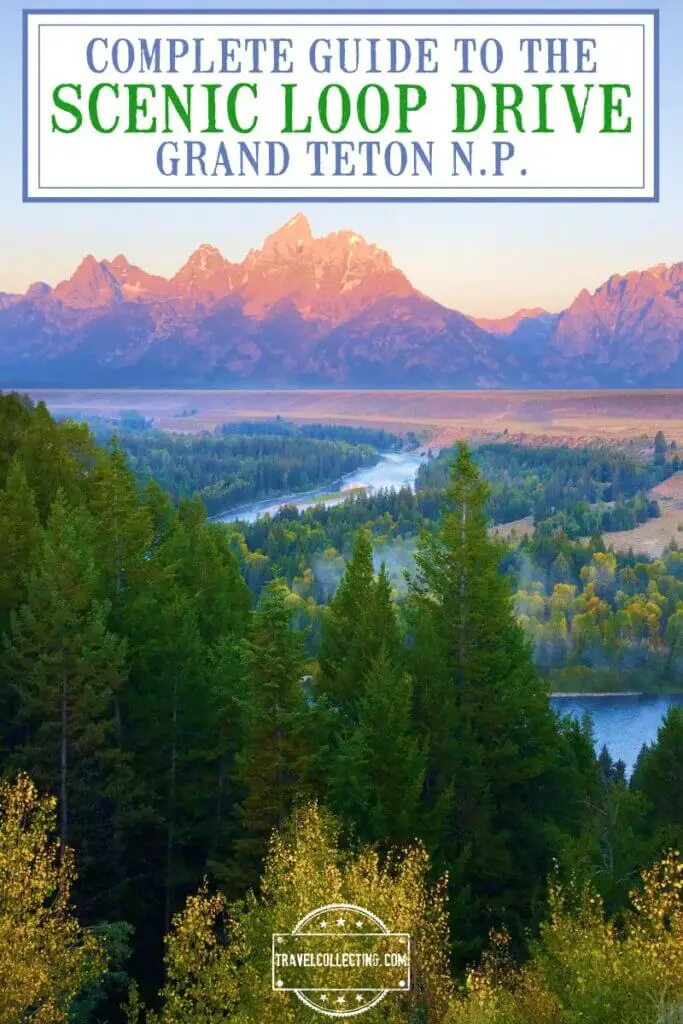 Please note that some of the links below may be affiliate links. If you make a purchase through these links, I earn a small commission at no additional cost to you. Read my Disclaimer for more information.
The best drive through Grand Teton National Park is along the 42-mile Scenic Loop Drive. Grand Teton National Park's dramatic peaks rise dramatically off the side, lakes provide the perfect foreground for breathtaking mountain views (most of the ten best views in the Grand Tetons are along this drive) and there are always good chances of seeing moose, bison and bears, especially in the early morning and late afternoon.
The 42-mile Scenic Loop Drive, Grand Teton National Park FAQs
What is the 42-mile scenic loop drive?
There are two main Grand Teton National Park scenic drives – the inner road and the outer road. The Grand Teton loop drive route combines them. It goes along Teton Park Road, which runs parallel to the mountains inside the Park and then loops around, continuing back along the parallel US 26, which is a little further away from the mountains and technically outside the National Park, but still has incredible views of the mountains.
How long does it take to drive the loop in Grand Teton National Park?
The whole route of the Grand Teton drive is 42 miles/ 67.5 km and takes 1-2 hours (or even longer), depending on how often and for how long you stop.
Where does the 42 Mile Scenic Drive start?
You can enter the drive from three different points.
From Jackson to the south, drive north on 191/ 89/ 26 (the same road – it just shares three numbers) to Moose and start there.
If you are coming from Yellowstone to the north, you will enter the loop at the Jackson Lake Junction.
You can also come from the Dubois in the east via the Togwotee Pass and enter at the Moran Junction.
How can I do the Grand Teton National Park scenic loop drive?
There are really two options:
1. Drive yourself
If you didn't drive to Grand Teton National Park in your own car, you can rent a car. If you are only visiting Grand Teton NP or starting your trip here, you will fly into Jackson Hole airport. You can pick up a rental car there and then do the drive yourself.
This give the greatest flexibility. You can take as long as you want and spend extra time to see wildlife or if you especially love the view. You can also do the drive more than once (as I did) at different times of the day.
Find the best rental car for you right here
2. Take a tour
If you don't want to drive, there is another option. You can get a transfer from the airport to Jackson (book one here to save yourself the hassle of arranging it when you get there), and then arrange a half day or day tour that will take you along the scenic drive.
A big advantage to taking a tour is that the guides know the best photo spots and likely places to see wildlife. Health and safety measures are all taken on these tours.
The four-hour tour hits all of the highlights including Mormon Row and Moulton Barn, Moose, Signal Mountain, Oxbow Bend, Elk Ranch Flats (which is where I saw bison for the first time) and Snake River Overlook (where Ansel Adams took his iconic photos of the Grand Tetons). Maximum 10 travelers.
Check availability and prices for the half-day tour here
If half a day isn't enough and if you would rather have a private tour and all the flexibility that that gives you (you can stay longer if you are enjoying a particular stop) then this private tour is the best choice for you. The tour, which can accommodate up to 4 people, is 8-9 hours and includes lunch and binoculars for wildlife spotting. The longer time period means you have a greater chance of seeing animals. The tour travels the entire scenic loop road with multiple stops along the way.
Check availability and prices for the full-day private tour here
When is the best time of day for the Grand Teton loop drive?
The drive is best done in the early morning or dusk.
Early morning is best, because there is a good chance of seeing wildlife, plus the mountains glow a bright golden color when the first beams of sunlight shine on them. Even if you don't manage to get up for the sunrise, the light is best on the Teton ranges throughout the morning.
Noon to mid-afternoon is the worst time, as the mountains are silhouetted and photos typically don't turn out well (I speak from experience!). However, looking towards the Gros Ventre Mountains at this time, for example, from Signal Mountain, the views are lovely.
Sunset over the mountains, especially the minutes after the sun has actually set behind the mountains, can be stunning and dusk is a good time to see moose and bears.
What do I need to take on the Grand Teton scenic drive?
There are a few main things I recommend (other than snacks):
1. A camera (or camera phone)
Grand Tetons National Park is a photographer's dream. If you are serious about photography, you will have a real camera with all the bells and whistles, and you will certainly take better photos than I do. I use my iPhone and this suits me just fine as I'm not a hard-core photographer, but I was glad I had it.
2. A tripod
If you are taking photos in the early morning or late afternoon, a tripod is essential for long exposure shots. Because I don't want to spend my vacation lugging around lots of equipment, I use a Gorillapod tripod. It's tiny, flexible, light and can be set up on all types of uneven surfaces. They sell them for regular cameras and cell phones.
Check out prices for regular camera Gorillapods here and for cell phone Gorillapods here.
3. A wide-angle lens and a zoom lens
Most of the time my camera phone is fine as is, and with the iPhone 11, there is a wide-angle feature, which I love, but the wider the better for the expansive landscapes of the Grand Tetons. You can get a set of a 0.45x wide-angle lens and a 15x macro lens for close ups. It's compatible with all single and dual-camera phones including all iPhone models, Samsung Galaxy and Note, Google Pixel, Huawei and more. Check prices on Amazon here.
The digital zoom on a camera phone gives the illusion of getting close, but then when you look at the photos later, they are not at all clear. An optical zoom is much better. For a zoom lens, check out this 28x telephoto lens. It works on the front and rear cameras for both single-camera and multi-camera phones including iPhone11 XS MAX XS XR X 8 Plus 8 7 Plus 7 6 Plus 6, Samsung Galaxy S9 Plus S9 S8 Plus S8 S7, Edge S7 S6 Edge+ S6 Edge S6, Google Pixel 3 XL 3 2 XL 2 XL LG iPad, Motorola HTC One Plus, HUAWEI and more. Check out prices on Amazon here.
4. Binoculars
Even if you aren't a serious birdwatcher, a solid pair of binoculars is a great investment for this trip. I own the Celestron Outland X binoculars. They are reasonably priced, good for casual wildlife viewing and come with a carry case. I used them to see bison, moose and black bears up close, all on this drive. Check them out on Amazon here.
When is the Grand Teton loop road open?
The full loop road is not open year-round. The inner road (Teton Park Road) runs inside the national park. The outer road is a highway (it shares the numbers 26/89/191). This area can get a great deal of snow in winter, so Teton Park Road is closed November 1 – April 30/ open May 1 – October 31.
42-mile Scenic Loop Drive Grand Teton National Park Map
Click on the Grand Teton scenic loop map to see the full route and the major points of interest along the way.
You can save the Grand Teton scenic drive map for easy reference.
Description of the 42-mile Scenic Loop Drive, Grand Teton National Park
I will describe the Grand Teton National Park scenic drive from Moose in a clockwise direction (though you can go in the opposite direction, of course).
The Inner Road
If you are coming from Jackson, head north out of town on 26/89/191 and start the Grand Teton scenic byway at Moose, turning left off the highway and crossing the Snake River to arrive in this small settlement.
Moose
It is worth visiting spending time in Moose for Doonan's Chuckwagon; the Church of Transfiguration, a tiny wooden church with a large window behind the altar framing stunning views of the Grand Teton mountains; and Menors Ferry historic district).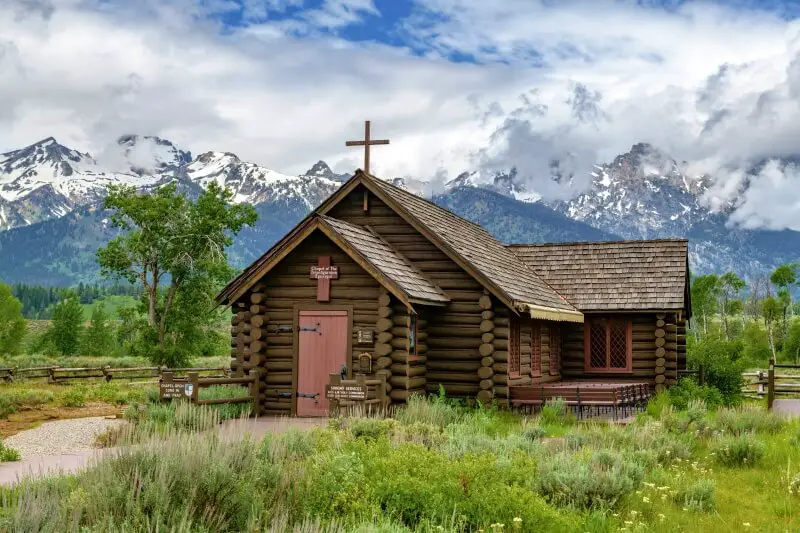 After leaving Moose, drive north along Teton Park Road past Windy Point Turnout and Taggart Lake Trailhead to arrive at Jenny Lake after about 7.7 miles (approx. 15 minutes if you don't stop). Jenny Lake is the starting point for many great hikes (see my post on The Best Hikes in Grand Teton NP for more details) plus boat trips on the lake.
Jenny Lake
From Jenny Lake, continue north on Teton Park Road for 3.3 miles. This is about six minutes without stopping, but you should stop at the Cascade Canyon turnout of direct views into the canyon.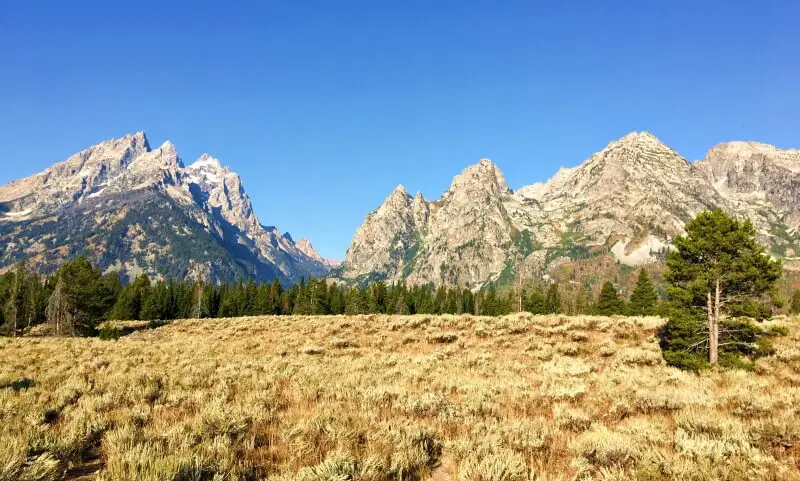 3.3 miles north of the Jenny lake is the Jenny Lake Loop road to the left. This is a 4-mile one-way road south heading south via the Cathedral Group Turnout (definitely worth a stop, as the Cathedral Group of peaks are some of the most stunning in the park).
Other stops include the trailheads for Leigh and String Lakes (see Best Hikes in Grand Teton National Park for full details of these hikes), the Jenny Lake Lodge (the grand jewel of the lodges on the Park – expensive but worth a splurge) and the Jenny Lake Overlook. This is definitely best in the morning, as the sun is behind it in the afternoon, causing a silhouette/ bad lighting for photography.
Signal Mountain
You will eventually get back to Teton Park Drive. Turn left/ north and repeat this 2.3 miles/ 3.7 km of the main loop drive. From the north end of the Jenny Lake Loop road, it is 6 miles/ 9.7 km (8 minutes with no stops) to the turn off to Signal Mountain to the right. On the way are Mountain View Turnout, Mount Moran Turnout and Potholes Turnout.
You can hike from Signal Mountain Lodge up to the peak (worth it if you like to hike, see details of this here), but you can also drive. Jackson Lake Overview is a great place to see the sunrise, as you will see the first rays of dawn shining on the mountains, turning Teton Peak a brilliant orange color, then turning the mountains a beautiful pink and orange behind Jackson Lake.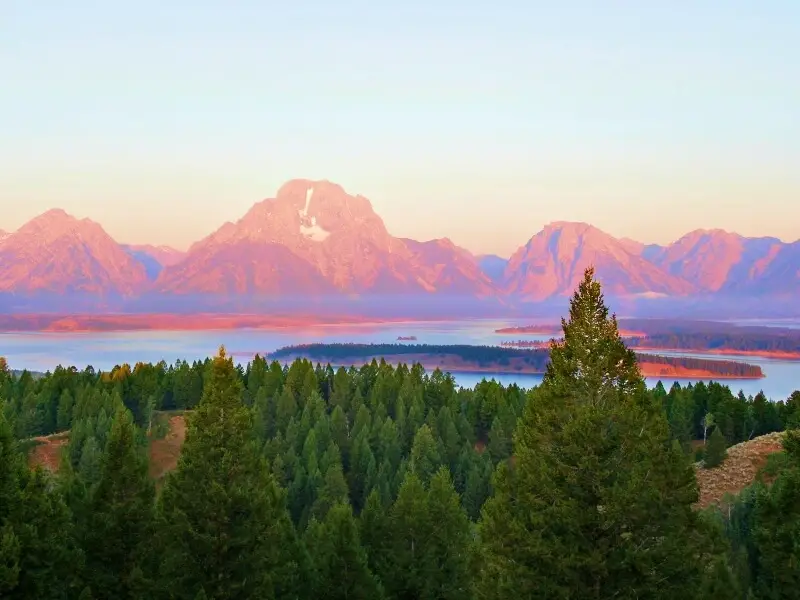 If you are doing the drive in the afternoon, there is a viewpoint from the top of the mountain over Jackson Hole valley and the Gros Ventre Mountains that is different from the mountain views of the Grand Tetons, but beautiful nonetheless.
Back on the main Teton Park Road, it is another 1.2 miles/ 1.9 km north to Signal Mountain Lodge, where there is access for boating, dining and accommodations.
Continuing north for another 1.7 miles/ 2.7 km is Jackson Lake Dam.
1.3 miles from there is the junction with John D Rockefeller Junior Parkway (Route 191). Turn right.
Outer Road
If you are coming from Yellowstone, this is where you will join the 42-mile loop. Grand Teton National Park is technically just the inner road, but let's continue in a clockwise direction along the outer road.
Oxbow Bend
It is just another 1.2 miles/ 1.9 km to Oxbow Bend, one of the most famous scenic viewpoints in the Park. In the early morning, this bend of the Snake River often provides a perfect reflection for the mountain views.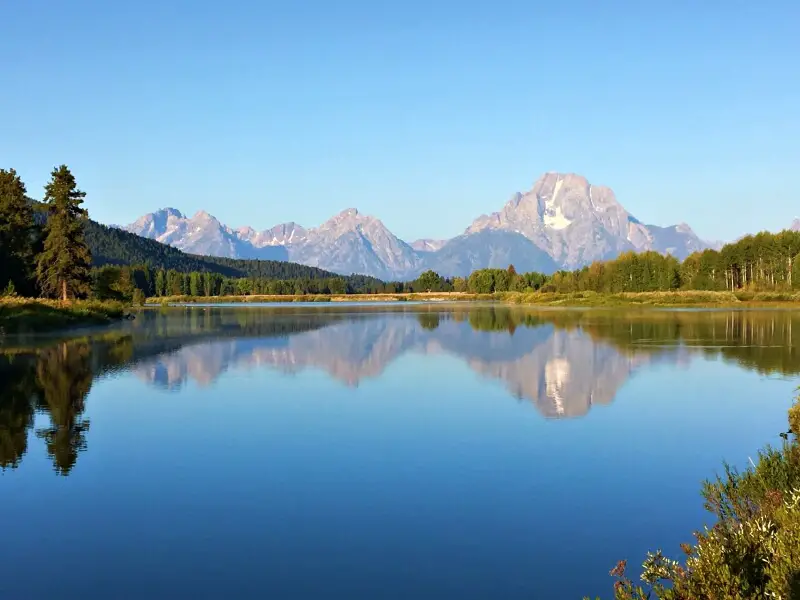 5 minutes – 2.5 miles/ 4 km from this is the Moran entrance to the Park. Just past this is the junction to Highway 26/287 which is where you will come from if you come from Dubois.
Turn right on to US 26/ Highway 89/ 191. This road run roughly parallel to Teton Park Road, but further away from the mountains. Most of this stretch goes through farmland, and there are good chances of seeing herds of bison in the fields along the roadside. 2.3 miles/ 3.7 km along is Elk Ranch Flats turnout on the right, which is worth a quick stop.
Another 2.1 miles/ 3.4 km is Cunningham Cabin Historic Site down a short road to the right.
Snake River Overlook
A further 4.2 miles/ 6.8 km takes you to Snake River Overlook, also on the right. This is a must-do stop. This is the place where the famous photographer Ansel Adams took many of his most iconic photos of the mountains. The view is truly stunning – with a lovely bend of the Snake River in the foreground below you and the mountains forming the perfect backdrop. This is a great spot to see the sunrise. The sun rises behind you, but the mountains glow in the first beams of early morning light.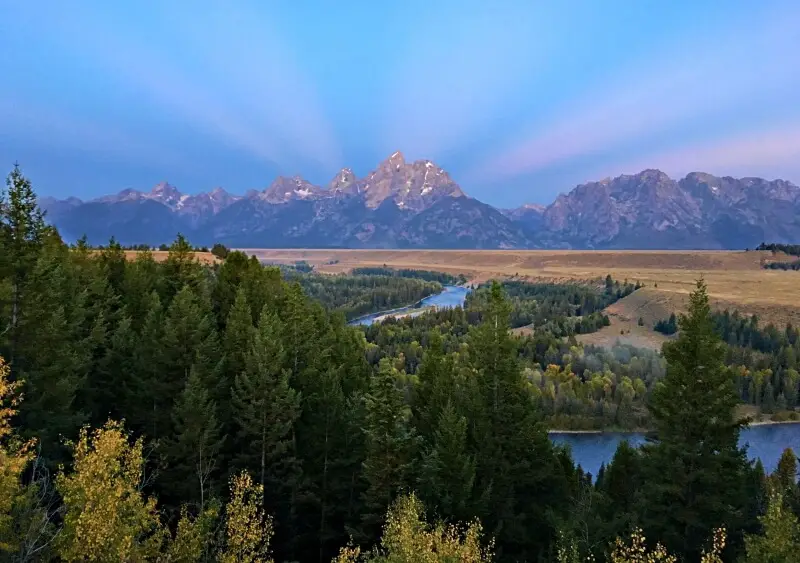 Schwabacher Landing
Another 3 miles/ 4.8 km along is Teton Point lookout on the right, with more great views. Then 1.3 more miles/ 2 km is the turnoff to Schwabacher Landing. Keep a careful eye for the sign. You will turn off on to a dirt road and it is a short drive to the end of the road. From there, you can do short walks along the Snake River. Moose are commonly seen here, and if you are very lucky, you can get the classic shot of a moose with water dripping down its chin framed by the Grand Teton ranges. There is also a beaver dam and plenty of birds. Photography is best in the morning, but it is also a great place to come in the late afternoon to see the wildlife and birdlife.
Back on the main road, Glacier Point Turnout is 0.6 miles/ 1 km further down the road, then Blacktail Pons Overlook another 2.1 miles/ 3.4 km along, down a short side road to the right. Just past this is Antelope Flats Road to the left.
Mormon Row
Turn down Antelope Flats road to get to Mormon Row. Mormon Row is a major historical site in the area. Originally settled by a group of Mormons in the mid 1800's, it became a farming community. Today, there are six main buildings, a drainage system, barns, fields and corrals. It is most famous for the photogenic Moulton Barn, built in 1935.
1.6 miles/ 2.5 km down the road, take the first right. Moulton Barn is 0.3 miles/ 0.5 km down the road on your right. If you have seen photos of a picturesque barn with the Grand Teton mountains behind it, then chances are it is Moulton Barn. This is maybe the single most iconic shot of the mountains. For the classic photo, there is a spot (worn bare) near the fence off to the left and in front, some distance away from the barn. This spot frames the barn perfectly.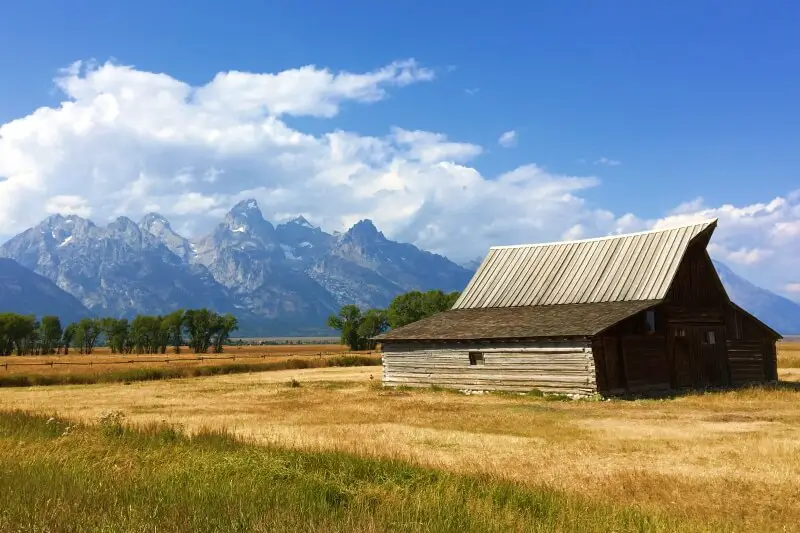 Back on the main road, it is 1.2 miles/ 2km to the junction with Teton Park Road to the right. This will take you back to Moose. If you entered the scenic road loop from Yellowstone or Dubois, turn right to continue around the loop. If you came from Jackson and want to return, then keep going straight.
Safety when driving the Teton scenic loop
There isn't a huge amount of traffic on this road and the road is well maintained in season. However, there is some traffic AND you may encounter large animals. Therefore, always use the turnouts to pull over and take photos. It can be dangerous pulling over to see wildlife just along the side of the road.
At night, drive slowly and keep an eye out for animals. We saw black bears on the road at late dusk. Elk, bison, mule deer and pronghorn antelope also frequently cross roads and moose even use the roads to travel along at times, so be careful.
Travel Insurance for Grand Teton National Park
You do NOT want to hit a moose with your car (you will be the loser in that 'fight'). Even animals that are smaller than a moose (which is BIG) will do damage to your rental car and if you don't have insurance, it will be a very expensive encounter. Travel insurance covers other things too such as a lost or damaged camera and illness, so you should never travel without good travel insurance. If you want to learn more about travel insurance, read my Guide to Buying Travel Insurance.
A good insurance option is World Nomads. You can book it online or get a quote for your trip right here:
Planning and Packing for Grand Teton National Park
I always use a combination of blogs and guidebooks to plan my trip. Although I usually use Lonely Planet guidebooks, for my Grand Tetons/ Yellowstone trip, I preferred the Compass American Guides: Yellowstone and Grand Teton National Parks by Brian Kevin. Most of the book is about Yellowstone, but there is a sizable section on Grand Teton National Park too, with lots of practical information.
When you are ready for your trip, check out my Essential Packing List. And if you are planning to do some hiking (you should – check out the best hikes in Grand Teton National Park), make sure you have everything on my Day Hikes Essentials list.
Books about Grand Teton National Park
If you are just starting to plan your trip; have planned it and can't wait to start it; are looking for some reading material for your Grand Tetons vacation; or are back from your trip and want to keep your vacation memories alive, there is no better way to do it than by reading books about the area. My top picks for books about Grand Teton National Park are:
Wapiti Wilderness (1987), Margaret Murie and Olaus Murie
The Muries lived in the Tetons for thirty-seven years and document their personal stories in alternating chapters. Maragret writes about their lives camping and travelling in the wilderness and Olaus writes about his work as a biologist studying wapiti (elk) and other animals. It's a fascinating insight into life, wildlife and the inhabitants of Jackson Hole and the Teton mountains. The book includes drawings and photos. This is an interesting introduction and insight into the region.
Teewinot: Climbing and Contemplating the Teton Range (2000), Jack Turner
The peaks of Grand Teton National park are popular with climbers and Teewinot is one of the most beautiful. Jack Turner describes in detail the mountain, its weather, terrain and, most importantly the climbs he and fellow climbers do. I am not a climber, so this was a safe way to experience the thrill from the safety and comfort of my sofa! I didn't want to rush out and become a climber, but I do appreciate the opportunity to gain a fascinating look into the world of climbers and see the Tetons from a different perspective.
A Place Called Jackson Hole (1999), John Daugherty
This book, commissioned by the National Park Service, is a history of the people of Jackson Hole. It starts with the prehistoric native peoples, and moves on to include fur trappers, explorers, prospectors, pioneers and homesteaders, cattle ranchers, conservationists and even tourists. This is a nice balance because so much you read is about the landscape and the wildlife. Learning about the human history gives a different perspective and depth to your experience when visiting the area.
---
Enjoy the drive!
Do you have any adventures in Grand Teton National Park to share? I'd love to hear them. Comment below.
If you liked this post, please share the love and Pin it to your National Parks board!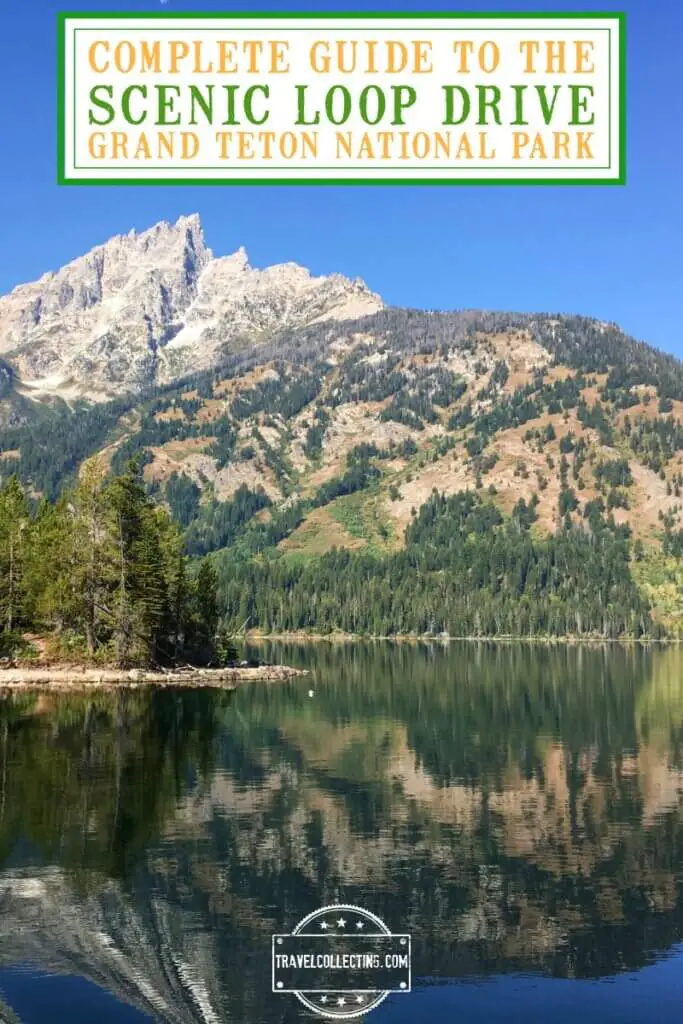 Read more posts about Grand Teton and Yellowstone National Parks:
Read about other great U.S. national park hikes:
---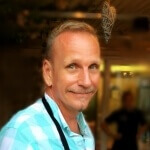 James Ian has traveled to 82 countries and all 7 continents. He is passionate about experiential travel, i.e. meaningful travel that actively engages with the environment and culture. He helps people have similar experiences that involve active participation in activities and festivals; engaging with the local food and handicrafts through lessons and food tours; and interacting positively with environment by hiking, riding, rowing, diving and low/no impact animal encounters.
---
Travel Collecting is a participant in the Amazon.com Services LLC Associates Program, an affiliate advertising program designed to provide a means for sites to earn advertising fees by advertising and linking to amazon.com. Amazon and the Amazon logo are trademarks of Amazon.com, Inc. or its affiliates.