I walk along a narrow path.  On my right side is a steep sandy-colored cliff.  On my left is a group of crazy towers made of stone.  One close by has a cube of sandstone perched on top, looking like a rendition of Thor's Hammer.  A silent city of these pillars stretches away to my left.  The path I am following curves downwards, deep into this forest of orange and salmon stone and sand.  This is a crazy landscape.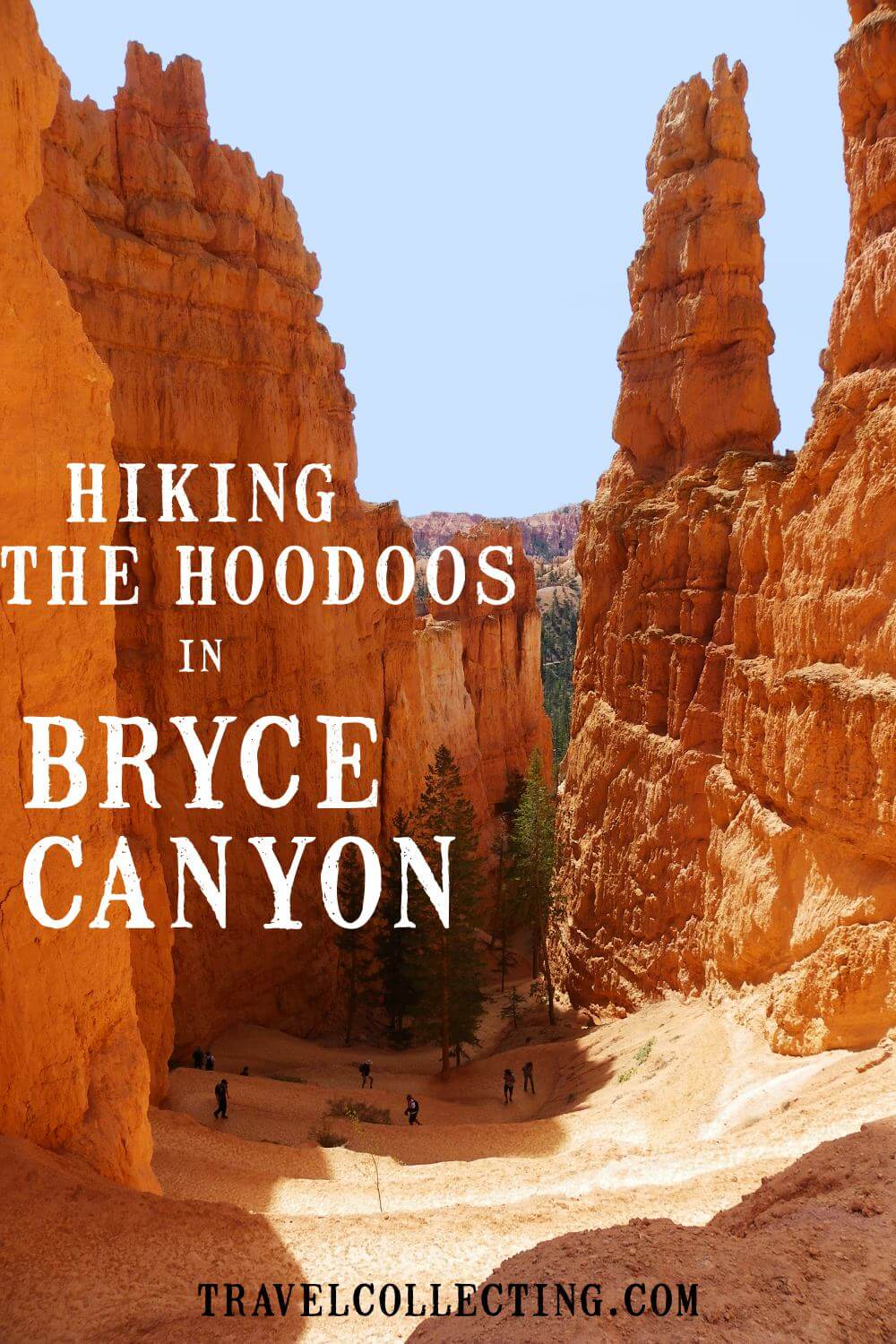 THE INSPIRATION: Best hikes in Bryce Canyon National Park
I am in Bryce Canyon NP, hiking among the hoodoos.
The national parks in the United States have so many fantastic hikes (read more posts about hikes I've done here), and I was looking forward to hiking the Narrows and also canyoneering in Zion National Park after Bryce, but there is something special about Bryce Canyon and its hoodoos.
What is a hoodoo?
So, you've heard about Bryce Canyon hoodoos.  It's a cute word, right?  But what is a hoodoo?  According to Wikipedia, a hoodoo is "a tall, thin spire of rock (with variable thickness) that protrudes from the bottom of an arid drainage basin or badland."  They are typically found in desert areas.
Overview of Bryce Canyon
You will first drive through Bryce Canyon City (see Where to Stay below), then enter the park and get to the Visitor Center.  Then you get to Bryce Amphitheater.  This is the main concentration of hoodoos and is where the lodge and the campgrounds are.  A shuttle bus is available in this area (see Getting Around below).  A spur road off the the west goes to Bryce Point.  The main road continues about 18 miles (about a 40-minute drive) to Rainbow Point, with many lookouts along the way.  That's it.  It's a fairly small, self-contained park, but spectacular.
Seeing the Bryce Canyon National Park hoodoos is an incredible sight, and your first view of the "Silent City", as it nicknamed, is truly awe-inspiring.  Inspiration Point or Bryce Point are the best spots for this overview.  However, hiking in Bryce National Park down among the hoodoos is the best way to experience the park.  There are several Bryce hikes you can do, but here is my choice for the best trails in Bryce Canyon:
Best hikes at Bryce Canyon
This is the most popular of the Bryce Canyon day hikes and my personal favorite.   The Queens Garden/ Navajo Loop is 2.9 miles/ 4.6 km and takes about 2-3 hours.  It has a moderate difficulty level, but I did it when I was carrying a few extra pounds and was fine – my trick when hiking is to stop often and take a million photos.  That way I rarely get out of breath.
Many people recommend doing it in an anticlockwise direction, because the steepest section is a descent, but the national park's service recommends doing it in a clockwise direction because it is safer and the views are better.  I did it this way, and I would recommend it.
Start at Sunrise Point and take the Queen's Garden Trail.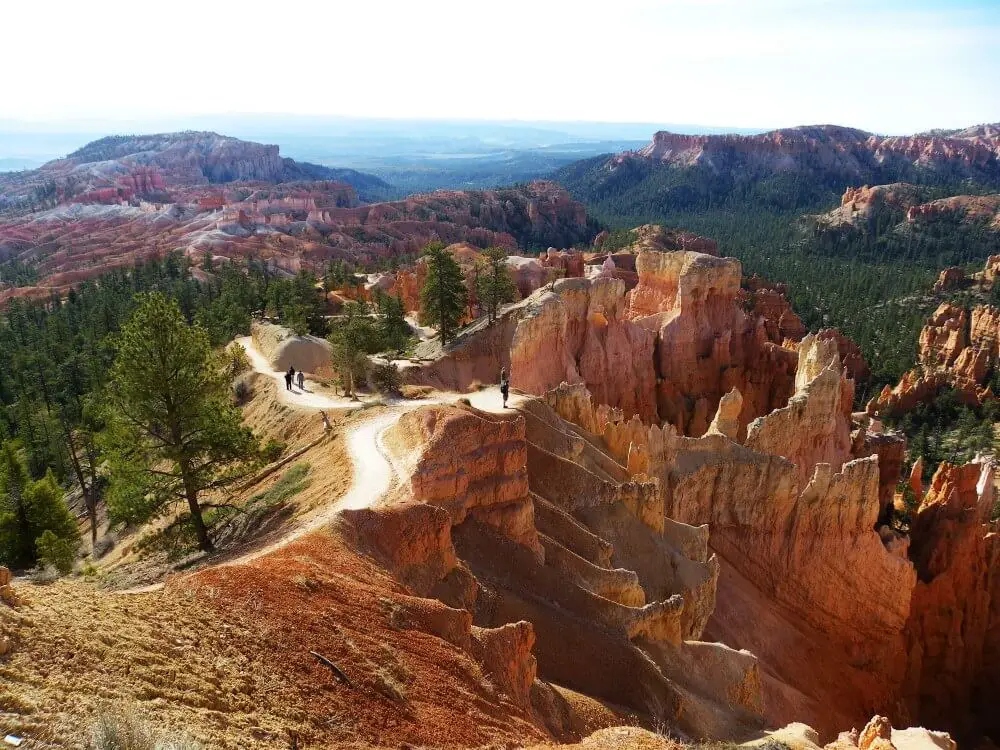 The first section of the trail is (0.9 miles/ 1.4 km) to the Queen's garden Junction.  There are plenty of cool hoodoos here, and the path actually goes through archways cut into outcrops and the scale is a little overwhelming (in a good way).
As you near the bottom of the amphitheater, you enter a ponderosa pine forest, that provides a bit of a respite from the heat.  There is a short spur path from the main path to the Queen's Garden.
The official end of the Queen's Garden trail is the hoodoo called Queen Victoria.  It supposedly looks like a statue of Queen Victoria – there is a photo of her in a similar pose nearby, so you can compare (or find the right hoodoo – it's not the only hoodoo around, and the resemblance is not immediately clear and easy to find).
Back on the main trail, continue another 0.8 miles/ 1.3 km to a 4-way junction.  If you hear horses, it's because the horse trail passes near here.  From here, one of the trails goes off the Peekaboo Trail (about 3 miles), another of Bryce National Park best hikes.
However, for this hoodoos hike, take the Navajo Loop trail, and there are two choices back up to the rim for which side of the loop you go to get to Sunset Point.   You can go via Two Bridges (0.6 miles/ 1 km) or via Wall Street (0.7 miles/ 1.1 km).  The Wall Street section is a narrow canyon and is perhaps the more famous of the two, but is only open in summer.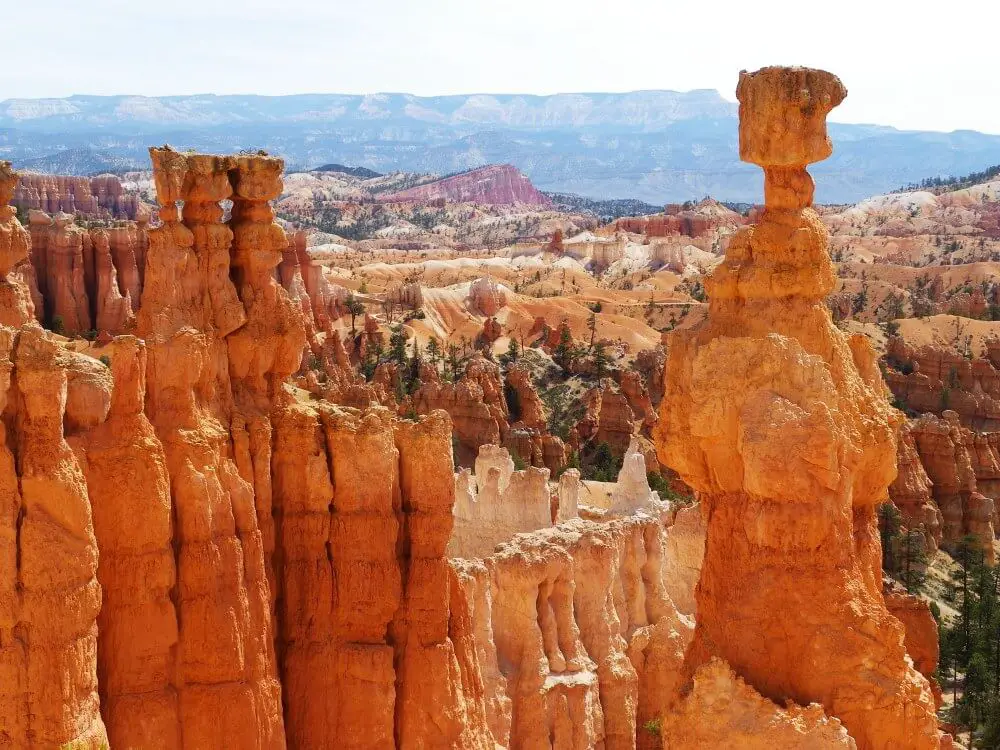 I took the Two Bridges because there are better views of Thor's Hammer and some of the other more famous hoodoos, that you don't get to see as well in the Wall Street section.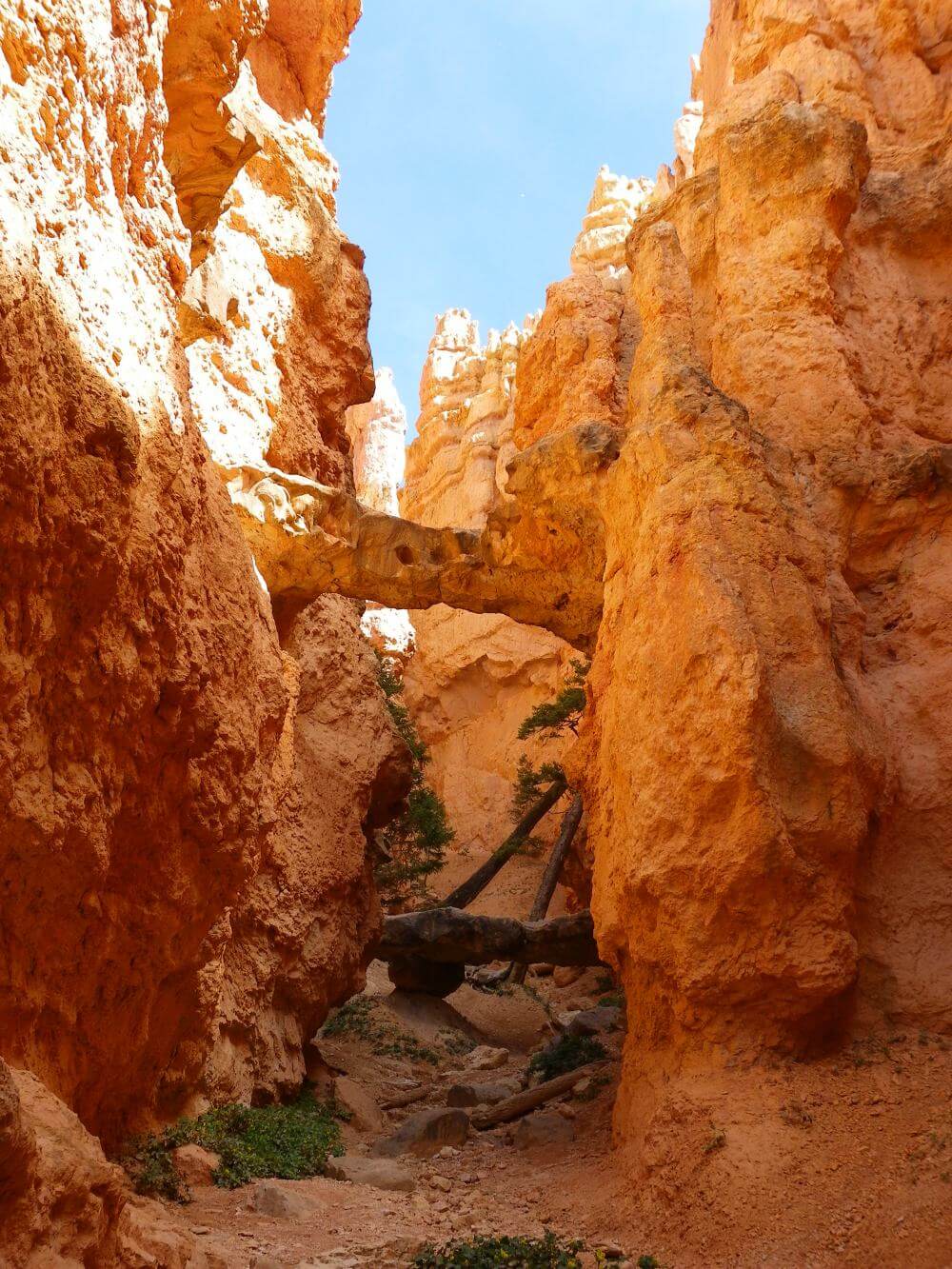 Either way ends at a series of incredibly steep switchbacks.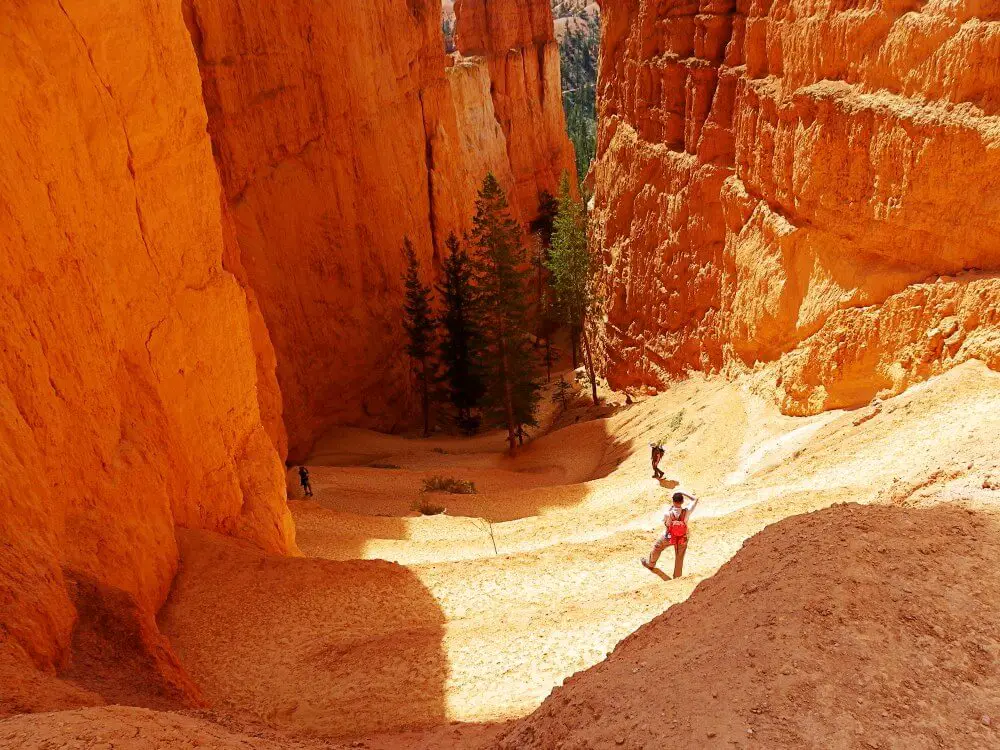 The narrow canyon here is very steep, but we took so many photos that I never got out of breath, even though the ascent (or descent if you're going the other way) is about 650 feet/ 198 m.  There are lots of great views of the hoodoos in this section.
Then it's an easy 0.5 miles/ 0.8 km along the rim from Sunset Point to Sunrise Point to finish the loop.
Queen's Garden Trail Bryce Canyon
This is an out and in hoodoos trail, but the views are different each way, so it will not seem like you are doing the same trail twice.  It's the easiest of the trails (moderate level of difficulty) that go down into Bryce Amphitheater. The trail is 0.9 miles/ 1.4 km each way (1.8 miles/ 2.9 km return) with an elevation change of 357 feet/ 109 m and takes about 1-2 hours.  The trail goes from Sunrise Point to the Queen Victoria hoodoo in Queen's Garden.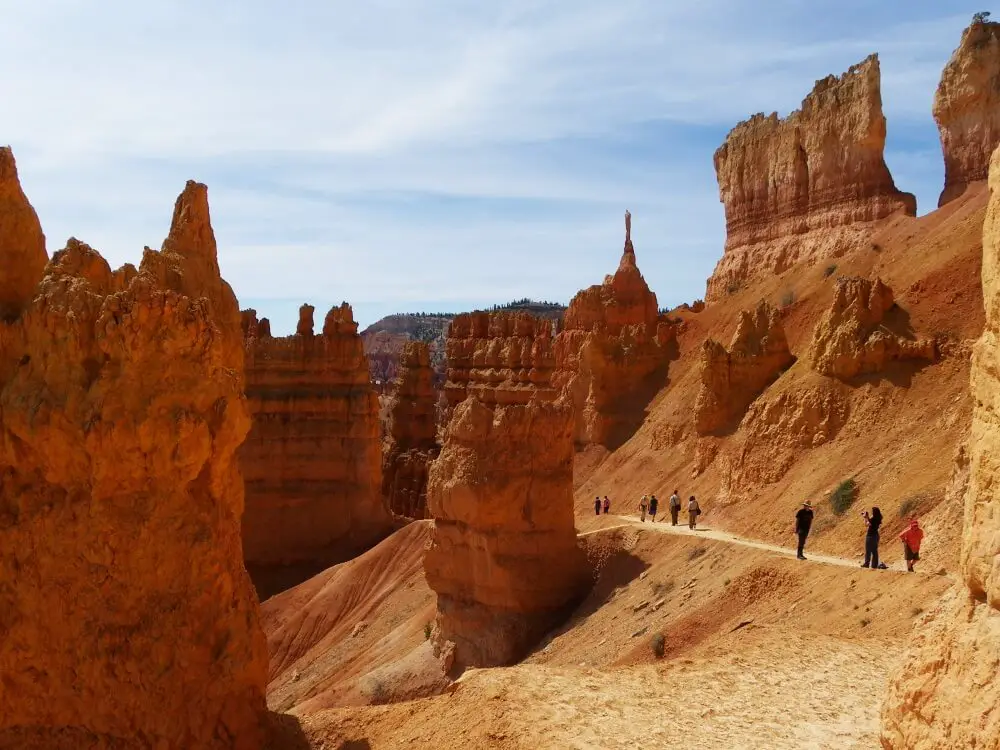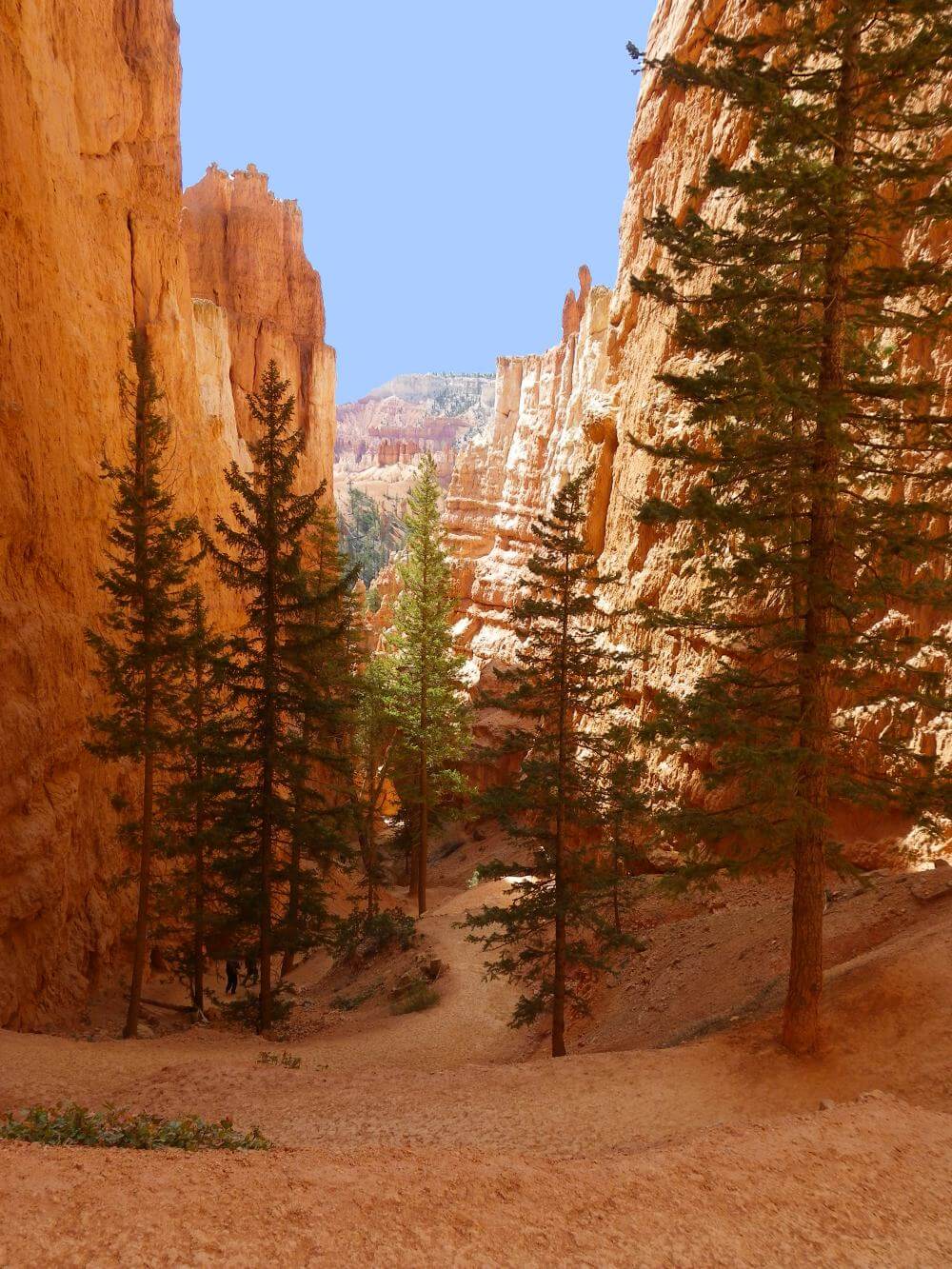 Another of the top hikes in Bryce Canyon, this is a moderate hike that is 1.3 miles/ 2.2 km with an elevation change of 550 feet/ 168m.  It takes 1-2 hours. Note that the Wall Street section is closed in winter, so the whole loop is only possible in summer.  Most people tend to do this in an anticlockwise direction, but the national park service recommends doing it clockwise because it has better views and is safer that way.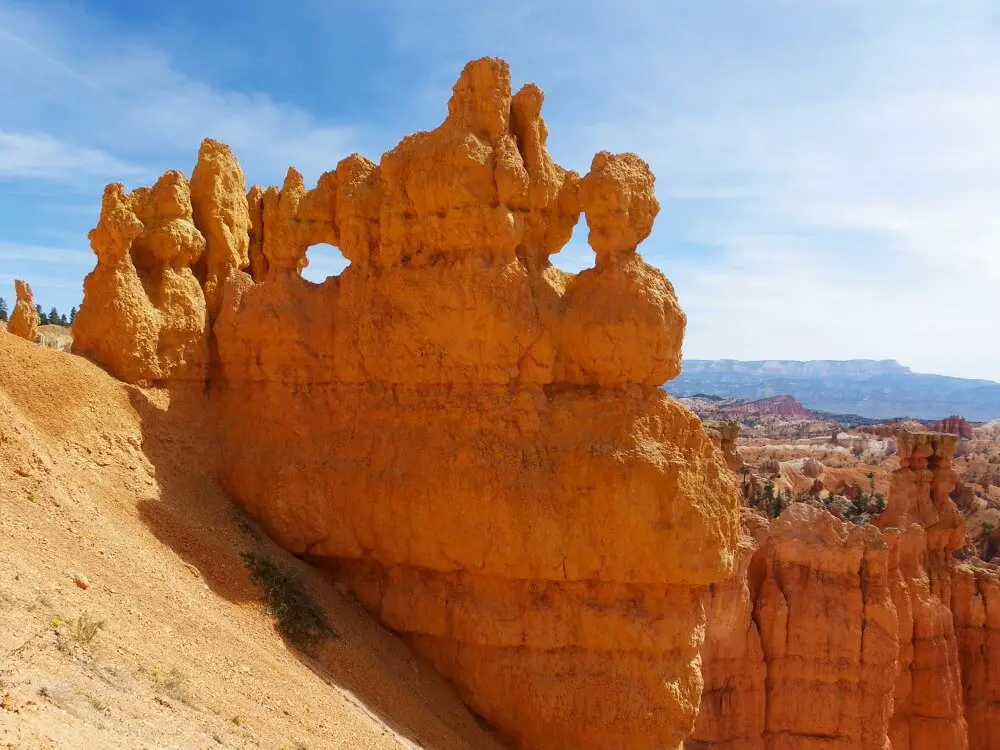 Rim Trail Bryce Canyon
The Rim Trail in Bryce Canyon is another Bryce Canyon must do hike.  It goes all the way from Bryce Point to Fairyland Point.  It can be broken into sections connecting the best view points of the hoodoos from above.
Bryce Point – Inspiration Point: 1.5 miles/ 2.4 km; closed in winter. Bryce Point has arguably the best views of the "Silent City", as the main amphitheater of hoodoos is called.  In addition to the hoodoos, you can see landscape features such as the Aquarius Plateau and the Sinking Ship.  We got up early to see the sunrise from Bryce Point and to be honest, the colors were a little disappointing.  It got better after the sun had been up for a little while but the light was still soft.
Inspiration Point – Sunset Point: 0.7 miles/ 1.2 km. The view from Inspiration Point is similar to Bryce Point, but the hoodoos are closer, so you can see more details.
Sunset Point – Sunrise Point: 0.5 miles/ 0.8 km. This section is paved.
Sunrise Point – Fairyland Point: 2.4 miles/ 4 km
Sunset Point to Sunrise Point Trail Bryce Canyon
This is the easiest trail and is one of the best hikes in Bryce Canyon, even though it doesn't go down in among the hoodoos.  It is 1 mile/ 1.6 km return (0.5 miles/ 0.8 km one way) of paved path with just a 34-feet/ 10-meter elevation change.  It takes about an hour and is wheelchair accessible.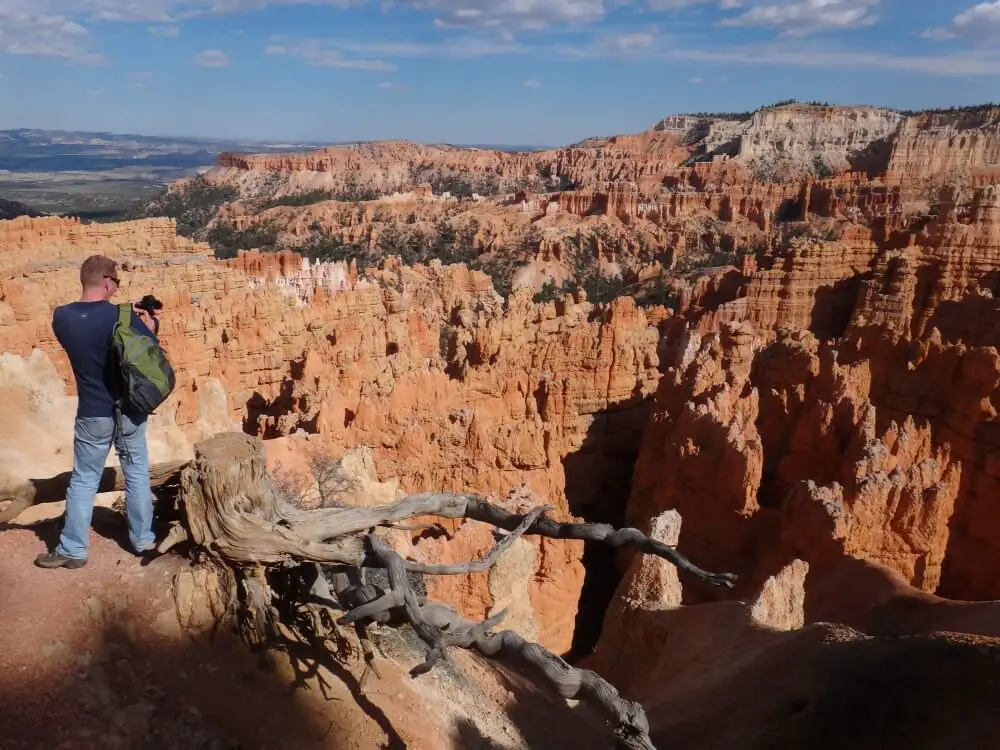 Peekaboo Loop Trail Bryce Canyon
Another of the top Bryce Canyon hikes that goes down into the valley and through the hoodoos.  This goes past the Wall of Windows.  It can be taken as a stand-alone trail from Bryce Point or added to the Navajo Loop Trail from Sunset Point.
Bristlecone Loop
The last of my must do hikes in Bryce Canyon is this very easy hike from the end of the road at Rainbow Point or Yovimpa Point, which is on the other side of the parking lot.  It's a one-mile loop and has less than 200 feet / 60m elevation change.  It's basically a stroll through bristlecone pines, blue spruce and fir trees, with occasional views of the canyon below.  Pleasant.  This is the highest part of the park (9,100 feet/ 2,775 m), so it can be cooler than the rest of the park and is often closed in winter and early spring because of the snow. There's a chance to see pronghorn deer here too.
The verdict: Best Bryce Canyon hiking trails
The Bryce Canyon National Park trails are all great.  Seeing the hoodoos from above is breathtaking and the overall view of Bruce Amphitheater from above is spectacular.  However, hiking down into the amphitheater and being surrounded by the hoodoos is magical.  I especially loved the Queen's Garden/ Navajo Loop trail and walking through the hoodoos and seeing them up close.
TC 'experiential travel' score: Bryce Canyon National Park hikes
| TOTAL TC SCORE | 91 |
| --- | --- |
| Authenticity of experience | 18 |
| Quality of interaction with culture/ environment | 19 |
| Engagement level | 18 |
| Enjoyment | 18 |
| Difficulty to arrange | 18 |
---
PRACTICAL TIPS: Bryce Canyon trails
Please note that some of the links below may be affiliate links.  If you make a purchase through these links, I earn a small commission at no additional cost to you. Read my Disclaimer for more information.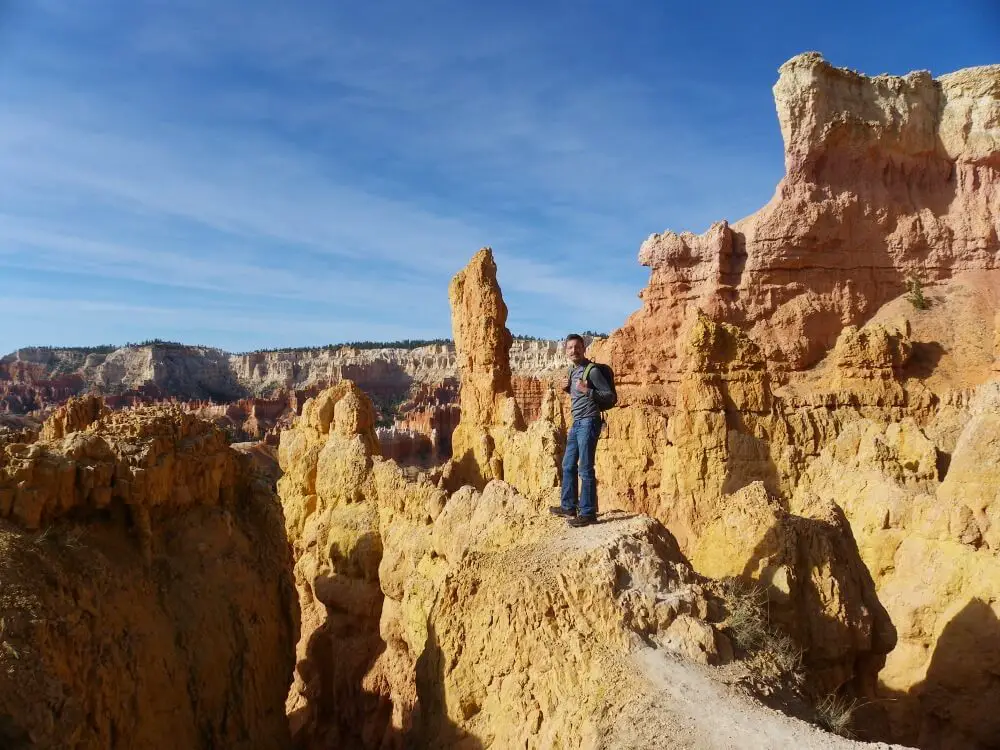 The Experience: The best hiking trails in Bryce Canyon
It's possible to do all or just one of the trails described above.  If you prefer to take it easy, the short walk between Sunset Point and Sunrise Point is not strenuous and gives incredible views of the hoodoos below.  If you like to hike, and have a moderate level of fitness, then the Queen's Garden and/ or Navajo Loop Trails get my vote.  If you have even more time, the longer trails give more of the same experience.  Leave time for a drive to rainbow Point and the easy Bristlecone Loop trail and all the lookouts on the way back to the main area.
Other things to do in Bryce Canyon
In Bryce Canyon City, there is a BBQ Dinner & Western Show at Ebenezer's .  This is traditional Hollywood-style western entertainment with lasso tricks and western music, plus dinner with several meal options.  It's a well-oiled machine – kind of tacky, but fun and worth doing.
You can take scenic flights from the nearby tiny Bryce Canyon Airport.
Ruby's also has a 1.5-hour horseback riding experience.
 Where is Bryce Canyon National Park and what is the currency?
Bryce Canyon is in the Southwest of the United States, so the currency is the U.S. dollar (USD).
Check the latest exchange rate here.
Visa requirements for the United States
Check visa requirements long before you plan to travel so you can get a visa if you need one without stressing about running our of time.
When is the best time to visit Bryce Canyon National Park?
The Bryce Canyon elevation is between 8,000 to 9,000 feet (2,400 to 2,700 m) along the rim.  It's much higher than nearby Zion NP and consequently, it can snow a lot here in winter and the road going beyond the amphitheater area can be closed.  Accommodations are also much more limited between November and March.
Bryce Canyon Temperatures
January                15°F – 37°F | -9°C – 3°C
February             17°F – 39°F | -8°C – 4°C
March                  23°F – 45°F | -5°C – 7°C
April                     29°F – 54°F | -1.5°C – 12°C
May                      37°F – 64°F | 2.5°C – 17.5°C
June                     45°F – 75°F | 7°C – 24°C
July                       53°F – 80°F | 11.5°C – 27°C
August                 50°F – 77°F | 10°C – 25°C
September         42°F – 70°F | 5.5°C – 21°C
October               32°F – 58°F | 0°C – 14.5°C
November          23°F – 45°F | -5°C – 7°C
December           15°F – 36°F | -9.5°C – 2°C
Summers get very busy and the main Bryce Canyon hikes can get crowded and winters are very cold, so late spring and very early fall are good times to go.  I went mid-May and even though mornings were very cold, it wasn't too crowded and day time hiking temperatures were very pleasant.
How to get to Bryce Canyon National Park
The nearest major airport to Bryce Canyon National Park is Las Vegas McCarran International Airport.  The lines for security when you depart can be REALLY long here – I saw many people miss their flights, so get there early just in case, when you are due to leave.
Compare prices on flights to Las Vegas with Skyscanner
When you arrive, you will need to rent a car for the drive to Bryce Canyon National Park. RentalCars.com has good prices.  Book a car with Rental Cars here.
The drive from Las Vegas supposedly takes four hours, but it took me a bit over five – but I took my time and stopped for some photos along the way.  Most of the trip is a direct line north out of Las Vegas on Route 15.  The fastest route has you staying on Route 15 past the first signs and taking 20, then turning right on 89.  I took the more scenic (and not much slower) route 14 through the mountains and then left on 89.  This route can be closed in winter due to the snow, but there is beautiful scenery, some hoodoos and a short tunnel through a rocky outcrop that is cool to drive through. Click here for driving directions.
It's common to combine a trip to Bryce Canyon with Zion National Park also.  How long does it take from Bryce Canyon to Zion?  About 1.5 hours.  For directions from Bryce Canyon to Zion, click here.
Getting around Bryce Canyon National Park
You can drive through most of the park, but the main area around Bryce Amphitheater gets very crowded and parking in insufficient, so if you are sticking to this area, the shuttle bus is the best option.  We caught it from nearby Bryce Canyon City to the Visitor's Center and then to Inspiration Point when we first arrived, and it was dead easy to use.
How much does the Bryce Canyon Shuttle cost?
The shuttle is free with your national park admission (which is $35).
When does the Bryce Canyon shuttle run?
The shuttle bus schedule for 2019 is:
| | |
| --- | --- |
| April 11 – May 9 | 8:00 AM to 6:00 PM |
| May 10 – September 29 | 8:00 AM to 8:00 PM |
| September 30 – October 20 | 8:00 AM to 6:00 PM |
There is no shuttle October 21-April 10.
The shuttle runs every 15 minutes.  The whole route takes about 50 minutes.
Bryce Canyon Map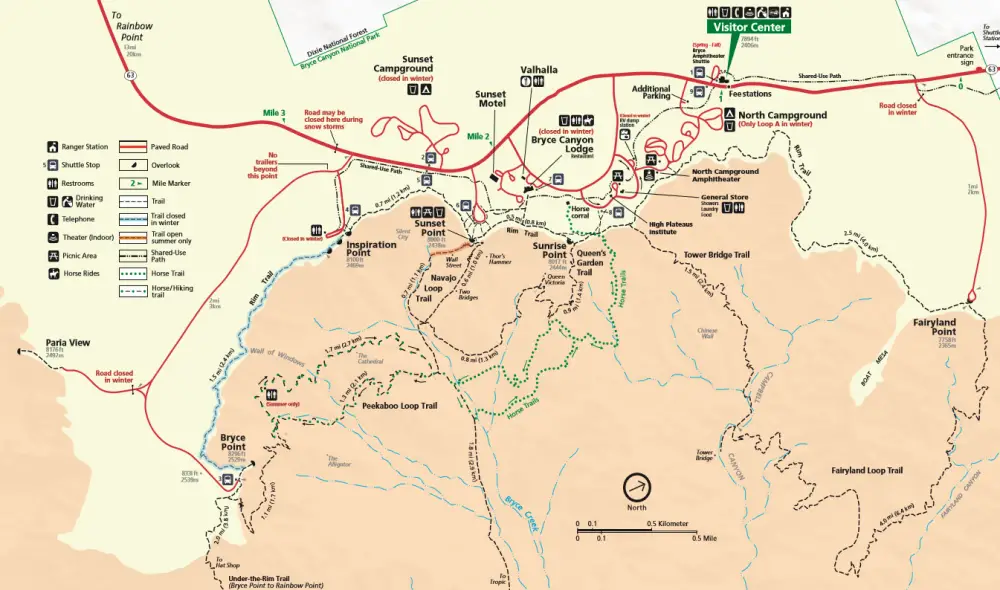 Where to stay in Bryce Canyon
There are two areas of accommodation – within the national park and just outside it in the euphemistically-named Bryce Canyon City.  Other accommodations are a little further afield.
Where to stay inside Bryce Canyon National Park
North Campground
North campground is the only one that is open in winter (loop A is open in winter)
For Bryce Canyon campground reservations, choose this option here.
Sunset Campground
Sunset campground is closed in winter.  It is open April 15-October 31, 2019.  There are no reservations in 2019 due to planned work – it is first come, first served, so get there early to be safe.
The Lodge at Bryce Canyon
The Lodge is closed in winter, though the Sunset Motel is open for select dates in winter.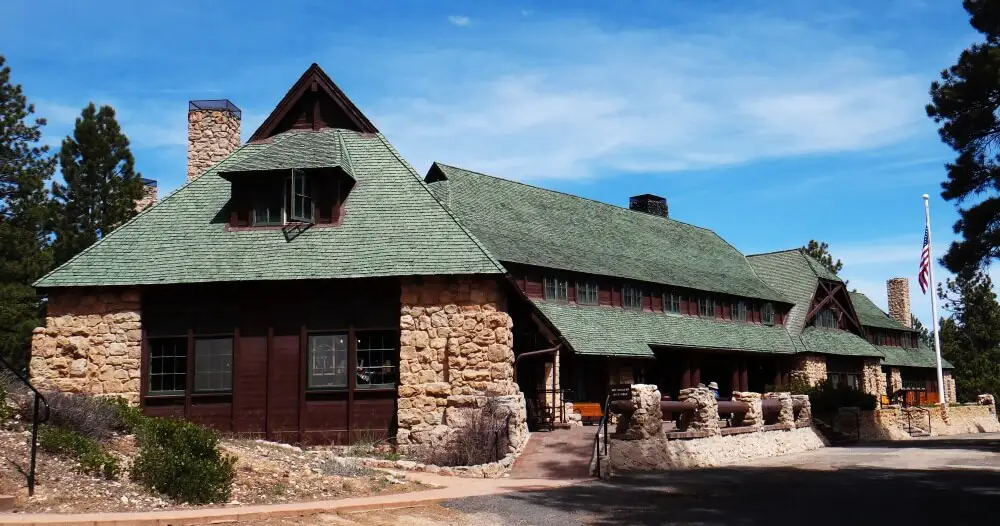 There are four types of accommodations.
Cabins
We stayed in a cabin and loved it.  They are organized in groups of two or four, and there is a connecting door, if you're with a big group.  Rooms have two queen beds.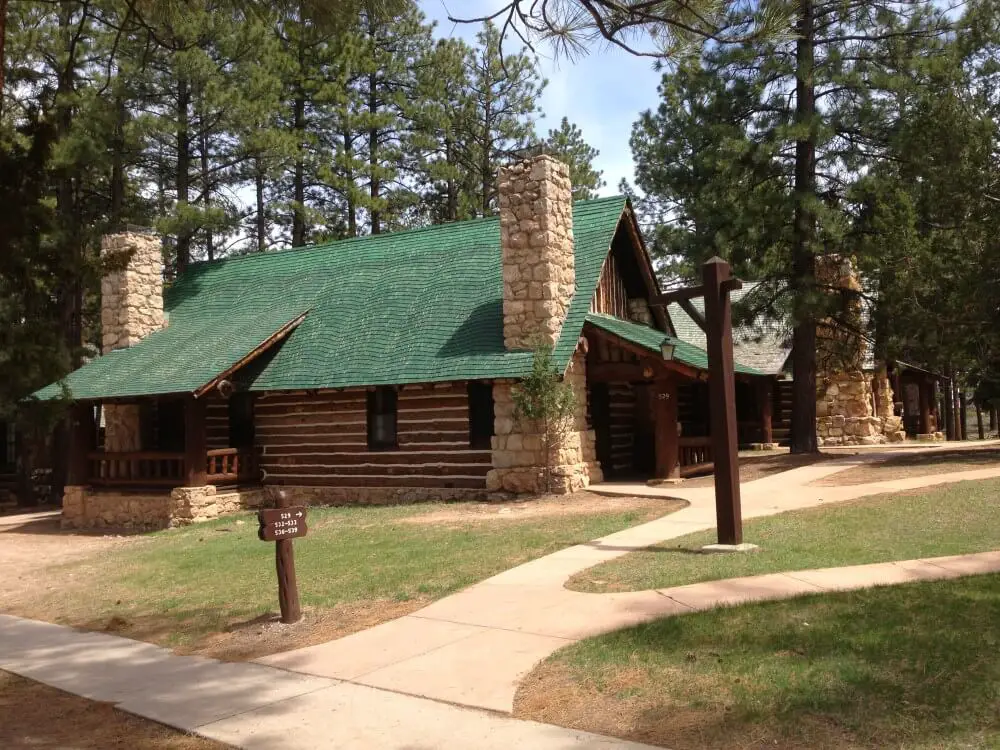 Sunrise & Sunset Motel Rooms
The Sunset Motel open in winter 11/4/18 – 1/1/19 and 3/8/19 – 3/21/19.  They are basic motel-style rooms, but very close to the rim of Bryce amphitheater.
Guest Suites
There are four rooms in the main lodge, including three suites.  There is a king bed, plus double sofa bed and a rollaway, with private bathroom.
Studio
The other room in the main lodge is a studio with a queen bed.
Book the Lodge at Bryce Canyon here with Forever Resorts, who run the lodge.
Where to stay near Bryce Canyon NP: Bryce Canyon City
This is definitely not a city – but it is a somewhat charming area of accommodation and restaurants that's sole reason for existence is to service travelers visiting nearby Bryce Canyon. It's about three miles from the park – the closest accommodation except the national park lodge and camping, and there is a shuttle stop there.
There are three hotels and a campground – and not much else.
Best Western Plus Ruby's Inn
This is the big player in town and a comfortable and economical option.  There are multiple motel style rooms.  We stayed here for our first night and it was nothing flash, but comfortable.  There is a western-style theme to the architecture, and there is a restaurant, general store and Ebenezer's western dinner show.  They also arrange tours.
Best Western Plus Bryce Canyon Grand Hotel
The more upscale of the hotels in Bryce Canyon City.  There's a pool, gym and breakfast is included.
Book Bryce Canyon Grand Hotel here.
Bryce View Lodge
Near Bryce Canyon Grand, across the road from Ruby's.  basic motel-style rooms.
Ruby's Inn RV Park and Campground
Just what it sounds like. Book here.
Check out more hotels in Bryce Canyon City here.
Planning and packing for Bryce Canyon National Park
I hope this blog is a useful resource for you when planning your trip to Bryce Canyon.  You can also read about hiking the Narrows and canyoneering in nearby Zion National Park.  However, to get more information about the Southwest of the USA, I like to use the Lonely Planet as a supplementary resource.  Buy the Southwest USA Lonely Planet here.
When you are ready for your trip, check out my Essential Packing List.
Additional consideration: Travel Insurance
My aim is to not only inspire you to have amazing experiences when you travel, but to also give you the practical information and resources you need to have them.  It is important to be fully prepared when you travel.  You should always have travel insurance, just in case, especially when hiking.  I always hope I never need to use it but I get it just in case I do!  A great insurance option is World Nomads.  You can book it right here.
Why buy travel insurance from WorldNomads.com?
You can buy it online, even if you've already left home
You can also buy more coverage and claim online while travelling
They make it easy to give a little back and support a community development project
---
Happy hiking!
Do you have any stories of Bryce Canyon? I'd love to hear them. Comment below. 
If you liked this post, please share the love and Pin it to your Hikes or National Parks Boards!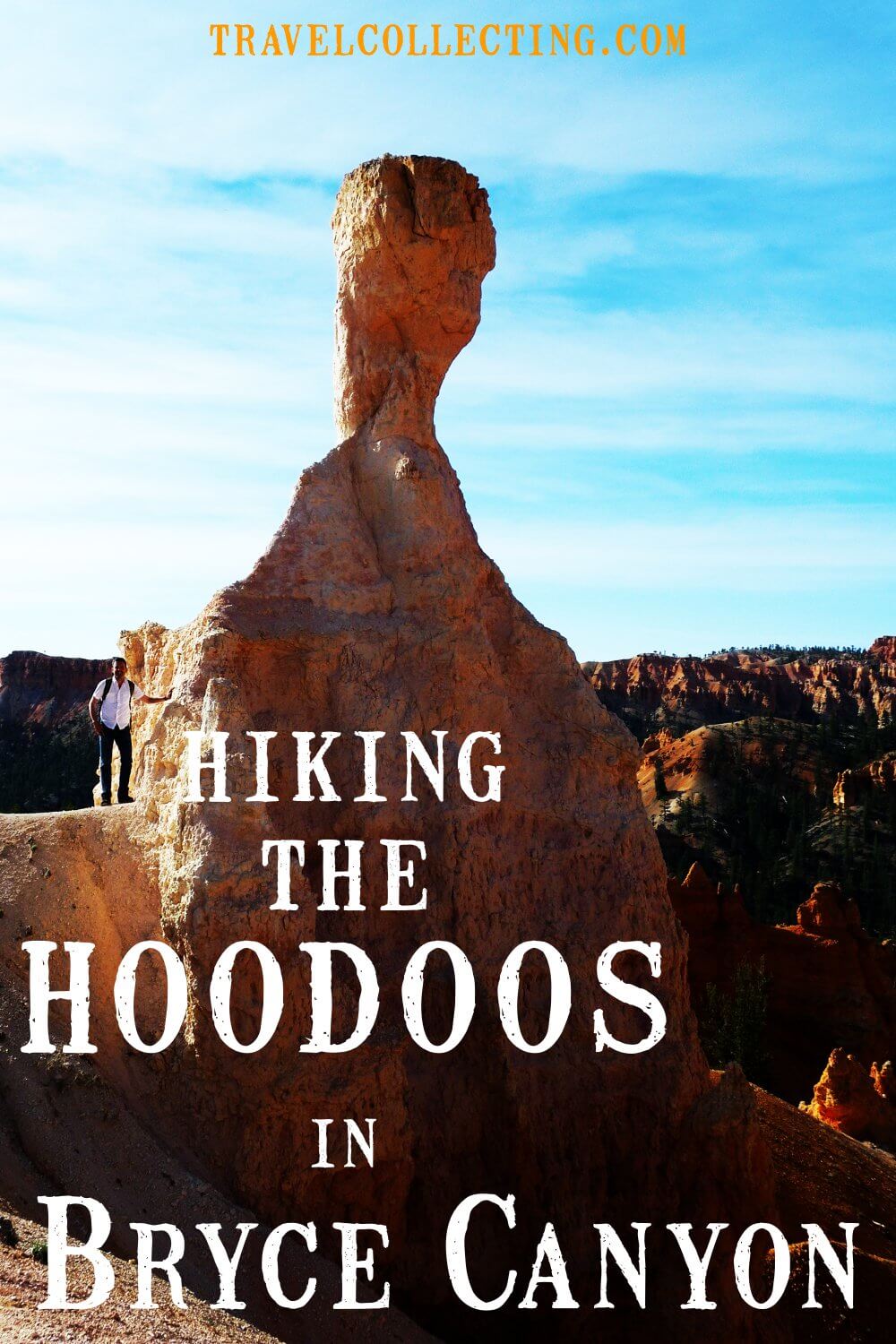 Read about other great U.S. national park hikes:
Plus don't miss canyoneering in nearby Zion National Park and river rafting in the Grand Canyon.
Travel Collecting is a participant in the Amazon Services LLC Associates Program, an affiliate advertising program designed to provide a means for sites to earn advertising fees by advertising and linking to amazon.com. Amazon and the Amazon logo are trademarks of Amazon.com, Inc. or its affiliates.